14 Best Cheap Resorts in the Maldives
We may earn a commission from affiliate links ()
If you think "cheap resorts in the Maldives" is an oxymoron, you're not alone. This stunning archipelago is known for its crystalline turquoise lagoons; soft, white sandy beaches; and resorts peppered with lavish overwater bungalows.
Worried this bucket list destination is way out of your budget? We have some good news. There are many wonderful resorts in the Maldives that are perfect for any budget, even small ones!
The Maldives is home to some of the most beautiful islands in the world, many of which boast nothing other than a pristine beach, lush jungle, and a resplendent resort. While it may still cost you a pretty penny to get here, rest assured that there are plenty of options for fab places to stay that won't break the bank. And many of them include meals, beverages, and activities.
Whether you're hoping to luxuriate in a five-star stay studded with luxurious amenities or kick back in a family-friendly all-inclusive Maldives resort that boasts a slew of fun adventures, you're sure to find a cheap and magnificent resort that will suits your needs without gouging your bank account.
Speaking of cost-saving, planning the time you visit is key to ensuring maximum discounts. The cheapest time to visit the Maldives is between May and November. You'll run the risk of more rainy weather, but both flight and resort prices decrease during this off-season. Things get drier after August, so book your trip after that.
Use our list of the best cheap resorts in the Maldives to find the ideal resort for your next vacation.
On This Page:
Cheap Luxury Resorts in the Maldives
1. Kurumba Maldives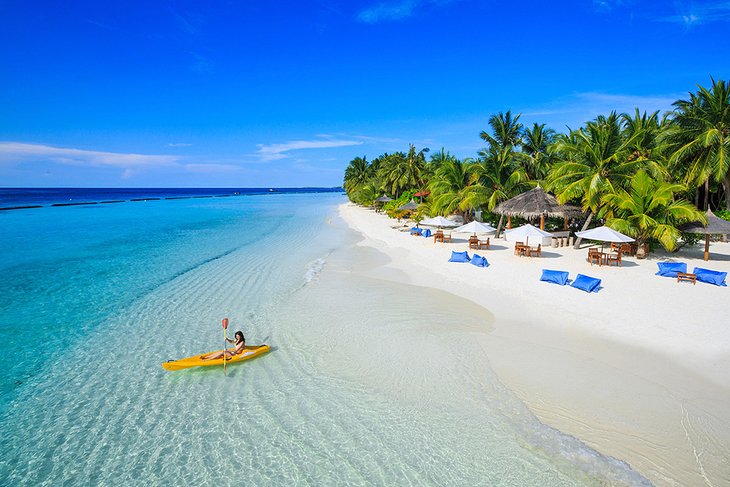 Keep things even more realistic by adding a full board meal plan to your booking. That way, you won't have to stress about your kids ordering a soda while your back is turned. That said, the room rates also include breakfast.
A large kids' club boasts indoor and outdoor activities, as well as lessons in everything from crafts to Dhivehi, keeping little ones entertained from 9am to 6pm, and making this one of the best family resorts in the Maldives.
While they're happily occupied, their parents can partake in a spa treatment; swim in one of the two pools; or head to the water sports center for a snorkeling adventure, glass bottom boat tour, kayak excursion, or dolphin cruise.
The rooms here won't let you down, even if you opt for the cheapest accommodation–the superior room. They're bright, airy, and boast air-conditioning, free Wi-Fi, an outdoor and indoor shower, and a deep bathtub.
2. Furaveri Maldives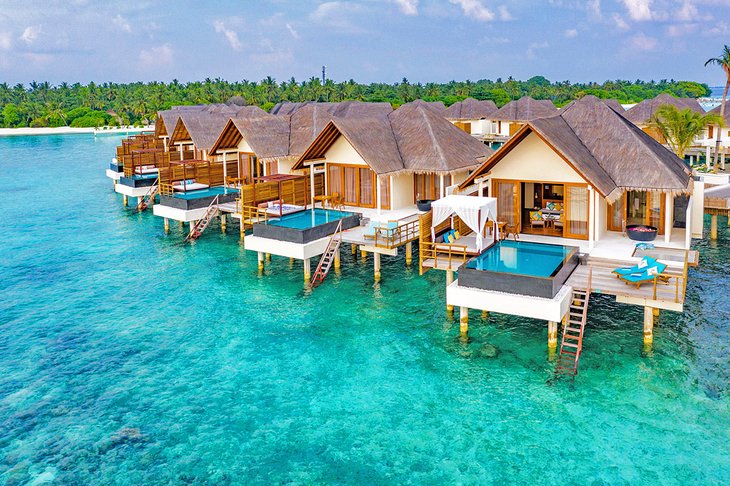 The resort's 168 villas ensure you're able to stay in a private retreat that boasts its own partially open-air bathroom, floor-to-ceiling sliding glass doors, and furnished outdoor terrace. The most reasonably priced villas are set in the resort's lush gardens, but you can upgrade to a beach villa for just a little more.
Those hoping to enjoy an overwater bungalow will have to do so from afar unless they're willing to part with over three times the cash. If that's the route you choose, rest assured that you can cut costs in other areas.
Other amenities include a spa, fitness center, tennis and badminton courts, and hydrotherapy. There is also an array of fun water sports to enjoy.
When it comes time to eat, you'll have a choice of two restaurants, and there are all-inclusive meal plans on offer as well as a bed and breakfast, half-board, or full-board plan, depending on your needs.
3. Royal Island Resort & Spa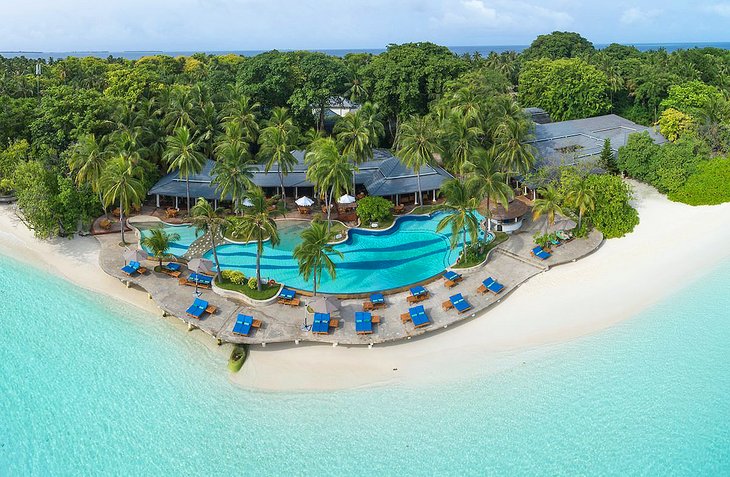 Beach villas offer guests direct access to the beach, a terrace with sun loungers, an open-air shower, and a private sundeck. The only Wi-Fi is found in the lobby and main restaurant, so your room will be a zone of tranquility, making this a romantic resort for couples.
Guests can eat outside by the pool or dine at one of the two larger restaurants, and there's an all-inclusive meal plan on offer, which will help keep your bill in check.
4. Sun Island Resort & Spa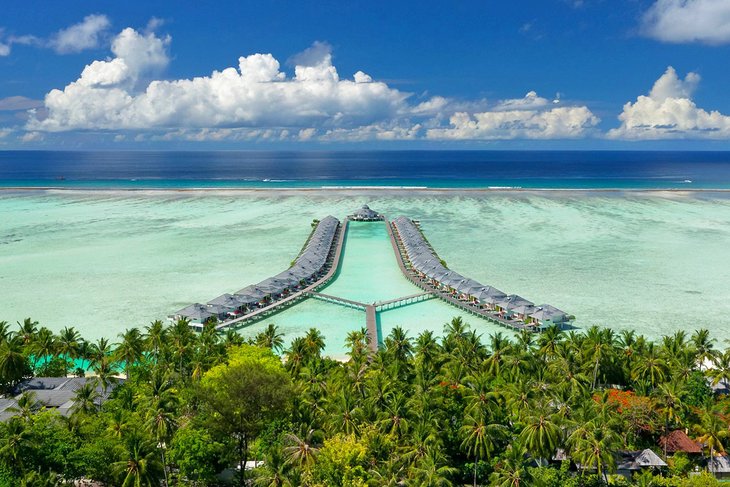 Choose the Sun Villa if you don't want to experience sticker shock at the bill, but be sure to avoid traveling in the high season. This spacious room boasts a furnished terrace, open-air shower, and warm wood furnishings. They're connected to other sun villas and are set within a lush garden, flanked by tall, waving palms.
The Araamu Spa is on hand to help you destress, but its indulgent treatments can be costly, so be sure to factor that in before you book. Three restaurants help quell your hunger pangs–two are à la carte and one is a buffet venue. ZERO is a must-visit if you have extra funds to spare. Guests can enjoy a private meal sitting high above it all, in the treetops.
This fun resort for families also plays host to numerous activities, including water sports like scuba diving, sailing, snorkeling, and kitesurfing. An infinity pool, children's pool, and multiple shops are also on-site.
5. Nika Island Resort & Spa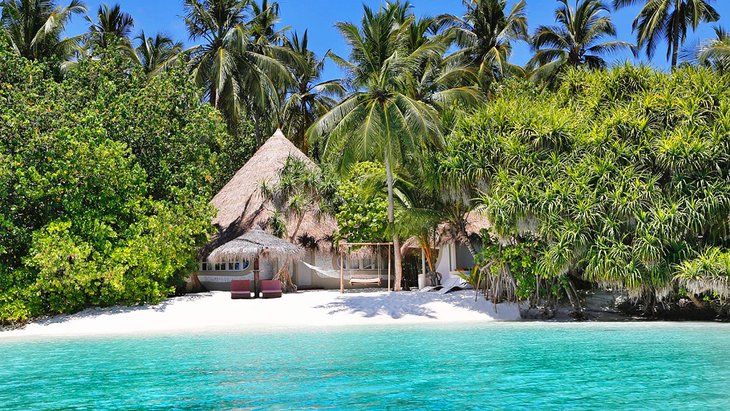 If you're hoping to get your bill as low as possible, book the Far Studio, a unique, two-level open space set above the coffee shop. It's just as beautiful as the other guest rooms and includes a terrace and living room.
Food is available as part of an all-inclusive, full-, or half-board package, and is enjoyed at the resort's main restaurant. The menu varies from buffet offerings to à la carte meals.
6. Kuredu Resort & Spa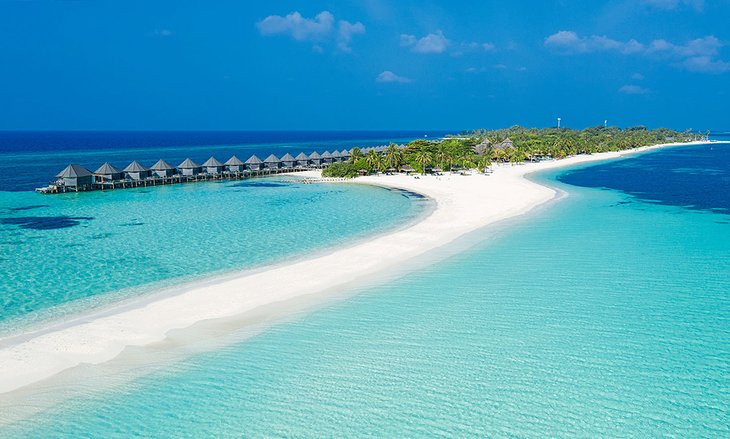 The best deals will be found in an off-season garden bungalow. These 54-square-meter villas have partial open-air bathrooms, a king bed, air-conditioning, and a patio. Add a meal package (either full board or all-inclusive) for even more savings. The premium beach bungalow won't cost too much more and includes direct beach access and a view of the lagoon.
When you aren't relaxing in your room, there are plenty of land- and water- based activities on offer, and a spa that is primed for pampering. Play tennis; hit the gym; or challenge your travel partners to a game of volleyball, badminton, or billiards.
7. Ellaidhoo Maldives by Cinnamon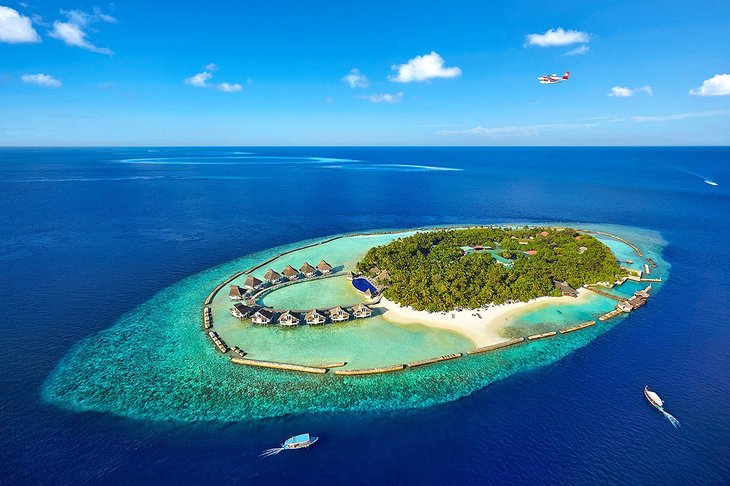 When you aren't having your worries massaged away, you'll want to take part in the resort's best-known feature–its incredible diving program. Guests can explore over 50 dive sites at any time of day or night. If you're more comfortable snorkeling, you're in luck. The resort boasts one of the Maldives' best coral reefs.
One of the best resorts for couples and families, this plush retreat offers a variety of ways to stay busy, including fishing trips, kayaking, snorkeling with turtles, and dolphin cruises. There's also a kids' playground, fitness center, and squash and tennis courts.
If you'd rather stay put in your glam room, no one will blame you. Even the cheapest rooms include semi open-air showers, a pillow menu, lifejackets, raincoats, and free Wi-Fi. For just a little more, you can book an ocean view with your standard room. Trust us, falling asleep to waves crashing on the shore is worth the extra dollars.
8. Malahini Kuda Bandos Resort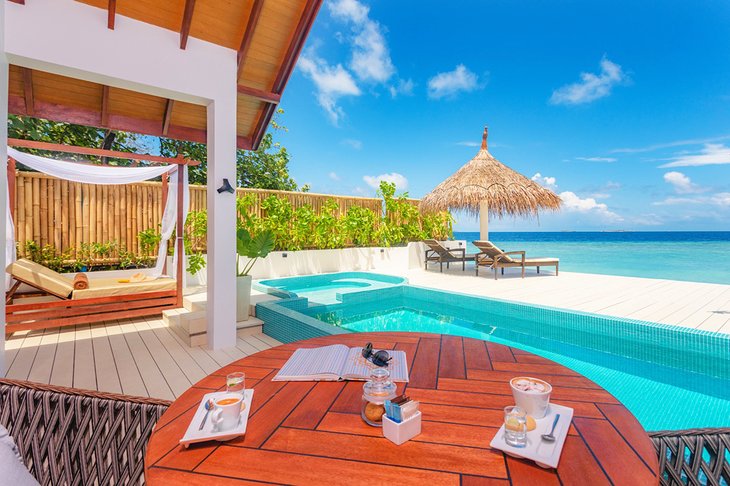 Whether you want to go night fishing, relax in the spa, get sweaty in the gym, snorkel around the reef, or scuba dive, you're in for a treat. The Watersports Center also boasts fun activities like sailing, fun tubing, banana boat rides, and parasailing (all of which come with a fee, so be warned).
The food served in the two on-site restaurants is delectable, so you won't be disappointed when you're feeling hungry from all that activity.
9. Reethi Beach Resort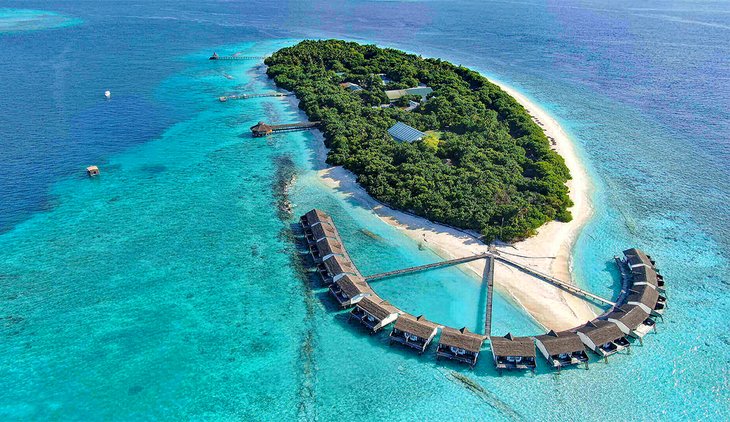 Don't get us wrong, you won't be starved for luxurious amenities at this intimate resort. The semi-detached Reethi Sunset Villas and Garden Villas offer good bang for your proverbial buck. They boast lush garden settings, air-conditioning, private terraces, king-sized beds, open-air bathrooms with a rain shower, and an indoor sitting area.
10. Holiday Inn Resort Kandooma Maldives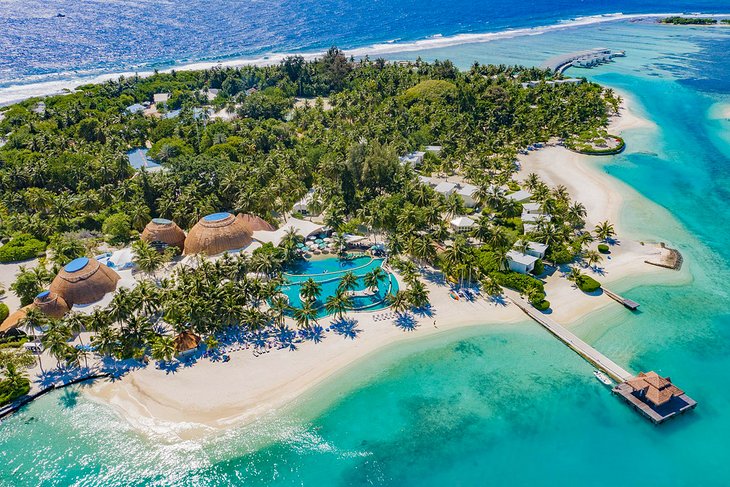 A super fun resort for families, this Holiday Inn property loves kids. The PADI bubblemaker and surf camps are just a few of the child-friendly options on offer, plus there's an excellent Kandoo Kids Club chock-full of activities to keep little ones occupied while their parents jet off to the spa or lounge by the multi-tiered infinity pool. The best part? Kids stay and eat free at this resort–talk about savings!
Now, back to the eating. There are six eateries, including three larger restaurants on-site to ensure everyone has something that will tickle their taste buds. All feature dramatic ocean views, so you won't miss out on the incredible vistas while you're dining. Room service is also available if you're too lazy to leave your villa.
When you aren't stuffing your face or partaking in the numerous water-based activities or land-based entertainment, head to the fitness center for a workout, or enjoy a soak in the outdoor hot tub.
11. Filitheyo Island Resort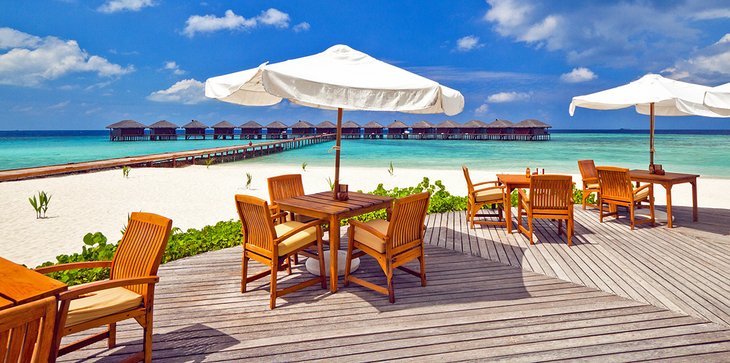 Meals are served at two restaurants, and there's an all-inclusive package available to streamline your bill. You'll want to use some of the money you save on a visit to the remarkable Filitheyo Spa. It is set in the jungle and boasts six treatment rooms and a wide variety of relaxing therapies.
12. Fiyavalhu Resort Maldives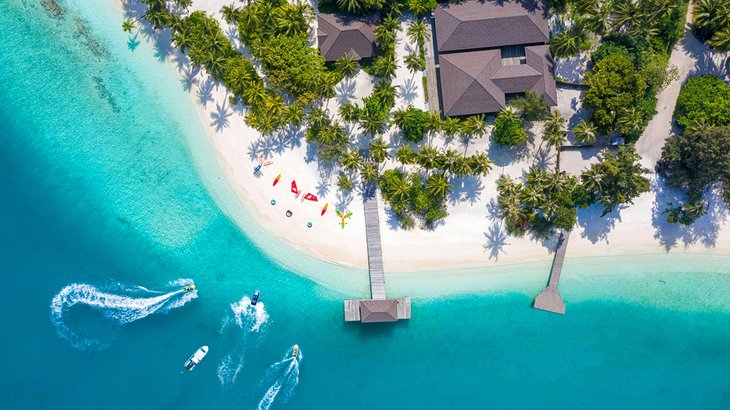 When it comes to staying active, you have plenty of things to do. The resort offers water sports, which include scuba diving, snorkeling, windsurfing, kneeboarding and fun tubing. Also available, but a bit pricey, are a whale shark expedition, sunset fishing trip, and a dolphin cruise.
The villas are cozy and chic, with plenty of nods to Maldivian culture. They also feature giant sliding glass doors to let the resort's best feature —the ocean view–take center stage. As with most of the cheap resorts on this list, the garden villas are your best bet for a deal. They're gorgeous, and boast outdoor patios, a rain shower, and a large sofa, all located just a short walk to the beach.
Super Cheap Resorts in the Maldives
13. Arena Beach Hotel Maafushi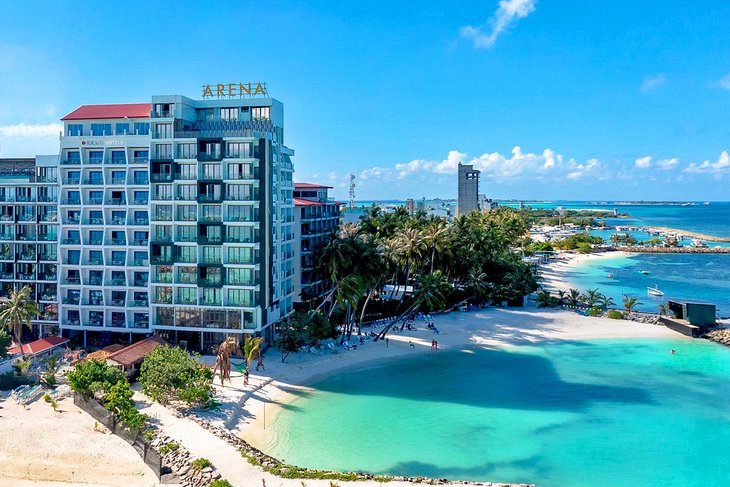 The rooms at this four-star resort are well liked for their large windows, captivating lagoon views, wood floors, and contemporary décor. Unlike other resorts on this list, the rooms here are housed in a multi-story building as opposed to semi- or fully detached villas.
The Deluxe Sea View Room is the way to go if you're hoping for more luxury at a very affordable price. It is 476 square feet and has a balcony, bathtub, rain shower, and a large wardrobe.
14. Acacia Beach Hotel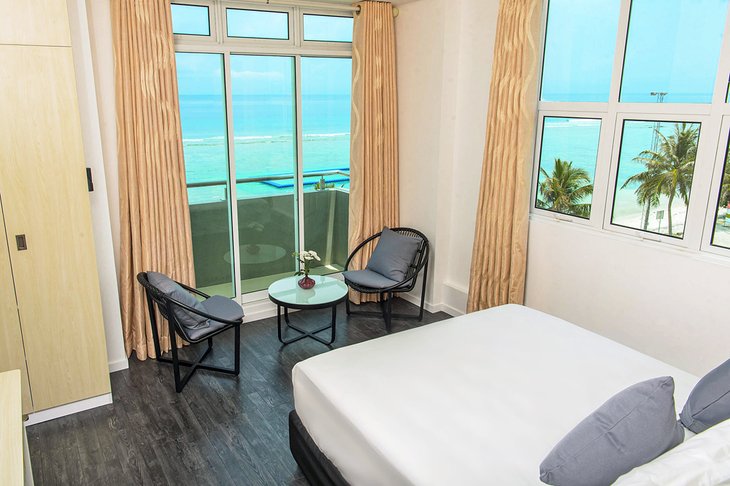 As for rooms, you have an option of either a deluxe city-view room or a deluxe sea-view room. Both include breakfast, but the sea view will set you back a bit more (about $20). Both have free Wi-Fi, flat-screen televisions, and comfortable beds.
Café Acacia is the resort's restaurant. Here, you'll find tasty meals and a beautiful view of the beach. If you'd rather dine in your room, that's an option as well.