11 Top-Rated Resorts in Penang
A quick one-hour flight from Kuala Lumpur or Singapore puts you on the Malaysian resort island of Penang. With low prices, beautiful beaches, friendly people, and delicious street food, it's a great place for a weekend getaway from Singapore or for a weeklong vacation.
Most of the resorts and tourist attractions in Penang are in the Batu Ferringhi area, like the popular PARKROYAL Penang Resort, but more of the best resorts can now also be found in Tanjung Bungah and Miami Beach.
If you're looking for fun, music, and excitement, you might like the Hard Rock Hotel, Penang but if you're looking for a luxurious, secluded getaway, the Shangri-La Rasa Sayang's exclusive Rasa Wing might be the best resort choice for you.
Start planning your getaway today with our list of the best resorts in Penang.
1. Shangri-La Rasa Sayang, Penang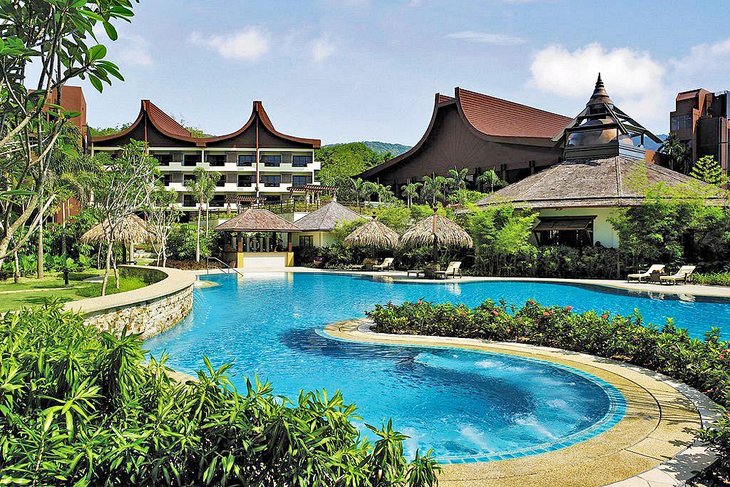 Accommodation: Shangri-La Rasa Sayang, Penang
This luxury, beachfront resort set on 30 lush acres has two distinctive wings and is able to provide an array of experiences and environments to satisfy every guest. Whether you're visiting Penang with a partner for a romantic getaway or coming with the kids for a fun-filled vacation, the Shangri-La Rasa Sayang can deliver on all levels.
Like many Shangri-La properties, the resort is divided into two wings (Garden Wing and Rasa Wing), and one entire wing (the Rasa Wing) is like a club level with exclusive amenities, its own lounge, and an exclusive adults-only pool. If you're visiting Penang for a romantic getaway and want a more adults-only experience, this is where you should stay.
For kids, there are all kinds of indoor and outdoor activities at the Shangri-La. The Adventure Zone is a three-level, air-conditioned indoor play center with slides and obstacle courses. The Cool Zone Kids Club is an all-day, supervised activity center for kids 5-12. Activities include swimming excursions to the resort's pools and waterslides.
For adults, the Shangri-La Rasa Sayang has its own nine-hole executive golf course and a very nice full-service luxury spa, called Chi.
Dining options at the Shangri-La include two different restaurants plus a large buffet, as well as the FIP (fun, interactive, play) Lounge for families with children. On weekends (Friday, Saturday, Sunday nights) they do a Balinese Tepi Laut Coconut Husk Seafood Barbecue by the pool.
For members of Shangri-La's free-to-join Shangri-La Circle loyalty program, up to two children under age 7 eat for free at the buffet, kids 7-11 are charged 50 percent of adult prices.
2. PARKROYAL Penang Resort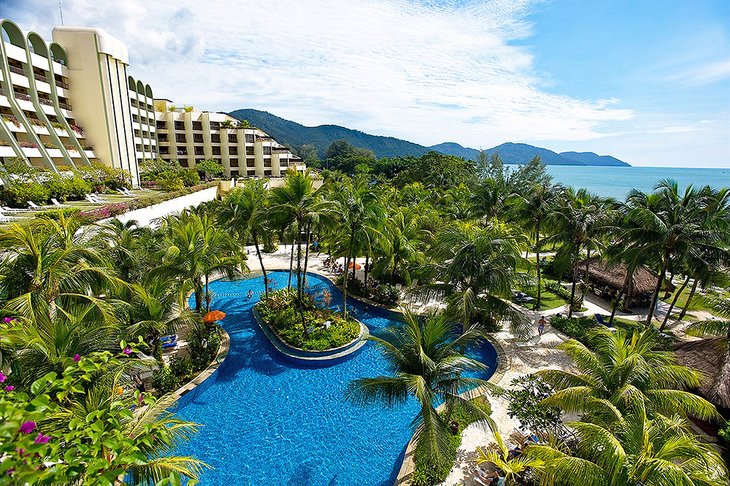 Accommodation: PARKROYAL Penang Resort
Set on Batu Ferringhi Beach, the PARKROYAL Penang Resort is right on the sand and delivers a lot of value for its mid-range price. You get contemporary, spacious accommodations; a perfect location on the beach; multiple dining options; and lots of things to do without having to leave the property.
Rooms are quite modern and stylish with amenities like free Wi-Fi, a flat-screen TV, twice-daily maid service, and 24-hour room service. A wide range of accommodations are on offer, including two-bedroom garden suites, which can comfortably accommodate six people and include a dining room and an entertainment room with a projection TV system.
The resort has the requisite giant free-form swimming pool along with a separate children's pool area with a wading area and two waterslides. Kids 4-12 can enjoy the Amazonia Kids' Club with all kinds of indoor and outdoor activities, crafts and games.
When you're ready for some pampering, the St. Gregory Spa at the PARKROYAL combines a sea view with a lush garden setting. The spa provides a wide range of body, skin, and beauty treatments done using a mix of international and Malay products and techniques.
Guests can also enjoy a vast fitness center with activities like yoga and wellness classes.
3. Hard Rock Hotel Penang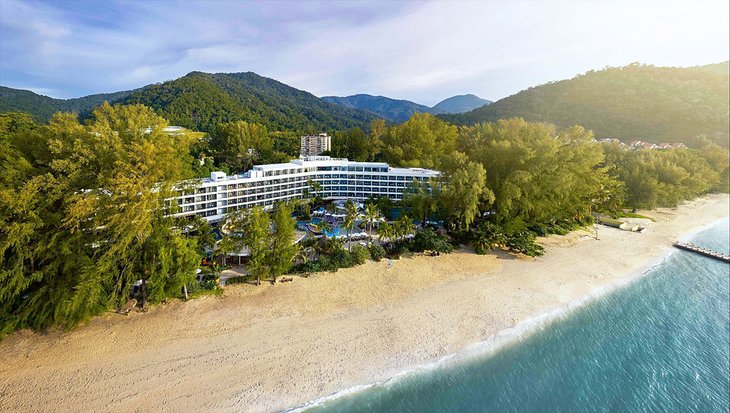 Accommodation: Hard Rock Hotel Penang
If you love music, listening to it or playing it, the Hard Rock Hotel Penang on Batu Ferringhi Beach is the best place to stay.
The smoke-free, beachfront resort is built around one of Malaysia's largest free-form swimming pools. Pool suites are available with their own terrace, which include your own private entry into the main pool.
It's all about the music here, and via the PICKS amenity, you can have a Fender guitar and amp delivered to your room. With the MIX amenity, you can get private access to the resort's disco to use the controller and mixer to create your own DJ set.
The Hard Rock is a great resort in Penang for kids and for families. Aside from all the musical experiences, they have three kids' clubs for all ages. Lil' Rockers is for infants and kids under three, Roxity Kids Club for ages 4-12, and TABU Teens Club for teens.
The Hard Rock even has family-friendly accommodations like their Roxity Kids Suites. The suites have a separate TV for the kids with a PlayStation 4, toys, books, and a kid-focused minibar. There is a separate bedroom for the parents and a single bed with a pull-out second bed in the play area.
All the rooms and suites come with DVD/CD systems, massive 50-inch LCD TVs, BOSE sound systems, free Wi-Fi, and free streaming HD movies.
There are six different dining choices at the resort, including a Hard Rock Cafe, which is very popular with non-hotel guests as well.
4. Angsana Teluk Bahang Penang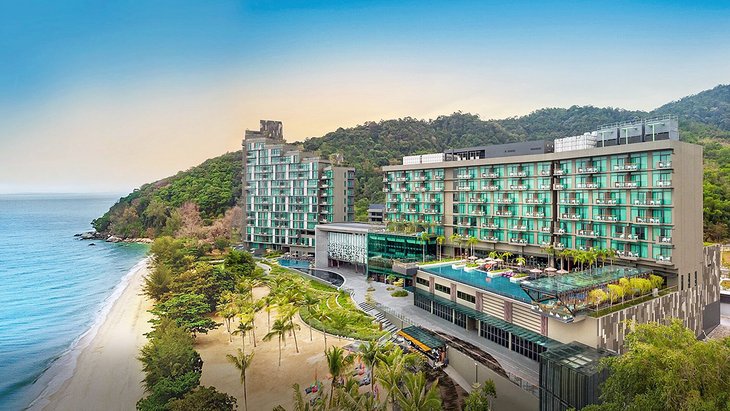 Accommodation: Angsana Teluk Bahang Penang
This new resort opened in late 2020 on a stretch of beautiful Teluk Bahang beach. It's in a newly developing resort area of George Town, about an hour from Penang International Airport (PEN). The hotel is away from the crowds of Batu Ferringhi but also a bit remote from its shopping malls, hawker stalls, and things to do.
Angsana is one of the brands of the Banyan Tree Group, well known globally for their luxury resorts and truly five-star service.
You have your choice of 236 rooms and suites, all of which have Andaman Sea views. Most have their own private terrace or balcony, and the resort's pool suites come with a private plunge pool. The least expensive Superior Seaview Rooms lack a balcony but come with a cool window-side daybed, perfect for enjoying that sea view.
The Angsana Teluk Bahang Penang is a great place to stay with kids in Penang. There are three pools to enjoy, a waterfront infinity pool, a family pool, and a children's pool with a play area and a big waterslide.
When it's time to focus on your body and mind, the resort has a wellness center, which includes a full-service Banyan Tree spa; a fitness center; and a program of daily activities like yoga, meditation, hiking, and more.
Five different dining options means you'll never have to eat the same thing in the same place twice, unless you want to.
5. DoubleTree Resort by Hilton Hotel Penang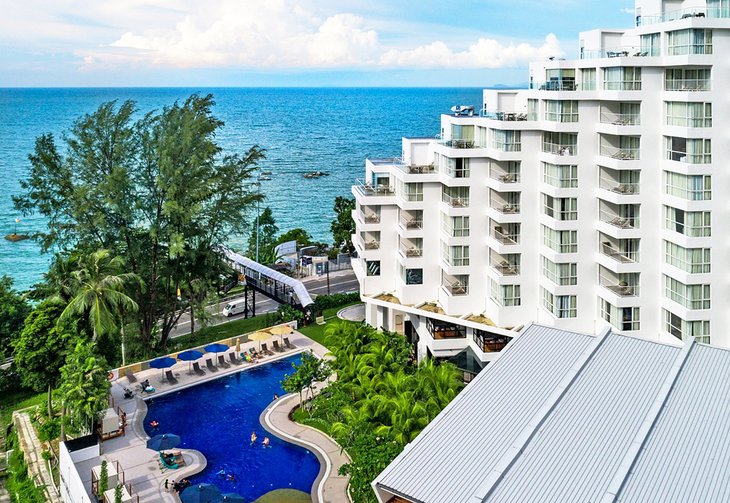 Accommodation: DoubleTree Resort by Hilton Hotel Penang
If you're visiting Penang with kids and/or you like teddy bears, the DoubleTree Resort by Hilton is the best place to stay. It's probably the only hotel in the world with its own teddy bear museum, TeddyVille.
Located in the Miami Beach area, 10 minutes away from Batu Ferringhi, the very kid-friendly DoubleTree Resort by Hilton Penang is across the highway from the beach, connected to the sand by a pedestrian bridge. If you're willing to stay at a resort that's off the beach, you can save money and still get a great vacation experience.
Although the resort isn't on the sand, many of the rooms and suites have amazing sea views. Those rooms and suites are extremely modern and stylish; the suites really feel more like luxury apartments than hotel rooms. Premium rooms are on high floors, with balconies and direct sea views. Two-bedroom and adjoining rooms are available for families.
Three dining options await at the DoubleTree: Axis, a lobby lounge that serves snacks and light meals; Makan Kitchen, a large poolside buffet with live cooking stations; and The Food Store, a coffee shop/convenience store/bakery.
For fun there's a big pool and a kiddie pool with a slide and play area, a fitness center, and both indoor and outdoor kids' play areas.
6. Lone Pine Hotel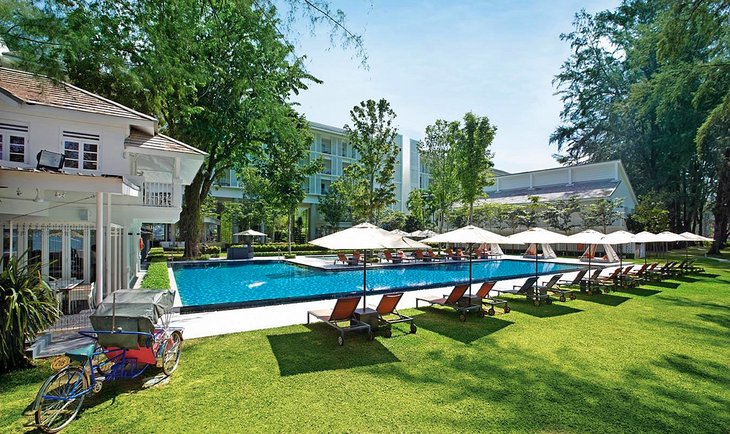 Accommodation: Lone Pine Hotel
This historic 90-room luxury boutique resort gives guests a chance to experience some of Penang's history in a beachfront location. Although it opened in 1948 as one of the first hotels in Batu Ferringhi, the resort was totally renovated, and an entire new wing was built in 2010.
Rooms and suites are modern with a colonial vibe, and most have private balconies with private plunge pools. Ground-floor accommodations in the historic original building have their own private outdoor courtyard space.
The smoke-free resort, which is steps from the beach, has a big swimming pool with a whirlpool tub section. There's a large fitness center and a compact spa offering a selection of massage, skin, and beauty treatments.
Food is served all-day at The Bungalow, with an extensive buffet for breakfast, lunch, and dinner. Couples can enjoy a romantic, butler-served four-course set dinner as an alternative to the buffet. Room service is also available.
7. Shangri-La Golden Sands, Penang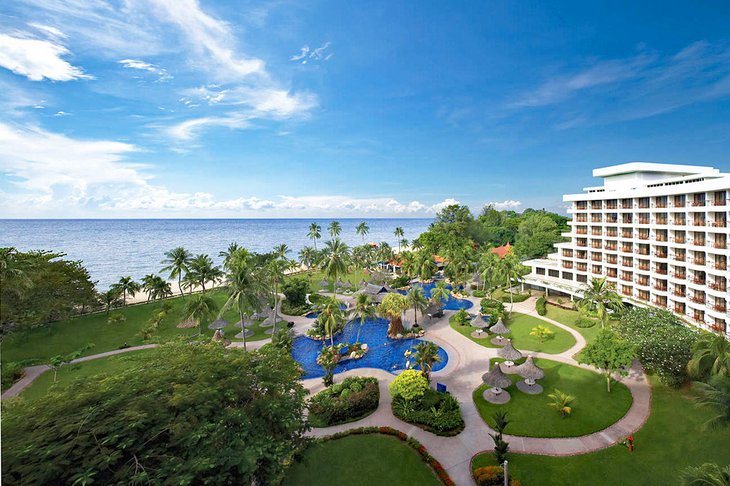 Accommodation: Shangri-La Golden Sands, Penang
Close to its five-star sister hotel, the Shangri-La Rasa Sayang, the four-star Shangri-La Golden Sands is bigger, with almost 400 rooms and suites, and focuses more on a family- and kid-friendly experience.
It's right in the heart of Batu Ferringhi – so central that the local night market happens right at the end of the resort's driveway.
The Shangri-La Golden Sands is all about family fun, there's a big private beach area, where you can have all kinds of fun in or on the water. Then spend some time in the Splash Zone, the waterpark-like resort pools with waterslides and aquatic play areas.
Aside from the pool and beach, there's a schedule of family activities, including workout classes, cooking classes, craft workshops, animal shows, and more. Kids can spend the whole day at the kids' club; food is complimentary.
For adults and family eating, there are multiple dining options and environments. The Garden Cafe has all-day dining and weekend buffets. The beachfront restaurant, Sigi's, has some great Italian food and pizzas. The Lobby Lounge has quick bites and take-away snacks.
Amenities are shared between the two Shangri-La resorts, so you can try the pool or spa or restaurants at the Shangri-La Rasa Sayang and charge things to your room at the Shangri-La Golden Sands.
8. Bayview Beach Resort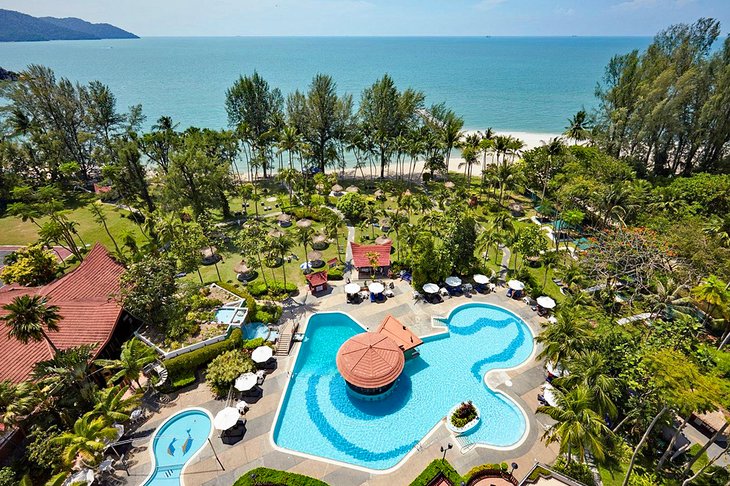 Accommodation: Bayview Beach Resort
This Batu Ferringhi beach resort really offers a lot for its budget price. The hotel is separated from the sand by a grass area and has a wide range of activities for guests to enjoy.
All the rooms and suites at the Bayview Beach Resort have floor-to-ceiling windows, with private furnished balconies. They are spacious, modern, and a bit minimalist, with nice furniture but few decorations or artistic accessories. Some accommodations face the ocean; some face the village and mountains. There's also a penthouse suite with four bedrooms and a private rooftop pool.
When you want to play on the beach or in the sea, the resort has a watersports center with SUPs, Jet Skis, parasailing, and other rentals. You can play on the land, too. The resort has tennis, basketball, and volleyball courts in addition to a large fitness center with ping pong tables.
This Penang hotel is family-friendly with several children's play areas, babysitting services, and two children's pools.
For adult relaxation, there's a compact spa with a garden massage hut, popular for couples' massages.
Dining choices include La Veranda Coffeehouse, which offers all-day buffet dining, from breakfast to late-night snacks at 1am. Marco Polo is their fancy restaurant serving a formal dinner each evening, and these are joined by a lobby lounge and a pool snack bar.
9. Mercure Penang Beach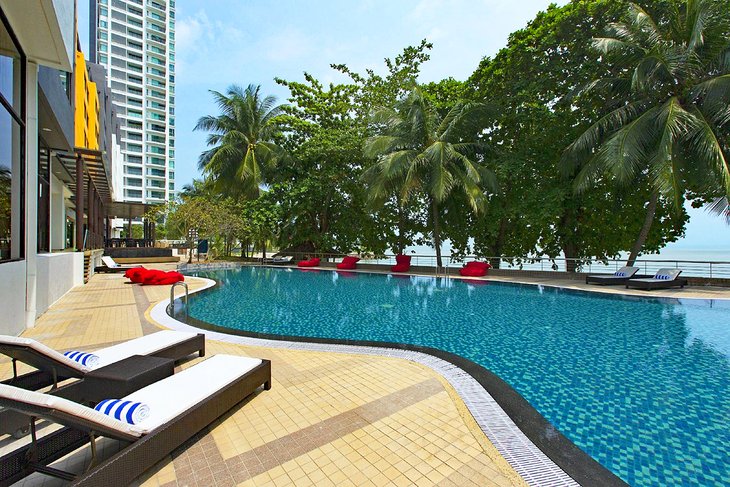 Accommodation: Mercure Penang Beach
This popular budget resort hotel in Tanjung Bungah is part of the huge Accor hotel group and consistently provides clean, comfortable accommodations; professional service; and a great beachfront location a few steps from the sand. It's about 15 minutes from Batu Ferringhi, so you'll probably need a car (or taxi, Uber, or GrabCar) to go out to dinner or shopping.
The 220 rooms and suites at the Mercure Penang Beach (formerly the Sheraton Four Points) have either a city or a sea view, but none have balconies or any outdoor space. The views of the Andaman Sea are beautiful and it's worth the upgrade fee to get a room with them.
The Ombak ("ombak" means wave as in ocean wave) is the resort's restaurant, offering international and Malay cuisine on an all-day dining basis (breakfast, lunch, and dinner).
The main draw here is the beachfront location – just walk past the pool, down the steps, and you're on the sand. The oceanfront pool is very nice to enjoy on a hot day, and the resort has a large fitness center with a sauna and steam room.
10. Rainbow Paradise Beach Resort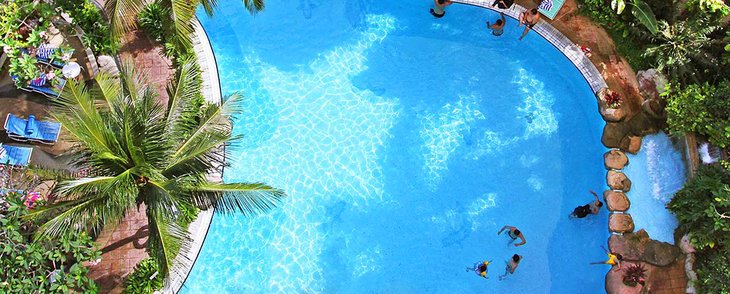 Accommodation: Rainbow Paradise Beach Resort
This Tanjung Bungah beachfront resort is popular for its large, mostly all-suite accommodations and its location right on the sand.
The suites are spacious and air-conditioned and come with amenities like big furnished balconies, but the style and furnishings are a bit dated. Studios and one- and two-bedroom suites are available.
The beach provides an endless array of activities, and you can rent motorized (personal watercraft) and non-motorized (rafts and kayaks) toys, as well as sign up for parasailing, banana boat rides, and other fun adventures. There's a roped-off area for swimming, and there are volleyball courts on the sand.
Off the beach, there's a tennis court and a large fitness center. The resort lacks a spa but does have a hair and beauty salon.
There are a few on-property dining options to satisfy your hunger. Gaya's is a beachside restaurant with a big outdoor deck, perfect for sunset dining. Breeze Cafe has all-day dining and also has a terrace. Planter's Lounge also has all-day dining, with small bites, snacks, and take-away items.
The Rainbow Paradise Beach Resort also has a small convenience store/coffee shop in the lobby.
11. Flamingo Hotel by the Beach, Penang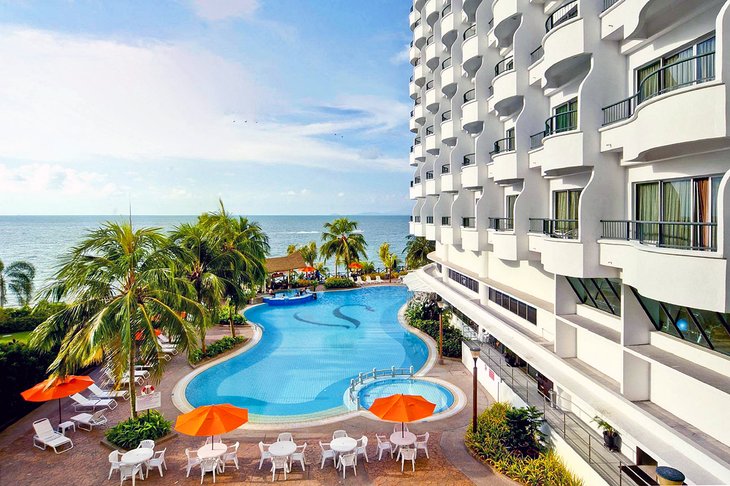 Accommodation: Flamingo Hotel by the Beach, Penang
This budget-priced beachfront resort is in Tanjung Bungah and is a decent place to stay for families looking for an inexpensive yet full-featured beach resort. The Flamingo is right on the sand, just walk past the pool and down the steps, and you're on the beach.
Rooms are clean – nothing fancy – but spacious, modern, and air-conditioned. All come with private patios or balconies. Some accommodations have sea views, and some face the hills. Regular hotel rooms along with one-, two-, and even three-bedroom suites are available.
The Flamingo Hotel by the Beach has a big pool deck area with an adjacent kids' play area, so parents can lounge in deck chairs while keeping an eye on the kids. There's also a large Jacuzzi tub and an outdoor beach BBQ bar with waiter service. The resort also has an indoor, air-conditioned kids' play area and a supervised kids' club program during the day.
Aside from the beach bar, you can eat in the café or in the resort's buffet restaurant. Along with some international offerings, the food focuses on local specialties, allowing you to have hawker-style favorites without leaving the property.
To make your travel budget go even further, the resort has free parking, free Wi-Fi, and free breakfast (included with most rates). To make your trip easier, they have a (not free) airport shuttle.
Map of Resorts in Penang
Penang, Malaysia - Climate Chart
Average minimum and maximum temperatures for Penang/Bayan Lepas, Malaysia in °C
J
F
M
A
M
J
J
A
S
O
N
D

32

24

32

24

32

24

32

24

31

24

31

24

31

24

31

24

30

23

30

24

31

24

31

24

PlanetWare.com
Average monthly precipitation totals for Penang/Bayan Lepas, Malaysia in mm.

79

91

150

231

249

173

198

249

358

391

249

112
Average minimum and maximum temperatures for Penang/Bayan Lepas, Malaysia in °F
J
F
M
A
M
J
J
A
S
O
N
D

89

75

89

75

89

76

89

76

88

76

88

76

87

75

87

75

86

74

86

75

87

75

88

75

PlanetWare.com
Average monthly precipitation totals for Penang/Bayan Lepas, Malaysia in inches.

3.1

3.6

5.9

9.1

9.8

6.8

7.8

9.8

14

15

9.8

4.4