12 Top-Rated Beach Resorts in Malaysia
Thailand might be the most popular tropical destination in Southeast Asia, but neighboring Malaysia has much to offer: better prices, unspoiled nature, beaches, and plenty of luxurious beach resorts.
The west coast of Peninsular Malaysia is a popular destination for beach adventures. This is especially true when it comes to Langkawi island, which offers breathtaking views of the ocean and stunning sunsets. Some of the most beautiful oceanfront resorts are located here.
The island of Borneo is another major resort destination, especially for divers and those interested in nature conservation - there are a number of turtle nesting grounds on the island.
On the east coast, Tioman Island takes one of the top spots - it's part of a marine park and home to one of the largest coral reefs in the world. Quiet, secluded beaches and turquoise waters that seem to go on forever make this a great destination for sun-lovers who want their own private corner of paradise.
Find a great place to stay with our list of the best beach resorts in Malaysia.
1. The Westin Langkawi Resort & Spa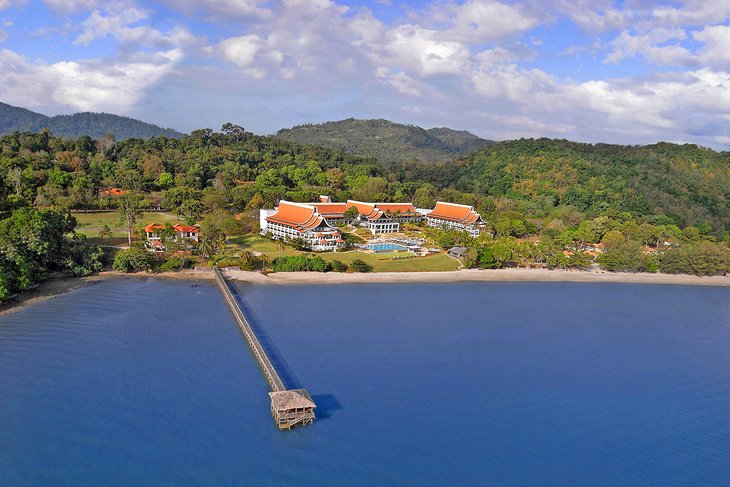 Accommodation: The Westin Langkawi Resort & Spa
Sitting on its own private stretch of golden beach, the Westin Langkawi Resort & Spa offers some of the best views over the turquoise waters of the Andaman Sea. Located just steps away from the Langkawi Jetty Point (for quick trips over to the mainland), a number of restaurants, and the natural beauty of the shoreline, this is a luxurious getaway that won't disappoint.
A mix of villas, suites, and rooms offer something for everybody here. The top villas offer direct open sunset views and private pools; a stylish mix of contemporary and traditional decor; and a variety of amenities, including private kitchenettes and glass-frosted rain showers.
Additional amenities include four outdoor pools, the hotel's state-of-the-art WestinWORKOUT® Fitness Studio, and an award-winning Heavenly Spa by Westin. Guests can book a walk with the hotel's own naturalist to explore the area's flora and fauna and catch sight of the many hornbills that call the island home.
The hotel's restaurant and lounges offer an international a la carte menu for lunch, live music, a breathtaking 180-degree view of the sea, and beach-front cabana seating for those who want to watch the sunset over the water.
Address: Jalan Pantai Dato Syed Omar, Langkawi
2. The Datai Langkawi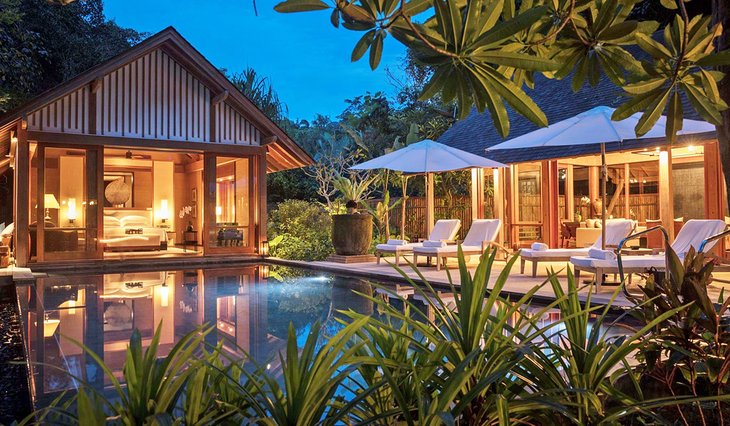 Accommodation: The Datai Langkawi
Surrounded by a million-years-old rainforest, the Datai Langkawi offers 121 rooms, suites, and villas that melt perfectly into the tropical landscape. The resort sits on a private stretch of beach on Datai Bay, which consistently makes the lists of "best beaches in the world" and provides an oasis of silence - here, guests can fall asleep to the sound of the waves and the soft hushing sound of the trees in the breeze.
Most rooms come with their own private balconies, award-winning architecture, and oversized bathtubs with views over the forest. Some of the private-pool villas are hidden deep into the rainforest and connected to public areas by a series of wooden pathways.
The resort offers five dining options, including one serving authentic Malaysian cuisine, a pavilion sitting on 30-meter-tall stilts, a casual-dining restaurant right on the beach, and the main restaurant overlooking the rainforest and the pool area.
Guests can also enjoy the spa, attend yoga and Pilates classes, or try a class at The Nature Centre's lounge, where you can pick your own fresh herbs and then learn to make healing teas or delicious meals. Mountain bikes are available at no charge, and guests can even hop on board the Naga Pelangi, a traditional Malay boat cruise.
Address: Jalan Teluk Datai, Datai, Langkawi
3. Tanjong Jara Resort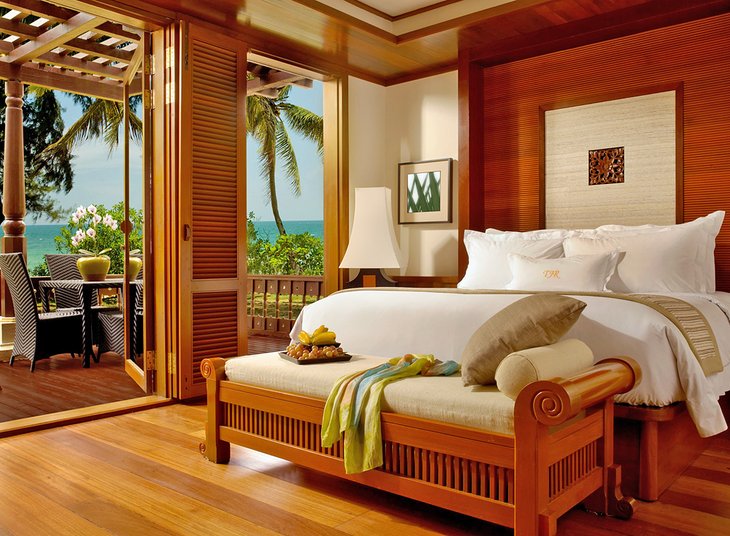 Accommodation: Tanjong Jara Resort
Inspired by 17th-century Malay palaces, the Tanjong Jara Resort offers luxurious, spacious rooms with lots of wood and rich fabrics, oversized bathtubs, and covered verandahs or private courtyards. The rooms and suites also offer either breathtaking vistas of the South China Sea or views over the lush tropical gardens.
Three dining options cover traditional Malaysian cuisine, seafood-themed dishes, and healthy salads and local desserts - all surrounded by salty fresh air and lush tropical foliage. Guests can also order a private dining experience right on the beach, with the sound of waves crashing on the shore as the background.
Guests can jump in the hotel's two pools; visit the award-winning spa for a number of treatments based on traditional healing methods; try a traditional handicraft class; or learn to play sepak takraw, a traditional Malay game played with a woven rattan ball.
The resort's resident naturalist leads free walks through the herbal garden and surrounding areas, and guests can also book snorkeling and dive packages through the hotel's reception.
Address: Batu 8 Off Jalan Dungun, Dungun
4. Pangkor Laut Resort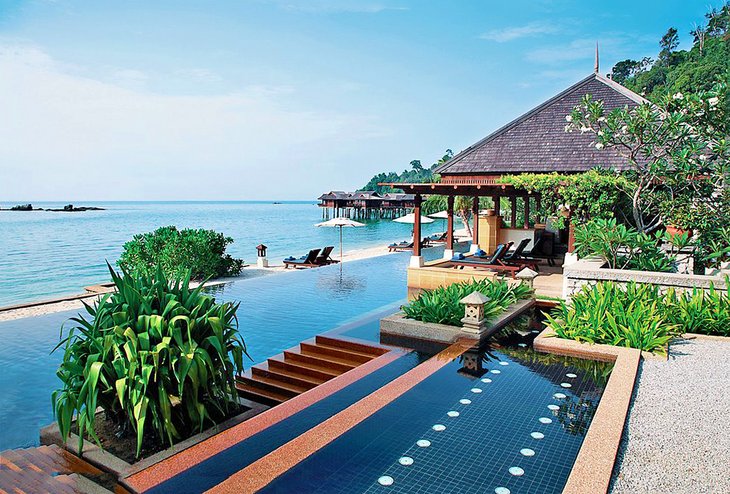 Accommodation: Pangkor Laut Resort
The Pangkor Laut Resort is made up entirely of private villas, located on the lush mountainside, set among the tropical gardens, or sitting on stilts right in the sea. Each of the eight air-conditioned villas has an open en suite bathroom with an oversized bathtub and its own verandah or private balcony with a sun lounger and open views over the breathtaking surroundings.
Each villa also has its own private pool, and all villas come with a personal butler on call, as well as a private chauffeur-driven car for guests who want to venture away from the resort.
Facilities at the property include a tennis court, a fitness center, and an in-house spa offering a number of services, including massage, Chinese Herbal and Ayurvedic treatments, and private spa pools and huts.
Guests can enjoy a few different dining options - from Asian cuisine in your own private timber booth overlooking the ocean at The Straits restaurant to flavorful Malay cuisine, healthy salads at the spa, and a number of seafood-themed dishes.
Address: Pangkor Laut Island, Lumut
5. The Ritz-Carlton, Langkawi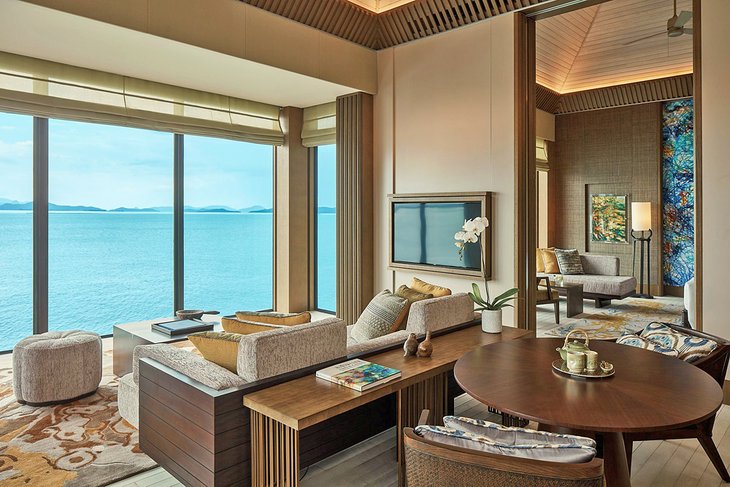 Accommodation: The Ritz-Carlton, Langkawi
A 5-star resort nestled among the lush jungle, the Ritz-Carlton offers a chance to choose between a relaxing holiday sunbathing on your own private deck or the opportunity to take off on a hike through nearby mangroves and dense rainforest.
At The Ritz-Carlton Langkawi, all rooms and villas offer contemporary decor with Malaysian accents and come equipped with private outdoor spaces, luxurious oversized marble bathrooms, and massive glass walls for open views over the ocean or the surrounding rain forest.
Beachfront villas come with their own private pools, direct access to the beach, and decadent amenities.
Guests have access to a fitness center, a spa, and an in-house restaurant serving Asian cuisine. The concierge is available to help you book a number of activities, including wildlife photography or textile printing classes, hikes through the forest, or boat rides.
Address: Jalan Pantai Kok, Langkawi
6. The Danna Langkawi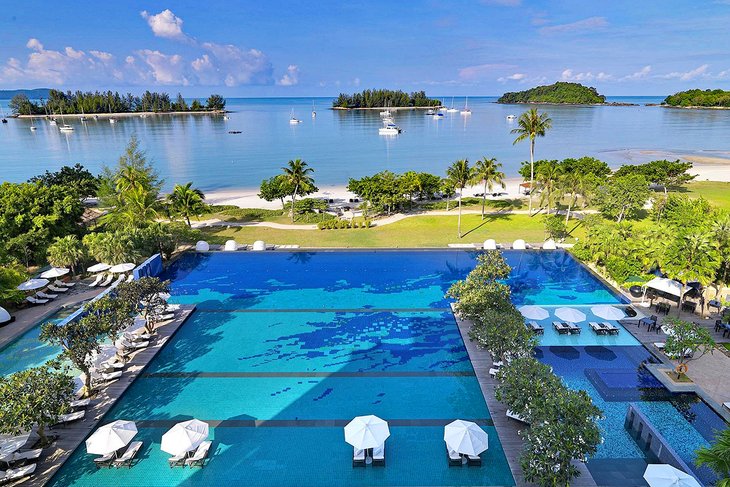 Accommodation: The Danna Langkawi
On a private stretch of white-sand beach in Telaga Harbour on Langkawi island, The Danna Langkawi is an elegant property with Malaysian meets colonial British-era decor throughout. The 5-star resort is in an off-the-beaten path location and is great for couples or families who want to be away from the crowds, but less appealing if you want a lot to do outside the resort in the immediate vicinity.
The rooms and suites are classic luxury, with four-poster beds, wooden floors, high ceilings, and area rugs. Views differ from room to room, with some facing the sea, others the mountains or marina. Many rooms have furnished balconies. Book a suite for a private plunge pool or hot tub. The Royal Imperial Suite has both, along with its own gym and steam room.
Property amenities include a three tiered-infinity pool facing the Andaman Sea. There is also a kids' club with activities, a complimentary breakfast, a restaurant, and a spa with a full range of treatments.
Address: Telaga Harbour Park, Pantai Kok, Langkawi
7. Shangri-La's Rasa Ria Resort & Spa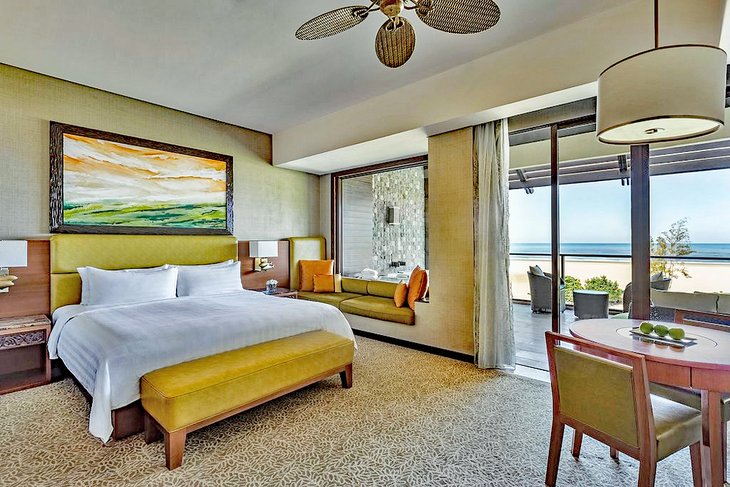 Accommodation: Shangri-La's Rasa Ria Resort & Spa
Bordered by golden sand on one side and 400 acres of tropical forest on the other, Shangri-La's Rasa Ria Resort & Spa is a tropical paradise retreat.
The resort's 499 rooms and suites offer functional space with luxurious tropical details, where earthy colors and natural wood blend with nature right outside. Marble-clad bathrooms, L'Occitane toiletries, and private balconies are present in most rooms.
Guests can enjoy the outdoor swimming pools, try one of the resort's nine restaurants, or visit the in-house spa for a variety of treatments. Other facilities on-site include a children's club, a nine-hole golf course, and bikes for rent. Water sports enthusiasts also have access to scheduled activities such as kayaking, parasailing, and windsurfing.
Address: Pantai Dalit Beach Kota Kinabalu, Tuaran
8. Gaya Island Resort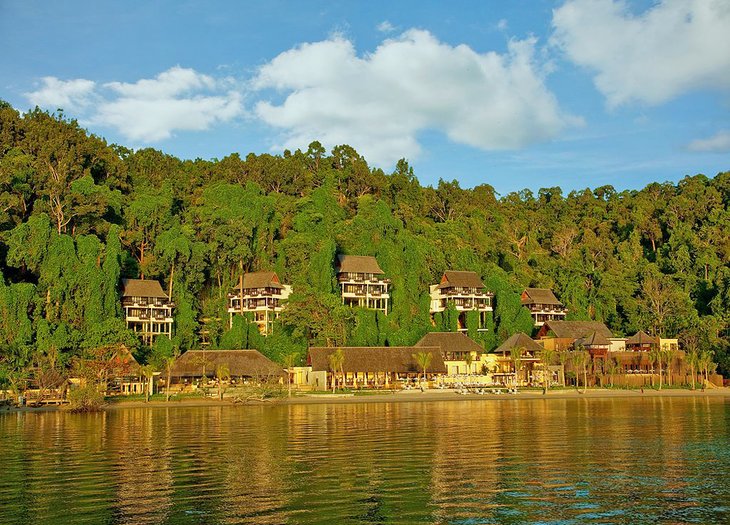 Accommodation: Gaya Island Resort
The Gaya Island Resort is located within the boundaries of the Tunku Abdul Rahman Park, which spreads over five islands. Sitting on its own stretch of private beach, the resort offers a signature experience where guests not only get to enjoy all the comfort of a luxurious retreat but also unparalleled access to fauna.
Guests at the resort can visit the marine center, where endangered green sea turtles are rescued and treated, check out the coral nursery, and explore the island through nature trails that cut through dense, lush rainforest.
All air-conditioned villas come with their own private balcony and a day bed, luxury amenities, and panoramic views over the South China Sea. The hotel offers five different dining options, where guests can choose from Asian and international cuisine options.
An outdoor pool, a spa village, and free yoga classes are also available. The hotel concierge can arrange additional activities for a fee - from bird-watching trips to snorkeling cruises to speedboat rides.
Address: Malohom Bay, Tunku Abdul Rahman Park Jesselton Point, Kota Kinabalu
9. The St. Regis Langkawi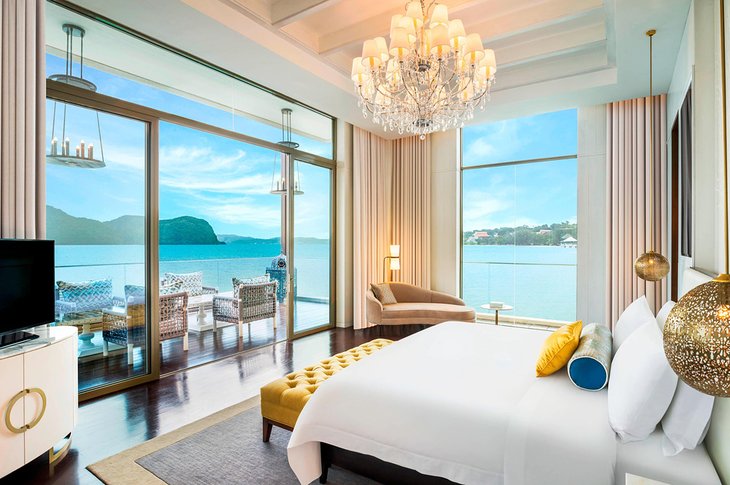 Accommodation: The St. Regis Langkawi
The St. Regis Langkawi sits between the crystal blue waters of the Andaman Sea and the centuries-old, lush rainforest that inhabits the area. With its own private beach and spectacular sunset views, this is a resort for those who want to escape it all without giving up luxury.
The St. Regis Langkawi offers 5-star luxury resort living, with 85 suites and four exclusive over-water villas, which come with their own private butler service, elegant designer fabrics, rain showers, and dedicated outdoor space. All rooms also feature private balconies, modern design in soft colors and sumptuous furniture, and Bose sound systems.
There are five dining options at the resort, offering everything from Middle Eastern-infused modern French cuisine to the freshest seafood and artisanal pastries. There's also a spa and a fitness center. The hotel's concierge can arrange day trips and excursions to visit the weekly night market in Kuah, try a zipline adventure, or visit the seven waterfalls at Telaga Tujuh.
Address: Jalan Pantai Beringin, Langkawi
10. Shangri-La's Tanjung Aru Resort & Spa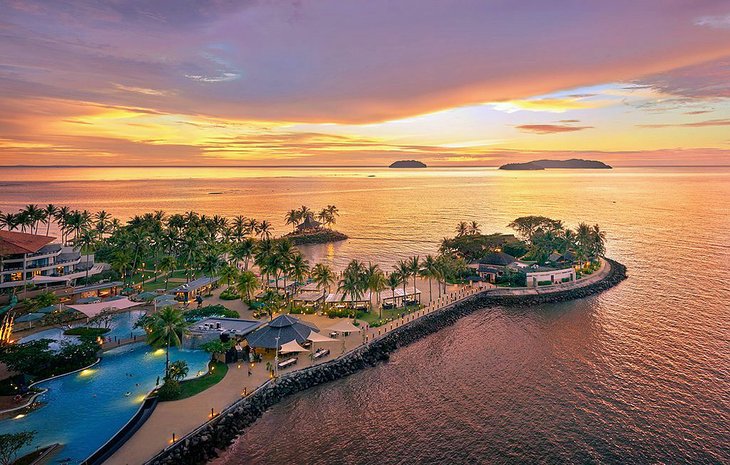 Accommodation: Shangri-La's Tanjung Aru Resort & Spa
Shangri-La's Tanjung Aru Resort & Spa offers beachfront accommodation and some of the most breathtaking sunsets in Malaysia. Located just 10 minutes from the closest city, the resort feels a world away, hidden in its own corner of Borneo's spectacular scenery.
The hotel boasts an outdoor pool with water jets; six restaurants; a health club with Pilates classes and personal trainers; a kids' pool with waterslides; and a full-service, award-winning spa. Shangri-La even has its own nine-hole golf course and its own marina, from where guests can access cruise tours, boating and water sports opportunities, and a diving center.
All rooms offer views of either Mount Kinabalu or right over the South China Sea. They come equipped with separate shower cubicles and soaking tubs, a pillow menu so guests can sleep comfortably, and premium Shangri-La toiletries.
Address: 20 Jalan Aru, Tanjung Aru, Kota Kinabalu
11. Japamala Resort by Samadhi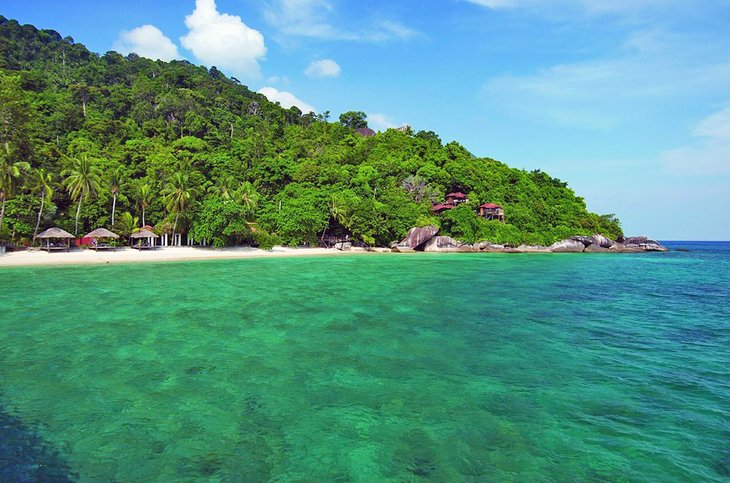 Accommodation: Japamala Resort by Samadhi
Located on the quiet Tioman Island and surrounded by tropical rainforest, Japamala Resorts by Samadhi is an eco-luxe boutique resort. The suites and villas here are stylish, decorated using soft modern colors and local woods. Some come with their own dip pool and a sundeck, while others resemble treehouses, located high above the jungle canopy or perched on the edge of a mountain overlooking the lagoon.
The resort offers an outdoor pool and two restaurants, where guests can try Western dishes, as well as Indochinese and Thai specialties.
Guests receive a number of complimentary services here, including free use of kayaks, house-made Asian snacks in the evening, and a chance to dine under the stars in your own private corner of the resort.
Boat excursions to nearby islands are available, and guests can also join a 45-minute trek through the thick rainforest.
Address: Kampung Lanting, Tioman Island, Pulau Tioman
12. Royale Chulan Cherating Villa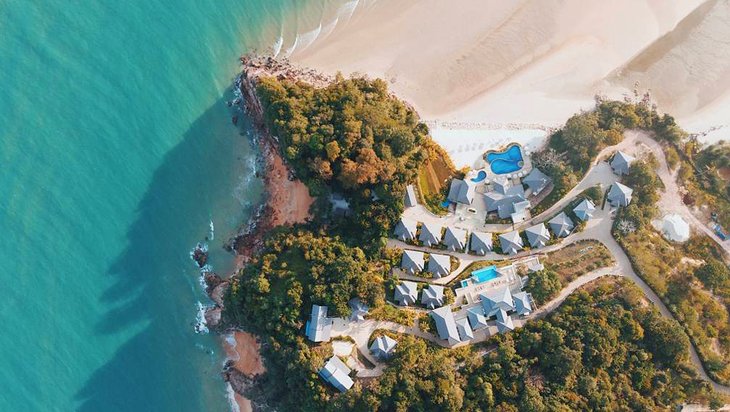 Accommodation: Royale Chulan Cherating Villa
This secluded resort offers picturesque seascapes with 34 beachfront villas and suites. All spacious villas come with their own balconies, and some feature private pools. Decorated in warm colors and featuring elegant details, rooms are designed for ultimate comfort and offer a seating area with a flat-screen TV, oversized bathtubs, coffee- and tea-making facilities, and elegant furnishings.
Amenities at the resort include a restaurant specializing in Malaysian cuisine, an outdoor pool, and sun loungers for guests who want to relax in the resort's lush gardens.
Just a few minutes away, guests can visit the Cherating Turtle Sanctuary, visit a batik factory, or take a mangrove river cruise.
Address: Kampung Cherating Lama Kuantan, Pahang Darul Makmur