11 Top-Rated Resorts in New Orleans, LA
Travel writer Freddy Sherman has visited Louisiana many times, experiencing New Orleans as well as areas around Lafayette.
Designed to meet your every whim, resorts in New Orleans are destinations in themselves, meaning you don't need to leave the property to grab a meal or find entertainment. Of course, not exploring all the magic New Orleans has to offer would be a shame, and we don't recommend staying in your resort 24/7, but should you want a day off or a bit of a staycation, these resorts will do the trick.
Luxury resorts like The Ritz-Carlton, New Orleans provide every possible amenity to create the ultimate guest experience. Other iconic hotels like The Roosevelt, a Waldorf Astoria Hotel deliver these experiences deeply rooted in local history and culture.
Aside from the historic resort hotels, new properties like the New Orleans Marriott Warehouse Arts District inject a new vitality (and more tourists) into some of the city's most historic neighborhoods.
Large, luxury hotels like the Four Seasons New Orleans provide a nice combination of guest amenities, plenty of on-property activities, and some privacy, yet close proximity to the French Quarter and other tourist attractions. The resort hotels also tend to have spas, which are perfect places to recover from French Quarter adventures.
Find a great place to stay with our list of the best resorts in New Orleans.
1. The Ritz-Carlton, New Orleans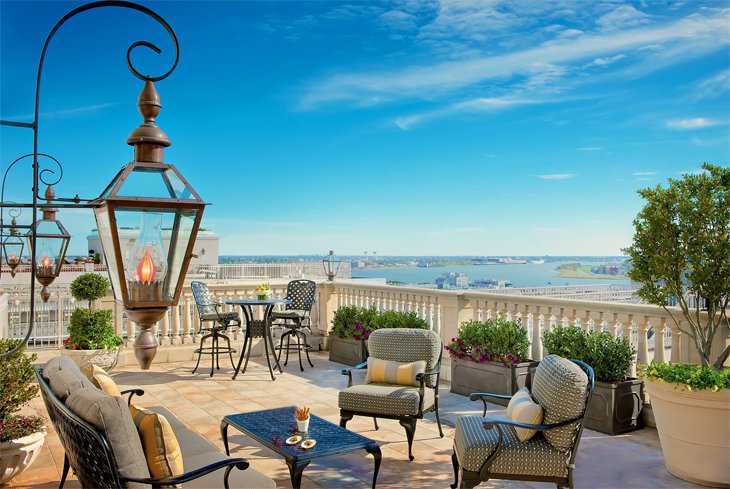 Accommodation: The Ritz-Carlton, New Orleans
Created from the iconic Maison Blanche department store on Canal Street in the heart of the French Quarter, The Ritz-Carlton, New Orleans represents the ultimate in an urban resort property. Although you're in the French Quarter, the hotel property has so many things to do and so much New Orleans culture right on-site, you may never want to leave.
The rooms and suites here are five-star luxe and re-create the original glamor of the 1908 Beaux Arts building they are housed in. Decor includes posh cream-padded headboards and pops of color in the form of chairs or chaise lounges and decorative pillows.
Bathrooms are marbled, and beds are comfy and draped in high-quality linens with fluffy duvets. The resort is also kid friendly with family rooms. The Ritz-Carlton is also pet-friendly (to dogs under 30 pounds, with a $150-a-day charge).
Beyond the luxurious accommodations and amenities, the hotel has a huge spa (the biggest in New Orleans) and some of the best food in the city (which is saying a lot in New Orleans). For foodies, there's a lobby lounge with live music and small bites and one of the city's best afternoon tea services, along with M Bistro, the hotel's farm-to-table restaurant.
Beyond the luxe experience and deeply personal service, the hotel curates unique guest experiences, like learning how to play the trumpet with in-house jazz musician Jeremy Davenport
Address: 921 Canal Street, New Orleans, LA 70112.
2. The Roosevelt New Orleans, a Waldorf Astoria Hotel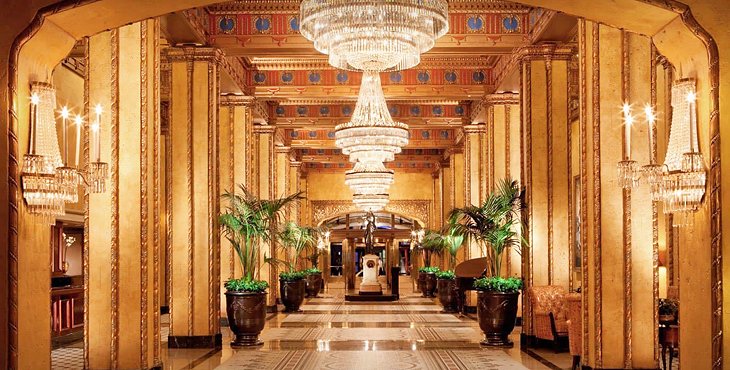 Accommodation: The Roosevelt, New Orleans a Waldorf Astoria Hotel
This historic luxury hotel, the Grande Dame of the city, first opened in 1893 and has been considered one of the best places to stay in New Orleans for more than 100 years. It's a large resort hotel, with just over 500 rooms and suites. The Roosevelt is on Canal Street, on the edge of the French Quarter.
The luxurious Roosevelt Spa includes a big rooftop pool, along with a range of treatment options.
When you get hungry, there's the Fountain Lounge that serves small plates; Teddy's Cafe off the lobby, with a fairly extensive coffee shop menu; an Italian restaurant; a rooftop poolside café; and in-room dining is always available.
Address: 130 Roosevelt Way New Orleans, LA 70112
3. Virgin Hotels New Orleans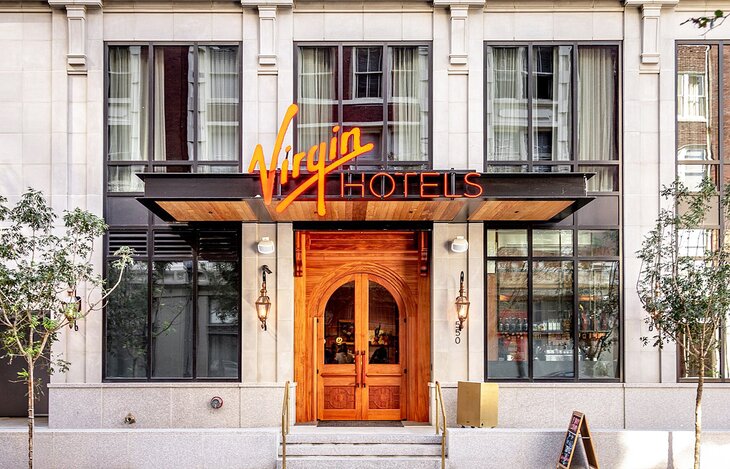 Accommodation: Virgin Hotels New Orleans
This upstart newcomer in the trendy and popular Warehouse District has quickly risen to the top of New Orleans' list of top resorts by delivering a distinctly quirky British boutique resort hotel experience.
Rooms here are called "chambers," and even the smallest ones have a separate sleeping and living area. The style is a kind of funky NYC loft, with white walls and colorful furniture and accent pieces. It may be worth it to splurge on the hotel's best accommodation, Richard's Flat — Richard as in Virgin owner Richard Branson. This luxe space has paneled wood walls and marble floors and feels more like a London mansion than the other rooms and suites.
Those chambers come with some wonderful amenities, like free Wi-Fi and minibars stocked at "street" prices. Here, you don't have to pay $10 for a candy bar if you want one from the minibar.
The ground floor is home to Commons Club, the hotel's dinner and weekend brunch restaurant. Don't miss their very popular Sunday Britney Spears Burlesque brunch. During Saturday dinner hours, a DJ provides a musical backdrop for your meal. The Pool Club is the very popular rooftop lounge and day club (they do serve food). The ground floor is also home to the Funny Library coffee shop with a café menu.
Address: 550 Barrone Street New Orleans, LA 70113
4. Four Seasons Hotel New Orleans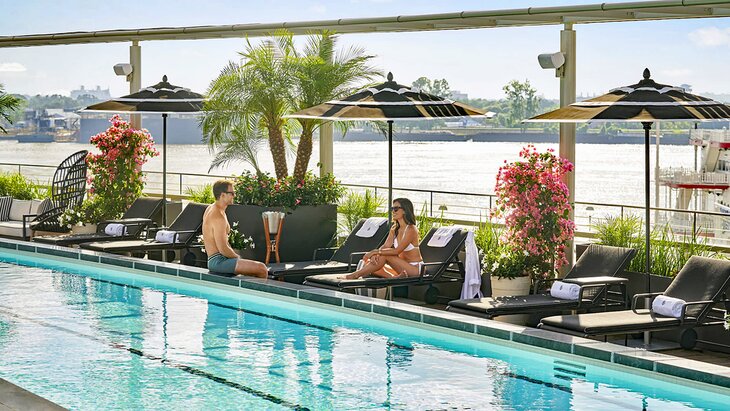 Accommodation: Four Seasons Hotel New Orleans
This unique luxury resort hotel, housed in a historic 33-story skyscraper in the city's Central Business District, aside the river, is a great place to stay in New Orleans for families. Formerly the International Trade Mart, the building was slated for destruction until being redeveloped as a luxury hotel and luxury condos.
Rooms and suites have a clean, white style and design offering views of either the city or the river. Wooden shiplap wall panels connect the design to historic Mississippi riverboats. Higher-floor accommodations offer better views and come with a premium price. All accommodations have typical Four Seasons luxe amenities, like marble bathrooms with oval soaking tubs. You also get views unavailable from other New Orleans resort hotels.
Dining options include Miss River, serving elevated Louisiana cuisine, or the very popular Chemin de La Mer, offering a New Orleans take on classic French dining. Caviar and light bites are available from the Chandelier Bar (which has its own chef) and, of course, in-room dining (room service in other hotels) is always an option.
The Four Seasons Hotel New Orleans specializes in curating unique luxury experiences for its guests. You can have them arrange for a private tour of the Garden District in your own street car or a private performance inside the iconic Preservation Hall nightclub on Bourbon Street.
Address: 2 Canal Street New Orleans, LA 70130
5. New Orleans Marriott Warehouse Arts District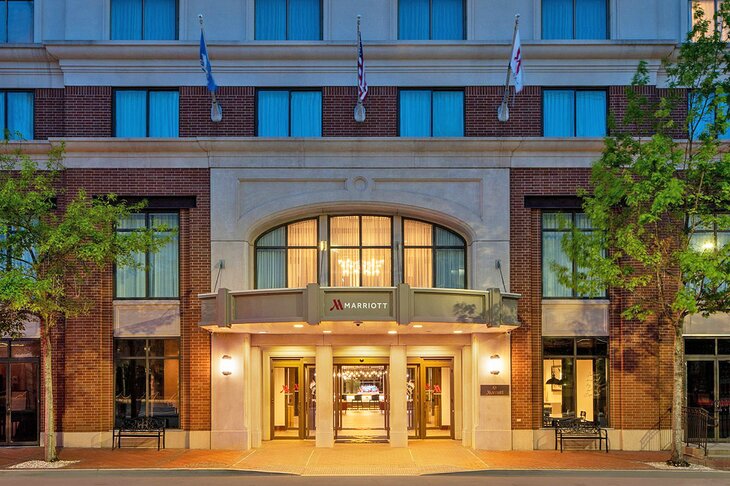 Accommodation: New Orleans Marriott Warehouse Arts District
Located directly adjacent to the thriving Warehouse District, housed in an authentic 19th-century warehouse, the New Orleans Marriott Warehouse Arts District brings the brand's full-service, 4.5-star luxury experience to this very cool neighborhood.
Rooms and suites are modern with typical corporate hotel design and style. Premium rooms offer some upgraded amenities and M Club lounge access. The lounge has a complimentary continental breakfast, free food throughout the day, and free non-alcoholic drinks, but no check-in/out services.
There is no spa at the New Orleans Marriott Warehouse Arts District, but a spa-on-demand service is offered. Choose what you want from a spa menu, and the therapist comes to your room and does the treatment there.
Hunger can be satisfied at the Greatroom Restaurant with its American menu and all-day dining (breakfast, lunch, and dinner). You can also grab a bite and a coffee at the full Starbucks location in the lobby (open from 7 am to 1 pm).
Address: 859 Convention Center Blvd. New Orleans, LA 70130
6. Henry Howard Hotel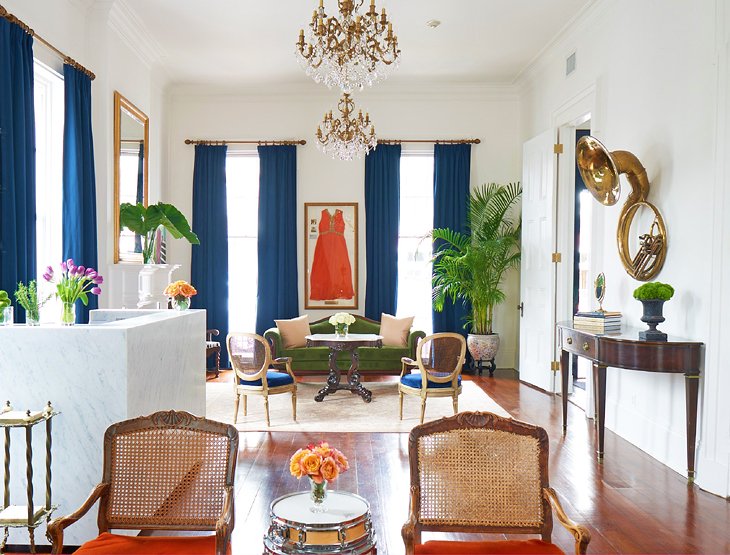 Accommodation: Henry Howard Hotel
Named for the architect who designed many of the iconic mansions in New Orleans' Garden District, this boutique hotel is in the heart of it. The former private mansion has been luxuriously updated, and the bed-and-breakfast-like service and amenities can make it feel like your own private home.
A stay here turns the whole Garden District into your very own architectural resort. The Garden District is a beautiful section of the city and a great place to stay. It's especially nice for couples seeking a romantic experience, with tree-covered streets, ornate mansions, and plenty of good shopping and dining within walking distance of the hotel.
Address: 2041 Prytania St, New Orleans, LA 70130
7. The Windsor Court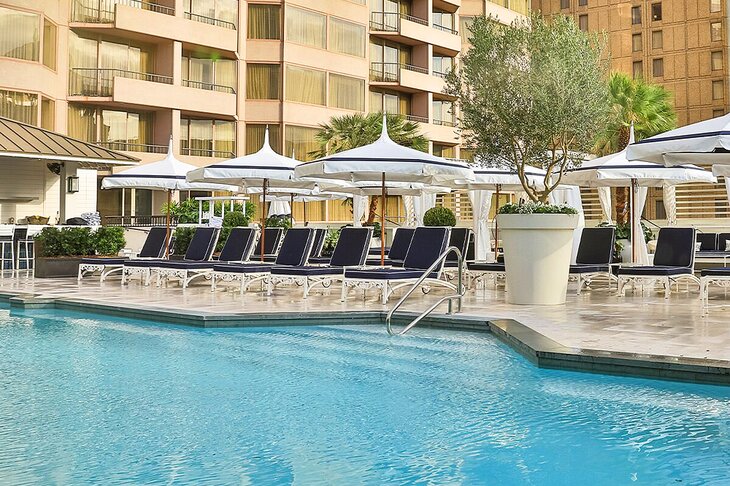 Accommodation: The Windsor Court
Rooms and suites at the Windsor Court have a conservative, classic style with a slight homage to British design found at the hotel's namesake location in England.
Marble bathrooms and modern amenities like bedside charging stations keep the smoke-free hotel competitive with others in its not-inexpensive price range. All rooms and suites have either balconies or bay windows with river or city skyline views.
Hunger is satisfied at three primary locations. If you want an American, largely New Orleans menu, try The Grill Room. For what they call "elevated pub fare" try The Polo Club. And The Pool Bar has an extensive menu with skyline views from the rooftop as a bonus. Keeping with the British vibe, the Windsor Court serves an excellent afternoon tea service in Le Salon. There's also Cafe Anglais, the hotel's in-house coffee shop, with a bakery and excellent grab-n-go takeaway meals.
Amenities include a rooftop pool, a full spa, a professionally designed and equipped fitness center, and an in-house art collection valued at over $10 million.
The Windsor Court welcomes pets, up to two dogs, maximum 40 pounds each, with a $150 fee per-stay pet fee.
Address: 300 Gravier St, New Orleans, LA 70130
8. NOPSI Hotel New Orleans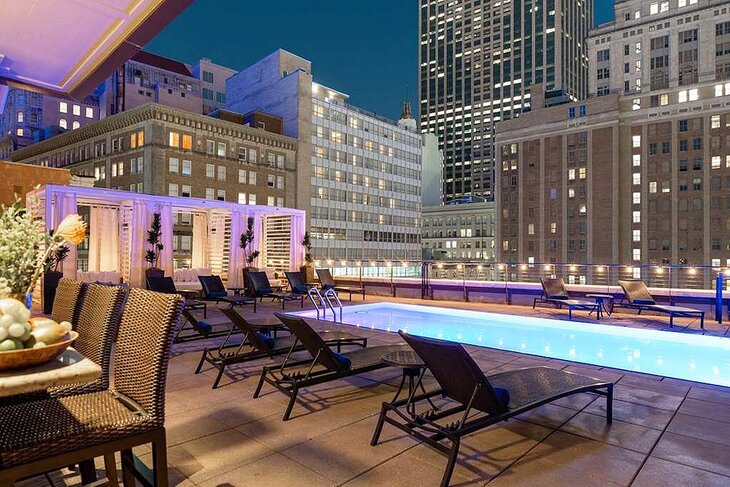 Accommodation: NOPSI Hotel New Orleans
A great example of urban renewal and repurposing of a historic building for modern use, the NOPSI Hotel New Orleans (named for the original tenant, the city's transit company, New Orleans Public Service Inc.) is a stylish, downtown hotel packed with amenities.
Centrally located within easy walking distance of popular things to do and places to go like the Arts/Warehouse District, the Garden District, and the French Quarter, the pet-friendly hotel is a fun place to stay.
Accommodations have a clean, stylish design but are nothing exceptional. Go for a Terrace Deluxe Room on the penthouse level, which comes with a spacious private outdoor terrace with city views.
Dine at Public Service, the hotel's lobby-level restaurant, as popular with locals as it is with hotel guests. Above The Grid is the rooftop, poolside café with a day club menu of sharing plates and small bites. The hotel curates a cool entertainment scene with a Sunday day club at the rooftop pool and a Sunday jazz brunch downstairs in the restaurant.
Address: 317 Baronne Street, New Orleans, LA 70113
9. Drury Plaza Hotel New Orleans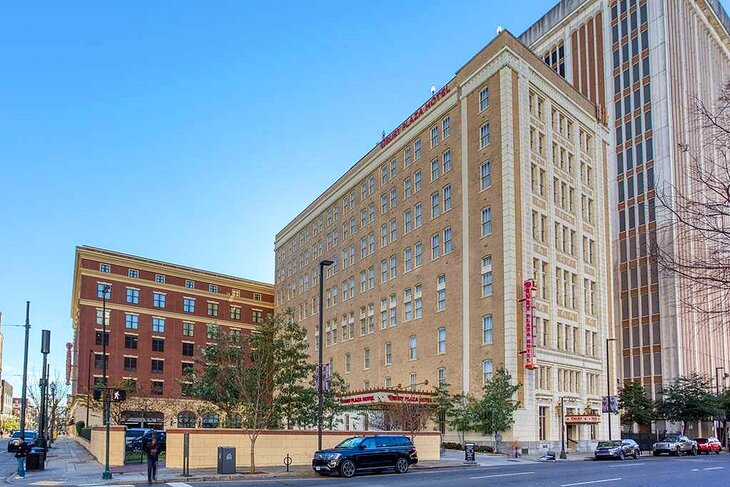 Accommodation: Drury Plaza Hotel New Orleans
While not fancy nor stylish, the Drury Plaza Hotel New Orleans is highly rated because it consistently delivers value. With a free hot breakfast, free Wi-Fi, a free 5:30pm "Kickback" (hot food and cold drinks), free popcorn and soda in the lobby, along with a heated pool and spa and a fitness center, you get a lot for its mid-range price. Rooms and suites at the smoke-free hotel are clean and modern with typical corporate hotel amenities.
The hotel is in the Central Business District a short walk from the French Quarter. The St. Charles Street Car has a stop next to the hotel, which will take you to the Garden District and other areas to see.
The Kitchen and Bar @ Cumberland Switch is the hotel's restaurant, serving breakfast, lunch, and dinner, along with late-night bites.
On-site, covered self parking is $34 per day. Pets, both canine and feline, are welcome with a $50 daily room fee. Up to two pets with a combined weight of 80 pounds are welcome.
Address: 820 Poydras Street, New Orleans, LA 70112
10. Kimpton Hotel Fontenot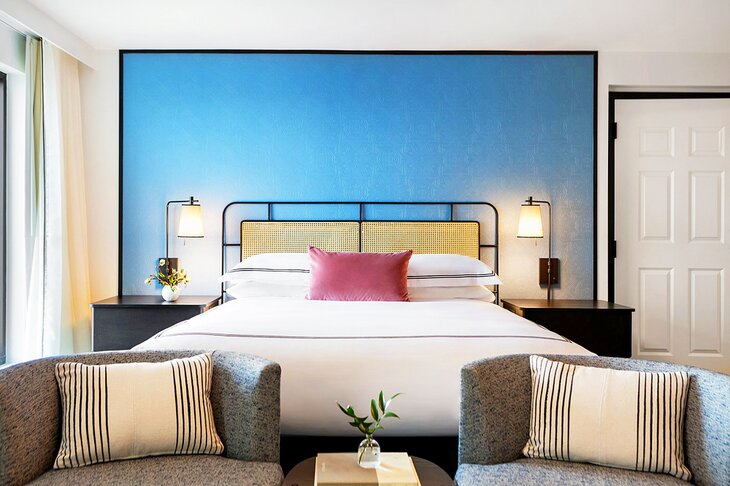 Accommodation: Kimpton Hotel Fontenot
Located in the heart of downtown, at the intersection of Poydras Street and Tchoupitoulas Street, the Kimpton Hotel Fontenot presents a chic and cool take on the New Orleans hotel. With a strong jazz influence on the design and style, it starts with the living room lobby where you (and locals) are encouraged to just kick back and hang out.
Rooms and suites are ultra-modern with comforting luxury touches like Frette linens, Atelier Bloem bathroom amenities, micro-fiber bathrobes, and special Kimpton custom-made mattresses.
Most of the action happens in the Peacock Room, the hotel's large restaurant and nightclub. They have amazing Wednesday night live musical performances, a jazz brunch, and other unique programming.
Kimpton has one of the best pet policies in the hotel world. Unlike most properties, there are no size restrictions, in fact, they say if it will fit in the elevator, you can bring it to the hotel, regardless of breed (or species).
Address: 501 Tchoupitoulas St, New Orleans, LA 70130
11. Hotel Monteleone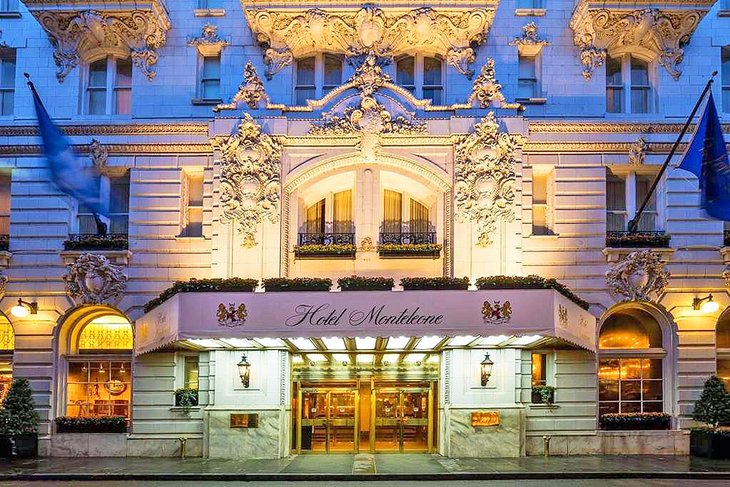 Accommodation: Hotel Monteleone
Just one block off Bourbon Street on Royal Street in the heart of the French Quarter, the Hotel Monteleone is another of New Orleans' luxe grande dame properties. The majestic hotel dates back to 1886 and has a timeless, elegant vibe throughout its public spaces and nearly 600 rooms and suites.
The coolest accommodations to book are the Literary Author Suites. The Hotel Monteleone is one of only three hotels in the U.S. that has been designated a Literary Landmark by Friends of the Libraries, USA. The suites are named after famous authors – from William Faulkner to Rebecca Wells – that used to stay here and create.
Amenities at this hotel include a rooftop swimming pool, a fitness center, and a spa with a full range of services. The hotel is also home to the landmark Carousel Lounge, which has shown up in numerous pieces of literature over the years. The only revolving such venue in New Orleans, it is a lively, circus-clad Merry-Go-Round with 25 seats.
Address: 214 Royal Street New Orleans, LA 70130
Map of Resorts in New Orleans, LA