10 Top-Rated Resorts in New Orleans, LA
We may earn a commission from affiliate links ()
Designed to meet your every whim, resorts in New Orleans are destinations in themselves, meaning you don't need to leave the property to grab a meal or find entertainment. Of course to not explore all the magic New Orleans has to offer would be a shame, and we don't recommend staying in your resort 24/7, but should you want a day off or a bit of a staycation, these resorts will do the trick.
Luxury resorts like The Ritz-Carlton, New Orleans provide every possible amenity to create the ultimate guest experience. Other iconic hotels like The Roosevelt, a Waldorf Astoria Hotel deliver these experiences with plenty of local history and culture.
Aside from the historic resort hotels, new properties like the Hotel Indigo New Orleans Garden District inject a new vitality (and more tourists) into some of the city's most historic neighborhoods.
Large, luxury hotels like the InterContinental New Orleans provide a nice combination of guest amenities, plenty of on-property activities, some privacy, yet close proximity to the French Quarter and other tourist attractions. The resort hotels also tend to have spas, which are perfect places to recover from French Quarter adventures.
Find a great place to stay with our list of the best resorts in New Orleans.
Note: Some businesses may be temporarily closed due to recent global health and safety issues.
1. The Ritz-Carlton, New Orleans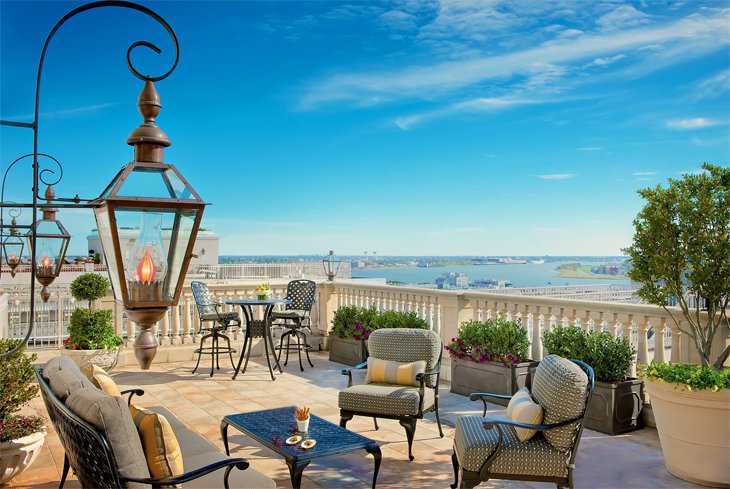 Created from the iconic Maison Blanche department store on Canal Street in the heart of the French Quarter, The Ritz-Carlton, New Orleans represents the ultimate in an urban resort property. Although you're in the French Quarter, the hotel property has so many things to do and so much New Orleans culture right on-site, you may never want to leave.
The rooms and suites here are five-star luxe and re-create the original glamor of the 1908 Beaux Arts mansion they are housed in. Decor includes posh cream-padded headboards and pops of color in the form of chairs or chaise lounges and decorative pillows.
Bathrooms are marbled, and beds are comfy and draped in high quality linens with fluffy duvets. The resort is also kid friendly with family rooms.
Beyond the luxurious accommodations and amenities, the hotel has a huge spa (the biggest in New Orleans) and some of the best food in the city (which is saying a lot in New Orleans). For foodies, there's a lobby lounge with live music and small bites and one of the city's best afternoon tea services, along with M Bistro, the hotel's farm-to-table restaurant.
Accommodation: The Ritz-Carlton, New Orleans
2. The Roosevelt New Orleans, a Waldorf Astoria Hotel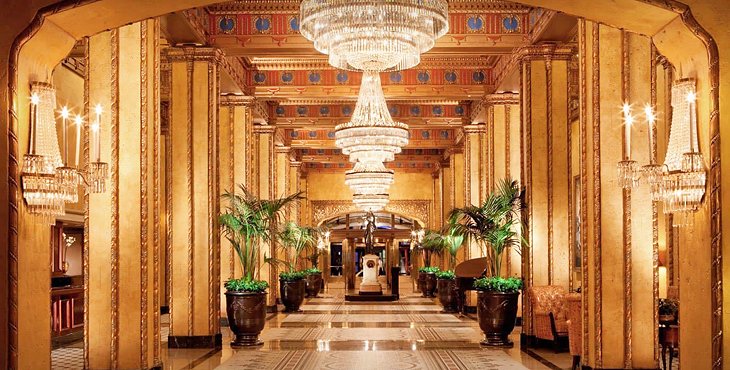 This historic luxury hotel, the Grande Dame of the city, first opened in 1893 and has been considered the best place to stay for more than 100 years. It's a large resort hotel, with just over 500 rooms and suites.
The luxurious Roosevelt Spa includes a big rooftop pool, along with a range of treatment options.
When you get hungry, there's the Fountain Lounge that serves small plates; Teddy's Cafe off the lobby, with a fairly extensive coffee shop menu; an Italian restaurant; a rooftop poolside café; and in-room dining is always available.
The Roosevelt is on Canal Street, on the edge of the French Quarter.
Accommodation: The Roosevelt, New Orleans a Waldorf Astoria Hotel
3. Hotel Monteleone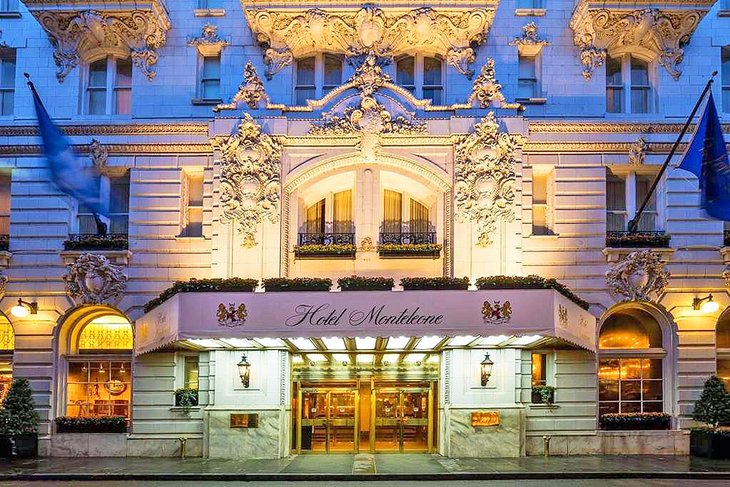 Just one block off Bourbon Street on Royal Street in the heart of the French Quarter, the Hotel Monteleone is another of New Orleans' luxe grande dame properties. The majestic hotel dates back to 1886 and has a timeless, elegant vibe throughout its public spaces and nearly 600 rooms and suites.
The coolest accommodations to book are the Literary Author Suites. The Hotel Monteleone is one of only three hotels in the U.S. that has been designated a Literary Landmark by Friends of the Libraries, USA. The suites are named after famous authors – from William Faulkner to Rebecca Wells – that used to stay here and create.
Amenities at this hotel include a rooftop swimming pool, a fitness center, and a spa with a full range of services. The hotel is also home to the landmark Carousel Lounge, which has shown up in numerous pieces of literature over the years. The only revolving such venue in New Orleans, it is a lively, circus-clad Merry-Go-Round with 25 seats.
Accommodation: Hotel Monteleone
4. Royal Sonesta New Orleans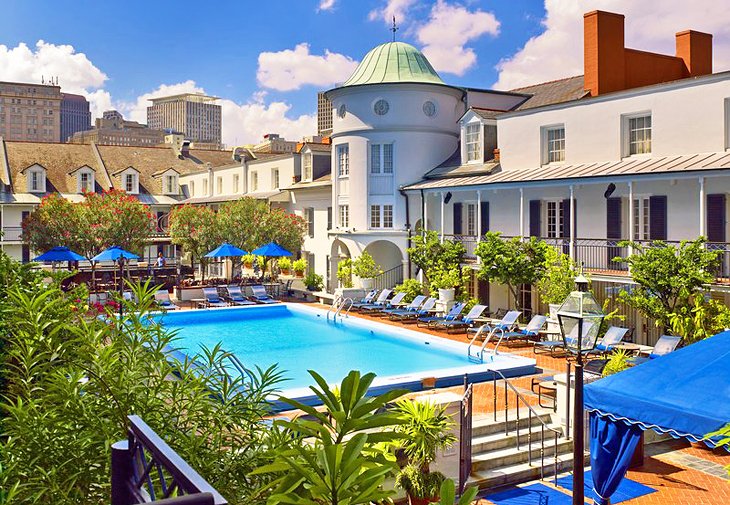 This large (almost 500 rooms) luxury hotel also puts you right in the heart of the French Quarter, on Bourbon Street itself. It's a historic property that has been completely updated with modern accommodations and amenities.
There are three different dining options on the property, including a café and a Cajun/Creole restaurant, along with a popular jazz music venue. The hotel really takes food seriously with a "Food is Art" philosophy, and you can easily spend an entire stay here enjoying New Orleans without leaving the property.
There's a large fitness center and an outdoor heated pool, located in the center of the property. Some of the hotel's rooms and suites have balconies right on Bourbon Street, allowing guests to be part of the fun.
Accommodation: Royal Sonesta New Orleans
5. InterContinental New Orleans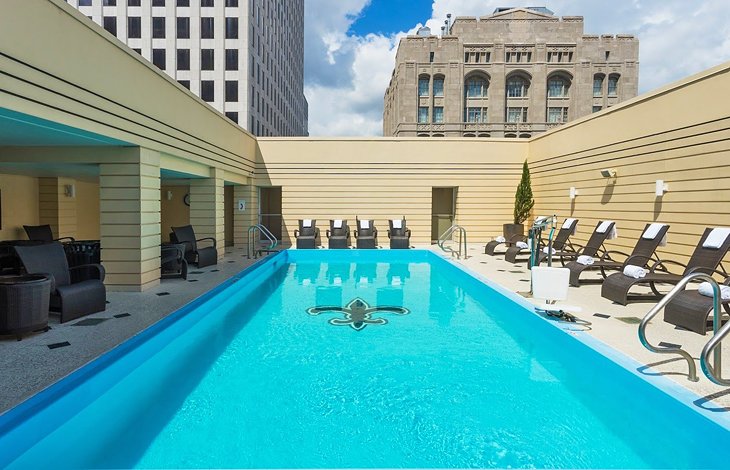 Close enough to the French Quarter to be able to walk there and to the city's other museums and attractions, the luxurious InterContinental New Orleans is a resort-style hotel in the heart of the city.
The InterContinental is also just far enough away from the French Quarter that it can be a wonderful sanctuary from the area's seemingly unending buzz.
This modern, luxury hotel offers a resort experience, as it has spacious guestrooms, plenty of on-property activities and amenities, along with multiple dining options and a large spa. There's a big, rooftop pool and since the building is a high-rise, some of the rooms and suites have fantastic views of the city and river.
Accommodation: InterContinental New Orleans
6. The Pontchartrain Hotel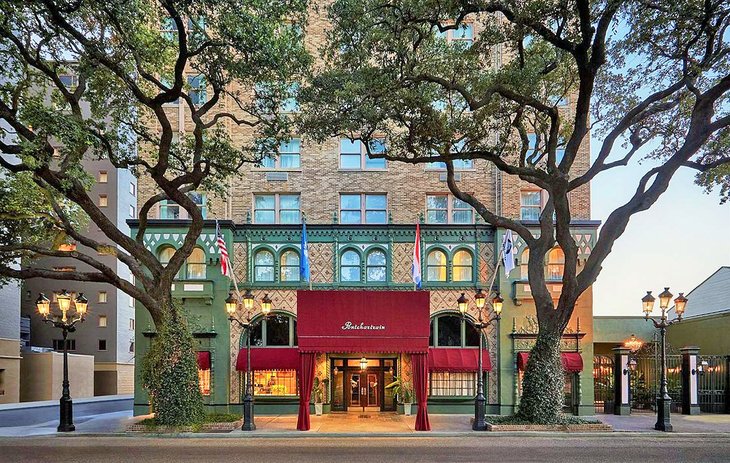 This historic hotel first opened in 1927 and is named for the large lake adjacent to the city. It retains its flapper-era elegance, and the service is always on-point. It's in the Garden District, a short walk from the French Quarter, and provides a wonderful, authentic New Orleans experience.
There's a café; a lobby lounge; and a lounge and café on the roof, 14 floors above the city, with great river views.
The hotel's Caribbean Room is one of the city's most famous restaurants, and it has recently been restored and refreshed with a new menu and chef.
The Pontchartrain sits on a streetcar line and famous sometimes-resident Tennessee Williams worked on his related play in his suite at the hotel.
Accommodation: The Pontchartrain Hotel
7. Henry Howard Hotel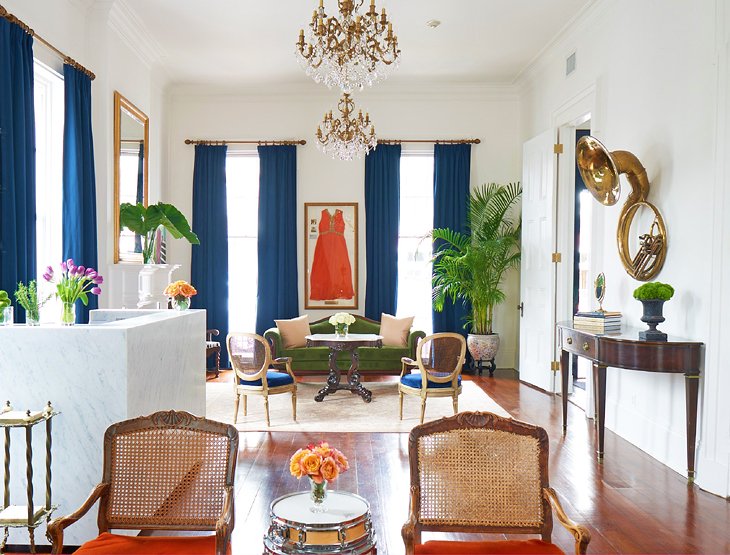 Named for the architect who designed many of the iconic mansions in New Orleans' Garden District, this boutique hotel is in the heart of it. The former private mansion has been luxuriously updated, and the bed-and-breakfast-like service and amenities can make it feel like your own private home.
A stay here turns the whole Garden District into your very own architectural resort. The Garden District is a beautiful section of the city and a great place to stay. It's especially nice for couples seeking a romantic experience, with tree-covered streets, ornate mansions, and plenty of good shopping and dining within walking distance of the hotel.
Accommodation: Henry Howard Hotel
8. Wyndham La Belle Maison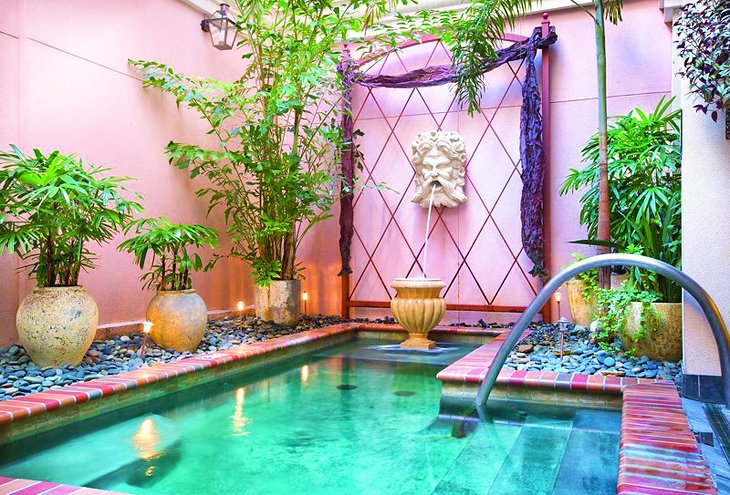 This mid-range resort hotel delivers an impressive luxury experience. The big draw is its location, in the hottest new neighborhood of New Orleans: the Warehouse District. This area, also called the New Orleans Arts District, is filled with museums, art galleries, and many locally owned restaurants and shops. It's a 10-minute walk to the French Quarter or to riverfront attractions.
The property has large resort suites starting with studios the size of a regular hotel room up to two-bedroom suites that can sleep six people comfortably. All the suites have partial kitchens and free Wi-Fi. There's a large outdoor pool, along with an indoor hot tub and a full gym and fitness center. There's even a laundry room.
Accommodation: Wyndham La Belle Maison
9. Hotel Indigo New Orleans Garden District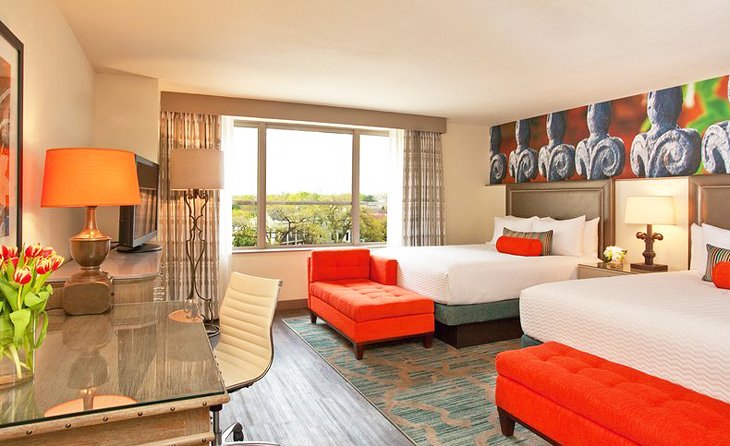 Hotel Indigo is a cool, luxury boutique hotel brand from InterContinental, and each property is unique and different, carefully designed and planned to become a part of their neighborhood. It provides guests with a more real, local experience than staying in a large, corporate property.
The Hotel Indigo New Orleans Garden District is a newly constructed hotel in the Uptown neighborhood, near Magaziner Street and the Garden District. The French Quarter is a short streetcar ride away. Rooms here are quite modern with bold pops of color and wall art. Beds are comfy, and the rooms feel spacious.
There's a full-service restaurant open early in the morning until late at night and a 24-hour help-yourself pantry. The hotel is on the Mardi Gras parade route and close to all the city's attractions. The rooms are modern and stylish; those on higher floors have nice views.
Accommodation: Hotel Indigo New Orleans Garden District
10. Mandeville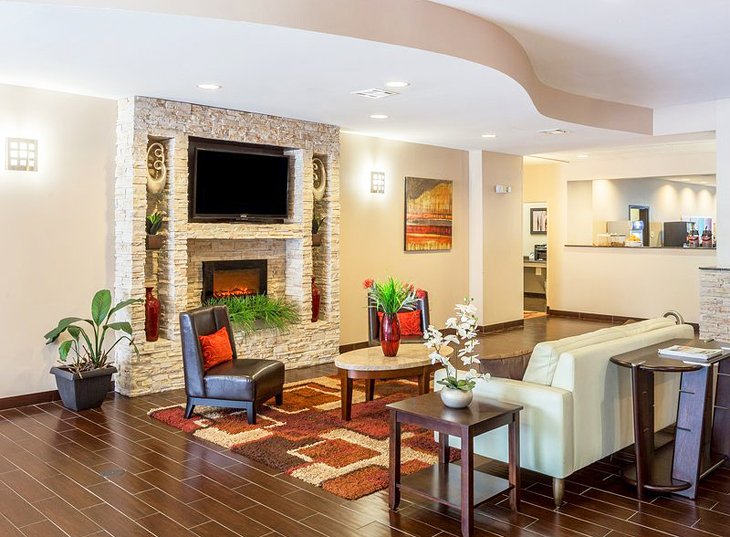 This quaint lakeside community was founded in the 19th century as a summer resort for wealthy families from New Orleans. It's less than an hour by car from the city and is still a great resort destination for families.
Mandeville also has some excellent Cajun and Creole restaurants and many antique stores, art galleries, and locally owned shops.