Exploring London's National Gallery: A Visitor's Guide
The National Gallery possesses one of the most valuable and comprehensive collections of paintings in the world. The building in which they're housed, designed by William Wilkins and completed in 1838, is itself pretty spectacular, and it's worth spending a little time lingering on the terrace with its excellent views of Trafalgar Square and Whitehall. Outside the building stands a monument of James II as a Roman emperor by Grinling Gibbons with the inscription King of England, Scotland, France and Ireland, as well as a bronze replica of the Washington Statue in Richmond, Virginia.
The gallery was founded in 1824 after Parliament provided £57,000 for the purchase of 38 paintings from the famous Angerstein Collection, first seen in the Angerstein Rooms at 100 Pall Mall. Numerous later purchases and donations made it necessary to enlarge the building in 1876 when the dome was added, and further extensions were made in 1887, 1927 and 1929. In 1952, Boris Anrep decorated the entrance vestibules with mosaics. In recent years a new annex has provided much-needed additional display space, and in 1991 the Sainsbury Wing was opened. The collections of the National Gallery offer an almost complete cross-section of European painting from 1260 until 1920, with the greatest treasures being the collection of Dutch Masters and the Italian Schools of the 15th and 16th centuries.
The Sainsbury Wing
The National Gallery Sainsbury Wing presents painting from 1260 to 1510. Its best known artists include: Fra Angelico (Christ in Majesty), Duccio, Pisanello, Masaccio, Giotto, Paolo Uccello, Piero della Francesca (Baptism of Christ), Cosimo Tura, Andrea Mantegna, Giovanni Bellini (Madonna of the Meadow and Pietà), Carlo Crivelli, Antonio del Pollaiuolo, Sandro Botticelli, Piero di Cosimo (Battle of Centaurs and Lapiths), Leonardo da Vinci (Madonna and Child with St Anne and John the Baptist), and Raphael (The Crucifixion).
Its collection of Dutch and Flemish paintings includes: Jan van Eyck (The Arnolfini Marriage), Hans Memling (Altar of Mary), Dieric Bouts (Mary with the Child), Hieronymus Bosch (Christ with the Crown of Thorns), and Lucas Cranach the Elder (Portrait of a Young Woman).
The West Wing
The West Wing of the National Gallery in London presents paintings from 1510 to 1600, including: Michelangelo (The Entombment), Pontormo, Andrea del Sarto, Bronzino, Correggio, Giorgione, Titian (Venus and Adonis and Bacchus and Ariadne), Tintoretto (St George and the Dragon), Paolo Veronese (Adoration of the Magi), Giovanni Battista Moroni, Lorenzo Lotto (Lucretia), Sebastiano del Piombo, and El Greco (Jesus Expels the Moneychangers).
German and Dutch paintings include: Albrecht Dürer (The Painter's Father), Albrecht Altdorfer (Landscape with Bridge), Hans Holbein the Younger (The Ambassadors), Pieter Bruegel (Adoration of the Magi).
The North Wing
The North Wing in the National Gallery in London presents paintings from 1600 to 1700 including: Peter Paul Rubens (Rape of the Sabine Women and The Straw Hat), Anthonis van Dyck (Charles I on Horseback and The Balbi Children), Franz Hals (Man with a Glove), Rembrandt van Rijn (Saskia and Flora and Portrait of a Jewish Merchant), Jan Vermeer (Lady at the Virginal), Pieter de Hooch, Jacob van Ruisdael (Landscape), Carel Fabritius, Gerard Terborch, Meindert Hobbema (The Avenue of Middelharna), and Jan Steen (Two Musicians on a Terrace).
Spanish paintings include: Diego Velázquez, Francisco de Zubarán, Bartolomé Esteban Murillo, Caravaggio (Boy bitten by a Lizard), Nicolas Poussin (The Finding of Moses), Claude Lorrain, Louis le Nain, Philippe de Champagne (Richelieu).
The East Wing
The East Wing of the National Gallery in London presents painting from 1700 to 1920 including: William Hogarth (Marriage à la Mode), Sir Joshua Reynolds (Lady Cockburn and Children), John Singer Sargent, Thomas Gainsborough (The Morning Walk), John Constable (The Haywain), and William Turner (View of Margate and Rain, Steam and Speed).
French paintings include: Antoine Watteau (La Gamme d'Amour), Jean-Baptiste Siméon Chardin, Jean Auguste Dominique Ingres, Eugène Delacroix, Honoré Daumier (Don Quixote), Gustave Courbet, Claude Monet (The Waterlily Pond), Edouard Manet, Edgar Degas (Dancers), Paul Cézanne (Les Grandes Baigneuses), Auguste Renoir, and van Gogh (Chair and Pipe and Sunflowers). Spanish and Italian paintings include: Francisco de Goya (Duke of Wellington), Canaletto (Views of Venice), Francesco Guardi, and Giovanni Battista Tiepolo (Entombment of Christ).
Touring the National Gallery
A variety of excellent audio tour options are available at the National Gallery, including some with specific themes that include fascinating explorations of related art. For example, the Inspired Tour leads guests to paintings known to have provided inspiration for poets and writers, as well as celebrities, some of whom share their favorites. Tours are downloadable from the gallery's website for playback on devices such as phones and MP3 players, and free maps are available at the Audio Guide desks. Excellent audio tours are also available for families with kids, including Art Detectives where kids follow the trail of two secret agents investigating a series of unusual art-related events. Free guided tours are also available, including the fun Talks and Tours program dealing with specific paintings or themes.
Tips and Tactics: How to Make the Most of Your National Gallery Visit
The following Tips and Tactics will help ensure you get the most out of your National Gallery adventure:
Shopping: The National Gallery has three shops stocking everything from high quality gifts, jewelry and clothing. Prints and postcards of any painting found in the gallery's collection are also available, as well as specialist books from the shop in the Sainsbury Wing.
Learning: An excellent program of lectures is available that includes discussions followed by a chance to flex your creativity with provided drawing materials (Fri, 1-2pm; some evenings, 6:30pm). Fun learning opportunities for kids include free hands-on art workshops and interactive walking tours (workshops fill quickly, so arrive early).
Music: Free Friday evening music recitals are provided by students from the Royal College of Music.
Tools of the Trade: Free paper and pencils are provided at all Information Desks for families with children.
Food and Drink: A variety of food outlets are located onsite, including and espresso bar, café and restaurant.
Getting To the National Gallery
By Underground (Tube): The National Gallery is located in Trafalgar Square and is served by five underground stations within an easy walk: Westminster (District, Circle and Jubilee lines); Embankment (Northern, Bakerloo, District and Circle lines); Piccadilly (Piccadilly and Bakerloo lines); Northern and Piccadilly lines); Charing Cross (Northern and Bakerloo lines); and Leicester Square (Northern and Piccadilly lines).
By Train: The nearest train station is Charing Cross. For details of links to London from across the country, visit www.nationalrail.co.uk.
By Bus: The gallery's central location ensures it's particularly well served by numerous bus routes.
By Bike: Numerous bike stands are located in the area.
By Boat: The nearest embarkation point for ferries and tour boats is Embankment Pier.
By Road: The National Gallery's location in the heart of London's busy tourist and business district means driving is not for the faint of heart. Your best bet is to park on the outskirts of the city (or an outlying train station) and take the train or underground.
Parking: A variety of public parking lots are available nearby.
Hours
Daily, 10am-6pm; Fri, 10am-9pm
Admission
Address
The National Gallery, Trafalgar Square, London WC2N 5DN
www.nationalgallery.org.uk
What's Nearby?
The National Gallery's central location makes it easy to take in some of London's other big sightseeing attractions. Among those close by are Trafalgar Square, Westminster Abbey and the Houses of Parliament, St Paul's Cathedral and Buckingham Palace. And, of course, right next door is the National Portrait Gallery. Across the River Thames there's the huge London Eye with its incredible views of London, the Shard - the city's tallest building with country's tallest viewing platform - and the vibrant South Bank arts and entertainment complex.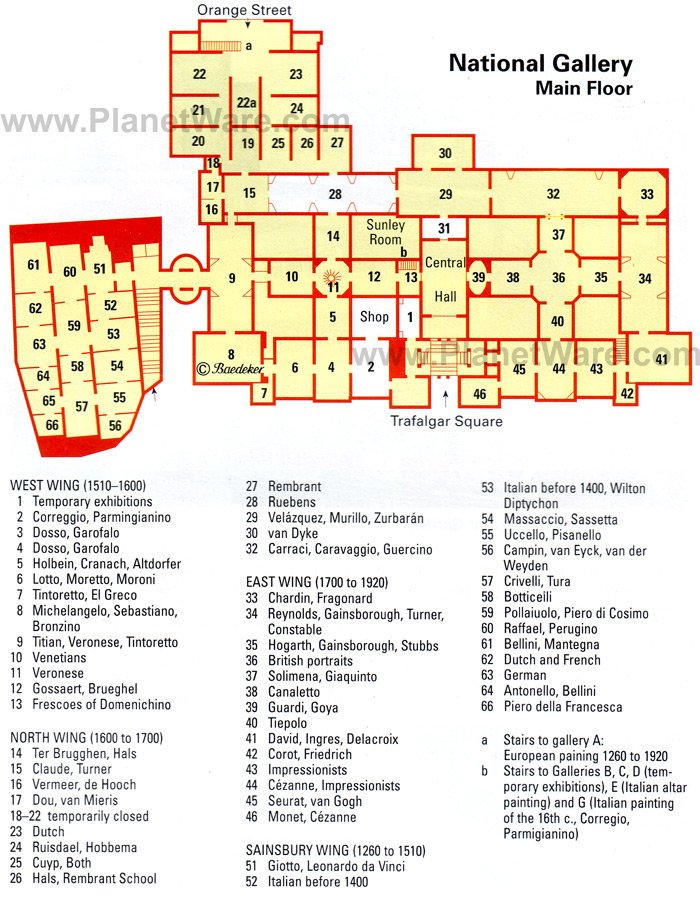 British National Gallery Map
Want to use this map on your web site?
Copy and Paste the code below: