14 Best All-inclusive Resorts in Jamaica
We may earn a commission from affiliate links ()
Jamaica's coastline is ringed by some of the most impressive beaches in the world. And where there are gorgeous Caribbean beaches, there are gorgeous Caribbean hotels. All-inclusive resorts in Jamaica are among the best in the Caribbean, so when planning a Jamaica getaway, you may need help getting started.
From couples resorts, like Excellence Oyster Bay or Sunset at the Palms, to family-friendly all-inclusive resorts, like Hyatt Ziva Rose Hall and Azul Beach Resort Negril by Karisma, Jamaica's tourist hot spots have all-inclusive resorts to please even the most discerning travelers. Jamaica even has whimsical boutique options, like The Caves Negril, which is a stunning bohemian cliff-top hideaway.
Are you ready to find a great place to stay? Check out our list of the best all-inclusive resorts in Jamaica.
1. Sandals Royal Caribbean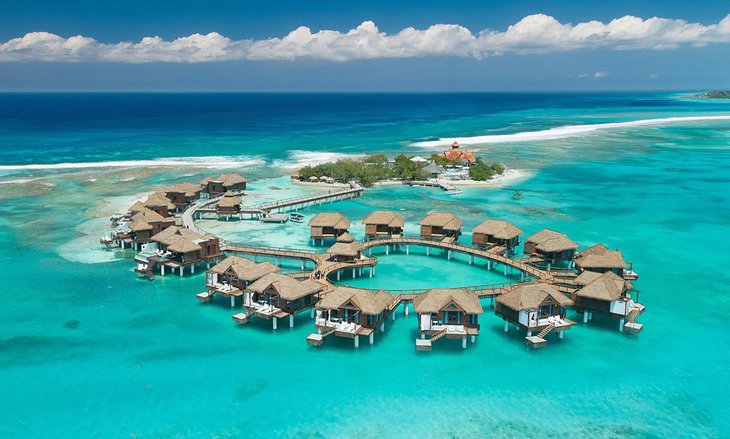 Sandals Royal Caribbean has two dozen room categories at the resort, so guests will have much to choose from. Fifteen overwater bungalows really level up the elegance. Other rooms are located directly on the beach, and others still have private pools and swim-up entries.
The water features at Sandals Royal Caribbean are its biggest selling points, from the sandy private beach to the many swimming pools scattered throughout the property.
Eight restaurants are on the property, serving everything from Thai and traditional Jamaican Jerk to grilled burgers and romantic French cuisine.
Activities are abundant at the resort, from included unlimited scuba diving to snorkeling, sailing, and paddleboarding. Activities also include volleyball and tennis courts and billiards.
Sandals' signature Red Lane Spa features a fitness center and treatment rooms, as well.
2. Round Hill Hotel and Villas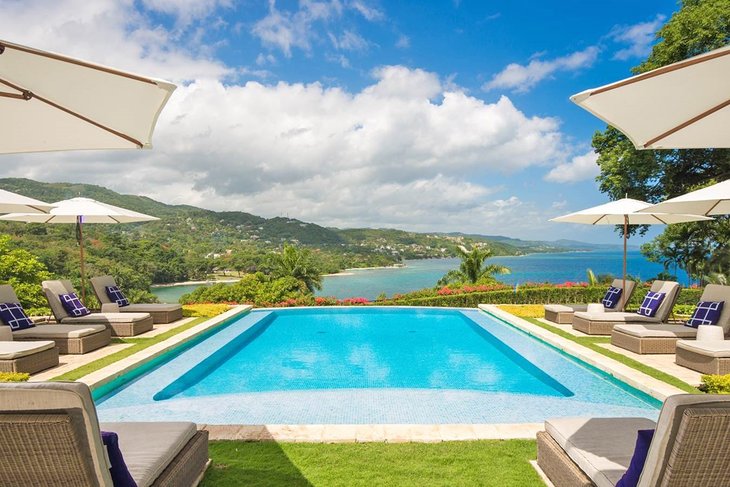 The resort is not advertised as a traditional all-inclusive resort in Jamaica, but guests can purchase an all-inclusive package.
The sprawling resort is perched on 110 tropical acres, replete with a sandy beach, manicured lawns, and lush foliage. The lobby is done up in traditional plantation style, with checkered floors and a stunning chandelier.
The resort includes 74 suites and 36 oceanfront rooms. The rooms are designed by Ralph Lauren, with stunning four-poster mahogany beds, white stone floors, and deep soaking tubs. The white color palette sets the tone for the turquoise sea just out front.
The beach at Round Hill is small, but beautiful, with a lovely swimmable beach and plenty of loungers. An infinity pool overlooks the sea. Dining options include modern Caribbean-style restaurants serving grilled specialties and Jamaican classics.
3. Sandals Negril Beach Resort & Spa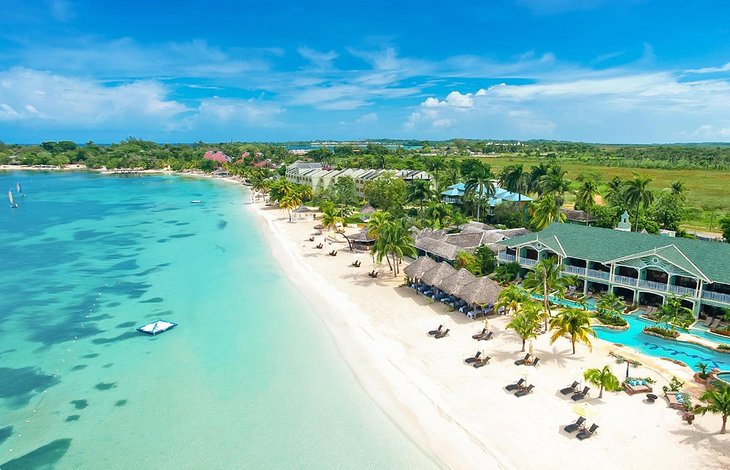 The dreamy setting is elegant and understated, with plush couches, fire pits, and a subdued overall tone. Higher category rooms have neat perks like whirlpool tubs, while swim-up suites come with butler service. Other rooms have multiple floors or private pools.
Seven restaurants are available to guests, serving everything from Jamaican cuisine to Italian and Japanese. The main pool is the heart of the action, with activities and music. Two other pools offer a more tranquil vibe. Of course, there's also Seven Mile Beach, and Sandals Negril's location is one of the best.
Signature Red Lane Spa has hydrotherapy facilities, and guests can even book a treatment on the beach.
4. Hyatt Ziva Rose Hall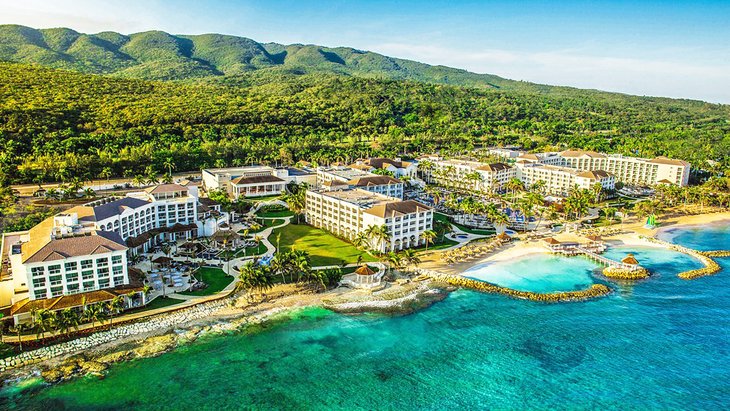 The 277 rooms are modern and generously sized, with entry level rooms starting at 500 square feet. Swim Up Rooms have semi-private pools. Suites offer ocean views, as well as additional amenities like private butler service and personalized beach service.
The main feature of the resort is its central pool, which is the centerpiece between Hyatt Ziva and Zilara. The ocean-facing pool is lined with an ample amount of loungers and umbrellas. The beach is decidedly small, but clean, with a lovely stretch of sand and lounge chairs under palapas.
Eight restaurants include a number of options, from Jamaican-style BBQ to hibachi and Italian. Zen Spa features a steam room, sauna, and private plunge pool.
5. Excellence Oyster Bay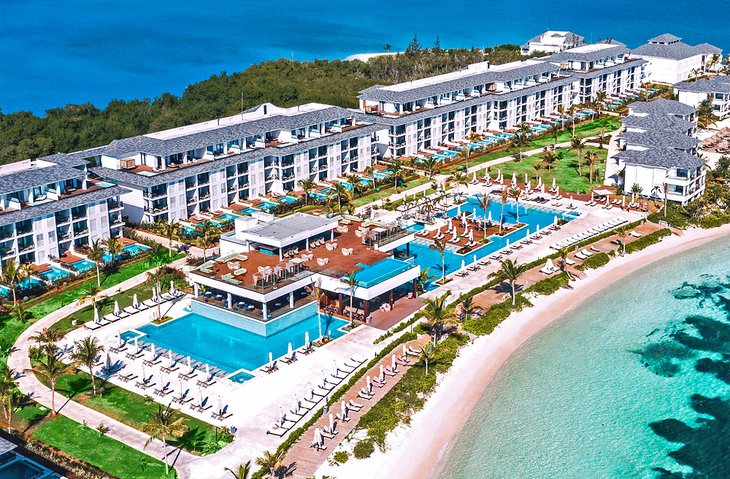 Tucked on its own peninsula near Falmouth cruise port, Excellence Oyster Bay is stunning in its design, with contemporary spaces that blend creams with black marble and bright colorful accents.
The newest rooms are the Beach Villas, which are absolutely sprawling and replete with amenities, from private pools and butlers to large porches and private palapas.
The resort has eight different restaurants, and the food receives fantastic reviews. Guests love the Asian fusion and Italian, plus the French restaurant and steakhouse.
One of the best features of the resort is its wellness program, drenched in sunlight and plush with pampering options. The spa has an impressive hydrotherapy circuit, treatment rooms, and a palapa near the beach for outdoor treatments.
6. Couples Swept Away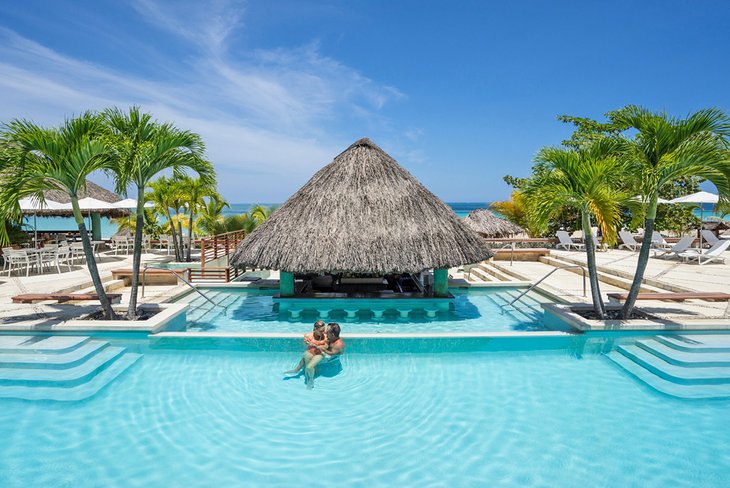 Negril's Seven Mile Beach sets the scene for this upscale all-inclusive resort. Rooms are modern, and all have balconies. For those not exploring the powder-soft sand, there are two pools, though both are a bit small. The real highlight is, of course, the beach.
Couples will love the Oasis Spa, which is low light and romantic. Up at the Great House, activities are always happening, including live music in the piano lounge.
Food options are plentiful, from Latin/Caribbean fusion to traditional Jamaican, gourmet cuisine, and late-night snacks.
7. Sandals Royal Plantation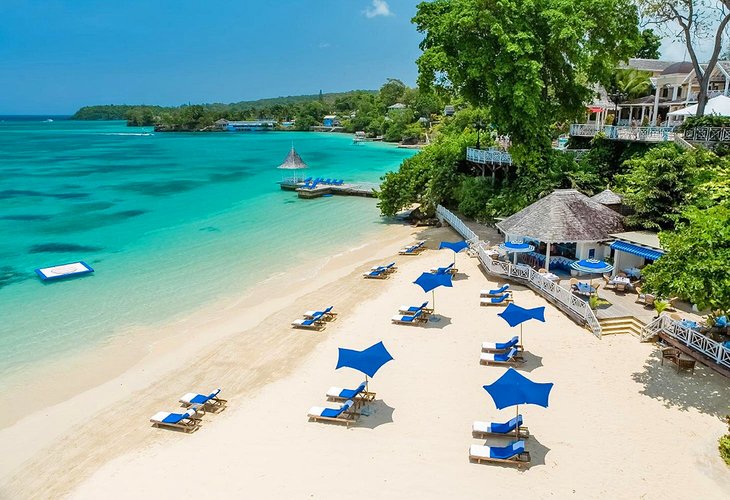 In a secluded locale, the resort has just 74 rooms, which gives it a very boutique vibe that is different from other properties by the Sandals chain. The spacious suites are done up in colonial-style with checkered marble floors, jewel-hued accents, and stylish wooden furniture. Rooms also include furnished private balconies.
Other perks of staying here include a truly all-inclusive experience. This means you can scuba dive as much as you want without paying extra. Other popular included activities include snorkeling, glass-bottom boat tours, and even green fees for playing the Par 71 Sandals Golf & Country Club nearby.
There are no buffets, so all meals are at a la carte restaurants, and the cuisine spans the globe. The only amenity that is not included is a treatment at the Red Lane Spa. But should you choose to indulge, you can book a couples massage outside overlooking the turquoise and green hues of the Caribbean Sea.
8. Beaches Negril Resort & Spa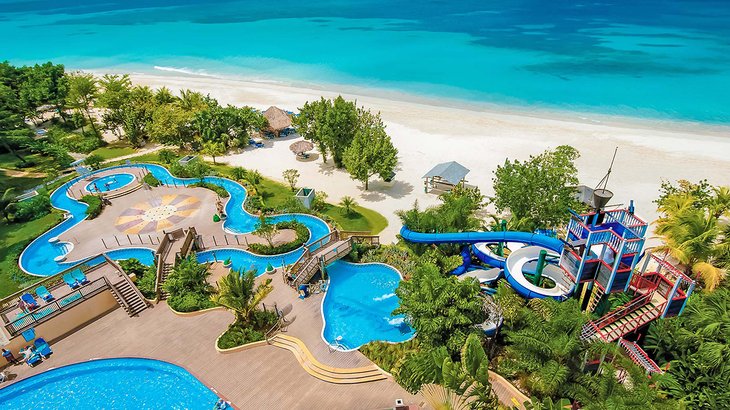 Rooms and suites are a mix of classic traditional, and eclectic and modern. Styles leave options for everyone, from the standard rooms to a three bedroom that can sleep up to 12. For extra perks, the Butler Suites come with private butlers.
The most eye-catching feature at Beaches Negril is, in fact, the beach. Seven Mile Beach is one of the most beautiful in the world, and the resort has one of the best pieces of real estate. Guests have access to sun beds and towels, and cabanas can be rented for an additional charge. But families may prefer the three pools, as well as the 1,800-square-foot Pirates Island water park.
Activities are also where this resort shines, from talent shows and karaoke, to bonfires and even a Sesame Street Carnival Parade. Parents will love the Red Lane Spa, as well as the fitness center.
9. Hyatt Zilara Rose Hall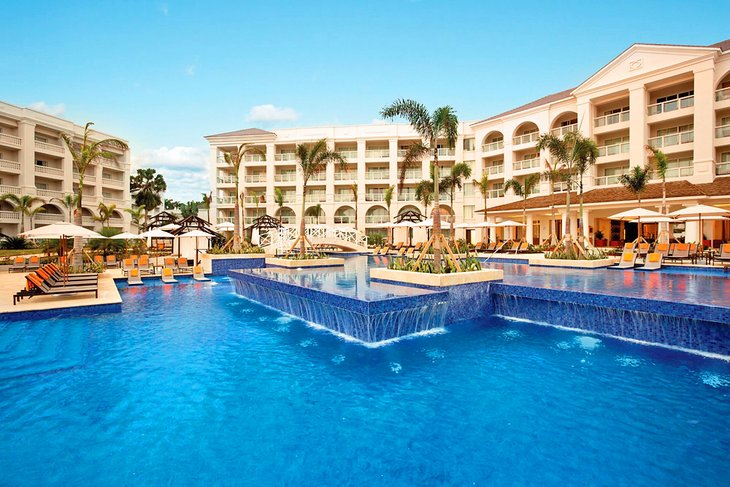 This section of the hotel has 234 rooms, each one light and airy with private balconies or terraces. Entry level rooms start at 500 square feet. Higher categories include Swim UP suites and Oceanfronts. Butler Suites max out at 1,000 square feet and have 24-hour butler service.
The centerpiece of the resort complex is the sweeping pool deck, which spills down to a small beach, though the beach is not as spectacular as other beaches in the area.
Within the entire Hyatt compound are 11 restaurants, many of which are located on the Ziva side. But guests of Zilara have access to them all. Food at each restaurant is consistently praised for its quality and variety.
The gym is another shining point of the resort, flooded with natural light and filled with high-end equipment, as well as free weights.
10. Hideaway at Royalton Negril Resort and Spa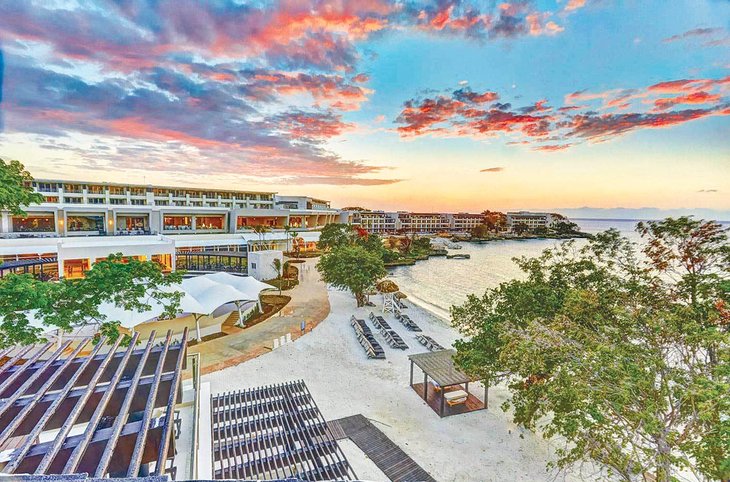 The resort has 166 rooms, overlooking a main pool and two beach areas. The ocean-view pool has a fun, energetic atmosphere with music and pool activities. Hideaway guests have access to two beach areas, as well.
Rooms are sophisticated, bright, and modern, with floor-to-ceiling glass windows, furnished balconies, and views over the ocean. Ground-floor rooms are swim-out suites. Tip: Book Diamond Club rooms for private check-in and other exclusive amenities like lounge access.
Several restaurants are on property, but most are open to guests of the entire resort complex. Hideaway guests have exclusive access to Ocean Point Bistro, which is a French eatery at next-door Grand Lido resort.
Other amenities include a spa; fitness center; tennis courts; and beach cabanas, which can be rented for a fee.
11. Azul Beach Resort Negril by Karisma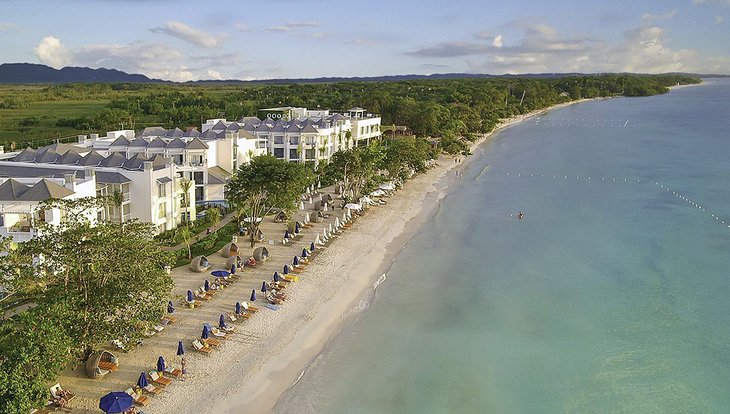 Rooms are bright and hip. A neutral palette clears the way for pops of bright turquoise or fuchsia. Ask about the ground-floor swim-up suites, which feed out to the resort's lazy river pool.
But it's doubtful that guests will be spending the majority of their time in the rooms, as the pools and beach here are truly world-class. Seven Mile Beach is one of the best beaches in the Caribbean, known for its bleached white sand and truly spectacular turquoise water.
Six restaurants include Caribbean and Thai food, as well as Mediterranean and Italian. Adults can kick back in the spa, while kids can enjoy the dedicated kids' club and daily activities.
12. Jewel Grande Montego Bay Resort & Spa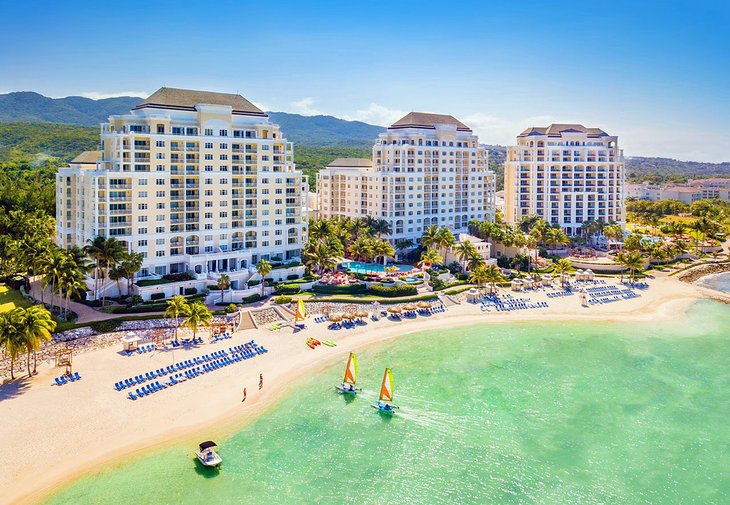 Opened in 2017, Jewel Grande Montego Bay is all about classical, colonial elegance, with dark wood furniture, neutral tones, and artwork indicative of Jamaica. Rooms are well-lit and spacious, with four-poster beds, kitchenettes, and furnished balconies or patios.
Six restaurants are included, from Jamaican eats to a steakhouse and a teppanyaki restaurant.
But the beach and pools are where the resort really shines. The sweeping stretch of beach has plenty of space to kick back and relax, while the two pools offer two separate vibes: laid-back for the main pool and packed with activities at the second.
The spa provides a respite from the hot Caribbean sun, with a mineral pool, sauna and steam room, and a unique Himalayan salt lounge.
13. Sunset at the Palms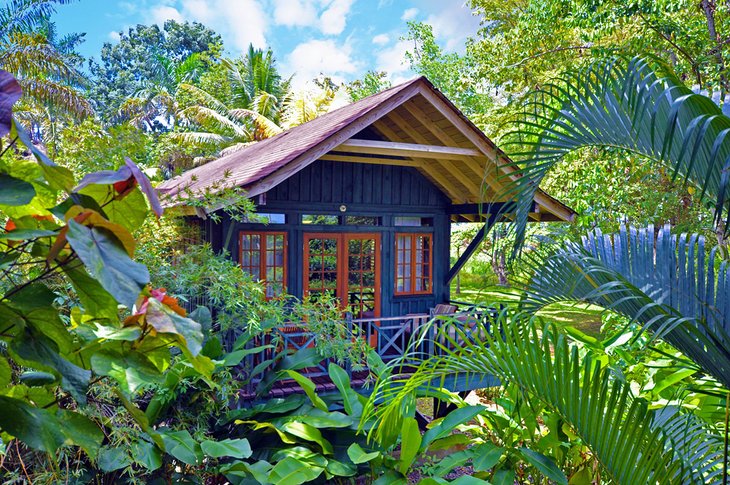 No poolside entertainment here. It's all about tranquility, and designed mostly for couples. The beach is across the street from the hotel, where lounge chairs and umbrellas are available to use. A small spa offers massages and facials, while a fitness center offers plenty of equipment.
Dining options include Caribbean fusion, as well as an international buffet.
14. The Caves Negril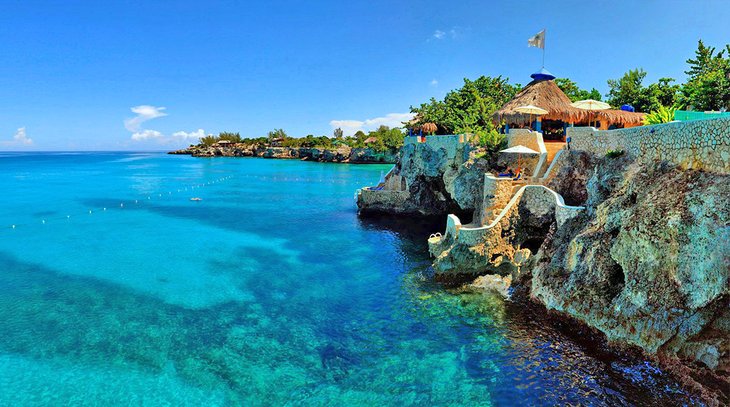 Underneath the cliffs are a series of caves, which have been transformed into secluded grottoes for dining.
The vibe at The Caves swings boho chic, with batik prints and Jamaican handicrafts scattered throughout. In fact, The Caves Jamaica is owned by a Rastafarian artist couple. They have sculpted the resort seamlessly into the landscape, where grottoes have limestone tables and chairs, and the cottages blend into the jungle.
The resort does not have a beach, but steps have been artfully carved into the cliffs, which provide direct swimming access. A saltwater pool and hot tub overlook the sea. Plus, guests can book a private indoor hot tub for sunset hour. A small spa is stocked with Aveda products and has a menu of massages.