Where to Stay in Naples, Italy: Best Areas & Hotels
We may earn a commission from affiliate links ()
Although the major attractions of Naples are somewhat spread out, the majority of tourist destinations are in the busy Decumani neighborhood (old town) and by the waterfront of Naples Harbor. The Decumani area is packed with restaurants and shops that line the narrow streets, near major sights like the Archeological Museum, San Domenico Maggiore, and numerous historic churches.
The waterfront area on the eastern side of the city is home to the Palazzo Reale (Royal Palace) and Castel Nuovo, as well as the main ports for ferries and passenger boats. The southern shore along the Santa Lucia district faces Mount Vesuvius and is where you can find the upscale Chiaia neighborhood's city park, Castel dell'Ovo, and numerous historic monuments.
Visitors who will be taking day trips and are willing to take a bus or the metro into the city center may find hotels near the train station a handy alternative. Tourists with a car will also find less expensive options in outlying neighborhoods like Vomero, known for its restaurants and nightlife. Public transportation is convenient and dependable, but it is easy and safe to explore the touristy parts of the city on foot.
On This Page:
Where to Stay in Naples for Luxury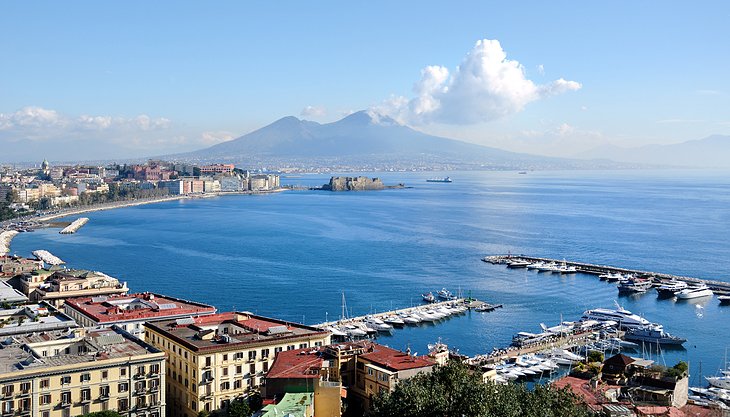 The Hotel Palazzo Decumani is located in the old town close to major attractions like San Domenico Maggiore, the National Archeological Museum, and Cappella Sansevero and is within easy walking distance of many other historic sightseeing destinations.
This newer, 20th-century building fits well in its old town setting, with an impressive façade and grand interior that features a huge marble spiral staircase. Rooms are high-ceilinged and expansive and are both modern and elegant. This 28-room hotel offers personal service to its guests, and your stay includes a gourmet breakfast.
The Romeo Hotel is conveniently located near the Naples Harbor main passenger boat launch, where you can take ferries to Pompeii and the surrounding islands. Known for its chic spa, the Romeo also has a heated rooftop pool and hot tub, as well as a fitness center, so that guests can become fully rejuvenated during their stay. The hotel has two restaurants, including an excellent authentic sushi bar and a Michelin-starred gourmet eatery.
The Grand Hotel Vesuvio sits in the Chiaia neighborhood, near the Castel dell'Ovo, overlooking Naples Harbor with views of Mount Vesuvius across the water. The spacious rooms and suites at this opulent five-star hotel feature decadent furnishings and artwork, antiques, and parquet floors.
Amenities include an indoor pool, hot tub, fitness center, full-service spa, and a business center. A generous breakfast buffet with fresh-baked pastries is available, served at the hotel's restaurant.
Where to Stay in Naples: Mid-Range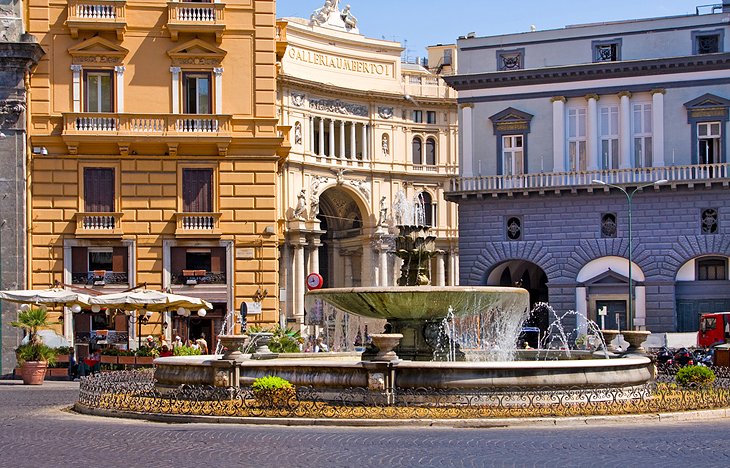 The Santa Chiara Boutique Hotel is located in the old town, close to landmarks like Piazza Bellini and the Museo Cappella Sansevero, and within walking distance of the National Archeological Museum. This quaint historic hotel is housed in a 17th-century palace that has been lovingly restored and updated to combine the best of its original features with modern amenities.
Suites, family rooms, and private balconies are available, and the hotel offers a wide range of services, including a shuttle bus and spa services, as well as complimentary breakfast and refreshments.
Hotel Il Convento sits in the Quartieri Spagnoli, which is conveniently situated between the Decumani and Chiaia neighborhoods and within walking distance of both, making this an ideal base for sightseeing. Close to Palazzo Lieto and just three blocks from the Fontana Del Nettuno, the hotel is also near plenty of restaurants and shops.
Rooms are plain but well-appointed, and the building's historical characteristics have been maintained. Rates include breakfast, which can be eaten on the lovely stone patio in nice weather.
Housed in a converted factory that allows spacious high-ceilinged rooms and suites, the Hotel Correra 241 offers excellent value with a central location and standard amenities that include an electric kettle for tea and coffee and in-room safe plus complimentary breakfast.
The hotel's ultra-modern look is stylish and has personality, using swaths of solid color to accent walls and furnishings. It is located within a five-minute walk to the National Archeological Museum and just 10 minutes from most of the old town sights; there is a bus stop one block away for easy transportation to Naples Harbor and outlying attractions.
For the consistency and standards of a dependable chain hotel, the Best Western JFK Hotel is a good option for those who have a car or are happy to take the bus; there is free on-site parking and a bus stop just two minutes away. Located in a safe area near the train station, this modern hotel offers airport transportation and a complimentary breakfast buffet with fresh Italian pastry.
Where to Stay in Naples on a Budget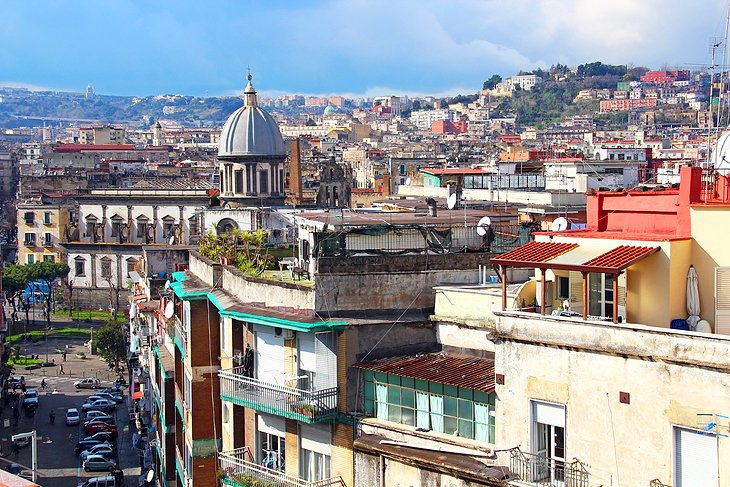 The affordable Week-end a Napoli is located in the Vomero neighborhood, just a few blocks from Piazza Vanvitelli and surrounded by restaurants and nightlife. The gracious hosts are always happy to assist with reservations and help guests find the best way to get around town.
Guest rooms are upscale and elegant despite the budget prices, and the hotel even offers spa services including massage. Amenities include a fridge and safe, as well as free Wi-Fi and breakfast.
Despite its location just one block from Naples Harbor and within a 10-minute walk of the Castel dell'Ovo and Santa Lucia's ritzy Chiaia neighborhood, Hotel Rex manages to keep its rates low. The hotel is updated and stylish, with elegant common areas, and rates include breakfast. This is a perfect landing place for tourists who will be taking ferries to Capri, Procida, and Ischia.
The ibis Styles Napoli Garibaldi has clean, bright rooms that come with complimentary breakfast and bottled water. Located near the train station, it is convenient for taking day trips out of the city to Pompeii or a bus into the old town. There are several good restaurants near the hotel, as well as shopping.
The quiet Hotel Europeo & Flowers is a no-frills lodging that is in the heart of the old town near the university and just a block from San Domenico Maggiore. This unique hotel has bright, interesting murals in the lobby and hallways, and each room is individually decorated to give it a unique personality.
Where to Stay in Naples for Families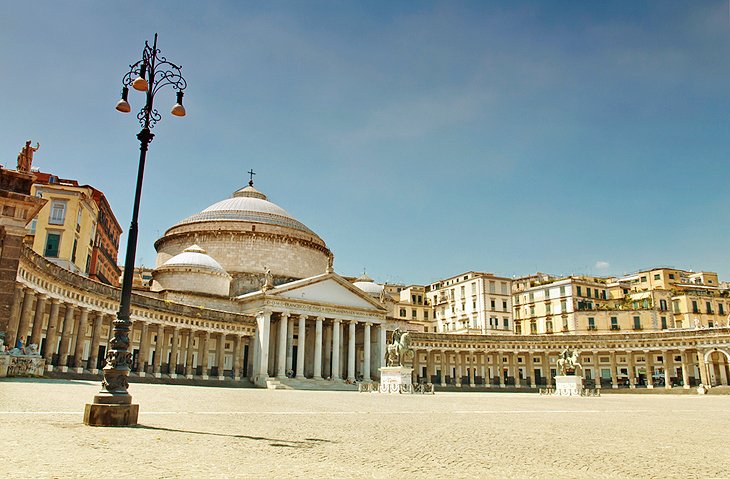 Families will vacation in style and comfort at La Ciliegina Lifestyle Hotel, a boutique hotel where kids can be kids without disturbing other guests, thanks to soundproofed rooms. This four-star hotel provides five-star service and amenities that will keep everyone happy, including spacious rooms with Sky TV's international channels, tea and coffee supplies, marble baths, and linen bedsheets. The rooftop terrace has a hot tub and views of the nearby Castel Nuovo, as well as views of Mount Vesuvius across the harbor.
Just a two-minute walk from the Cavalleggeri d'Aosta Metro Station, Hotel Cristina is a fair distance from the main attractions but close to the zoo and other activities and entertainment that will help keep kids happy. For added convenience, there is also a supermarket and several restaurants nearby.
The hotel has family rooms and is good value, with free parking and complimentary breakfast. It is also the city's premier green hotel, known for its energy-saving and eco-conscious efforts.
For a luxury family-friendly hotel, try the Grand Hotel Parker's. The 5-star property is an elegant affair, with lots of marble and glass, as well as old-world elegant furnishings, art, and gilding. There are just 79 rooms and suites, which feature the same style decor as the public areas. For those traveling with kids, there are family rooms available.
The rooftop terrace, where a complimentary breakfast is served each morning, is one of the best perks. There is also a restaurant on-site and a fitness center. Airport transportation can be arranged.
Where to Stay in Naples for Romance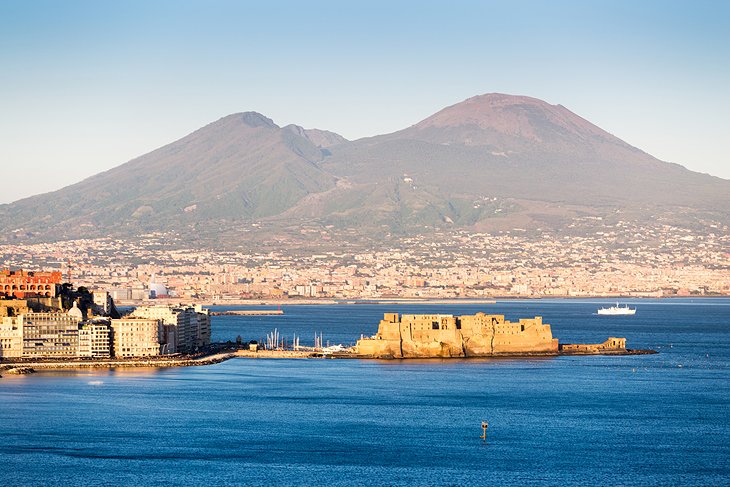 For couples who want to be immersed in the city's rich history, the Hotel Piazza Bellini is housed in a 14th-century nobleman's residence in the heart of the old town, just a few blocks from the National Archaeological Museum. This restored palace features high-ceilinged rooms, some of which overlook the peaceful courtyard full of classic busts and sculptures. For a private balcony, where you can dine on room service and gaze across the water at Vesuvius, ask for a Terrace room.
Naples' upscale Chiaia neighborhood is home to the Hotel Palazzo Alabardieri, a retreat that is simultaneously modern and classic. Everything about this property says elegance and sophistication, from the grand entrance and graceful murals to artwork in gilded frames and a covered courtyard. Just four blocks from the seafront, it is close to romantic waterside spots like Lungomare and convenient to excellent restaurants and dozens of boutiques.
For a romantic bed and breakfast experience try the B&B Grande Archivio Napoli. The B&B occupies the first floor of a one-time palace in a very walkable location in old town – many past guests give this place high marks for its super central location. Rooms are colorful and quite spacious. The hosts are also very friendly and happy to give advice on what to see and do in Naples. Parking is available.
More Related Articles on PlanetWare.com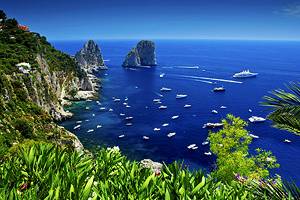 Things to do in Naples: Once you have figured out where to stay in Naples, it's probably time to figure out what to do in Naples. For some help in this department, see our guide to the Top Tourist Attractions in Naples & Easy Day Trips. See the sights of the city and nearby Pompeii. If you have time, hop a ferry and see the island of Capri.