10 Top-Rated Resorts in Sicily
Beautiful Sicily is a popular resort destination, whether you are traveling on a romantic vacation or exploring with the kids. This island off Italy's southern boot is home to beautiful beaches; charming towns; ancient history dating back to 400 BCE; and natural attractions, including an active volcano, Mt Etna. Sicily also boasts hundreds of resorts for all budgets and styles of travelers.
While properties are spread out around the island, many of the best resorts are located around Taormina, which is a town in eastern Sicily between the port city of Messina and Catania. It sits at the base of Monte Tauro and is built on a hill that appears to rise almost straight up from the sea.
Taormina is a stunning place to stay, with its clear blue seas, medieval ruins, and houses tumbling down towards the water. The resorts here range from 5-star luxe to mid-range condo style, and you'll find both all-inclusive and traditional resort properties.
Another top area to stay is Cefalu, which is an especially good choice for families. Just about 40 miles from Palermo, Sicily's capital and largest city, Cefalu has a laid-back vibe and lovely sandy beaches juxtaposed against turquoise and aquamarine waters.
Wherever you choose to stay, here are some of the best resorts in Sicily.
1. Villa Sant'Andrea, A Belmond Hotel, Taormina Mare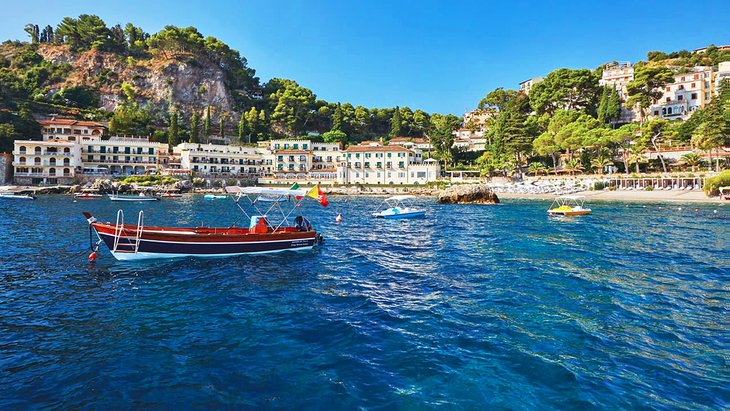 Accommodation: Villa Sant'Andrea, A Belmond Hotel, Taormina Mare
On a lovely cove surrounded by subtropical gardens, the beachfront Villa Sant' Andrea, A Belmond Hotel is one of the top luxury resorts in Taormina. It's set on a sandy beach below the city, which you can access via a cable car just a few minutes' walk away. You won't get any traffic noise here.
The resort is located in a 1919 villa, with marble floors and staircases, Baroque artwork, and antiques. It has an opulent elegance, and with just 71 rooms, the ambience is also relatively intimate. The rooms and suites are well-appointed, and most have balconies facing the bay.
Service here is superlative, with welcoming staff. Besides the beach, which has sun loungers and service, you'll also find a small heated swimming pool.
If you are traveling with children, there is a kids' club on-site, as well as a play area. The spa has a sauna and Turkish bath along with a range of treatments. A free boat tour is included, and other activities can also be arranged.
The restaurant serves a well-presented buffet breakfast (included) and then Sicilian fare at lunch and dinner. Dine outside on the terrace facing the beach.
Address: Via Nazionale 137, 98039 Mazzaro, Taormina, Sicily
2. San Domenico Palace, Taormina, A Four Seasons Hotel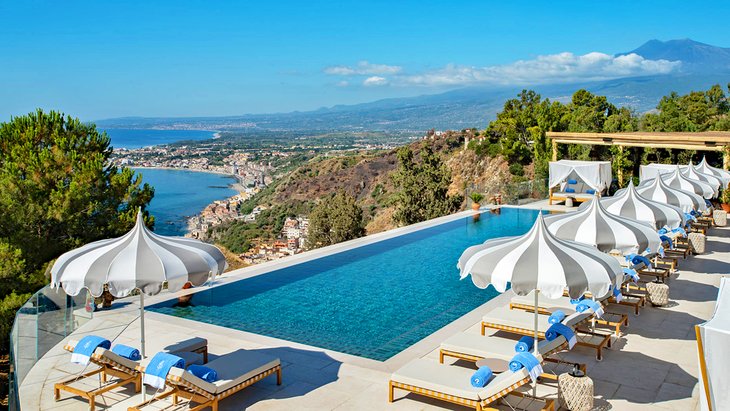 Accommodation: San Domenico Palace, Taormina, A Four Seasons Hotel
Also in Taormina, San Domenico Palace has a long reputation for hosting the world's elite, from kings and world leaders to movie stars. The historic hotel, which reopened as a Four Seasons property in 2021 after an extensive renovation, sits inside what once served as a convent in the 14th century.
It has an enviable location facing the Ionian Sea, with Mount Etna on one side and Taormina's ancient Greek theater on its other. It is also located in the midst of the city's narrow, medieval streets. The renovation kept much of the hotel's original elegant design and decor, with its vast and airy public spaces.
The 111 rooms and suites are all lovely, with a mix of modern art and antiquities. There are 19 rooms with private plunge pools on glass-lined terraces facing the sea. For a splurge, book the Royal Suite, which is the top room in the house.
The hotel has a number of restaurants on-site, but most notable is Principe Cerami, where executive chef Massimo Mantarro has created an inspiring menu of locally inspired dishes. Breakfast is included in the rate, and kids stay free here. The hotel also welcomes dogs, if you are traveling with your pup.
Other amenities include an impressive clifftop infinity swimming pool, a luxury spa, a fitness center with classes and yoga, and concierge and butler services.
Address: Piazza San Domenico, 5, 98039, Taormina, Sicily
3. Verdura Resort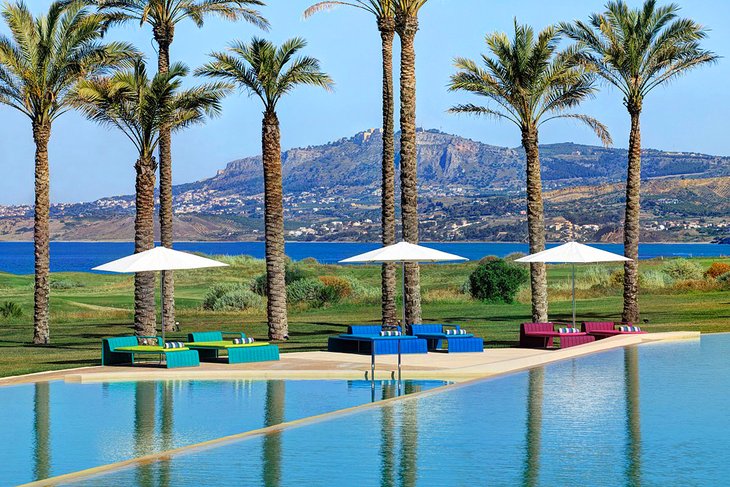 Accommodation: Verdura Resort
A current favorite retreat for celebrities and the world's top players, Verdura Resort is located on Sicily's south coast and is just west of the town of Sciacca. The location is excellent if you want to visit the ancient Greek temple complexes at Agrigento or Selinunte.
This is a Rocco Forte property, and like other properties by the brand, Verdura has its own unique look. The vibe is boxy Med modernism, and the interiors have a fantastic, contemporary, chic style.
Rooms and suites come in a variety of configurations. The Landscape suites are the best, however, as they face the beach. Regardless of what class of room you book, expect beautiful Sicilian style, with ceramic tiles, wooden four-poster beds, and soothing colors.
Verdura hosts what is likely the top spa in Sicily. Spreading across 4,000 meters, it is a large facility with a full range of treatments, including many that focus on detox and anti-aging. There are also four outdoor thalassotherapy pools and an indoor spa pool.
If you like to golf, there are two 18-hole courses to play. Other amenities include a swimming pool, tennis court, kids' club, steam room, and sauna. For dining, you'll have a choice of four restaurants.
Address: S.S. 115 Km 131, 92019, Sciacca, Sicily
4. Grand Hotel Timeo, A Belmond Hotel, Taormina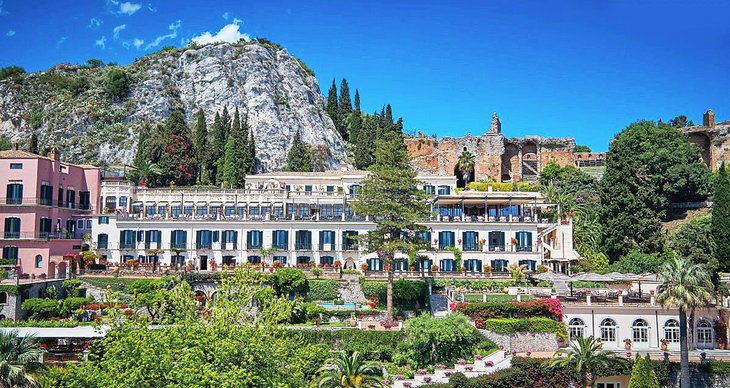 Accommodation: Grand Hotel Timeo, A Belmond Hotel, Taormina
The sister property to the above mentioned Villa Sant' Andrea, Grand Hotel Timeo is in the medieval town center of Taormina. Guests have access to the beach facilities located just a few minutes away at Sant' Andrea, and a shuttle service runs between the resorts, giving you the best of both worlds.
Since opening in 1873, the Grand Timeo has hosted its share of royalty, writers, and artists including DH Lawrence, Oscar Wilde, and Truman Capote. The vibe is old-world opulent, with polished parquet floors, and antiques and paintings throughout.
The luxury vibe feels very romantic yesteryear, but far from stuffy, and the ambience is excellent. Service is top-notch and very attentive. Amenities include a heated pool in a manicured garden area with lots of terrace space. There is also a spa with a full range of treatments, and a sauna. The restaurant serves high quality Sicilian food.
Rooms and suites are divided between the original hotel building and a newer villa. The original building's rooms are what to book, as they have sea and volcano views from furnished balconies or terraces, super comfy beds, and decor ranging from gilded mirrors to embroidered sheets.
The property is also very family friendly, and the duplex rooms in the newer Villa Flora are a top choice for those with kids.
Address: Via Teatro Greco 59, 98039, Taormina, Sicily
5. Mazzarò Sea Palace - VRetreats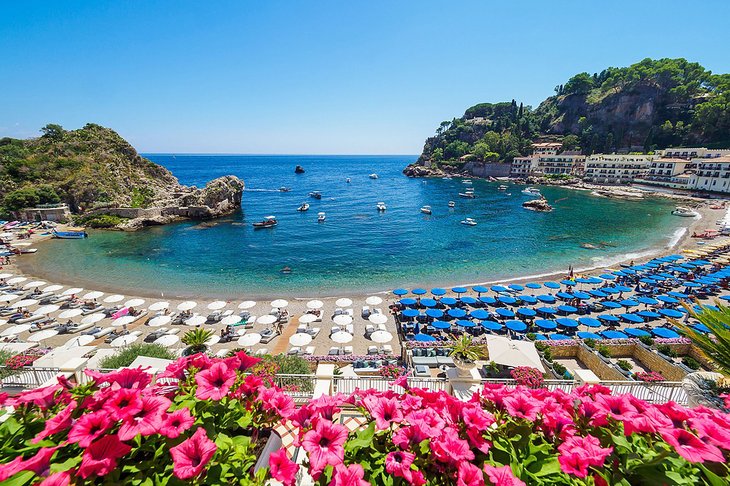 Accommodation: Mazzaro Sea Palace - VRetreats
On the beachfront on the Bay of Mazzaro in Taormina, Mazzaro Sea Palace has a great location. From the resort, it is just a five-minute walk to the cable car that takes you up the hill to Taormina's historic center.
The hotel is old-world elegant in style. You'll find servers in tuxedos and an interior filled with marble and wood among other luxe amenities. The resort has its own private beach area, but note that the beach here is pebbles not sand. Still, it has cushioned sun loungers and umbrellas for guests, and food service is available.
There are just over 80 rooms and suites, so the vibe is intimate. These come with private balconies and terraces, and many of them have awesome sea views. All have comfy beds and classic decor.
On-site amenities include a restaurant that serves an excellent breakfast included in your room rate. It also does lunch and dinner. Grab a seat on the patio facing the sea. There is also a pool on a wooden deck, and more chairs.
The resort is popular with families. It is open seasonally from April to November.
Address: Via Nazionale 147, 98030, Taormina, Sicily
6. Atlantis Bay - VRetreats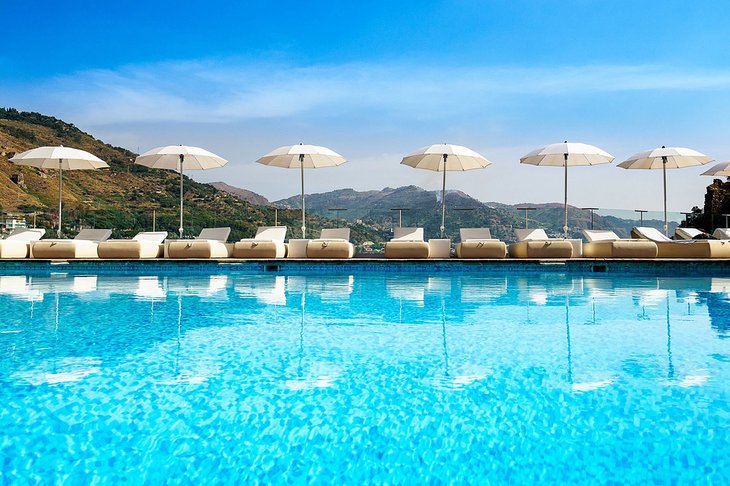 Accommodation: Atlantis Bay - VRetreats
Recently renovated, Atlantis Bay by VRetreats is the sister property to Mazzaro Sea Palace. It is set on private Siren Bay near the Taormina cable car. The resort caters to couples, with a romantic vibe throughout.
All the rooms and suites here come with sea views from furnished balconies. They are also stylish and comfortable and have in-room espresso machines.
It is easy to spend a whole day on the property. Besides the stone and wood deck at the seafront filled with padded sun loungers, there is also an infinity pool with more chairs and food and a beverage service. The spa offers a full range of treatments, and the fitness center has bay views.
The on-site restaurant serves three meals a day and the service here is also top notch.
Address: Via Nazionale 161, 98039, Taormina, Sicily
7. Club Med Cefalu - Sicily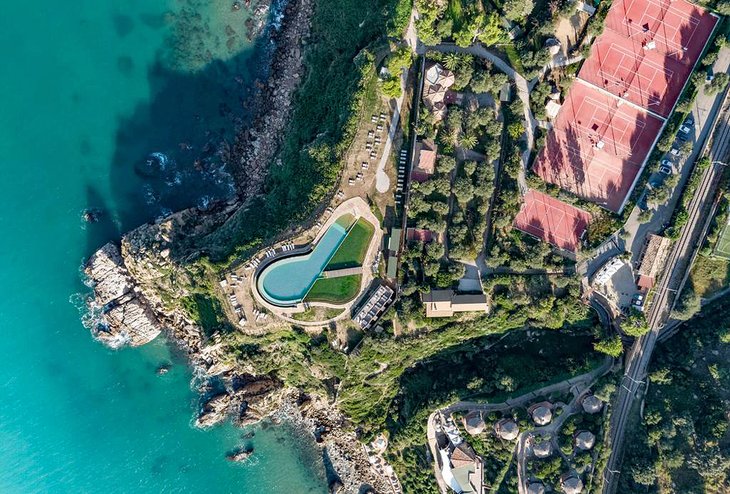 Accommodation: Club Med Cefalu - Sicily
One of Club Med's more luxurious properties, the recently renovated Cefalu property has a modern minimalist design with elegant Baroque accents. It also incorporates a lot of Sicilian art into its look.
The location on a cliff above Cefalu facing the Tyrrhenian Sea and the 244-meter high Rocca rising out of it, is nothing short of stunning. Sunsets here are also dazzling.
The rooms and suites come in a variety of shapes and sizes, but all are clean and comfortable with simple but nice furnishings. The least expensive rooms are housed in small wooden villas, while the majority of accommodations are housed in the main building.
Club Med is an all-inclusive property. Dining at any of the six restaurants is covered in your daily rate. So are water and land activities, from sailing to SUP boarding.
The resort is family friendly.
Address: Localita Santa Lucia, 90015, Cefalu, Sicily
8. Grand Palladium Sicilia Resort & Spa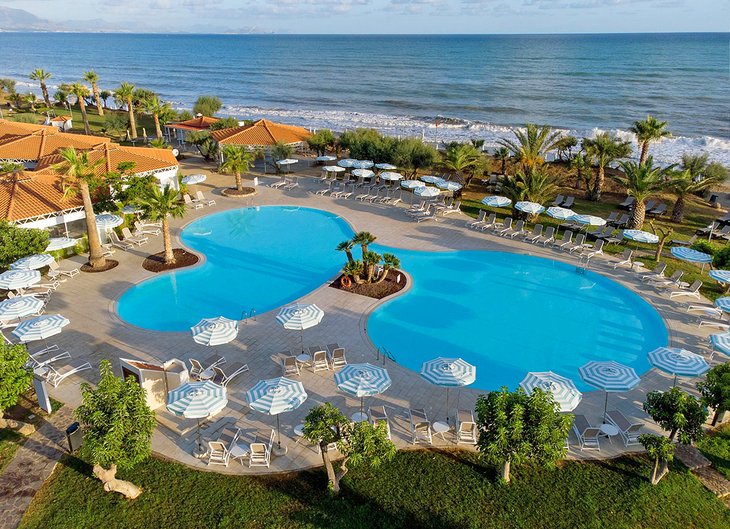 Accommodation: Grand Palladium Sicilia Resort & Spa
The all-inclusive Grand Palladium Sicilia Resort & Spa is a luxury property on Sicily's north coast in the village of Campofelice di Roccella.
The area is rich in ancient archeological sites, and the resort is set right on a long, pretty beach. The village of Cefalu is just a short drive west.
Rooms and suites are modern and done up in neutral hues with minimalist design. All come with furnished balconies or terraces, and many have direct sea views. Couples like the deluxe bungalows in a separate bungalow section of the property. There are also family rooms.
The resort offers a Signature Level service that features VIP check-in, preferential seating at restaurants and the pool, and access to the spa's water circuit once per stay.
Amenities include a kids' club and children's pool, four other swimming pools, four restaurants, tennis courts, and live entertainment. The spa and wellness center has all sorts of treatments, a hydrotherapy circuit, sauna, and sensation showers (extra fee). There is also a well-equipped gym.
Address: Viale Himera 7/8 ss 113 Km 204.3, 90010, Campofelice di Roccella, Sicily
9. Wellness & Spa Hotel - Principe di Fitalia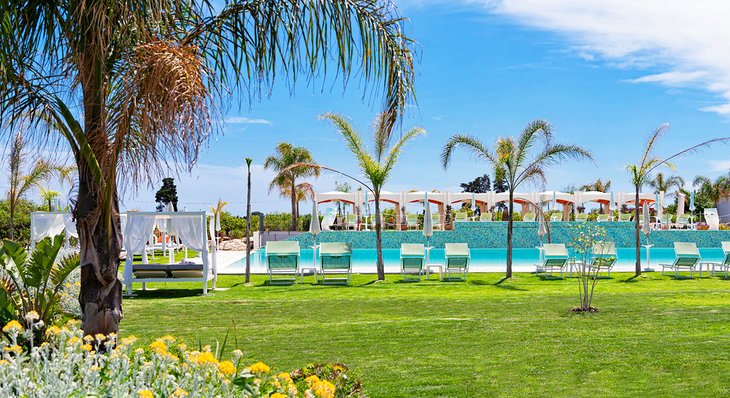 Accommodation: Wellness & Spa Hotel - Principe di Fitalia
On the southern coast, about 15 minutes from Syracuse, Wellness Hotel & Spa is set in a revived 19th-century villa. The resort is not on the beach but it runs a free shuttle service to a private section of Lido Le Nereidi beach about 10 minutes away. Guests can also make use of shuttles to Syracuse's historic center and archeological zone.
The grounds here are beautiful, filled with palm trees, flowers, and sprawling gardens. Meander down pathways to quiet sitting areas.
Inside the villa, you'll find lots of antiques and bright-hued ceramics, as well as tile floors with intricate patterns and curved archways.
Amenities include a large free-form pool with sun loungers, umbrellas, and food service. The restaurant serves traditional Sicilian fare, and breakfast is complimentary. Half-board rates are also offered. There is also a fitness center and a spa.
Address: Traversa Tonnara Terrauzza 51, 96100, Syracuse, Sicily
10. NH Collection Taormina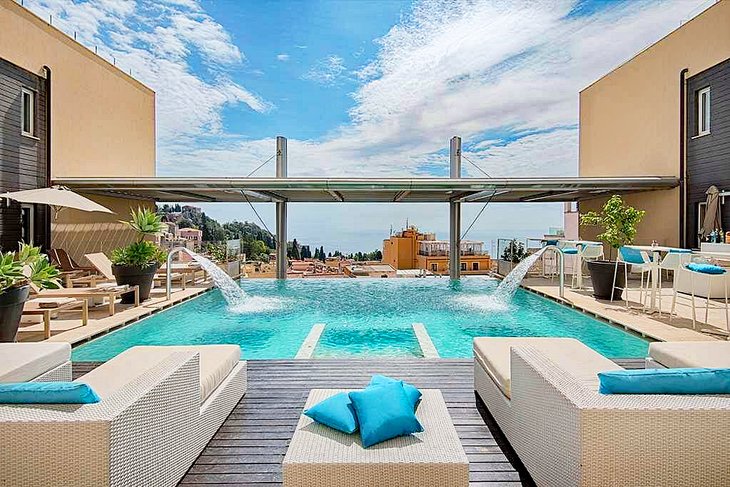 Accommodation: NH Collection Taormina
A boutique luxury resort in Taormina's historic city center, NH Collection has a stylish and modern look about it. Most of the rooms have panoramic views of the city and Ionian Sea beyond.
All rooms are comfortable, but book one of the suites for a private, furnished balcony with a Jacuzzi. These are especially popular with couples.
The resort also welcomes families and can arrange babysitting. And if family means a dog, it is pet friendly.
The square swimming pool has a very modern look and is surrounded by comfy loungers. There is also a restaurant serving Italian fare with an emphasis on Sicilian specialities. A spa offers a full range of treatments, and there is also a fitness room.
Address: Via Circonvallazione 11, 98039, Taormina, Sicily
Map of Resorts in Sicily