19 Top-Rated Hotels & Resorts in Sardinia
We may earn a commission from affiliate links ()
Sardinia is a land of contrasts, rising sharply from turquoise waters and beautiful white-sand beaches to rocky mountain peaks of more than 1,800 meters. Accommodations are just as varied, from rustic-chic county inns to the ultra-smart luxury hotels of the Costa Smeralda and all-inclusive beach resorts for family holidays.
Whether arriving by ferry or air, you'll probably begin in the island capital of Cagliari, worth a stop for its historic sites even if you are intent on Sardinia's beaches. Although the Costa Smeralda gets more international attention, some of the best resorts are in south Sardinia and are easy to reach from Cagliari. Just to the south are the resorts of Pula, handy also to one of Sardinia's major archeological attractions, the Phoenician/Roman village of Nora.
To the east of Cagliari is the Costa Rei, Coast of Kings, with its cluster of resorts around Villasimius and long beaches stretching northward. On the west coast is the Costa Verde, with miles of undeveloped dunes and beach.
As the area is less affected by tourism, you'll find few hotels and resorts here. Farther north along this eastern coast is the beautiful small city of Alghero, close to the spectacular sea caves of Grotto di Nettuno and several of Sardinia's most fascinating prehistoric sites.
Best known of Sardinia's beaches are those idyllic coves of the Costa Smeralda, Emerald Coast, in the northeast. Developed by the Aga Kahn in the 1970s as a high-end luxury playground for the rich, the coast now has a more egalitarian mix of A-list and family holiday resorts.
Just inland is lush Galura, with its wild upland landscapes, stone villages, massive rock formations, and hidden valleys. Also inland, in the center of the island, are the mountains of the Gennargentu, wild landscapes, and traditional villages largely untouched by the tourism of the beach resort towns. Here as in Galura, country inns give you a chance to explore the beautiful and dramatic interior and get a better look at Sardinia's unique traditions and culture.
On This Page:
Best Luxury Hotels & Resorts in Sardinia
1. La Villa del Re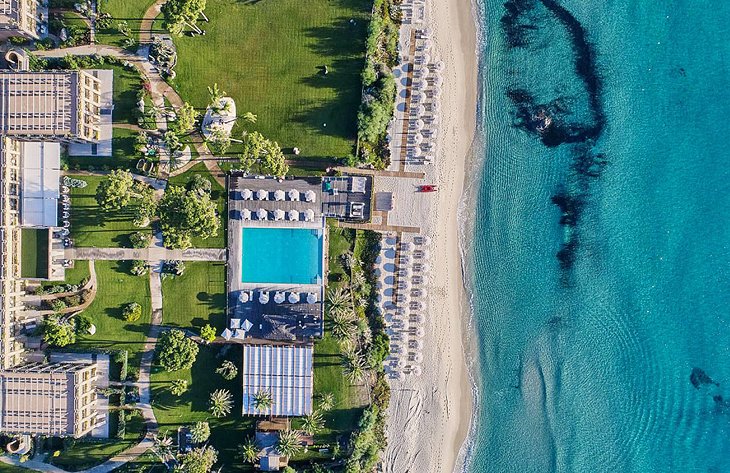 A lovely terrace with bougainvillea-draped stone walls overlooks an infinity pool that seems to drop into the sea, and you can linger over the full breakfast at tables on the lawn.
2. Hotel Villa Fanny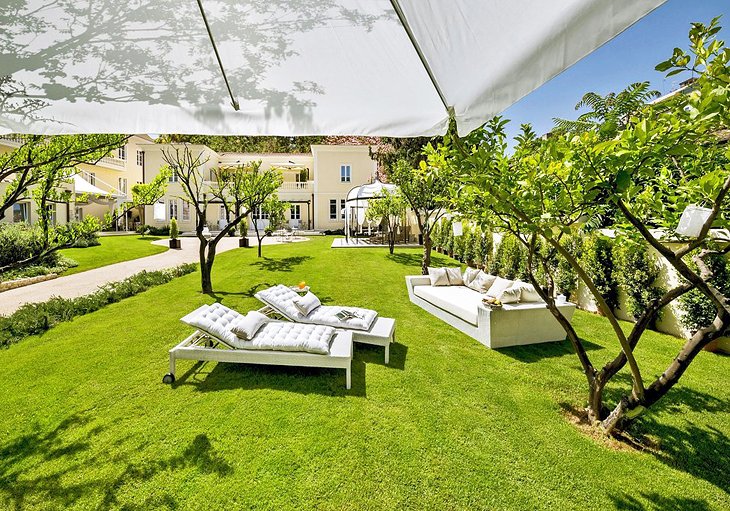 The hotel sits surrounded by gardens, and all rooms are sound-proofed so you'd think you were far out in the countryside. Guests are further pampered by pillow-top mattresses, slippers, heated towel racks, and the excellent included breakfasts.
3. Hotel Capo D'Orso Thalasso & Spa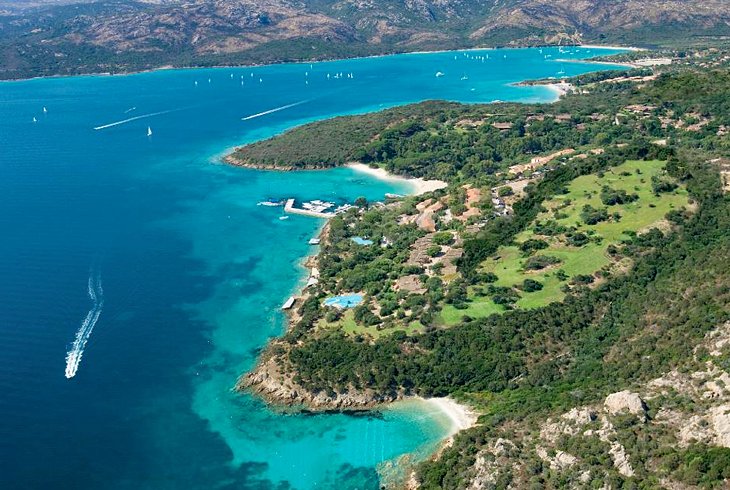 The surrounding turquoise waters define the experience here, with L'Incantu SPA specializing in thalassotherapy and a private marina filled with yachts; sailing trips take you to secluded cove beaches. Spacious rooms with elegant canopied beds and soaking or whirlpool tubs overlook the sea, and the two restaurants serve sophisticated international cuisine.
4. Hotel Li Finistreddi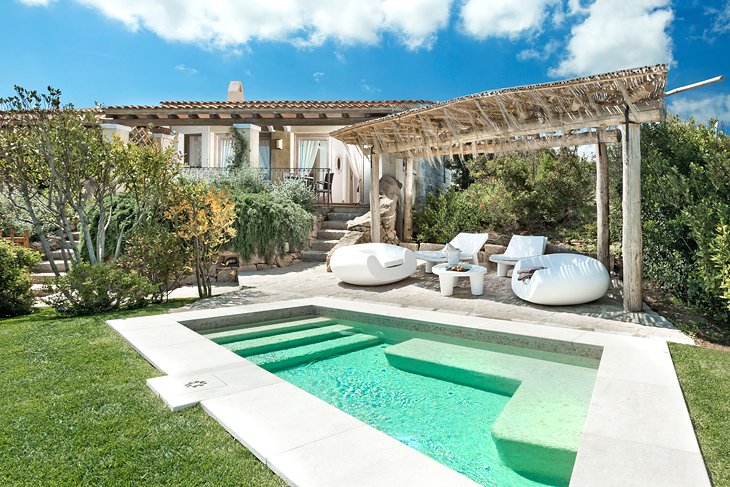 Some of the 19 rooms are villas with terraces and plunge pools, and there is an infinity pool with superb views. The contemporary architecture and décor favors clean lines and natural stone and limed wood. Hotel Li Finistreddi also offers package holidays.
5. Forte Village Resort - Villa del Parco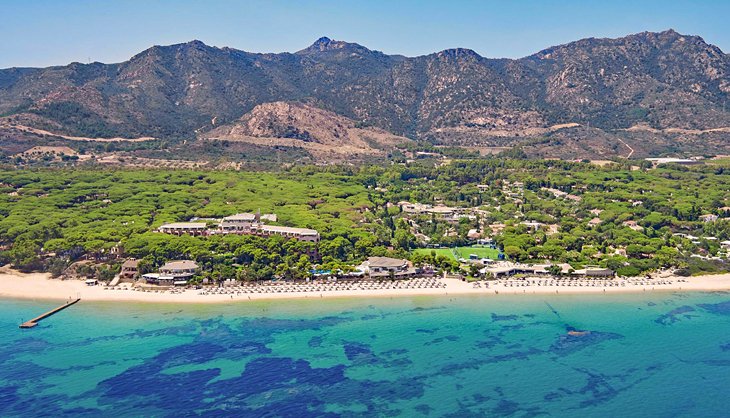 One of the best-known resorts on the beach in Sardinia, Forte Village borders the white sands of Spiaggia Santa Maria, with water sports, a diving center, multiple swimming pools, tennis courts, children's playgrounds, jogging trails, and a golf practice range.
There is an award-winning Thalassotherapy spa, and the hotel can arrange tours to the nearby archeological site of Nora. While packages don't necessarily mean cheap holidays, you know the exact cost in advance, so you can relax and enjoy your stay without surprises.
6. L'ea Bianca Luxury Resort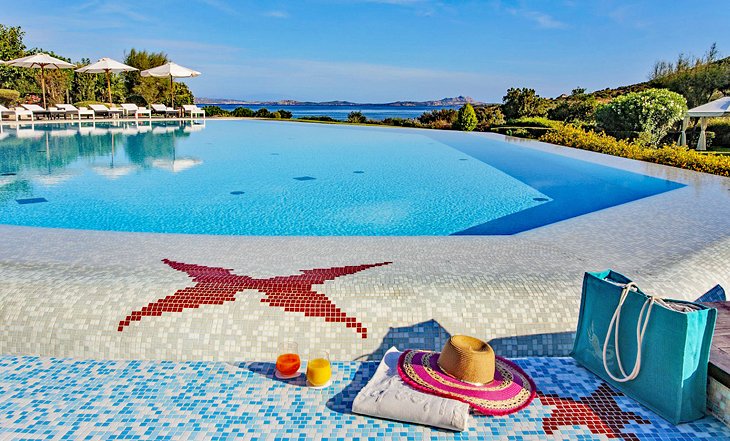 In L'ea Bianca's Lunaria restaurant, you can savor local and international specialties in the elegant dining room or out on the terrace overlooking the sea.
7. Hotel Marinedda Thalasso & SPA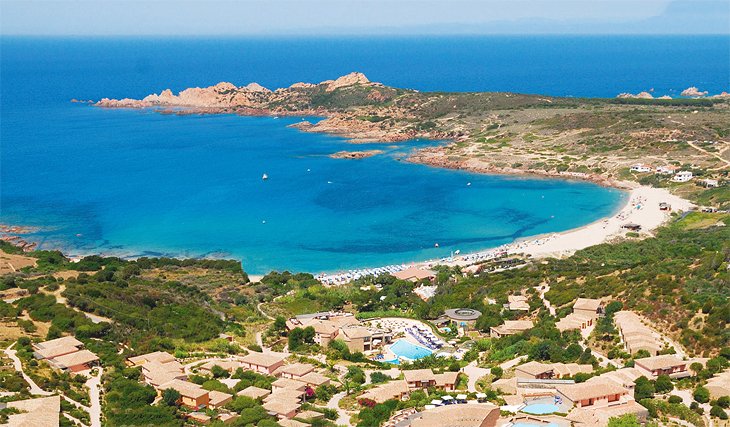 While the hotel and its grounds, landscaped in native plants, are a romantic retreat for couples, the resort also caters to families, with swimming pools, activities, and programs for children. The casual Basaricò Pizzeria, with its outdoor café tables, is a particular favorite for families.
8. Forte Village Resort - Hotel Il Castello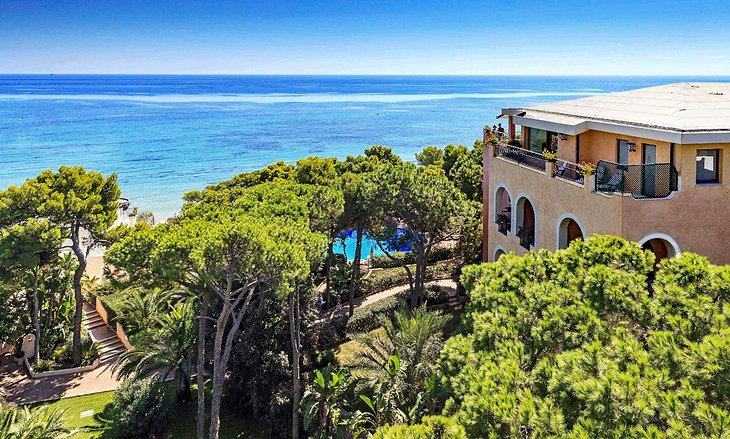 Although most guests choose Il Castello for its exclusive location and seclusion, all the resort village's sports and recreation facilities are available to them, as well as its many dining options.
9. Faro Capo Spartivento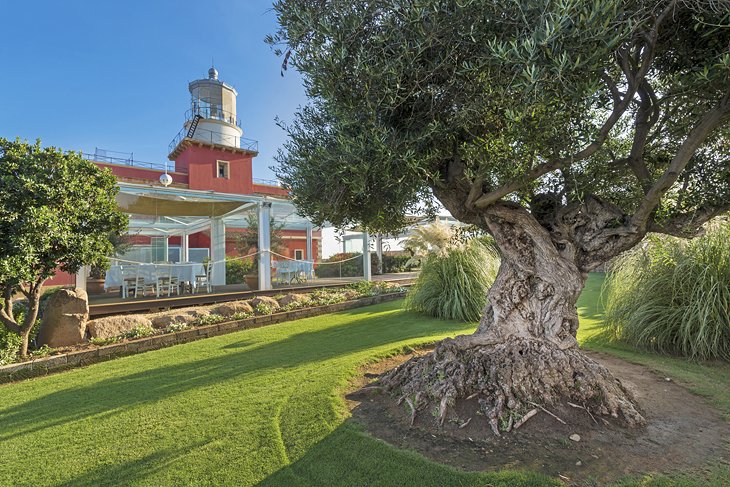 Its position atop a cliff on a point of land at the southern tip of the island assures panoramic ocean views; the infinity pool gives new meaning to the word, seeming to continue right to the horizon. Appropriately, the restaurant specializes in local seafood. There's a good beach within walking distance and several more nearby.
10. Pullman Timi Ama Sardegna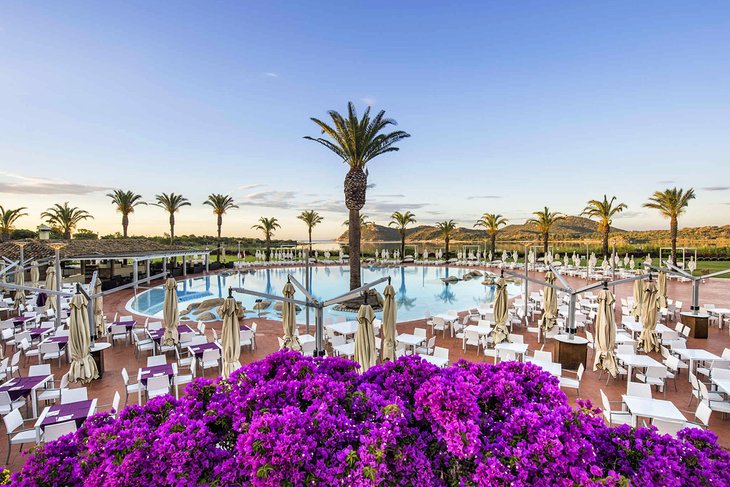 Along with a pool, spa, fitness center, and tennis courts, the resort offers volleyball, archery, aerobics, and a variety of water craft at the beach, which is three minutes away; a shuttle runs to the beach every 10 minutes and there is a free shuttle to the small holiday town of Villasimius, as well. A half-board option includes generous breakfasts and dinner buffets.
11. Villa las Tronas Hotel & Spa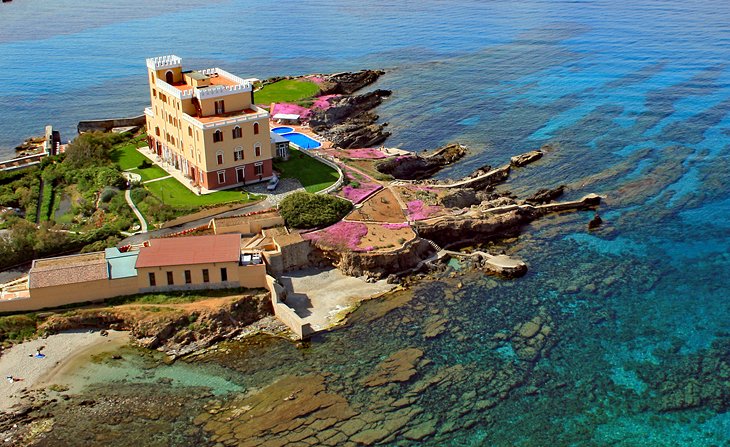 Sunset views from the Villa las Tronas dining room and from guest room balconies are spectacular. The spa has a covered sea-water swimming-pool overlooking the Mediterranean, along with a sauna and Turkish bath. Rooms are grand in scale, and elegantly furnished.
12. Hotel La Rocca Resort & Spa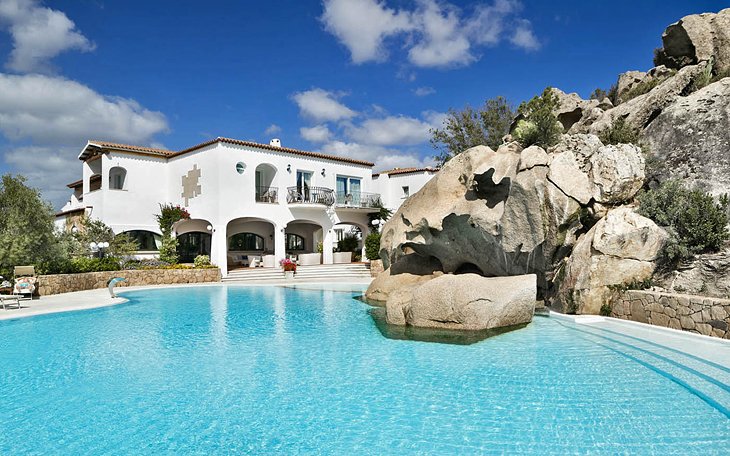 The resort has its own private sand beach nearby, with a shuttle for guests. The beachside restaurant is a favorite in the evening for its views across the bay. Hidden away in the gardens is the resort's spa.
Best Country Inns in Sardinia
Although most tourists visit Sardinia for its world-class beaches, the mountainous interior of the island is both breathtakingly beautiful and filled with fascinating natural and cultural attractions. These small country inns give you a chance to explore parts of Sardinia where centuries-old traditions and crafts still survive, while staying in stylish and comfortable surroundings that honor the island's heritage.
1. L'Agnata di De Andre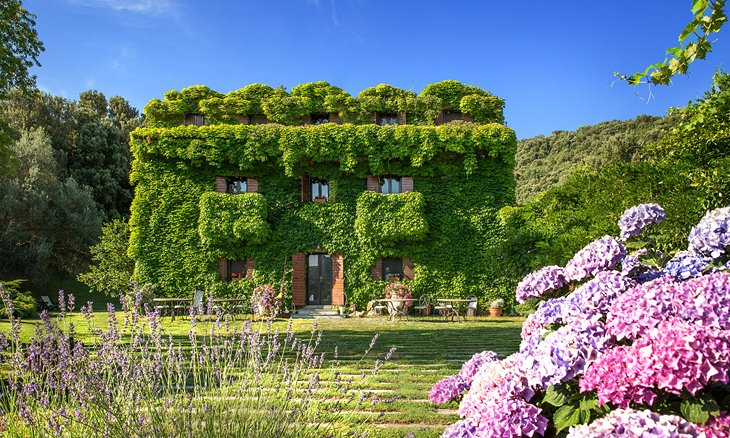 The remaining eight rooms at L'Agnata di De Andre are in a new building and have terraces overlooking the pool and rolling landscape. Each room is decorated individually, its design reflecting the island's natural colors and materials.
2. Tenuta Pilastru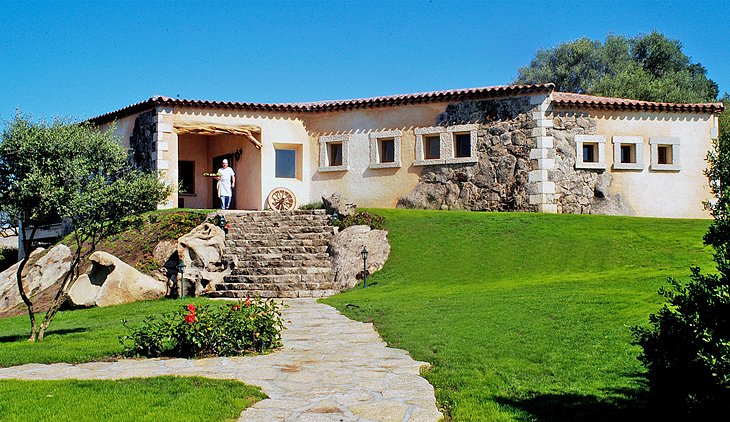 Rooms are decorated in a contemporary style using local materials and designs, and there is a pool. The restaurant is one of the island's best, a rare place to sample traditional island specialties.
3. Su Gologone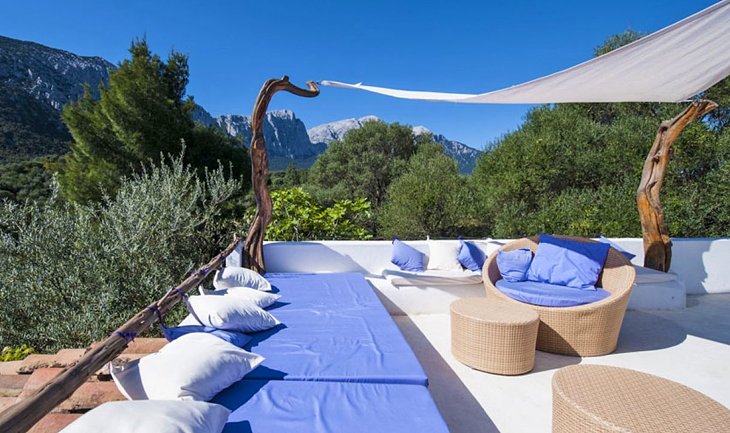 The inn's rooms and public spaces are decorated with local art and handcrafts, and the menu in the excellent restaurant highlights local dishes, such as culurgiones filled with local cheese and the hard-to-find paper-thin bread called carta di musica.
4. Domu Antiga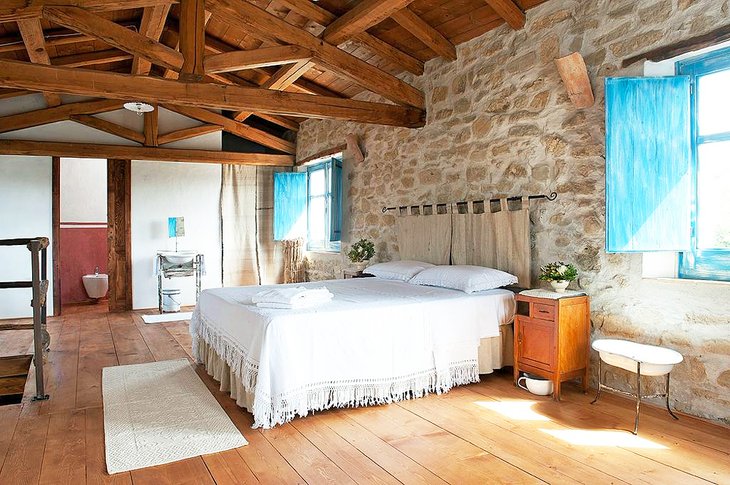 The bedrooms have terra cotta floors and exposed beams, and are beautifully furnished, even to the embroidered linens. Breakfasts are bountiful, with local honey and cheeses, and fresh-baked breads. A real treat for guests is eating a dinner of traditional Sardinian dishes they have helped prepare in a cooking lesson with the innkeepers.
Best Hotels near the Airport
Sardinia's main airport is at Cagliari, and almost in the city itself. As taxi rates to the airport are the same even if you are quite close, it makes sense to stay in the city center, nearer to restaurants and tourist attractions.
1. Hotel Regina Margherita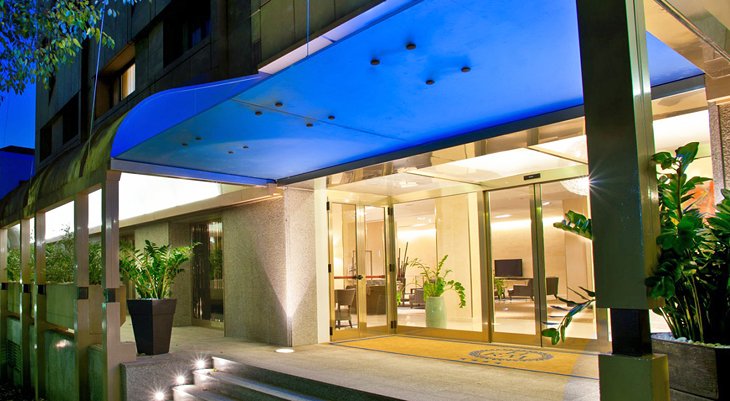 2. T Hotel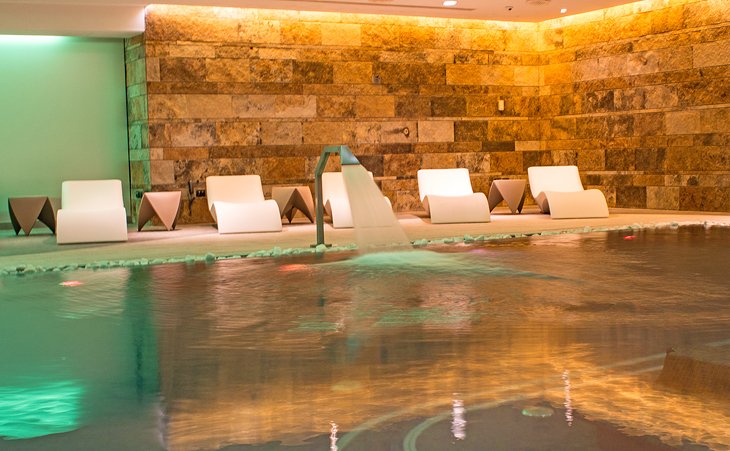 3. Palazzo Doglio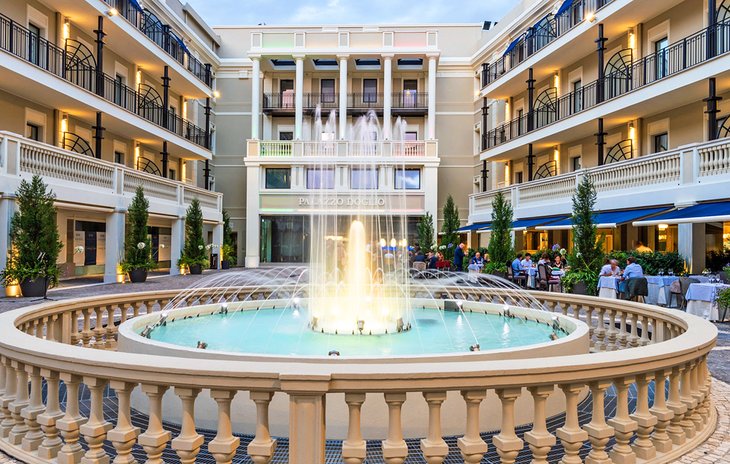 The luxurious spa has a heated whirlpool, and there's a fitness center and gym. In-room details include bathrobes and blackout curtains, and the hotel has a shuttle bus for guests. Breakfast is included. While it is not as close to the airport as the others, it is a good option for those who want to be closer to the city attractions while within an easy taxi ride of the airport.