14 Best Resorts in Italy
We may earn a commission from affiliate links ()
It doesn't take a genius to figure out why Italy is one of the best places to visit in Europe. It's home to some of the world's most mouthwateringly good food, stunning scenery, and romantic palazzos. Italy is also peppered with resorts so fabulous, you'll want to stay curled up in your room for days.
We're talking five-star luxury resorts set in the Tuscan hills, city-based resorts featuring top-notch spas, and resorts with Michelin-starred restaurants serving food grown on their own farms.
Whether you're hoping to see the attractions of Florence after enjoying a café au lait on your room's private balcony, or enjoy a quiet wander through the pastoral grounds of a castle, you're in for a treat with a visit to an Italian resort.
With so many fabulous five-star resorts on offer, it can be tough to choose where to stay during your Italian vacation.
Find the perfect accommodations for your next European getaway with our list of the best resorts in Italy.
1. Four Seasons Hotel Firenze, Florence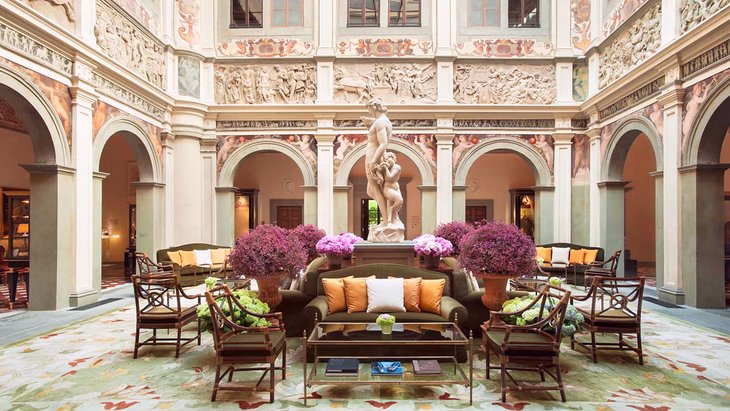 In addition to having your every need anticipated and met, you can also expect to relish in a kind of opulence well known to those of royal blood.
Frescoed walls, painted ceilings, lavish linens, a 15th-century palazzo, and immaculate gardens are on hand to make every guest feel as if they are exactly where they should be – an oasis in the heart of one of Europe's best cities.
There's a private park inside the boundaries of this phenomenal resort, and it's just as spectacular as many of Florence's best attractions. It's peppered with fountains, ancient trees, and historic statues, and feels more like a museum. If that wasn't enough to lower your stress levels, you'll love the spa and outdoor pool.
2. Il San Pietro di Positano, Positano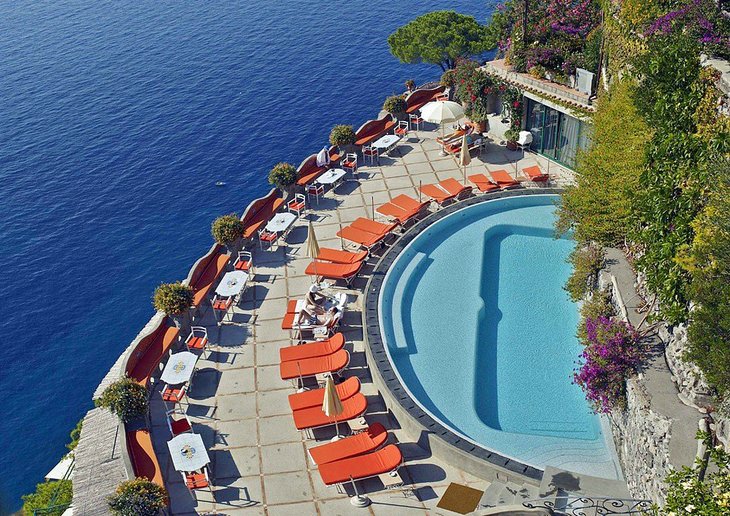 Positano is one of the most stunning destinations on the Amalfi Coast, and the Il San Pietro di Positano is the place you'll want to stay when visiting.
A hilltop luxury resort, this elysian retreat was literally carved into the cliff. As a result, you'll find it hard to beat the panoramic vistas of the Mediterranean Sea and surrounding town.
Unlike other, newer hotels, which offer cookie-cutter accommodations, the rooms and suites at Il San Pietro di Positano are unique and luxurious, combining modern amenities with private terraces and large, marble bathrooms.
The rooms mix contemporary design with Italian flare and feature terra-cotta ceramics designed by local artists. The design is different in each room, yet just as elegant.
When you aren't lounging in your room, head to the beach club, where you'll gain premier access to a private beach, take a dip in the clifftop pool, or play a game of tennis on the picturesque court.
A free shuttle transports guests to the center of town within three minutes or you can opt for a complimentary, two-hour boat cruise.
3. Castello di Casole, a Belmond Hotel, Siena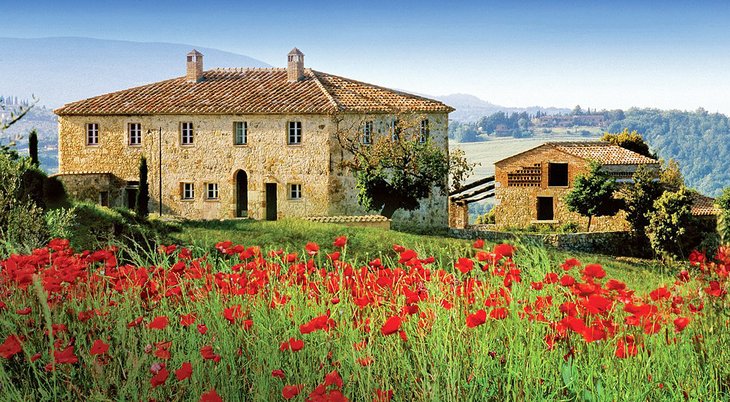 The resort itself is housed in a castle dating to the 10th-century – don't worry, it's been lovingly upgraded. Inside, you'll find displays of archeological finds that stretch as far back as the Bronze Age, keeping the area's history alive.
A haven for upscale clientele, including royalty and A-list celebs, this quiet resort is small enough to be intimate (it boasts 39 rooms and suites) yet large enough to find space to be alone, if solitude is what you're after.
The resort boasts a spa and heated, outdoor infinity pool; a fabulous restaurant serving Tuscan meals; and multiple activities to keep you busy. There's even an ancient amphitheater.
Expect nothing but the best during your stay at this five-star beauty. From service to accommodations, everything is top notch.
4. COMO Castello Del Nero, Barberino Tavarnelle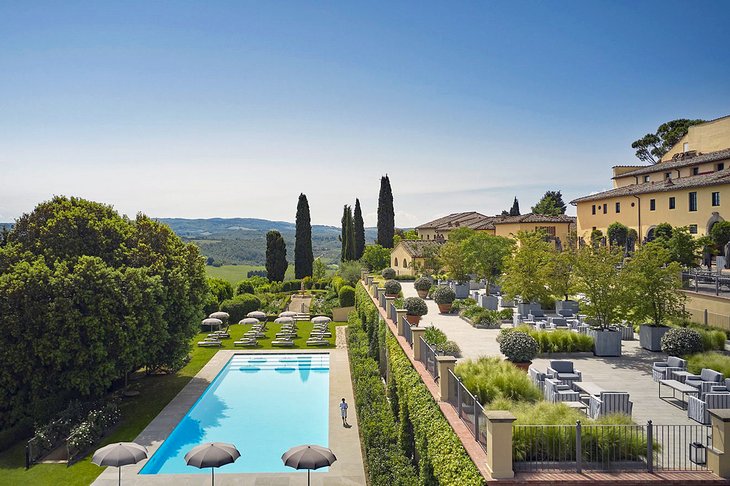 This resort is set in a 12th-century castle, which is pretty romantic as is, but the resort's upgrades are so luxe and impressive, you'll be left in awe.
A whopping 750 acres comprises the resort's estate, dotted with trees, pristinely manicured gardens, and an outdoor pool. The COMO Shambhala Retreat offers tension-filled guests a multitude of Asian-inspired treatments for both body and mind.
The resort's 50 rooms are divine: contemporary, and elegant with Paola Navone-designed interiors in muted colors. Chose from a guest room or suite, all of which offer beautiful views, freestanding tubs, Egyptian cotton bedding, and complimentary Wi-Fi.
The Heritage suites are beloved for their cozy fireplaces as well as the 18th-century frescoes adorning both walls and ceilings.
Eating is a highly anticipated activity here, with the Michelin-starred La Torre restaurant leading the pack of three eateries with cuisine you will literally drool over. La Taverna is more casual, and the Pavilion allows guests to dine outside.
5. Cipriani, a Belmond Hotel, Venice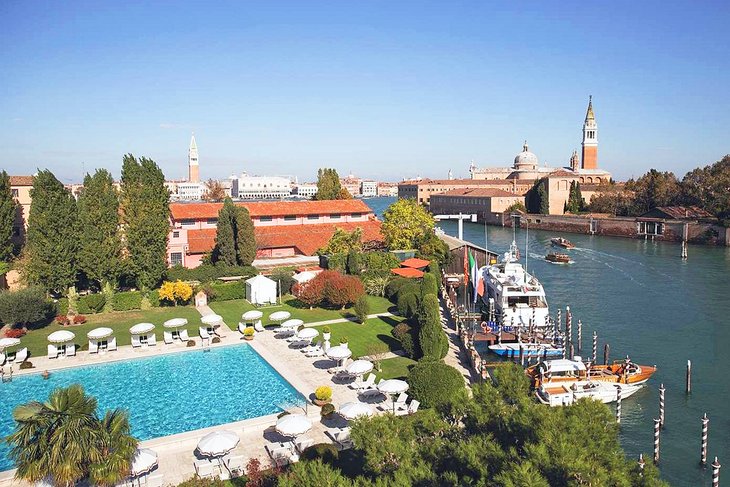 While staying here, guests can unwind with a treatment (or three) in the Casanova wellness center, so named to honor the infamous romantic who apparently courted his lovers in these exact gardens.
After the spa treatment, guests can wander the gardens, splash in the outdoor pool, or head back to their pretty room for a nap.
Regular guest rooms come with king- or twin-sized beds, large bathrooms, and a stocked mini-fridge. Views are either of the garden or the lagoon. Premium rooms and some suites come with private balconies and living rooms, as well as free pressing service for two items.
Food is served in a variety of venues, including the Michelin-starred Oro restaurant; the poolside Il Porticciolo; and Cip's Club, which lies on a deck perched above the water with a view to St. Mark's Square.
Set just across the lagoon from Venice, the location is perfect for those who want to enjoy the serenity of a tranquil estate and the bustle of a city's worth of things to do.
6. Monastero Santa Rosa Hotel & Spa, Amalfi Coast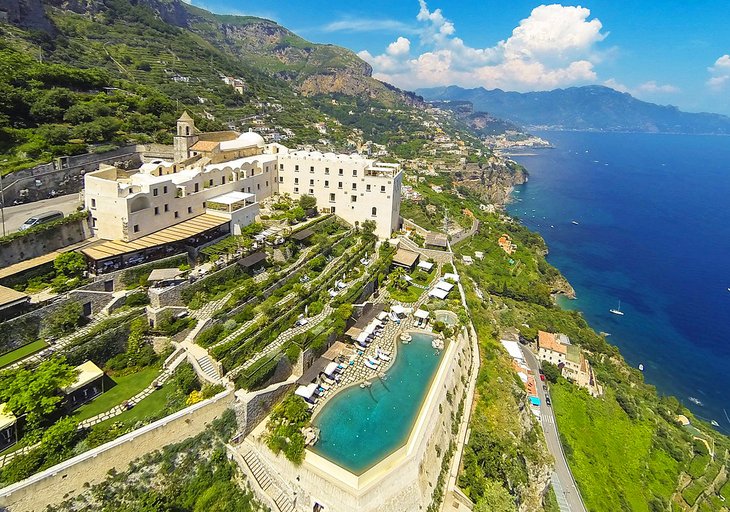 Perched on the dramatic hillside of the Amalfi Coast fishing village Conca dei Marini, guests of this plush resort can reach Amalfi in a mere nine minutes and Positano in just over half an hour.
No one will blame you if you'd rather stay put, enjoying the resort's five-star amenities. The spa boasts original vaulted ceilings that date to the 17th century, as well as a Thermal Suite, sauna, steam room, and a hydro pool.
There's also a fitness center on-site, as well as a poolside café and the Michelin-starred Ristorante il Refettorio; breakfast is included.
Enjoy a quiet moment in one of the chairs peppered throughout the four levels of gardens, staring out at the Mediterranean Sea. Or, swim laps in the infinity pool, which is perched right on the edge of the bottom garden level.
Only 20 rooms and suites make up this resort, which means you'll have the whole place pretty much to yourselves. You can choose to mingle with the other guests or stick to yourselves, just as you please.
7. Lefay Resort & Spa, Lago di Garda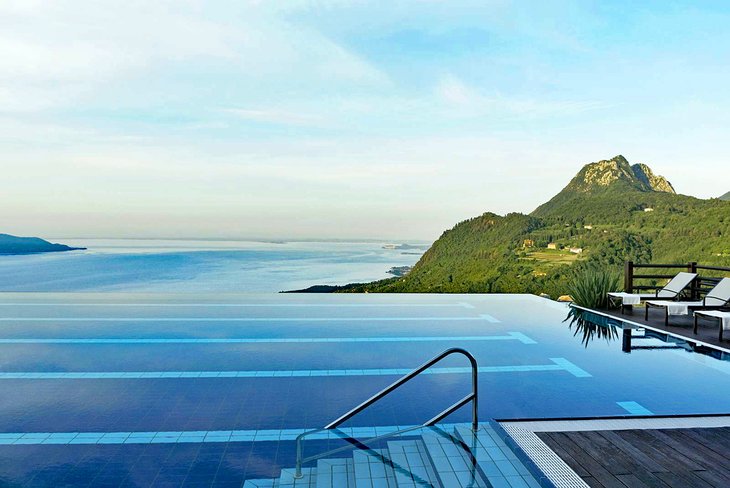 As you'll realize as soon as you arrived on these elysian grounds, nature is the real star here. The resort is surrounded by the lush, Italian hills you've lusted after in photographs and the olive groves that come to mind when you think of the Italian countryside. Add 11 hectares of park and unrivaled lake views, and you'll never want to leave.
When you finally do go inside, you'll be wowed by the pristine rooms, which were designed to link seamlessly to the natural world outside. Some come with lake-view terraces or private balconies. All include deep soaking tubs set within a lush marble bathroom, crisp linens, muted colors, and a twice-daily housekeeping service.
8. Therassia Resort Sea & Spa, Isola di Vulcano, Aeolian Islands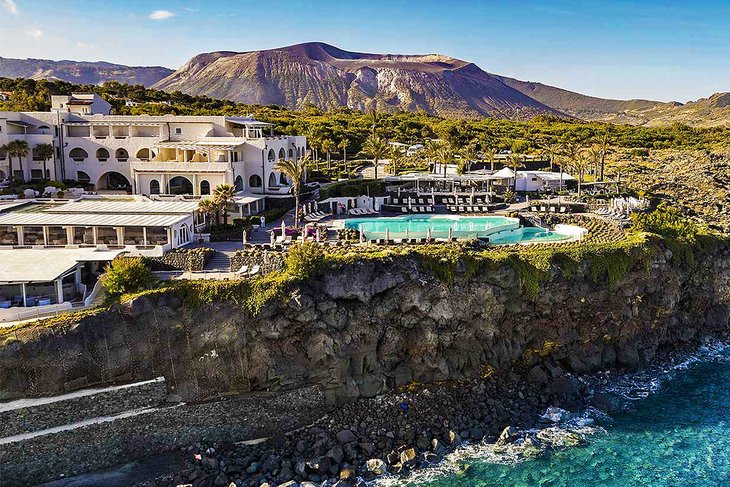 Aptly named, this seaside resort boasts a heavenly spa with an indoor pool, whirlpool tub, sauna, and Turkish bath. Be sure to try a Diabasi massage – the spa is known for this unique method, which is sure to leave you feeling de-stressed in no time.
You'll be forgiven for thinking you're in Greece while gazing upon the whitewashed building that comprises this resort. Even the nearby black-sand beaches are reminiscent of Grecian isles. Volcanic views and sea breezes combine to make this a truly magical experience.
The two-tiered main pool is magnificent and extends just over the cliff's edge to make you wonder where the pool ends and the sea begins.
The resort's park is a wonderful place for a relaxing stroll or morning run, and you won't want to miss a meal at the Michelin-starred Il Cappero Restaurant. The I Tenerumi Vegetarian, L'Arcipelago, and I Grusoni restaurants are also top-notch, so come hungry!
Rooms are bright and airy, with tiled floors and Mediterranean architecture. Suites come with furnished terraces, some of which overlook the sea. Standard rooms also include a balcony or terrace, so you won't miss out on the fab vistas.
9. Grand Hotel Excelsior Vittoria, Sorrento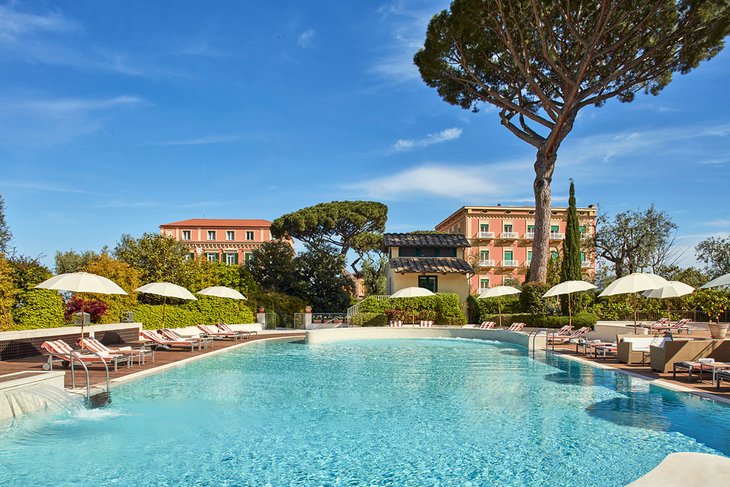 Set on the edge of a cliff, it overlooks the Gulf of Naples and boasts service so fine-tuned that you'll want for nothing during your stay, except perhaps the ability to prolong it.
A five-acre park lush with lemon and orange trees surrounds the hotel and its luxury villas, adding an air of privacy despite its prime location in Sorrento.
Rooms and suites are elegant and chic, with mixes of old world, Italian charm. The villas boast apartments with a large terrace and two or three bedrooms with their own marble bathrooms. There's also a pool on the property.
10. Caruso, A Belmond Hotel, Amalfi Coast, Ravello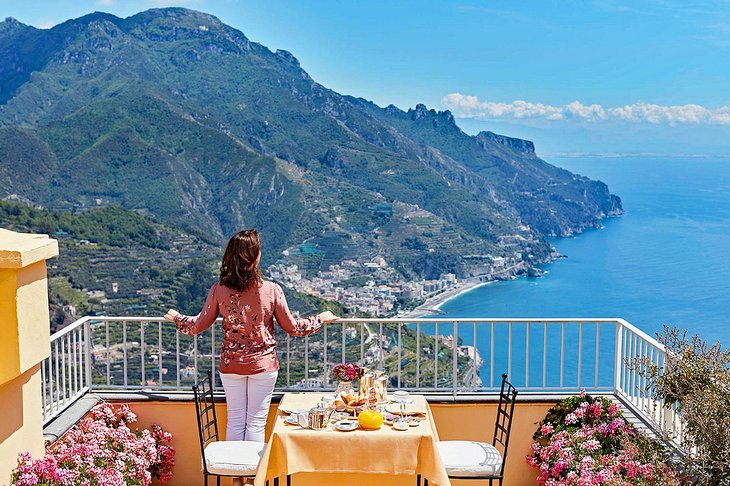 Another clifftop resort, the Caruso's rooms and restaurant are housed in an 11th-century palace peppered with frescoed walls and vaulted ceilings. The outdoor terraces offer unbeatable vistas and the 50 rooms and suites are as lovely as you'd hope to find in a five-star resort.
A stay in Villa Margherita will enhance any holiday. This phenomenal retreat comes with two suites (you can book just one) and private butler service. Guests can also make use of a private chef.
The Villa lies just across the gardens from the main resort, where you'll find a restaurant with a large outdoor terrace, infinity pool, fitness center, spa, and boutique.
11. Borgo Santo Pietro, Tuscany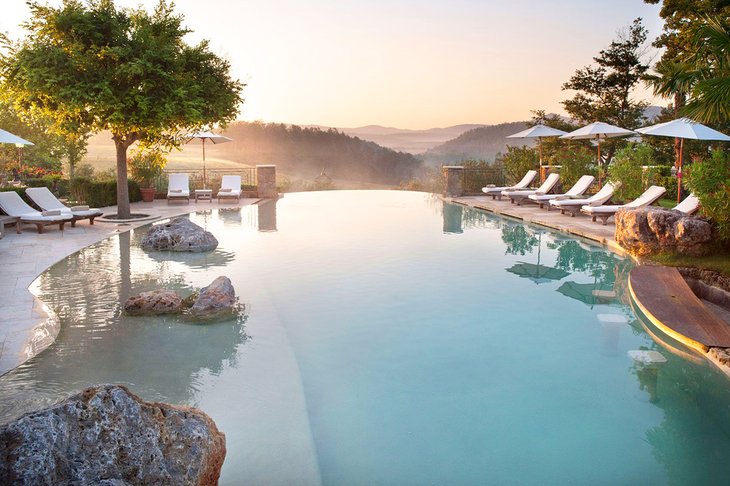 Located in the heart of Tuscany's divine picturesque countryside, this five-star boutique hotel is spread across multiple buildings on a 300-acre estate. In addition to a relaxing spa, guests are treated to lush gardens and a serene pool that features picturesque views.
The 20 rooms in this 800-year-old farmhouse building resemble the inside of a castle. Stone walls, exposed wood ceiling beams, luxurious fabrics, frescoed walls, and private courtyards combine to up the elegance.
Personal fireplaces and clawfoot bathtubs are a romantic touch. Each room has been lovingly restored with all the modern amenities.
12. Rosewood Castiglion del Bosco, Montalcino, Tuscany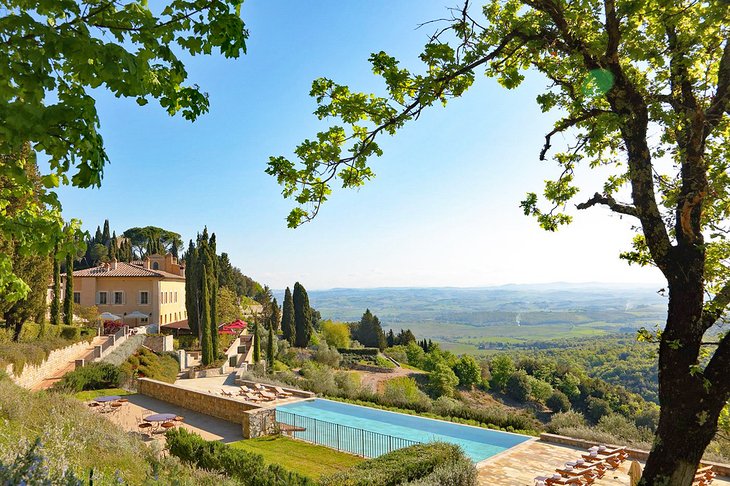 Set within Val d'Orcia Natural Park, a UNESCO-World Heritage Site, this vast, 5,000-acre estate is home to private villas, outdoor pools, a golf course, farm, and top restaurants.
The Rosewood Castiglion del Bosco is one of the best resorts for families, offering endless kids' club activities, which include lessons in speaking Italian and cooking as well as face painting, treasure hunts, and trips to the estate's farm.
While they're happily occupied, parents can tee off for a round of golf, luxuriate in the spa, or enjoy a bike ride through the vineyard.
There's even a cooking school that teaches guests the tricks to making delicious Italian dishes almost as good as those served at the resort's two main restaurants.
When it comes time to sleep, there are 42 suites and 11 luxury villas to choose from.
If you're traveling with a group or on a family holiday, the villa is the way to go. Former farmhouses, they date to the 17th and 18th centuries and have been restored to supreme luxury status. Each comes with a private, heated pool, terrace, pergola, and garden.
13. Villa San Michele, a Belmond Hotel, Florence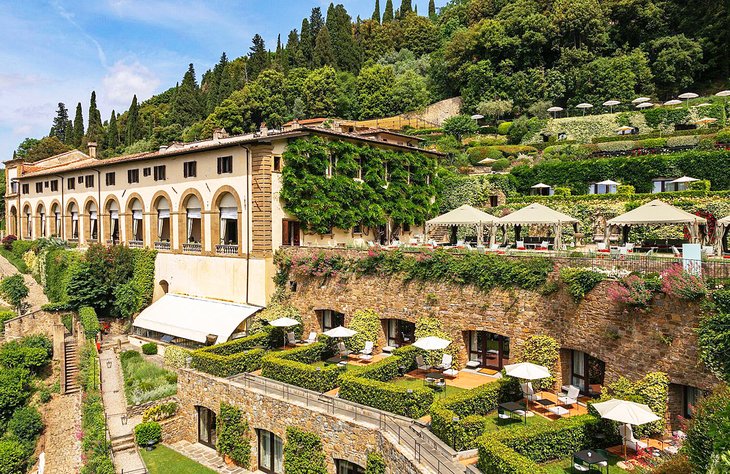 An idyllic resort set in the Tuscan Hills, this Belmond Hotel is stunning, and it's perfectly situated, so you can enjoy panoramic views of the city, not to mention proximity to popular Florence attractions without the bustle.
You won't miss the noise as you wander beneath the lemon trees on a serene stroll through the garden, ogle the 400-year old wisteria, bite into a fresh tomato on the outdoor loggia, or take a dip in the pool.
Here to go sightseeing? No worries! A complementary shuttle will get you to the city's center in 15 minutes, so you can enjoy the churches, art galleries, and museums of Florence all day.
The rooms at this small, boutique resort are elegantly decorated, with bright touches of color and dark wood accents. The linens are plush and the marble bathrooms feature a tub and shower.
A suite is the way to go; they include a private terrace or garden, separate living area, breakfast for two, a food and beverage credit, and transfers to the Florence train station or airport.
14. Masseria Torre Maizza, Savelletri di Fasano, Puglia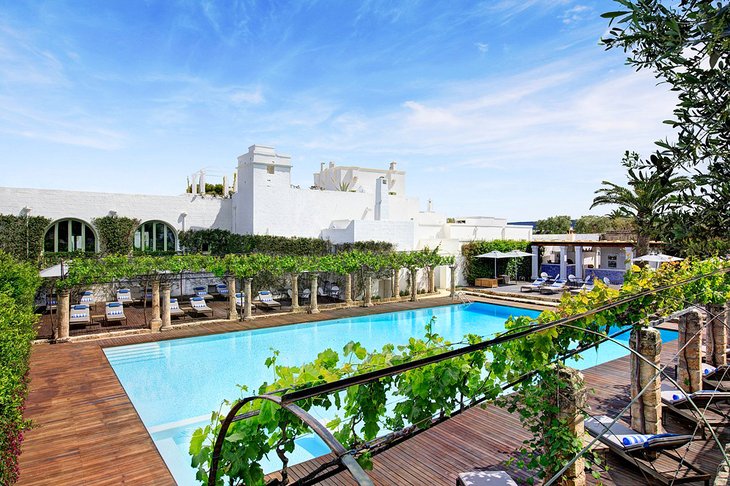 In addition to a private beach club, guests are privy to a 9-hole executive golf course, sunset rooftop lounge, swimming pool, and a spa. With so many luxurious facilities, there's really no need to leave the property.
The guest rooms are spacious and feature tiled floors and an elegant, muted color scheme with chic furnishings. Some include a terrace, and all boast modern bathrooms. Deluxe suites are highlighted by vaulted ceilings and include private gardens and plunge pools.