8 Best All-Inclusive Resorts in Italy
There are no shortage of amazing resorts in Italy, one of Europe's most popular tourist destinations. But there are not so many choices for travelers in search of an all-inclusive experience. Finding an all-inclusive resort in Italy can be a frustrating experience, which is where this list comes in handy.
Whether you are looking for a five-star all-inclusive experience in Sicily to celebrate a romantic occasion or just want to find the perfect resort for relaxing family vacation in Calabria, Italy has options for all kinds of travelers.
Most of the resorts listed in this article are true all-inclusive experiences, meaning your meals and activities will be covered in your daily rate. A few properties on this list, however, offer room only, as well as all-inclusive add-on packages. We have let you know in the main text which is which, so you can make an informed decision before booking.
Research your options with our list of the best all-inclusive resorts in Italy.
1. Grand Palladium Sicilia Resort & Spa, Sicily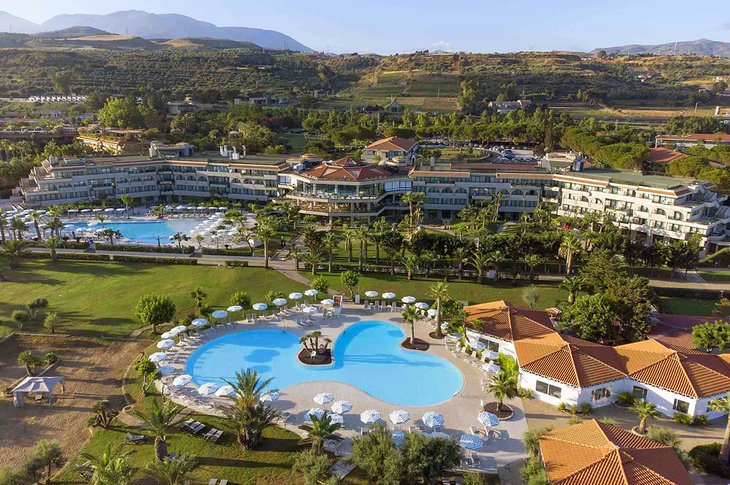 Accommodation: Grand Palladium Sicilia Resort & Spa
Opened in 2021, the 5-star Grand Palladium Sicilia Resort & Spa is the most luxurious all-inclusive resort in Sicily. It sits right on the beachfront in Campofelice in Roccella, not far from the airport in Palermo.
While a room-only rate is offered, most people take advantage of the all-inclusive INFINITE INDULGENCE package. The hotel has around a dozen accommodation options, from deluxe rooms and suites to bungalows with ocean views. It also offers a signature-level service that has some added luxury perks. All rooms are modern and comfortable with light neutral color schemes and large windows and furnished terraces or balconies.
Couples will like the sea-view suites with amazing views, or the deluxe bungalows. Families can also stay in the suites, as they can sleep up to four people, and there is also a family bungalow category.
There are four swimming pools on the grounds, one of which is designed with children in mind. There is also a kids' club, indoor play area, and babysitting services parents can take advantage of.
You'll have access to multiple restaurants, from buffet to a la carte, and room service is included in all-inclusive plans. Other amenities include a spa, fitness center, and a private beach with sun loungers and umbrellas.
Address: Viale Himera 7/8 ss 113 Km 204.3, 90010, Campofelice di Roccella, Sicily, Italy
2. Club Med Cefalu - Sicily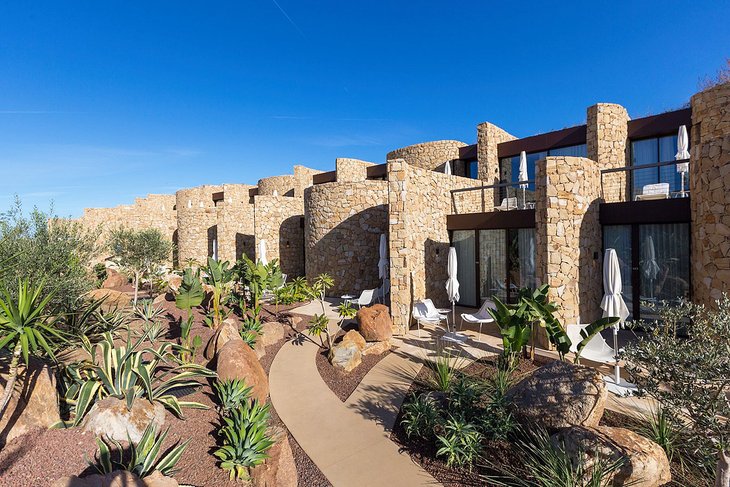 Accommodation: Club Med Cefalu - Sicily
Club Med operates a number of all-inclusive resorts in Italy, but its Cefalu property in Sicily is the brand's most posh. Located in northern Sicily by the fishing village of the same name, it has a fantastic location on a clifftop fronting the Tyrrhenian Sea. From the resort, you can see a 244-meter rock rising straight up from the dark blue sea below. The views at sunset are especially photogenic.
The resort is designed to meld into its natural environs. The decor is modern minimalist, and the majority of rooms and suites are in the main building. These come in a number of configurations. There are also less expensive accommodation options in small wooden villas set on the rocks.
Club Med as a brand is known for being extremely family friendly, so much so that couples might opt to stay elsewhere. That said, if you want a good-value all-inclusive experience in Sicily that is also on the luxe side, this is a solid choice whether you have children or not.
There are a number of on-site restaurants to choose from when it comes to dining, with both buffet and a la carte options. Club Med also includes activities in its rates, and these range from stand up paddleboarding to sailing.
Address: Localita Santa Lucia, 90015, Cefalu, Sicily
3. Falkensteiner Club Funimation Garden Calabria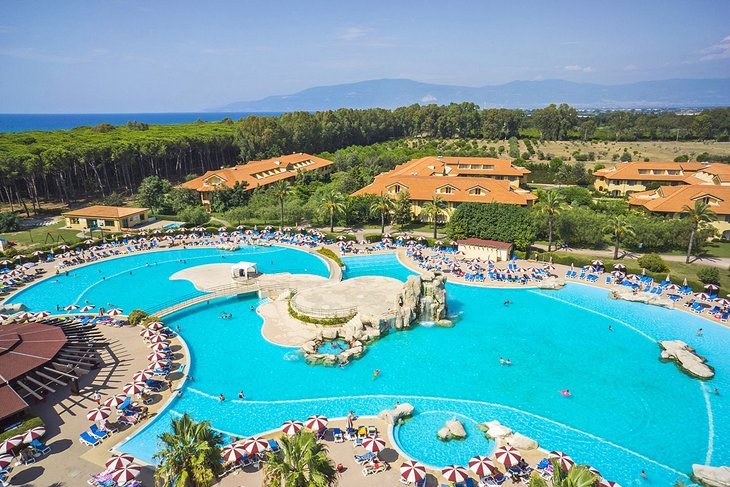 Accommodation: Falkensteiner Club Funimation Garden Calabria
In the far south of Italy near the boot's toe, Falkensteiner Club Funimation Garden Calabria is another proper all-inclusive resort. This family-friendly 4-star property is not right on the beach, but guests have access to a private stretch of sand and the Tyrrhenian Sea via an easy 20-minute stroll through a pine forest. There are also plenty of on-site activities to keep you busy.
There are three outdoor pools, including a gigantic 4,000-square-meter family pool with a spray park and waterslide for kids. Another pool is reserved for adults only.
Other activities include a mini golf course, tennis and volleyball courts, bocce pitches, ping pong tables, and an archery area. If you are in need of some pampering, pay a visit to the spa with Mediterranean influenced treatments.
Rooms and suites are simply furnished but comfortable, and come in a variety of configurations. The most affordable are the 25-square-meter classic rooms, with a double bed and balcony. These have not been renovated, however. Pay a little more for a family room deluxe that is double the size.
There are a number of dining options on-site, which serve Italian, Mediterranean, and international fare. Breakfast is buffet style, but the selection is extensive. There is also a crepes and ice-cream corner, open six nights a week from 9pm to midnight.
Address: Localita Torre Mezza Praia SS18, 88020 Acconia, Curinga, Italy
4. VOI Floriana Resort, Calabria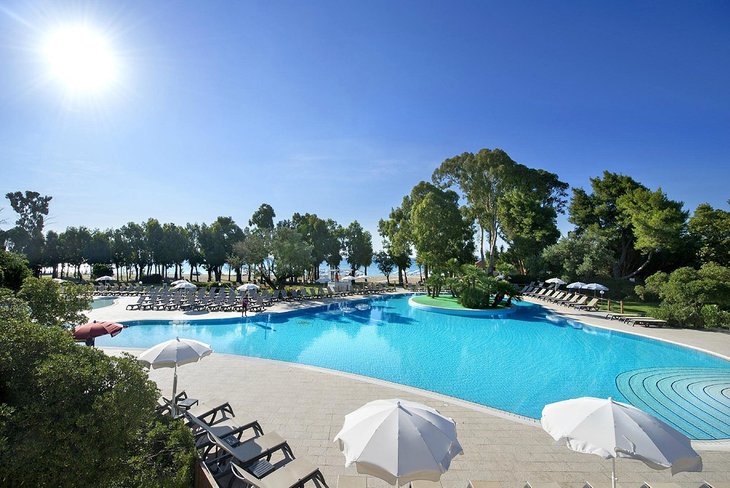 Accommodation: VOI Floriana Resort
On Italy's boot, at the southern edge of the heel, VOI Floriana Resort is a 4-star property that faces the pretty turquoise hues of Catanzaro Lido Beach on Calabria's Ionian coastline. Here, the skies are often bright blue, and temps stay warm late into fall (even winters are mild, with most days averaging around 50 degrees Fahrenheit for a high).
The resort is set on 13 hectares of pretty grounds, with flowering plants, bougainvillea, and well-maintained gardens surrounding the main buildings.
Choose from four styles of room. The classic rooms are the most affordable but on the smaller side and have not been renovated. The superior room category are in bungalows in a reserved section of the resort by the beach and come with some VIP perks. They can sleep up to four guests, and there is also a family superior room option that includes two interconnected rooms.
VOI Floriana offers an all-inclusive package that includes buffet meals, beverages, and snacks in the afternoon. Amenities include a large free-form swimming pool, a beach area with sun loungers and umbrellas, sports facilities, and a kids' play area. Activities from sailing to canoeing can be arranged for an extra fee.
Address: Via del Mare 8 Simeri Crichi, 88050 Simeri Mare, Italy
5. Pietrablu Resort & Spa, Puglia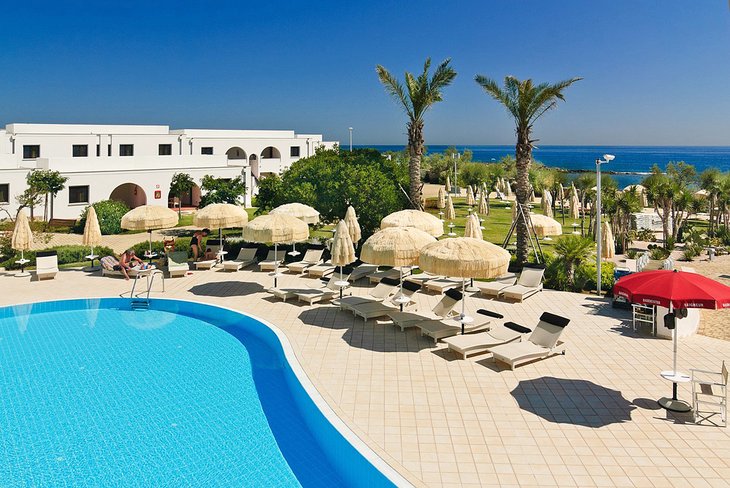 Accommodation: Pietrablu Resort & Spa
On the Puglia coastline, Pietrablu Resort & Spa is just four kilometers from the pretty town of Polignano a Mare, which is known for its beaches, Roman bridge, and historical architecture. The resort is right on the beachfront overlooking Poligano's stunning, clear green bay. The seabed here slopes down gently and creates impressive rock pools ripe for exploration.
Pietrablu is an all-inclusive resort. This means guests have access to unlimited beverages, buffet-style meals with Mediterranean flair, and locally made ice-creams included in their nightly rate.
Amenities are plentiful. There are three swimming pools, a spa with a full range of treatments and sauna and steam room, and a fitness center. The resort also has its own section of private beachfront with sun loungers and umbrellas.
If you are traveling with children, there is a kids' club on-site as well as a play area in the garden.
There is also nightly entertainment, and for adults, a DJ spins tunes many evenings.
Choose from rooms and suites with either sea, garden, or pool views. The suites are located on two floors and have plenty of space for families to spread out.
Address: Contrada Fontanelle 230, 70044 Polignano a Mare, Italy
6. TUI MAGIC LIFE Calabria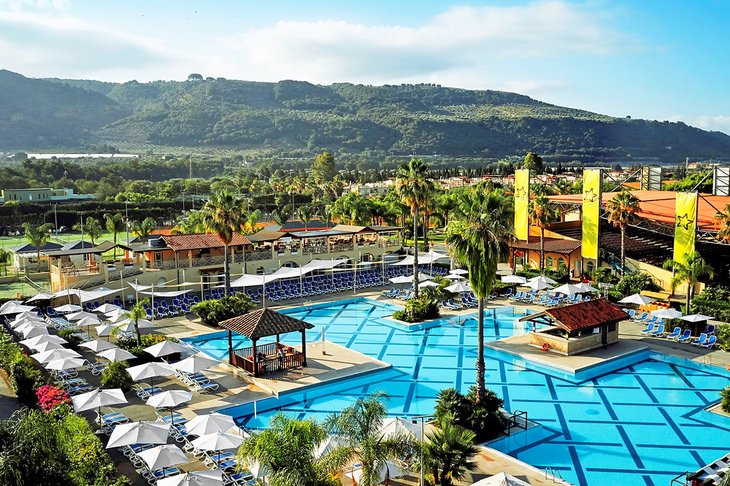 Accommodation: TUI MAGIC LIFE Calabria
In Calabria, TUI MAGIC LIFE is a fully all-inclusive resort.
With a private stretch of beachfront that is separated from the resort buildings by pine trees, it caters to families and couples equally. If you are traveling with the kids, you'll love the extensive entertainment programs for little ones, as well as teenagers. There are also kid-focused amenities like an on-site water park.
Couples will love the adults-only area known as the Private Lodge, where there is a separate swimming pool, speciality restaurant, and special entertainment like dance lessons. This area also has rooms ranging from doubles to full suites. Families have access to family rooms, family suites, and interconnecting rooms in the main resort.
Stay busy with a range of activities, from fitness classes to water sports, tennis, cycling, and guided tours of surrounding areas. There is also often evening entertainment and theme nights.
Rates include buffets for breakfast, lunch, and dinner, as well as snacks and sandwiches between meals. There are a number of speciality a la carte restaurants on the grounds; however, you will only be allowed to have one meal for free at these. Other times, you can pay for meals here if you get tired of the buffets.
Address: Contrada Difesa snc, 89812 Pizzo, Italy
7. Riva Marina Resort - CDSHotels, Puglia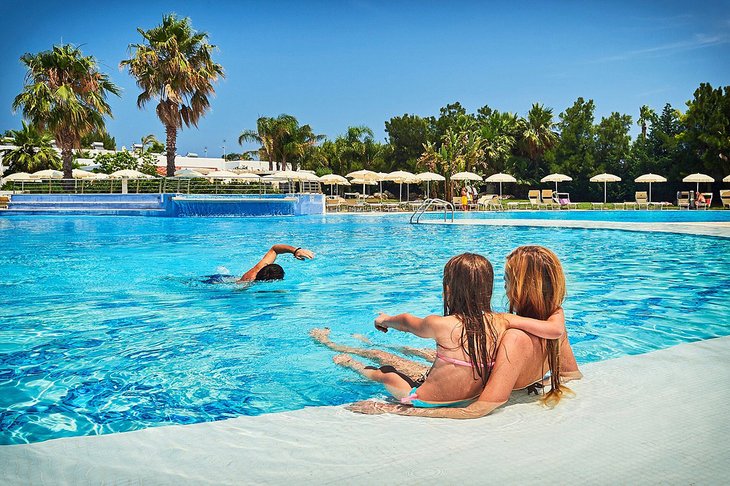 Accommodation: Riva Marina Resort - CDSHotels
Riva Marina Resort is in a great location for exploring Puglia by car with day trips to Matera, Polignano a Mare and Lecce within easy reach. It is also within walking distance of Torre Guaceto, which is a marine protected area and nature reserve.
And this all inclusive property offers plenty to do onsite, if you just want to hang around its 18 hectares of grounds that are filled with olive and almond trees and lots of lush vegetation.
There are all sorts of activities from tennis to basketball, archery to mini golf to yoga and fitness classes on land. There is a large free form swimming pool with plenty of sun-loungers and umbrellas.
Guests have access to a sandy private beach that is about 800 meters from the resort and can be accessed by a continuously running shuttle service. Here you can try windsurfing or sailing or just take out a canoe.
If you are traveling with children and teens, there are activities for them as well with an organized kids' club. They can take a hip hop dance class, swim in the kids pool or check out the video game room.
Rooms and suites are contemporary and come in a number of configurations but all have furnished balconies and hydromassage showers in the baths. Comfort rooms are the most affordable option. Suites are a great choice for families as they have two bedrooms as well as a living room with two sofa beds. The all inclusive plan includes buffet meals, snacks and beverages.
Address: 72012, Carovigno Italy
8. Club Med Pragelato-Sestriere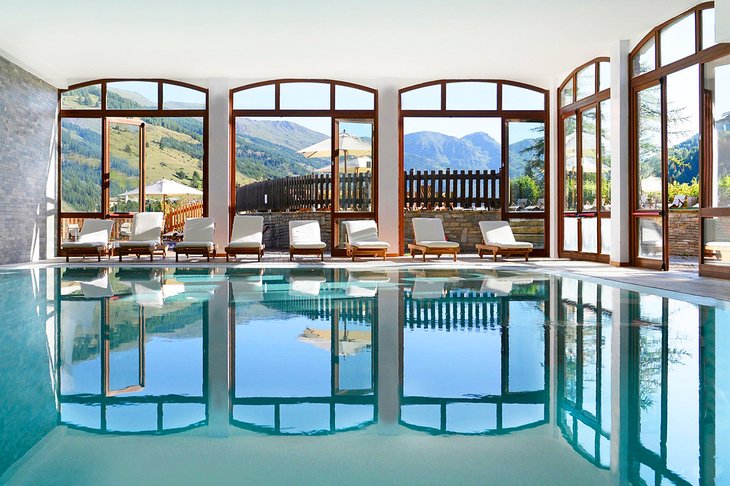 Accommodation: Club Med Pragelato-Sestriere
For an all-inclusive ski vacation, check out Club Med Pragelato-Sestriere in Italy's Piedmont region.
The 3-star resort differs from many ski resorts, as the lift tickets and gear are all included in your nightly rate. Even the group lessons for all levels ages 4 and up are included in your nightly rate that also includes meals and beverages.
If you aren't into downhill skiing then you can try your hand at snowshoeing. There is also a Finnish sauna to warm up in after a day playing outside. There also is a range of wellness offerings, from yoga to meditation classes. In need of some work on sore muscles? Book a treatment (extra fee) at the spa.
The resort has an alpine village feel about its accommodation and public spaces as well. Everything is laid out in a collection of wooden chalets, and the vibe is comfy rustic.
For dining there is a buffet three times a day, and also a speciality restaurant with table service that is included in the rate. It focuses on international fare, as well as regional specialities.
Address: Via Monte Orsiera N_1 Frazione, 10060, Pragelato, Italy
Map of All-Inclusive Resorts in Italy