11 Top-Rated Resorts in Iowa
From the Iowa Great Lakes in the northwest to the Mississippi River on the eastern border, the state of Iowa has many relaxing resort locations. Ideal for extended family vacations or quick weekend escapes, resorts in Iowa entice with massive water parks, golf courses, rejuvenating spas, and plenty of opportunities to sit back and relax.
Resorts in Des Moines offer a great way to take in the attractions of the capital city, and Okoboji resorts feature quick access to the water. Other resorts, like Grand Harbor Resort in Dubuque, offer a different type of aquatic attraction with a 25,000-square-foot indoor water park.
Featuring cabins, lodges, and cottages, the top resorts in the state also come with quick access to city attractions or the Iowa great outdoors. All the best resorts in Iowa also feature in-house dining, as well as activities galore, making each location the first and last stop for a great Iowa vacation.
For ideas on the best place to stay, see our list of the best resorts in Iowa.
1. The Hotel at Kirkwood Center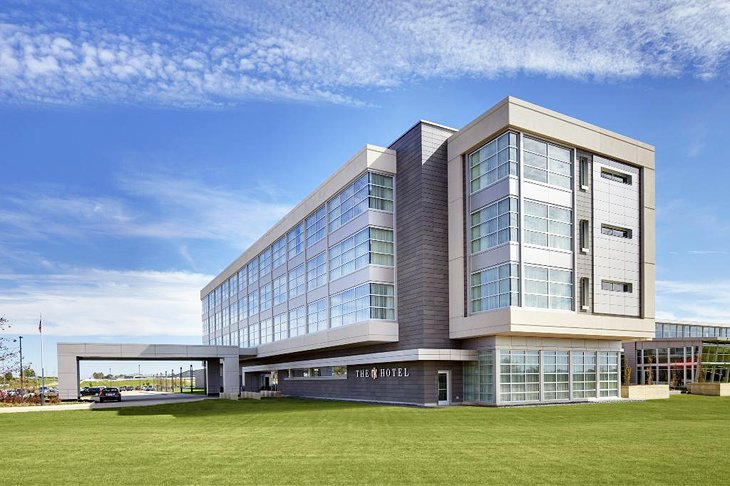 Accommodation: The Hotel at Kirkwood Center
This sharp-looking resort is just south of the Cedar Rapids downtown district and 20 minutes from the University of Iowa campus in Iowa City. The Hotel at Kirkwood Center distinguishes itself with a chic design, superior service, and many resort-like amenities.
The hotel is on the grounds of Kirkwood Community College, and much of the staff is made up of students experientially learning about the hospitality industry. Student and faculty art is throughout the sunlit facility, including the comfortable lobby and reception area. The Class Act restaurant is located off the lobby and serves up a variety of fresh-ingredient meals throughout the day.
Upscale accommodations are available at The Hotel at Kirkwood Center, including executive and presidential suites with plenty of space. It is the service that adds to the luster of this four-diamond hotel though, and around every corner it's easy to find someone to help you enjoy your stay.
Address: 7725 Kirkwood Blvd SW, Cedar Rapids, Iowa
2. Surety Hotel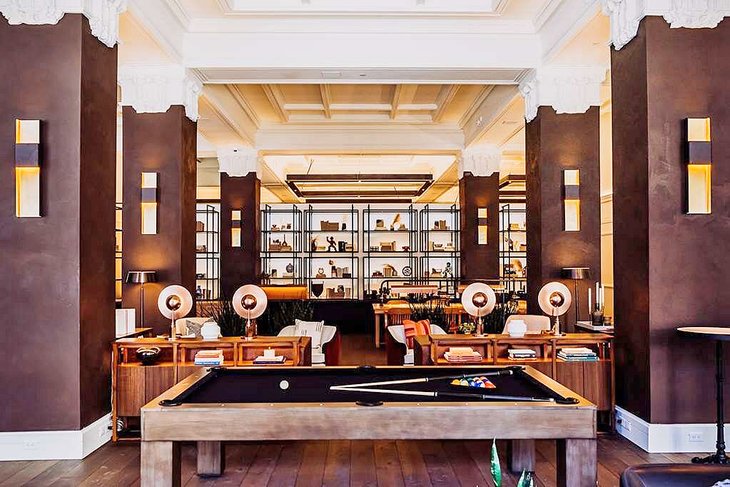 Accommodation: Surety Hotel
Located in downtown Des Moines, the Surety Hotel is a luxe 4-star property in a former bank building. The beaux-arts property dates back to 1913 but has been renovated inside when turned into a hotel. It still maintains the charm of a century plus ago, especially in public spaces where original artwork is also displayed.
The rooms and suites have a stylish, mid-century modern look. We love the leather pillowed headboards behind comfy beds draped in crisp white linens. Rooms have large windows with city views and blackout curtains for when you need to snooze. If you are traveling with a dog, the hotel is pet friendly.
The hotel's on-site restaurant serves a French and Italian meets American menu with starters like grilled tomato and burrata and mains like summer squash lasagna or a double burger with sriracha pickles, grilled onion, capers, and cheese.
Address: 206 6th Ave, Des Moines, Iowa
3. Hotel Blackhawk, Autograph Collection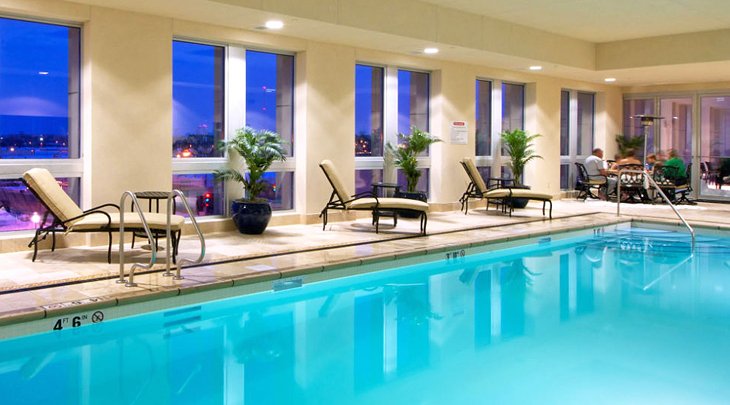 Accommodation: Hotel Blackhawk, Autograph Collection
A historic hotel near the Mississippi River, Hotel Blackhawk has stood tall in the Quad Cities for more than 100 years. After 2010 renovations to the facility, the hotel acquired a modern edge and regained its status as one of the most luxurious places to stay in Iowa.
Alongside the contemporary decor and historic building, this four-diamond luxury boutique hotel also features the Spa at Hotel Blackhawk with a long list of services. The Blackhawk Bowl Bowling Alley is also on the lower level of the hotel and features a fun late-night atmosphere with lounge furniture.
Standard and deluxe rooms are available at Hotel Blackhawk, as well as one- and two-bedroom suites complete with a full kitchen. All rooms feature comfortable furniture and unique decoration, and many give great views of the Mississippi River or downtown Davenport.
Address: 200 E 3rd Street, Davenport, Iowa
4. The Current Iowa, Autograph Collection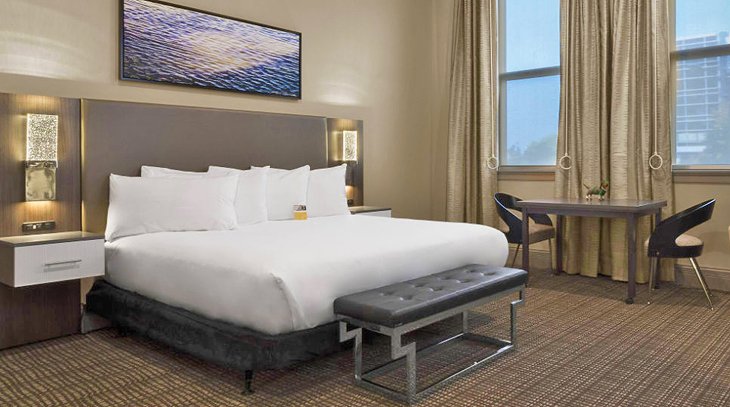 Accommodation: The Current Iowa, Autograph Collection
Near the Hotel Blackhawk and part of the Marriott Autograph Collection, this boutique hotel provides a unique stay with luxurious accommodations. Featuring original artwork in every room and throughout the facility, The Current exudes a creative and classy tone that enhances every visit.
Nearly 50 rooms and 30 suites are available at The Current, including two-bedroom suites with 11,000 square feet of space. The in-house Viva Baja-style restaurant and the rooftop UP restaurant are popular places to eat, and the hotel's downtown location lends access to a variety of other restaurants in the area.
Address: 215 N Main Street, Davenport, Iowa
5. Hard Rock Hotel Sioux City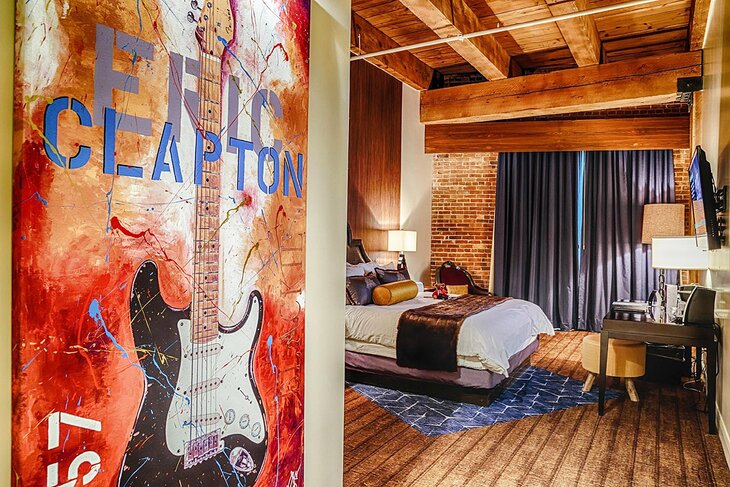 Accommodation: Hard Rock Hotel Sioux City
In the historic Battery Building in downtown Sioux City, the Hard Rock Hotel is a luxury, music-focused resort. It has a 100-piece music memorabilia collection that is displayed around the property.
The Hard Rock has 54 rooms and suites. These have a chic modern ambience and a rock 'n roll vibe. They also incorporate the building's historic architecture with exposed brick walls, vaulted ceilings, and wooden columns.
All come with the brand's signature bedding, furniture, and one-of-a-kind photography featuring artists and bands that have played shows at one of the resort's two entertainment venues.
Choose from queen or king rooms. Suites add living space and oversized bathrooms. If you are traveling with a dog, there are pet-friendly room choices as well.
There are two restaurants and two entertainment venues on-site. Anthem features new and renowned acts in an indoor theater year-round. Battery Park is an outdoor concert venue that books artists for summer shows.
For meals, you'll have a choice between Main + Abbey, which serves gastropub grub in casual environs, and Fuel American Grill, which is also laid-back and does an Americana-inspired menu.
Other amenities include a seasonal outdoor swimming pool, a fitness center, and free parking.
Address: 111 3rd St, Sioux City, Iowa
6. Grand Harbor Resort and Waterpark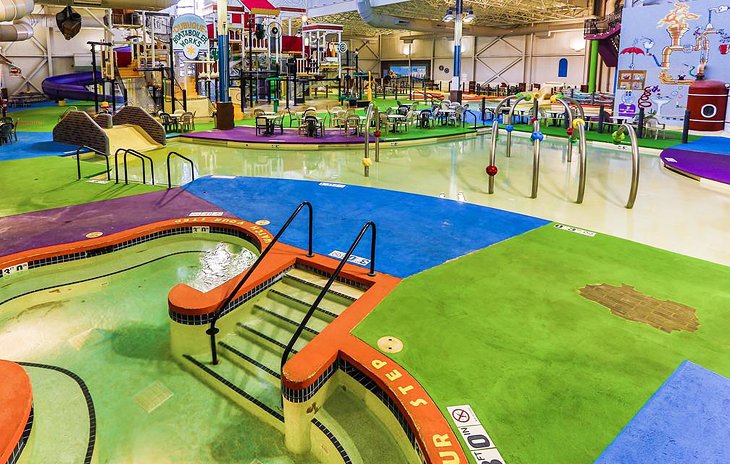 Accommodation: Grand Harbor Resort and Waterpark
With a picturesque location in the Port of Dubuque, overlooking both the historic downtown district and the Mississippi River, this resort and play space is perfect for the whole family.
One of the biggest appeals of Grand Harbor is its 25,000-square-foot indoor waterpark. This sprawling aquatic space has splash pads, lazy rivers, and water features for all ages.
Other kid-friendly amenities of the resort include an arcade and laze maze, as well as Kidz Club that hosts daily activities throughout the week.
Standard rooms and spacious suites are available at Grand Harbor, and all have a modern feel with stylish furnishings. The attached Tony Roma's restaurant is open for breakfast, lunch, and dinner.
It's also the prime location in Dubuque that makes reservations recommended at Grand Harbor Resort. The facility is near downtown Dubuque, where shopping, restaurants, and attractions like the Dubuque Museum of Art are within walking distance. The National Mississippi River Museum is also only a few blocks away.
Address: 350 Bell Street, Dubuque, Iowa
7. King's Pointe Waterpark Resort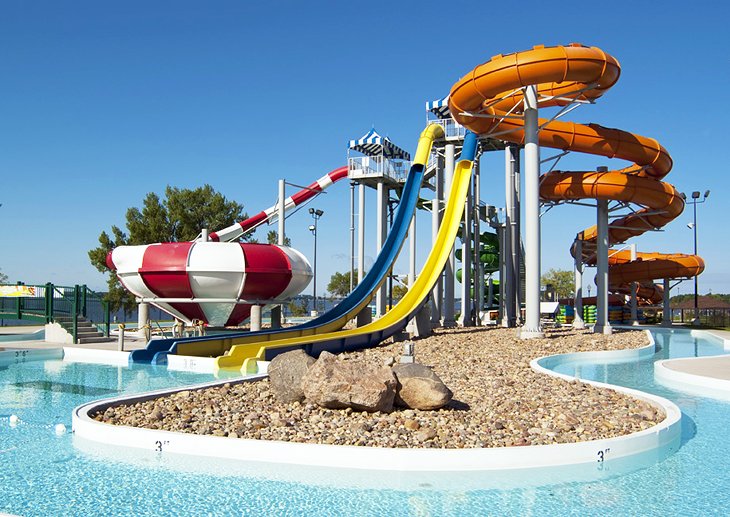 Accommodation: King's Pointe Waterpark Resort
Near the shores of Storm Lake in northwest Iowa, this full-service resort is a great way to enjoy this beautiful part of the state. The namesake feature of the resort is a massive indoor and outdoor water park complete with waterslides, kiddie fortresses, lazy rivers, rock climbing, and zero-depth entry pools.
King's Pointe also encompasses a nine-hole golf course across the street, which accepts public tee times for guests and visitors alike. The resort also has an elaborately themed Pirate's Pointe mini-golf course. Other amenities at the resort include a lighthouse and beach area and guided fishing services.
The best way to cap off the day at King's Pointe is with a waterfront meal at the Regatta Grille.
Overnight accommodations range from standard rooms to suites, and all include wireless internet and cable television. Some rooms offer stunning views of the lake. King's Pointe also has Sunrise Cottages with private patios, fully stocked living spaces, and the ability to sleep up to eight people.
Address: 1520 E Lakeshore Drive, Storm Lake, Iowa
8. Honey Creek Resort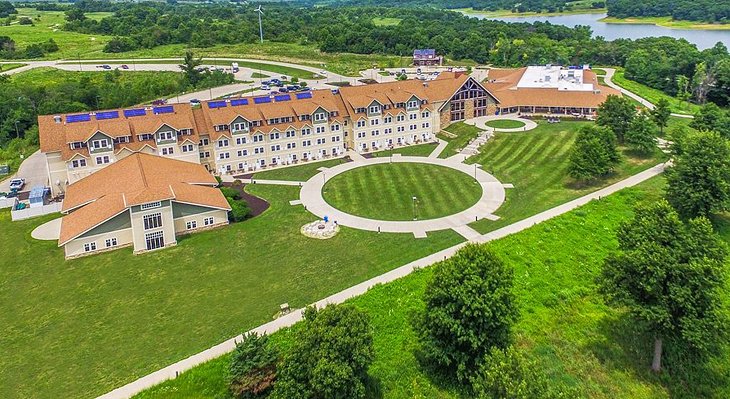 Accommodation: Honey Creek Resort
Overlooking Rathbun Lake in southern Iowa, Honey Creek Resort and the nearby Honey Creek State Park are both operated by the Iowa Department of Natural Resources. Lodge rooms, cottages, and camping are available through the resort. Activities like boating, biking, and hanging out on the beach are popular with each stay.
The resort has kayaks, stand up paddleboards, and fishing gear available to rent for activities in the water or near the shore. Honey Creek also has a variety of mountain, road, and tandem bicycles to explore the nearby trails. In conjunction with the state park, the resort hosts several hands-on naturalist programs, including live animal encounters.
The 18-hole The Preserve at Rathbun Lake golf course is also part of the facility and Stay-and-Play packages are available. Other fun outlets for the whole family include the Buccaneer Bay Indoor Waterpark, and waterfront meals at the Rathbun Lakeshore Grille.
Honey Creek is one of the best Iowa winter resorts. Alongside cozy and comfortable rooms, the facility enables activities like sledding and ice skating throughout the colder months.
Address: 12633 Resort Drive, Moravia, Iowa
9. Bridges Bay Resort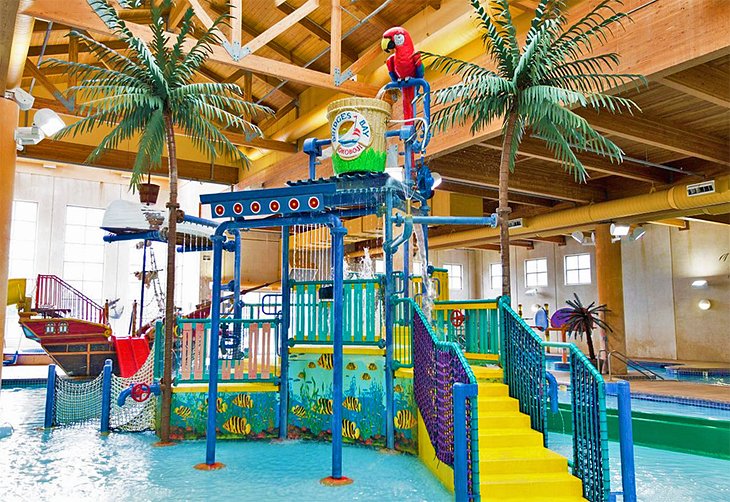 Accommodation: Bridges Bay Resort
To enjoy the most out of a Lake Okoboji vacation, Bridges Bay Resort provides easy lake access and so much more. A great family destination, the resort features a massive indoor water park and a high-flying zip line for some extra fun. And less than a five-minute drive from Bridges Bay, Arnolds Park Amusement Park also piques some serious interest in kids.
Bridges Bay Resort also hosts three different waterfront restaurants, including the acclaimed Waters Edge American Grille. Live entertainment can be found throughout the summer on the property's beach, and the on-site, fully stocked, private fishing pond can usually guarantee a bite. For boat owners, Bridges Bay also offers boat hoist rental space for guests and the public.
Overnight accommodations include hotel rooms and condo suites. The largest condo suite at the resort is a three-bedroom, which can comfortably sleep up to 12 people. Bridges Bay also offers vacation cabin rentals that feature more privacy and comforts of home.
Address: 630 Linden Drive, Arnolds Park, Iowa
10. Hotel Renovo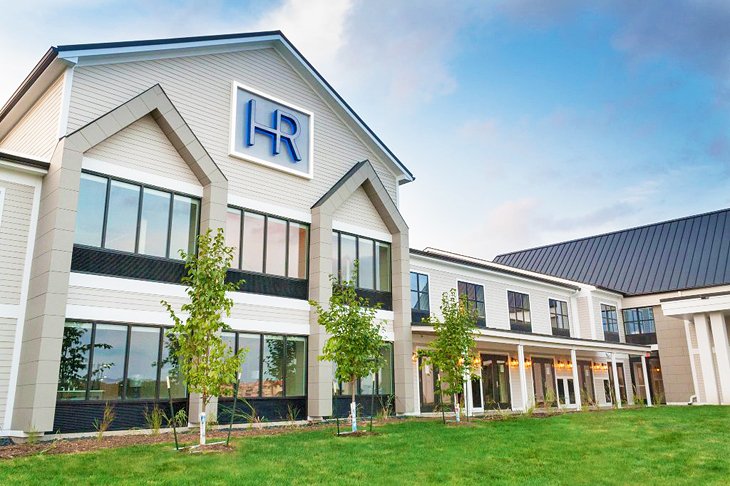 Accommodation: Hotel Renovo
Hotel Renovo is next door to the interactive Living History Farms museum in Urbandale and less than 20 minutes from downtown Des Moines. This modern and upscale boutique farmhouse goes well beyond any ordinary hotel visit.
Designed with a minimalist approach to match the tranquil surroundings, all 102 guestrooms and suites come with granite vanities, crisp linens, and modern decor. The indoor pool at Renovo is well-lit and well-kept, but one of the most popular outlets to enjoy is the expansive porch and outdoor sitting area complete with ornamental fire pits.
Breakfast is served each morning at Hotel Renovo, and the Renovo Kitchen offers all sorts of fare throughout the day. The award-winning The Machine Shed restaurant is also within walking distance.
Address: 11167 Hickman Road, Urbandale, Iowa
11. Hotel Julien Dubuque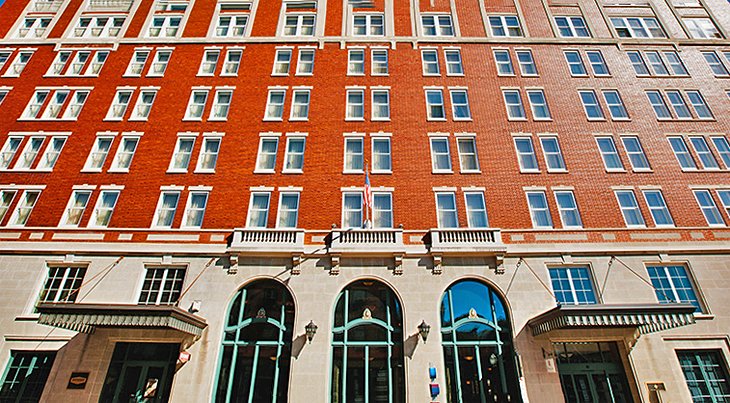 Accommodation: Hotel Julien Dubuque
Located in the Old Main District of Dubuque, this boutique hotel is popular with nearby residents and world travelers alike. The historic aura of the Hotel Julien blends nicely with the modern amenities found throughout the facility. This sense of historic class includes the tastefully decorated rooms, well-lit indoor pool, and decadent lobby and reception area.
Hotel Julien offers more than 130 guestrooms and suites. The Capone Suite at the hotel references the infamous gangster's ties to the hotel and offers two large bedrooms with comfortable additional living space. The Potosa Spa is located on the lower level of the hotel and can add professional pampering services to any visit.
While room service is available for all meals of the day, guests are also encouraged to check out the on-site, American-inspired Caroline's Restaurant for some local flavor. The hotel also operates the Riverboat Lounge, which features a small-plate menu and seats overlooking the Mississippi River.
Address: 200 Main Street, Dubuque, Iowa
Map of Resorts in Iowa