12 Top-Rated Resorts on Bintan Island
Like its sister island Batam, Bintan Island is an Indonesian vacation destination easily reachable by high-speed ferry from Singapore and Malaysia (Johor Bahru). A great weekend getaway from Singapore, within about an hour of leaving the city, you can be on the sand, in your sun lounger, enjoying one of the many Bintan Island beachfront resorts.
This Indonesian Island has a good selection of luxury resorts, each offering a different getaway experience. Whether you seek a family-friendly vacation for yourself and your kids or want a romantic getaway with your significant other, you can find a Bintan resort that really caters to your specific needs and wants.
Bintan visitors with children would like the full-featured Nirwana Resort Hotel, with many things to do and eat right on-property. Couples looking for a luxurious stay with gourmet food should consider The Sanchaya, while large all-inclusive resorts like Club Med Bintan Island offer food, activities, and great accommodations appealing to all types of visitors.
Plan your own adventures with our list of the best resorts on Bintan Island.
1. The Sanchaya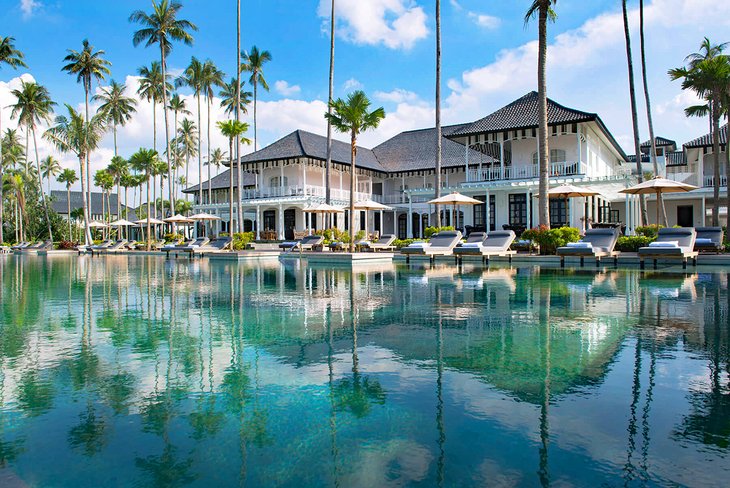 Accommodation: The Sanchaya
The Sanchaya represents the epitome of beachfront luxury on Bintan Island, offering a cohesive vacation experience with luxurious accommodations, personal service, wonderful gastronomy, and endless activities.
The experience starts at the BBT Ferry Terminal, where you'll wait in the estate's private VIP lounge for the car to take you to the resort. All the accommodations are set within a private beachfront luxury estate, and it feels more like visiting your billionaire friend at their incredible mansion than staying at a hotel.
The restaurants and common areas are beautifully furnished with art and antiques, adding to the private estate feel.
The resort caters to and welcomes kids and families with an extensive program of fun and educational activities, both indoors and outdoors.
Of course, the resort has a spa. It's compact but offers a complete range of wellness treatments for the mind and body.
Take your pick of 30 suites and villas, or go for the best experience, the Vanda Villa, with four bedrooms.
Dining options at The Sanchaya include in-suite service; celebration dining; and special meals in special places, like the beach and two ocean-view restaurants. The Dining Room presents upscale all-day dining with Indonesian and Western selections, and Tasanee Grill features a menu based on Thai street food.
Address: Lagoi, Bintan Regency, Riau Islands Province 29155
2. The Residence Bintan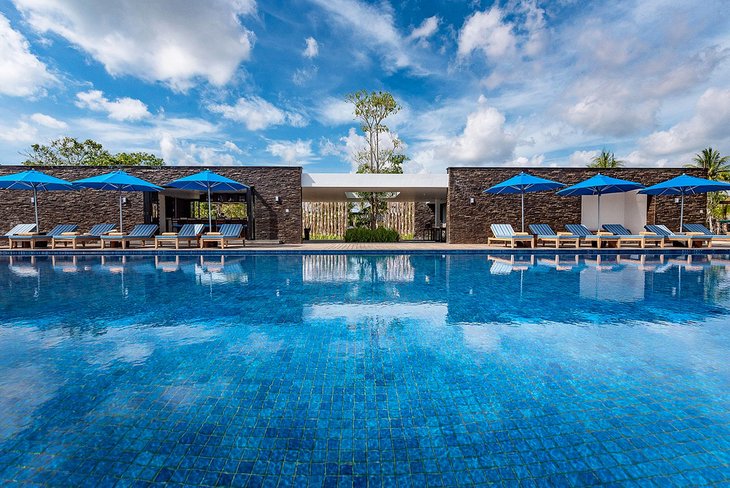 Accommodation: The Residence Bintan
Consistently ranked as one of the best places to stay on Bintan Island, The Residence Bintan offers guests an all-villa, family-friendly, five-star cohesive luxury beachfront resort experience.
You get mostly beachfront suite and villa accommodations, a full menu of activities both on- and off-site, wellness-focused gastronomy, and a spa powered by British skincare and lifestyle brand ila.
There are 127 one- and two-bedroom "terraces" and villas at The Residence Bintan, formed into Asian village areas. "Terraces" are spacious suites in communal buildings, and they and all the accommodations have private terraces or decks. Some accommodations have sea views, some have direct beach access, and some have upgraded amenities like private outdoor plunge pools or private gardens.
Everything has a very modern, minimalist yet Indonesian design that works very well for the setting. Bathrooms are exceptional, like your own private marble mini spa, with huge soaking tubs and rain showers.
Kids will love the Kakatu Kids Club, providing supervised all-day activities, including physical fun like swimming and educational experiences like cooking classes with the resort's chefs.
Families can enjoy the full range of beach fun and water sports along with cultural village visits and cooking and art classes. You can go beyond the resort for hiking, horseback riding, ATV rides, mangrove tours, and more.
Aside from in-villa dining, which is available 24-hours, you can eat at The Dining Room, the resort's all-day dining buffet restaurant with live cooking stations. You can also reserve a table at the slightly more formal Rica Rica, which serves an Indonesian menu with waiter service.
Gourmet weekends bring BBQ Saturday nights with a beachfront barbecue (weather permitting), along with Surf and Turf, multi-course meat or seafood dinners grilled just for you on Fridays.
Private dining experiences for couples or for families are also available on the beach, the jetty, and other locations around the resort.
Address: Galang Batang, Bintan Regency, Riau Islands Province 29153
3. Kamuela Villas Lagoi Bay Bintan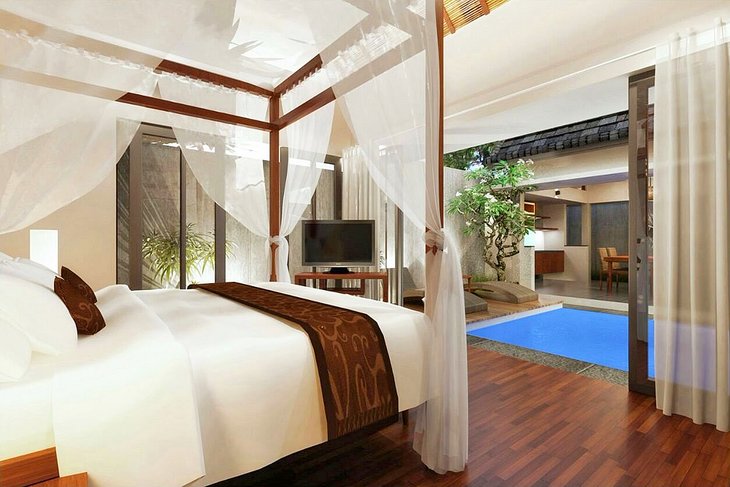 Accommodation: Kamuela Villas Lagoi Bay Bintan
This all-villa luxury resort on beautiful Lagoi Bay has 28 one- and two-bedroom villas. Premium villas come with outdoor dining areas, fire pits, and spa-like bathrooms with outdoor showers.
All the accommodations have opening, floor-to-ceiling sliding glass doors, allowing you to have a wonderful outdoor living and bedroom area. They all also have private outdoor plunge pools.
There is no spa, but the resort has a staff of on-call masseuses and can arrange for treatments and massages in your villa.
There is a big resort pool for guest use, along with a private beach area.
There is no restaurant on-site, but they do serve a complimentary breakfast for guests. The staff can guide you to good restaurants nearby, and a big mall and market are an easy walk away.
It's a great place to stay if you want villa accommodations steps from the sand with great service, but want to be on your own agenda in terms of activities, meals, etc.
Address: Jl. Gurindam Dua Belas Kav T30-32, Lagoi, Bintan Regency, Riau Islands Province 29152
4. Cassia Bintan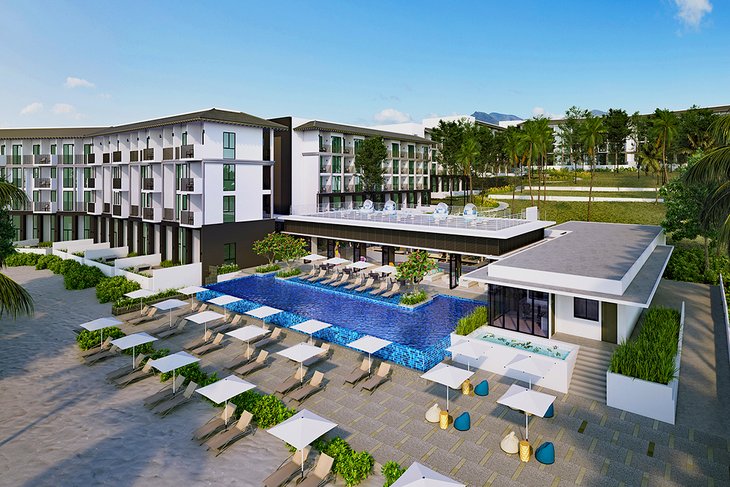 Accommodation: Cassia Bintan
Cassia, a serviced residence brand of Banyan Tree, gives guests a modular beachfront resort experience focused on comfortable apartment-like accommodations.
Part of the Laguna Bintan Integrated Resort, (which includes a golf course, spas, 10 restaurants, and other entertainment) Cassia Bintan has available amenities like pool parties, a kids' club, room service, free breakfast, free high-speed Wi-Fi, and on-demand maid service.
The resort can give you an all-inclusive vacation experience, packed with activities and adventures, or a very private experience where you make and take your own meals in your apartment and venture out to enjoy the resort's private beach and pools.
The one- and two-bedroom units are very self-contained and are a great place to stay on Bintan Island for families, as you can prepare and eat many meals in your apartment. They come with full kitchens, dining areas, LCD TVs in the living room and bedroom, and furnished outdoor patios.
Cassia Bintan has a main buffet restaurant, Vista, offering all-day dining with pool views. Market 24 is their 24/7 coffee shop and convenience store with grab-and-go meals along with sous vide and other heat-up meals that can be prepared in your kitchen. Xana Beach Club also serves food with a lot of techno music.
Address: Jl. Teluk Berembang Laguna Bintan Resorts, Lagoi, Bintan Regency, Riau Islands Province 29155
5. Nirwana Gardens - Indra Maya Pool Villa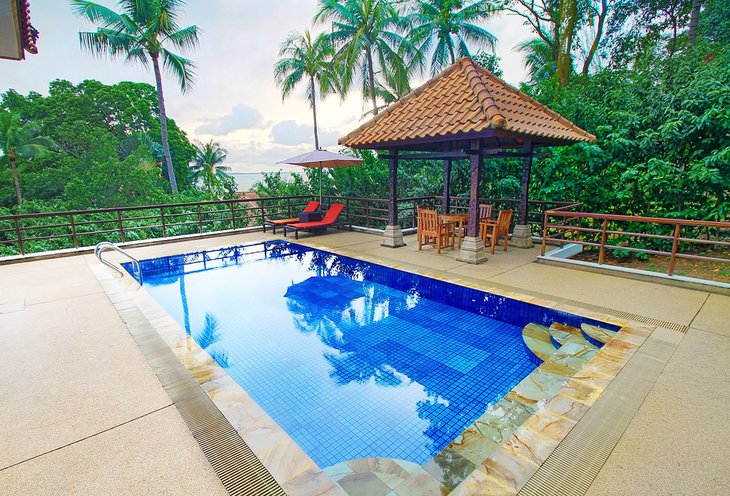 Accommodation: Nirwana Gardens - Indra Maya Pool Villa
Part of Bintan Island's massive 800-acre Nirwana Gardens resort development, the Nirwana Gardens - Indra Maya Pool Villas are the resort's best, ultra-exclusive, five-star luxury accommodations.
There are eight spacious pool villas, all with sweeping views of the coastline and the South China Sea from inside and outside. The villas each have their own private pool and a courtyard where you can sit outside and enjoy the resort's great food via in-room dining. Design and style is a unique mix of Indonesian, Thai, and Chinese elements.
Villas come with full kitchens and are available with one, two, or three bedrooms. They also come with their own golf cart buggy, a necessity to get around the massive resort complex.
Villa guests have access to all facilities and restaurants (with charging privileges) at all five resorts at Nirwana Gardens. Indra Maya Pool Villas also come with a villa host, who is your first point of contact for any needs and can set up any activities, meals, or other things you want to do.
The resort offers in-villa check-in and complimentary round-trip transfers from BBT Ferry Terminal.
In-villa dining is available 24-hours, or you can visit any of the Nirwana Gardens resort's 13 different dining environments.
If you decide to leave your villa, the resort offers an almost endless variety of activities and adventures, including a beach club with powered and non-powered water sports and watercraft. All non-powered water sports and gear is complimentary.
Address: Jl. Panglima Pantar Bintan Resorts, Lagoi, Bintan Regency, Riau Islands Province 29155
6. Club Med Bintan Island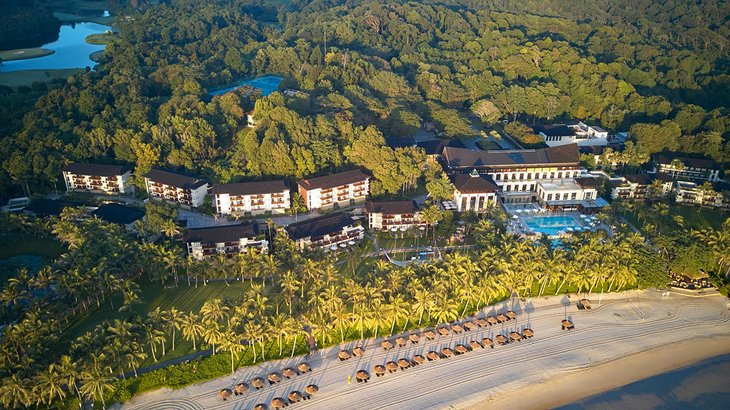 Accommodation: Club Med Bintan Island
This island resort lives up to the Club Med core mission of providing a family-friendly, all-inclusive, "leave-your-cares-at-the-gate" beach village resort experience.
The Club Med Bintan Island resort delivers a continuous, seemingly endless array of things to see, do, and eat 24 hours a day. They have non-stop, organized, events and activities led by the always excited Club Med team members, consisting of sports, wellbeing, and entertainment. They really offer things for everyone: single travelers, couples, and families.
Supervised activities – indoor and outdoor, physical, cultural, and intellectual – are available for kids 4-17. It's a very positive environment overall. The resort operates under the original Club Med mantra of promoting freedom, friendliness, confidence building, multiculturalism, and goodwill. There are about 30 different activities and adventures included with your stay, and 31 "on-demand" (paid) options like excursions, private cruises, and spa treatments.
When you get hungry, you have The Waterfall, the resort's main all-day dining buffet restaurant with live cooking stations, or The Terrasse, a more intimate restaurant with waiter service.
Rooms and suites are stylish but a bit basic. All have furnished balconies. Deluxe rooms add turndown service, a free non-alcoholic minibar, and bathrobes and slippers. They also add some size and better views.
Suites have large private terraces. Connecting rooms are available and are a great option for families.
Address: Jl. Site A11, Lagoi, Bintan Regency, Riau Islands Province 12920
7. LooLa Adventure Resort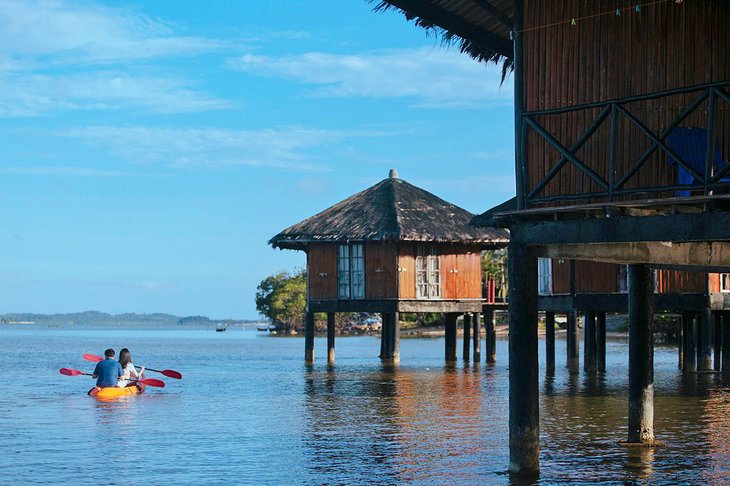 Accommodation: LooLa Adventure Resort
As its name implies, the LooLa Adventure Resort is all about adventure activities. If you like to play outside or if you have kids that like to, this is a great place to stay on Bintan Island.
The sustainable eco-resort has almost any activity you can imagine, from jungle obstacle courses to kayak safaris to deserted islands. It's on its own private beach, and there are all kinds of things to do on, in, and under the water from snorkeling to sailing.
Educational activities include cooking classes, marine surveys, history tours, and helping with sustainable construction projects at the resort and in the local village. Physical activity options include climbing (rock walls and coconut trees), ziplining, basketball, tennis, ninja circuits, tree planting, and more.
Accommodations at the LooLa Adventure Resort vary from rustic overwater chalets, with sun-warmed hot water and no air conditioning (but amazing views), to relatively luxurious villas with eco-cooling systems.
Two 150-bed dormitories (one for men, one for women) are also bare-bones accommodation options, each with two rooms of 75 beds. These are popular for groups, as the resort is popular for team-building getaways.
If you spend two nights at LooLa, they can arrange additional homestay nights with a local family. Another option is to camp out on a deserted island with the tent and other gear supplied and set up by the resort.
Your all-inclusive stay includes three meals a day from a mainly plant-based menu. Most of the ingredients are natural, organic, and locally sourced if not grown on the resort grounds. You can dine in your chalet or in one of the two resort restaurants.
Address: Galang Batang, Bintan Regency, Riau Islands Province 29153
8. Banyan Tree Bintan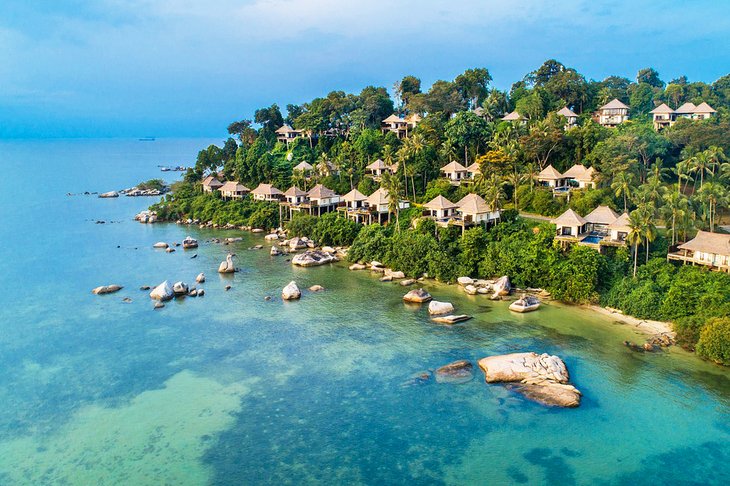 Accommodation: Banyan Tree Bintan
Banyan Tree has more than 30 luxury hotels, resorts, and spas around the world. At their Banyan Tree Bintan resort, the luxury hotel brand offers a very polished level of international luxury and service, set within Balinese-style stilted accommodations in a hillside rainforest setting overlooking the South China Sea.
One- and two-bedroom villas are available, with premium accommodations giving you things like an overwater location or even your own two-massage-table spa space inside your villa. Even the least expensive accommodations at Banyan Tree Bintan have ocean views and are set within the lush rainforest.
Go for a swim on the resort's private beach or in your own private plunge pool (every villa has one) or in the resort's rock-edged infinity pool.
The Marine Centre handles all your beach and water sports needs. Beachfront yoga is offered as part of a wellness experience with the Banyan Tree Spa, which offers a wide range of healing procedures and treatments for mind, skin, and body.
Aside from the beach and other activities, the Banyan Tree Bintan is a great place to stay on Bintan Island if you like golf, as the resort is adjacent to the Laguna Golf Bintan championship course.
A fully supervised kids' club (ages 3-10) is available at the neighboring Angsana Resort, operated by the same company.
All-day dining is available at two different restaurants, one with an Indonesian menu, the other with a Western one. There's also Saffron, the Banyan Tree's signature Thai restaurant, one of which can be found at most of their properties.
Address: Jl. Teluk Berembang Laguna, Bintan Regency, Riau Islands Province 29155
9. The ANMON Resort Bintan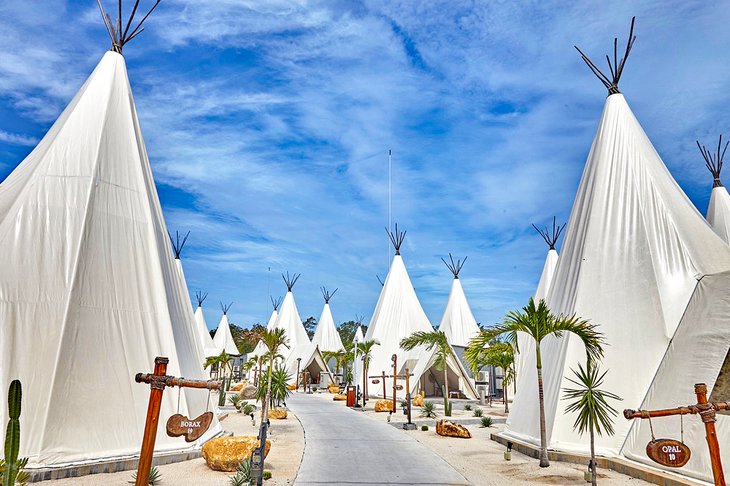 Accommodation: The ANMON Resort Bintan
This unique, family-friendly Bintan glamping resort consists of 100 luxurious air-conditioned teepees, each soaring almost 25 feet into the air.
The luxe tents have full permanent bathrooms with freestanding soaking tubs, along with skylights, private furnished patios (the tents are separated from each other with white brick walls), complimentary high-speed Wi-Fi, separate living room areas, and king-sized beds.
Tents can accommodate one, two, three, or four people, and the resort can configure the bedding according to your specifications. The tent village is styled like a desert medina, with sand pathways and palm trees.
The village sits next to a lagoon, and some tents have lagoon views. Other luxe amenities at The ANMON Resort Bintan include 24-hour in-tent dining, available in-tent massages, and complimentary round-trip transfers to and from the BBT ferry terminal.
There are several dining options, including room service. The Compass Rose is the main, all-day dining restaurant, named for the many international flavors on the Mediterranean-fusion menu. Large communal tables and family-style service encourages guest interaction and conversation. Mad Pizza serves homemade, wood-fired pizza from noon to midnight, and the resort does a limited number of private tent-side barbecues each evening.
Although the desert-themed resort is kid-friendly, they recommend it for kids over five, those traveling with infants or toddlers might want to look at other Bintan resort options.
Address: Jl. Raja Ali H. Km 1 Tourism Area, Teluk Sebong, Lagoi, Bintan Regency, Riau Islands Province 29155
10. The Spa Villa Bintan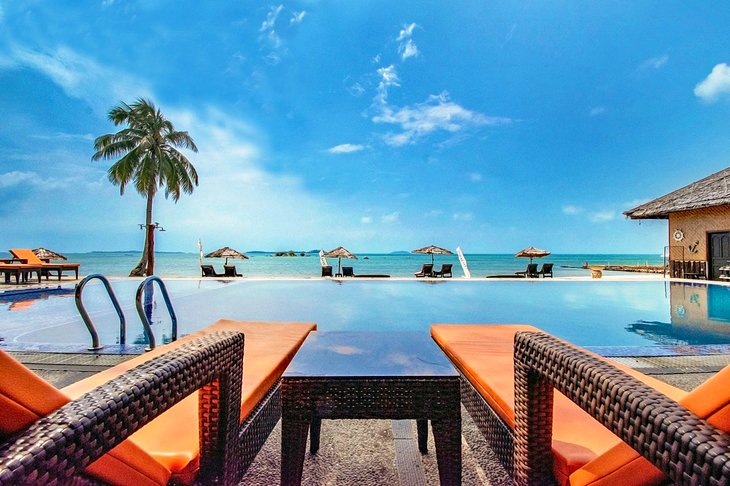 Accommodation: The Spa Villa Bintan
This popular, mid-range beachfront resort gives you the option for on-the-water bungalow accommodations at a reasonable price. It's also easily accessible, so you can be sitting on the deck of your bungalow enjoying the view within an hour after leaving Singapore.
Other accommodations at The Spa Villa Bintan include more traditional hotel rooms and suites. All the accommodations have sea views and air-conditioning.
Food is a highlight at the resort, with a menu focusing on freshly caught seafood and seasonal, locally grown produce. The primary dining space is the Beachfront Restaurant, with both outdoor and indoor seating areas and all-day dining service (10am to 11pm).
A popular alternative is the private seafood BBQ, where the resort sets up a picnic meal for you on the beach. Romantic candlelit private dining experiences are also available as is in-room dining.
The resort's Trikora Spa is also overwater, so you can look out at the sea as you get your massage or body wrap. The spa has its own outdoor plunge pool, and you can also swim in the big, infinity-edge pool next to the sand.
The full range of water sports and beach fun is available at the private beach as are excursions and tours to nearby attractions and points of interest.
Address: Km. 38 Jl. Pantai Trikora, Telukbakau, Bintan Regency, Riau Islands Province 29153
11. Mayang Sari Beach Resort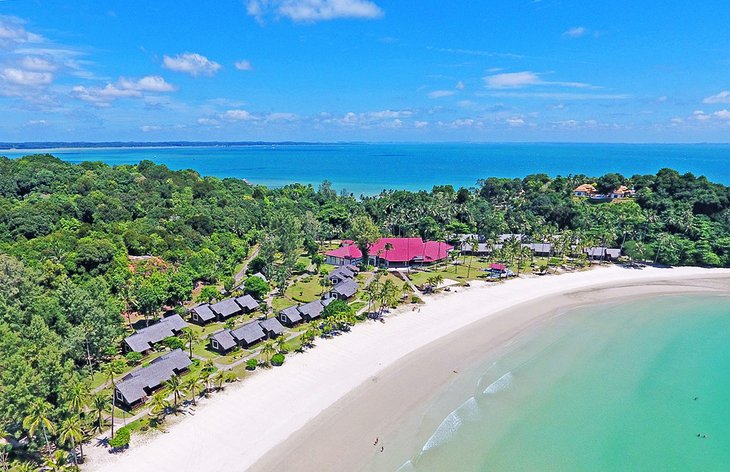 Accommodation: Mayang Sari Beach Resort
Another resort within the massive Nirwana Gardens complex, the Mayang Sari Beach Resort offers individual chalets right on the sand along a beautiful cove. They are nice basic cottages, with hardwood floors, air-conditioning, and stylish bathrooms.
Go for one of the sea-view chalets (you can also get slightly cheaper garden-view units). Families can get a family loft, with a queen bed downstairs and a single bed upstairs. The lofts and the sea-view chalets all have doors that open onto the sand with the beach only steps away.
The chalets have dining areas and are served by the Nirwana Gardens resort's 24-hour room service. The menu is quite extensive, as there are more than 10 different restaurants on-property. You can also visit any of the restaurants, as you have access to all the amenities of the overall Nirwana Gardens complex and its five resorts.
Mayang Sari Beach Resort guests can participate in any of the varied activities at Nirwana Gardens. They offer all kinds of things to do including archery, ATV rentals, horseback riding, fishing, kayaking, and more. The resort also has a dive center; the area has some great scuba diving and snorkeling.
Address: Jl. Panglima Pantar, Lagoi, Bintan Regency, Riau Islands Province 29155
12. Nirwana Resort Hotel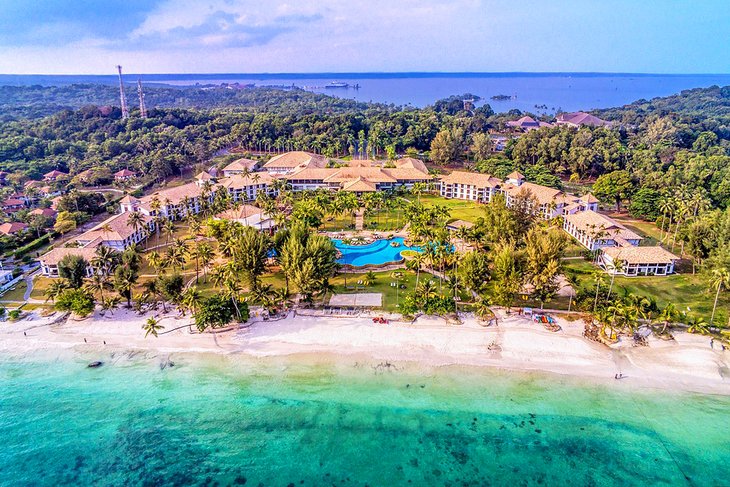 Accommodation: Nirwana Resort Hotel
The main and largest hotel at the Nirwana Gardens complex, the Nirwana Resort Hotel is great for families, as there is just so much to see and do without ever having to leave the resort. That convenience can help you spend more of your vacation time enjoying yourself.
There are 242 rooms and suites in varying levels of luxury. Suites are especially luxurious and residential feeling – well worth the upgrade cost. Premium rooms offer ocean views from higher floors, and patios; basic rooms have garden views and do not have patios.
There are several restaurants within the hotel itself, and you have access to more than 10 different dining environments located throughout the complex and its five resort hotels.
You can enjoy the spa, several swimming pools, or play on the private beach right in front of the resort. Guests can access and use the amenities (pools, spas, gyms) at any of the other four resorts that make up the Nirwana Gardens development.
Address: Jalan Panglima Pantar, Lagoi, Bintan Regency, Riau Islands Province 29155
Map of Resorts on Bintan Island