10 Top-Rated Resorts in Batam
Easily and quickly reachable by ferry from Singapore or Johor Bahru, the Indonesian island of Batam is a fun and inexpensive vacation destination for the beach, for its street food, and for shopping. Batam is a popular weekend getaway from Singapore, and the compact size of the island means you can be on a sun lounger on the beach at a Batam resort within about an hour of leaving the city by ferry.
Batam has a wide variety of resort options but lacks the extreme high-end luxury resorts found on neighboring islands like Langkawi.
If you're seeking a spa getaway to Batam, the Tempat Senang Boutique Hotel & Spa is more than a resort, it's a spa that offers luxe accommodations. Couples may want to check out the Montigo Resorts Nongsa, an all-villa beachfront resort where every accommodation has its own private plunge pool.
Golfers will like playing the championship course, which is part of the Radisson Golf & Convention Center, and the HARRIS Resort Barelang, with lots of things to do and eat right on the property, is a great place to stay for families.
Plan your own island adventure with our list of the best resorts in Batam.
1. Batam Marriott Hotel Harbour Bay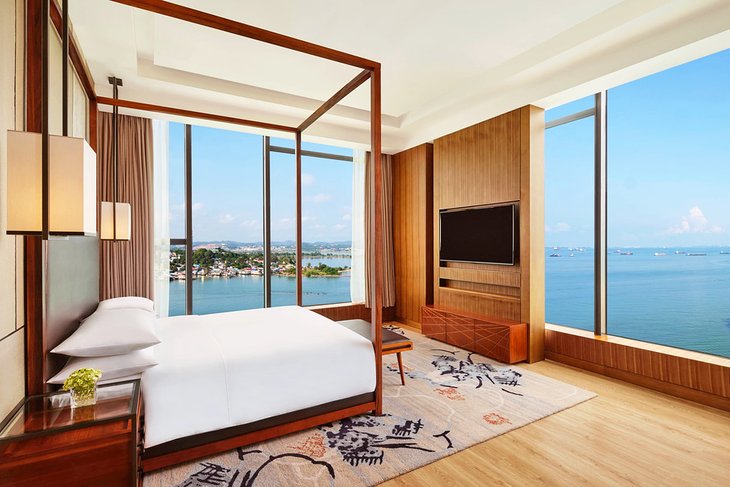 Accommodation: Batam Marriott Hotel Harbour Bay
This five-star luxury waterfront resort sits right on the shore of Batam's scenic Harbour Bay, giving some of its 216 rooms and suites sweeping views across the water. It's an easy, two-minute walk from the Harbour Bay Ferry Terminal, so you don't even need to grab a taxi.
Rooms and suites at the Batam Marriott Hotel Harbour Bay are modern and a bit on the minimalist side, in a good way, with plank floors and lots of wood and metal accents. Bathrooms have bathtubs and are separated by a glass panel from the sleeping area, with a pull-down shade for privacy.
M Club-level rooms grant guests access to the M Club Lounge, where food is served all day, and business services are available.
You can go for a swim in the infinity-edge swimming pool, which seems to go on right into the sea. There's also a children's pool and a whirlpool tub.
The Marriott's Quan Spa is compact but offers a full range of body and skin treatments, as well as massages. There's a large fitness center (open 24 hours a day), also with beautiful water views, with Technogym equipment.
Dining is available at multiple venues, the main one being Goji Kitchen & Bar, an urban open-kitchen, all-day-dining restaurant. It features both international and Malaysian specialties. Double Ikat is their newly-opened (2022) Asian restaurant focusing on a fresh, seasonal menu sourced mainly from the resort's own organic garden.
A tapas menu is available in The Great Room lobby lounge, and there's also a coffee shop with an organic deli. The resort's Altitude Rooftop Lounge also serves a tasting and tapas menu, with very Instagrammable views of Batam Island. In addition, 24-hour in-room dining is always available.
Address: Jalan Duyung Harbour Bay Downtown, Batu Ampar, Riau Islands Province 29453
2. Montigo Resorts Nongsa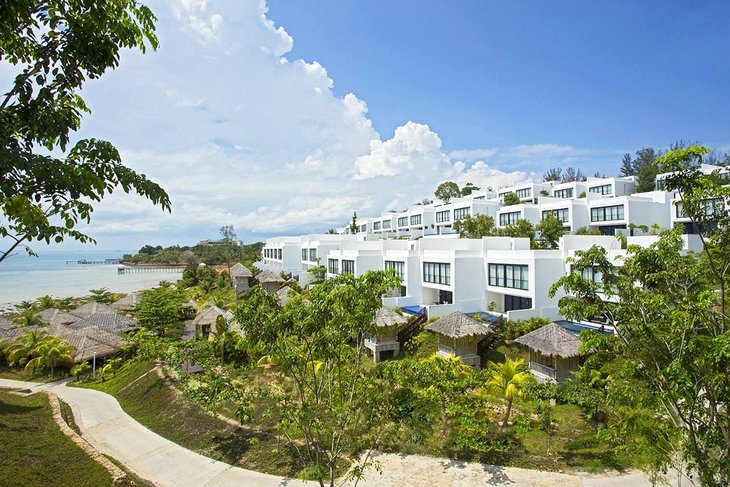 Accommodation: Montigo Resorts Nongsa
This highly-rated five-star resort gives you a luxurious, all-villa beachfront resort experience within a 30-minute ferry ride from Singapore. These villas range in size from one to five bedrooms, so it's a great place to stay in Batam for couples, as well as large families.
Most villas at the Montigo Resorts Nongsa come with their own infinity-edge plunge pool, an outdoor terrace, separate bedroom and living areas, and some type of beautiful South China Sea views.
Villas of various sizes are available in either Seafront, Hilltop, or Hillside locations. Spa villas are next to the Montigo Spa and have their own private sea-view cabanas. The larger three-, four- and five-bedroom accommodations come with premium amenities including butler service.
The nearly 30-acre resort offers a wide range of things to see, do, and eat, all without leaving the lush property. The Tilo Kids Club has an array of supervised fun and educational activities for kids three to 12.
You can leave your villa and enjoy the big lagoon-style pool and the private beach with all kinds of water sports. Play some tennis or try unique activities, including paintball, Airsoft target shooting, archery, or a VR room with headsets. You can even take guided tours of the area in the resort's vintage VW Thing.
Multiple dining menus and environments await, including TADD's all-day dining; Cafe Montigo, a casual cafe; and Pantai, a fresh seafood restaurant.
The adults-only TIIGO Beach Club serves food in a lounge environment with music. In-villa and private (on the beach or jetty) dining are also options.
Address: Jl. Hang Lekir, Nongsa, Riau Islands Province 29411
3. Tempat Senang Boutique Hotel & Spa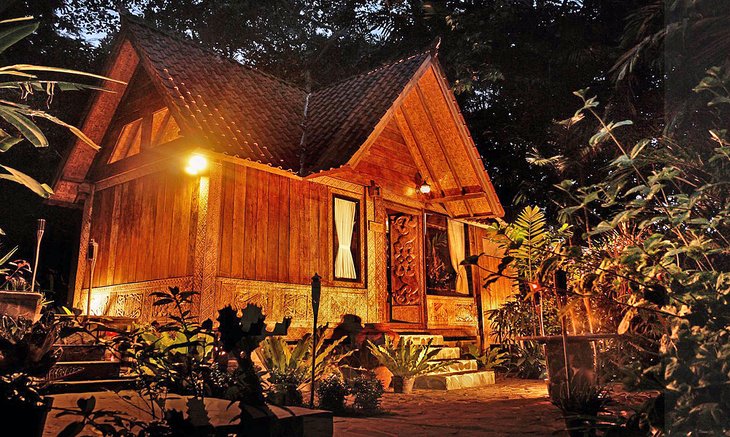 Accommodation: Tempat Senang Boutique Hotel & Spa
This luxurious boutique spa resort is a great place to stay in Batam if you're looking to escape the world. It's an exclusive experience – there are only 12 accommodations (rooms and villas) at the luxury spa.
Rather than staying at a resort with a spa, it's more like staying at a spa that welcomes guests to stay overnight. This adults-only resort is a great place to stay in Batam for couples or solo travelers.
The Tempat Senang spa, which is a very popular thing to do in Batam for day visits, offers complete treatment experiences, either half or full day. Every Leaf Juice product used at the spa is handmade with natural plant-based products in their own on-site laboratory (ask to take a tour). It's what makes a visit so exclusive and special, as you cannot get these products anywhere else in the world.
The suites and villas are located within Tempat Senang's lush hillside jungle setting and showcase a variety of styles. You can go Arabian, Chinese, Balinese, Thai, Japanese, etc., each one featuring design and furniture representative of those cultural themes. They all have spa-like bathrooms with whirlpool tubs and feature the famous Tempat Senang resort-made hair, face, and body amenities.
Bali Terrace is the resort's open-air restaurant, which is a popular place to eat in Batam due to its Indonesian/Western/Thai menu. Many dishes are garden-to-table with products sourced from the resort's own organic garden. The menu focuses on fresh, healthy food with a lot of vegetarian, vegan, and gluten-free options.
The adjacent Lychee Bar has some amazing fresh-pressed juices, and a special poolside menu is served at your lounge chair.
Address: Jalan KK Indah Puri No. 15, Patam Lestari, Riau Islands Province 29400
4. HARRIS Resort Barelang Batam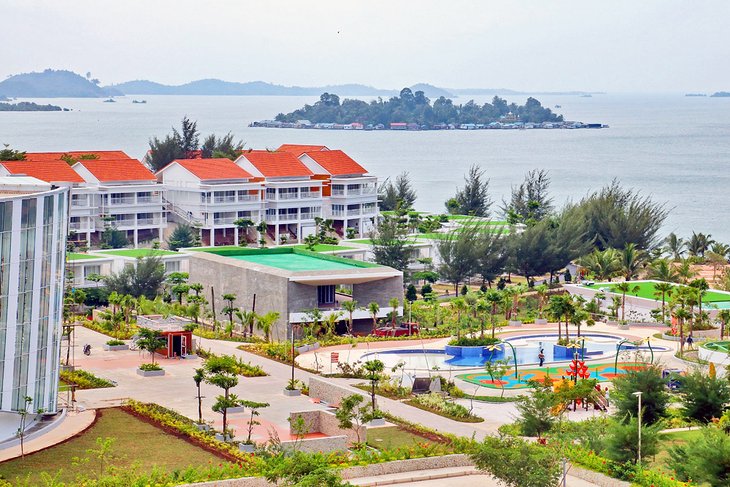 Accommodation: HARRIS Resort Barelang Batam
Just one of several highly rated HARRIS resorts on Batam, the HARRIS Resort Barelang is a 25-acre family-friendly "lifestyle" resort located right next to the iconic Barelang Bridge.
They call it a lifestyle resort because it really does have something for everyone. A great place to stay for families, there is a seemingly endless list of activities. Couples can also have a great stay with exclusive villa accommodations and adults-only dining venues and experiences.
The HARRIS Resort Barelang offers guests a choice of a room, suite, or villa. All have a light, modern utilitarian design with private balconies or terraces, some with sea views. Villas and suites can accommodate up to eight people (four adults and four children). All come with free Wi-Fi and 42-inch smart TVs.
Swim in one of the four pools, or head down to the private beach to relax on the sand or play in or on the water with a range of powered and non-powered watercraft available. Go on an ATV or a bicycle ride, take a cooking class, or an archery lesson.
When parents want to spend some alone time, drop the kids off at the Dino Kids Club for supervised activities, and head to the Lawana Spa for some body treatments and massages.
When it's time to eat, HARRIS Cafe is the big, all-day-dining buffet restaurant with live cooking stations. There's a popular juice bar in the lobby with healthy food options and a stylish beach club/café called Rocksalt.
Kids can eat at the snack bar next to the kiddie pool, and 24-hour room service is available.
Address: Jl. Trans Barelang Tembesi, Riau Islands Province 29439
5. Radisson Golf & Convention Center Batam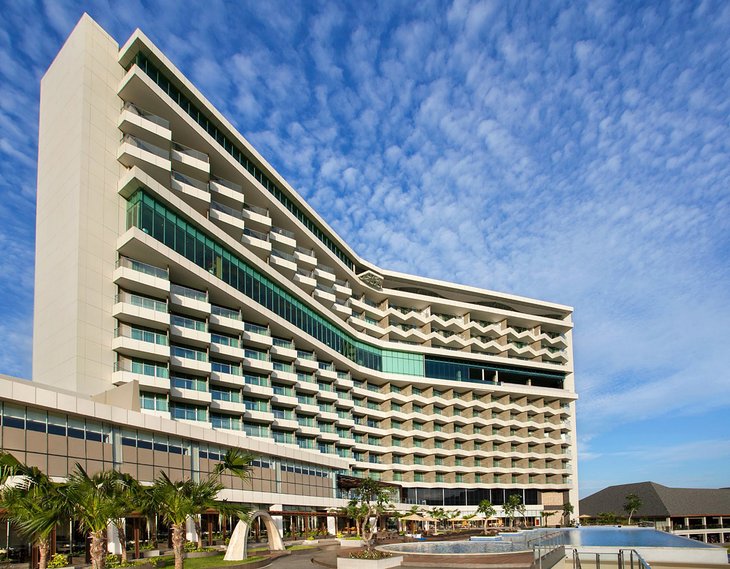 Accommodation: Radisson Golf & Convention Center Batam
If you like to play golf, the Radisson Golf & Convention Center is the best place to stay in Batam. The resort hotel overlooks and is a part of Padang Golf Sukajadi, an 18-hole, par-72 championship course and country club.
Rooms and suites have a modern, corporate style with great views; most overlook the golf course. Most have outdoor balconies with a table and chairs. Suites give you separate living areas, and some include kitchenettes. Suites also give you access to the Radisson executive lounge, which includes a complimentary breakfast.
The Radisson offers three dining options to guests along with 24-hour room service. Bite Restaurant has a Western and Indonesian menu with all-day buffet dining. T-Lounge is the hotel's coffee shop, and the Pool Bar also has a food menu served right to your sun lounger.
The pool is a beautiful infinity-edge pool overlooking the golf course, and it's joined by a huge whirlpool spa.
Most activities at the Radisson are focused on golf, and aside from the course, there is a large driving range and putting green. The resort has an archery range and does family lessons and archery experiences.
Kids will also enjoy the Radisson Master Chef Jr. cooking program, and the whole family will enjoy the array of cooking classes for kids, teens, and adults. Use the snooker or billiards tables or pay a visit to the resort's surprisingly large Zoysia Spa.
For convenience, the Radisson offers free high-speed Wi-Fi, free parking, and a free shuttle bus. The shuttle is very useful, as it runs late at night, so you can take it to explore Batam. It also stops at the airport and the ferry terminal, so you can use it for arriving and departing the resort.
Address: Jl. Jendral Sudiman Sukajadi,Batam, Batam Center, Riau Islands Province 29432
6. HARRIS Resort Batam Waterfront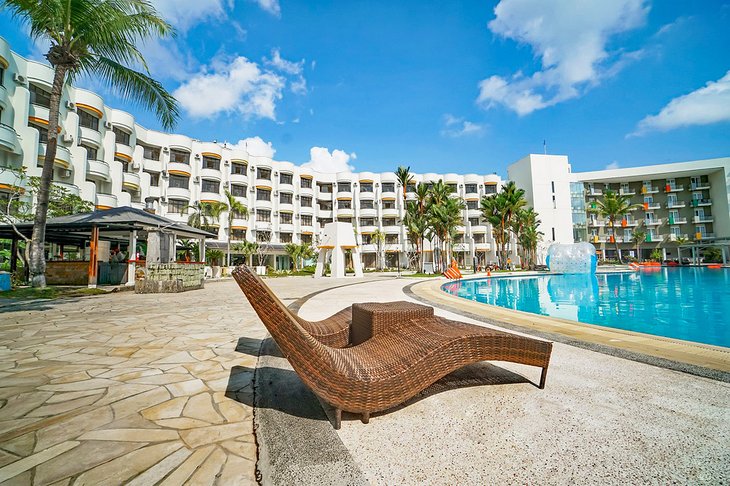 Accommodation: HARRIS Resort Batam Waterfront
Named for its location in Waterfront City, this HARRIS resort does have a manmade waterfront beach area, but you can't access the water from the beach, it's a lagoon separated by a stone breakwater. You can swim in the resort's enormous lagoon-style swimming pool or the huge whirlpool tub.
Many of the rooms and suites face the pool, with private balconies, and those on the ground level have private terraces that lead right to the pool or the beach. Family rooms with a queen bed and two single bunk beds are available as are suites with kitchenettes. Accommodations have a basic, modern, minimalist design.
The HARRIS Resort Batam Waterfront is close to the Batam CableSki Park, which gives you the chance to ride wakeboards while being pulled through the waves by a cable tow-bar. The resort has its own zipline along with a lot of other fun things to do, like ping-pong, bicycling, archery, and more.
Kids have the Dino Kid's Club with organized, supervised activities, both indoor and outdoor.
Hungry guests have two dining options. HARRIS Cafe has all-day dining with international, Asian, and Indonesian selections, and HARRISSIMO Pizza is an al fresco pizza restaurant with an authentic Italian brick pizza oven.
Added value amenities include free high-speed Wi-Fi and a free shuttle service to and from the ferry terminal.
Address: Jl. KH. Ahmad Dahlan Marina Waterfront City, Waterfront City, Riau Islands Province 29422
7. Holiday Inn Resort Batam, an IHG Hotel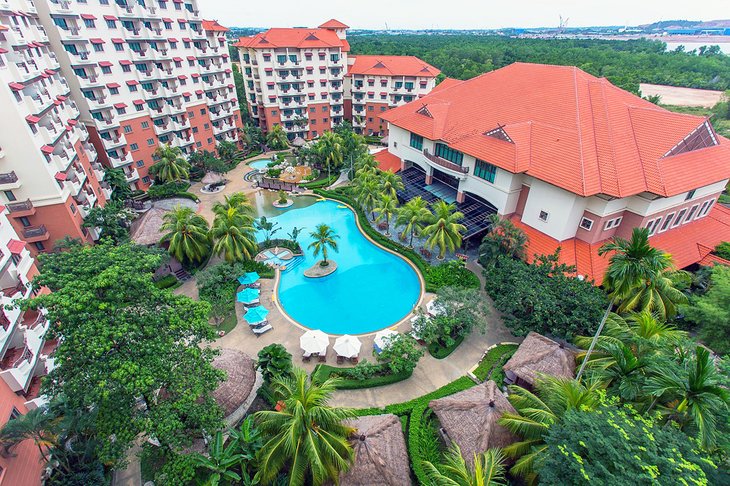 Accommodation: Holiday Inn Resort Batam, an IHG Hotel
Located in the Waterfront City development, close to the Waterfront Ferry Terminal and about 15 minutes from Sekupang Ferry Terminal, the Holiday Inn Resort Batam is a great place to stay for families. The resort gives guests a casual vacation experience with the reliability, value, and service you expect from Holiday Inn properties.
All the rooms and suites have free Wi-Fi; private, furnished balconies; and very nice marble bathrooms. The style is typical Holiday Inn corporate design, but accommodations are clean and very well maintained. Suites give you a separate living area (with a sofa bed), a kitchenette, and butler service.
For fun, you can take a swim in the indoor or outdoor pools. There are ping-pong and billiards tables as well. Kids can participate in supervised, organized activities and play in the indoor and outdoor play areas.
Adults might enjoy the sports lounge with lots of TVs showing big sports events, and the whole family can enjoy the karaoke lounge with multiple private rooms and a state-of-the-art digital karaoke system.
The Holiday Inn Resort has a large fitness center where guests have access to trainers and aerobics instructors and classes.
The resort's Balinese-inspired Tea Tree Spa can be a wonderful oasis from a hectic family vacation, offering a range of massages and beauty/skin treatments.
When you get hungry, The Terrace is the indoor/outdoor all-day-dining buffet restaurant with both Indonesian and Western food. Akatonbo Teppanyaki has a Japanese menu and table-side show cooking by skilled chefs.
Another foodie option is Dragon Inn, the resort's fine dining Chinese restaurant, considered one of the best places to eat on the island.
Address: Waterfront, Waterfront City, Riau Islands Province 29422
8. Turi Beach Resort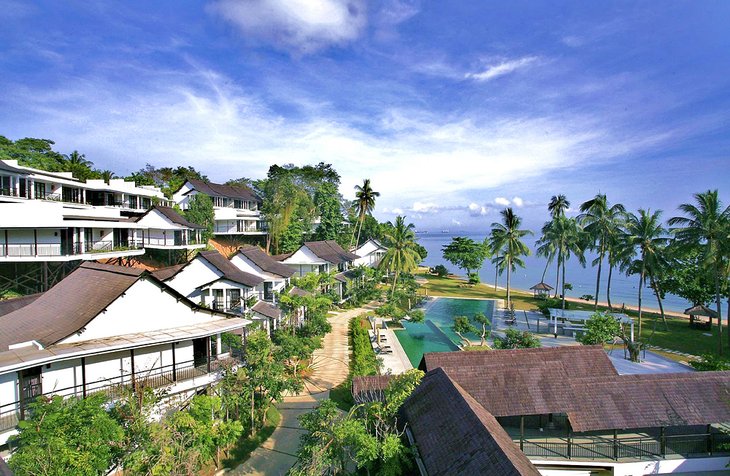 Accommodation: Turi Beach Resort
This almost 20-acre resort is in the Nongsa area, near Nongsa Point. It's a mid-size, mid-range four-star beach resort. The resort has a 700-foot jetty (the longest in Batam) that reaches far out into the South China Sea. You can get some beautiful views from the jetty, and the resort can even arrange private dinners at the end of it.
Rooms and suites are available in either of two hotel wings. One has a mid-century modern vibe; the other has a more Indonesian vibe. Both have ocean-view and beachfront units available. All the accommodations have bathtubs with separate rain showers, and all have private balconies or terraces.
You can enjoy the emerald-tiled lap pool or the big lagoon pool next to the beach. Take your pick of non-powered and powered water sports, including Jet Skis and Flyboards. Non-beach fun includes paintball, archery, a zipline, bicycles, and more.
TSPA is the Turi Beach Resort spa, which offers a fairly wide range of beauty and wellness treatments using traditional Indonesian techniques. All the products used at the spa are made with locally sourced natural ingredients.
Nogusaya is the Turi Beach Resort's Benihana-style teppanyaki restaurant, with skilled chefs preparing the food at each table. Taming Sari is their all-day dining restaurant, open 24 hours a day, with both Indonesian and Western specialties.
Address: Jl. Hang Lekiu, Nongsa, Riau Islands Province 29465
9. Nongsa Point Marina & Resort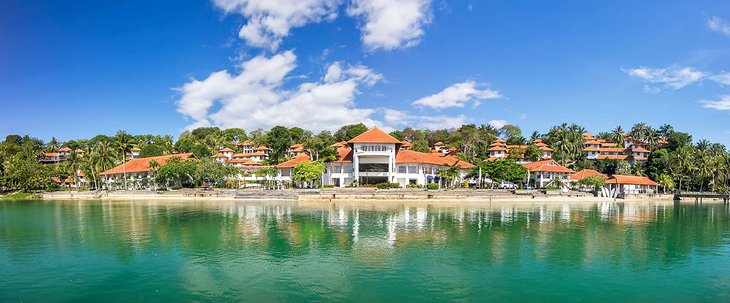 Accommodation: Nongsa Point Marina & Resort
If you like boats, beaches, sailing, or fishing, the Nongsa Point Marina & Resort is a great place to stay in Batam. The waterfront resort has its own marina, with a variety of watercraft and boats for rental or charter. It also has a big private beach with gentle surf, as it's protected by the marina and its breakwater.
Accommodations are large but a bit dated in style and amenities. Regular rooms with various views are available, as are two- and three-bedroom two-story chalets with large living areas and full kitchens. One side of the resort faces a beautiful curving stretch of beach and the marina; the other side faces the resort's big swimming pool and lush gardens.
Have fun at the Nongsa Point Marina & Resort's beach or take the pedestrian bridge to the Turi Beach Resort next door, which is under the same management. This is a bigger beach with more facilities and water sports activities.
Selera is the resort's all-day-dining restaurant, which also offers room service. Food is also served in the poolside lounge, and you can buy grab-n-go things at the on-site convenience store.
Address: Jl. Hang Lekiu Km 4, Nongsa, Riau Islands Province
10. KTM Resort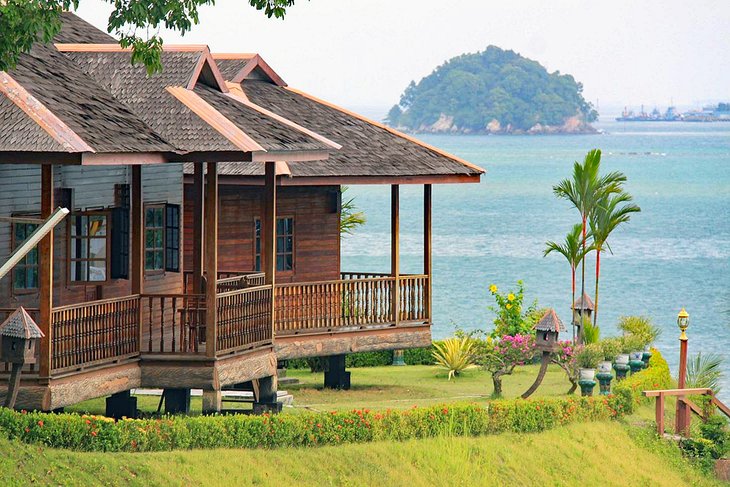 Accommodation: KTM Resort
This informal, inexpensive Balinese village-inspired resort sits right on the water on the northwest tip of the island. It faces back towards Singapore, and you're treated to the city skyline view as a backdrop to your getaway.
Go for one of the on-the-sand seafront cottages, which are small, rustic units raised on stilts but right on the beach. All the villas have sea views, and with their wood paneling and wood floors feel a bit like vintage American ski resort cabins. They're clean and well-maintained.
Dining choices at the KTM Resort include Ombak, which offers a white-glove, Indonesian fine-dining experience on the resort's jetty, or Layang, their on-the-beach seafood restaurant. Tables and bean bag chairs are set up right on the sand for true oceanside dining.
For fun there is a huge paintball area, obstacle course, and playing field, along with a swimming pool and a tennis court. You can also play in and on the water with all kinds of powered (Jet Skis, banana floats) and non-powered (boogie boards, kayaks, rafts) water sports toys.
After a day of play, visit the resort's spa for Balinese-inspired skin and body treatments and massages. It's also raised up on stilts and has some great views of the water, which you can enjoy while getting your treatments.
Address: Jl. Kolonel Soegiono Tg. Pinggir - Sekupang, Riau Islands Province