11 Top-Rated Resorts near Mumbai
Home to many Bollywood stars, Mumbai is the most cosmopolitan city in all of India. And when you're visiting a city this glitzy, you'll want to stay somewhere truly glamorous. Fortunately, many top resorts near Mumbai have all the amenities to make you feel like a VIP.
These resorts offer tourists access to luxe pools, award-winning restaurants, high-end spas, and fitness centers so well-equipped, you won't be tempted to skip your workout. Many properties are situated near the airport or in upscale locales, like Bandra and Juhu Beach. Plus, their well-appointed rooms and suites will make you feel instantly relaxed after a day of sightseeing.
You can find the perfect place to stay with our list of the top resorts near Mumbai.
1. The Oberoi Mumbai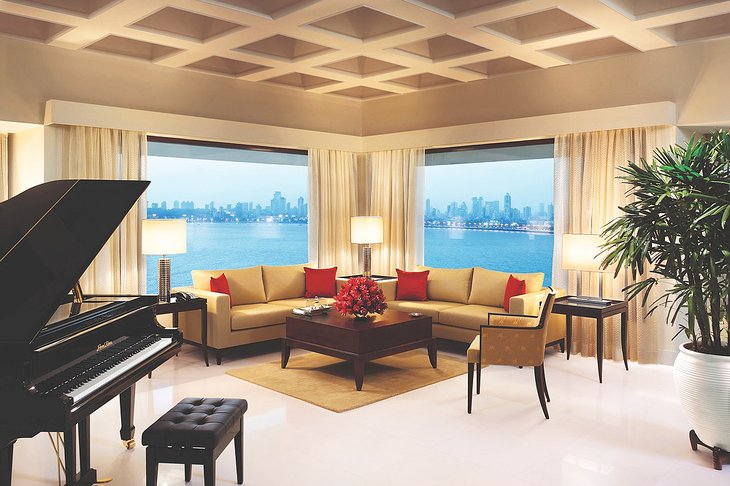 Accommodation: The Oberoi Mumbai
Tourists in search of accommodations with a spectacular view will love the Oberoi Mumbai. From the five-star resort, you can get jaw-dropping vistas of Marine Drive, the Arabian Sea, and the city skyline.
But great scenery is just the beginning–the South Mumbai hotel also has an ultramarine pool, a world-class spa with Eastern and Western treatments, several restaurants, and plenty of things to do.
All the accommodations at the Oberoi Mumbai offer wall-to-wall windows for guests to enjoy the views. The base category guest rooms have luxurious touches, like silk armchairs, king-size beds, walk-in closets, and standalone bathtubs.
Suites look out upon the waterfront and have chic living rooms and dining rooms. The top-level Kohinoor Suite even comes with a treadmill and a private entrance for your personal butler. Kids stay free and babysitting services are available.
One of the most exciting parts of staying at the Oberoi Mumbai is choosing activities from its set of unique guest experiences. You can take a cooking class with an Oberoi chef, indulge in a private poolside dinner, take a private tour of Kala Ghoda (Mumbai's art district), and sip chai while taking a guided stroll of the city at sunrise.
Address: Nariman Point, Mumbai
2. Trident, Bandra Kurla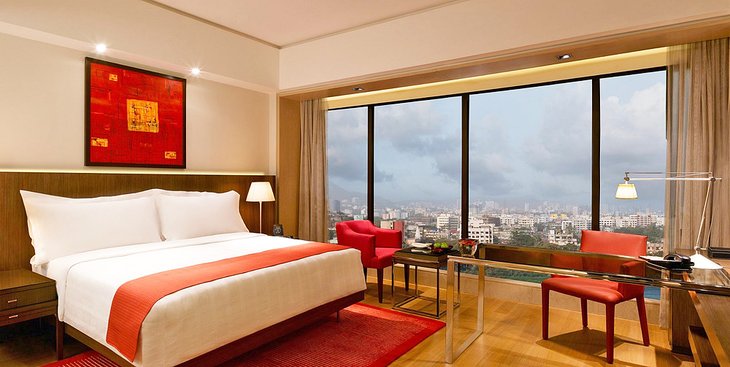 Accommodation: Trident, Bandra Kurla
The Trident, Bandra Kurla is a five-star resort near Mumbai's airport, many major businesses and financial firms, and major sightseeing attractions, making it an appealing option for both business travelers and their families.
Guests can dine at three award-winning restaurants on the property, including an Italian joint and an eatery that serves regional Indian specialties. When you're ready to relax, you can hit the beautifully lit spa or the infinity pool flanked by frangipani trees.
A large resort, the Trident, Bandra Kurla has 412 guest rooms and 24 suites, all of which offer complimentary high-speed Wi-Fi for up to four devices. The accommodations come with floor-to-ceiling windows and lots of natural light. Oakwood floors, dark walnut furniture, and artwork from leading contemporary creators give the spaces a sophisticated, yet homey vibe. The family-friendly resort welcomes children at no extra charge.
Want to keep up with your fitness routine (or start a new one) on your Mumbai getaway? Head to the resort's fitness center. It's staffed by expert trainers who can build a custom workout for you.
Address: C 56, G Block, Bandra Kurla Complex, Mumbai
3. Taj Lands End, Mumbai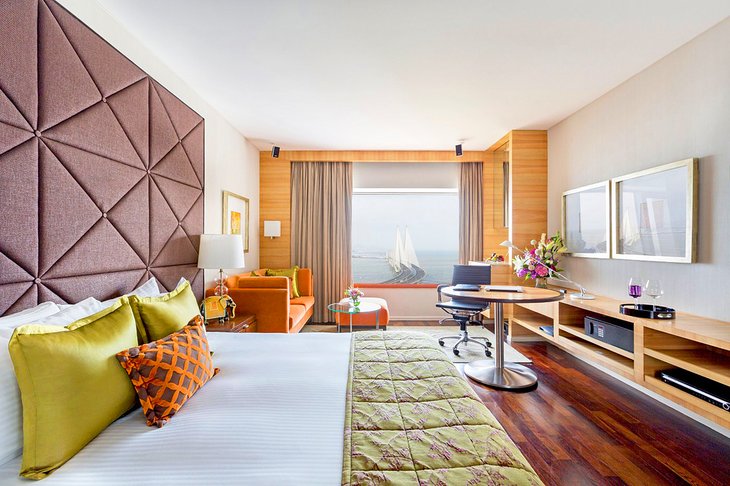 Accommodation: Taj Lands End, Mumbai
Taj Lands End, Mumbai is a five-star resort in the heart of upscale Bandra. It has a stunning figure-eight shaped pool with a waterfall, bridge, and plenty of shade from the nearby palm trees.
In terms of things to do, this property has a ton of options. Tourists can work up a sweat on a treadmill in the fitness center, indulge in a full-body massage at the renowned Jive Spa, take a yoga class, or even enjoy an afternoon of golf or horseback riding (available by request).
The resort has nearly 500 spacious rooms, which all offer in-room dining 24 hours a day. There are nine categories of rooms available. The base category luxury rooms are tastefully decorated and offer five-fixture bathrooms.
For more benefits, consider upgrading to a Taj Club room, which includes a lavish breakfast spread every day, round-the-clock butler service, sauna and hot tub privileges, and up to two hours of use of the meeting rooms. Several categories of suites are also on offer for guests looking for more luxurious accommodations.
Foodies are in for a treat at the Taj Lands End, Mumbai. The resort has six different dining options, including a casual outdoor eatery with finger foods and pizza, a high-end Sichuan and Cantonese restaurant, an Indian joint with an interactive theater kitchen, and an all-day multi-cuisine restaurant with a view of the Arabian Sea.
Address: Byramji Jeejeebhoy Road, Bandstand, Bandra (West), Mumbai
4. Trident Hotel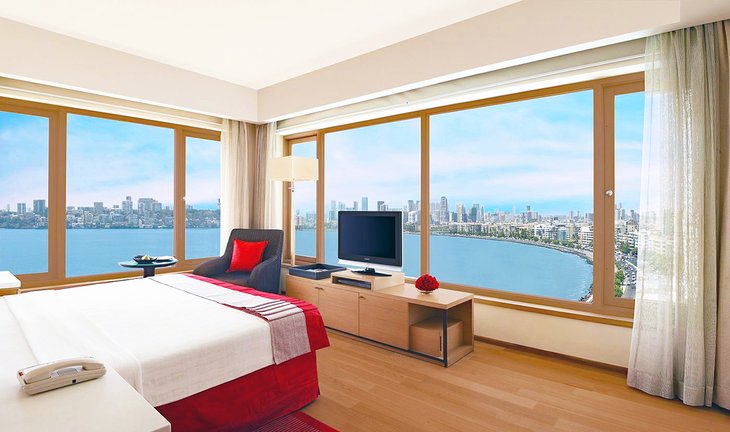 Accommodation: Trident Hotel
The Trident Hotel is a five-star hotel with resort-style amenities in Mumbai's Nariman Point. The iconic 35-story building was once the tallest building in South Asia when it was built in 1973.
The property is home to several award-winning restaurants, as well as a calming spa, fitness center, and a pretty pool surrounded by flowering shrubs.
The Trident Hotel's 555 rooms and suites come with mesmerizing views of the city skyline and the ocean. Colorful artworks dot the walls of the accommodations, which come in nine categories. All rooms feature handcrafted furniture, giant windows, and marble bathrooms. Butler service is available for the higher category rooms.
The property has an e-concierge service to help you start planning your trip to Mumbai before your arrival. They can help you arrange sightseeing excursions, make arrangements for babysitting service, and ensure your preferences are met during your stay.
Address: Nariman Point, Mumbai
5. JW Marriott Mumbai Juhu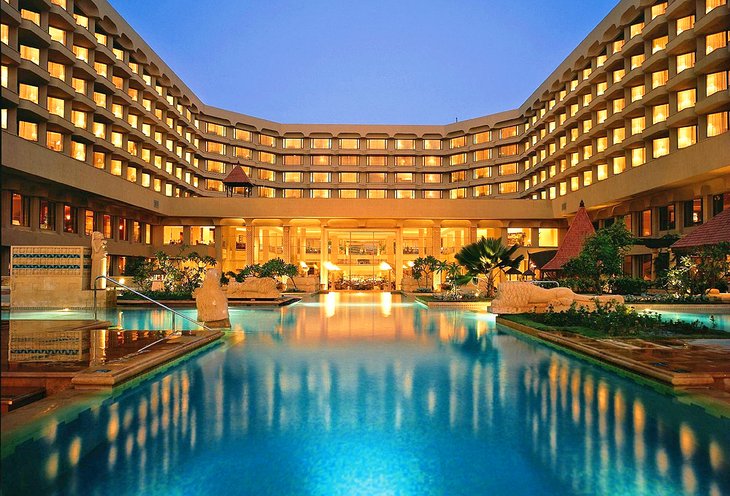 Accommodation: JW Marriott Mumbai Juhu
The JW Marriott Mumbai Juhu can turn your trip to Mumbai into a beach vacation for the entire family. The five-star resort is situated on the sands of Juhu Beach, arguably the best place to watch the sunset in the city.
Guests can spend their days splashing around the infinity pool, saltwater pool, and a kids' pool. The resort also offers a fitness center with a steam room, as well as an award-winning spa with indigenous therapies.
Like other JW Marriott properties, this family-friendly resort has a variety of stylishly appointed rooms and suites that will make you feel right at home. They come with featherbed mattresses, marble bathrooms, and efficient workspaces.
If you're looking for romance, opt for the ocean-view beach suite. It has a deep soaking tub that overlooks the sea.
Whether you crave tapas, Indian flavors, deli sandwiches, or dim sum, you can find it at the JW Marriott Mumbai's five distinctive restaurants. Don't miss Sunday brunch at Lotus Cafe–it's reputed to be the best brunch in Mumbai.
Address: Juhu Tara Road, Mumbai
6. Radisson Blu Mumbai International Airport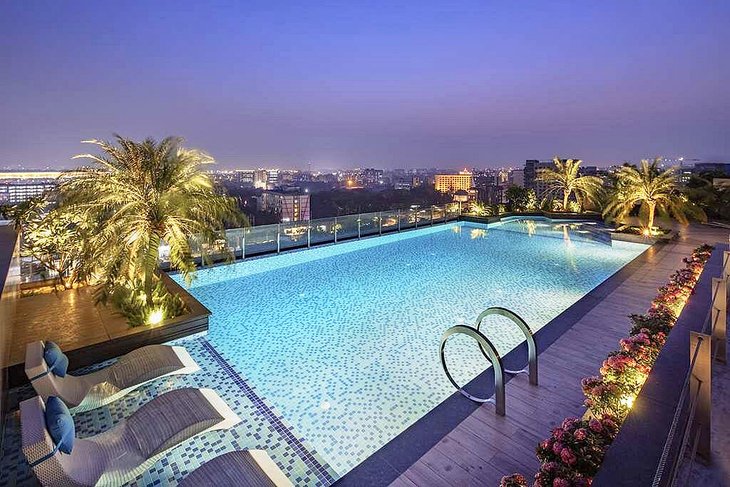 Accommodation: Radisson Blu Mumbai International Airport
Radisson Blu Mumbai International Airport is a five-star resort near Mumbai's international airport. The location makes the property a convenient place for families to stay during a short trip to Mumbai or before an early morning flight to another destination.
The resort's rooftop infinity pool is an ideal place to soak up stunning views. There's also a spa, fitness center, 24-hour business center, multi-cuisine restaurant, and a café that serves crepes on-site.
Kids stay free at this family-friendly resort. It offers three categories of guest rooms, as well as suites, giving guests plenty of options for accommodations. The spaces come in a neutral color palette with warm lighting, large windows, and modern conveniences, like universal power adapters. Breakfast is included in some packages.
You won't run out of things to do near the resort. Top attractions, including EsselWorld (India's largest amusement park), Oberoi Mall, and Juhu Beach, are just a short drive away.
Address: Marol Maroshi Road near Marol Metro Station, Andheri East, Mumbai
7. ITC Grand Central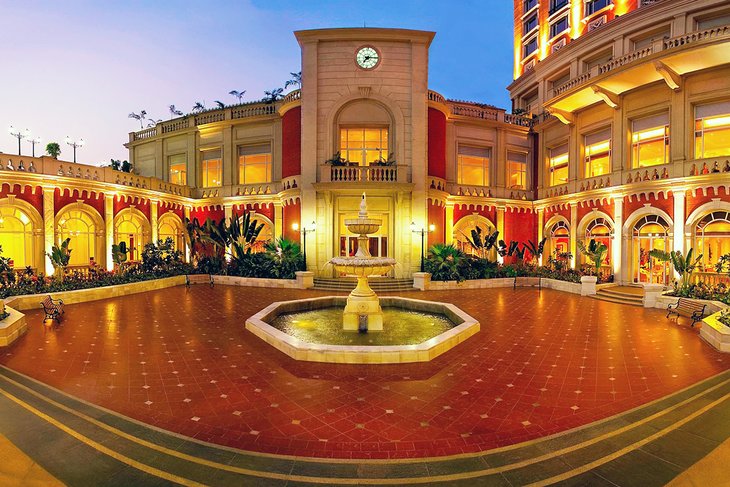 Accommodation: ITC Grand Central
If you're looking for eco-friendly accommodations in Mumbai, book a stay at the ITC Grand Central. The five-star property is Mumbai Central's only resort to earn LEED Platinum certification for its sustainability efforts.
While the resort has a light environmental footprint, it doesn't skimp on luxe amenities and facilities for guests. It has a spectacular swimming pool, a world-class gym, and a spa that offers traditional Indian wellness therapies. Two specialty restaurants and a 24/7 café ensure you'll have tasty meals throughout your stay.
The resort contains 242 guest rooms and suites that all feel upscale, with warm tones, marble bathrooms, breathtaking city views, and patterned carpets. Complimentary breakfast, tea, coffee, and refreshments are available every day. The dedicated butlers can take care of anything during your stay.
ITC Grand Central also caters to the specific needs of solo female travelers with its selection of EVA rooms. These accommodations are housed in a separate wing just for women and staffed by female butlers and security guards.
Address: Dr. Babasaheb Ambedkar Road, Parel, Mumbai
8. Hilton Mumbai International Airport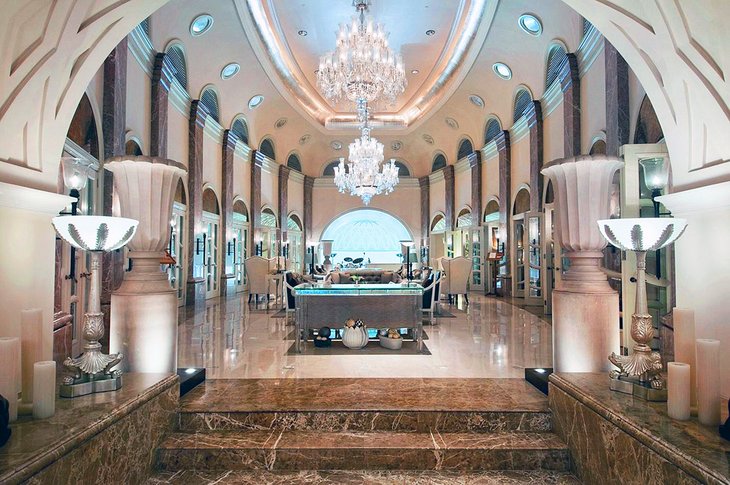 Accommodation: Hilton Mumbai International Airport
You can reach the Hilton Mumbai International Airport from the international terminal in just five minutes, making it a great place to stay if you're arriving at an odd hour. This five-star spa resort can easily put you into vacation mode with its relaxing wellness center, verdant winter garden, and oasis-style swimming pool.
The property has the vibe of a 19th-century summer palace but all the modern amenities you'd expect at a resort.
The resort has 171 guest rooms and suites in various styles to cater to the needs of solo travelers, couples, and families. Each has comfy beds draped in crisp white linens, big windows with views of the pool or city, 42-inch high-definition televisions, and polished hardwood floors.
Upgrading to an Executive Room gives you a few unique benefits, like private check-in and check-out and free breakfast.
Five dining options can keep you fed throughout your stay at this Mumbai resort. Unwind with a sandwich and cup of tea in the regal Crystal Lounge, dig into contemporary Pan-Asian cuisine at Imperial China, or enjoy dinner under the stars at the seasonal Brasserie Grill (open October through March).
Address: Sahar Airport Road, Andheri East, Mumbai
9. The Leela Mumbai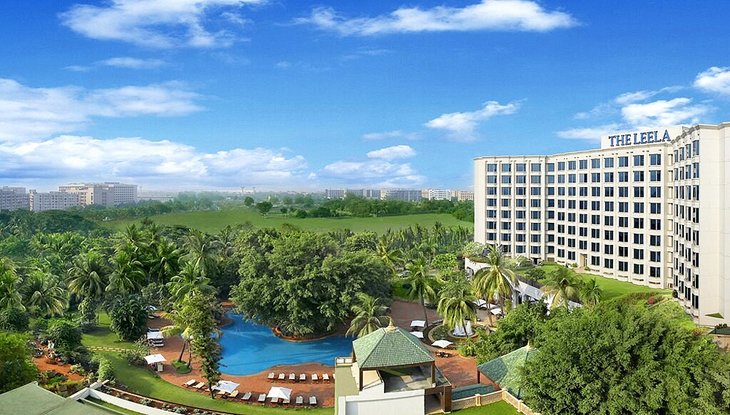 Accommodation: The Leela Mumbai
The Leela Mumbai is a five-star resort in the heart of the city, but it makes guests feel like they're at a tropical oasis, with 11 acres of lush landscaped gardens, gushing waterfalls, and lotus-filled fountains.
In line with other Leela resorts, this property brims with unique things to do. Choose from cooking workshops led by master chefs, excursions to Mumbai's oldest shrines, souvenir shopping trips, and adventure treks in Sanjay Gandhi National Park.
You can also enjoy the resort's many facilities, like the expansive swimming pool, gym, and spa.
With nearly 400 rooms, this large resort has plenty of accommodations to choose from. The rooms feel cosmopolitan, with soothing colors, dark wood furniture, and upholstered lounge chairs, paintings by well-known artists, and business-friendly workstations. If the goose-feather pillows on the beds aren't your thing, you can find a more personalized option from the in-room pillow menu.
Dining is an experience in and of itself at The Leela Mumbai. The property has six restaurants, one of which serves some of the tastiest Chinese food in the city.
Address: Sahar Airport Road near Mumbai International Airport, Mumbai
10. Meluha The Fern Mumbai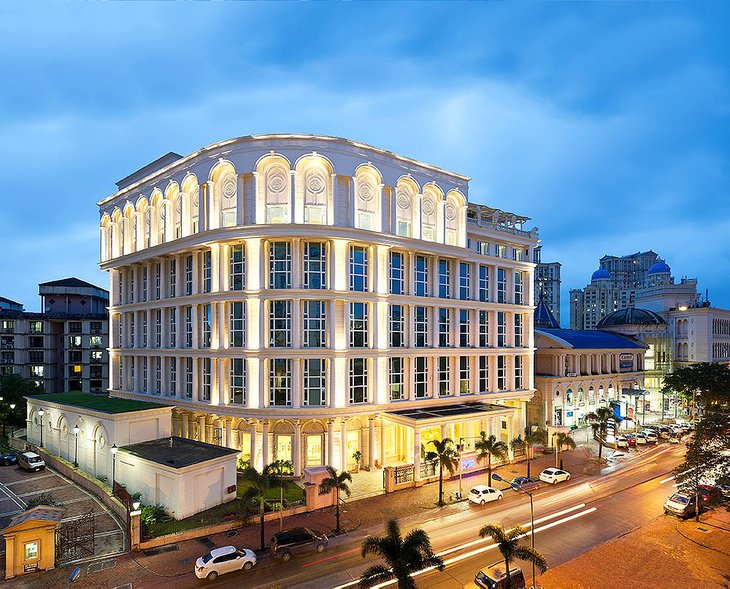 Accommodation: Meluha The Fern Mumbai
Meluha The Fern Mumbai is a five-star eco-friendly resort with 141 rooms and suites. It has a rooftop swimming pool with great views of the skyline, a lovely spa, and a small yet well-equipped fitness center.
The on-site Tiara restaurant offers international and Indian cuisine. You can also get in-room dining at any hour, day or night.
The resort has more than 140 rooms and suites. They have a comfortable atmosphere, bedspreads printed with leaf motifs, and deep bathtubs. Complimentary breakfast is included in some packages.
Address: Central Avenue, Hiranandani Gardens, Panchkutir Ganesh Nagar, Powai, Mumbai
11. JW Marriott Mumbai Sahar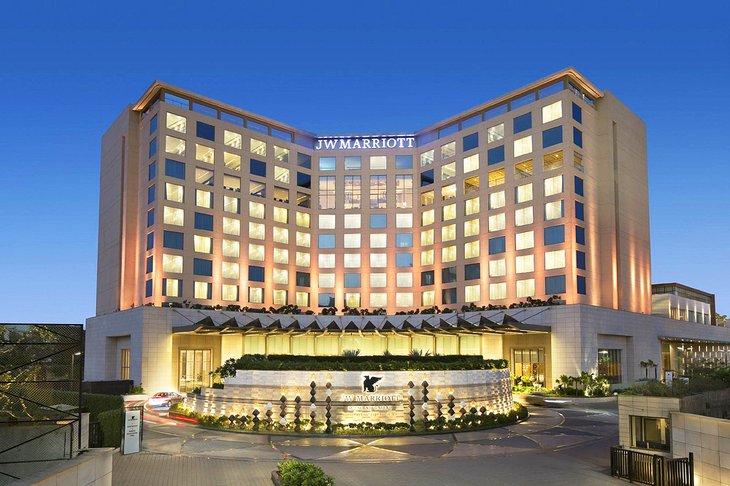 Accommodation: JW Marriott Mumbai Sahar
The JW Marriott Mumbai Sahar is a five-star resort that's situated less than a kilometer away from Mumbai's international airport and near many major attractions.
Its on-site spa makes the perfect place to restore yourself after a long flight or day of sightseeing in Mumbai. There's also a fitness center, a pristine pool, and three dining options at the resort.
You can expect a luxe experience in any of the JW Marriott Mumbai Sahar's 588 rooms and suites. They boast plush furnishings, soundproof windows, huge bathrooms, and beds piled with pillows.
With 24-hour room service, the resort makes sure you're always well fed throughout your stay.
Address: IA Project Road, Chhatrapati Shivaji International Airport, Andheri, Mumbai