11 Top-Rated Resorts near Delhi
Resorts near Delhi help tourists kick off their Indian getaway on a luxurious note. Situated near some of Delhi's top attractions, like the Lotus Temple and India Gate, these stellar properties make it easy to get back to your cozy guest room to recharge after a day of sightseeing.
Some resorts in Delhi cater to elite travelers with airport transfers in BMWs, butler service, magnificent spas, and private dining experiences. Other hotels have been designed to make families feel comfortable, with plenty of things for kids to do and spacious guest rooms. No matter which of the top resorts you choose to stay in, you'll be able to take a splash in a gorgeous pool and indulge in delicious cuisine from on-site restaurants.
Ready to finalize your plans to visit the capital of India? Find an incredible place to stay by using our list of the top resorts near Delhi.
1. The Oberoi, New Delhi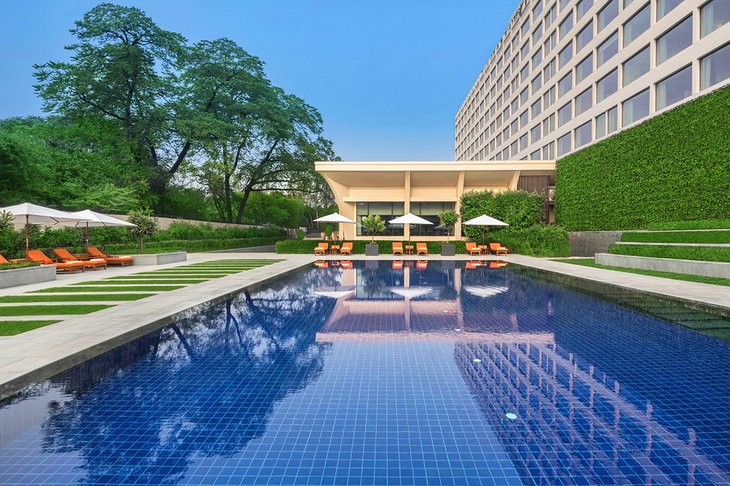 Accommodation: The Oberoi, New Delhi
The Oberoi, New Delhi is a five-star resort located in the center of the city. The award-winning property treats guests to half a dozen dining options, a ritzy spa, pool, complimentary morning yoga classes, and a luxury retail arcade.
Guests at this resort don't have to go far for sightseeing–many of the Oberoi's 220 rooms and suites come with views of Humayun's Tomb, a UNESCO World Heritage Site and one of the top attractions in Delhi. The rest of the spaces look out onto the pristine Delhi Golf Course.
The Oberoi drew inspiration from Sir Edwin Lutyens' New Delhi architecture for the designs of its rooms and suites. The accommodations showcase curated artwork and authentic Indian furnishings. Plus, they pop with royal colors like maroon, turquoise, and gold.
The base category deluxe rooms definitely feel upscale, but if you want an even more glamorous place to stay, upgrade to a luxury suite. This room type features a grand dining room, Italian marble bathroom, and 24-hour butler service.
This resort can take your Delhi trip to the next level with its curated experiences. Choose from private shopping tours, guided excursions to religious sites and major attractions, and hands-on Indian cooking classes with an Oberoi chef.
Address: Dr. Zakir Hussain Marg, New Delhi
2. The Leela Palace New Delhi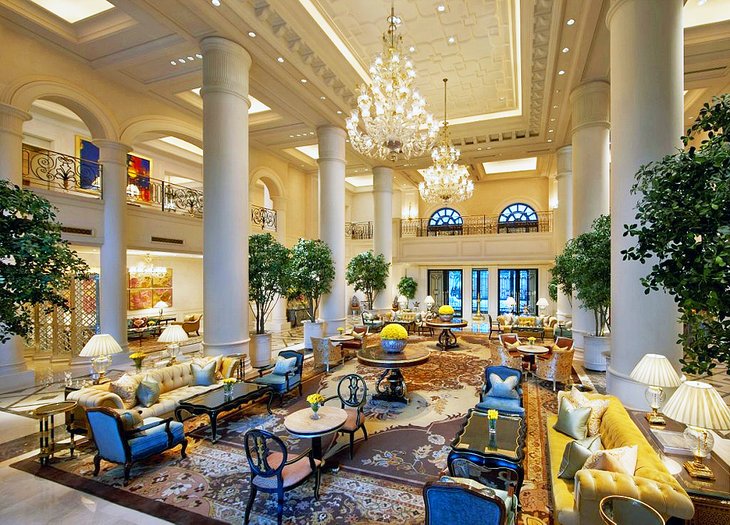 Accommodation: The Leela Palace New Delhi
Ranked as a top city hotel in Asia, The Leela Palace New Delhi is one of the poshest places to stay in Delhi's diplomatic enclave, Chanakyapuri.
The five-star resort is crowned by the Indian capital's only rooftop swimming pool with temperature control. On-site, tourists can choose from six different dining options, including French-Italian fine dining and a Japanese restaurant. There's also a spa with Ayurvedic treatments and holistic therapies, along with a state-of-the-art fitness center.
The accommodations within the 10-story resort make every guest feel like royalty. The rooms offer a minimum of 520 square feet and get progressively larger and more opulent as you move up in category. Expect two-poster beds, intricate paisley carpets, warm lighting, and pretty views of the skyline or garden from floor-to-ceiling windows. You'll be paired with a butler who can take care of any needs that pop up during your stay.
Need a ride to or from the airport? The Leela Palace has you covered with slick transfers in its luxury fleet of BMWs.
Address: Africa Ave., Diplomatic Enclave, Chanakyapuri, New Delhi
3. Eros Hotel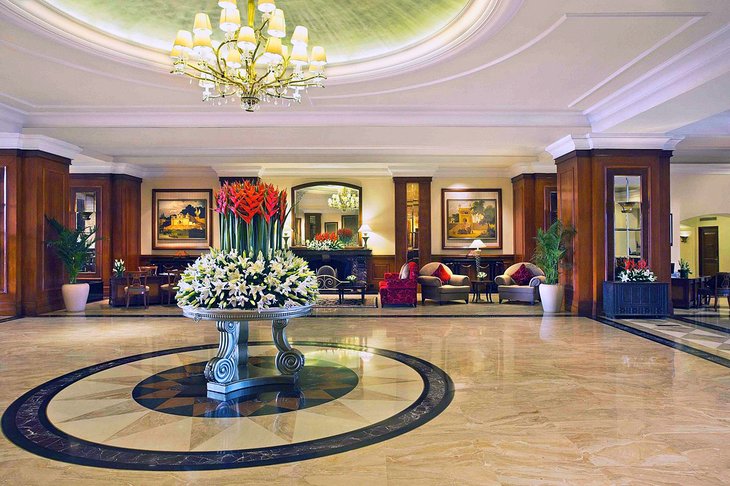 Accommodation: Eros Hotel
Popular among business travelers and traditional tourists alike, Eros Hotel is a five-star hotel brimming with resort-style amenities. It blends Old World-style hospitality with modern facilities, including a beautiful outdoor pool, nine-hole putting green, and fitness center.
A foodie's delight, the property also offers several unique dining options, including a tea lounge, all-day buffet, fine Chinese cuisine, Punjabi delicacies, and arguably the best Sunday brunch in New Delhi. Buffet breakfast at the coffee shop is included with your accommodations.
You'd need to spend at least several days at the resort to take part in everything it has to offer. Fortunately, the property's comfortable, elegant accommodations will make you feel right at home. The spaces are decked out in dark, sophisticated colors and upscale furniture, including ergonomically designed desk spaces for remote workers. Many of the rooms and suites offer views of the famous Lotus Temple.
When you're ready to find fun things to do in Delhi, talk to the Eros Hotel's concierge. They can customize a sightseeing itinerary based on your interests.
Address: Nehru Place, New Delhi
4. The Roseate New Delhi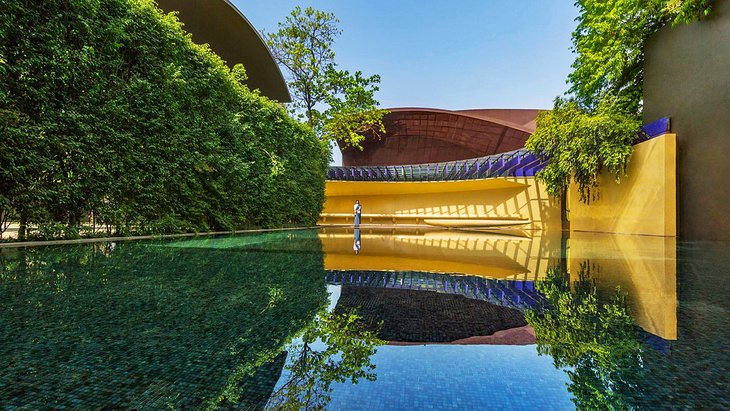 Accommodation: The Roseate New Delhi
The Roseate New Delhi is a design-focused resort near Delhi's international airport. The five-star property is filled with memorable architectural details, like high dome ceilings, 20-foot-high doors, intricate bronze meshwork, and 650,000 brass ficus leaves covering the walls of the entrance courtyard. The resort offers a spectacular outdoor pool, two restaurants, a fitness center, and spa.
The property has 65 elegantly appointed rooms and suites that aim to induce a sense of calm with soothing, muted colors and soft shapes. The lake-view rooms feel like a wellness retreat. They boast a private deck overlooking a pristine lake and verdant greens, marble floors, and sunken bathtubs.
It's nearly impossible to run out of things to do when you stay at the Roseate. It has curated a selection of lifestyle experiences both on and off the property, such as walks through the on-site garden, yoga sessions, evening temple ceremonies, ice-skating, and even road trips to the Taj Mahal in a luxury vehicle–complete with a picnic basket. The staff can also arrange activities for children and families.
Address: Samalkha, NH-8, New Delhi
5. Crowne Plaza New Delhi Okhla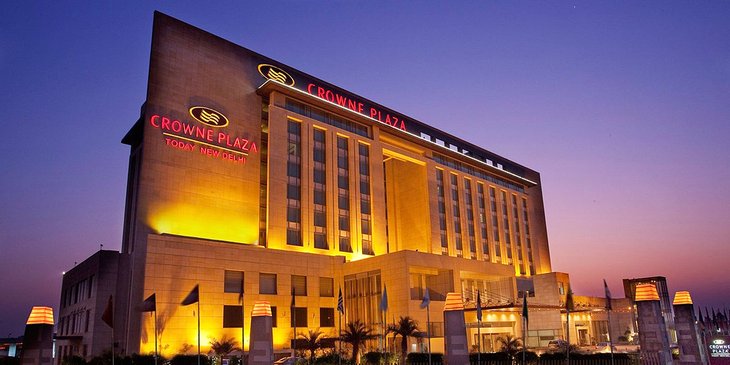 Accommodation: Crowne Plaza New Delhi Okhla
If you're looking for a resort near Delhi's top business complexes, the Crowne Plaza new Delhi Okhla is definitely worth your consideration. The family-friendly five-star hotel has a range of resort-style amenities, including a swimming pool, sauna, spa, gym, and 24-hour business center.
When you're hungry, you can dine at two restaurants on the property: ChaoBella, which serves Chinese and Italian food, and Edesia, an all-day dining restaurant with Indian and international cuisines.
Accommodations at the Crowne Plaza New Delhi Okhla come in a range of configurations and different levels of luxury to suit all kinds of travelers. You can choose from standard rooms with two single beds or a king-size bed, premium rooms with more space and amenities, one-bedroom suites with private lounge access, and a massive presidential suite on the top floor.
Soundproofing in the rooms throughout the property ensures you'll have a peaceful, quiet experience. Bonus: Kids stay free!
Address: Plot No. 1 Community Centre, Okhla I, Okhla, New Delhi
6. The Claridges New Delhi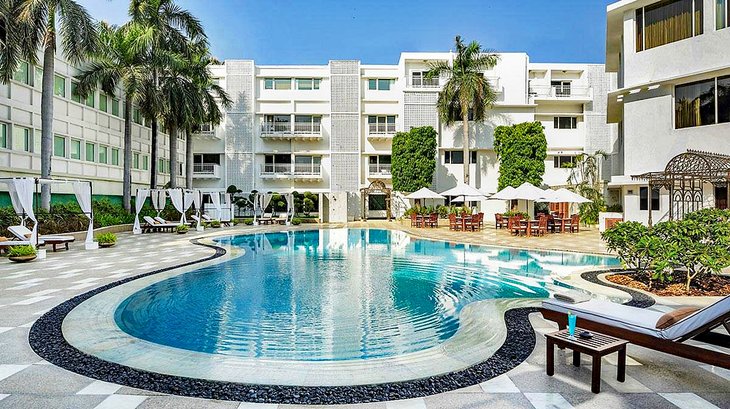 Accommodation: The Claridges New Delhi
Situated just southeast of the India Gate, the Claridges New Delhi is a five-star hotel that's rooted in Indian hospitality. The three-story property is home to one of Delhi's oldest bakeries, which is known for its legendary bittersweet chocolate cake and corn pudding, as well as five other restaurants.
Guests can enjoy a grand swimming pool, health and fitness center, and free breakfast throughout their stay.
The hotel's 132 rooms and suites blend British colonial design with Indian decor and modern fixtures, creating a sense of place within each space. Inside, you'll find ornamental lamps, one-of-a-kind artwork, plush mattresses, and plenty of natural light. Some rooms also come with soaker bathtubs, and balconies that overlook the lush lawns and azure pool.
Kids can stay free at this family-friendly property.
Address: 12 Dr. Apj Abdul Kalam Road, New Delhi
7. JW Marriott Hotel New Delhi Aerocity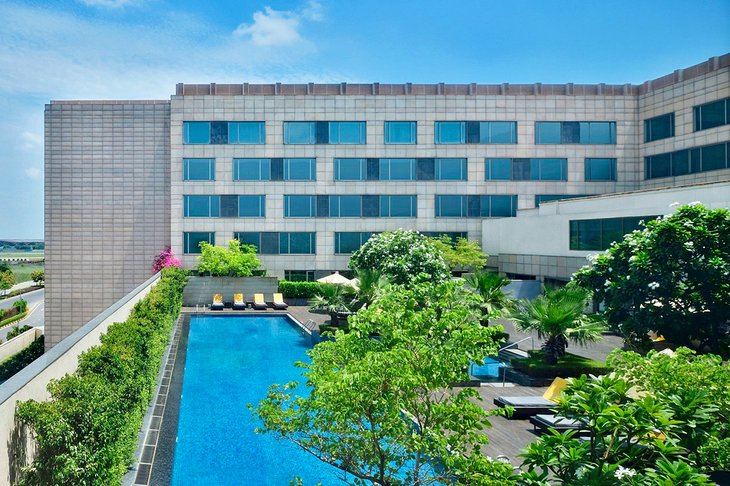 Accommodation: JW Marriott Hotel New Delhi Aerocity
JW Marriott Hotel New Delhi Aerocity is a five-star resort that offers some of the largest deluxe rooms in the national capital region.
But spacious accommodations are just one of several advantages this property offers tourists. It's conveniently located close to the international airport, U.S. Embassy and Consulate General, and Qutub Minar.
The resort also gives guests plenty of things to do with its robust array of facilities, including an outdoor T-shaped swimming pool, well-equipped fitness center, and high-end spa.
More than 500 rooms and suites, all of which include free Wi-Fi, are available at the JW Marriott Hotel New Delhi Aerocity. The accommodations feature a clean, modern design with earthy colors and lots of natural light. If you want access to the outdoors, upgrade to a guest room with a terrace.
Guests have their choice of several different dining options on-site. Highlights include a patisserie and coffeehouse, a 24/7 international buffet with live kitchens, and a Japanese Izakaya restaurant from Michelin-starred chef David Myers.
Address: Asset Area 4 - Hospitality District, Delhi Aerocity, New Delhi
8. The Leela Ambience Convention Hotel, Delhi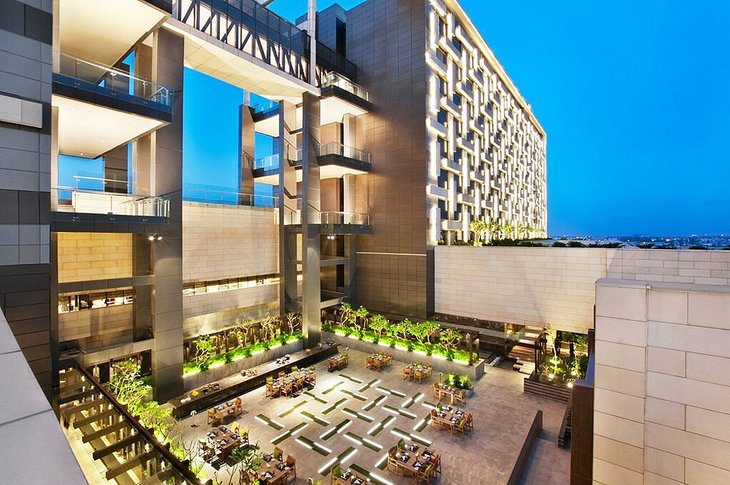 Accommodation: The Leela Ambience Convention Hotel, Delhi
The Leela Ambience Convention Hotel has so many facilities and amenities, guests don't even have to leave the hotel to have a perfect Delhi vacation. Packed within the five-star resort are two pools; a spa that overlooks the city skyline; a pair of fitness centers; a yoga deck; and three specialty restaurants, which can feed more than 600 guests simultaneously at breakfast.
Several meeting and event spaces (including one of India's largest convention centers) make the resort especially popular for business functions and weddings.
Its two towers contain 480 rooms and suites, with six different categories of accommodations to choose from. At the base level, the deluxe rooms have nearly 400 square feet of space, including bathrooms with separate tubs and rain showers, a 40-inch television, and lively art above the bed.
Premier rooms and club rooms feel a bit more upscale and offer large workspaces for business travelers. Suites are nearly double the size, making them a great option for families who need to spread out.
Like other Leela resorts, this property offers tourists plenty of special things to do. Its ceremonial ritual of feeding the resort's scarlet Koi fishes is intended to help you let go of your troubles, ultimately adding a meaningful touch to your Delhi itinerary.
Address: 1 CBD, Maharaja Surajmal Marg, near Yamuna Sports Complex, Shahdara, Delhi
9. Pullman New Delhi Aerocity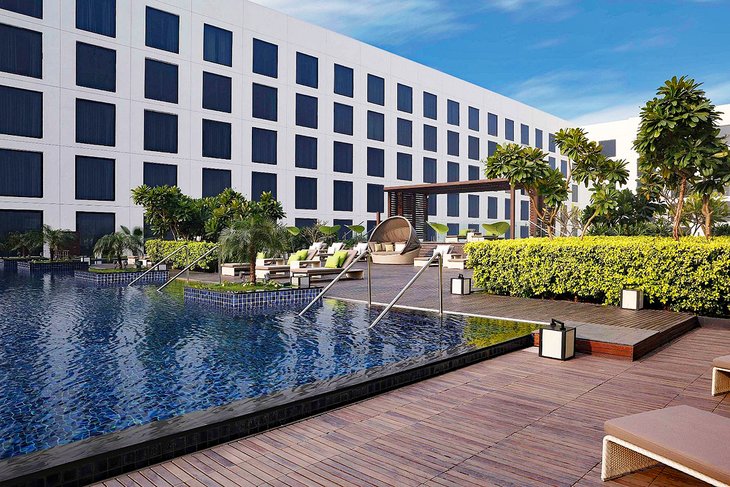 Accommodation: Pullman New Delhi Aerocity
Sightseeing around Delhi is easy when you stay at the Pullman New Delhi Aerocity. The five-star resort is just 200 meters from the Delhi Aerocity metro station, making it easy to travel to all the top attractions.
There's plenty to do on-site, as well. The pet-friendly resort has a temperature-controlled outdoor swimming pool, full-service salon and spa, 24-hour fitness center, and six different dining options.
With a whopping 670 rooms, this resort has tons of accommodations to suit different types of tourists. Deluxe rooms are decked out with peacock-inspired decor, dark hues, and beds piled with different kinds of pillows.
Executive rooms come with even larger bathrooms, while the superior suites offer fantastic views of the planes taking off from the nearby airport. There are also accessible rooms designed to accommodate travelers with disabilities.
Breakfast is included, and kids stay for free.
Address: Asset No. 02, GMR Hospitality District, IGI Airport, New Delhi
10. Vivanta New Delhi, Dwarka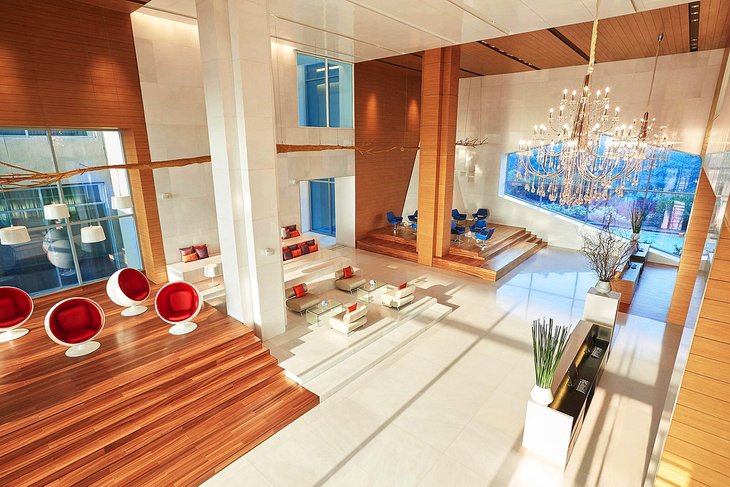 Accommodation: Vivanta New Delhi, Dwarka
Known for its chic and modern atmosphere, Vivanta New Delhi, Dwarka has been designed to show even the most seasoned travelers a different kind of luxury. Rather than over-the-top opulence, it has a fun and creative design, with colorful ball chairs in the lobby, guest rooms crowned by ceilings with interesting angles, and triangle-shaped windows that let sunlight into the fitness center.
The swimming pool offers spectacular views of the cityscape.
Accommodations come in a variety of guest rooms and suites. They include avant-garde architecture, recessed lighting, large bathtubs, desks, and comfy beds. The top-of-the-line Vivanta Suite even has its own custom-built loop furniture that makes for a streamlined look.
While at the family-friendly resort, guests can detoxify with treatments at the Jive Spa. Four on-site restaurants can keep you fueled before and after your sightseeing adventures in Delhi.
Address: Sector 21 Metro Station Complex, New Delhi
11. The Suryaa New Delhi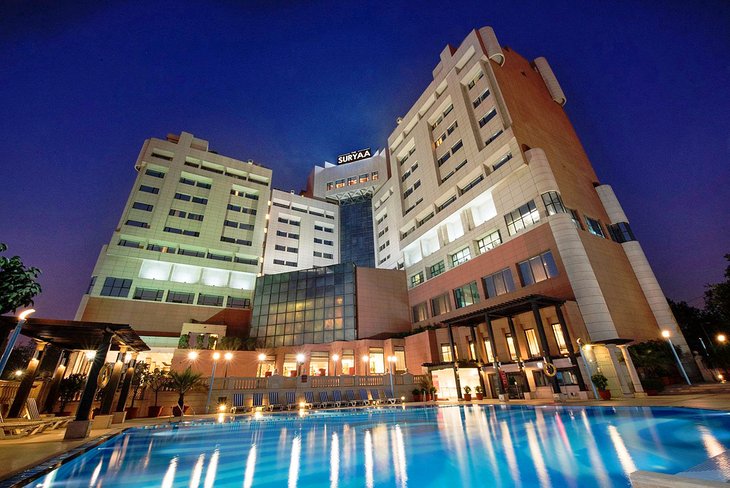 Accommodation: The Suryaa New Delhi
The Suryaa New Delhi is one of the top resorts in South Delhi. The five-star property has a huge outdoor pool flanked by cabanas and striped loungers–perfect for relaxing after a session at the well-equipped fitness center. You can also restore yourself with a treatment at the spa, which offers a sauna, steam room, cold plunge, and Jacuzzi tub.
There are 244 guest rooms at the Suryaa New Delhi. Designed with stress reduction in mind, the rooms have lots of cozy furniture, imaginative art, and soothing tones. Tourists looking for an all-inclusive experience may consider booking a half-board package, which includes buffet breakfast and lunch or dinner.
Three dining options are available on-site. Ssence, the all-day restaurant, has near-universal appeal with its lavish buffets and global cuisine. The resort's rooftop restaurant, Sampan, serves tasty pan-Asian cuisine with a panoramic view of the city. For a sweet treat, stop by French Crust, the resort's bakery.
Address: New Friends Colony, New Delhi