10 Top-Rated Resorts in Udaipur
Staying at a resort in Udaipur is one of the best ways to enhance your trip to this lovely Rajasthani city.
These resorts offer luxe amenities, like infinity pools, Ayurvedic spas, and gourmet restaurants, that will make you feel like a VIP.
They can help you make the most of your Indian vacation with unique things to do, as well. Think: camel rides around Fateh Sagar Lake, movie screenings in mini-theaters, evening bonfires, and boat rides.
Plus, after a long day of sightseeing, it's comforting to know you have a cozy, well-appointed room in which to wind down (and sometimes butler service, to boot!).
Find an amazing place to stay with our list of the top resorts in Udaipur.
1. Tree of Life Resort, Udaipur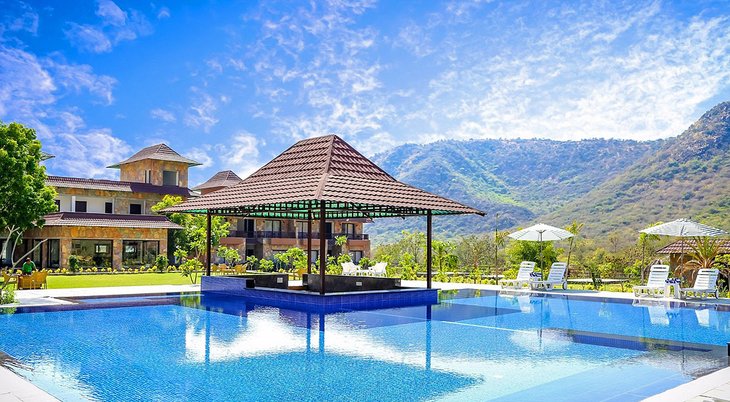 Accommodation: Tree of Life Resort, Udaipur
With just 16 rooms, Udaipur's Tree of Life Resort treats guests to an ultra-private, luxurious getaway.
This five-star resort is situated on four acres of untouched nature and offers amazing views of the Aravalli Range from the azure pool and restaurant. There's green space as far as the eye can see.
Guests can choose from two room categories at Tree of Life Resort, all of which come with a balcony or patio. These sunshine-drenched spaces offer a relaxing atmosphere with glistening Jaisalmer stone floors, floral-printed pillows and lamps, and large windows.
The main difference between the room categories is their size–the superior rooms are nearly twice as large as the standard rooms.
Free breakfast is included for all guests. You can opt in to an all-inclusive meal package at this resort, which will give you the chance to sample Rajasthani, Continental, and Gujarati cuisine at the on-site restaurant.
The resort also brims with things to do, including bonfires (on request), board games, tractor rides, cooking classes, high tea, and yoga. Kids and pets are welcome!
Address: Airport Road, Debari, Udaipur
2. The Oberoi Udaivilas, Udaipur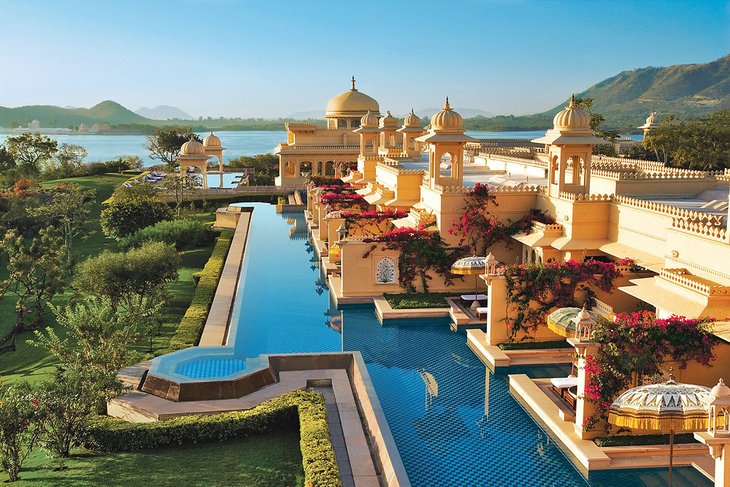 Accommodation: The Oberoi Udaivilas, Udaipur
The Oberoi Udaivilas is a five-star resort that embodies the glamor and mystique of Udaipur itself.
This award-winning property looks like a grand palace with golden domes, ornate carvings, reflection pools, and dome-capped structures–and it only gets more magnificent on the inside. Plus, it has two large swimming pools, a fitness center, and a luxury spa.
Rooms at this hotel seamlessly blend comfort with elegance. They come with cushioned bay windows (the perfect spot to cozy up with a book and a cup of tea), traditional patterned linens and carpets, marble bathrooms, and clawfoot tubs.
There are also several impressive suites, which include a private pool and courtyard. Should you need anything at all, butler service is available 24 hours a day.
Dining at the Oberoi Udaivilas is anything but an afterthought. You can gaze at the City Palace over a candlelit meal of international cuisine at Chandni, the outdoor restaurant. Or, tuck into Indian favorites under a dome painted with stars at Udaimahal, a fine-dining spot.
What's more, this resort has a variety of memorable experiences for guests. Take a chef-guided garden tour and cooking class, stretch out in a private yoga session, learn about miniature painting in a workshop, embark on a heritage walk, or let a henna artist turn your hands into works of art.
There are also a number of activities for children, including art and magic classes.
Address: Badi-Gorela-Mulla Talai Road, Haridas Ji Ki Magri, Pichola, Udaipur
3. Taj Lake Palace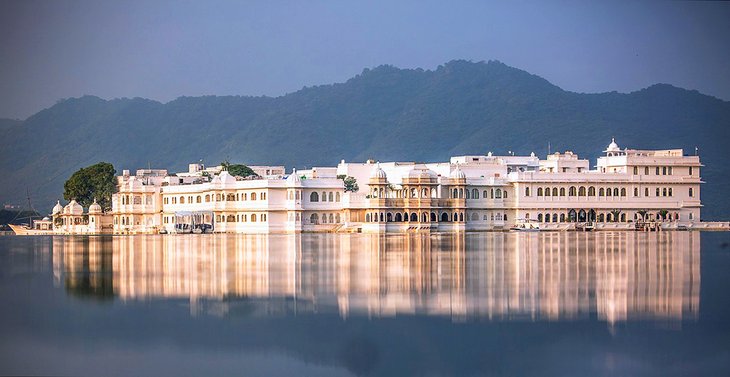 Accommodation: Taj Lake Palace
For a truly memorable place to stay in Udaipur, check out the Taj Lake Palace. This five-star resort is situated on an exclusive island in the middle of Lake Pichola.
Made entirely of marble, this elegant structure dates back more than 275 years and was once used as the Mewar royal family's summer retreat. It earned worldwide recognition after it was featured in the James Bond film Octopussy.
The property boasts 65 rooms and 18 grand suites. The accommodations each feature unique Indian design elements, like traditional silks, dark teak furniture, wooden latticework, stained-glass windows, and miniature paintings.
A pillow and quilt menu are available to ensure you sleep soundly. When you awake, take advantage of the complimentary breakfast.
You don't need to ride back to the mainland for meals. At the resort's restaurants, you can enjoy royal Rajasthani cuisine, savor European meals on the rooftop, or keep it casual with all-day dining options.
There's also a spa (which has a unique relaxation ritual on a boat), a pool shaded by a large mango tree, and a fitness center.
Address: Lake Pichola, Udaipur
4. jüSTa Sajjangarh Resort & Spa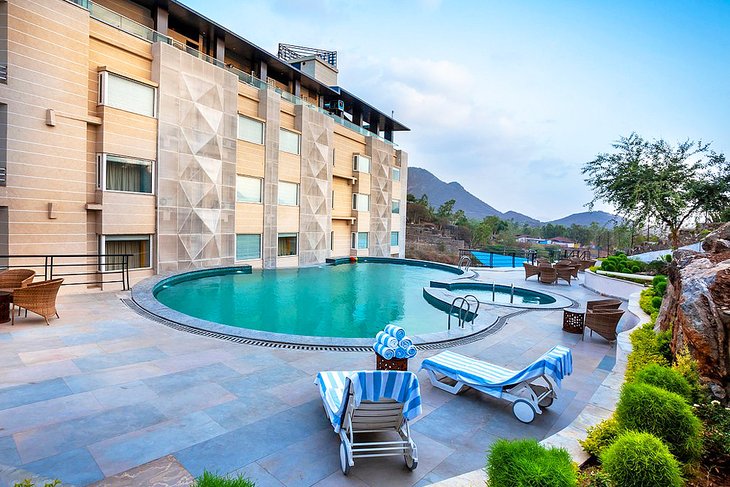 Accommodation: jüSTa Sajjangarh Resort & Spa
Lush greenery makes for a scenic backdrop at jüSTa Sajjangarh Resort & Spa, a five-star resort located just outside Udaipur's Sajjangarh Biological Park and zoological garden.
The property's focus on design will delight style-minded tourists. Each of the sunny, primarily yellow-hued rooms is outfitted with Rajasthani-themed upholstery by designer Deepika Govind, rich silks, 450-thread-count cotton sheets, and large mirrors.
The rooms aren't the only thing that make Justa Sajjangarh Resort a worthwhile place to stay in Udaipur. The resort has a fitness center, world-class spa, and sparkling pool with separate areas for adults and kids.
Multi-cuisine meals can be found at the ground level restaurant, and Udaipur's first fine-dining teppanyaki restaurant will soon open up in an on-site gazebo.
You can also easily reach some of Udaipur's top attractions, including the City Palace and Bagore Ki Haveli Museum, from the resort in under 15 minutes by car.
Address: Opposite Biological Park, near Sajjangarh Main Gate, Udaipur
5. The Leela Palace Udaipur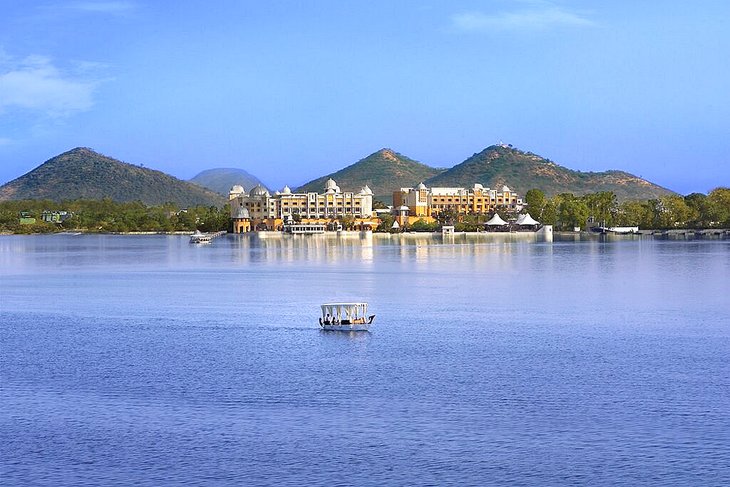 Accommodation: The Leela Palace Udaipur
The Leela Palace Udaipur is a five-star hotel nestled on the banks of Lake Pichola.
This resort-style property has a striking pool surrounded by black-and-white tiled relaxation areas and swaying palm trees. There are also three places to dine on-site and a spa with private treatment rooms in eight luxury tents.
Rooms here feel royal, with fringed pillows, latticework behind the headboards, wooden furniture intricately embossed with brass wires, embroidered fabrics, and tons of Rajasthani art.
Some accommodations include private pools or balconies with panoramic views of the lake.
The Leela Palace Udaipur makes sure every guest arrives in style by offering airport transfers in BMWs.
Once you're settled in, take advantage of the many interesting things to do at the resort. There's an art walk around the palace, folk music and dance recitals, romantic boat rides, and tours by tuk-tuks, just to name a few highlights.
Address: Lake Pichola, Udaipur
6. The Ananta Udaipur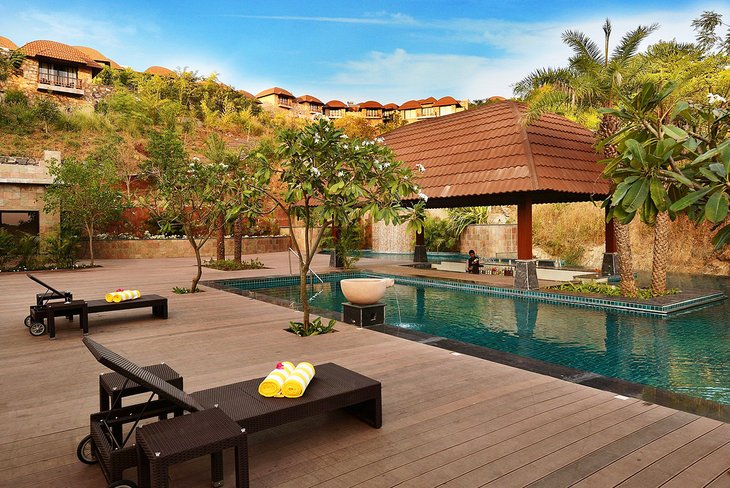 Accommodation: The Ananta Udaipur
Privacy is of the essence at the Ananta Udaipur, a five-star resort situated on 90 acres of lush scenery near the Aravalli Range.
This family-friendly property offers accommodations in more than 230 opulent villas, which feel like exclusive sanctuaries for you to appreciate the landscape and make memories with your loved ones.
The resort also has four restaurants and a glorious swimming pool, where you can start the day off with a photo-worthy floating breakfast.
Tourists have several styles of accommodations to choose from at the Ananta Udaipur, all of which come with private balconies and great views.
The super deluxe and luxury cottages have a Balinese vibe and bathrooms with outdoor showers that open up to the sky, so you can rinse off under the stars.
For a more unique experience, the five Jungle Wooden Cottages feel like luxury treehouses and offer open-air Jacuzzis. Luxury-seekers will relish the two-bedroom grand suites or the presidential villa–the 4,500-square-foot space even boasts a private pool and posh dining room.
Between the spa's mini movie theater, games zone, spa, kids' activity area, and picnic-ready lawns, tourists won't run out of things to do at this Udaipur resort.
Address: Village Bujhda, Tehsil Girwa, Kodiyat Main Road, Udaipur
7. TatSaraasa Resort & Spa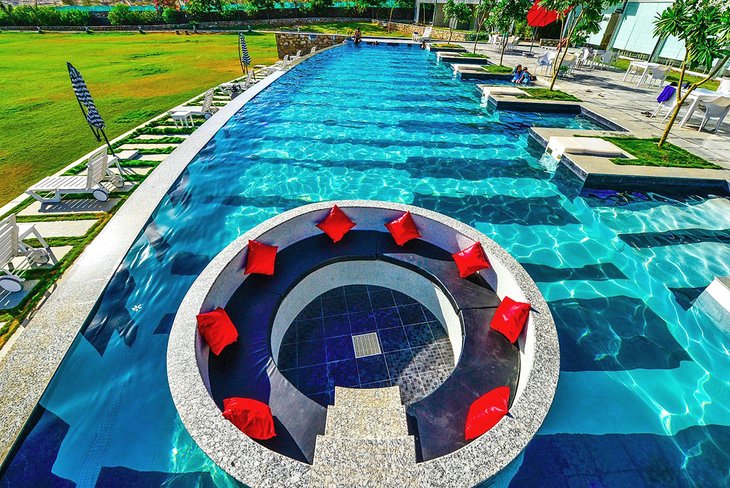 Accommodation: TatSaraasa Resort & Spa
Situated on the banks of Lakhawali Lake, TatSaraasa Resort & Spa offers a beautiful place to stay on your trip to Udaipur.
Tourists love the five-star resort's infinity pool, which makes the perfect spot to cool off after grilling up a delicious lunch at the barbecue facilities in the garden. But if grilling isn't your thing, there's an on-site Indian restaurant you can visit, as well.
When you're ready to chill out, head to the spa for a massage or a sauna session.
Floor-to-ceiling windows with stunning lake views and balconies beckon tourists to book one of the luxury double rooms. The relaxing whitewashed spaces feature cozy furniture and pops of color in the pillows and bedspreads, along with inviting soaking tubs in the bathrooms.
That's just one of a few types of accommodations available at the resort, though. You can also choose from suites and double rooms with views of the pool or lake.
Pack a pair of hiking boots and binoculars–the resort's six acres of land are home to more than 100 species of birds. You can also rent bikes, work out in the fitness center, and play badminton during your stay.
Address: Village Bhilwara, Gram Panchayat Lakhawali, NH 76, Udaipur
8. Trident Udaipur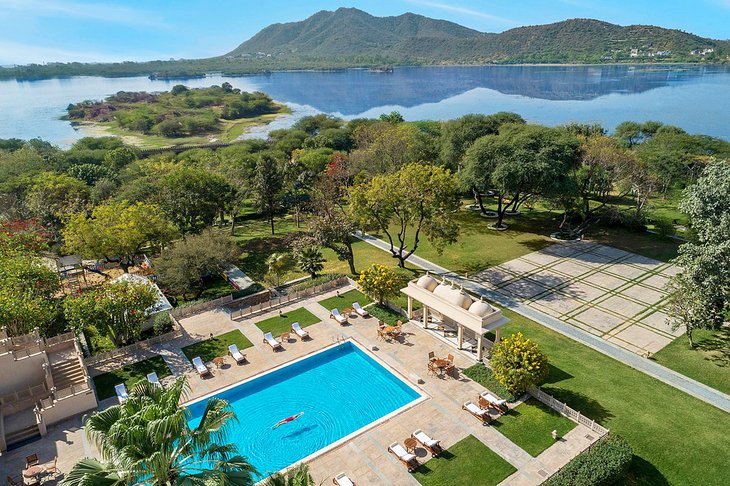 Accommodation: Trident Udaipur
Soak up the splendor of Rajasthan at the Trident Udaipur, a five-star hotel that feels like a resort. Its rooms and suites, which have recently been renovated, draw design inspiration from the cultural heritage of Udaipur itself.
The pool is surrounded by flowering trees and perfectly symmetrical squares of grassy green spaces that are reminiscent of royal gardens. Plus, there's a spa with several massage treatments on the menu, a barbecue joint, and a restaurant that serves traditional Rajasthani specialties, including an elaborate thali.
The first thing to draw your eye in the rooms and suites are the lovely windows with scalloped frames–they make you feel like you're staying in a palace. Don't be surprised if you see a peacock frolicking in the garden when you look out.
The earth-toned spaces also boast Udaipur green marble floors (a local tradition), works from Rajasthani artists, elegant upholstered furniture, and in-room entertainment systems.
The Trident Kids' Club offers an array of activities, like child-friendly cooking classes, art contests, and even a trampoline, to keep young tourists busy.
Adult travelers can enjoy high tea at the resort's sunset point, a fully-equipped fitness center, pontoon rides, and yoga classes.
Address: Malla Talai Chowk, Trident Road near Pichola, Haridas Ji Ki Magri, Udaipur
9. Hotel Lakend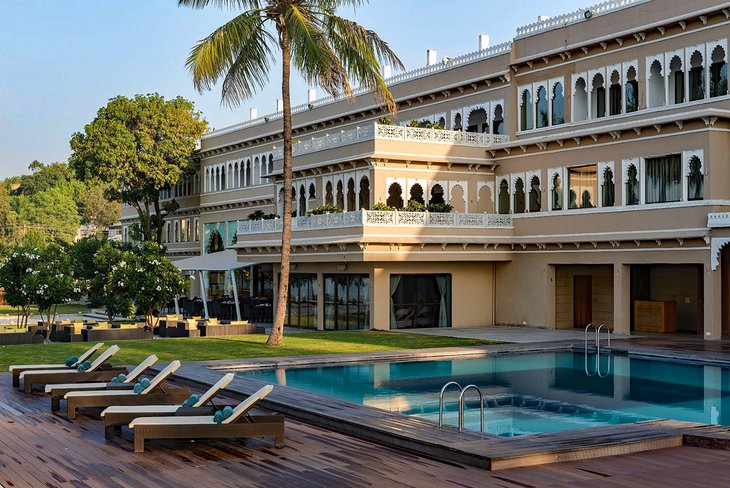 Accommodation: Hotel Lakend
If you're drawn to the shores of Fateh Sagar Lake during your time in Udaipur, Hotel Lakend makes a convenient and picturesque place to stay.
This five-star hotel on the waterfront has a massive pool, creatively designed accommodations, and three restaurants that rely on fresh ingredients from its in-house organic farm.
The 78 rooms and six suites at Hotel Lakend come splashed with so much color, you'll almost feel like you're staying in a museum-worthy miniature painting.
Some of the lake-facing rooms come with balconies overlooking the water. All of the accommodations have large TVs with more than 200 channels, mini-fridges, solid-wood furniture, and all the air-conditioning you'll need to beat the Rajasthani heat.
This family-friendly property has a kids' zone to entertain its youngest guests. The property can also arrange for sightseeing experiences by boat. Camel rides around the lake are available upon request, as well.
Address: Alkapuri, Fateh Sagar Lake Shore, Ambamata, Udaipur
10. Taj Aravali Resort & Spa, Udaipur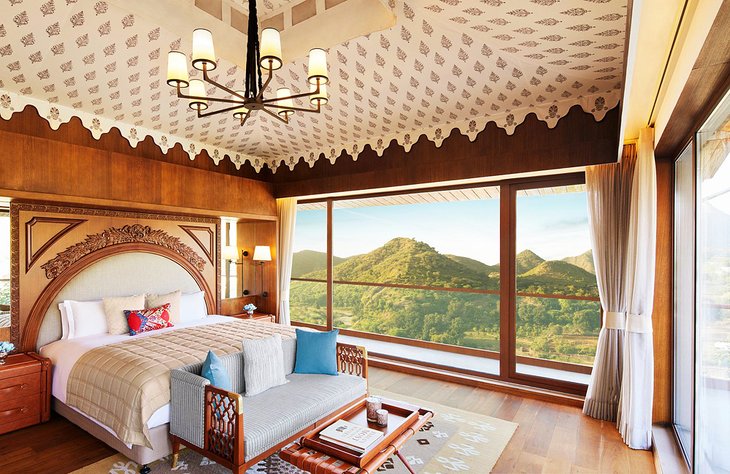 Accommodation: Taj Aravali Resort & Spa, Udaipur
The Taj Aravali Resort & Spa is a luxurious five-star resort with sophisticated rooms, suites, and glamping tents.
It keeps guests satiated with its on-site vegetarian restaurant, an alfresco grill, and a casual poolside eatery with fresh smoothies and light bites.
The property has also made a name for itself as a wellness destination with a spa that uses all-natural products sourced from essential oils and Indian herbs.
The resort has a few unique types of accommodations, including luxury tents perched on the hilltop and a "glass box" two-bedroom suite with 360-degree views from its floor-to-ceiling windows, a personal gym, an outdoor fireplace, a spa treatment bed, and an attached butler pantry.
But, if you're looking for more conventional resort accommodations, you'll feel at home in the garden-view room or cottage. They're upscale, yet comfortable, with access to lush outdoor spaces. All-inclusive packages are available.
Address: 1 Kheemach Kheda Near Kodiyat Forest Chowki, Bhujra, Udaipur