10 Top-Rated Resorts in Rishikesh
The best resorts in Rishikesh give you a taste of everything this tourist destination has to offer: easy access to nature in the foothills of the Himalayas, relaxing wellness experiences in spas and meditation halls, healthy vegetarian cuisine at their restaurants, and opportunities to arrange white water rafting trips down the Ganges River. And given that Rishikesh is the "yoga capital of the world," many of the resorts also host yoga classes throughout the week.
From swimming pools with views of the mountains to kid-friendly activity centers, these resorts have the facilities you need to make your trip memorable. Plus, the charming accommodations can make it easy to linger in your room for hours—just what you need to feel truly restored on your vacation.
Find the perfect place to stay with our list of the best resorts in Rishikesh.
1. Anand Kashi by the Ganges, Rishikesh - IHCL SeleQtions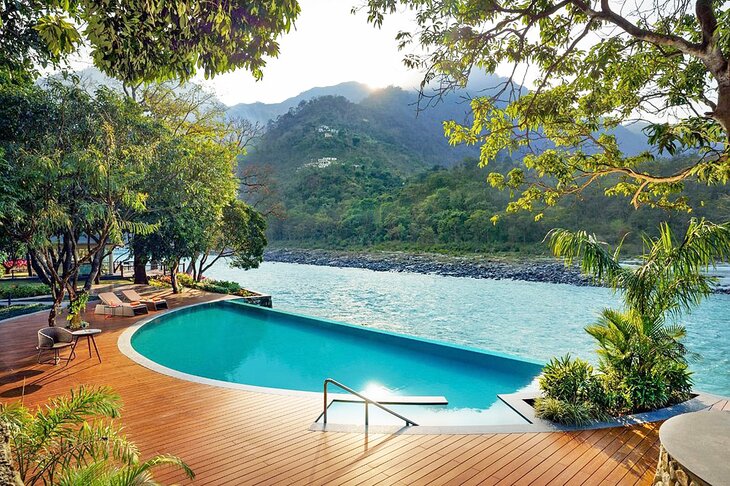 Accommodation: Anand Kashi by the Ganges, Rishikesh - IHCL SeleQtions
Anand Kashi by the Ganges is a five-star resort with a fabulous history—it used to be the summer residence of the district maharaja.
The resort itself is just as glamorous as its past. It brims with traditional Garhwali architecture, offers amazing river views, and has an infinity pool with a curved shape that matches that of the Ganges. There's also an intimate spa and a restaurant that uses organic produce grown at the resort's own orchards.
The accommodations at this resort include 24 river-facing accommodations spread across six blocks. Each room is themed around a sensory element, like scent or taste. The color-splashed spaces feature regal touches, like arched ceilings, four-poster beds, grand verandahs, sprawling vanities, and private balconies.
For a truly special stay, consider booking one of the two identical luxury tents, which have double beds, private patios, and deep freestanding bathtubs.
The resort gives guests a variety of things to do, as well. You can watch resident priests perform the Ganga Aarti (holy river ceremony), walk along the resort's private beach, go on a guided hike, and take yoga classes, among other invigorating activities.
Address: Near 23rd Milestone, Badrinath Road, Gular Dogi, Rishikesh, Uttarakhand 249303, Rishikesh, Uttarakhand
2. Veda5 Ayurveda & Yoga Retreat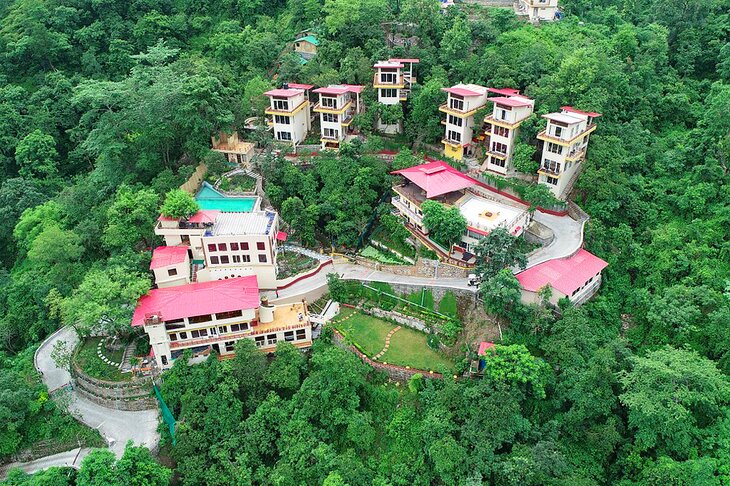 Accommodation: Veda5 Ayurveda & Yoga Retreat
Located just 10 kilometers from the heart of Rishikesh, Veda5 Ayurveda & Yoga Retreat is a wellness-focused resort with easy access to local attractions. It has a serene swimming pool with views of the mountains and an art-filled dining hall that serves Ayurvedic and Sattvic cuisines. It also tends its own organic farm, which is open to guests.
All-inclusive packages are available.
The accommodations at Veda5 have a luxurious, boutique-style feel. They have beautiful block-printed bedspreads, giant windows overlooking the scenery, walls filled with art, and quiet balconies. One of the more unique accommodations, the luxury village suite, has a distinct boho-chic atmosphere, with wispy curtains, bedding in mixed patterns and textures, and seating that hangs from the ceiling. It captures the vibe of Rishikesh to perfection.
In line with what you'd expect at a wellness resort, Veda5 offers a variety of activities to help guests find inner peace and feel their best. Choose from yoga classes, Ayurvedic cooking workshops, naturopathy treatments, barefoot walks on the lawn, and half- or full-day sightseeing excursions to holy sites in Rishikesh.
Address: Neelkanth Road, Rishikesh, Uttarakhand
3. Naturoville Himalayan Wellness Retreat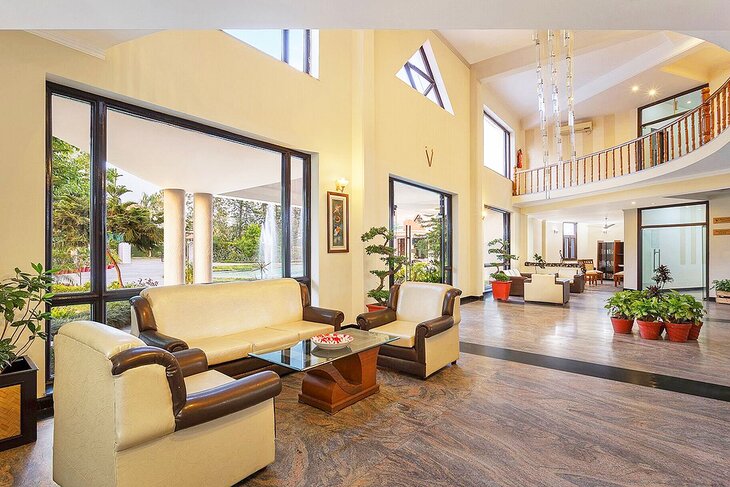 Accommodation: Naturoville Himalayan Wellness Retreat
From Ayurvedic and naturopathic treatments to yoga and meditation classes, Naturoville Himalayan Wellness Retreat offers guests a variety of ways to boost their wellbeing on their visit to Rishikesh.
The five-star resort has a stunning pool surrounded by palm-trees and pod-shaped lounge chairs. You can also keep up with your fitness routine at the on-site workout room, enjoy healthy meals at Prana restaurant, and explore the property's picturesque nine-acre setting.
Choose from two different room categories at Naturoville resort. The "super deluxe club" rooms feature elegant decor, warm colors, work desks, wardrobes, and big windows flanked by orange drapes.
If you upgrade to the executive suites, you'll get a separate living space and mesmerizing views of the Himalayan mountains. All accommodations include air-conditioning, Wi-Fi, and complimentary breakfast.
Bicycles are available to rent, which can be a fun way to go sightseeing around Rishikesh.
Address: PO Resham Majri, Lal Tappar, Haridwar-Dehradun Road, Tehsil Rishikesh, District Dehradun-248140, Uttarakhand
4. Comfort Hotel Dewa Retreat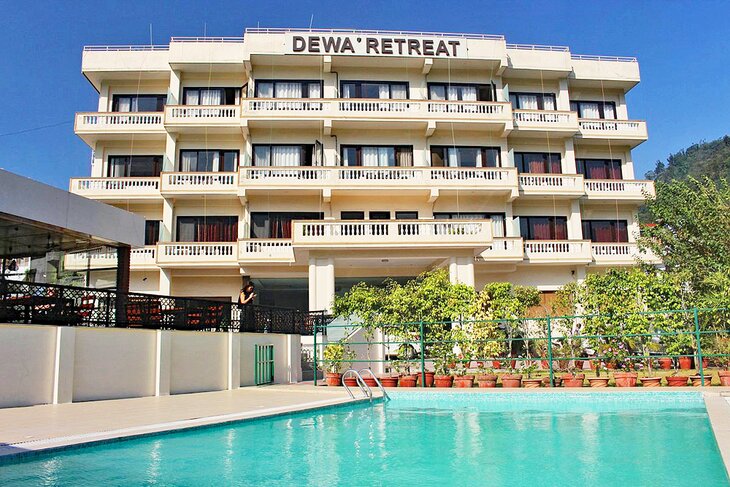 Accommodation: Comfort Hotel Dewa Retreat
Comfort Hotel Dewa Retreat is a four-star boutique hotel with resort-style facilities located in the Tapovan area of Rishikesh.
The property is home to several wellness facilities, including a swimming pool, sauna, steam bath, spa, and yoga and meditation studio.
When you're hungry, you can visit Sattvik, the hotel's in-house restaurant, for your choice of Indian, Chinese, or Continental cuisine. There's also an on-site café with a healthy, organic menu.
Accommodations consist of efficiently designed guest rooms and suites with views of the pool or the mountains. They include flat-screen smart TVs, writing desks, electronic safes, air-conditioning, and tiled bathrooms. Breakfast is included for all guests, and room service is available.
Dewa Retreat's travel desk can be a great resource for planning your Rishikesh itinerary. The staff can help you arrange white water rafting, evening Ganga Aarti ceremonies, mountain biking, and nature treks for the whole family.
Address: Badrinath Road, Tapovan, Rishikesh, Uttarakhand
5. Ganga Kinare - A Riverside Boutique Resort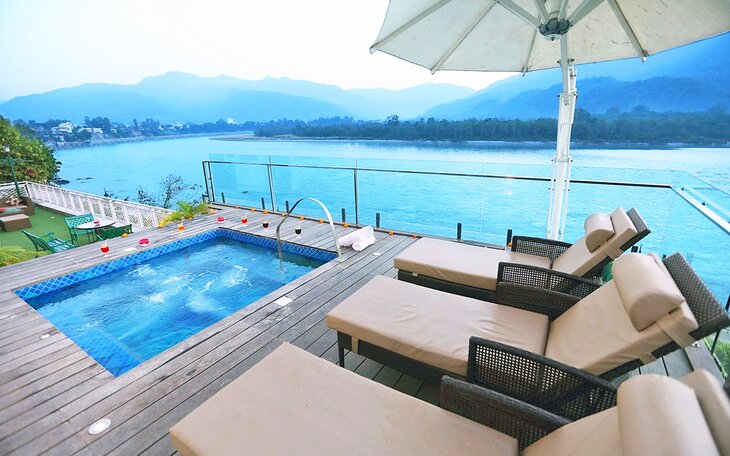 Accommodation: Ganga Kinare - A Riverside Boutique Resort
Situated on the banks of a tranquil portion of the Ganges, Gange Kinare is a four-star boutique resort that overlooks Rajaji National Park.
It serves Indian, Chinese, Italian, and Continental meals at its on-site restaurant, Jal Jalebi. It also spoils guests with a variety of facilities, including an interactive gaming zone, open-air whirlpool, rooftop meditation and yoga hall, and bike rentals.
Four different levels of accommodations are available, all of which include free Wi-Fi, parking, and breakfast. The base category deluxe rooms, which span 270 square feet, offer partial views of the Ganges, queen-size beds, mini fridges, and small seating areas. The more spacious premium rooms have better river views and a more elegant feel.
Family rooms are painted in soothing tones and can accommodate up to four guests on their two queen-sized beds. The top category lotus suites have the best views of the holy river and national park, along with designated areas for living and dining.
Looking to incorporate wellness into your Rishikesh getaway? Book a treatment at Ganga Kinare's on-site spa. It has a steam room, handcrafted massage beds, housemade body oils, and a menu of revitalizing treatments for the body.
Address: 237, Virbhadra Road, Rishikesh, Uttarakhand
6. Lemon Tree Premier, Rishikesh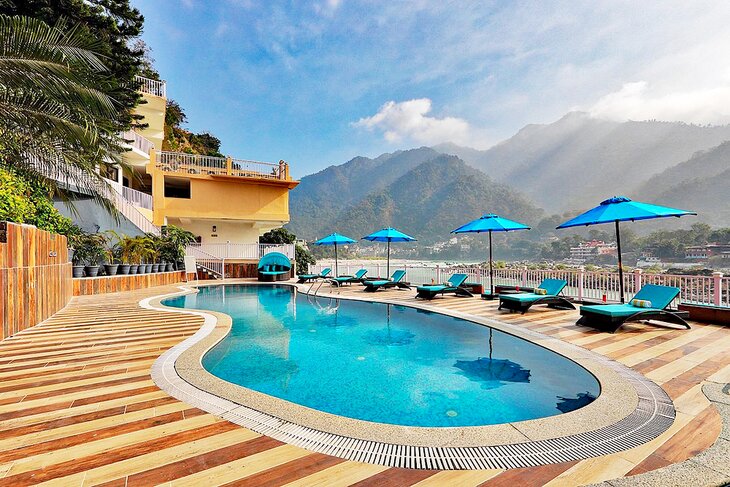 Accommodation: Lemon Tree Premier, Rishikesh
If you want easy access to the Ganges on your trip to Rishikesh, consider booking a stay at Lemon Tree Premier. The family-friendly resort has its own ghat (flight of steps down to the river) where holy ceremonies are performed every day.
You don't have to leave the property for dining—it has a vegetarian café and a lovely al fresco restaurant with uninterrupted river views. There's also an outdoor swimming pool that's so pretty, it looks like a picture on a postcard.
Lemon Tree Premier offers 65 rooms and suites. All accommodations exude understated elegance and feature views of the mountains, river, or nearby ashram. Choose from base category superior rooms or deluxe rooms with individual balconies. You can also book one- or two-bedroom suites, some of which have kitchenettes.
When you're not relaxing in your room, you can make use of the fitness center, roll out a mat at the yoga studio, or book a treatment at the spa. Kids will stay entertained at the children's recreation area. And if you want to take care of work-related tasks, head to the business center—it has all the tech tools you'll need to get the job done.
Address: Shesdhara, Tapovan, Laxman Jhula Road, Rishikesh, Uttarakhand
7. Shaantam Resorts and Spa Rishikesh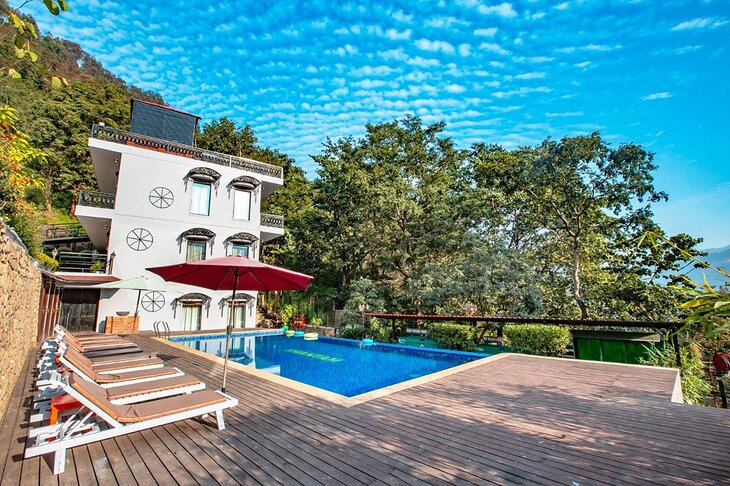 Accommodation: Shaantam Resorts and Spa Rishikesh
Shaantam Resorts and Spa Rishikesh is on a mission to help tourists in Rishikesh nourish their mental, physical, and spiritual wellbeing.
Open since 2017, the luxurious wellness resort contains a high-end spa with a menu of Ayurvedic treatments, along with yoga and meditation classes. Throughout your stay, you can sip fresh juices by the outdoor swimming pool, dine on fine vegetarian cuisine at Shaantam restaurant, and enjoy high tea celebrations.
Accommodations at this resort range from comfortable and simple guest rooms to magnificent luxury cottages in the shadows of the Himalayas. Throughout the spaces, you'll find lots of natural materials (like stone walls), sun pouring in through the large windows, soothing art on the walls, and flat-screen TVs. Every room comes with its own yoga mat, so you can practice in privacy.
Pets are welcome at the resort.
The resort offers a range of activities, including cooking classes, acupressure workshops, and nature treks to Neelkanth Mahadev Temple, so you won't run out of things to do.
Address: Neelkanth Temple Road, Rishikesh, Uttarakhand
8. The Neeraj River Forest Resort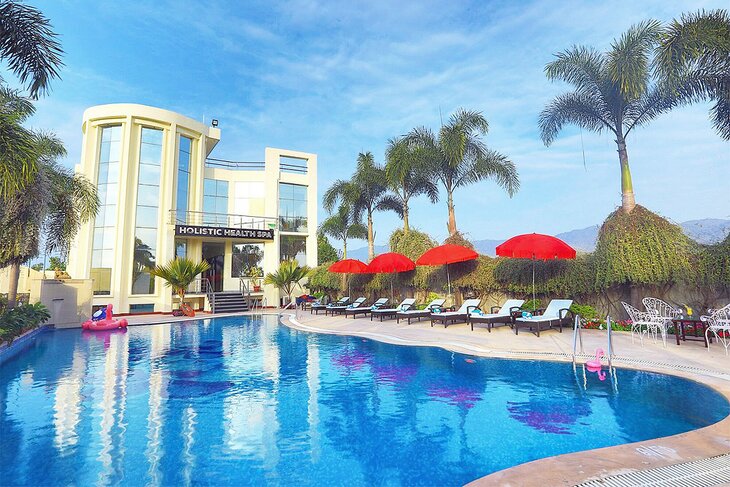 Accommodation: The Neeraj River Forest Resort
You'll feel like you're on a tropical getaway the moment you see the swimming pool at the Neeraj River Forest Resort. The plush pool features tilework of frangipani flowers and is surrounded by palm trees and perfectly manicured green lawns that stretch toward the horizon.
But it's just the beginning of the great facilities at this Rishikesh resort. The family-friendly property also offers poolside dining, a "living foods" restaurant, health spa, yoga classes, and badminton.
You have two room categories to choose from at this resort, both of which measure 291 square feet. The base category maharaja room features a mountain view, king-size bed, a mix of prints on the bed linens and furniture, a mini fridge, and yoga mat. You could also choose to upgrade to a nearly identical maharaja room with a personal pool for a more upscale stay. All accommodations include air-conditioning, Wi-Fi, and free breakfast.
The location of this resort makes it easy to visit some of the top attractions around Rishikesh, including Rajaji National Park, the Beatles Ashram, and the famous Lakshman Jhula suspension bridge.
Address: Rajaji National Park, Haridwar-Rishikesh, Chilla Road, Rishikesh Uttarakhand
9. Hotel Natraj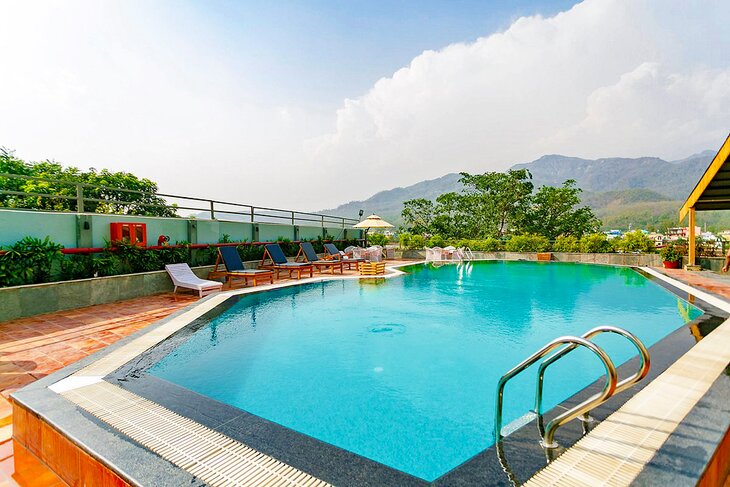 Accommodation: Hotel Natraj
A popular location for weddings in Rishikesh, Hotel Natraj is a four-star hotel with all the facilities you'd expect to find at a resort. You can take in wonderful views of the Himalayan mountains from the outdoor swimming pool.
Get pampered from head to toe at the Hill View Wellness Spa and Fitness Center, which has a steam bath and Jacuzzi. And enjoy three meals a day (including complimentary breakfast) at the vegetarian restaurant.
Hotel Natraj's 70 rooms are divided into four distinct categories. The base category standard room is cozy, with cream-colored bed linens and warm lighting. Excel rooms have been spruced up with colorful bedspreads and intimate seating areas. The larger club rooms make a compelling option for families who want extra space.
Suite rooms are fit for royalty, with large windows, separate living spaces, intriguing art, and an overall elegant atmosphere. A la carte and half-board packages are available.
If you're looking for an adrenaline rush, the hotel can help you arrange rafting and jungle safari excursions.
Address: Dehradun Road, near Natraj Chowk, Rishikesh, Uttarakhand
10. Panambi Resort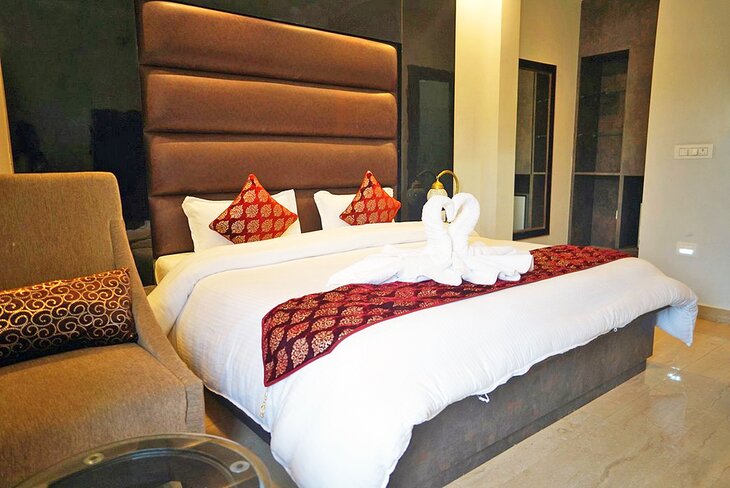 Accommodation: Panambi Resort
Panambi Resort is a 3.5-star resort in Rishikesh that's located 22 kilometers from Dehradun Airport.
The family-friendly resort has a children's playground, large rooms, and buffet breakfast each morning. It also operates a seasonal outdoor pool, a library with a well-curated selection of literature, a multi-cuisine restaurant, and a spa.
The 45 rooms at this resort have a moody, contemporary ambience, with dark-hued furniture and lots of amenities, including bathrobes. They also come with balconies or patios, where you can enjoy the fresh mountain air.
After a day of sightseeing, relax by the resort's nightly bonfire.
Address: Cheela Dam-Rishikesh Road, Ganga Bhogpur Talla, Rishikesh, Uttarakhand