10 Top-Rated Resorts in Pondicherry
Resorts in Pondicherry can help you find just the right style of vacation on your visit to the "Paris of the East."
Properties like Palais de Mahe and Grand Hotel D'Europe celebrate their French colonial heritage with architecture and rooms that give a deep sense of place.
The destination also offers modern-style resorts with tons of things to do. At K Resort, you can play mini-golf with your kids, while you can spend hours spotting rabbits and birds that live on Ocean Spray's 23-acre property.
No matter where you stay, though, you can be sure to find a fantastic swimming pool and gourmet dining options.
Find a great base for your trip to this historic destination with our list of the best resorts in Pondicherry.
1. Ocean Spray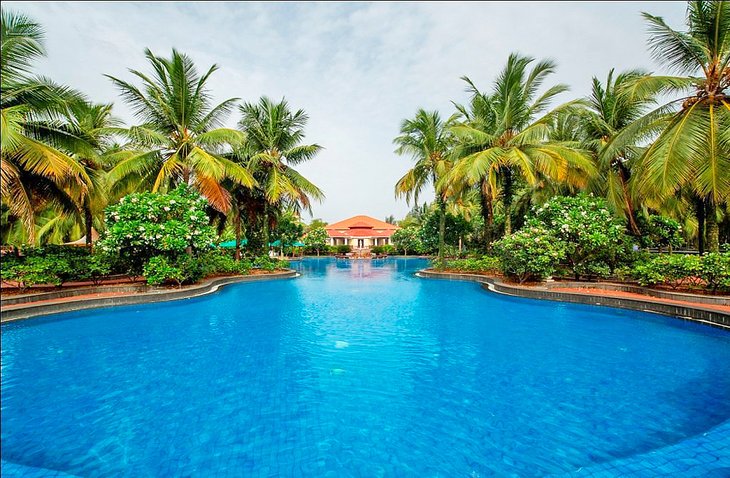 Accommodation: Ocean Spray
Ocean Spray is a four-star resort that's known for its aristocratic ambience and tasty cuisine.
On this 23-acre property, you'll find luxurious rooms and villas, two restaurants, a 24-hour tea lounge, a spa, and one of the largest swimming pools in all of South India.
Keep your eyes peeled for wildlife–you're likely to see swans, turkeys, geese, and rabbits around the resort.
This family-friendly resort offers 72 guest rooms that draw inspiration from nature. They feature golden and tan hues, polished wooden flooring, and views of water or gardens. The high-end "sky plunge" room comes with an open-air bathtub on the balcony.
In addition, the property also has 28 villas. These larger accommodations have their own unique amenities, like private infinity pools and bathrooms that open to tropical gardens.
At just 650 feet from the beach, Ocean Spray is a convenient place to stay if you're looking for lots of sun and sand. On rainy days, you can also make use of the resort's indoor facilities, including a kids' play area and fitness center.
Address: 7,8,9, E.C.R Main Road Manjakuppam, Tamil Nadu, Pondicherry
2. Le Pondy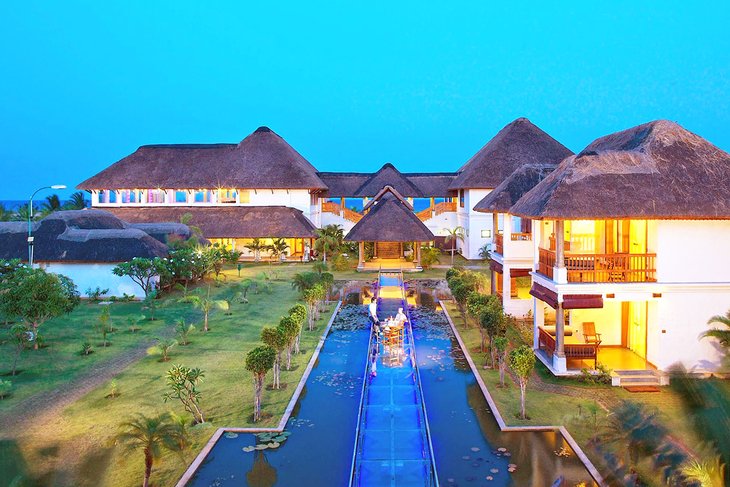 Accommodation: Le Pondy
Each day starts off with a complimentary vegetarian breakfast for guests at Le Pondy, a four-star resort that's just a two-minute walk from the beach.
If salty surf isn't your thing, though, you can cool off in the resort's swimming pool or relax in the hot tub. You can turn your stay into a complete wellness retreat with treatments at the on-site spa and multi-day packages filled with Ayurvedic therapies and meals.
There's also a spacious restaurant that serves a variety of cuisines, a library, and a play area for children.
Le Pondy has an impressive array of accommodations to choose from. Across the 14-acre expanse, you'll find 42 lakefront guest rooms, 12 sea-facing guest rooms, eight luxury pool villas, and eight presidential pool villas, giving guests plenty of options.
The resort keeps its front desk staffed 24 hours a day. They can help you make arrangements to visit some of the top attractions in Pondicherry, including the botanical gardens and the Basilica of the Sacred Heart of Jesus.
Address: No.3, Lake View Road Nallavadu Post, Pondicherry
3. Grand Serenaa Hotel & Resort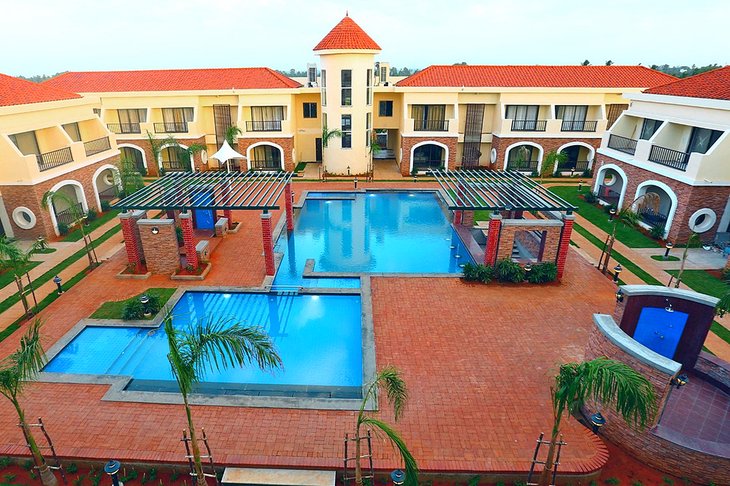 Accommodation: Grand Serenaa Hotel & Resort
At 10 kilometers from Pondicherry Promenade Beach, the Grand Serenaa Hotel & Resort offers tourists a peaceful place to retreat after spending all day at the popular stretch of sand.
This four-star resort treats guests to a free breakfast every morning. There's also a lively swimming pool on the property, where you can splash around with your family and enjoy tropical beverages.
Guest rooms at this Pondicherry resort have a chic, urban feel. Some have exposed brick or accent walls striped with grey and yellow paint. Higher-end rooms, such as those in the Daffodil and Marie Gold categories, come with private balconies that face the swimming pool.
You're likely to find thoughtful touches, like towels sculpted into swan shapes, that start your vacation off on the right note the moment you step into your room. You can stay connected with free Wi-Fi in your room and common areas.
A range of facilities are on offer at this resort. You can get Ayurvedic treatments and reflexology at the spa. Rent bicycles to explore the destination.
Fill up with Indian and international meals at the restaurant, or enjoy a cup of coffee 24 hours a day at the café. And with the resort's well-appointed fitness center, you can easily keep up with your workout routine, too.
Address: 164/1 Pondicherry-Tindivanam Road, Thiruchitrambalam, Pondicherry
4. Accord Puducherry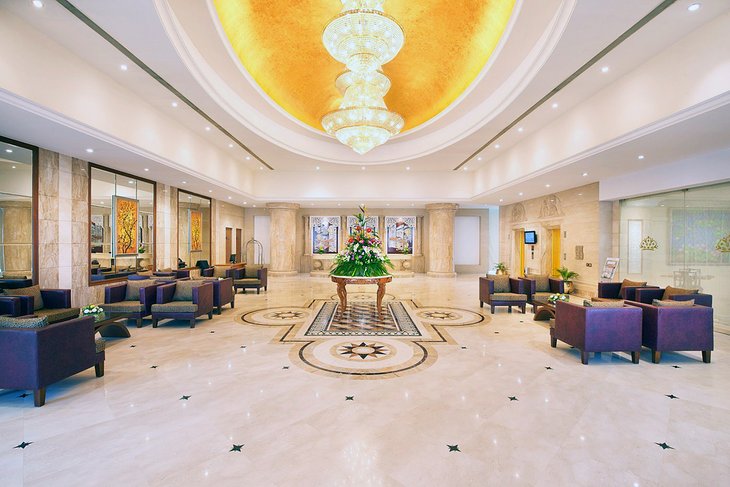 Accommodation: Accord Puducherry
The Accord Puducherry is a four-star hotel with resort-style amenities. It's an easy base for exploring popular attractions, including the INTACH Heritage Centre, Varadaraja Perumal Temple, and the Church of Our Lady of Good Health.
This family-friendly hotel has a pretty swimming pool nestled against a mosaic of fish and dolphins, as well as a state-of-the-art fitness center that's open 24 hours per day. After swimming or working out, you can freshen up at the resort's salon or relax in the spa.
The Accord's bright, chandelier-crowned lobby sets the tone of what you'll experience in your guest room or suite. The base-category rooms feel cozy and elegant, with bedspreads and headboards printed with geometric shapes and swirls of paisley.
Deluxe suites boast more space and separate rooms for dining and living. For a royal experience, check out the Tanjore Suite. It's decked-out with carvings, an imperial king-size bed, a separate guest room, and a Jacuzzi.
The resort has a couple of dining options to keep you fed during your stay, as well, including a multi-cuisine restaurant with a regal dining room and a vegetarian joint situated on the rooftop. Guests get free parking and complimentary breakfast during their stay.
Address: 1 Thilagar Nagar Main Road, Pondicherry
5. La Villa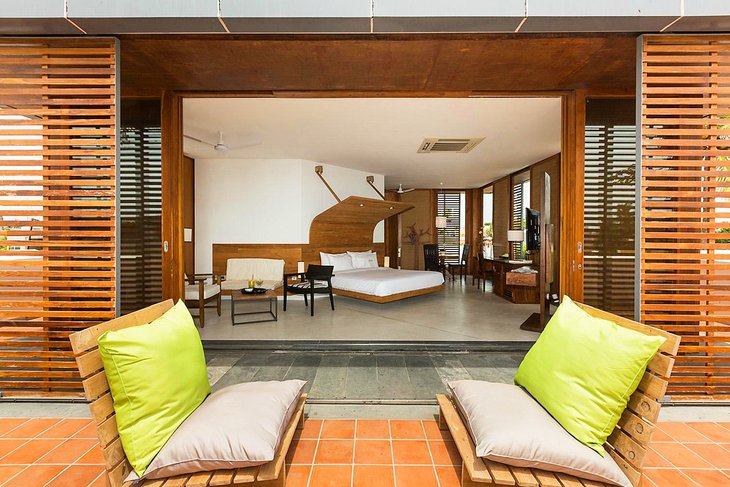 Accommodation: La Villa
Tourists who love to stay in places with lots of character will fall in love with La Villa. Situated in the heart of Pondicherry's White Town, a neighborhood filled with colonial-era villas, this four-star boutique hotel is contained within a 19th-century house.
The staff pays attention to every last detail of the property, lighting candles around the swimming pool in the evening, manicuring the picturesque garden, and carefully curating selections for its library of books and videos.
Breakfast is included, and you can also enjoy multi-course tasting menus (complete with antique silver cutlery and fine porcelain) at the intimate restaurant. The staff can arrange Indian oil massages and private yoga classes upon request.
Each of the hotel's six suites are unique from one another. The overall design features lots of warm wood re-used from old houses, local granite, handmade tiles from villages around Tamil Nadu, and local handicrafts.
While there's an emphasis on preserving the heritage of this special structure, the accommodations have been outfitted with modern amenities, including Wi-Fi and bedside reading lamps.
This hotel skews more adult-focused than family-friendly, but children age 12 and up are welcome at the property.
Address: 11 La Villa Rue Surcouf Street, Pondicherry
6. The Promenade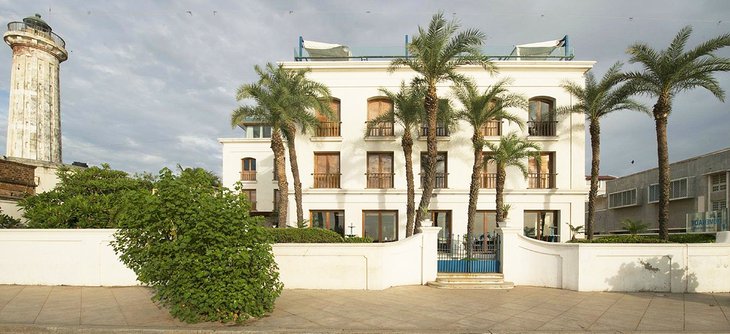 Accommodation: The Promenade
The Promenade might be a boutique hotel, but the immense array of facilities combined with incredible views of the Bay of Bengal from most of the rooms will make you feel like you're at a grand resort.
This four-star hotel is designed with lots of style and flair to naturally complement the French-colonial buildings that line Pondicherry's promenade. It offers guests a Balinese-style lounge pool next to a stunning mosaic, and an award-winning spa known for its orange and coffee scrub massage.
Rooms at the Promenade feature handsome wooden floors, and feel bright and welcoming with jewel-tone décor and large mirrors.
While you can score a deal on the non-sea-facing rooms, the accommodations with a view are definitely worth the upgrade. They even include petite balconies where you can watch the sunrise over the shimmering sea each morning. Large suites are available for families and groups of friends traveling together.
While the Promenade offers easy access to some of the best restaurants in Pondicherry, it also has great dining experiences on the property. It's home to Pondicherry's first Pan-Asian restaurant, along with an airy multi-cuisine eatery, and a lively music-focused restaurant.
Address: 23 Goubert Avenue opp. Gandhi Statue on Beach Road, Pondicherry
7. Shenbaga Hotel & Convention Centre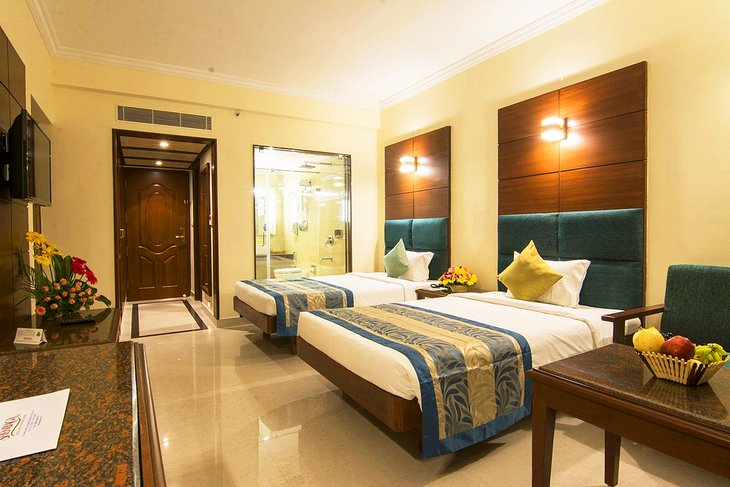 Accommodation: Shenbaga Hotel & Convention Centre
The Shenbaga Hotel & Convention Centre is one of the largest and tallest hotels in Pondicherry.
This four-star hotel offers six different banquet halls, making it popular for conferences and weddings. But even regular tourists who aren't visiting for a particular function can have a great stay at this property.
There's a show-stopping infinity pool that overlooks the Bay of Bengal and White Town, a well-equipped fitness center, a spa, and a restaurant with a popular buffet lunch and dinner on special weekends. A 24-hour coffee shop is also available if you need a pick-me-up.
This family-friendly hotel offers six different styles of accommodations, all of which include complimentary buffet breakfast.
The base-category majesty rooms are suitable for most couples and families. They strike a balance between comfort and style and have a range of amenities, including LCD TVs, complimentary drinking water, coffee makers, and basic bathrooms.
For a more elevated experience, you may want to choose from the four types of suites at the Shenbaga Hotel. They offer a lot more space, plus special amenities like sea-facing windows, baskets of fruit and cookies, and personal Jacuzzis.
Address: 432, Mahatma Gandhi Rd., Muthialpet, Pondicherry
8. K Resort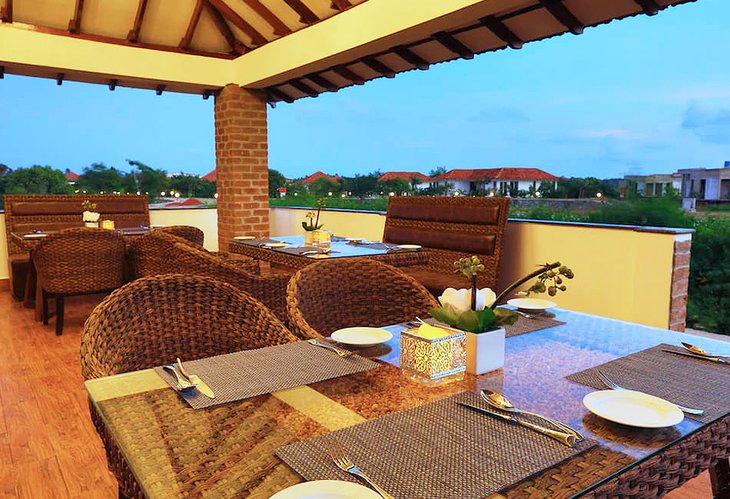 Accommodation: K Resort
With mini-golf, tennis courts, badminton, and a swimming pool, there are plenty of things to do for the families who stay at K Resort.
In fact, this four-star resort, which is very welcoming toward pets, even has a special amenity for its four-legged guests: a doggy pool! A full-service restaurant with a capacity for up to 80 customers can also be found on-site.
The accommodations at K Resort consist of villas made of natural stone and bricks, in line with the architecture you'll see around Pondicherry.
The standard villas and garden villas feature a clean design with an earthy color palette, locally made artwork, and private patios or balconies. The deluxe villas offer a more elegant experience. Expect vaulted ceilings, warm lighting, and an overall romantic ambience.
Address: No 1, Dr. M.D.K. Kuthalingam Salai Ranganathapuram, Pondicherry
9. Grand Hotel D'Europe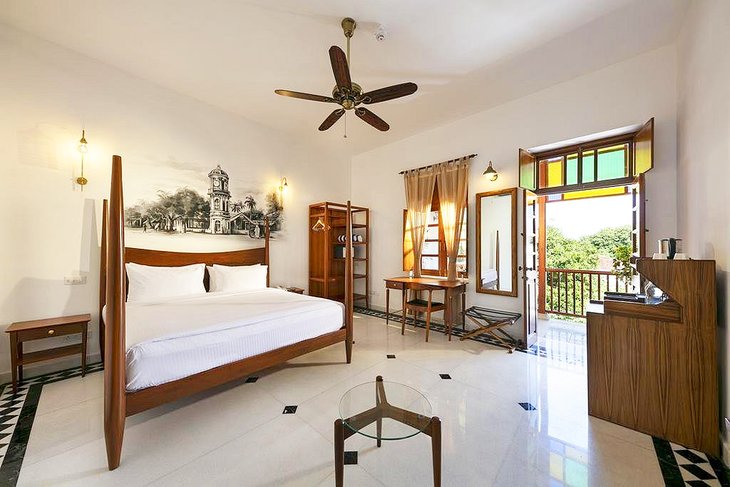 Accommodation: Grand Hotel D'Europe
Conveniently located in White Town, Grand Hotel D'Europe is a luxury hotel with heritage accommodations and resort-style facilities. This resort can trace its roots back to 1891, and celebrates its history throughout its property.
The serene pool is set against a mural of a woman perched atop a boulder next to the sea. There's a lovely restaurant with intricately decorated interiors and a menu filled with North Indian and continental cuisine.
A spa and wellness center, along with yoga classes, help guests find serenity during their stay.
Rooms here exude the French colonial style you'll see throughout all of Pondicherry. They have antique-looking wooden furniture, crisp linens, ceiling fans and air conditioning, and large windows. Take a look on the wall just behind the bed and you'll see vintage black-and-white illustrations of Pondicherry in decades past.
Address: 28 Rue Suffren St., White Town, Pondicherry
10. Palais de Mahe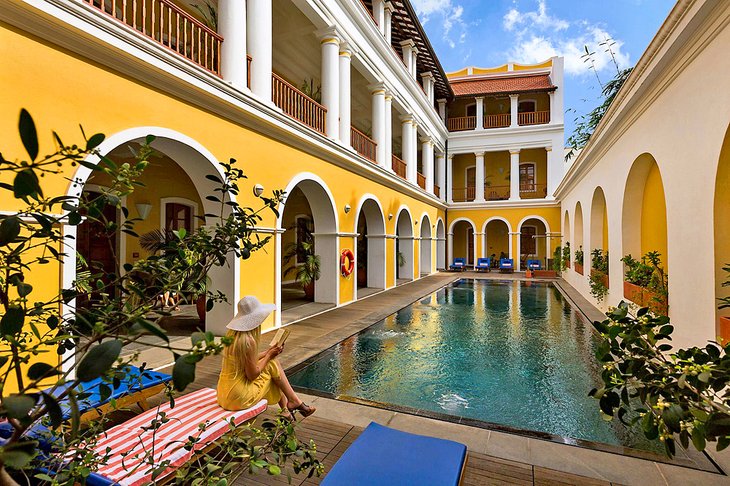 Accommodation: Palais de Mahe
Palais de Mahe is a three-star resort that looks like the scene of a vintage postcard depicting a luxurious getaway. It has a distinct French colonial character, with a lovely courtyard pool flanked by ochre yellow and white arches, an Ayurvedic spa, a café, and a rooftop restaurant that feels timeless.
The resort carries its heritage concept into the accommodations. Standard rooms maintain a simple, clean look, offset by patterned red accents on the bed and furniture.
The deluxe rooms, some of which come with private terraces, skew more intricate. They have huge windows with regal drapes, beds adorned with wooden carvings, and an impressive amount of space.
Fun fact: The resort sources most of its products from within a 50 mile radius of Pondicherry, giving guests opportunities to try locally made paper, soaps, fabrics, and more.
Address: 4 Rue Bussy Street, Lal Bahadur Shastri Street, Pondicherry