11 Top-Rated Resorts in Ooty
Often referred to as the "Queen of Hill Stations," Ooty offers a serene, nature-focused escape from city life in India. The destination brims with postcard-worthy views around every corner: sparkling lakes, misty hills, pristine eucalyptus forests, and epic valleys. There are also plenty of great resorts in Ooty for any type of tourist, whether you're looking for a romantic getaway with your sweetheart or a family vacation filled with adventures.
Many of these beautiful resorts are housed in heritage buildings that date back more than a century, giving you the chance to experience Ooty the way travelers did in the 19th century. Still, you won't be deprived of modern conveniences, like Wi-Fi, spas, and fitness centers.
And while most resorts in Ooty don't have swimming pools (it's often too chilly for a dip!), some have hot tubs where you can relax in steamy water beneath the stars.
Find the best accommodations for your trip with our list of the best resorts in Ooty.
1. Savoy - IHCL SeleQtions, Ooty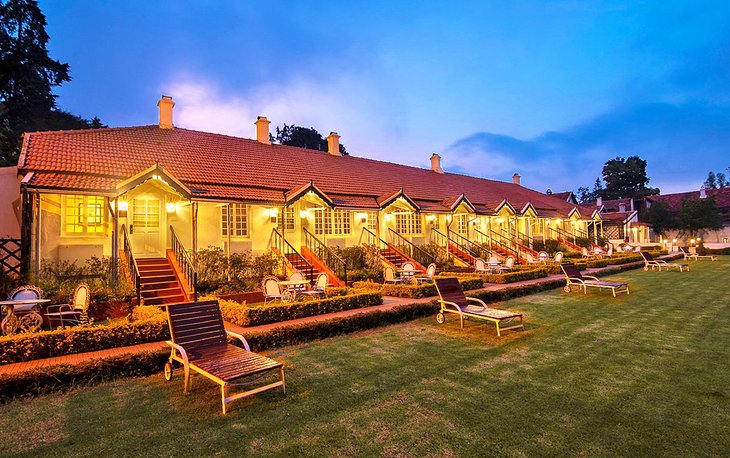 Accommodation: Savoy - IHCL SeleQtions, Ooty
The Savoy has been a landmark property standing in Ooty's misty hills since 1829. The five-star hotel feels like a resort on a beautifully landscaped property filled with more than 150 kinds of flowers and fragrant eucalyptus trees, along with its abundance of things to do.
Guests can play croquet on the lawn, feed the resident ducks and geese, take yoga classes, indulge in daily high tea, go cycling on the property, or even take a workshop on the vintage art of letter writing in the scenic Tea Lounge. The property also has a serene spa and a fitness center with all the essential equipment to get a great workout.
The Savoy's six acres contain just 40 rooms and cottages, giving tourists ample privacy. The accommodations have a distinct colonial character with modern amenities, like Wi-Fi and satellite TV.
The cottage rooms come with romantic fireplaces and private outdoor sitting areas. History buffs, try to score a reservation in rooms 101, 102, or 103. They still have the vintage teak wood beams that were dragged here on the backs of elephants when the building was under construction.
The family-friendly resort will keep you well fed throughout your stay in its stately dining room. It offers a selection of Anglo-Indian dishes, 400-year-old Badaga tribal cuisine, and vintage British foods, all of which will prove to be a memorable part of your vacation to Ooty.
Address: 77, Sylks Road, Ooty, Tamil Nadu
2. Mountain Retreat Ooty, a Hill Country Resort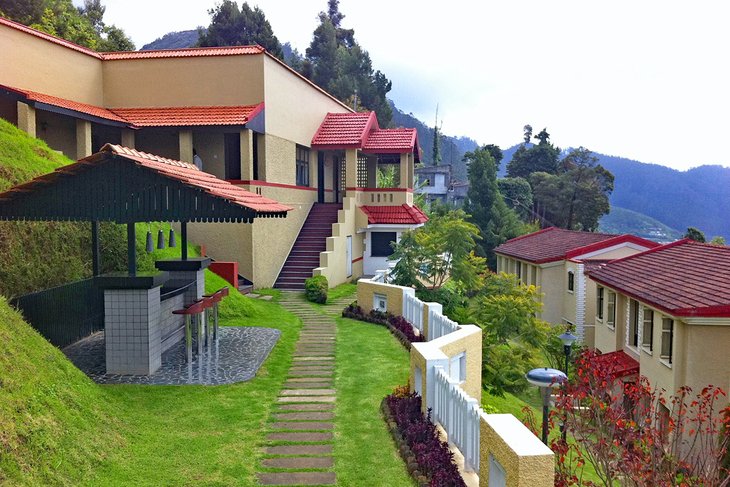 Accommodation: Mountain Retreat Ooty, a Hill Country Resort
Families can enjoy a fun, nature-focused vacation at Mountain Retreat Ooty, a Hill Country Resort. Nestled on a gentle slope in the Nilgiri Mountains, this four-star resort offers incredible views of the Ketti Valley and a quiet escape from urban life.
The property offers things to do for all ages, including a games room with table tennis and board games, nightly bonfires, a playground, and lovely walking trails.
The on-site restaurant, Orendo, will keep you fueled with a mix of Italian, Indian, and Continental cuisine.
Three types of accommodations are available at Mountain Retreat Ooty. The deluxe suites come with a king-size bed and windows overlooking the garden, while the premium suites give amazing views of the Ketti Valley and a more luxe vibe.
The two-bedroom premium cottages make a great option for families who want to spread out and have their own living and dining area.
Another strength of this resort is its outdoor activities organized by its specially trained staff. They can make arrangements for a day of golf, horseback riding, cycling, tennis, boating, hiking, or even picnic tours. Talk with them about the best way to personalize your Ooty itinerary.
Address: Grant Duff Road, Valley View, Lovedale, Ooty, Tamil Nadu
3. Gem Park Ooty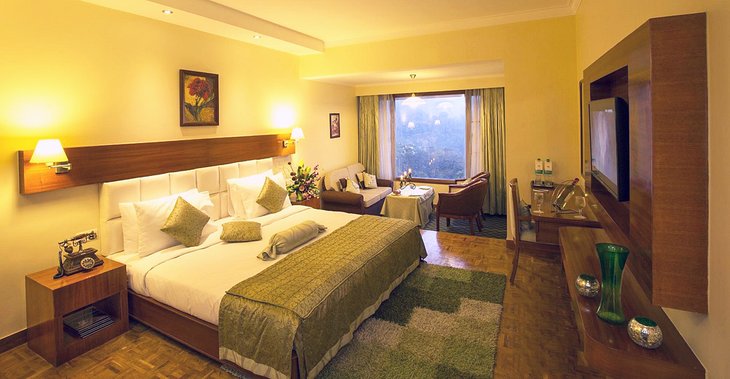 Accommodation: Gem Park Ooty
Gem Park Ooty is beloved for its convenient location in the heart of downtown, views of the Nilgiri Mountains, and its elegant style.
The four-star resort makes a great first impression right off the bat with its dressed-up lobby decked out with Indian art on the walls. It brims with facilities and amenities, including an Ayurvedic spa with a sauna and steam room, swimming pool, a state-of-the-art fitness center, salon for men and women, children's play area, billiards, giant chess, and sports court.
You can also find peace and clarity in Gem Park's soothing zen garden, which has a pagoda.
Accommodations at this resort have a laid-back, yet elegant atmosphere, and incredible views of the Nilgiri's highest mountain, Doddabetta. The cozy guest rooms are clean and modern, while the luxury suites feel more upscale and have a separate area for living and dining.
If you're celebrating something special, like an anniversary, you might want to splurge on the gorgeous presidential suite. It has its own mini library and private dining hall.
Food is a highlight at the Gem Park Ooty. The resort has several dining options to choose from, including a Chinese restaurant, pastry shop, and a multi-cuisine café.
Address: Sheddon Road, Ooty, Tamil Nadu
4. West Downs The Heritage Resort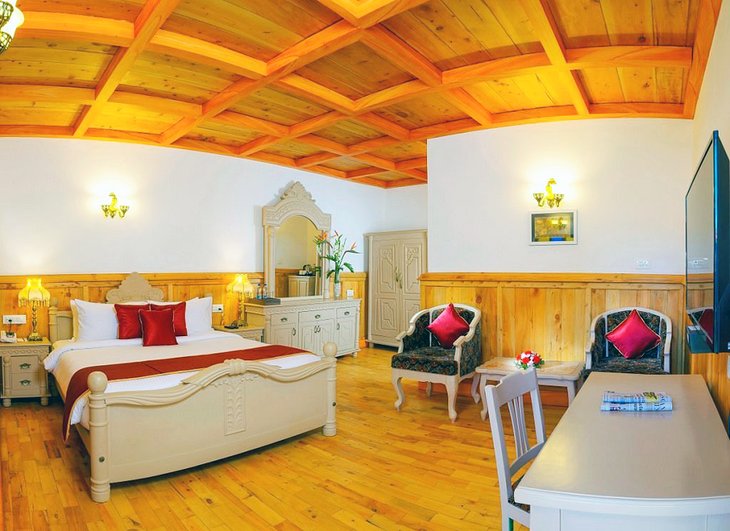 Accommodation: West Downs The Heritage Resort
Tucked amid a landscape of lush green surroundings, West Downs The Heritage Resort is another top place to stay in Ooty. The four-star resort began as a retreat for the British seeking an escape from South India's scorching temperatures during the colonial era and still features 19th-century Victorian-style architecture today.
On the property, guests can enjoy a wide variety of amenities, including nightly bonfires, a multi-cuisine restaurant, pretty walkways, and a fountain.
The accommodations at West Down Heritage Resort have some downright lavish touches. The bed frames and headboards are ornate, and some rooms even have canopy beds. You'll also find clawfoot bathtubs, lamps with beaded lampshades, curtains in royal hues, floral wallpaper in the bathrooms, and big mirrors.
Keep in mind that hot water is only available in the rooms and suites in the mornings and evenings, so you'll need to make a special request if you want a steamy shower between these times.
Sightseeing in Ooty is easy from this resort. It's situated less than three kilometers from the train and bus stations, so excursions are just a few minutes away.
Address: 100, Westbury Road, Mysore Highway, Ooty, Tamil Nadu
5. Rosewood By Nature Resorts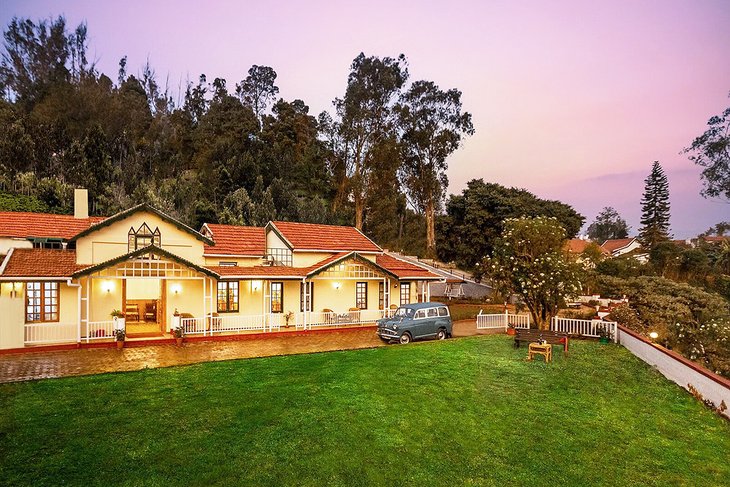 Accommodation: Rosewood By Nature Resorts
As the name implies, Rosewood By Nature Resorts is a four-star resort that's curated for tourists who love the outdoors. Its location on the outskirts of Ooty allows guests to be surrounded by green lawns and a misty forest.
Wi-Fi, room service, a restaurant, garden, and free parking are among the amenities available here. The resort's 24-hour front desk can help you make arrangements for things to do in Ooty, such as cycling.
Rosewood's four rooms retain a heritage style that pops with contemporary accents, like bright green pillows and tufted headboards. Guests have access to a charming wraparound veranda for fresh air and picturesque views. Each space is between 127 square feet to 203 square feet and can easily accommodate a family of four.
The resort has implemented many sustainability practices to keep its environmental footprint as light as possible. It minimizes its use of plastic, and purchases its supplies locally, among other efforts.
Address: Club Road, Monterosa Colony, Ooty, Tamil Nadu
6. Accord Highland Hotel Ooty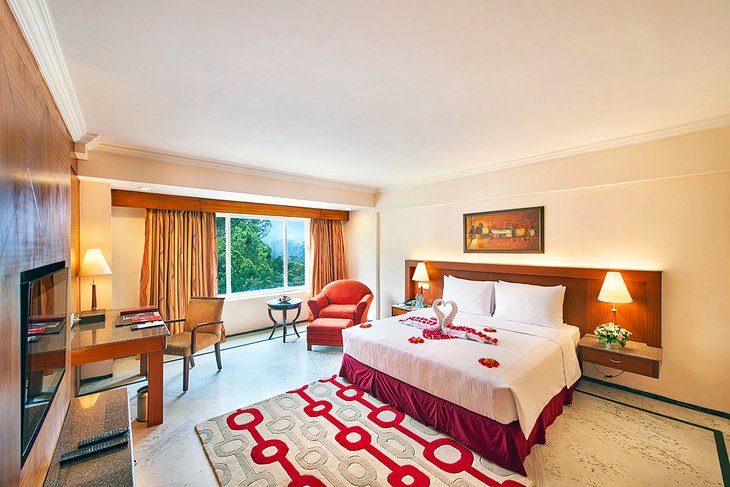 Accommodation: Accord Highland Hotel Ooty
The Accord Highland Hotel Ooty is a three-and-a-half-star hotel with a few resort-style amenities that kids and adults can enjoy. The family-friendly property's hot tub is a fantastic spot to soak sore muscles and warm up after a day of hiking or sightseeing.
Children can keep themselves entertained at the resort's fun zone, which has a mix of indoor and outdoor activities.
The on-site multi-cuisine restaurant offers a buffet, as well as a la carte dishes.
Guests can choose from four styles of accommodations at the Accord Highland Hotel Ooty. The base category superior rooms are designed with comfort in mind, offering 324 square feet, a wardrobe or closet, refrigerator, electric tea kettle, and flat-screen television.
The deluxe suites have nearly twice as much space and glorious views of Ooty, while the family suites include two separate bedrooms, a dining room, and a large living area.
The top category Highland Villa makes an ideal place to stay if you're on a honeymoon or celebrating something special. The regal space is crowned by skylights that offer mesmerizing views of the stars.
Another unique feature of this resort is its outdoor tea café, where you can take in glorious views of Ooty over a cup of chai and butter biscuits.
Address: 4 / 278, Doddabetta Junction Kotagiri Road, Ooty, Tamil Nadu
7. King's Cliff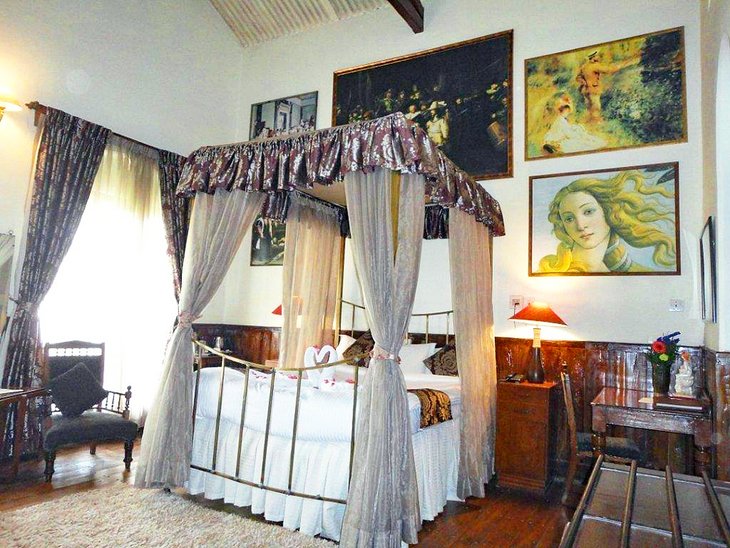 Accommodation: King's Cliff
Housed in a building that's more than 100 years old, King's Cliff is a heritage hotel that gives visitors to Ooty a resort-like experience. The three-star property feels welcoming the moment you enter.
There are plenty of things to do during your stay. Choose from horseback riding in the hills, adventurous jeep rides through the jungle, and excursions to a nearby tea estate.
You'll have lots of privacy at this resort, which has just nine rooms, all of which are named after the works of Shakespeare. They have a regal and warm ambience with modern amenities, including satellite TV and climate control. Some rooms have four-poster beds and fireplaces–perfect for a romantic getaway.
When you're hungry, you can dig into Continental, Mughlai, and Chinese fare at the on-site restaurant, Earl's Secret. The resort is also less than a 20-minute drive to one of Ooty's top attractions, M & N Chocolate Museum, where you can stock up on sweets for dessert.
Address: Havelock Road, Ooty, Tamil Nadu
8. Oxygen Resorts Ooty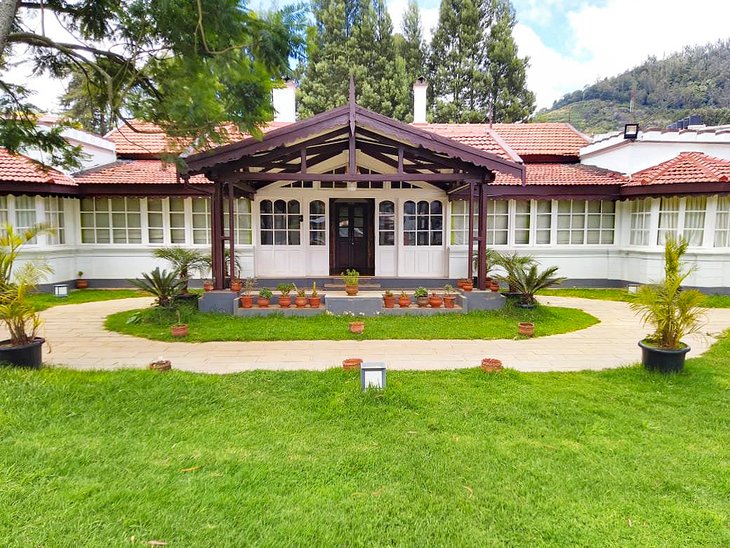 Accommodation: Oxygen Resorts Ooty
Oxygen Resorts Ooty offers visitors the chance to experience old-world hospitality with a stay in a colonial bungalow from the 19th century.
The three-star resort is located close to several top attractions, including the Government Botanical Garden, Ooty Rose Garden, and the Stone House and Government Museum. On the property, you can visit a café, restaurant, bookstore, garden, and gift shop. There's also an antique chess room.
Four-poster beds, antique decor, and expansive bay windows give the resort's guest rooms a charming vibe. Free Wi-Fi ensures you'll stay connected throughout your stay.
The resort also takes care to offer special touches for children–don't be surprised if you find your towels folded into quirky animal shapes when your room is refreshed.
Address: Coonoor Road, Thalayathimund, Ooty, Tamil Nadu
9. Sterling Ooty Elk Hill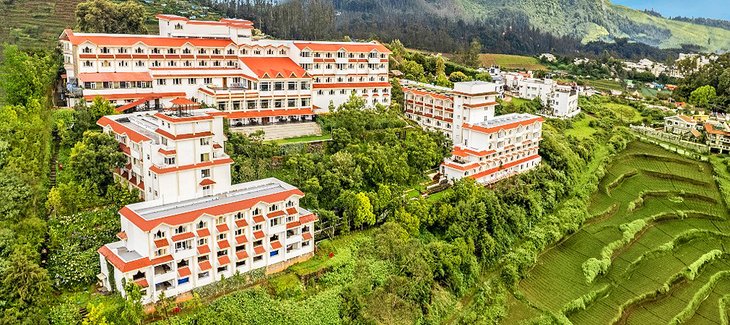 Accommodation: Sterling Ooty Elk Hill
Sterling Ooty Elk Hill is a three-star resort that faces Ooty's famous highland race course. It's known for having an abundance of indoor and outdoor games, including archery, badminton, car simulator racing, table tennis, video games, and carrom.
After a little friendly competition, you can wind down with a relaxing treatment at the resort's spa or stretch out in the fitness center. Two on-site restaurants serve food throughout the day.
The rooms at Sterling Ooty Elk Hill feel soothing, with soft colors, nature-inspired art, and windows that look out to the scenic valley. The extra-spacious family suites can be a smart option if you're traveling with children.
Couples in search of luxury may wish to opt for the "privilege suite," which feels like a high-end apartment.
Address: 25, Ramakrishna Mutt Road, R.K.Puram, Elk Hill, Ooty, Tamil Nadu
10. La Montana by TGI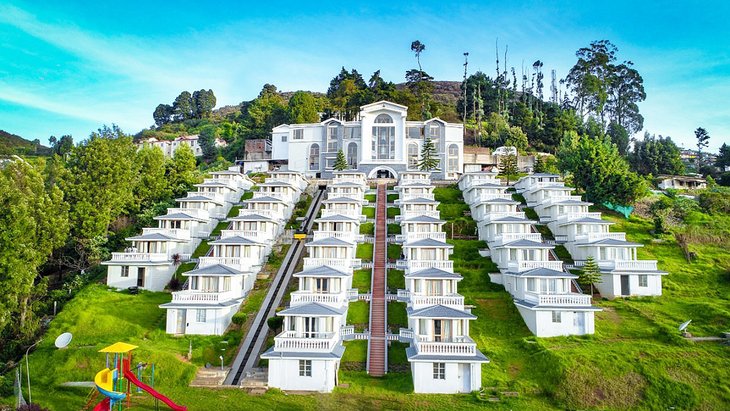 Accommodation: La Montana by TGI
Situated close to the Government Botanical Garden, La Montana by TGI is a three-star resort that offers accommodations in cottages terraced up a beautiful hill, giving every guest an amazing view at sunrise.
It's surrounded by lush greenery and huge gardens. The resort is home to a well-rated restaurant that serves a different menu each day and three-course meals at dinnertime. You can also use a game room, library, and health club during your stay.
There are two types of cottages to choose from. The base category executive cottage is simple and cozy. It also comes with a separate living area. The premium cottages feel more like modern hotel rooms, with complimentary Wi-Fi and 24-hour room service. It's a great option if you're used to a high level of service when you travel.
Address: Valley View, Grand Duff Road, Lovedale Post, Ooty, Tamil Nadu
11. Sinclairs Retreat Ooty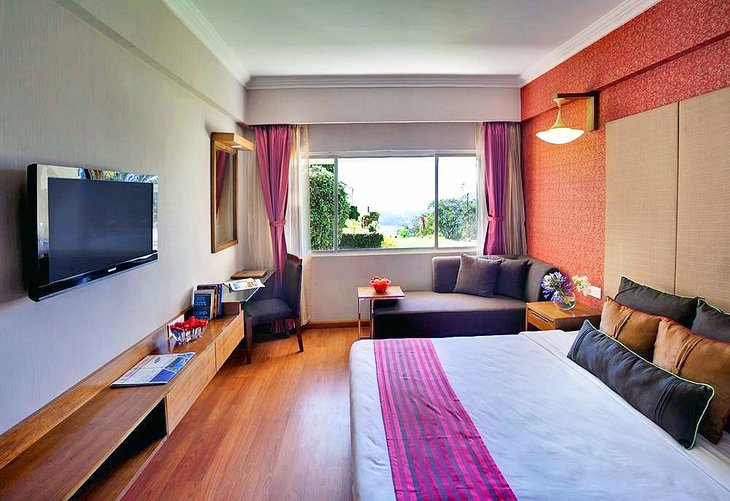 Accommodation: Sinclairs Retreat Ooty
At more than 6,500 feet above sea level, Sinclairs Retreat Ooty is the highest resort in South India. The three-star property is perpetually blanketed by clouds and surrounded by pristine forests.
For families, there are plenty of things to do at the resort. Play indoor badminton or table tennis, work up a sweat in the fitness center, relax in the spa, enjoy some time at the kids' play area, or spend an afternoon reading at the library. There's also a multi-cuisine restaurant and a coffee shop that serves treats made in-house.
Nearly 80 guest rooms and suites, along with two villas, are available at Sinclairs Retreat Ooty. The spaces are simple, yet well-appointed, with comfortable furniture, tea and coffee makers, and cable TV. It's easy to make yourself at home here.
The resort keeps its front desk staffed 24 hours a day, and room service is available.
Address: 444, Gorishola Road, Thalayathimund, Ooty, Tamil Nadu