10 Top-Rated Resorts in Munnar
Famous for its evergreen tea plantations, Munnar makes an amazing getaway from the hustle and bustle of India's dense cities.
This is a destination where you'll want to spend every minute recharging and soaking up the scenic beauty–and there's no better way to do so than with a stay at one of Munnar's best resorts.
The resorts offer spectacular views of the misty, verdant hills from comfortable suites and well-appointed guest rooms. Throughout these properties, you can splash around posh pools and let your stress melt away at world-class spas.
Plus, they can help you arrange unique things to do, like tea tastings, rides on India's longest zip line, nature walks with naturalists, cooking classes, and cycling tours.
Ready to plan your trip to this beloved hill station in Kerala? Find an amazing place to stay by using our list of the top resorts in Munnar.
1. Elixir Hills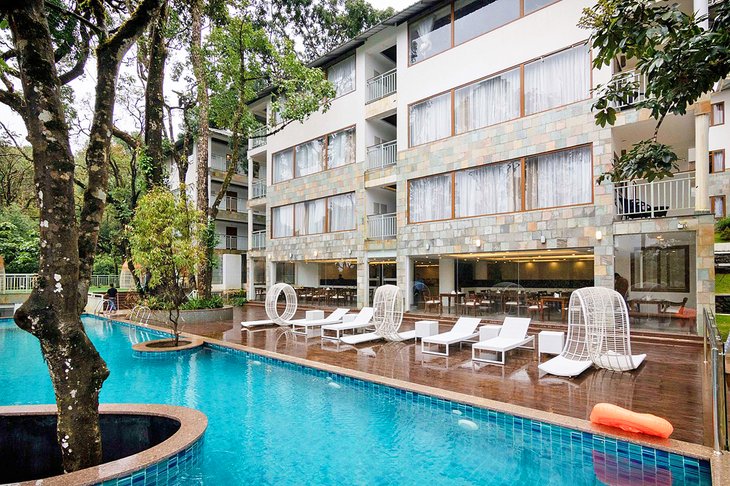 Accommodation: Elixir Hills
Elixir Hills is a five-star resort in Munnar that's best known for having some of the largest suites in the region.
This property is particularly popular with honeymooners, who find it romantic to stroll through the resort's mist-blanketed trails and admire its many butterflies.
Every guest gets free breakfast, along with access to a serene pool, hot tub, sauna, fitness center, and kids' play area.
Accommodations at Elixir Hills have a dreamy vibe, with beds canopied by translucent white curtains, spa bathrooms, wooden furniture, and lots of natural light. Balconies offer stunning views of the thick, dense forest. You can choose from a mix of suites, or a villa with a private pool.
Ayurvedic treatments are available at the on-site spa.
The resort's restaurant, the Grove, specializes in fresh seafood, but also offers a wide variety of other dishes for every kind of diet. The staff can help you arrange trekking experiences and visits to the top attractions in Munnar.
Address: Near Letchmi Tea Estate, Mankulam, Munnar
2. Chandy's Windy Woods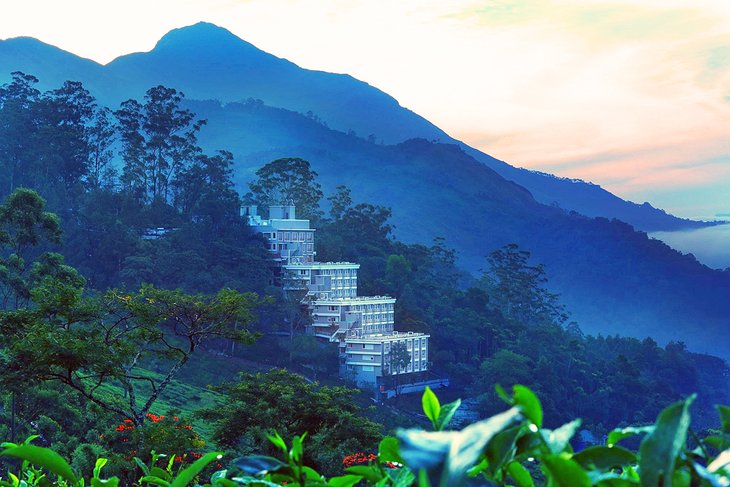 Accommodation: Chandy's Windy Woods
With accommodations terraced along a hillside overlooking the misty tea plantations of Munnar, Chandy's Windy Woods feels like a secret oasis.
This five-star resort sets a relaxing and contemplative ambience with muted grey tones, a softly-lit lobby, glass-walled elevators, and an enormous man-made tree that weaves its way throughout the architecture and walking paths.
A peaceful pool, game room, spa, and restaurant with Indian and international cuisine are also available on the property.
No matter which of the four categories of accommodations you choose, it'll come with a private balcony where you can appreciate views of the cloudy mountains. Deluxe rooms come with a work desk and lounge area, while the suites offer more space to spread out, pops of color in the bed linens and décor, and views in two directions. Kids stay free!
While it might be tempting to spend most of your time relaxing in the gorgeous rooms, it's also worth booking the many activities available at the resort. Chandy's Windy Woods offers enchanting forest tours, guided birdwatching expeditions, trekking, mountain biking, and jeep safaris.
Address: 2nd Mile, Meencut, Chithirapuram, Munnar
3. Blanket Hotel & Spa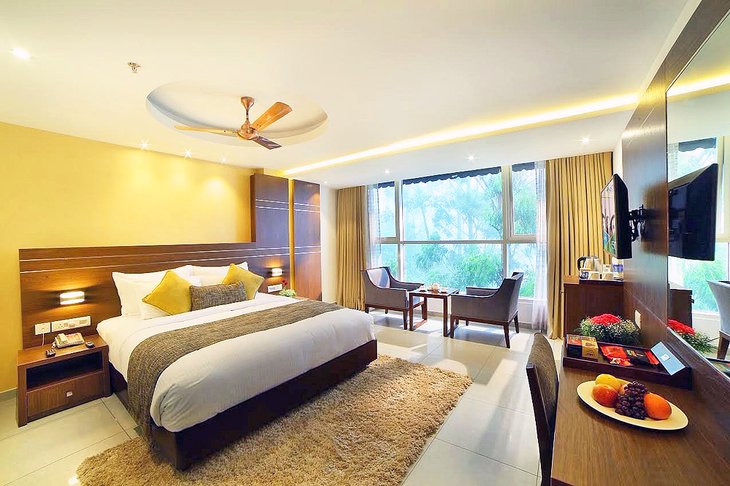 Accommodation: Blanket Hotel & Spa
Blanket Hotel & Spa is not only one of the best places to stay in Munnar, it has also earned recognition as one of the top properties in all of India.
This five-star hotel offers resort-style facilities, including a swimming pool with views of the famous Attukad Waterfalls, a luxurious spa that specializes in Ayurvedic treatments, a recreation center brimming with games, and a state-of-the-art gym. The two restaurants, along with in-room dining, ensure guests are always satiated.
Blanket Hotel & Spa has accommodations to suit couples as well as families. All of the 42 rooms come with large windows and postcard-worthy views, plush beds, air conditioning, Wi-Fi, and beautiful interior design. Higher-end room categories have more upscale amenities like Jacuzzi tubs.
The unique things to do at this resort can make your Munnar vacation all the more memorable. Highlights include treks with in-house naturalists, opportunities to dress-up like a Keralite bride and groom (and even have a traditional wedding!), and visits to local villages known for their tea. There's also a chocolate-making program designed for children.
Address: Aluva-Munnar Road, Attukad Waterfalls, Pallivasal, Munnar
4. The Leaf Munnar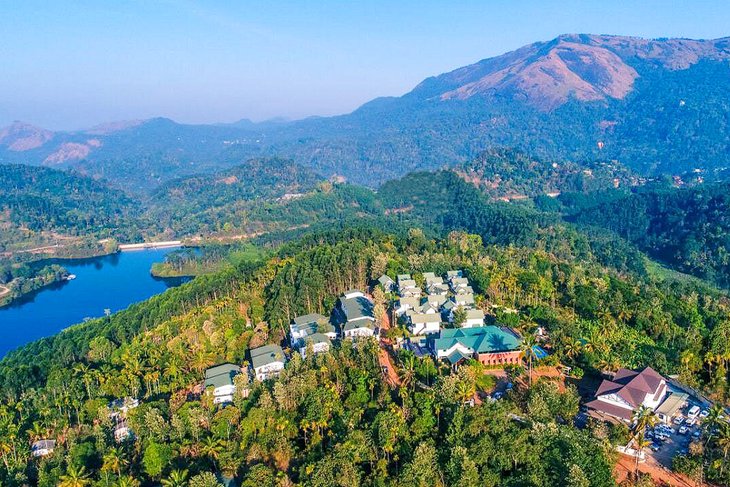 Accommodation: The Leaf Munnar
Tourists who prefer a charming cottage over an opulent suite will feel right at home at The Leaf Munnar.
In addition to comfortable rooms, this four-star resort is home to a large infinity pool overlooking a pretty valley, organic herb and vegetable gardens, sweeping grounds with quiet walking trails, a fine-dining restaurant, and a spa with thermal baths filled from a mountain spring. At night, guests are invited to sit around campfires and listen to live music.
Rooms here skew more creative and cozy than luxe, offering families a sense of home. The base-category rooms include queen-size beds, satellite TV, air conditioning, and room service. Some also feature balconies. Those looking for more space can opt for a villa, which comes with a private plunge pool.
There's almost never a dull moment at The Leaf Munnar. The resort has a schedule filled with activities, like cooking lessons, evening village walks, jeep safaris, and more. In-between excursions, you can enjoy some friendly competition with an assortment of indoor and outdoor games.
Address: Chithirapuram, Munnar
5. The Tall Trees Munnar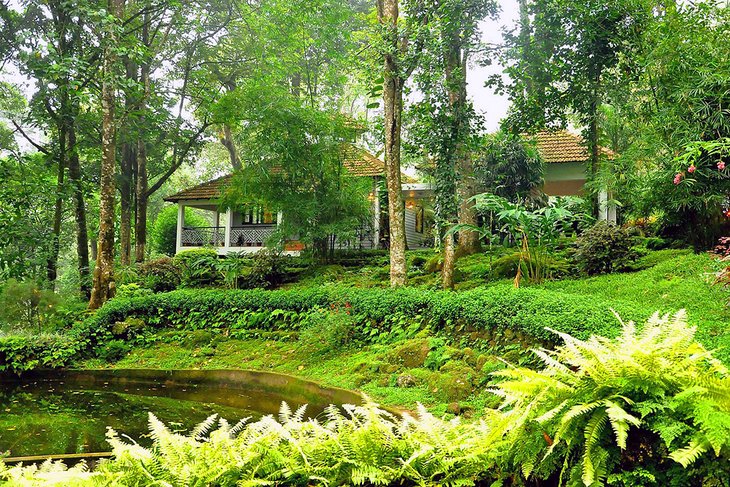 Accommodation: The Tall Trees Munnar
For a true escape in nature with ample amounts of privacy, consider a stay at The Tall Trees Munnar. This four-star resort has just 26 cottages spread out on 66 acres of shola forest land, with some 600 towering trees.
Each of the freestanding cottages are built on stilts to help protect the ecosystem on the ground below. They feature traditionally rustic Keralan design, and balconies that offer views of the lush, green scenery. Plus, free breakfast is available for every guest.
For even more impressive views, head to "Nature View Point"–just one of many wonderful amenities offered at the resort.
There are also lovely hiking trails, tea tastings every evening, a crystal-clear pool with temperature-controlled water and a Jacuzzi, a spa, fitness center, and an amphitheater.
There are also two restaurants on-site, including a rooftop café with barbecue facilities. A play yard is available to keep children entertained.
Address: Bison Valley Road, Pothamedu, Munnar
6. Parakkat Nature Hotels & Resorts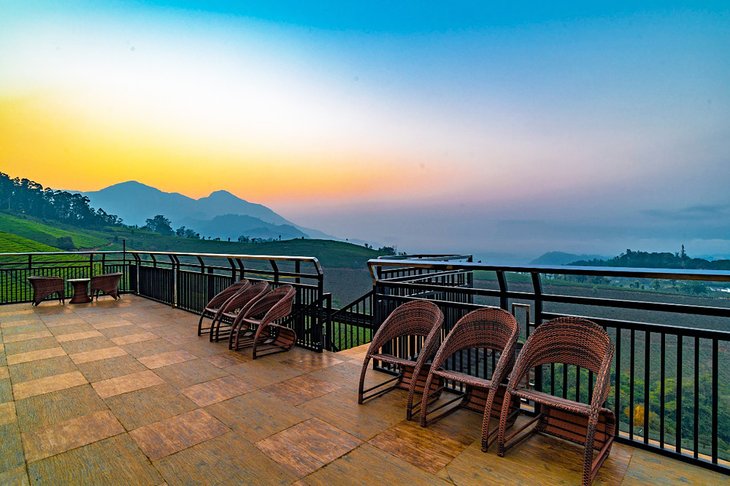 Accommodation: Parakkat Nature Hotels & Resorts
Just a short drive from the Attukad Waterfalls, Parakkat Nature Hotels & Resorts offers easy access to many of the top attractions in Munnar.
This four-star resort, which offers free breakfast to guests, is a favorite among honeymooners and families.
Its reception lounge with views of the tea gardens makes a magnificent first impression. There's a pleasant swimming pool guarded by a giant elephant statue, along with a spa with a large variety of massages on the treatment menu.
The unique architecture of the resort means that each of its 80 rooms have their own personality. Kaleidoscopic patterns on the tiled floors and wallpaper set a festive mood in many of the rooms and suites.
Balconies offer views of the undulating mountain ranges. Some rooms feature round beds for a honeymoon feel. One villa also offers a private pool.
For children, the resort offers free lodging, kid-friendly TV networks, a game room, and a playground. In other words, parents won't need to do much to keep them entertained!
Address: 2nd Mile, Pallivasal, Munnar
7. The Panoramic Getaway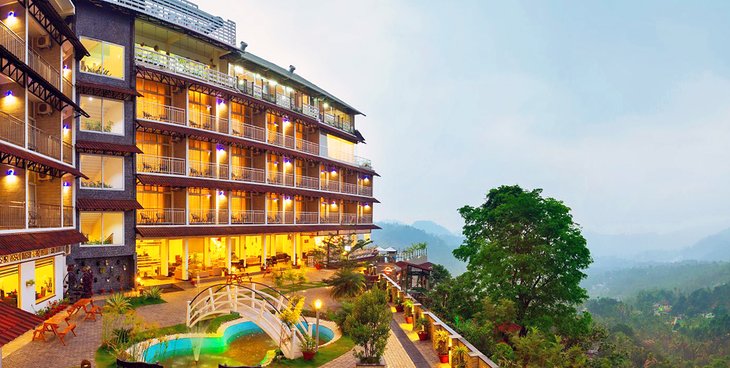 Accommodation: The Panoramic Getaway
As the name suggests, The Panoramic Getaway has some of the best views among resorts in Munnar.
Whether you're in your room or suite, taking a dip at the property's adults-only infinity pool or family-friendly heated pool, sipping a warm beverage at the coffee shop, or dining at either of the two on-site restaurants, you can gaze out on the spectacular scenery for which Munnar is known.
Rooms at The Panoramic Getaway are drenched in sunlight, thanks to the floor-to-ceiling windows. A control system at the bedside ensures you won't have to crawl out from under the covers to flick off a lamp across the room at bedtime.
Beds feature custom-designed mattresses, while the bathrooms boast rain showers. The wooden furniture and floors set a warm vibe, as well. For an even more memorable experience, consider booking a panoramic suite–it offers an outdoor jacuzzi for two.
Given that the landscape is such a signature part of the experience at The Panoramic Getaway, the resort has implemented several sustainability measures to help reduce its environmental footprint. It uses solar panels to heat its water and processed rubber wood to craft its furniture and save trees. It has also planted several thousand trees on its grounds.
Address: Munnar Bypass, Chithirapuram, Munnar
8. Mountain Club Resort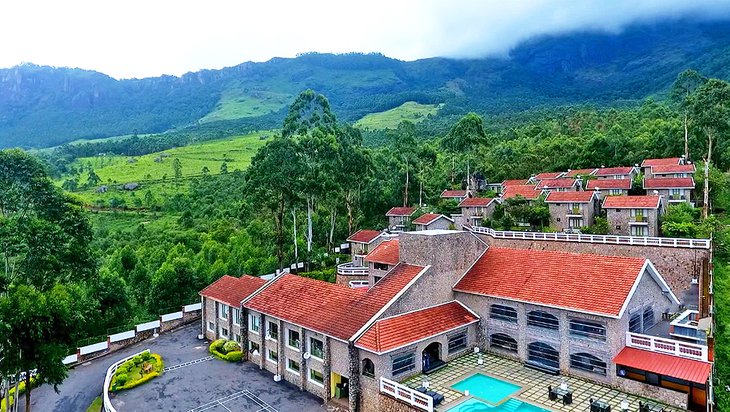 Accommodation: Mountain Club Resort
Situated on a hillside in the small hamlet of Chinnakanal, Mountain Club Resort is a four-star resort with cottages for guests.
The resort's amphitheater, banquet hall, and conference center make it a popular place for weddings, as well as business events. But there's plenty for everyday tourists to enjoy, as well, including a pool with views of a lake, a well-equipped health club, an Ayurvedic spa, a coffee shop, and a multi-cuisine restaurant with lavish buffet spreads.
Mountain Club Resort offers two levels of accommodations, both of which are in freestanding stone cottages with fireplaces. The intimate honeymoon villas are ideal for couples, while the more spacious family villas give parents and children lots of space and amenities.
Breakfast is included, and half-board and full-board packages are available for guests who want an all-inclusive type of stay.
You won't run out of things to do here. On the property, there are live cooking demonstrations and a kids' zone with lots of toys. The resort can arrange kayaking, hot air balloon rides, and thrilling rides on India's longest zipline. You can also rent a bicycle and explore the area on two wheels.
Address: Chinnakanal Suryanelli Road, Chinnakanal, Munnar
9. The Fog Munnar Resorts & Spa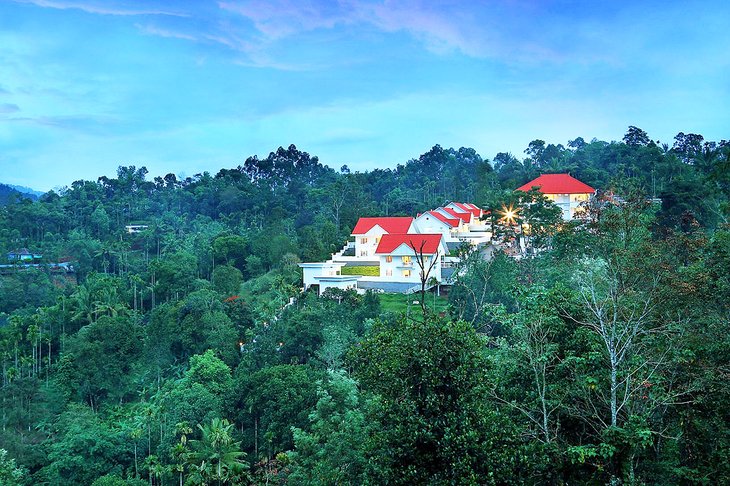 Accommodation: The Fog Munnar Resorts & Spa
The Fog Munnar Resorts & Spa is on a mission to ensure every guest leaves feeling lighter and more relaxed than when they arrived.
This four-star resort has an expansive pool with wonderful views, a rejuvenating spa with a steam bath, bicycles and numerous countryside cycling trails, yoga and meditation classes, and a laid-back club house where you can read and play chess.
Alaska, the resort's restaurant, will keep you fed throughout your stay.
The accommodations here are cozy and clean, with tasteful décor that naturally harmonizes with the beauty of Munnar. The two-bedroom fog villas come with a dining room, living room, and a private garden. While less spacious, the premium valley-view rooms have beautiful balconies that make the perfect spot for afternoon tea with a view.
This resort offers several ways to learn about the local culture, as well. It regularly hosts traditional dance recitals, local cooking demonstrations, and a traditional chai experience. There's also the option to take a nature walk with a naturalist who will help you spot endemic creatures.
Address: Eatty City Rd., Chithirapuram, Munnar
10. Spice Tree Munnar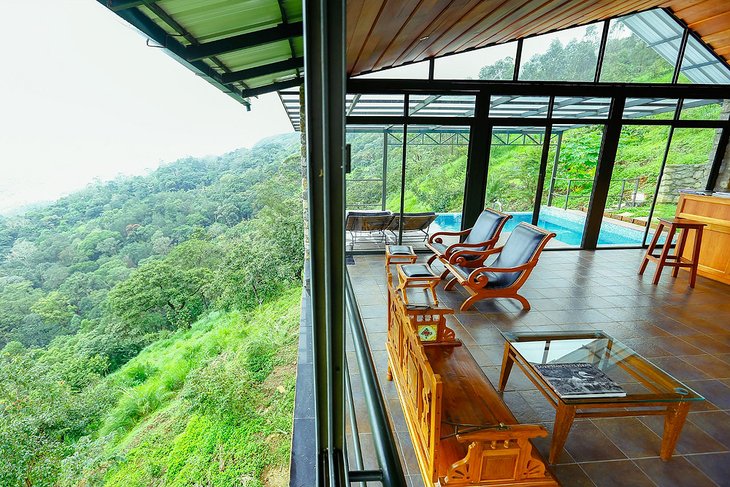 Accommodation: Spice Tree Munnar
Spice Tree Munnar is a four-star resort nestled among the Kannan Devan Hills and the Bison Valley hills. Its location ensures you get a cool mountain breeze and breathtaking views throughout the property.
Guests can relax on lounge chairs surrounding the photogenic swimming pool, borrow a novel or board game from the library, book rejuvenating treatments at the spa, and fill up at the bakery and family dining hall.
Accommodations come in three distinct categories at Spice Tree Munnar. The classic cottages feature colonial-style exteriors with soothing interior design, spa-like bathrooms, and Jacuzzi tubs next to windows with stunning views.
Villas come with private plunge pools on the balconies, and the honeymoon spa suites have wooden decks, hand-crafted copper tubs, and private patios shaded by canvas.
If the resort and scenery leave you feeling inspired, Spice Tree Munnar can give you a canvas, paint, and brushes to let your creative juices flow. Beyond creating artistic masterpieces, you can also take part in ethnic cooking classes, tea tastings, spice workshops, and relaxing nature walks, among other activities on the property.
Address: Muttukad-Periyakanal Road, Chinnakanal, Munnar