10 Top-Rated Resorts in Manali
The beautiful resorts in Manali make it worth the notoriously long, winding journey to this charming destination in the Himalayas, one of the best places to visit in India. They offer cozy, upscale accommodations (sometimes with a fireplace or balcony!) that will help you feel right at home the moment you arrive. Be sure to peek out the windows—nearly all the properties offer glorious views of the snow-covered mountains and enchanting forest.
The facilities at these resorts can help you make the most of your vacation. You can relax at the spa, keep up with your fitness at the gym, soak in the Jacuzzi, or take a dip in the swimming pool.
These properties also have great restaurants, which often serve a lavish breakfast buffet in the morning—just what you need to fuel up before a day of hiking, white water rafting, paragliding, or other adventures around Manali.
When you're ready to arrange your trip, find the perfect place to stay with our list of the best resorts in Manali, India.
1. The Orchid Hotel Manali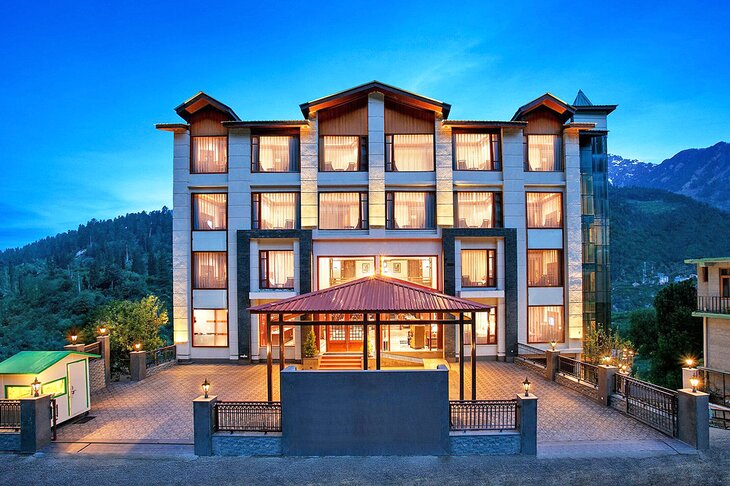 Accommodation: The Orchid Hotel Manali
A 15-minute drive from the Manali bus station brings you to one of the best resorts in the area: The Orchid Hotel Manali.
You can fuel up right away at the five-star property's on-site restaurant, Cafe Vindhyas, which offers cuisines from around the world. Then, make use of a variety of great facilities throughout the resort. It offers a spectacular pool with views of the snowcapped peaks, an indoor games room complete with air hockey, a children's playground, and outdoor fire pits.
The guest rooms and suites have a high-end feel, with beautifully printed bedspreads, colorful furniture, warm wood accents, and dazzling balconies overlooking the valley. The base category deluxe mountain view rooms span 380 square feet, while the mid-level rooms go up to 600 square feet and come with more amenities.
Breakfast is included. You can opt for a package that includes lunch or dinner, if you prefer.
The resort is just down the road from Discover Leh Ladakh, a tour operator, making it convenient to arrange sightseeing adventures and trekking around Manali.
Address: Shuru, Naggar Road, Manali, Himachal Pradesh
2. ManuAllaya - The Resort Spa in the Himalayas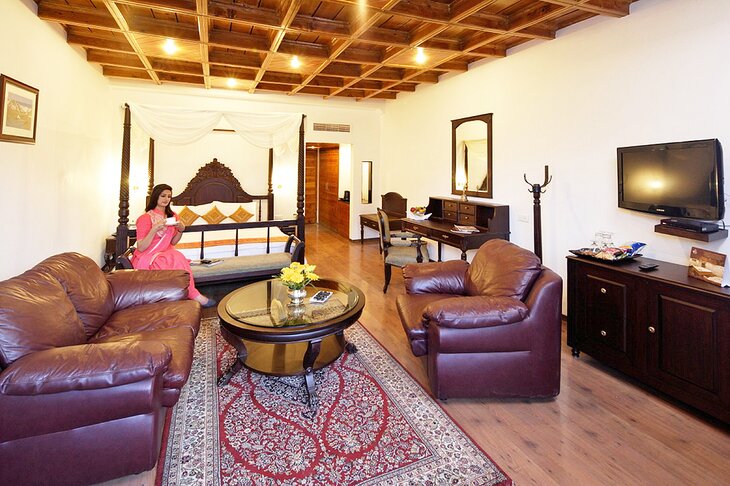 Accommodation: ManuAllaya - The Resort Spa in the Himalayas
It's hard to say whether children or their parents will have a better time at ManuAllaya, a four-star resort in Manali. The family-friendly resort has several unique opportunities for little ones, including the chance to feed ducks, pet the resident rabbits, splash around the large indoor swimming pool, skate on an indoor rink, and run around the playground.
But there are also fantastic facilities for adults, too, including a fitness center, indoor games room with chess and billiards, and a grand spa. Staying here is sure to prove memorable for the entire family.
The accommodations at ManuAllaya have been designed to suit the needs and preferences of different types of travelers. Traditional guest rooms with private balconies, king-size beds, deep bathtubs, and 24-hour room service are popular.
There are also deluxe suites that include a bedroom and separate living room for more privacy and space, duplexes with two bedrooms connected by spiral staircases, and cozy well-furnished cottages with room for up to six adults.
You're spoiled for choice when it comes to dining at this resort. Relaxed, casual meals are available at Cafe Jardin. For an exquisite Chinese dinner, head to D'Jong. Kibber offers Indian meals in a fort-like setting. And you can also sip warm drinks in the library.
Address: Sunny Side, Chadiyari, Manali, Himachal Pradesh
3. The Himalayan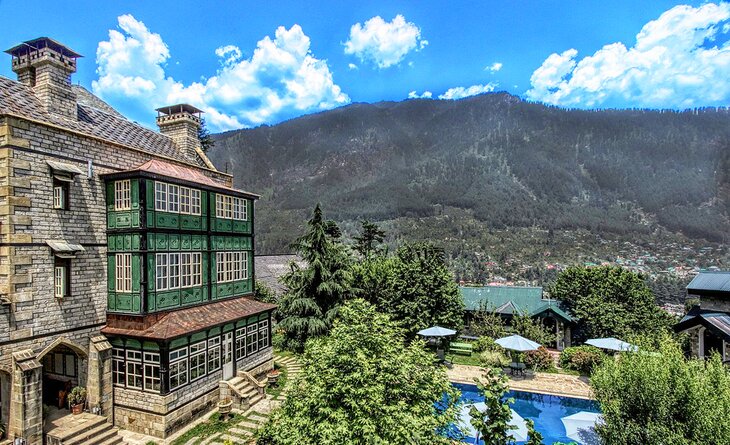 Accommodation: The Himalayan
If you love properties with a deep sense of place, you'll feel right at home at The Himalayan. The four-star resort is housed within a castle-like structure built in the Victorian Gothic Revival style and tucked away at the end of a cul-de-sac surrounded by apple and cherry trees.
It has an aquamarine pool surrounded by blooming gardens, an epic entrance hall with medieval-style archways and a tiled floor inspired by Pompeii, sitting areas with cast-iron fireplaces, a trampoline near garden paths, a fitness center, and croquet set up on the lawn. An elaborate spa is in the works.
You can choose to spend the night in one of eight chambers within the castle. The Victorian-inspired spaces have antique four-post beds, en-suite marble bathrooms with shower cubicles and bathtubs, and beautiful views.
Eight standalone duplex cottages are also available to reserve. They each have two bedrooms, a kitchenette, and a more contemporary feel. Nearly all accommodations include a fireplace.
The family-friendly resort has a restaurant on-site. If you're in the mood for some friendly competition with your fellow travelers, head to the dungeon for a game of billiards.
Address: Hadimba Road, Manali, Kullu Valley, Himachal Pradesh
4. The Moniker Resort & Spa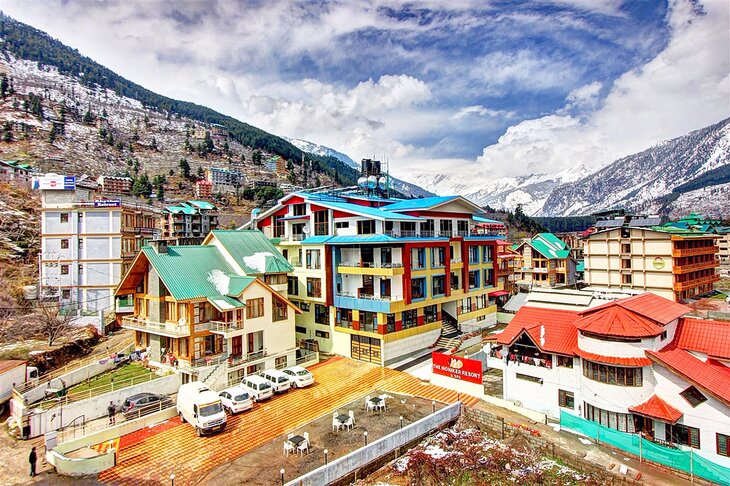 Accommodation: The Moniker Resort & Spa
Located right in the heart of Manali, The Moniker Resort & Spa is a convenient place for tourists who want to spend their time sightseeing and visiting all the top attractions. It's impossible to miss the four-star resort, thanks to the eye-catching red, blue, and yellow paint adorning the multistory structure.
On the family-friendly property, you'll find an upscale spa, separate restaurants for omnivores and vegetarians, a sauna, business center, gym, and 24-hour front desk.
A large resort, the Moniker has more than 50 spacious rooms on its premises. The premium and superior rooms have mod-style furniture, pink walls, platform beds, and small seating areas. The decor gets funkier once you upgrade to higher categories of rooms. Grandeur rooms have bright turquoise walls and sloping bed frames, while the Moniker suites feature round mattresses.
Grand suite rooms are recommended for families. They have picturesque views of the Himalayas. Free breakfast is included, and half-board packages are available.
When your kids need to burn off some steam, send them to the resort's game room. It's a worthwhile place to spend the afternoon.
Address: Rangri Simsa Road, Manali, Himachal Pradesh
5. Mastiff Grand Manali Resort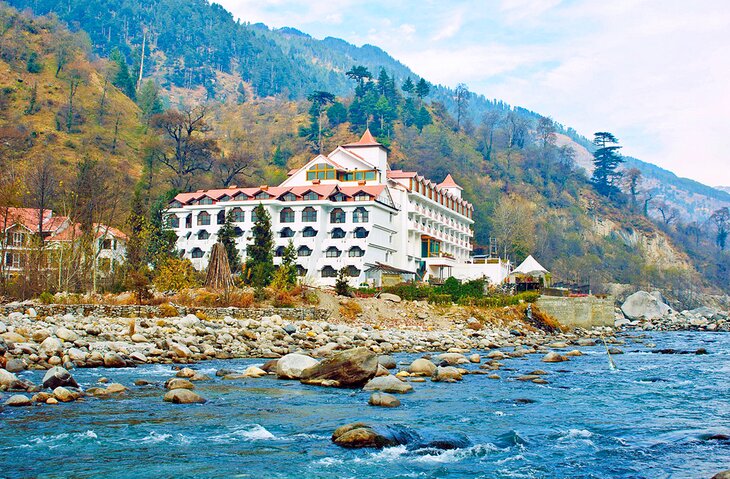 Accommodation: Mastiff Grand Manali Resort
Mastiff Grand Manali Resort is a four-star resort nestled on the banks of the Beas River. It has a café and restaurant that serves both Mediterranean and Indian cuisine 24 hours per day.
With an emphasis on wellness, the resort offers guests access to the Caldarium spa and a state-of-the-art fitness center. There's also a game room for both kids and adults.
Four room categories are available, each of which has a regal style, adjustable lighting, scenic views, and flatscreen TVs. The 200-square-foot premier and river view rooms are a great option for tourists on a budget. Suite rooms and duplex rooms, on the other hand, can work well for families or couples on a romantic getaway.
Breakfast is free during your stay.
Address: Kullu-Manali National Highway, Manali, Himachal Pradesh
6. Rock Manali Hotel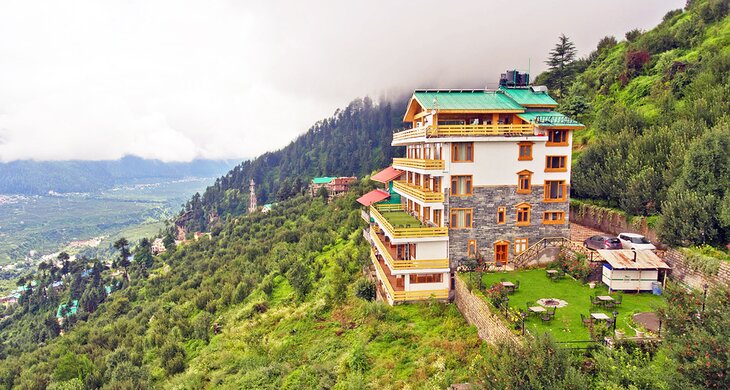 Accommodation: Rock Manali Hotel
Tucked at the base of the Himalayas, Rock Manali Hotel immerses guests in the lovely landscape of Manali. The four-star property, which is reminiscent of a Spanish courtyard, brims with natural features, like a stream, seasonal flowers, and lush lawns.
Guests can take meals at the on-site multi-cuisine restaurant or at the tables and chairs outside during the warmer months. You can also get a massage at the resort's spa, read in the library, and listen to live music in the evening.
Accommodations at Rock Manali Hotel have a contemporary atmosphere, with colorful bed linens, well-appointed furnishings, and sofas. Suites with views from three sides are available for guests, as well. Each space comes with an electronic safe, tea and coffee maker, daily newspaper, and LCD television.
The property has a number of family-friendly facilities. There's a playground, indoor play area, and plenty of games. The well-informed staff at the travel desk can also help you arrange excursions for tourists of all ages.
Address: Kullu-Manali Highway, Rangri, Manali, Himachal Pradesh
7. Hotel Thomas Villa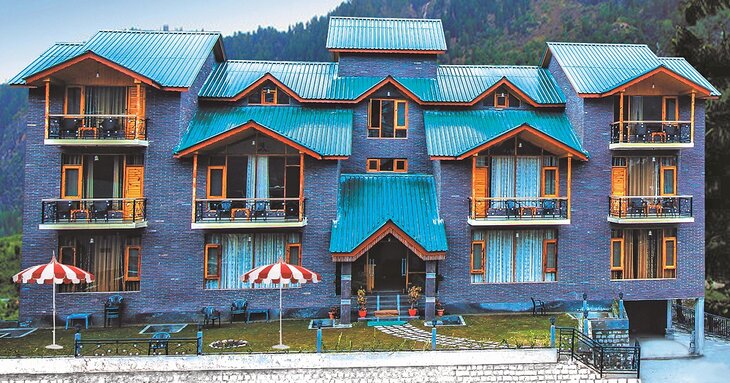 Accommodation: Hotel Thomas Villa
With views of the mountains from every room, Hotel Thomas Villa makes an amazing place to stay in Manali.
The four-star resort, which is located adjacent to a serene apple orchard, offers 24-hour room service and a multi-cuisine restaurant. It provides local pickup and drop-off from public transportation areas. It also runs sightseeing tours throughout Manali.
Free Wi-Fi is available in all the accommodations at this resort. Choose from three distinct room categories: deluxe, luxury, and super luxury. All have 32-inch televisions, impressive windows, glossy wood floors, plush king-size beds, and separate seating areas.
If you're traveling with a large family, consider reserving a cottage. It boasts three separate bedrooms, each of which has its own private bathroom, along with a balcony.
Free breakfast is included with your reservation.
Address: Kenyal Road, Manali, Manali Tehsil, Himachal Pradesh
8. Himalyan Monal by Blueko Hotels London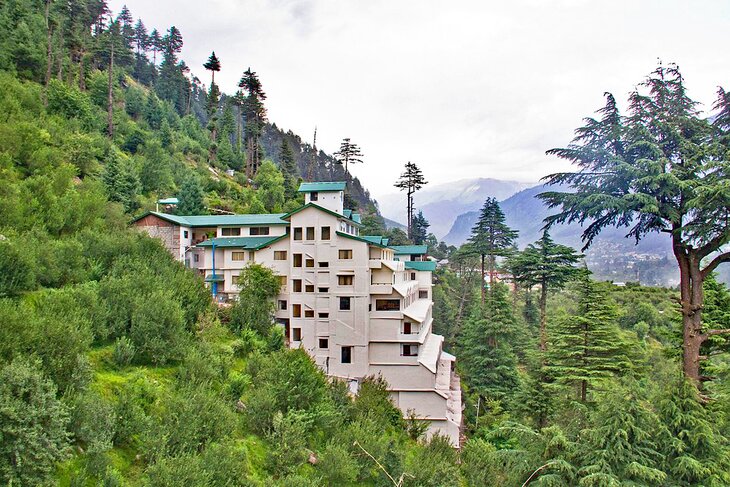 Accommodation: Himalyan Monal by Blueko Hotels London
Himalyan Monal by Blueko Hotels London is a four-star hotel tucked within a quaint village filled with plum and apple trees.
It has several resort-style amenities, including a gym, steam room, recreation zone for kids and adults, business center, and a restaurant that serves a variety of cuisines. You'll get to take in uninterrupted views of the mountains and river throughout the resort.
The property also offers a courtesy shuttle service to help guests visit attractions around Manali.
With 78 well-appointed rooms, the Himalyan Monal has lots of options for accommodations. Choose from standard guest rooms with a modern design, superior rooms with more space, deluxe rooms that have private balconies, and executive suites with separate living areas. Family rooms with twin beds or bunk beds are another option to consider. Turndown service is available upon request.
The on-site Anew Spa is the go-to spot for wellness. It offers a mix of Indian and international treatments, including massages and beauty services.
Address: Parsha Shaleen Road, Manali, District Kullu, Himachal Pradesh
9. Sun Park Resort Manali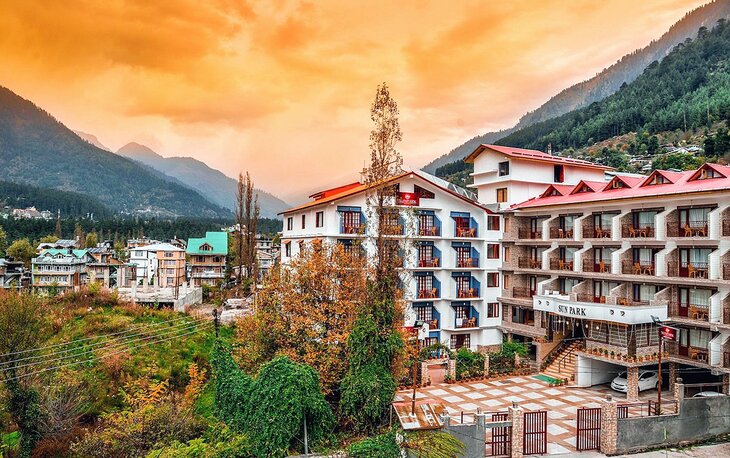 Accommodation: Sun Park Resort Manali
Sun Park Resort's laid-back vibe combined with its robust array of amenities makes it a solid home base for a trip to Manali. The four-star resort runs a round-trip shuttle to the airport. It's home to two restaurants, an arcade and game room, spa, and a fitness center.
Guests can stay in one of 71 rooms and suites. With wood paneling and knotty pine furniture, the accommodations have a cabin-like feel that's been modernized with colorful carpets and accent walls. Many of the spaces offer fantastic views of the mountains and private balconies.
The resort goes all out for honeymooners. If you're vacationing as newlyweds, don't be surprised to check in to a room with a round mattress topped with thousands of flower petals in romantic shapes.
If you're looking to spend lots of time in nature, the resort is located in close proximity to several hiking trails. Ask the 24-hour front desk about outdoor sightseeing opportunities in Manali.
Address: Left Bank, Aleo, Manali, Himachal Pradesh
10. The Orchard Greens Resort & Spa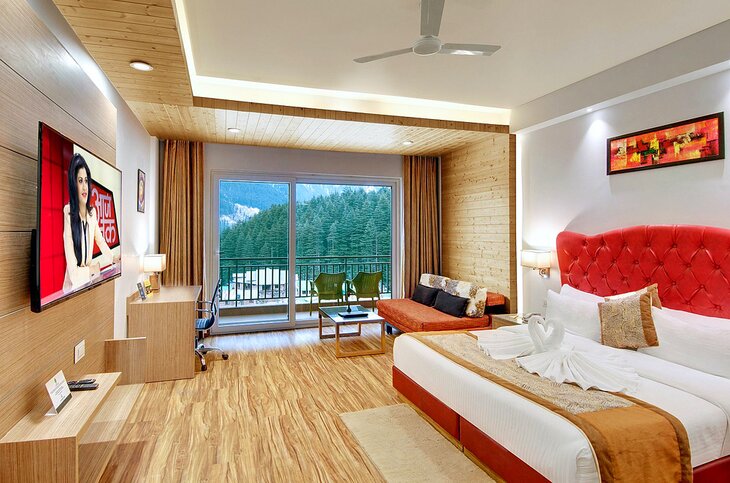 Accommodation: The Orchard Greens Resort & Spa
Snuggled within the lush green Deodar forests, The Orchard Greens Resort & Spa is a four-star resort with exceptional service and classy accommodations in Manali's Log Huts area.
Dining is a treat at this property's restaurant, Cafe Buransh, which has a live kitchen. The facilities at the family-friendly property include a spa, gym, Jacuzzi, kids' club, game room, badminton, and a banquet hall.
Every room at The Orchard Green Resort comes with a spectacular view of the mountains and forest. The accommodations have contemporary furnishings, bright pops of color, and free Wi-Fi.
Five categories of accommodations are available, the most popular of which is the deluxe room. The 325-square-foot space comes with a king bed, 50-inch LED TV, mini fridge, writing desk, and sofa. Consider upgrading to a family room if you're traveling with children, or a luxury room if you're on a romantic getaway and want to cozy up on your own private balcony.
The resort runs a frequent shuttle service, making it easy to explore Manali's top attractions.
Address: The Orchard Greens Log Huts Area, Manali, District Kullu, Himachal Pradesh