11 Top-Rated Resorts in Kodaikanal
The resorts in Kodaikanal will make your trip to this legendary hill station in South India one of your most memorable vacations ever. They offer accommodations with mesmerizing views of the landscape's signature lakes, misty forests, and verdant hills.
The properties brim with ways to enjoy the great outdoors, including garden strolls, cycling trails, and guided hikes. Plus, they have spas and Ayurvedic centers, where you can get pampered from head to toe.
These properties have you covered at mealtime, as well. Several of the top resorts in the area have multi-cuisine restaurants with special culinary experiences, like cooking demonstrations and al fresco dining beneath the stars. Whether you're looking for a private cottage, luxury suite, or family-friendly lodging, you can find just what you need in the "Princess of Hill Stations."
Before finalizing your vacation plans, find the perfect accommodations for your hill station getaway with our list of the top resorts in Kodaikanal.
1. The Carlton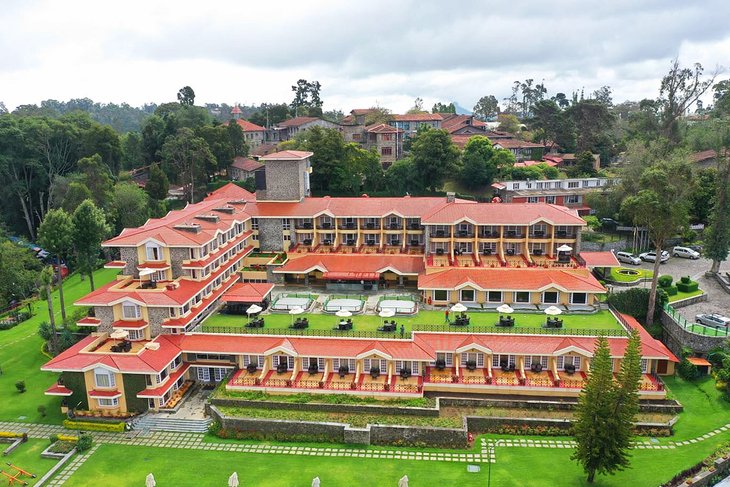 Accommodation: The Carlton
The Carlton is a four-and-a-half-star property that offers stunning views of the surrounding mountains, lake, and beautiful gardens.
Foodies, eat your heart out: The resort is home to one of the top restaurants in Kodaikanal (Silver Oak), a rooftop terrace that serves pasta and barbecue, and a cozy coffee shop complete with a fireplace.
You can find near endless things to do at the resort's family-friendly clubhouse. Choose from air hockey, foosball, cycling, board games, horseback riding, and boating. There's also a spa with a steam room.
This Kodaikanal resort offers a few types of accommodations to suit the needs of different kinds of tourists. The base category deluxe rooms come with a private balcony overlooking the lake, stylish wooden flooring, and conventional hotel amenities (like TVs, Wi-Fi, and coffee makers).
Guests who need a lot more space may want to book one of the premium cottages, which have separate bedrooms and living rooms, as well as a private garden. Luxury-seekers will feel even more at home in one of the executive suites. These high-end rooms have the best views of Kodaikanal Lake, a huge amount of space, king-size beds, and swanky decor.
Live entertainment is a highlight at The Carlton. The resort regularly hosts magic shows, dance recitals, and performances from fire-eaters to make your trip to Kodaikanal even more special.
Address: Lake Road, Kodaikanal, Tamil Nadu
2. Fairway Inn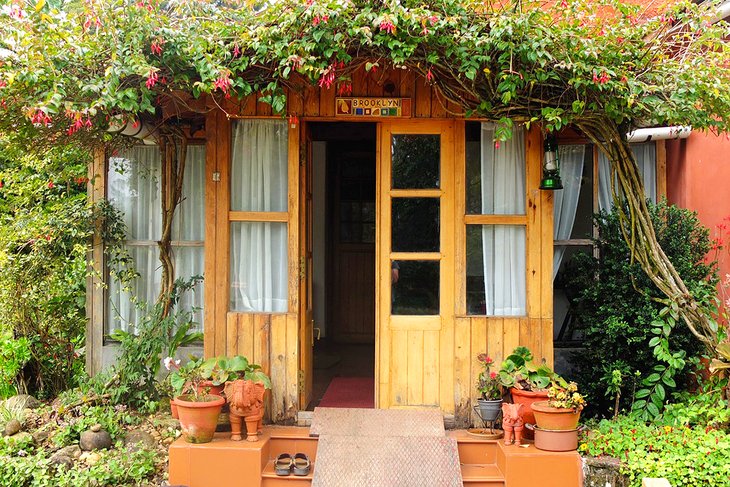 Accommodation: Fairway Inn
The Fairway Inn is one of the only five-star properties in Kodaikanal. It's been around for more than 190 years and has counted celebrities, royalty, and world leaders among its guests.
The homestay gives guests a resort-style experience with lush gardens, a fitness center, relaxing spa treatments, and private golf lessons from professional coaches. It's also within walking distance of picturesque Kodaikanal Lake.
Guests can choose from two types of accommodations at the Fairway Inn. The colonial cottage has a rustic, countryside atmosphere with a small drawing room, large bedroom, fireplace, and kitchen. It's a smart choice for families.
On the other hand, the eco cottage is a sustainably built structure made from natural materials, and includes a luxury Jacuzzi and rainforest shower. It's just the right setting for a romantic getaway with your partner. Both types of rooms have modern amenities, including video games, Wi-Fi, and 51-inch TVs. All-inclusive packages with three meals per day are available.
In addition to being a cozy place to stay, the Fairway Inn can also help you plan fun things to do in Kodaikanal. It offers an array of excursions, including guided wilderness hikes, visits to organic farms, and canoeing.
Address: Brooklyn, Convent Road, Kodaikanal, Tamil Nadu
3. Le Poshe by Sparsa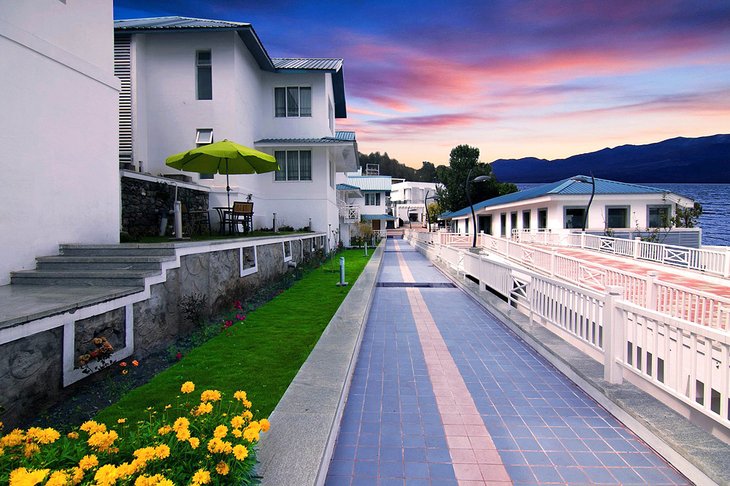 Accommodation: Le Poshe by Sparsa
It's easy to have a fun, memorable family vacation to Kodaikanal with a stay at Le Poshe By Sparsa.
The four-star resort has a luxe spa, well-equipped fitness center, and a kids' club chock-full of toys and games for young tourists. There's also a homey lobby with lounge furniture and views of the scenery, as well as an outdoor restaurant, where the chirps of birds create a pleasant atmosphere to enjoy breakfast.
Accommodations consist of interconnected cottages. The interiors are modern, with large comfy beds draped with red bedspreads and pillows, garden views, flat-screen TVs, seating areas, and spacious bathrooms. Breakfast is included.
The resort is located in close proximity to several top attractions in Kodaikanal, including the Kurinji Andavar Temple and the dramatic Pine Forest.
Address: No.25, Sivanadi Road, Kodaikanal, Tamil Nadu
4. The Fern Creek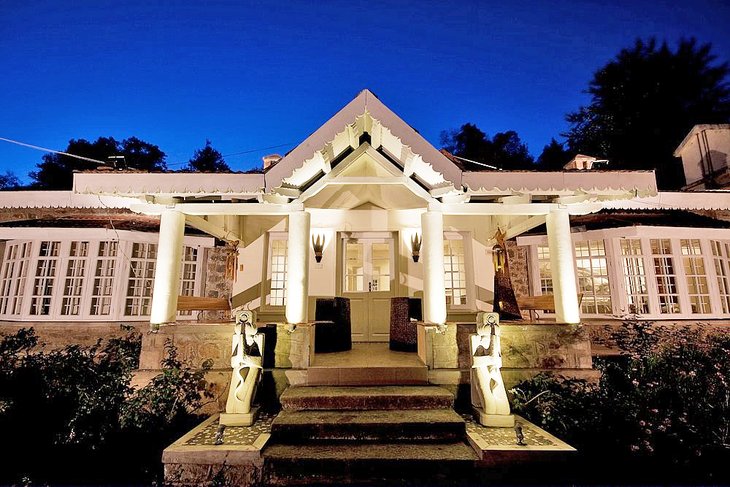 Accommodation: The Fern Creek
If you want to escape the hustle and bustle of everyday life, book a stay at the Fern Creek. This four-star, adults-only resort offers accommodations within luxurious Swiss tents spread across several acres, so you'll have tons of privacy.
While these tents keep you immersed in nature, they also have modern creature comforts, including fireplaces, king-size beds, flatscreen TVs, heaters, mirrors, Wi-Fi, and conventional bathrooms with hairdryers and robes.
At the property, you can also relax in the heritage-style reception building, dine at the in-house restaurant, order room service at any time of the day or night, cook meals on the barbecue facilities, warm up around the campfire, and take bike rides. Entertainment staff are available to help you arrange even more things to do.
Address: Fern Hill Road, Kodaikanal, Tamil Nadu
5. Sterling Kodai Valley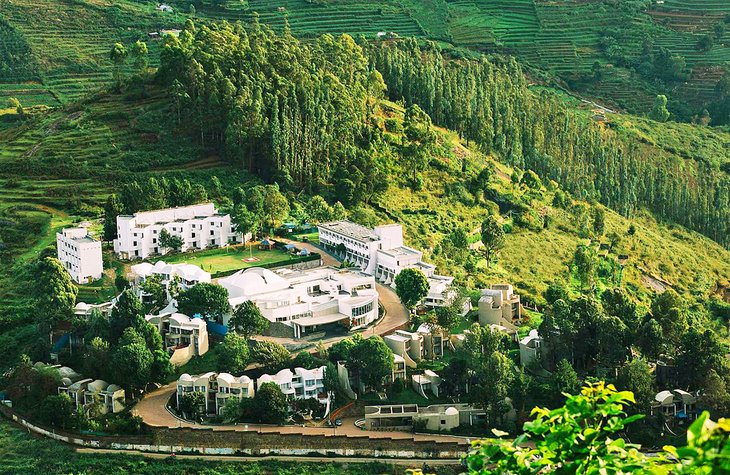 Accommodation: Sterling Kodai Valley
Situated on a beautiful hillside just outside of town, Sterling Kodai Valley is a three-star resort with unique accommodations and amenities galore.
It's home to the Subuthi Spa, which offers massages, Ayurvedic therapies, facials, and body wraps.
There are two places to dine on-site, including a buffet with local specialties, like Kodi fry and Urlai roast.
Guests can also take advantage of fun facilities around the property, including karaoke, badminton, a library, cricket, bonfires, archery, a 3-D movie theater, and a fitness center.
The resort's 108 rooms are divided into architecturally interesting structures, like a leaf-shaped block and a lotus-shaped building. They have comfortable furnishings and contemporary decor, along with big windows with views of the valley.
While the base category classic rooms are functional, they're relatively compact compared with other types of accommodations at the Sterling Kodai Valley. Consider booking the privilege suite or family suite if you need more room to spread out.
There are plenty of nature trails around the property, so you won't need to go far if you want to take a hike. Post-trek picnics can also be arranged.
Address: No. 25, Pallangi Road, Attuvampatti, Kodaikanal, Tamil Nadu
6. Great Trails Kodaikanal By GRT Hotels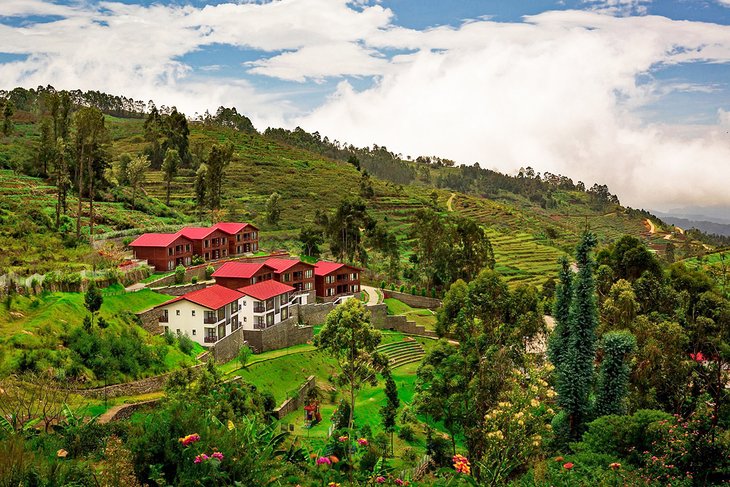 Accommodation: Great Trails Kodaikanal By GRT Hotels
Craving a cozy getaway in the outdoors? Book a stay at Great Trails Kodaikanal By GRT Hotels. The three-star property is set in a serene area of Kodaikanal with amazing views of the lush valleys.
The resort spoils guests with its amenities, including the renowned Bodhi Spa and the gourmet Whistler Cafe–just what you'll need after a day of hiking and sightseeing around the hill station.
The resort has 40 rooms, which have a warm atmosphere and cabin-like touches, like plaid bedspreads. The 225-square-foot Rock Cabins offer queen-size beds and views of the nearby brook.
Valley-view rooms are a bit larger at 250 square feet and look out upon the valley from giant windows. There are also timber chalets, which are nearly twice the size of lower category rooms, and are decked out in Indonesian wood from floor to ceiling. They have the most scenic views on the property. Complimentary Wi-Fi is available in all rooms.
No matter your age, you can find something fun to do at this family-friendly resort. It has an exciting adventure game zone that includes ziplines, balloon shooting, a trampoline, and horseback riding (upon request).
Address: Bharathi Nagar Vilpatti, Kodaikanal, Tamil Nadu
7. Sterling Kodai Lake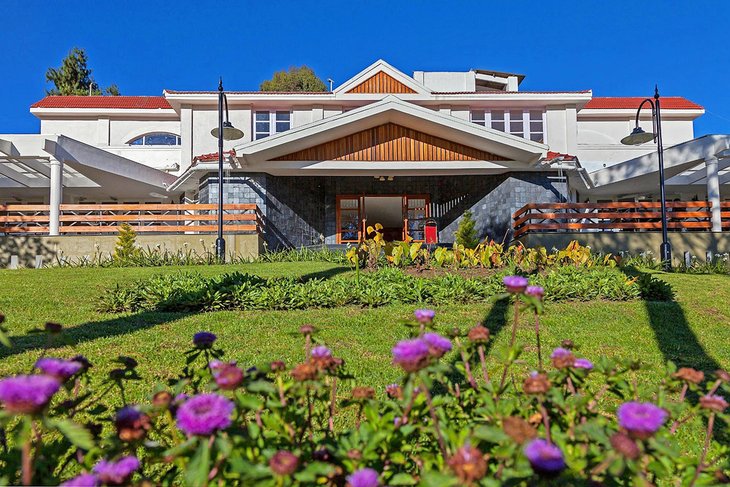 Accommodation: Sterling Kodai Lake
As its name suggests, Sterling Kodai Lake is a three-star resort with magnificent views of the water. Across the 6.5-acre property, you can find a spa, activities center, and fitness center.
You can also dine at two distinct restaurants, one of which offers a sumptuous buffet.
Each of the 102 well-appointed rooms at this family-friendly resort have simple, yet comfortable furniture, polished wood floors, and windows with views of the landscape and gardens. Pet-friendly rooms are available if your pup is joining you on vacation.
The resort also has several family suites, which can accommodate up to six adults, in an apartment-style space.
The resort hosts an extensive list of activities to help guests make the most of their trip to Kodaikanal. Choose from mini golf, arts and crafts, archery, cycling, table tennis, and yoga–just to name a few.
Address: New Kodai Lake, 44, Gymkhana Road, near Brindavan School, LakeView, Kodaikanal, Tamil Nadu
8. Mango Hill Kodai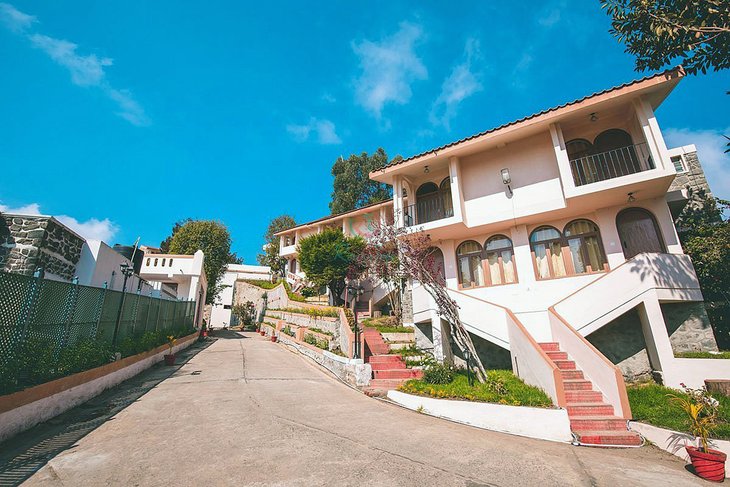 Accommodation: Mango Hill Kodai
Visitors to Kodaikanal will have a hard time finding a more convenient place to stay than Mango Hill Kodai. The three-star resort is situated right in the heart of town and overlooks the lovely gardens at Chettiar Park (the perfect place for a morning stroll!).
The property itself also offers lots of things to do. You can spend your days relaxing in the spa, watching your kids enjoy the play area, strolling the garden, and sampling a variety of cuisines at the rustic restaurant. By night, warm up around the bonfire as musicians perform live.
Standard hotel rooms, studios, and two-bedroom villas are available at Mango Hill Kodai. The accommodations are on the smaller side, but contain everything you need for a sense of home after a day of sightseeing.
Expect comfy beds, tiled floors, sunny windows, and flat-screen TVs. Overall, the resort has a cottage-like atmosphere that perfectly aligns with the vibe of the destination.
Address: 6/103, Chettiar Park Road, Kodaikanal, Tamil Nadu
9. Hotel Kodai International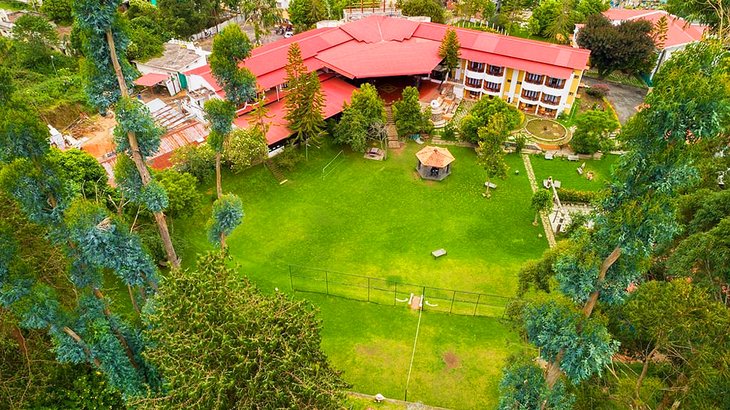 Accommodation: Hotel Kodai International
Hotel Kodai International is one of the largest family-friendly resorts in Kodaikanal. The three-star property offers 75 rooms spread across several buildings, and plenty of facilities to enjoy.
If you're interested in seeing wildlife, you don't have to leave the property to visit a zoo. The resort houses several types of animals, including emus, rabbits, pheasants, ducks, and African love birds–just one of the ways this resort distinguishes itself from others in Kodaikanal.
The resort also has an Ayurvedic spa, indoor and outdoor games, a children's playground, cricket facilities, and more.
The rooms at Hotel Kodai International have shiny wood floors, large beds, and tall ceilings for a loft-like feel. Many of the accommodations include a private balcony. The suites offer a particularly impressive panoramic view of a waterfall, plus two TVs. All-inclusive packages are available.
When you're hungry, you can find a mix of Chinese, continental, Mughlai, and various types of Indian cuisine at the on-site Orchard Restaurant. There's also a special outdoor tea shop and a 24-hour café.
Address: 17/328, Laws Ghat Road, Kodaikanal, Tamil Nadu
10. Kodai Resort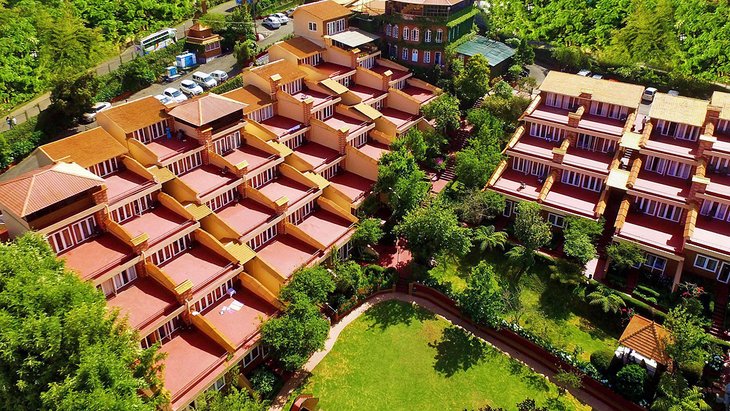 Accommodation: Kodai Resort
Kodai Resort is a three-star resort that's near some of Kodaikanal's top attractions, including Coaker's Walk and Bryant Park.
Its on-site restaurant, Overdane, serves cuisine from around the world.
The property offers two facilities for relaxation and rejuvenation: an Ayurvedic center and a beauty parlor with spa treatments. An indoor games facility, aviary, open barbecue, bonfires, and a library offer plenty of ways to enjoy your time at the resort.
The accommodations make Kodai Resort a dream honeymoon destination. It offers 50 luxurious cottages that have a romantic atmosphere and ample privacy for your vacation. Each comes with a separate bedroom, living space and dining room, European-style bathroom, and balcony. There are also specific "honeymoon cottages," as well. All reservations include breakfast.
Address: Coaker's Walk, Kodaikanal, Tamil Nadu
11. The Tamara Kodai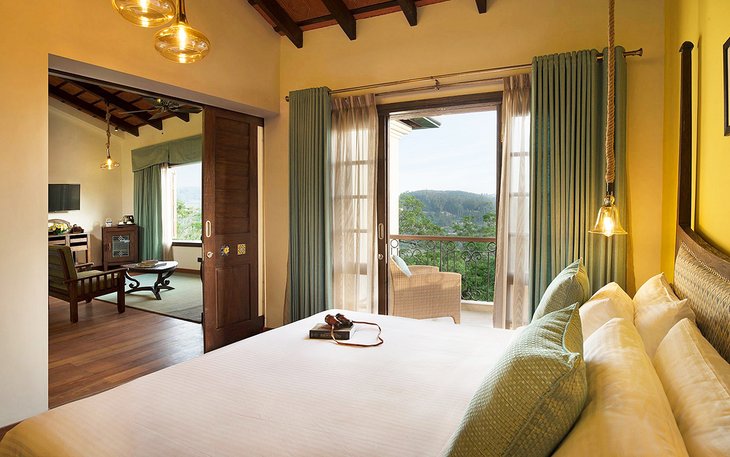 Accommodation: The Tamara Kodai
Tracing its history back to the 1840s, the Tamara Kodai is a luxurious resort steeped in history. The all-suite property offers guests an array of activities, including trekking, mountain biking, board games, and culinary demonstrations.
Plus, it's one of the only resorts in Kodaikanal with a swimming pool. The temperature-controlled water makes swimming a treat, even when it's a bit chilly out. On clear nights, the resort lights bonfires on the decks of its two restaurants for a romantic night of dining under the stars.
Suites at this resort range from 450 to 900 square feet. They have a colonial-style ambience and offer a balcony, views of the hills and valleys, and upscale furnishings. Guests who choose the superior luxury suites get a few bonuses during their stay, including a fruit basket, daily breakfast, evening coffee or tea, and a complimentary couple's archery lesson.
Address: 22, La Providence, St. Mary's Road, Kodaikanal, Tamil Nadu