10 Top-Rated Resorts in Kabini
Resorts in Kabini make the ideal vacation if you're looking for a retreat from Bangalore. Situated on the north and south banks of the serene Kabini River, which is home to a large elephant population, these properties offer the chance to see spectacular wildlife and enjoy the great outdoors. They also offer plush accommodations where you can recharge after a day of sightseeing.
Most of the resorts in Kabini treat guests to spectacular swimming pools and tasty meals at on-site restaurants. Some also have spas with Ayurvedic treatments and holistic services, if you're looking for wellness. At night, enjoy bonfires and evening activities, like film screenings and dance performances.
Use our list of the best resorts in Kabini to find the perfect place to stay in this biodiverse destination.
1. Evolve Back Kuruba Safari Lodge, Kabini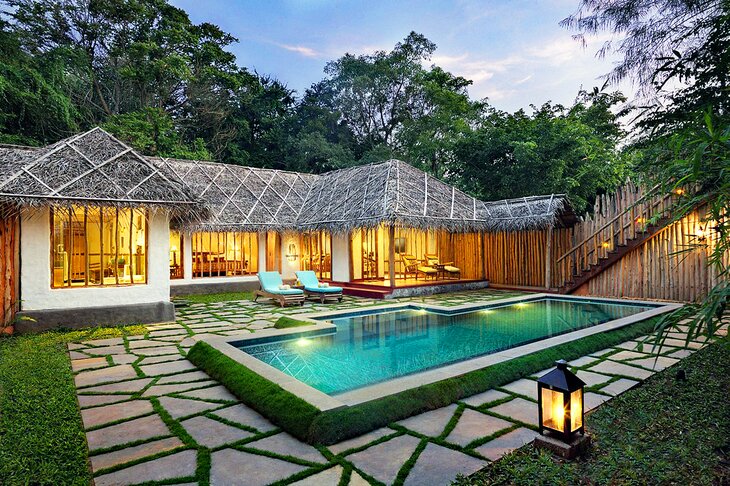 Accommodation: Evolve Back Kuruba Safari Lodge, Kabini
If you want to experience Kabini in an ultra luxurious way, stay at Evolve Back Kuruba Safari Lodge. The Kabini River borders the 4.5-star resort on two sides, so you can always enjoy magnificent views and the potential for National Geographic-worthy wildlife sightings.
But more than just a great setting, this property is also home to fantastic facilities. Relax in the infinity pool, splash around with your kids in the family pool, laze away an afternoon in the open-air reading lounge, and get a therapeutic treatment at the Ayurvedic spa.
You'll stay in an exquisite thatched-roof hut that marries modern luxury with traditional architecture. Each space features a private pool, tribal patterned furnishings and rugs, separate dining and living areas, and a unique safari-style atmosphere.
The top category pool reserve hut comes with a "star bed" that offers a mesmerizing view of the Kabini night sky. Breakfast and dinner are included.
Dining is a highlight at Evolve Back. The resort has a fine dining restaurant, a grill that specializes in kebabs, and candlelight dinner cruises.
After dinner, check out the resort's evening activities, which include wildlife documentary screenings and tribal dance and music recitals.
Address: Kabini Bheeramballi Village and Post, HD Kote Taluk, Mysore, Karnataka
2. The Serai Kabini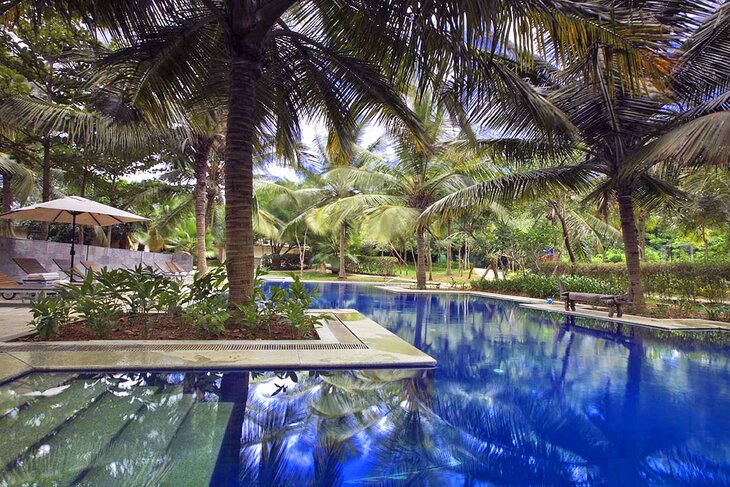 Accommodation: The Serai Kabini
The Serai Kabini is a luxurious four-star resort situated on the northern bank of the Kabini. The riverside resort offers spectacular opportunities for wildlife watching, including some 300 species of birds and families of elephants.
On-site, guests can swim in a pristine pool shadowed by giant palm trees, soak in the hot tub, work out in the fitness center, let massage therapists ease bodily tension at the holistic spa, and dig into a variety of cuisines at the restaurant, Wildgrass.
Accommodations at the Serai Kabini include a mix of air-conditioned rooms and villas. The spaces feature a combination of luxury styling with natural touches, including large windows with river views, wooden flooring and interiors, spotless white linens, and open-sky showers. Wi-Fi and breakfast are complimentary for all guests.
You're spoiled for choice when it comes to things to do at this family-friendly Kabini resort. The staff can arrange sunset sailing excursions, rides on traditional fishing boats known as coracles, wildlife film screenings, bonfires, bird-watching expeditions, jungle safaris, and riverbank walks.
Let them know if you're celebrating a special occasion—the resort can arrange romantic candlelit dinners and other exclusive experiences.
Address: 60/1, Nishana, Karapura Village, Antarasante Hobli, HD Kote Taluk, Mysore, Karnataka
3. Waterwoods Lodge Kabini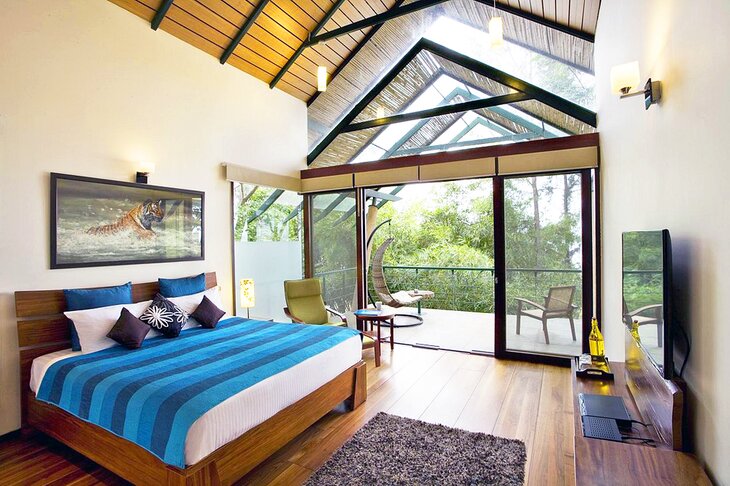 Accommodation: Waterwoods Lodge Kabini
When Waterwoods Lodge Kabini opened in 1999, it was Nagarhole National Park's first private lodge. The family-friendly property continues to be one of the best resorts in Kabini, offering tourists access to an infinity pool, kids' pool, a recreation room, spa, and a fantastic array of activities.
No need to leave the property to eat—the resort offers multi-cuisine buffet meals at its dining deck, as well as bonfire dinners and a special "Dine with the Stars" experience by the river. All-inclusive packages are available.
There are several types of accommodations, all of which have air-conditioning, flatscreen cable TVs, attached bathrooms with a shower, and river views. Twin rooms offer two beds and a balcony overlooking the pool.
King rooms have a four-poster bed and an outdoor deck. The superior king rooms function more like a suite and feature upscale styling, including vaulted wooden ceilings, a comfy seating area, and floor-to-ceiling glass paneled walls.
Large family rooms are also available for guests traveling with kids.
Waterwoods is home to its own greenhouse and orchards, which you can tour during your stay. The resort grows 17 seasonal vegetables and more than 22 varieties of fruit trees that supply the ingredients for its restaurant.
Address: 19, Karapura, N. Belthur Post Office, HD Kote Taluk, Nagarhole National Park, Mysore, Karnataka
4. Red Earth Kabini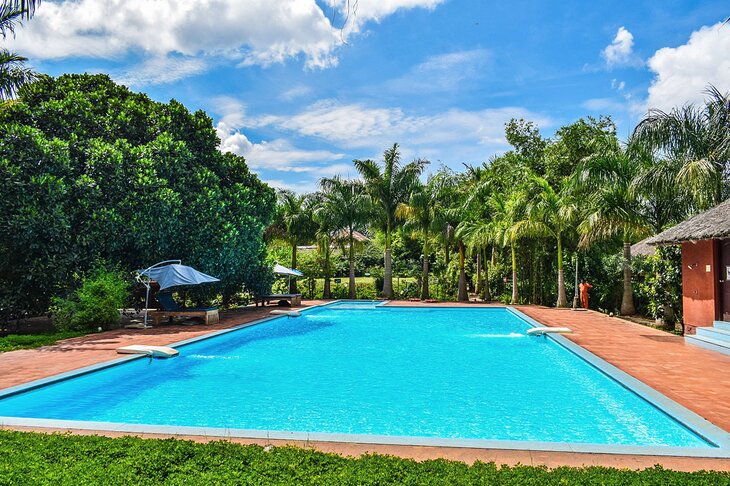 Accommodation: Red Earth Kabini
Red Earth Kabini is a 3.5-star resort that offers guests easy access to Nagarhole National Park. It's both pet-friendly and family-friendly. It's home to a spa that makes all its products in house using 100-percent natural ingredients.
The resort also invites guests to participate in an early-morning bird-watching session, take jungle safaris in open-top jeeps, and splash around its large pool.
Accommodations consist of just 20 private cottages surrounded by greenery, ensuring that every guest gets ample privacy at the property. Each thatched-roof abode contains a four-poster bed, a spacious front patio, and an open-air Jacuzzi. The clean, comfortable spaces have a colonial-inspired vibe. Free breakfast is included with your reservation.
For dining, head to Poshini, the resort's organic restaurant. Its menu consists of Indian food made from farm-fresh ingredients. You can also enjoy light bites at the Wonky Monkey Cafe, which has a view of the backwater.
Address: Badane Kuppe (Near Hosamalla), via Antharasanthe, HD Kote Taluk, Mysore, Karnataka
5. Kaav Safari Lodge Kabini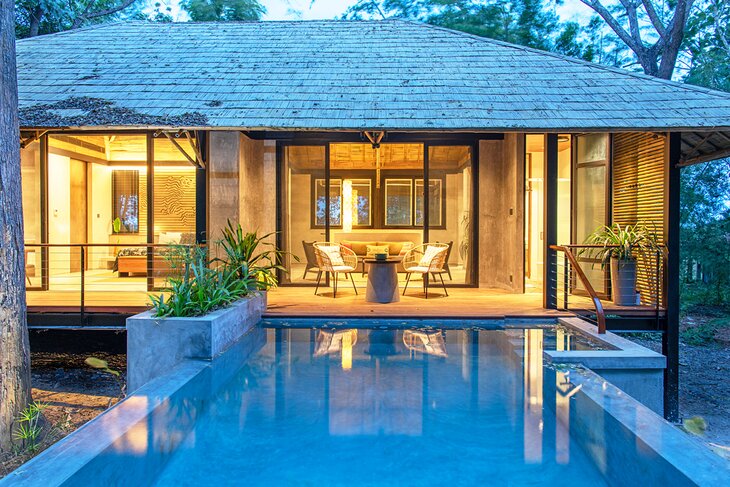 Accommodation: Kaav Safari Lodge Kabini
Built with wildlife enthusiasts in mind, Kaav Safari Lodge Kabini is a three-star resort on the outskirts of Nagarhole National Park.
In addition to having a meticulously maintained swimming pool, common area for socializing, and al fresco restaurant, the resort offers guests a unique facility: a viewing deck. The rustic space decked out with lounge chairs offers incredible views of the forest canopy, and undisturbed bird-watching opportunities.
Three distinct types of accommodations are available at this resort. Superior rooms are conventional resort-style guest rooms with stunning views of the scenery, upscale bathrooms, nature-inspired design and artwork, and A-frame ceilings that give an overall spacious, airy feel.
You can also opt to stay in a luxurious tent if you want to go glamping. They have private decks, ceiling fans, and soaking tubs. A luxury villa is available, as well. The high-end space has a sweeping wooden deck, private swimming pool, and two bathrooms.
Kaav Safari Lodge can arrange sightseeing and fun things to do in Kabini. Choose from bike rides, boat safaris, jungle safaris, kayaking, and nature walks.
Address: Malali Cross, N Belathur PO, Kabini, HD Kote, Mysore, Karnataka
6. Regenta Kabini Springs Resort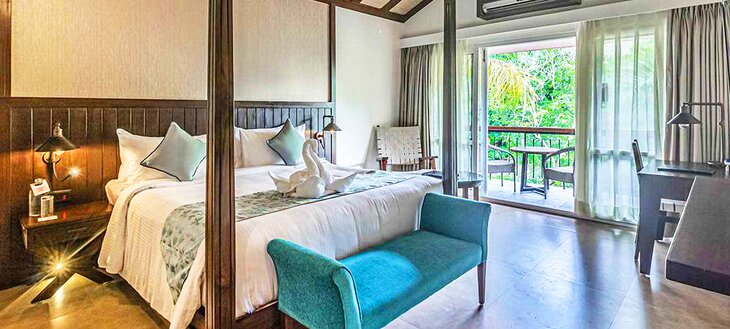 Accommodation: Regenta Kabini Springs Resort
Nestled between the jungle and the river, Regenta Kabini Springs Resort offers nature-focused getaways for families and couples.
A sparkling swimming pool, adventure center, kids' play area, billiards, and tennis facilities keep tourists entertained during their downtime. You can enjoy several meals a day at Tiger Trail, the resort's multi-cuisine fine dining restaurant. It relies primarily on locally grown ingredients for its tasty dishes.
All accommodations at the resort include balconies with river views, flat-screen TVs, private bathrooms, air-conditioning, and free Wi-Fi. The cozy spaces feel cheerful, with soothing colors and lots of natural materials. Choose from the base category courtyard rooms, riverfront room upgrades, or the top category river-view suites, which come with a large soaking tub. Breakfast is included.
Regenta Kabini Springs Resort has several unique experiences on offer for guests. Highlights include traditional dances around evening bonfires and cultural immersions in Indigenous villages.
Address: 23 & 24, Old Manandavadi Road, Antarsante, Hobli, Kabini, Antarasante, Mysore, Karnataka
7. The Bison Resort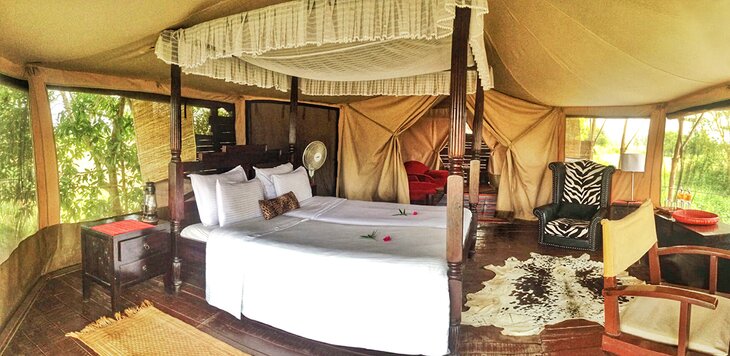 Accommodation: The Bison Resort
For an action-packed family vacation to Kabini, book a stay at the Bison Resort. The glamping resort has a near endless array of things to do, ranging from nighttime nature walks and sunset boat rides to tribal treks, photography lessons, coracle rides, and safaris in the jungle. There's also a swimming pool and the option to book spa treatments, including backwater massages.
The luxe tents at the Bison Resort will show you just how glorious glamping can be. They feature colonial-style design elements, along with wooden floors, crisp white bed linens, antique trunks, ensuite bathrooms with large showers, writing tables, and four-poster beds.
Some tents feature elevated sit-out spaces that offer beautiful views of the landscape. It's not uncommon to spot elephants, boar, and even big cats from your private accommodations.
The resort's staff is filled with naturalists and filmmakers who can help deepen your appreciation for wildlife.
Address: Gendathur Village, Karapura-Kabini Road, Nisana, Uttarahalli Hobli, HD Kote, Mysore, Karnataka
8. Kuruva Island Resort and Spa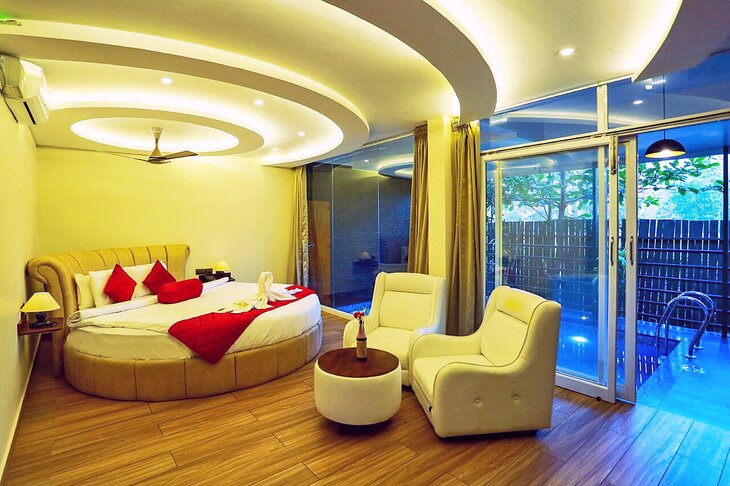 Accommodation: Kuruva Island Resort and Spa
Situated on a tranquil river island just south of the Begur Reserve Forest, Kuruva Island Resort and Spa offers guests the chance to see a different area of Kabini than many other resorts on this list.
The three-star resort has a large, family-friendly swimming pool that overlooks lush greenery.
For dining, head to the on-site restaurant, which specializes in Kerala cuisine, or fire up the grills at the barbecue facilities. A kids' play area and an activity center for all ages can help you find ways to make the most of your stay.
This resort has several romantic accommodations suitable for honeymoons or couples on vacation. Choose from two different honeymoon cottages, one with a Jacuzzi, the other with a private plunge pool. The staff can even decorate the beds with flower petals, upon request.
Parents traveling with children can feel at home in one of the resort's family rooms, which have balconies, bathtubs, big bathrooms, and cozy living spaces. Rooms with private pools are also available. You might be surprised to find a round mattress in those spaces!
Be sure to leave time in your schedule to visit the resort's Ayurvedic spa. It offers full-body massages, flexibility-enhancing treatments, and other services that will make your trip to Kabini all the more relaxing.
Address: Palvelicham, Bavali Post, Mananthavady, Wayanad, Kerala
9. The Peepal Tree Kabini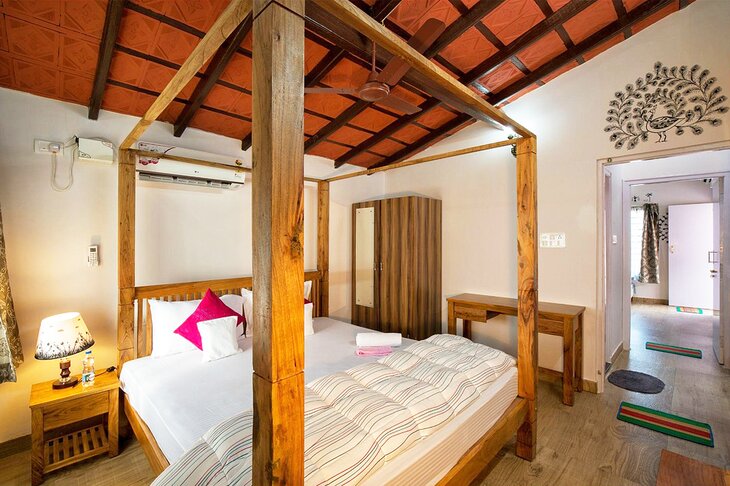 Accommodation: The Peepal Tree Kabini
With just 22 cottages. the Peepal Tree Kabini treats tourists to an intimate resort-style experience on the south side of the Kabini River. It has a large, warm swimming pool on the waterfront. The family-friendly resort offers special activities for children, along with an on-site restaurant, which serves guests a complimentary breakfast each morning.
The self-contained cottages at this resort are simple, yet functional. They have pops of blue on the bedspreads, ample living space, big bathrooms with skylights, kitchenettes, and soothing artwork on the walls. The accommodations also include a television and air-conditioning.
Keep in mind that the river separates this resort from Nagarhole National Park, so you'll need to reserve ample time in your itinerary to accommodate the long drive if you want to visit that attraction.
Address: 66/2, N. Begur Village, Anterasante Hobli, Kenchanahalli, HD Kote Taluk, Mysore, Karnataka
10. Discovery Village Kabini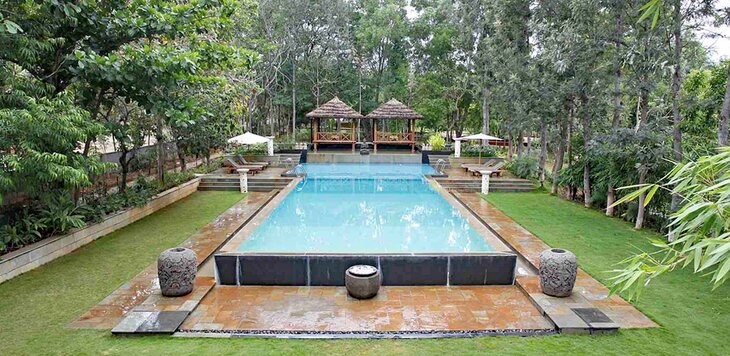 Accommodation: Discovery Village Kabini
From corporate outings to family vacations, Discovery Village is a resort that can suit all kinds of trips to Kabini. The resort has a sprawling swimming pool with an infinity-style effect that seems to extend to the river.
It serves locally grown food at its on-site restaurant. The resort also hosts a number of fun activities, including barbecues, bonfires, drum circles, and bird-watching.
Accommodations consist of quaint cottages with three beds, which can be pushed together or left separate to accommodate different size groups. The spaces are basic, yet comfortable, and offer air-conditioning. Some of the rooms also have floor-to-ceiling windows with lovely views and sit-out areas. Room service is available.
Address: Malali Cross, N Belathur PO, HD Kote Taluk, Mysore, Karnataka