10 Top-Rated Resorts in Jaipur
Resorts in Jaipur give tourists a chance to immerse themselves in the glamour the "Pink City" is known for.
Many of the properties draw inspiration from Jaipur's top attractions (like the Jantar Mantar and the City Palace), which can be seen in the resorts' imposing architecture and colorful interiors, decked out in all kinds of prints.
Some of the resorts are conveniently located in the heart of the city, while others are set on beautifully landscaped grounds on the outskirts of Jaipur.
Plus, Jaipur resorts offer a near endless amount of things to do, including stargazing, cooking classes, art workshops, kids' games, and epic dining experiences. They're destinations unto themselves.
Ready to find the best place to stay on your trip to Rajasthan? For some inspiration, check out our list of the best resorts in Jaipur.
1. Shiv Vilas Resort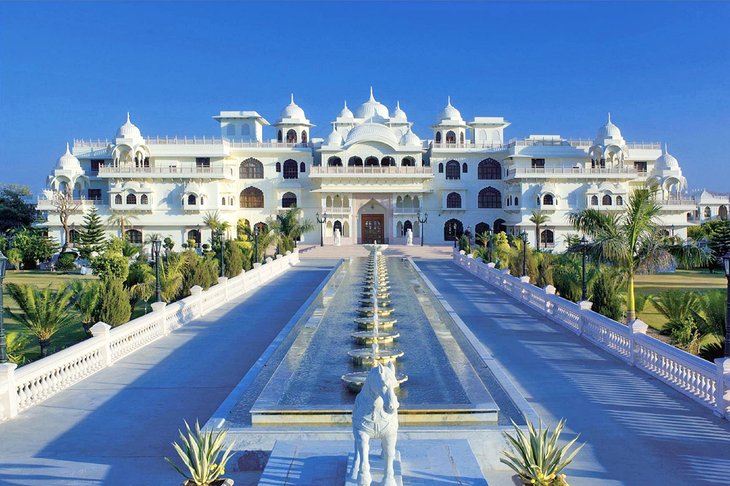 Accommodation: Shiv Vilas Resort
Shiv Vilas Resort is a palace-themed five-star resort that's just a 25-minute drive from the heart of Jaipur.
This elegant multi-level structure crowned by a series of domes is modeled after the architecture of some of Jaipur's most popular attractions, like the City Palace and Hawa Mahal. It also features a stunning pool flanked by statues and sculptures of crocodiles and elephants.
The accommodations at Shiv Vilas Resort are spread out in intimate clusters, each of which unfolds into its own courtyard and fountain canopied by blossoms.
Drenched in opulence, the rooms and suites are fit for Rajasthani royalty, with white marble clawfoot bathtubs, intricate handwoven rugs, ornate furniture, and scalloped arches. It feels like your own personal palace.
The family-friendly resort offers half-board packages that include breakfast and dinner, which is a convenient option for someone who prefers all-inclusive properties.
You can choose from several different dining options, including a "royal dining hall" with both local and international cuisine, a fine-dining North Indian restaurant, and the poolside patio.
There's also a luxury spa that combines Western and Indian therapies, and starts every treatment with a traditional foot bath.
Address: Delhi-Jaipur Expy, Kukas, Jaipur
2. Buena Vista Luxury Resort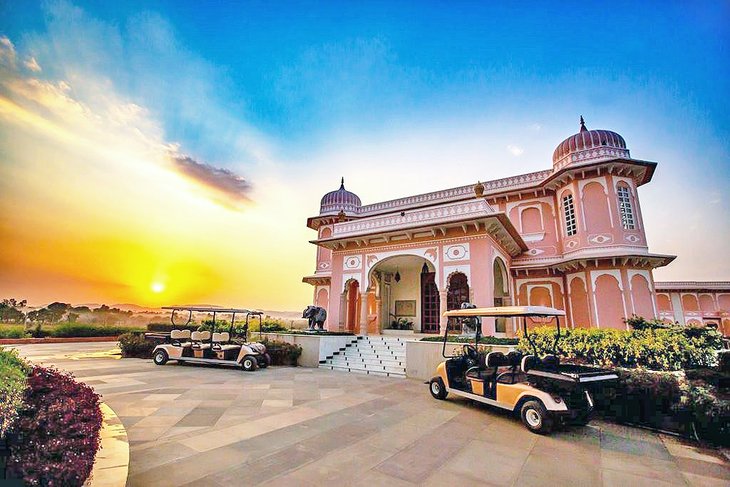 Accommodation: Buena Vista Luxury Resort
Tourists in Jaipur can take an urban return at Buena Vista Luxury Resort, an all villa-suite resort just 10 minutes away from the Sheesh Mahal by car.
The family-friendly property features magnificent architecture and encourages guests to stay active on its nine-hole mini-golf course, indoor badminton court, jogging tracks, and exercise machines at its fully-equipped health club.
With fewer than 50 suites contained in their own individual villas with private pools, the resort offers a sense of exclusivity and privacy.
Each suite is decorated in soothing colors, like white and pale pink, and comes with touch panels to adjust the lighting.
If you're looking for lots of space and spa amenities, consider booking one of the Royal Celebration Villas. These three-floor villas have their own steam room, sauna room, and Jacuzzi for deep relaxation.
Other amenities at this Jaipur resort include an expansive heated swimming pool for all guests, a spa with Ayurvedic therapies, and five dining options.
Address: Delhi-Jaipur Expy, Kunda, Pilli Ki Talai, Jaipur
3. Trident, Jaipur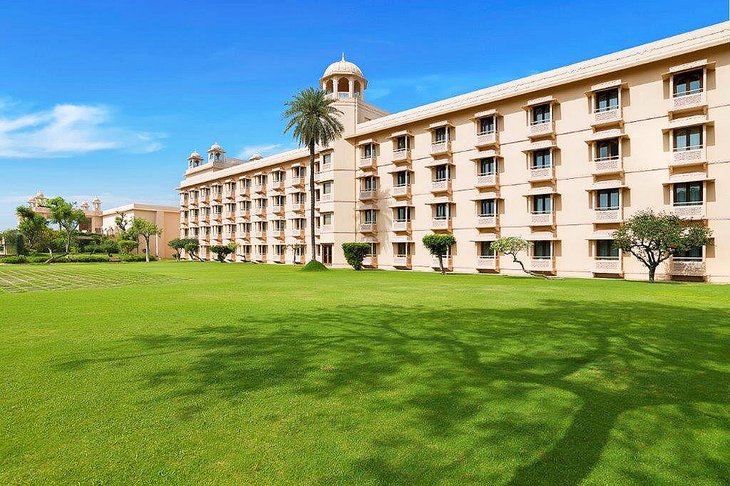 Accommodation: Trident, Jaipur
Offering postcard-worthy views of Jal Mahal and Mansagar Lake, the Trident Hotel is one of the most scenic places to stay in Jaipur.
This family-friendly hotel has a swimming pool lined by comfy lounge chairs, beautifully manicured gardens, and a kids' club.
There are also three restaurants, including a fine-dining alfresco eatery where you can watch chefs grill food before your eyes. Breakfast is included for all hotel guests.
The vast majority of the accommodations at the Trident Hotel are deluxe guest rooms with balconies and views of the garden or lake.
Traditional Rajasthani handicrafts adorn the softly lit spaces. The hotel also offers two suites in a similar style, but with a separate living room.
After a day of sightseeing in Jaipur, you can relax with a Western treatment or Ayurvedic ritual at the hotel spa or stretch out at the fitness center.
Address: Amer Road, Jal Mahal, Amer, Jaipur
4. Radisson Blu Hotel Jaipur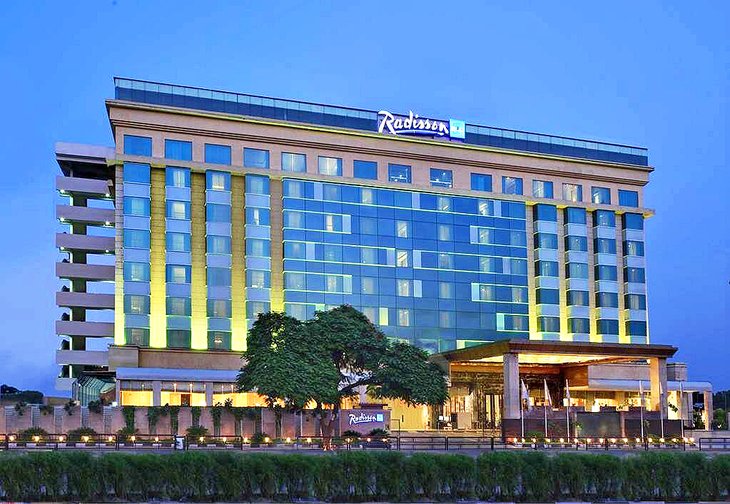 Accommodation: Radisson Blu Hotel Jaipur
If you're only in Jaipur for a short visit and need easy access to the airport, Radisson Blu Hotel can be a smart place to stay.
This five-star hotel is located just three kilometers north of the Jaipur International Airport and 11 kilometers south of the City Palace.
More than just convenient, this hotel also offers some of the amenities you expect at a resort, including a rooftop pool with city views, a state-of-the-art wellness center, and five restaurants for meals and snacks.
The hotel's 182 rooms and suites come in several styles to suit different types of guests, including couples, families, and business travelers.
At the basic level, the superior room has your choice of a king bed or two twin beds, a large bathroom with a separate tub and shower cubicle, and a work desk.
The junior and traditional suites are at the high-end of room types. These roomy accommodations are around double the size of the basic guest rooms, making them a great option for families.
No matter where you stay, though, you can order room service at any hour of the day or night–a relief if you want to squeeze in a quick breakfast before an early-morning flight.
Address: Airport Plaza, Plots No. 5 and 6, Tonk Road, Jaipur
5. Clarks Amer, Jaipur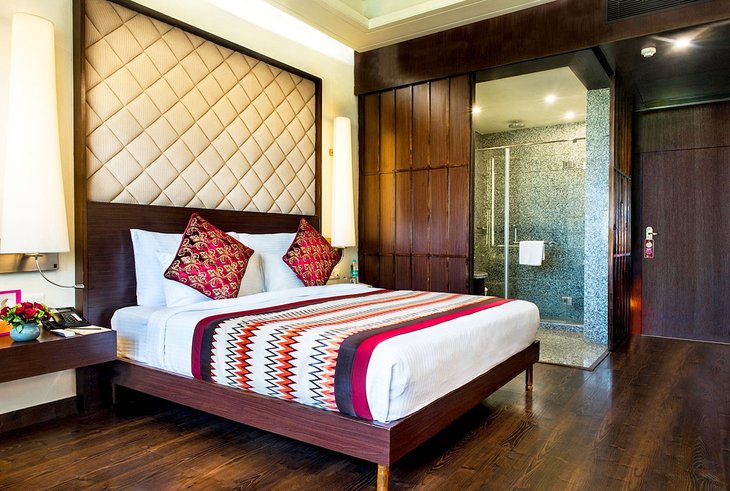 Accommodation: Clarks Amer, Jaipur
Situated just half a kilometer north of the Patrika Gate, Clarks Amer is a five-star hotel that offers plenty of things to do.
Guests can choose from several signature experiences, such as afternoon tea, tree-planting initiatives, sprinkling bird seed at a goose farm, touring an intensive greenhouse, and cooking classes, just to name a few.
This resort-style property offers cozy guest rooms with stylish touches, like colorful pillows block-printed with elephants, marble floors in a zig-zag pattern, and locally made artwork.
You can also stay in one of 14 penthouse suites, which offer spectacular views of the skyline. The bilevel spaces feel like a private apartment.
When not relaxing in your room, you can enjoy a robust array of amenities and facilities at the hotel. The spa offers a variety of massages and access to a sauna and steam room. The fully-equipped gym can help you keep up with your fitness routine.
You can also enjoy pizza made with veggies grown on-site at Zolocrust bakery and pizzeria–just one of the five restaurants at Clarks Amer.
Address: Jawahar Lal Nehru Marg, Lal Bahadur Nagar, Chandrakala Colony, Durgapura, Jaipur
6. Chokhi Dhani Resort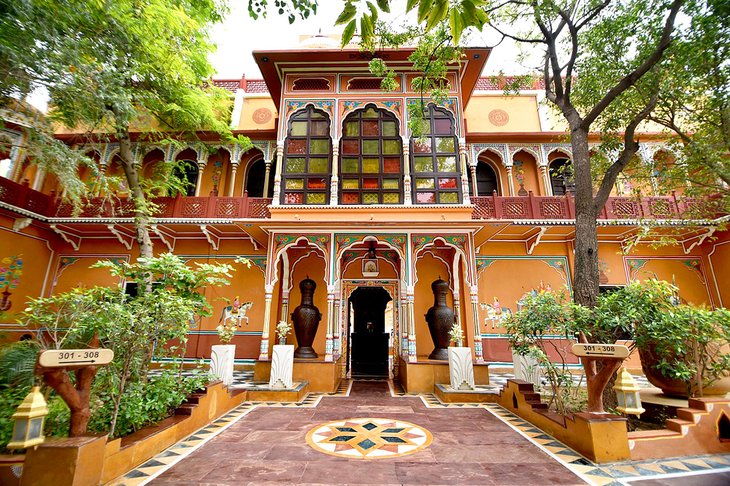 Accommodation: Chokhi Dhani Resort
From its attractive grounds and gardens to its regal architecture, Chokhi Dhani Resort has captured the unique character of Rajasthan throughout the property.
This four-star resort features a mix of accommodations, including cottages and suites, and a pool. It also hosts plenty of activities for kids, including animal rides, magic shows, and games.
The rooms feel festive with mix-and-match printed wallpaper, brightly colored bedspreads, scalloped arches, and floral painted ceilings.
Some accommodations include canopied beds that are fit for a princess. Each space is totally unique, and you'll probably be tempted to snap some photos for social media before you even unpack your suitcase.
You'll find a range of facilities at the resort, including a recreation center with billiards and table tennis, as well as a kids' corner.
Both vegetarians and omnivores can chow down at the outdoor barbecue, which is decked out with a wrought-iron canopied dining space. Some meals feature live entertainment, too. When you're ready to get pampered, head to the hotel's spa.
Address: Miles 12 Tonk Road, Sitapura, Jaipur
7. Umaid Haveli Jaipur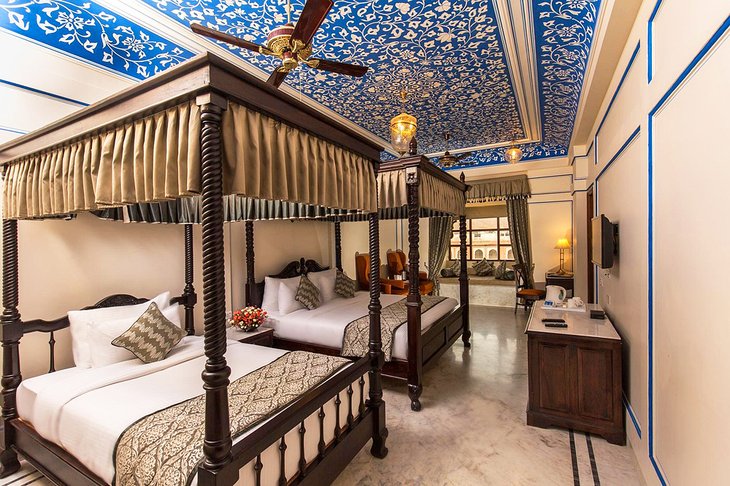 Accommodation: Umaid Haveli Jaipur
Umaid Haveli Jaipur is a four-star resort with a heavy focus on royal art and design. It's located in a heritage-style structure that's been painted inside and out by expert artists from Rajasthan, giving it a museum-like vibe.
You can get a wonderful view of the hills outside of Jaipur from the resort's infinity pool terrace.
When you step into one of the elegant rooms or suites, be sure to look up–each of the accommodations are topped by red or blue ceilings that have been hand-painted with kaleidoscopic floral motifs.
Many of the rooms also have four-post beds with a crown of pleated curtains and windowsill seats dressed up with pillows that make the perfect reading nook.
You'll find a variety of games available at the hotel, including chess, mini table tennis, and Chinese checkers. On sunny days, you can also play badminton, volleyball, and a range of other lawn games at the resort.
Food is also an experience at Umaid Haveli Jaipur. The resort's 10th floor houses a multi-cuisine outdoor restaurant, where you can enjoy tasty meals and watch the sun set over the hills.
Address: Riico Kukas Cp - 5, Jaipur
8. Holiday Inn Jaipur City Center, an IHG Hotel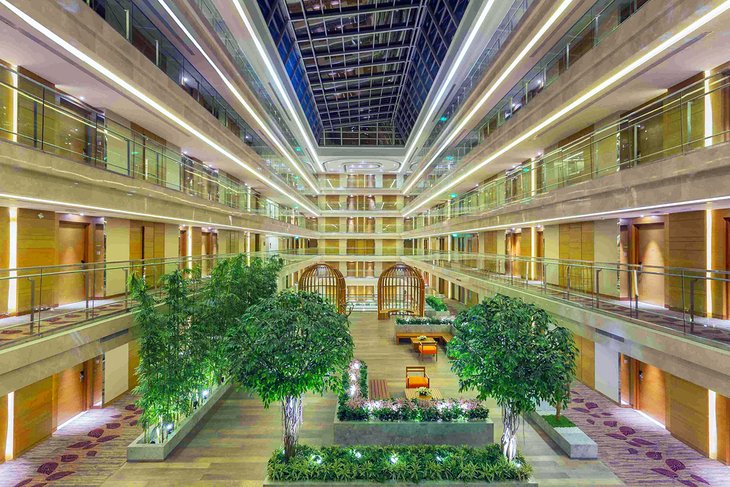 Accommodation: Holiday Inn Jaipur City Center, an IHG Hotel
Located in close proximity to all of Jaipur's transportation hubs, the Holiday Inn Jaipur makes it easy for tourists to reach the main attractions within the Pink City and take day trips to nearby destinations.
The 24-hour travel desk at this family-friendly hotel can help you make all the arrangements for sightseeing.
Plus, you can enjoy a large outdoor pool with picturesque city vistas, an indoor pool slide, a spa with wellness and beauty treatments, and four restaurants, which offer free meals for up to four guests age 12 and under per room.
The sophisticated guest rooms, many of which offer city views, are well-appointed and comfortable. Suites are also available if you're looking for accommodations with a separate living room and bathtub.
Bottled water, coffee, tea, morning newspapers, and Wi-Fi are complimentary for all guests.
Every Saturday and Sunday, the hotel's Monarch restaurant offers a grand theme buffet with a lavish spread of food. It'll give you all the fuel you need for adventures around Jaipur.
Address: 1 Sardar Patel Road, Jaipur
9. ITC Rajputana, a Luxury Collection Hotel, Jaipur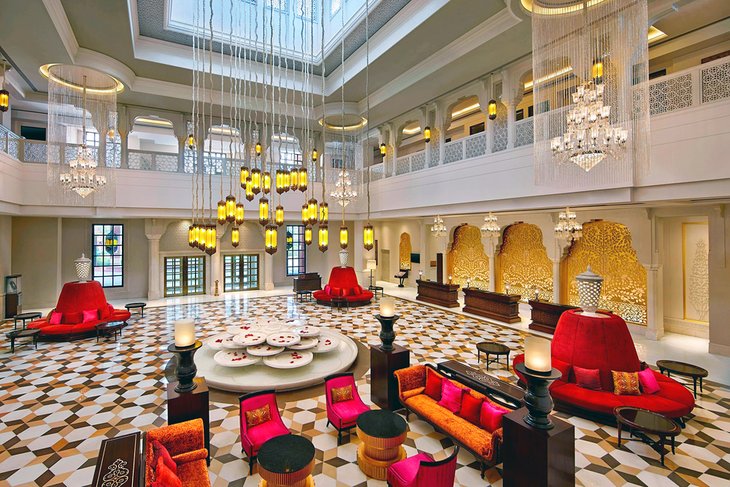 Accommodation: ITC Rajputana, a Luxury Collection Hotel, Jaipur
ITC Rajputana is a five-star hotel with ample resort-style amenities and a convenient location just a half kilometer from the heart of Jaipur.
This red brick structure draws inspiration from the stately architecture of Rajasthani havelis (traditional townhouses or mansions), while the grounds feature secluded courtyards and attractive fountains.
Guests have access to a fitness center, luxe spa, and sun-drenched swimming pool. The family-friendly hotel's kebab grill is among the most popular of its five dining options.
As for accommodations, ITC Rajputana has 218 guest rooms and suites that all exude elegance. Expect stylish touches, like bright red day beds, leaf-printed bed skirts that match the chairs, and artistic photographs of Rajasthani buildings on the walls.
Room service is available 24 hours a day, and guests can take advantage of complimentary valet parking and a full American breakfast.
Address: Palace Road, Jaipur
10. Devi Ratn - IHCL SeleQtions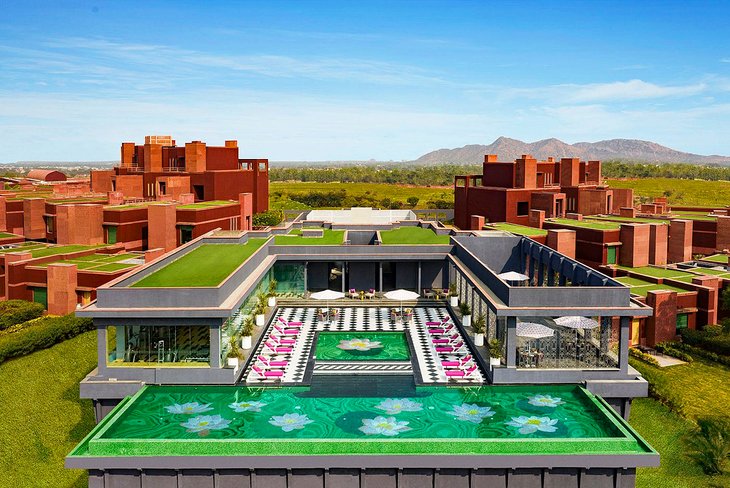 Accommodation: Devi Ratn - IHCL SeleQtions
At a half-hour drive from Jaipur, Devi Ratn makes an ideal place to spend the night if you want a break from the bustling city.
This five-star hotel stretches for a whopping 20 acres at the base of the Aravalli Range, giving guests stunning views around every corner. It brims with eye-catching Rajasthani design elements and offers an infinity pool, fitness center, spa, and several restaurants.
The rooms at this family-friendly hotel are a feast for the eyes, with paisley wallpaper, terrazzo floors, geometric latticework on the windows, and mosaics made from shards of mirror. The chambers are terraced at different heights, ensuring that every guest gets a glorious mountain view.
After sightseeing in Jaipur, it's worth leaving some time to enjoy the unique things to do at this hotel. You can take a block-printing class, go stargazing, enjoy a picnic on one of the expansive lawns, or take a chef-guided tour of the property's herb garden, among other memorable experiences.
Address: Ballupura Farms, Village Jamdoli, Agra Road, Jaipur