10 Top-Rated Resorts in Igatpuri
Igatpuri is a perfect weekend getaway from Mumbai. Situated in the stunning Sahyadri Mountains of Maharashtra, this scenic destination is a favorite location for Bollywood film shoots. It treats tourists to some seriously rewarding sightseeing, filled with waterfalls, valleys, and peaks — not to mention fascinating historical attractions, like the centuries-old Tringalwadi Fort.
The best resorts in Igatpuri can help you personalize your vacation to this mountain escape. Some resorts keep guests immersed in the stunning landscape in seriously unique accommodations, like multi-story buildings made entirely of glass.
Other properties focus on wellness, filling tourists' itineraries with spa treatments, meditation sessions, and yoga classes. And with facilities like swimming pools, kids' clubs, and games, most of these resorts are great spots for a family vacation.
As you plan your trip, use our list of the best resorts in Igatpuri to find a memorable place to stay.
1. Tropical Retreat Luxury Resort & Spa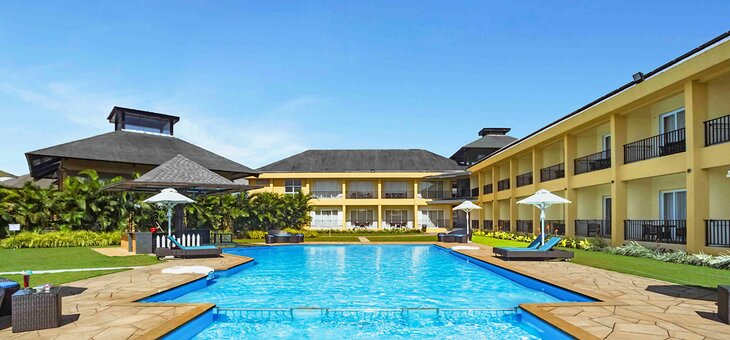 Accommodation: Tropical Retreat Luxury Resort & Spa
Tropical Retreat Luxury Resort & Spa is a four-star resort set on a sprawling 8.5-acre property. Surrounded by lush green landscaping, the family-friendly resort feels like a luxurious oasis.
It's home to one of the top spas in Igatpuri, where you can choose from Ayurvedic rituals, massages, or other treatments. There's also a fine-dining restaurant and a temperature-controlled pool with a great view.
Accommodations at this resort consist of 63 well-appointed guest rooms and suites. Colorful bed linens, beautiful balconies, and slick furniture make for an upscale atmosphere in each space. The "Anthurium" rooms are a smart option for families. These 420-square-foot duplexes can accommodate up to four people and offer two floors of living and sleeping space for more privacy.
One of the biggest strengths of this resort is the sheer number of things to do on the property. It has a robust indoor games room and a cricket and football turf on the lawn. You can also take part in a variety of adventure activities, including target shooting, ziplines, and biking across a tightrope (don't worry—you'll be strapped in for safety!).
Address: Survey No. 237/1, Pimpri Road, Mumbai-Agra National Highway, Near PWD Guest House, Ram Nagar, Igatpuri, Maharashtra
2. The Herb Farm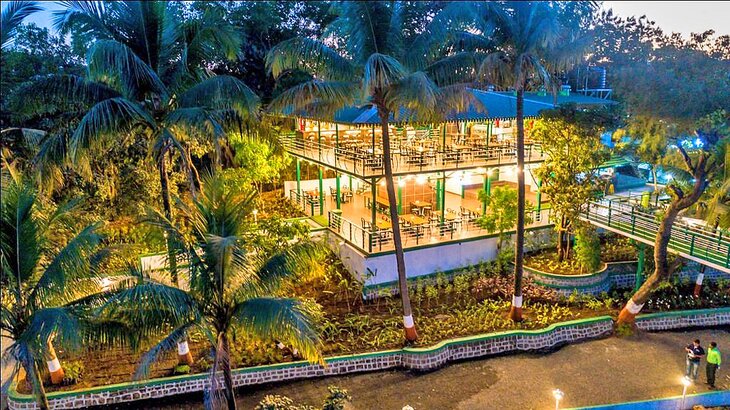 Accommodation: The Herb Farm
Soak up the natural beauty of Igatpuri at the Herb Farm, a four-star resort known for its fun activities and picturesque location. The property provides guests everything they need for an active getaway, including bicycles, hiking excursions, basketball, soccer, and archery.
When you're ready to chill out, you can sprawl out on a lounge chair next to the sparkling pool, or nosh on vegetarian meals and snacks from the on-site restaurant.
When you stay at the Herb Farm, you'll get to sleep in one of the property's forest green cottages situated next to the Darna River. These private spaces each have their own bathroom, outdoor seating area, flat-screen TV, and air-conditioning system. Unique tree-printed wallpaper behind the beds hint at a camping experience, minus the backache from sleeping on the ground.
After dark, head to the resort's astronomy deck for a night of stargazing.
Address: Gat. No. 173, Mundhegaon, Mumbai-Nashik Expressway, Tal-Igatpuri Dist Nashik, Maharashtra
3. Manas Resort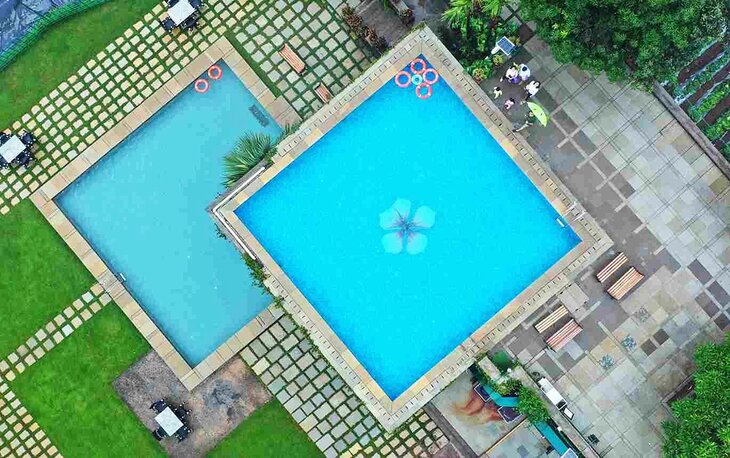 Accommodation: Manas Resort
If you're an animal lover, the best place for you to stay in Igatpuri is Manas Resort. This four-star resort is home to one of India's first petting zoos. Guests of all ages can get up close to a variety of exotic birds, rabbits, dogs, turtles, and even miniature horses.
The resort also has an organic farm, which provides the home-grown produce used in the on-site restaurant, Woodpecker.
This family resort has several types of accommodations to suit different tourists. At the base level, you have apartment-like superior rooms with or without valley views. Villa rooms give a lot more space, even better views of the mountains and valleys, and private lawns. The larger duplex suites give two separate levels of living space and verandas to enjoy the fresh air.
If you're looking for more luxury, opt for the royal villa. It has a huge sit-out area and its own heated mini pool.
Pets are welcome at the property.
A gorgeous infinity pool, spa, and indoor and outdoor games can help you fill your downtime at the resort after a day of sightseeing.
Address: 303/A, National Highway 3, Talegaon, Igatpuri, Nashik, Maharashtra
4. Manas Lifestyle Resort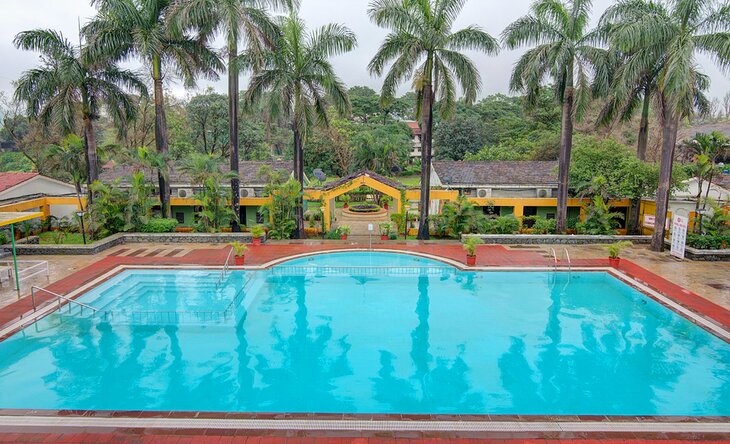 Accommodation: Manas Lifestyle Resort
Manas Lifestyle Resort is a four-star boutique resort spread over a 10-acre estate on the Kasara Ghats. Its location 2,100 feet above sea level gives guests great views of the rolling landscape.
It keeps guests fed at two restaurants and a coffee shop, which is used for buffet meals and features live music performances.
The family-friendly resort is home to 49 cottages, each of which was designed to maintain a close connection with nature. They're furnished with a queen bed or several single beds, beautiful balconies, televisions, and work desks.
The resort also has a pair of four-bedroom royal villas, which have private swimming pools and the best views. Breakfast is included with your stay.
Manas Lifestyle Resort spoils guests with a variety of unique things to do. Take pottery classes, go horseback riding, play table tennis, see a magic show, sing karaoke, or swim in the palm-fringed outdoor pool. An indoor play area for children can help little ones burn off some energy on your vacation.
Address: Gut No. 286, Mumbai Agra Highway, Talegaon, Igatpuri, Nashik, Maharashtra
5. Mystic Valley Spa Resort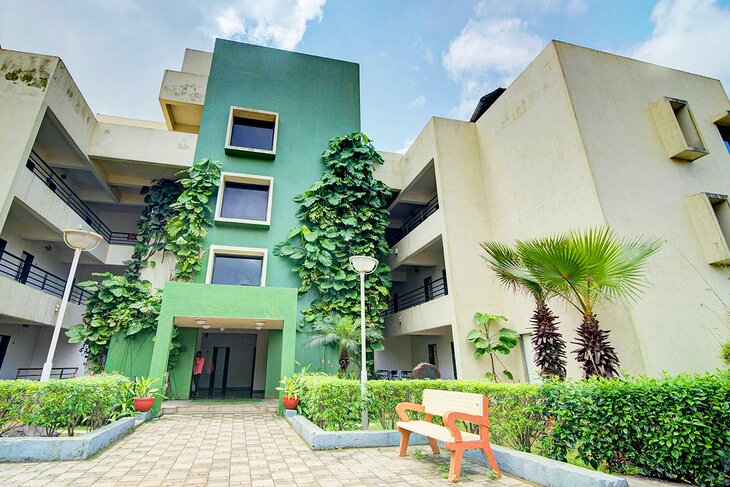 Accommodation: Mystic Valley Spa Resort
With a wood-paneled spa, expansive pools, and a fitness center, Mystic Valley Spa Resort is just the place for a wellness-focused getaway from Mumbai.
The 3.5-star resort is just a short drive from the Vipassana Meditation Center, as well as other major attractions in Igatpuri. On-site, you can enjoy a games room, multi-cuisine restaurant, and live entertainment.
The accommodations at Mystic Valley Spa Resort feel like an urban oasis. They're decked out with quilted checkered pillows, brightly colored walls and art, and big windows looking out to the valleys and hills. At 540 square feet, the base category premium suites boast tons of space, and some come with soaking tubs.
You can triple the amount of room you get by booking one of the penthouses, which have two bedrooms and three terraces.
The resort keeps its front desk staffed 24 hours a day, making it easy to arrange a car rental for sightseeing, book the meeting facilities for a business function, or set up a horseback-riding adventure.
Address: 284 A/B, Mumbai Agra Road, Taluka, Talegaon, Igatpuri, Maharashtra
6. Rakabi The Fern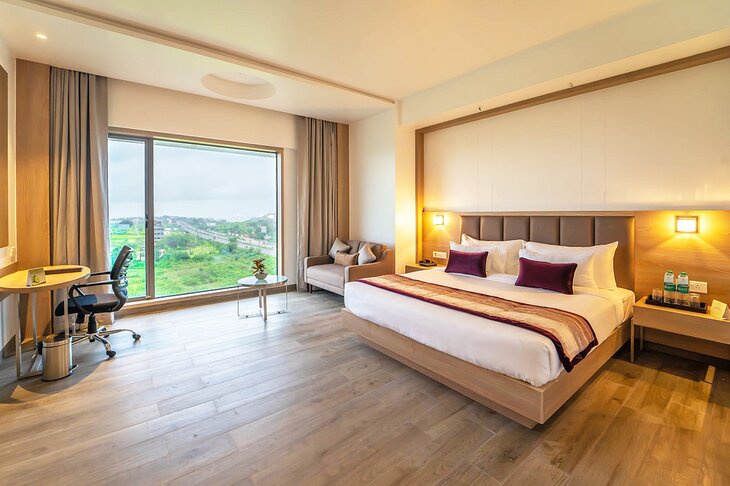 Accommodation: Rakabi The Fern
Tucked within the shadows of the Sahyadri Mountains, Rakabi The Fern offers contemporary accommodations and plenty of amenities for guests to enjoy on their trip to Igatpuri.
The family-friendly resort features a swimming pool, spa, gym, activity center, children's play area, and two restaurants, one of which is entirely vegetarian. It's also close to public transportation, making it easy to visit attractions in Igatpuri.
No matter which of the resort's 76 rooms you stay in, you'll be treated to complimentary breakfast and high-speed Wi-Fi. The accommodations have a luxe atmosphere and great views of the landscape. Eco-friendly room lighting and bathroom amenities help reduce the carbon footprint of your trip. Choose from traditional guest rooms, or upgrade to the Fern Club Premium or Hazel Suite.
When you're in the mood for a treat, the resort's on-site bakery, Cake Boy, can give you a sugar fix with its freshly made sweets.
Address: NH-3, Opp. Indian Oil Petrol Station, Talegaon, Igatpuri 422 403, Nashik, Maharashtra, India
7. Nirvana Naturopathy & Retreat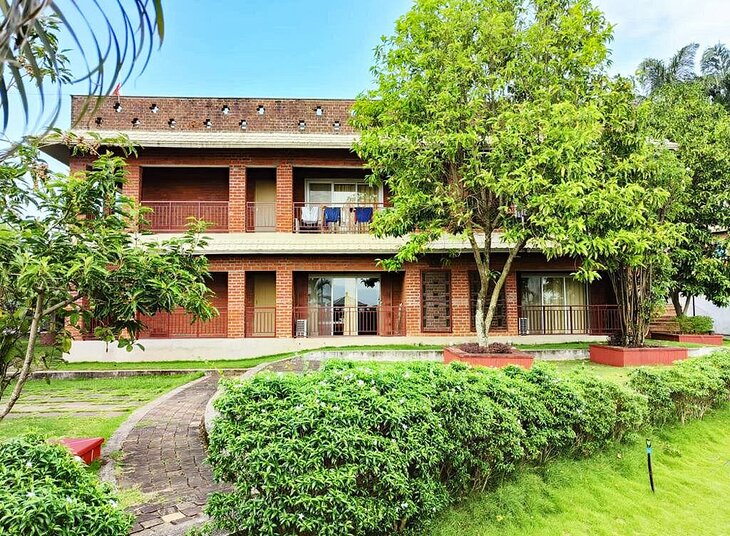 Accommodation: Nirvana Naturopathy & Retreat
Are you heading to Igatpuri in search of wellness and deep restoration? Consider making Nirvana Naturopathy & Retreat your home base for your trip. Surrounded by gentle hills and green fields, this wellness resort offers a variety of treatments and activities to help you feel your best.
It has a meditation and yoga hall, dedicated block for spa treatments, sacred temple, peaceful lake, rock garden, well-stocked library, amphitheater, and even a sanctuary for holy cows. There's also a vegetarian dining area, which serves fresh juices in the morning, nutritionally balanced lunches, and nourishing dinners.
Accommodations at Nirvana resort consist of 20 well-furnished rooms with private bathrooms, as well as six high-end villas with large balconies. Its relatively small size ensures highly personalized service from the staff and privacy from other guests.
Address: Behind S.M.B.T College, Ghoti-Sinnar Highway, Near Dhamangaon, Ghoti-Khurd, Tal- Igatpuri, Nashik, Maharashtra
8. Hotel Grand Parivaar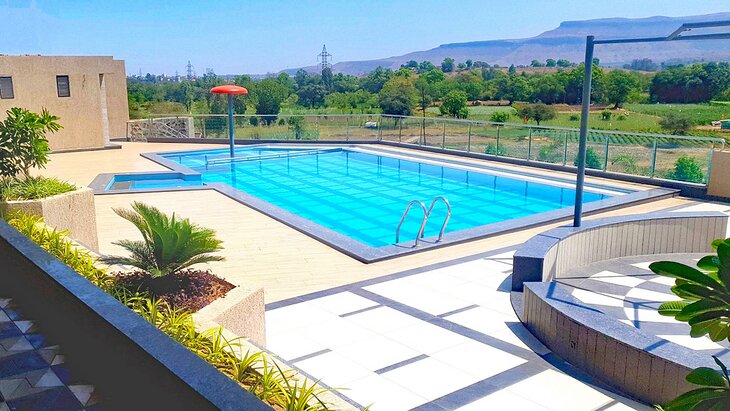 Accommodation: Hotel Grand Parivaar
Hotel Grand Parivaar is a large resort in Igatpuri that welcomes solo travelers, families, and couples. The centrally located resort has a gigantic swimming pool with views of the mountains.
A game room, kids' play area, and in-room board games give guests near endless entertainment. Staffed 24 hours per day, the front desk can help you arrange sightseeing and take care of any last-minute needs that pop up during your trip.
The resort is home to 40 rooms divided into four categories. The standard rooms provide 250 square feet of living space with a king-size bed (or two twin beds) and mountain views. The superior and deluxe rooms are the same size, but come with even better views and more amenities, like hair dryers, mini fridges, tea kettles, safes, and slippers.
If you need extra space, book one of the 400-square-foot suites. These include a king-size bed, separate living room with a sofa bed, and two bathrooms. In-room dining and daily housekeeping are available in all rooms.

You can grab a meal at any time of day at the resort's restaurant, Food-N-Joy. The vegetarian eatery offers satisfying dishes from a variety of cuisines, including Chinese, Punjabi, and South Indian.
Address: Take, Ghoti, Near Ghoti Toll Plaza, Mumbai – Nashik Highway NH3, Igatpuri, Maharashtra
9. Lake Vaitarna Resort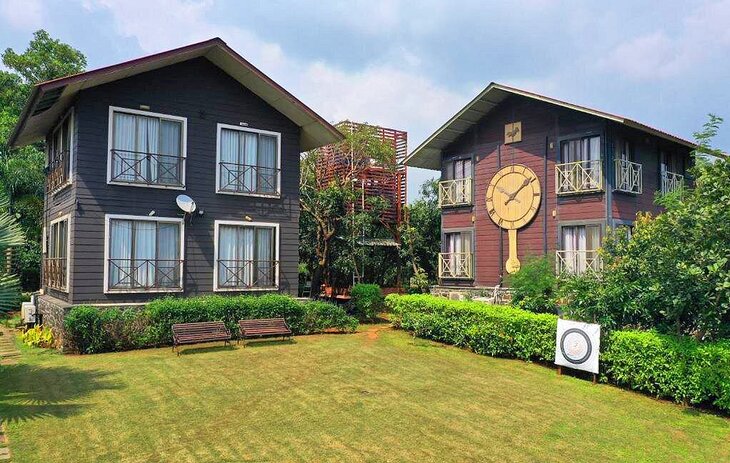 Accommodation: Lake Vaitarna Resort
Nature is the focus at Lake Vaitarna Resort, one of the best resorts in Igatpuri. The casual property is surrounded by mountains and lush greenery. It has a pretty pool, archery facilities, badminton, children's playground, and a 24-hour front desk.
The on-site restaurant, Lake Side Cafe, is the go-to place for dining in the area. It offers a variety of cuisines, plus uninterrupted views of Vaitarna Lake.
Lake Vaitarna Resort offers several unique types of accommodations. The one-of-a-kind glass house has walls entirely made of windows on four sides, giving guests the best opportunities to appreciate the vistas. Wrapped in Canadian pine wood, the Swiss chalet is super cozy. It feels like a mountain cabin. There's also a heart-shaped villa for guests in search of romance, as well as a private lakeside villa with room for groups as large as 14.
The staff can help you arrange outdoor activities in the area. Options include kayaking, nature walks, trekking, cycling, stargazing, and campfires.
Address: Green Fields/Status Private Farms Zarwad village, Near Vaitarna Nagar, Ghoti-Trimbak Road, Trambakeshwar, Nashik, Maharashtra
10. Rainforest Resort and Spa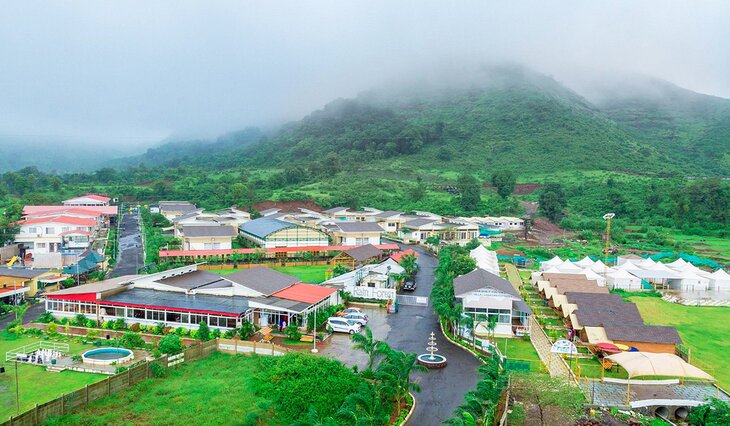 Accommodation: Rainforest Resort and Spa
Located just a short drive from Igatpuri Railway Station and the famous Tringalwadi Dam, Rainforest Resort and Spa gives tourists a convenient place to stay in Igatpuri.
This 3.5-star resort is impressively large. Its facilities include two banquet halls, a spa, a restaurant with scenic views, a swimming pool, game room, and sauna. All-inclusive packages are available.
Rainforest Resort and Spa offers a whopping 10 different styles of accommodations, ranging from cozy deluxe rooms to multi-bedroom villas. The spaces have a cabin-inspired atmosphere, with wood-paneled accent walls and maroon throw pillows and curtains. The luxury rooms come with the added bonus of private balconies—perfect for appreciating the majestic mountains.
Families enjoy complimentary stay for guests up to age 3 and 50 percent off for kids 4 to 10 years old.
Activities are a major draw of this resort. It offers a range of games, including carrom, badminton, chess, and table tennis. There are also yoga classes and bike rentals for guests who want to stay active on their getaway.
Address: Gut No. 98, Village Balayduri, 500 meter before Ghoti Toll Naka, Mumbai-Nashik National Highway 3, Igatpuri, Maharashtra