11 Top-Rated Resorts in Hyderabad
Fast-paced and high-tech, Hyderabad draws tourists from around the world to South India for business trips and sightseeing alike. Few other cities in the country combine commerce with tourist attractions and ancient sites quite like this one, making it one of the more popular places to visit in India.
Whether you're traveling for work or pleasure, resorts in Hyderabad will make your trip deeply restorative and memorable for years to come. These five-star properties brim with high-end facilities, like palm-shaded swimming pools, Ayurvedic spas, and award-winning restaurants. Plus, the rooms range from sleek and sophisticated to over-the-top glamorous. You can find just the right accommodations to suit your unique taste.
Want to find the perfect place to stay on your trip to the "City of Pearls"? Check out our list of the top resorts in Hyderabad.
1. Taj Krishna, Hyderabad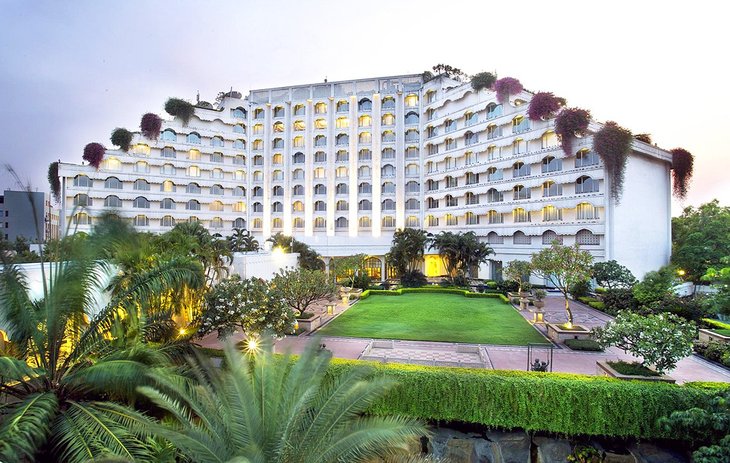 Accommodation: Taj Krishna, Hyderabad
The Taj Krishna, Hyderabad is a five-star resort that dominates a nearly 53,000-square-meter stretch of greenery in Banjara Hills.
It offers an impressive array of dining options, including a 24-hour diner, an outdoor eatery with steaks and pasta, a café that serves single-estate teas from around the world, and one of Hyderabad's top Chinese fine-dining restaurants.
Kids' programs can help keep little ones entertained, and the entire family can enjoy the resort's large outdoor pool with a steamy jacuzzi.
Guests can stay in one of 248 rooms or 13 suites, each of which has Posturepedic mattresses, at this high-end property. The interiors are drenched in sunlight from large arched windows and feature stylish touches, like patterned rugs, intricate headboards, and festive bedspreads.
You can also upgrade your accommodations to get 24-hour butler service and magnificent views of Hussain Sagar Lake.
You don't have to leave the resort to get some retail therapy. The Taj Krishna has its own luxury shopping arcade with storefronts from top designers, so you can easily treat yourself to a little something.
Address: Road No 1, Banjara Hills, Hyderabad, Telangana
2. Taj Deccan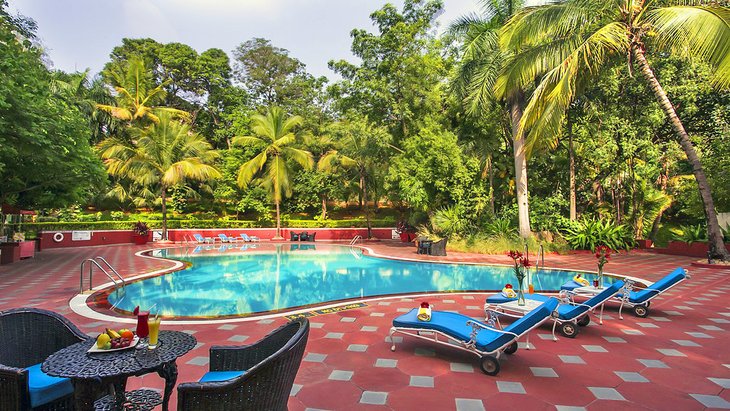 Accommodation: Taj Deccan
It's easy to see why the Taj Deccan is deemed one of the best resorts in Hyderabad. The five-star property is close to major attractions, like Birla Mandir and the Salar Jung Museum.
It offers a salon, tennis court, and 24-hour fitness center with a steam room and Jacuzzi. And its palm-fringed pool makes you feel like you're on a tropical island getaway. Plus, breakfast is free. It's no doubt a great spot for a family vacation in Hyderabad.
The resort has 151 rooms in total, which includes 10 suites. They're splashed in turquoise and purple decor for a regal feel. Some offer views of the lush gardens, while others look out upon the city.
Business travelers, take note: the Residency rooms include two hours of complimentary boardroom use per day, in case you need to run a meeting. Twice daily housekeeping service helps ensure your room is tidy and stocked with all the essentials throughout your stay.
As for dining, you've got a few options at the property. Arena, an all-day diner, serves lavish buffet spreads at every meal, along with a special midnight buffet on Saturdays. Syn Asian Grill is the go-to spot for Thai, Vietnamese, and Japanese dishes. And for tasty local cuisine, head to Spice Junxion.
Address: Road No. 1, Banjara Hills, Hyderabad, Telangana
3. Novotel Hyderabad Convention Centre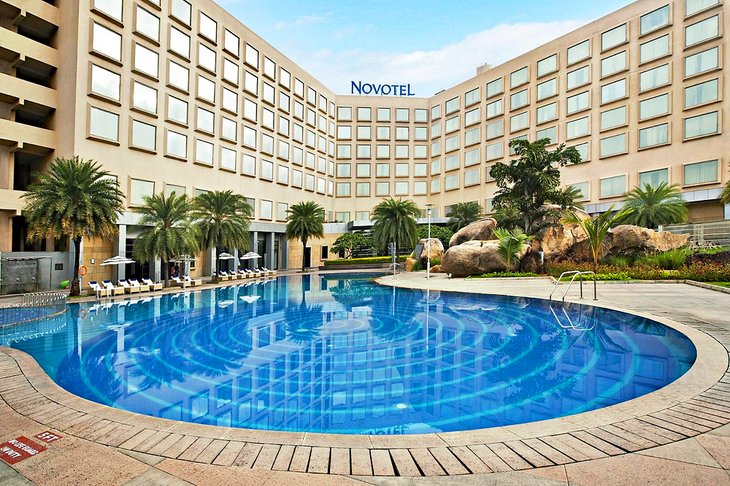 Accommodation: Novotel Hyderabad Convention Centre
If you're visiting Hyderabad for business, Novotel Hyderabad Convention Centre is a worthwhile place to stay. It's within a six-kilometer radius of the offices of giant corporations, like Google, Apple, and Amazon, so you can easily attend meetings.
Meanwhile, the five-star property has plenty of facilities and amenities for families to enjoy throughout the day, including a sparkling outdoor swimming pool, a spa, fitness center, jogging tracks, and toys and games in the lobby.
There are nearly 300 guest rooms in nine different categories available at the Novotel Hyderabad. The base category superior rooms have views of the pool or convention center, along with flexible workstations, complimentary beverages, flatscreen TVs, and one queen-size bed or two single beds. Suites are a better option for families. They have significantly more space, including a separate living area, and an option for a kitchenette.
Some packages include free breakfast.
In-room dining is available any time, day or night. But if you want to eat outside your accommodations, you can choose from several dining options at the resort. It's home to a European-style café, a Pan-Asian restaurant next to the pool, and a multi-cuisine restaurant that uses organic produce.
Address: Novotel & HICC Complex (adjacent to HITEC City), P O Bag 1101 Cyberabad Post Office, Hyderabad, Telangana
4. Marigold by Greenpark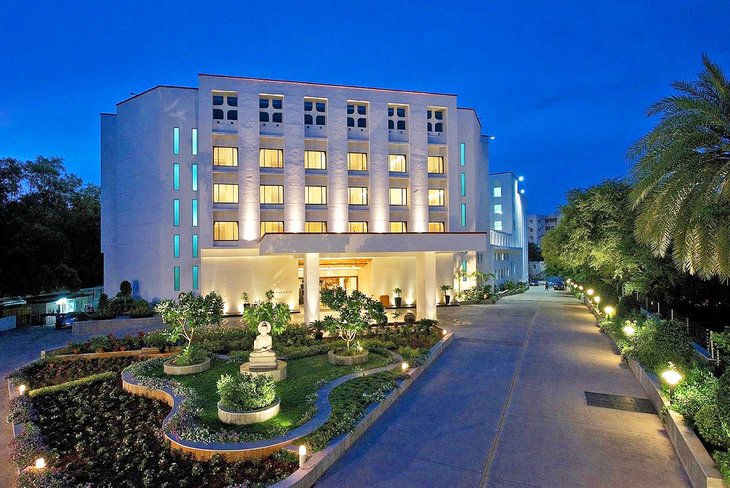 Accommodation: Marigold by Greenpark
With a gorgeous rooftop swimming pool, sleek fitness center, and high-end spa, Marigold by Greenpark is one of the best places to stay in Hyderabad for tourists in search of wellness and relaxation.
The five-star resort is also home to two fantastic restaurants: Mekong, which offers Pan-Asian cuisine, and Saffron Soul, where you'll find lavish buffet spreads.
Four different types of accommodations are on offer at Marigold by Greenpark, all of which have stylish touches, like orange pillows and curtains, tasteful art, and adjustable lighting. Many of the luxury and premium category hotel rooms come with comfortable seating areas. But you can also get even more space and amenities by reserving one of the resort's studios or royal suites, which come with a separate bedroom and living space.
Don't be surprised if you see a wedding or event happening during your stay. The resort has five distinct halls for meetings and banquets, with enough space for up to 650 people.
Address: 7-1-25, Ameerpet Rd, Leelanagar, Begumpet, Hyderabad, Telangana
5. Novotel Hyderabad Airport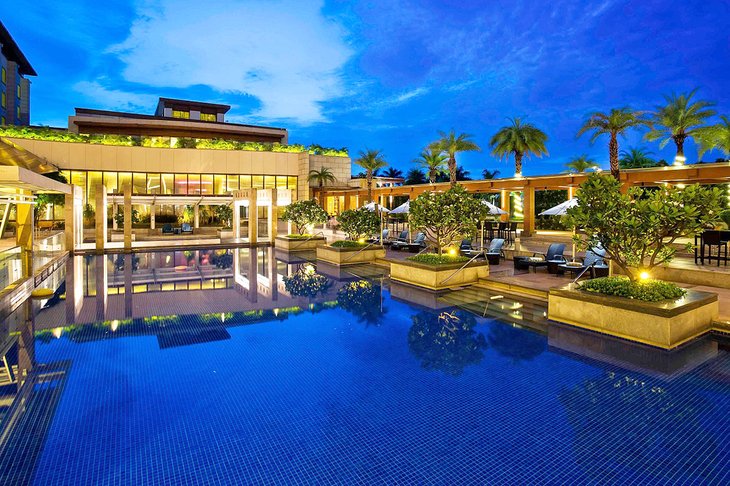 Accommodation: Novotel Hyderabad Airport
Novotel Hyderabad Airport's convenient location makes it a great home base for exploring Hyderabad. The five-star resort is situated just across from Rajiv Gandhi International Airport, so you can easily catch an early morning flight. But it's also only a 30-minute drive from some of Hyderabad's top attractions, including Ramoji Film City and Hussain Sagar Lake.
When you're hanging out at the property, you can splash around its beautiful swimming pool, work out in the large gym, relax in the spa, and dine at the multi-cuisine restaurant.
With nearly 300 rooms and suites, the Novotel Hyderabad Airport is bigger than many other resorts in Hyderabad. The accommodations feel cozy and streamlined, with your choice of a queen bed or two twin beds. Large windows within the spaces offer views of the pool, garden, airport, or countryside.
The two-bedroom suites can be a great option if you're traveling with a large family and want to offer everyone some privacy.
One of the best parts of this family-friendly resort is its recreation facilities. It offers tons of sports and activities, including basketball, volleyball, and lawn tennis.
Address: Rajiv Gandhi International Airport, Shamshabad, Hyderabad, Telangana
6. Radisson Hotel Hyderabad Hitec City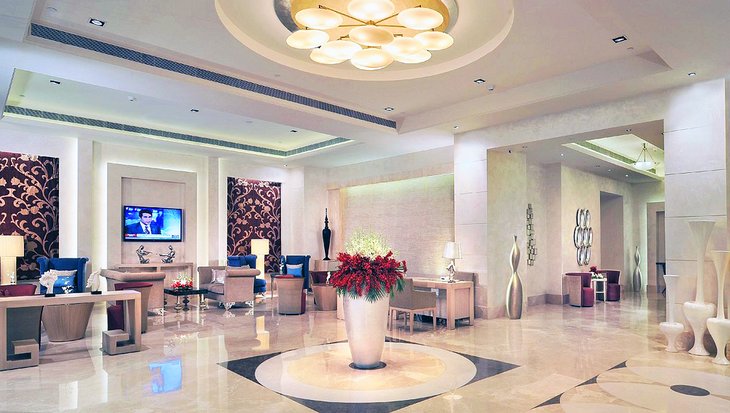 Accommodation: Radisson Hotel Hyderabad Hitec City
The Radisson Hotel Hyderabad Hitec City is a five-star resort that caters to business travelers and their families. But its three on-site restaurants also make the resort a stellar option for foodies, as well.
You can find an array of incredible options at the buffet; sample Polynesian-inspired fare at the Tiki-style restaurant; and feast on meats like a Brazilian cowboy at Chama Gaucha, the first churrascaria in Hyderabad. You'd need to spend several days here to try all the yummy meals on offer.
Fortunately, the comfortable, spacious rooms at the Radisson Hotel Hyderabad Hitec City make it easy to linger on long vacations. They all have premium bedding, rain showers in the bathrooms, mini fridges, and work spaces. Most reservations include free breakfast.
If you like highly attentive hospitality, consider booking the executive suite. It includes complimentary airport transfers, personalized check-ins and check-outs, and access to an exclusive lounge.
In addition to gourmet restaurants and pleasant accommodations, this resort also has a sun-soaked sky pool that is welcoming to guests of all ages. You can also keep up with your healthy routine at the fitness center or relieve some stress at the on-site spa.
Address: Gachibowli, Miyapur Road, Hyderabad, Telangana
7. Taj Banjara Hyderabad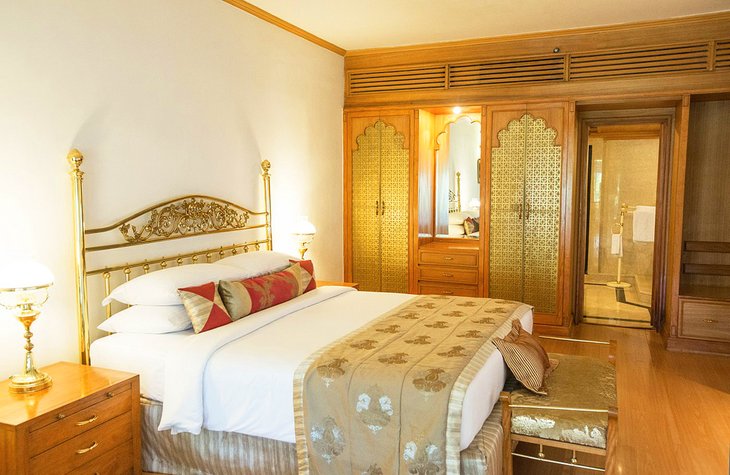 Accommodation: Taj Banjara Hyderabad
Designed to suit both business travelers and tourists, Taj Banjara Hyderabad will make you feel like a VIP on your trip to Hyderabad. The five-star resort, which is located in the posh neighborhood of Banjara Hills, offers breathtaking views of the lake and the twinkling city skyline.
Hassle-free service available 24 hours a day ensures you'll always get prompt responses to your questions and requests. Plus, there's a 24-hour fitness center, a pool surrounded by large trees, and a convenient business center.
The resort's rooms and suites have thoughtful touches that create a retreat-like ambience. You'll find classic Indian miniature paintings on the walls, wooden accents on the ceilings that warm up the spaces, and plenty of plush furniture. The accommodations feel more like a private apartment than a run-of-the-mill hotel room.
Dining is also a pleasure at the Taj Banjara Hyderabad. It offers three options, including a Hyderabadi eatery with home-style meals, a 24-hour international restaurant with a buffet, and a relaxing Continental restaurant.
Address: Rd. Number 1, Mithila Nagar, Banjara Hills, Hyderabad, Telangana
8. Trident Hyderabad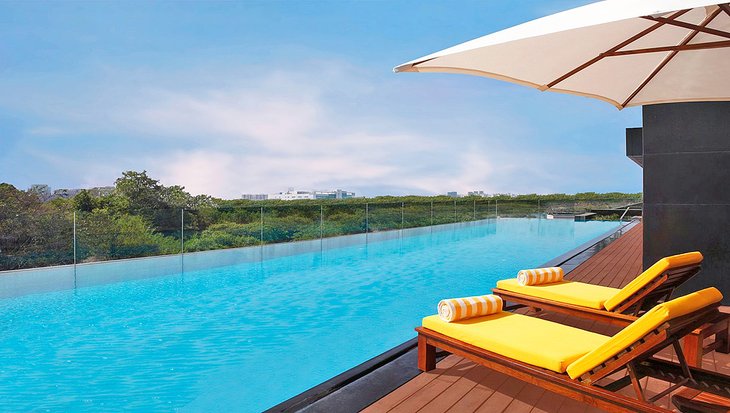 Accommodation: Trident Hyderabad
The Trident Hyderabad is a five-star resort located in the heart of HITEC City, just a short drive from the Nizam's Museum and Chowmahalla Palace.
The property is loaded with luxurious facilities, including an infinity pool on the 10th floor, a fitness center with treadmills near windows with views of the city, and a calming spa that's blanketed in the aroma of fresh flowers.
There's also an award-winning Indian restaurant and a romantic Italian joint.
The resort's 323 guest rooms and suites, all of which are at least 41 square meters, are some of Hyderabad's most spacious accommodations. From your private abode, you can take in magnificent views of the skyline or Rock Heights Park, stay connected with high-speed Wi-Fi, take a bubble bath in the soaker tub, and stash all your stuff in a walk-in wardrobe.
Concierges at this family-friendly resort have in-depth knowledge on the top things to do in Hyderabad–lean on them for assistance planning your sightseeing.
Address: HITEC City, Near Cyber Towers, Madhapur, Hyderabad, Telangana
9. The Park Hyderabad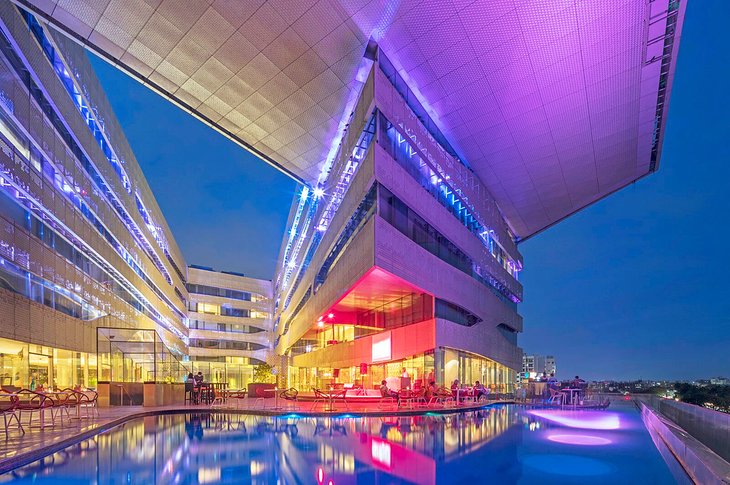 Accommodation: The Park Hyderabad
You can minimize your environmental footprint and still indulge in luxury at the Park Hyderabad. The five-star resort has earned LEED Gold certification for its sustainability efforts.
It's also decked out with stunning design elements, like shimmering gold pillars, a sculptural entryway to the property, and ornate chandeliers.
Bring your swimsuit–the outdoor swimming pool is the most popular place to hang out at the resort, especially when there's live music.
The rooms and suites at the Park Hyderabad are fashion-forward and even a little futuristic, with arched wood accents behind the TVs, shiny white-tiled flooring, and architecturally intriguing workspaces. The glamorous accommodations are a feast for the eyes, but still a comfortable place to call home during your trip to Hyderabad.
When you're ready to eat, you can find tasty Indian and Italian fare at the 24-hour on-site restaurant, Verandah, or opt for a special night of fine-dining at Aish, the Hyderabadi eatery.
Address: 22, Raj Bhavan Road, Somajiguda, Hyderabad, Telangana
10. Sheraton Hyderabad Hotel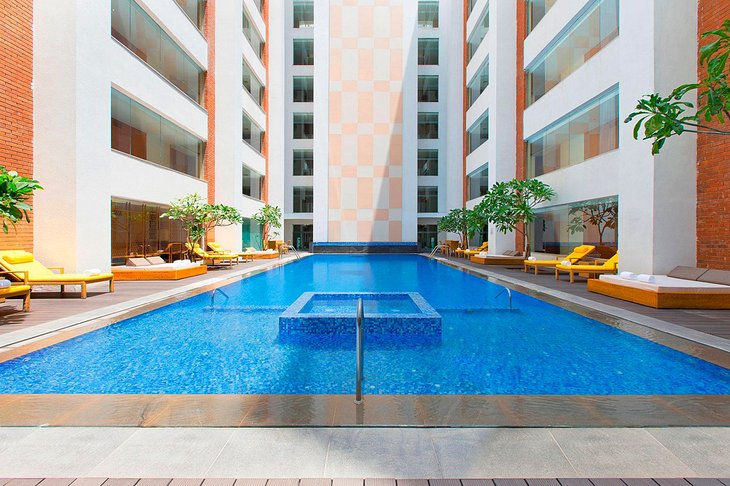 Accommodation: Sheraton Hyderabad Hotel
Situated close to Gachibowli's bustling financial and information technology district, the Sheraton Hyderabad Hotel is a five-star resort with tons of amenities to help you wind down after business meetings or sightseeing in the city.
You can easily spend an entire afternoon getting pampered with specially curated oils at the spa, maintaining your fitness at the all-inclusive gym, and cooling off in the swimming pool (which includes an area for children).
The Sheraton Hyderabad Hotel has 272 well-appointed rooms and suites. They have large TVs, mini fridges, upscale marble bathrooms, sofas, complimentary Wi-Fi, and comfy beds made with crisp white linens. One- and two-bedroom apartments are also available.
There are three places to eat at the resort, including a casual buffet restaurant and a social eatery that offers Asian comfort food. A café also offers gourmet deli fare and grab-and-go snacks.
Address: 115/1 Nanakramguda, Financial District, Gachibowli, Hyderabad, Telangana
11. Avasa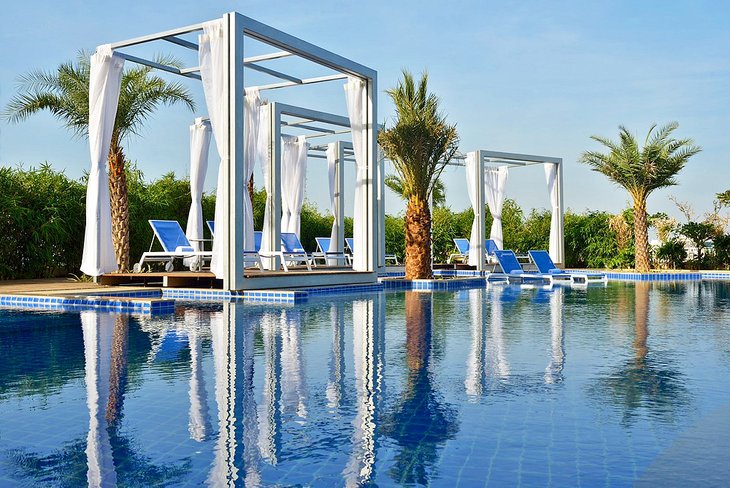 Accommodation: Avasa
If access to a great swimming pool is a high priority for your vacation, you'll love Avasa. The five-star resort has a spectacular pool surrounded by curtained cabanas and palm trees that make you feel like you're in the Caribbean. What's more, the resort also has a serene spa, palatial fitness center, and two restaurants, giving guests plenty of places to explore and enjoy during their stay.
Avasa's rooms feel like pristine white canvases that have been splashed with color in just the right places. You'll find giant macro photos of pink, blue, and gold lilies on the walls; patterned carpets in bright hues; and crushed velvet sofas. The accommodations include free buffet breakfast.
Address: 15, 24, 25 & 26, Survey No. 64, Hitech City Rd., HUDA Techno Enclave, Sector 1, Hyderabad, Telangana