10 Top-Rated Resorts in Coorg
The best resorts in Coorg not only offer sublime spaces to sleep in this beautiful Karnataka hill station–they also help tourists get to know the destination's culture and its famous flora and fauna more intimately through memorable activities, like rides in traditional wicker fishing boats, plantation tours, elephant encounters, safaris, and coffee tastings.
Many of these properties are situated on stunning landscapes that feel like must-visit destinations in their own right.
You can easily spend your days getting pampered in the resorts' spas, splashing around their pristine pools, filling up on meals made with local ingredients at their gourmet restaurants, and wandering their flowering gardens.
If you're ready to plan your trip to the "Scotland of India," find the perfect place to stay in this lush paradise with our list of the best resorts in Coorg.
1. The Tamara Coorg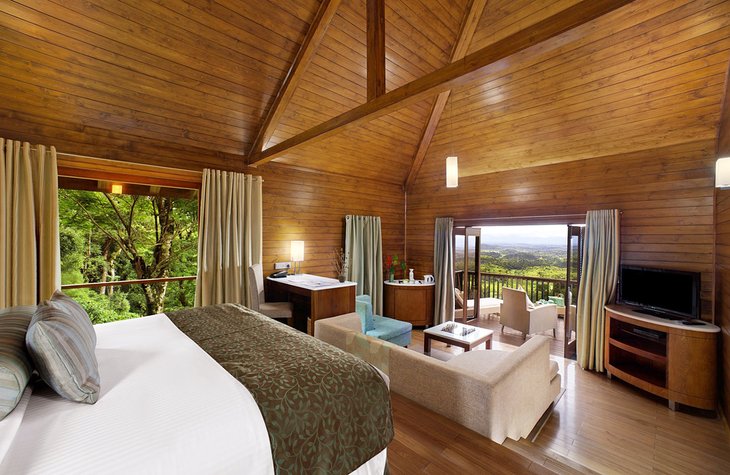 Accommodation: The Tamara Coorg
Take one look at The Tamara Coorg, and you might think you're in the Rocky Mountains or Swiss Alps, rather than a Karnataka hill station.
Accommodations at this five-star resort consist of comfortable cottages that feel like Alpine chalets surrounded by lush green forest. Many of the pastel-hued abodes come with sundecks or balconies, and the most exclusive suite even offers an outdoor Jacuzzi.
The resort only allows children age 12 and up, so it tends to have a more adult atmosphere than properties that cater to families with small kids.
Facilities here are also first-rate. At its award-winning Elevation Spa, guests can choose from six treatment rituals, some of which include a relaxing bath on an open-air deck. You can take a dip in two distinct pools (one indoor, one outdoor).
A heritage building known as the Verandah houses a coffee lounge, bookstore, and a gift shop that's chock-full of spices and other products grown on the resort's estate. There's a tranquil yoga temple lit with traditional clay oil lamps.
The resort also offers a gourmet restaurant that's built on a bridge over a natural stream, complete with a glass floor so you can see the waterfall below.
Nature-based activities are the most popular offerings at the resort. The staff can help you arrange forest bathing, trekking, plantation tours, bird-watching, and other fun experiences.
Address: Kabbinakad Estate, Napoklu Nad Madikeri, Yavakapadi Village, Karnataka
2. Taj Madikeri Resort & Spa, Coorg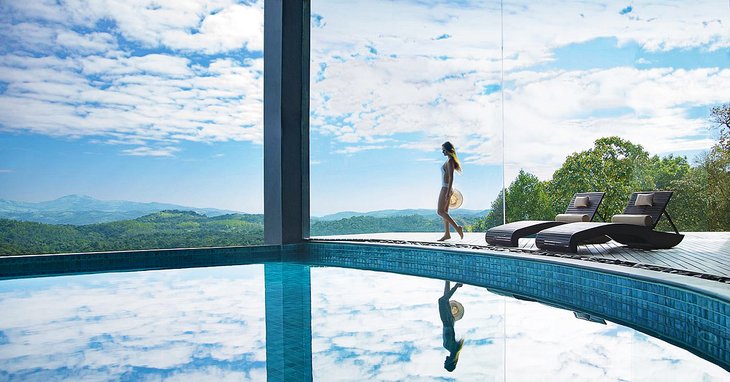 Accommodation: Taj Madikeri Resort & Spa, Coorg
It's hard to say whether the landscape or the facilities are more impressive at the Taj Madikeri Resort & Spa in Coorg. The property is situated within a hilly 180-acre rainforest filled with more than 200 plant species, including cardamom, eucalyptus, and coffee.
This five-star resort also offers a 30,000-square-foot spa with rainforest views from every treatment room, a temperature-controlled infinity pool, four tempting restaurants, and a fitness center with personal training services upon request.
But for some guests, the accommodations are the most glorious part of the experience at the Taj Madikeri Resort.
The suites are housed in structures with traditional Coorg architecture and open up into a central courtyard. Inside, you'll find open-to-the-sky entranceways, comfy beds with crisp white sheets, wooden pillars, stone-clad bathrooms, and rain showers.
Some also come with unique features, like private fireplaces, soaking tubs, and private plunge pools in rooms crowned with skylights. Kids stay free.
The resort has its own conservatory filled with historic artifacts–it's a great spot to learn more about the culture, history, and crafts of Coorg. The staff can also help you plan activities around the area, including up-close encounters with elephants, tours of Madikeri Fort, and coffee tastings.
Address: 1st Monnangeri, Galibeedu Post, Monnangeri, Madikeri Taluk, Karnataka
3. The Serai Kabini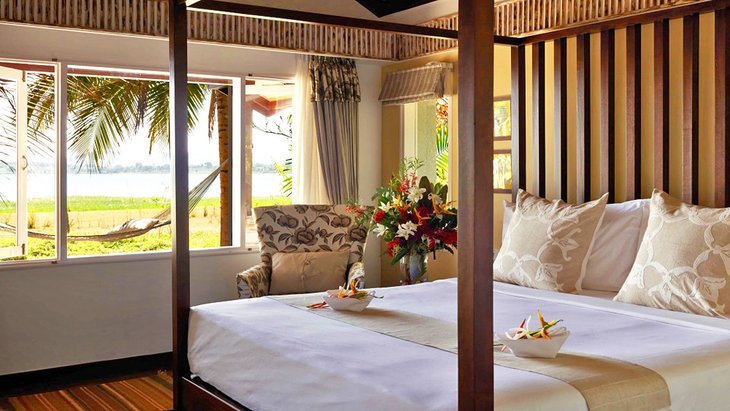 Accommodation: The Serai Kabini
The Serai Kabini is a four-star resort that caters to families who are interested in wellness and wildlife experiences. It's situated right next to the Kabini River (a hot spot for herds of elephants), on the southeastern side of Nagarhole National Park. More than 300 bird species can be seen in the area.
For wellness enthusiasts, the resort offers a holistic spa with treatments that utilize natural ingredients like wild ginger, cinnamon, and fennel. Three dining options (including an outdoor restaurant beside the pool) complete the overall experience.
Accommodations at the Serai Kabini come in three styles. The waterfront veranda consists of twin cottages with intimate patios, open-sky showers, and warm wood interiors.
The significantly larger waterfront villas come with their own enchanting green spaces for the guests' private use.
The top-level category, the Residence, feels more like a private home with a separate bedroom, living room, two decks, and a jacuzzi.
Families with children are welcome at this resort, which has a dedicated play area for little ones. The staff can also help you arrange kid-friendly experiences, including sunset sailing courses, safaris by boat or jeep, and tours in traditional wicker fishing boats known as coracles.
Address: Nishana Karapura Village Antarasante Hobli, H D Kote Taluk, Nagarhole National Park, Karnataka
4. The Ibnii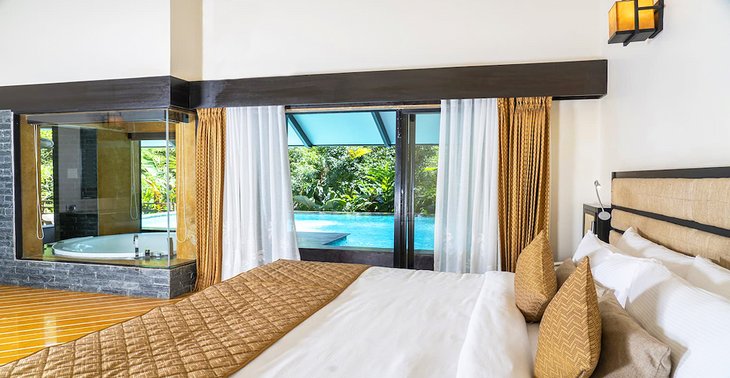 Accommodation: The Ibnii
The Ibnii sets itself apart from other Coorg resorts by having a whopping 22 private pool villas, rather than just one or two.
This four-star eco-luxe resort is located on 125 acres of woodland that was once a coffee estate. It offers a large infinity pool with a waterfall for all guests to enjoy, a tranquil spa, and several dining options.
The resort's signature pool villas feature luxurious interiors with pops of blue and red, and panoramic views of the forest.
Couples looking for an even more upscale experience may prefer one of the Poinsettia suites, which come with a pool as well, but are larger. Designed with romance in mind, they also include a Jacuzzi.
This resort also offers wooden cottages for up to four adults. Children under the age of 12 are restricted from some areas of the resort, so if you're traveling with young kids, it's worth familiarizing yourself with the property's policies.
You're spoiled for choice when it comes to meals at this resort. It has an open-air restaurant that serves a variety of cuisines, a vegetarian eatery that offers elaborate thalis at lunch, a barbecue joint with a glass ceiling, and an award-winning coffee shop. Bring your appetite!
Address: 123 Ibnivalavadi Village Boikeri, Madikeri, Karnataka
5. Evolve Back, Coorg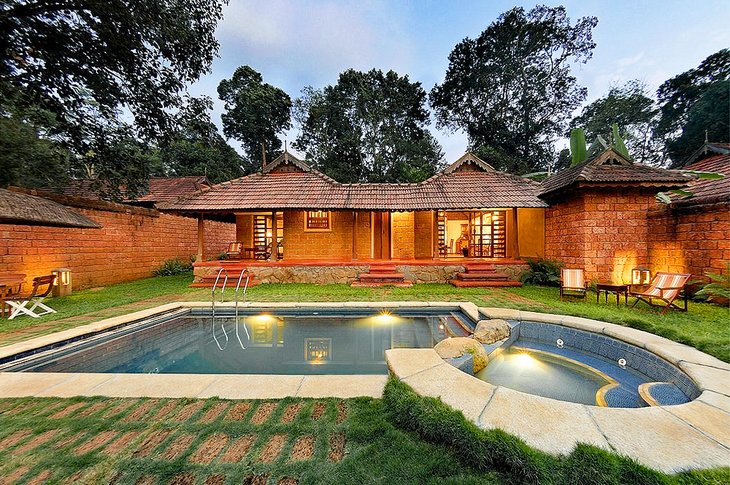 Accommodation: Evolve Back, Coorg
Evolve Back is a four-star resort cocooned within a 300-acre working plantation. Its scenic grounds, combined with the subtle scents of coffee and spices that waft through the air, make the resort feel otherworldly.
This is a place where magical travel experiences come easy–the resort can lay out a romantic moonlight dinner for you and your partner on the infinity pool deck or the treehouse, teach you the art and science of gourmet coffee at its one-of-a-kind coffee museum, arrange a ride on a coracle, or take you on a guided tour of the plantation, among other special activities. You can also dine at three restaurants on the property.
No matter which type of accommodation you book, you'll enjoy your own private pool.
The heritage villas have distinctive Kodava architecture, while the lily pool villas, bungalows, cottages, and duplexes feature (you guessed it!) gentle ponds with floating lily pads. The interiors feel colonial, yet tropical, with canopied beds and warm lighting.
Every space looks like it belongs in a design magazine.
There are a variety of things to do at Evolve Back. Consider borrowing one of the resort's e-bikes and exploring nearby villages, then rejuvenating your body with an Ayurvedic treatment at the spa.
Address: Karadigodu Post, Siddapura, Karnataka
6. Club Mahindra Madikeri, Coorg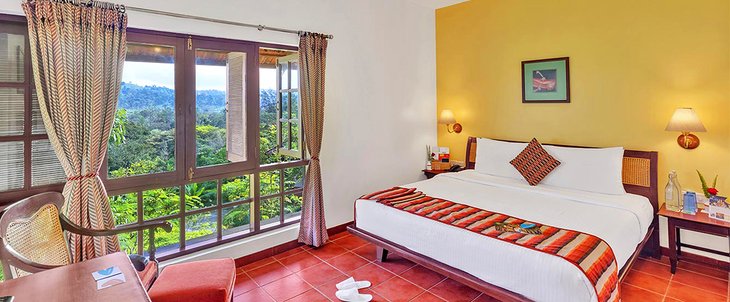 Accommodation: Club Mahindra Madikeri, Coorg
Located less than two kilometers away from Abbey Falls, Club Mahindra Madikeri offers easy access to some of the top attractions in Coorg.
This four-star family-friendly resort invites guests to participate in all kinds of things to do, including 26 different adventure activities, yoga classes in the rainforest, tours of coffee and spice plantations, and aqua aerobics. Much of the action happens around the sprawling pool.
Accommodations at Club Mahindra Madikeri infuse traditional Kodagu designs with contemporary amenities. They range from basic guest rooms that can comfortably sleep two adults and a child to one-bedroom suites for up to four adults and two kids.
Some rooms are interconnected, which could be a benefit for large families traveling together. There's no extra charge for children.
The resort's distinctive restaurants ensure that every member of the family finds meals they enjoy during their stay.
In-between meals, you can take advantage of a game room, bicycle rentals, a fitness center, and hiking trails. A spa is also available if you're looking to get pampered during your Coorg vacation.
Address: Galibeedu Road, Village Kalakeri Nidugane, Madikeri, Karnataka
7. Waterwoods Lodge Kabini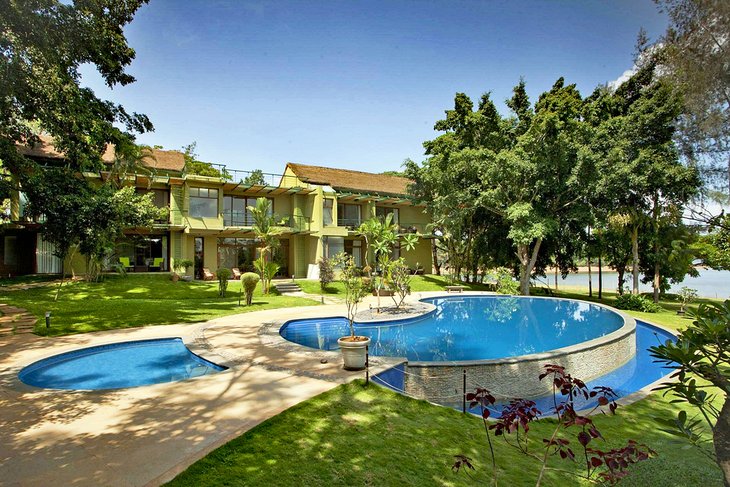 Accommodation: Waterwoods Lodge Kabini
Waterwoods became the first private lodge at Nagarhole National Park when it opened in 1999.
Over the years, this four-star resort has continued to grow in popularity with visitors to Coorg who want to be close with nature and enjoy views of the Brahmagiri mountain range.
The resort has an infinity pool and a kids' pool in its central courtyard, along with an outdoor dining deck and a library with a collection that expands year after year. There's also a recreation room with more than 25 board games that makes a great spot for families to unwind after a day in the great outdoors.
Guests stay in a mix of eco-luxe accommodations that include both indoor and outdoor spaces and huge windows. More than 60 percent of the walls in the superior king rooms are made up of glass panels, so you can always catch a wonderful view.
Some of the larger family rooms include direct access to the pool. Overall, the vibe is soothing and nature-inspired–perfectly complementing the surrounding scenery.
From kayaking and boat cruises to stargazing, the resort has plenty of activities to fill your itinerary. In the evenings, it also hosts screenings of wildlife documentary films, complete with hot snacks.
Address: 19, Karapura, N. Belthur Post Office, HD Kote, Taluk, Nagarhole National Park, Karnataka
8. Red Earth, Kabini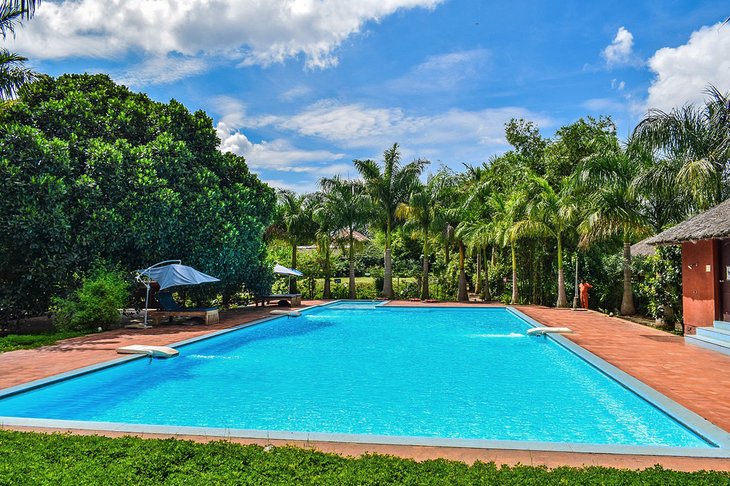 Accommodation: Red Earth, Kabini
With just 20 private cottages, Red Earth offers guests an intimate experience with all the amenities you could ask for.
This four-star resort on the edge of the Kabini River has a large pool shaded by palm trees, an organic restaurant, a café with views of the backwater, and a spa.
It creates a new schedule of activities every week, so there's always something fun to do. All-inclusive packages are available.
The cottage accommodations at this family-friendly property are designed to be comfortable and earthy. They include king-size beds, scenic views, large en suite bathrooms, and private open-air Jacuzzis. The resort also welcomes pets!
Address: Badane Kuppe village Via Antharasante, Nagarhole National Park, Karnataka
9. The Windflower Resort & Spa Coorg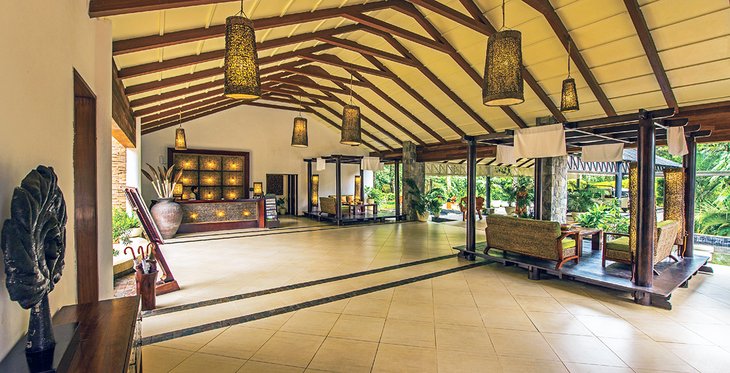 Accommodation: The Windflower Resort & Spa Coorg
The Windflower Resorts & Spa is a four-star resort that promotes seclusion in nature. Its swimming pool is particularly unique, built around two old trees that shade the water.
Wellness is also a highlight here, best discovered at the property's award-winning spa, yoga hall, or meditation points along the waterfront.
A giant chess board, bonfires, trampoline, and stone-carving classes round out the experience for the entire family.
In terms of accommodations, guests can choose from studios, suites, and villas. The design is contemporary and clean–there's no extra furniture cluttering the space, but you have everything you need at your fingertips, along with a beautiful view and private outdoor space.
Some of the accommodations have open-air showers, sun-lit Jacuzzis, or indoor hot tubs.
The resort also has a healthy bistro with low-calorie wellness cuisine and meals that feature local ingredients.
Address: P1 Kedakal Village Survey No Suntikoppa Hobli, Somwarpet Taluk, Suntikoppa, Karnataka
10. Old Kent Estates & Spa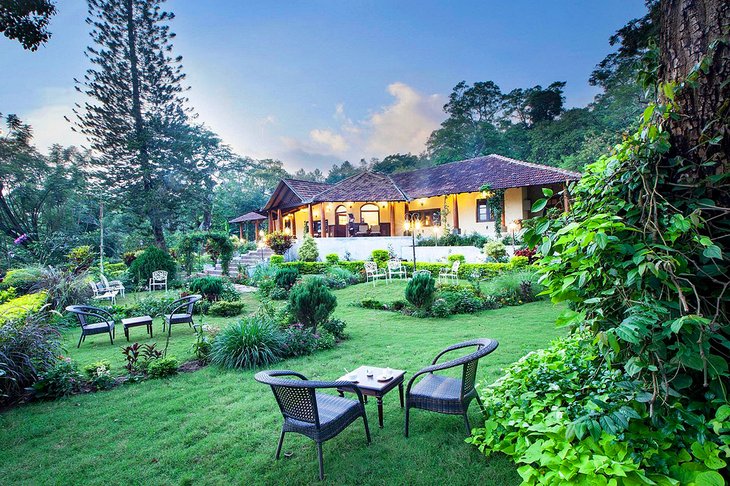 Accommodation: Old Kent Estates & Spa
If you want to feel like you're traveling back in time, book a stay at Old Kent Estates & Spa.
This four-star resort is located on the site of one of the first coffee plantations in Southern India. The 200-acre estate has been transformed into a family-friendly resort that captures its historical legacy throughout its British Raj-inspired interior design.
On-site, you'll find an English rose garden, a theater, library, a spa, children's play area, and a restaurant.
The colonial character continues in the resort's accommodations, which consist of cottages tucked throughout the estate.
Antique writing desks, four-post beds, and regal upholstered furniture add charming touches throughout the spaces. There are also spacious bathrooms with skylights and private gardens with outdoor seating.
Address: Thaikappa Estate, Horoor Post and Village, Suntikoppa, Karnataka