10 Top-Rated Resorts in Bangalore
Whether you're visiting the "Silicon Valley of India" for sightseeing, business, or perhaps both, resorts in Bangalore can help you make your trip one to remember.
These resorts give you access to everything this tech-focused South Indian city has to offer.
Visit the incredible ISKCON Temple, get some nature therapy in Cubbon Park or Lalbagh Botanical Garden, and tour the Bangalore Palace.
After a day of sightseeing, your Bangalore resort will help you refuel at a gourmet restaurant and recharge in a cozy guest room or swanky suite.
To find a great place to stay on your trip, check out our list of the best resorts in Bangalore.
1. Palm Meadows Resort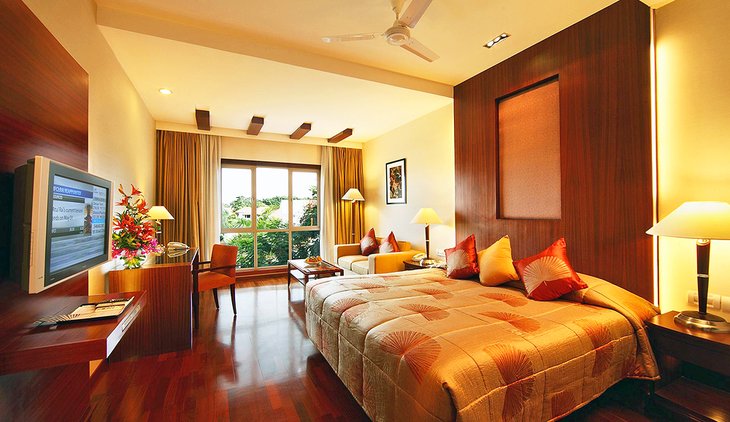 Address: Ramagondana Halli, Varthur Road, Phase 1, Whitefield, Bengaluru

Accommodation: Palm Meadows Resort
Palm Meadows Resort is a five-star resort in Bangalore that offers a tranquil getaway from the city.
This family-friendly property, which is popular with business travelers, sprawls over five verdant acres. It offers both indoor and outdoor swimming pools, along with a spa, Jacuzzi, large fitness center, kids' play area, and three places to dine.
The resort's accommodations come in three categories. Its luxury rooms offer private patios that look out on the gardens, pools, or villas.
In a separate wing of the hotel, the club rooms offer similar amenities to the luxury rooms, but with a lot more space. The suites have their own living and dining areas, along with great views of the pool.
If you're looking for fun things to do on-site, the resort's got you covered with courts for squash, tennis, badminton, and basketball. You can also play billiards and snooker in the cards room.
2. Golden Palms Hotel & Spa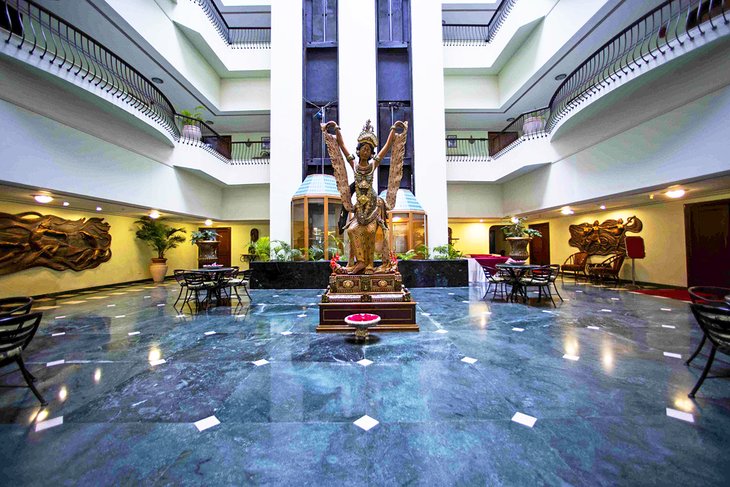 Accommodation: Golden Palms Hotel & Spa
Located just six kilometers from the Bangalore International Exhibition Center, the Golden Palms Hotel & Spa is a five-star resort that caters to families.
It exudes a Mediterranean-style ambience with its beautiful courtyards and fountains. The resort houses one of Bangalore's largest spas, which offers a mix of beauty and wellness treatments, and a state-of-the-art gym.
Kids and adults alike can also spend all day enjoying the property's dreamy 135-meter lagoon-shaped pool. Three restaurants, including a specialty Chinese eatery, can be found on the property, as well.
The resort's 150 rooms and suites are well-appointed and tastefully designed, making for a comfortable place to rest your head at night. Each comes with its own balcony and climate control.
Families can splurge on one of the lavish presidential suites, which have extravagant furniture and tons of space, for an even more upscale vacation.
There's staff at the resort dedicated to helping families make arrangements for things to do. Options include treasure hunts, cycling, tug-of-war, and musical chairs–just to name a few. Let them know what you're interested in, and they can probably make it happen.
Address: Golden Palms Avenue, No. 31 & 32, Nagarur Village Dasanapura, Hobli, off Tumkur Main Road, Bengaluru
3. The Leela Palace Bengaluru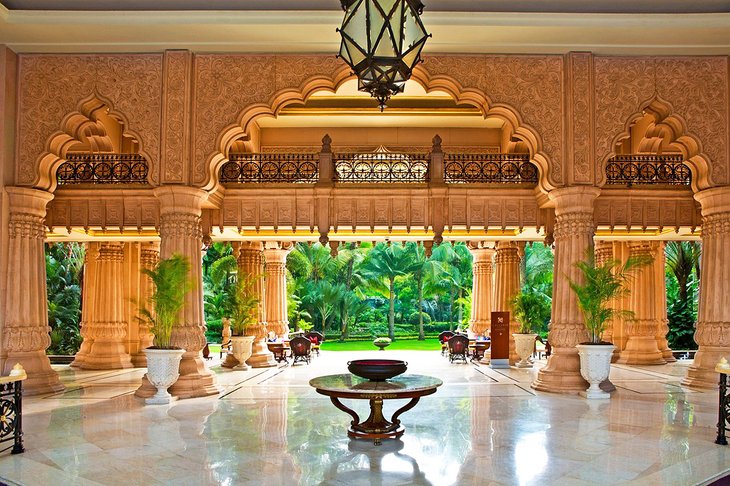 Accommodation: The Leela Palace Bengaluru
With its castle-like architecture, seven acres of lush gardens, and a magnificent grand lobby, The Leela Palace Bangaluru makes a stellar first impression among tourists in Bangalore.
The hotel draws its inspiration straight from the Royal Palace of Mysore, a popular attraction in South India.
This five-star hotel, which bills itself as "Garden City's Only Modern Palace Hotel," welcomes couples and families to enjoy a plethora of resort-style amenities, including a sparkling pool, relaxing spa, art collection, and award-winning restaurants.
Few other resorts in Bangalore rival The Leela Palace when it comes to variety of accommodations. It offers 10 different categories of rooms and suites.
The conservatory rooms and royal premiere rooms make great options for tourists who want ample space, a luxurious yet laid-back vibe, and views of either the city or gardens and waterfalls.
If you're looking to splurge, try to score the exclusive Maharaja Suite. With 3,500 square feet of living space, a separate guest room, dining room, and a steam room and Jacuzzi in the bathroom, the suite is downright wow-worthy.
The services available at The Leela Palace are as high-end as the resort itself. It offers airport transfers in a BMW, a pillow menu, tailor-made romantic getaway itineraries, and curated sightseeing tours of top attractions in Bangalore.
Check out the packages available at the hotel for deals like complimentary rooms for kids, spa treatments, sunset photoshoots, and family workshops.
Address: 23 HAL Old Airport Road, HAL 2nd Stage, Bengaluru
4. Four Seasons Hotel Bengaluru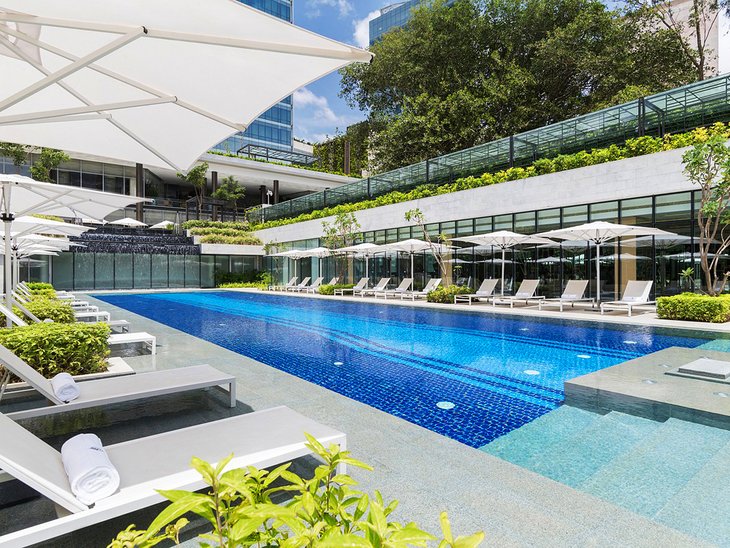 Accommodation: Four Seasons Hotel Bengaluru
No other resort will make you feel like you're an A-lister quite as well as the Four Seasons Bengaluru.
Known for its stellar service and sleek accommodations, this five-star hotel also has several fantastic dining options.
Its Asian brasserie, Far & East, can be found on the highest floor of the hotel, giving guests the chance to watch the cityscape glitter while digging in to dim sum and sushi. You can also enjoy Italian and Indian cuisine, as well as afternoon tea, at the Four Seasons Hotel Bengaluru's other eateries.
With three guest room categories and five styles of suites, this hotel gives guests plenty of options when it comes to your home away from home.
All guest rooms feature marble bathrooms, customizable beds with your choice of mattress topper, and views of either the city or the pool. Suites offer an apartment-like atmosphere, along with private gardens and outdoor pergolas. As a bonus, kids stay at no additional cost.
The hotel's exquisite spa is well worth a half-day in your Bangalore itinerary. After your treatment, stroll in the meditative butterfly garden or take a dip in the beautiful pool to continue your relaxation.
Address: 8 Bellary Road, Dena Bank Colony, Ganganagar, Bengaluru
5. Gokulam Grand Hotel & Spa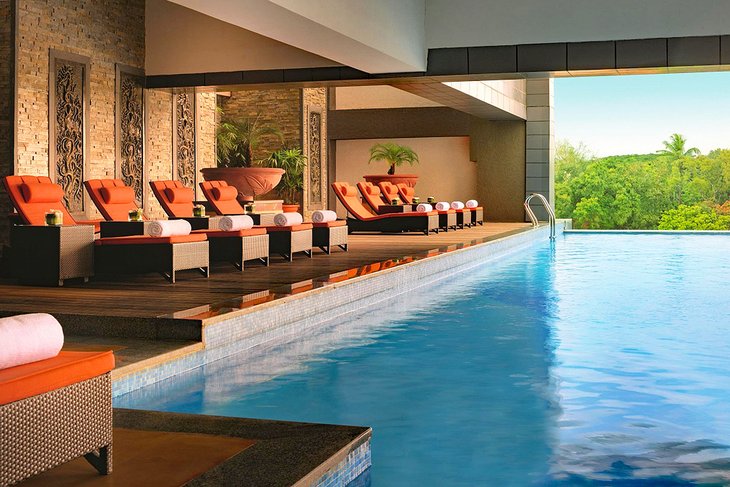 Accommodation: Gokulam Grand Hotel & Spa
Gokulam Grand Hotel & Spa is a five-star hotel with two restaurants, four banquet halls, a spa, fitness center, and a partially covered pool that opens up to the outdoors.
Its location near the BEL Circle offers easy access to the Indian Institute of Science and Jaya Prakash Narayana Park.
This resort-style property offers stylish rooms with hardwood floors, warm colors, and great views of Bangalore.
Suites are also available for families who need more space to spread out. They come with glamorous bathrooms and massive soaking tubs. All accommodations include bathrobes, slippers, free Wi-Fi, and complimentary breakfast.
If you happen to be driving, you can take advantage of free parking at the hotel. A concierge and a tour desk are available if you need expert assistance arranging things to do and sightseeing excursions in Bangalore.
Address: 115 Mangalore-Villupuram Road, HMR Layout, Gokula Extension, Jalahalli, Bengaluru
6. ITC Gardenia, a Luxury Collection Hotel, Bengaluru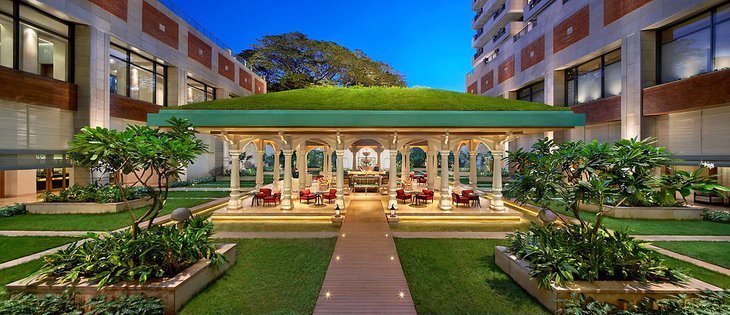 Accommodation: ITC Gardenia, a Luxury Collection Hotel, Bengaluru
The ITC Gardenia honors Bangalore's nickname as "The Garden City of India" with a light environmental footprint and a nature theme throughout the property.
This five-star hotel notes that it's the first hotel in Asia to have earned Platinum Rating from LEED, a green building certification program, for its sustainability efforts.
The hotel features a wind-cooled lobby, outdoor restaurant with a grass-topped roof, vertical gardens, and a dazzling pool.
Nearly 300 rooms and suites are available at this Bangalore hotel. The guest rooms have been designed with the intention of promoting a good night's rest. They offer slumber-inducing music, black-out curtains, and a menu of foods infused with calming ingredients.
If you're looking for lots of space, consider booking the Peacock Suite–it's reputed to be one of India's largest presidential suites. It even comes with its own treadmill and private pool.
Seven different dining options are available at this Bangalore hotel, including a Japanese restaurant with an interactive grill and a chocolate boutique.
You can also make use of the spa and fitness center. When you're ready to explore Bangalore, ask the "Welcome Concierge" about the hotel's special food tours–or simply let them know what you're interested, and they can arrange a day of sightseeing.
Address: 1 Residency Road, Ashok Nagar, Bengaluru
7. Hilton Bangalore Embassy GolfLinks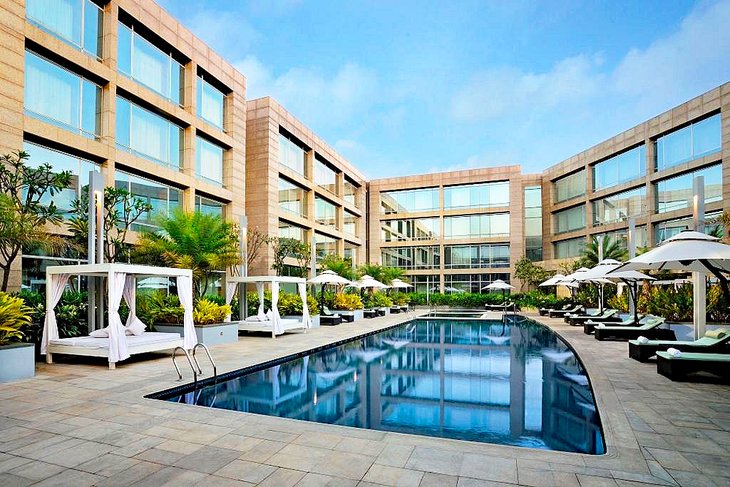 Accommodation: Hilton Bangalore Embassy GolfLinks
As its name suggests, the Hilton Bangalore Embassy GolfLinks is a five-star hotel designed for golfers.
It overlooks the Karnataka Golf Association (KGA) Golf Course, making it a convenient spot to stay for tourists looking to improve their golf swing. However, even non-golfers (including families with children) can find things to do at this hotel.
This hotel offers a range of resort-style amenities, including a temperature-controlled outdoor pool, fitness center, kids' play area, spa, library, and a badminton court.
As you'd expect from a Hilton property, accommodations at this hotel are upscale and well-appointed. Even the most basic room categories offer fully-equipped kitchenettes, four-fixture bathrooms with rain showers and separate bathtubs, and living and work spaces. One- and two-bedroom suites are also available.
While this hotel is located near several great restaurants, it also offers creative dining experiences on-site. The Salt Grill restaurant cooks meats and veggies on Himalayan salt slabs, while Klinx serves tapas-style meals and offers live music. There's also a café with pastries and sandwiches.
Address: Off Intermediate Ring Road, Embassy Golf Links Business Park, Challaghatta, Bengaluru
8. The Park Bangalore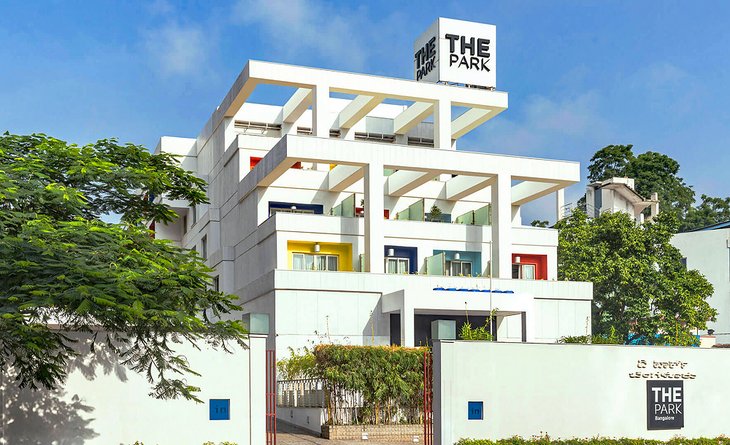 Accommodation: The Park Bangalore
The Park Bangalore combines boutique-style accommodations with the services and facilities available at most big resorts.
This five-star hotel has bagged several awards for its dining and overall property. In addition to a state-of-the-art fitness center, spa, swimming pool, and four dining options, the hotel also has a gift shop brimming with souvenirs.
Guest rooms at the Park Bangalore ooze style. Four-poster beds and brightly colored linens and curtains give the base category accommodations a distinctive feel.
The higher-end rooms skew more sophisticated, with soothing gray tones, paisley prints, and spa-like bathrooms.
Don't miss the on-site Italian restaurant, Italia. It's considered one of the top Italian restaurants in India and offers carb-fueled feasts you won't forget.
Address: 14/7, Mahatma Gandhi Road, Yellappa Garden, Yellappa Chetty Layout, Ashok Nagar, Bengaluru
9. The Chancery Pavilion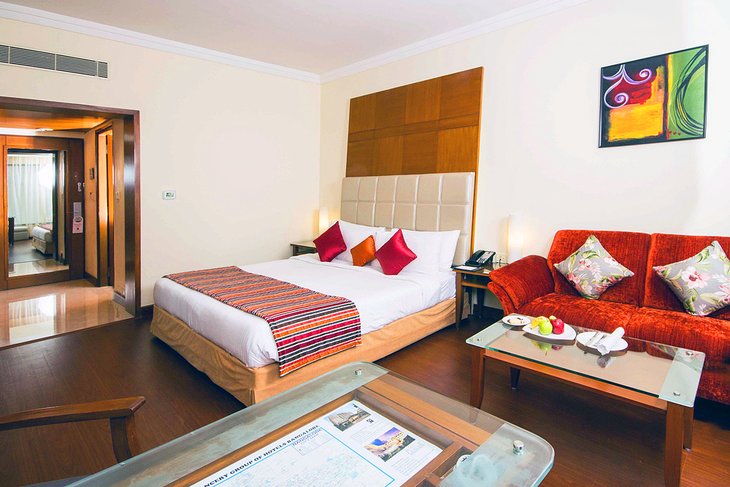 Accommodation: The Chancery Pavilion
Located just Southeast of Bangalore's historic Cubbon Park, the Chancery Pavilion is a five-star hotel with exceptional hospitality and 222 guest rooms.
Most of the action centers around the property's resort-style pool, which has plenty of lounge chairs and water volleyball. You can also shop at the in-house galleria, work up a sweat at the fitness center, relax at the spa, and indulge at three restaurants on the property.
Guest rooms at The Chancery Pavilion offer a warm, modern ambience, plush furniture, and lots of space, making them particularly well-suited to families with children. Some packages include complimentary access to the buffet breakfast.
The hotel is just a 15-minute drive from the Bangalore Palace. After visiting attractions around Bangalore, treat yourself to something sweet from the Chancery Pavilion's delectable cake shop.
Address: 135 Residency Road, Shanthala Nagar, Ashok Nagar, Bengaluru
10. Clarks Exotica Convention Resort & Spa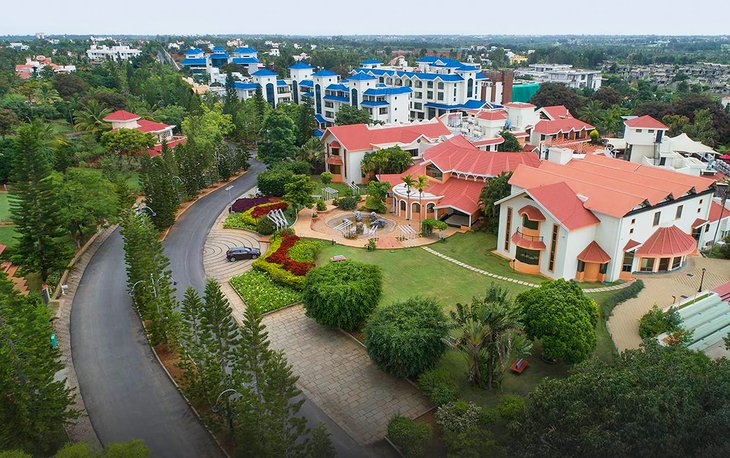 Accommodation: Clarks Exotica Convention Resort & Spa
At a half-hour drive from the city center, Clarks Exotica Convention Resort & Spa provides tourists with convenient access to Bangalore's major attractions, as well as a pleasant getaway from the urban environment.
This four-star resort keeps kids entertained with video games, waterslides, movies, and even a junior spa that's designed just for them.
Adult tourists, on the other hand, can make use of the property's world-class wellness center, fine-dining options, gym, and outdoor recreation facilities.
The hotel is home to 141 guest rooms, one-bedroom suites, and two-bedroom suites that have been designed to feel like soothing retreats. They all have a refrigerator and complimentary breakfast, and many also offer lovely balconies.
You can also book a full-board package, which will give you an experience similar to an all-inclusive resort.
One of the most popular facilities at this hotel is its palm tree-lined pool. It's the perfect spot to restore yourself after a day of off-site exploration at nearby attractions, like Nandi Hills, ISKCON Temple, and Phoenix Marketcity.
Address: Devanahalli Road, Hollywood Junction, Sadahalli Post, Swiss Town, Bengaluru