10 Top-Rated Resorts in Alibaug
Resorts in Alibaug make the perfect weekend escape from Mumbai. These serene properties keep you close to the destination's pretty beaches, including Alibaug, Nagaon, and Kihim, as well as the Kanakeshwar Forest and the area's many famous forts.
They also offer a luxe place to wind down after a day of sightseeing. Rooms in Alibaug resorts tend to offer fantastic views of the scenery, plush beds, peaceful seating areas, and amenities galore, leaving tourists well rested for the next day of their trip. On your down time, you can enjoy the swimming pools, restaurants, and spas available at many of these resorts.
As you're planning your weekend getaway from Mumbai, use our list of the best resorts in Alibaug to find the perfect place to stay.
1. Radisson Blu Resort & Spa Alibaug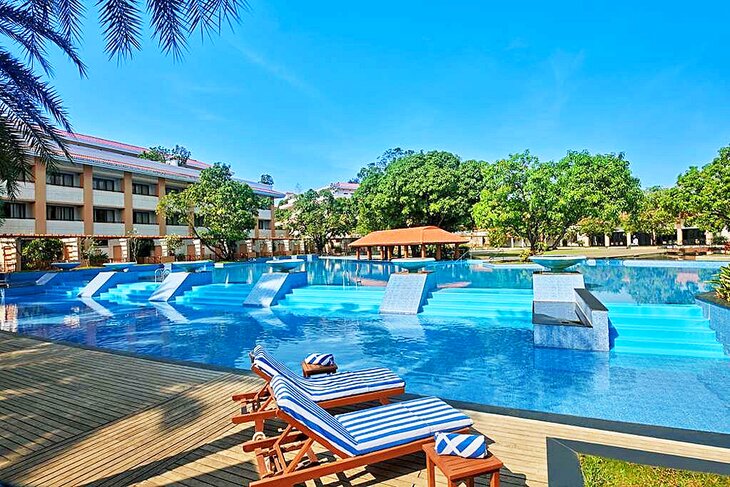 Accommodation: Radisson Blu Resort & Spa Alibaug
The Radisson Blu Resort & Spa Alibaug is a five-star resort that offers all-inclusive packages for families and couples.
Its convenient location, just two kilometers away from Nagaon beach, makes it an easy home base for tourists who want to soak up the sun and sand. The resort is situated on a 16-acre property with beautifully manicured lawns, sparkling reflection pools, a swimming pool, well-equipped fitness center, full-service spa, and a library.
There are also two full-service restaurants with international and coastal-focused local cuisines.
The resort is home to 156 rooms, suites, and villas. All accommodations include a scenic balcony or patio, free Wi-Fi, comfy beds, bright lighting, and a soothing rain shower in the bathrooms.
If you're looking for a wellness-focused getaway, opt for one of the spa villas. These tranquil retreats are located adjacent to the resort's wellness center, making it easy to get cozy after a massage. Lakeview villas are also available for guests seeking romance and picturesque vistas.
After a day of sightseeing around Alibaug, dance the night away at the resort's lively music venue, Razz Ma Tazz.
Address: Alibaug 402209, Raigad, Alibaug, Maharashtra
2. Outpost at Alibaug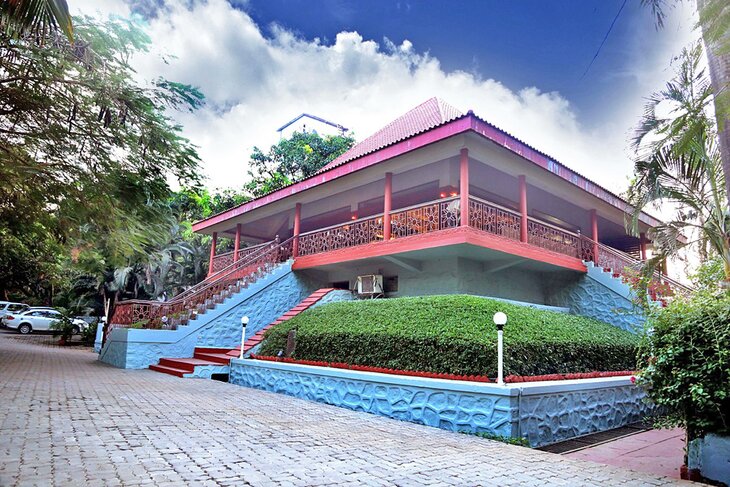 Accommodation: Outpost at Alibaug
If you're visiting Alibaug with children, you'll feel right at home at the Outpost at Alibaug. The four-star resort is considered one of India's top hotels for families. Less than a third of its four-acre property has been built up, which leaves plenty of lush lawns and recreational space available for guests.
An outdoor Italian restaurant and a vegetarian Indian eatery keep guests of all ages fed throughout their stay. There's also a large oval pool and a restorative spa with aromatherapy, Balinese wellness rituals, and beauty treatments.
The accommodations at this resort make it easy to experience rest and relaxation. The rooms have lavish furnishings, earth-toned linens and decor, mood lighting, and views of the green landscape. Upgrade to the super deluxe rooms for a spacious sit-out area, along with big windows that let in a pleasant breeze and the sounds of birds chirping in the morning. Room service is available throughout the resort.
As for entertainment, the resort is stocked with a variety of games, including table tennis, carrom, and chess. During sports seasons, head to the cinema area to see your favorite teams compete on the big screen.
Address: Chorande, Mapgaon, Alibaug, Raigad, Maharashtra
3. Tropicana Resort & Spa Alibaug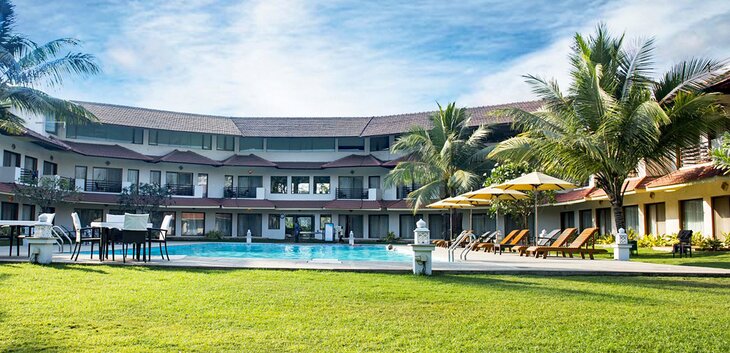 Accommodation: Tropicana Resort & Spa Alibaug
Looking for luxe accommodations in Alibaug? Book a stay at Tropicana Resort & Spa. This 3.5-star resort is a showstopper, with Balinese-style villas and an incredible swimming pool.
You can let your stress melt away at Sante, the resort's spa, which has a Jacuzzi and a menu filled with treatments to pamper you from head to toe. You can also stretch out after a long flight in daily fitness classes at the gym and get lost in a good book at the tranquil library.
The soaring ceilings of the Tropicana's rooms make you feel spoiled with space to spread out. They have princely beds with jewel-toned pillows, cozy sofas, an LCD TV, and separate dressing areas.
For more room, opt for one of the Club Pool Suites. These self-contained units have two bedrooms, a living room, dining area, private deck and pool, and an outdoor bathtub.
Villas with four bedrooms and butler service are also available, if you're traveling with a large group. These accommodations include the option for in-villa spa treatments.
Complimentary breakfast is included for all guests.
Dining at the resort can be a special experience for guests. The property can set up a private dinner in a gazebo with candles, flowers, and music for couples, or arrange for the chef to cook a personalized barbecue meal in your villa. You can also choose to enjoy any meal at EAT, the resort's all-day dining restaurant. It has a menu of local Konkani cuisine, as well as international favorites.
You can find lots of things to do at the resort, including horseback riding, indoor games, yoga classes, and cycling.
Address: Chondi Naka, Mapgaon, Alibaug, Maharashtra
4. Silvanus Forest Retreat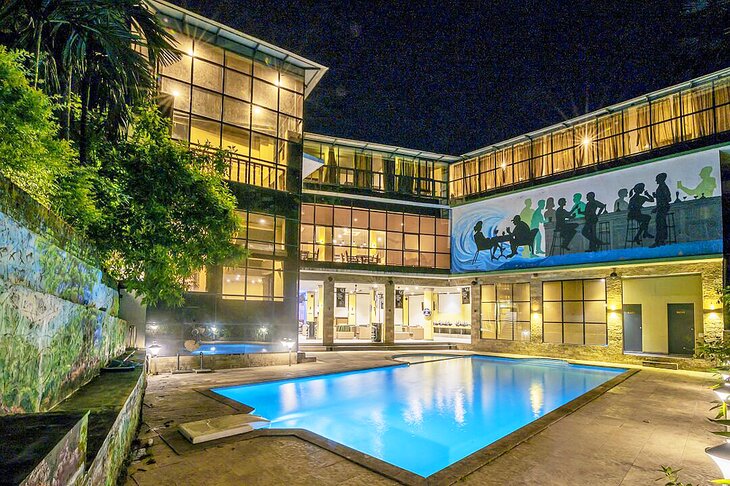 Accommodation: Silvanus Forest Retreat
Silvanus Forest Retreat might only be three kilometers from Kihim Beach, but its setting spread across 12 acres of greenery makes guests feel like they're in a personal paradise.
The three-star resort has an aquamarine pool backed by a large mural and a multi-cuisine restaurant that offers a buffet and room service.
The resort offers just a few dozen rooms and suites, giving guests lots of serenity and privacy. The accommodations have simple decor and a laid-back vibe to match their jungle-like surroundings. You'll have constant views of the trees (and any creatures that live in the forest) from the many windows throughout the spaces. Free Wi-Fi, air-conditioning, tea and coffee makers, and flatscreen TVs are available in all rooms.
When you're ready for sightseeing, the resort can help you with directions to beautiful Revdanda Beach, just minutes away from the property. You can also visit the historic Revdanda Fort.
Address: S. No. 975, Bhatgalli Chaul, Chaul, Alibaug, Maharashtra
5. Hotel Maple Ivy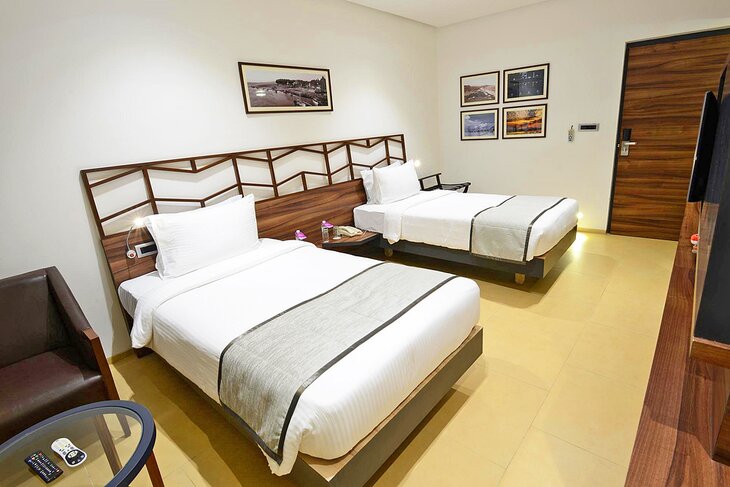 Accommodation: Hotel Maple Ivy
With a rooftop pool, a restaurant with Asian and continental cuisine, and a downright spectacular pool, Hotel Maple Ivy is a great resort for families and couples alike.
The three-star resort has ample banquet space for weddings and large gatherings of up to 175 people. There's also a relaxing spa and kids' play area, complete with climbing equipment, swings, and slides.
Four categories of rooms are available at this resort. The base category superior rooms have four-poster beds, electronic security system, satellite TV, king-size beds, and high-speed Wi-Fi.
At the deluxe level, the decor gets more interesting. You'll find geometric headboards behind the beds and captivating photography on the walls.
Suites can be a budget-friendly option for families who want lots of space without booking multiple rooms. There's also a villa with an open kitchen, dining area, and two living rooms. Breakfast is included.
Address: Veshvi, Post-Gondhalpada, Near Krushival Press, Alibaug, Raigad, Maharashtra
6. Opulence Beach Resort Kihim Alibaug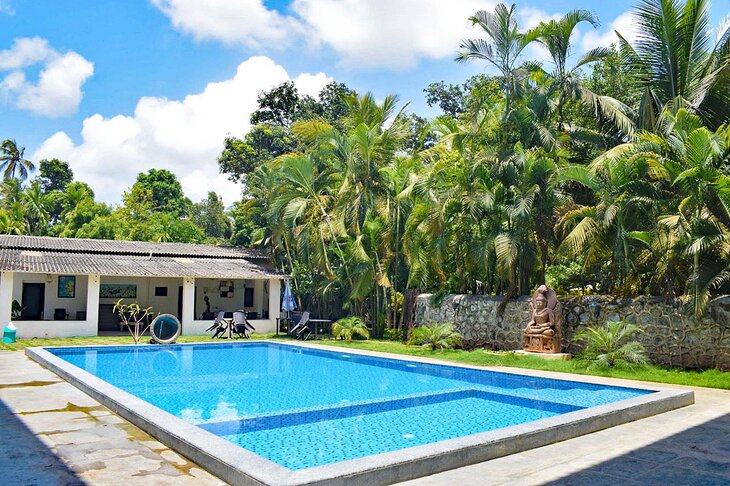 Accommodation: Opulence Beach Resort Kihim Alibaug
Attentive staff and friendly hospitality ensures that every guest at Opulence Beach Resort Kihim Alibaug feels like a VIP.
This boutique resort boasts an open lawn shaded by palms and other trees, as well as a huge swimming pool. The property's restaurant specializes in Konkani-style thali meals, which allow tourists to sample a variety of dishes on one plate.
Just two categories of rooms, both of which include free breakfast and Wi-Fi, make it easy for guests to choose accommodations at Opulence Beach Resort. The standard rooms are designed with budget travelers in mind. They feature multiple windows and a comfy queen-size bed.
If you want something more luxurious, go for one of the premier pool-facing rooms. They have pleasant outdoor seating areas overlooking the pool, king-size beds, and more amenities.
Pets are typically welcome, but it's a good idea to call ahead to confirm.
One of the best features of this resort is its location. You're just a short drive from major attractions, including Kolaba Fort, Kihim Beach, Raigad Bazaar, and Kanakeshwar Forest.
Address: Behind Ram Krishna Mandir, Kihim Beach Road, Off Chondi Naka, Kihim Beach, Alibaug, Maharashtra
7. Hotel West Coast Alibaug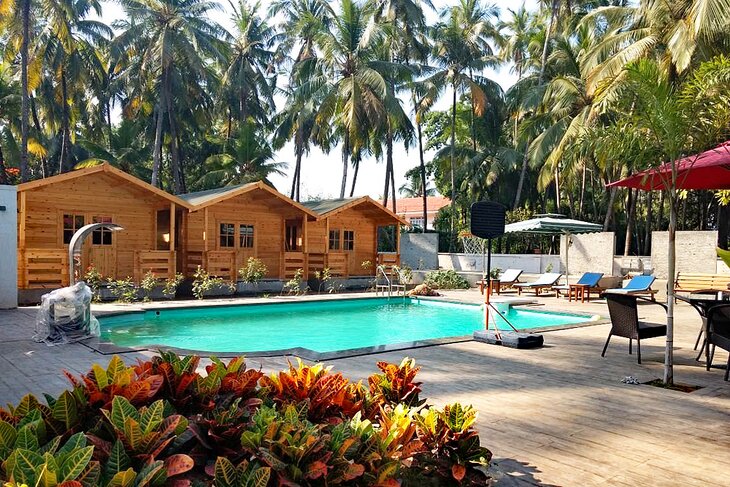 Accommodation: Hotel West Coast Alibaug
With a building that looks like an oversized bungalow and hammocks swaying between towering palm trees in the courtyard, Hotel West Coast Alibaug looks like a vintage postcard brought to life.
This family-friendly resort keeps guests entertained with live music on the weekends, karaoke, and an outdoor play area for kids. You can also splash around the pool and enjoy casual meals at the poolside restaurant.
Whether you're looking for a cozy cottage or upscale villa, you can find accommodations to fit your preferences at Hotel West Coast Alibaug.
The wooden cottages have a small veranda, air-conditioning, and a comfortable double bed, while the individual cottages have white-washed walls and four-poster beds.
Apartment-style spaces with one or two bedrooms are available, too. The 400-square-foot one-bedroom villa with a private plunge pool can be a romantic option for honeymooners.
The resort is less than a 10-minute walk from Nagaon Beach, so you'll have plenty of opportunities to lounge on golden sand and listen to the south of the crashing waves.
Address: Near Tourist Toll Collection Center, Nagaon Bunder Road, Nagaon, Alibaug, Maharashtra
8. Bohemyan Blue Stay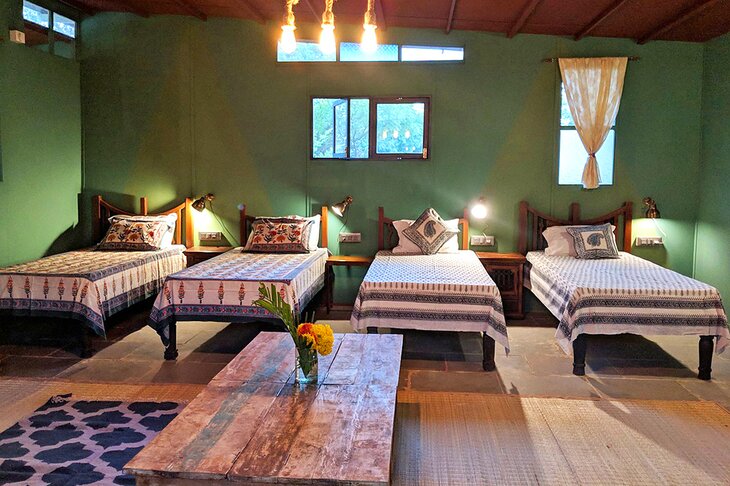 Accommodation: Bohemyan Blue Stay
Bohemyan Blue Stay is undoubtedly one of the most memorable places to stay in Alibaug. Unlike traditional resorts, this rustic property specializes in luxury camping ("glamping"), which keeps tourists immersed in nature on the property.
The tents and cottages have a bohemian flair, with mixed prints on the bedspreads and curtains and soft lighting dangling from ropes. You definitely aren't roughing it at this resort, though. Accommodations include resort-style bathrooms, high-speed Wi-Fi, coffee and tea makers, work spaces, and smart TVs.
Beyond accommodations and a great swimming pool, the property also has several unique features and amenities. It has a woman-run restaurant that serves Konkani and Mediterranean cuisine. The staff have planted thousands of native shrubs and plants on the grounds. Barbecues and bonfires are hosted all winter long. There are also mountain bikes, carrom boards, table tennis, indoor games, and a small library.
Address: Behind Bohemyan Blue on Alibaug-Revas main road between Chondhi and Zirad, Alibaug, Maharashtra
9. Berryl Resorts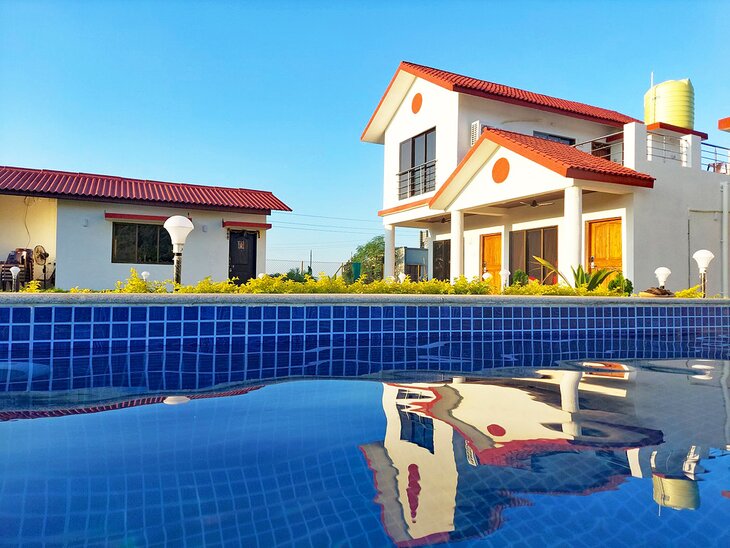 Accommodation: Berryl Resorts
Located just 15 minutes away from both beaches and waterfall hikes, Berryl Resorts gives tourists easy access to some of the top attractions in Alibaug. The property's most popular facility at the resort is its rectangular swimming pool, which is lit up after dark.
The quaint resort also has an on-site restaurant, garden, karaoke, and multilingual staff.
Every room at this resort has a balcony with views of the garden, pool, or mountains. The base category deluxe rooms are small, yet clean and welcoming. The superior rooms are more spacious with large windows and pretty decor. The resort offers guests the ability to reserve an entire villa, as well. Air-conditioning and free Wi-Fi are available.
Address: Sameera Complex, Sahan bypass, Alibaug Roha Road, Alibaug, Maharashtra
10. Hotel Ravikiran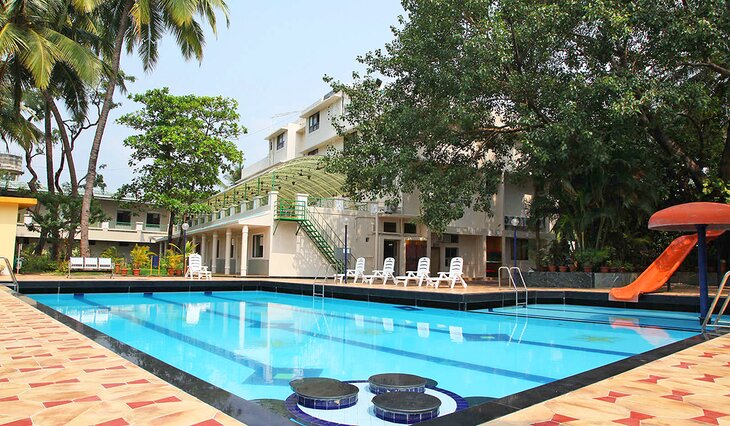 Accommodation: Hotel Ravikiran
Hotel Ravikiran is a family-friendly resort in Alibaug that's just a short drive from the beach. It offers tourists lots of things to do on the property, including yoga classes in a peaceful pavilion, biking, and indoor and outdoor games.
Parents, take note: This resort has waterpark-style facilities, including a mushroom waterfall and waterslide that your kids will love.
When you've worked up an appetite, head to Sudama, the resort's multi-cuisine restaurant, for meals and high tea.
If you've ever wondered what it's like to sleep in a round bed, you can experience it firsthand in one of Hotel Ravikiran's special super deluxe rooms. Other accommodations at the property provide traditional twin and full-size beds, as well as bunk beds that are perfect for children. All rooms include basic, comfortable furniture; cotton bedsheets; private bathrooms; and free toiletries.
Address: Alibaug Rewas Road, Sai Nagar, Vidya Nagar, Alibaug, Maharashtra