10 Top-Rated Resorts at Jim Corbett National Park
Jim Corbett National Park resorts give tourists some much-needed creature comforts after a day of wildlife watching, jeep safaris, birding, and hiking to waterfalls.
Their well-appointed suites, gourmet restaurants, pristine swimming pools, and posh spas will help you recharge ahead of your next adventure in Uttarakhand. At some of these properties, you can also opt to stay in a luxury tent, which will give you a camping-style experience without the need to sleep on the ground.
Whether you're visiting India's first national park to try to see one of its resident tigers, or simply to enjoy the great outdoors, let us help you find the perfect place to stay with our list of the best resorts in Jim Corbett National Park.
1. Acorn Hideaway Resort & Spa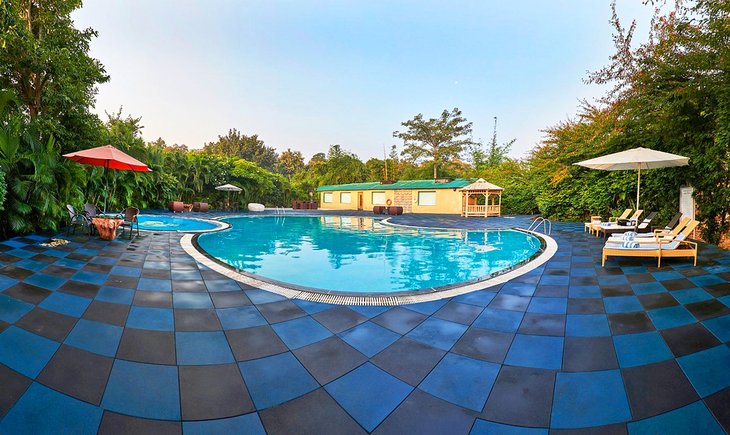 Accommodation: Acorn Hideaway Resort & Spa
Sharing a boundary with the Dhela Wildlife Zone, Acorn Hideaway Resort & Spa is a five-star resort with easy access to the Indian jungle.
Accommodations include a mix of upscale, urban-style suites and Swiss glamping tents for those who want a more immersive nature experience. Throughout the property, you'll hear birdsong and see monkeys, wild squirrels, and deer.
After a day of exploring Jim Corbett National Park, resort guests can cool down at the crescent-moon-shaped pool, relax with a scrub or massage at the spa, and refuel with homestyle meals at the restaurant.
Guests who opt for the glamping experience will spend their nights in charming tents, complete with king-size beds, hard floors, a TV, living space, and air conditioning.
The luxe guest rooms and suites, on the other hand, are more like what you'd expect from a traditional resort, offering a comfortable, well-appointed place to return to after a day outdoors.
There are even suites designed specifically for families, which include two bedrooms and separate bathrooms. A house chef can whip up private meals for you from your own personal kitchen garden.
Address: Village Sawal Deh, Jim Corbett National Park
2. Lebua Corbett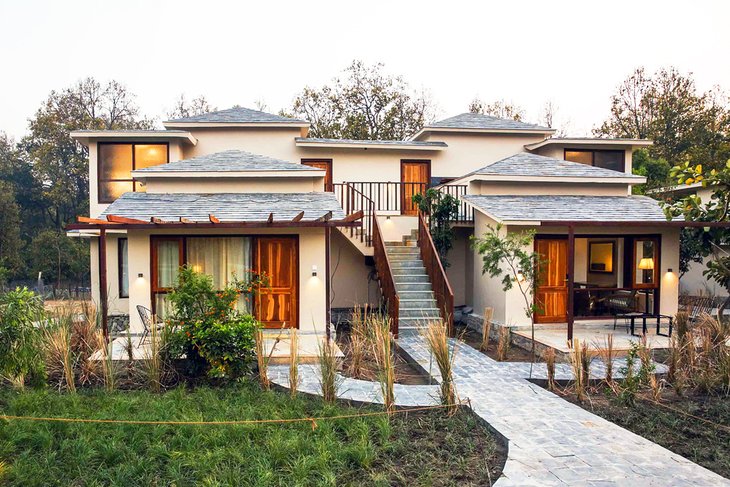 Accommodation: Lebua Corbett
Lebua Corbett offers 47 attractive villas, suites, and residences spread across nine acres in the lush valley of Bhakrakot, giving guests lots of privacy on the property.
This five-star resort caters to both couples on romantic getaways, as well as families who wish to get up close with nature.
Staff can help guests arrange tons of things to do in and around Jim Corbett National Park, including bespoke safaris, birdwatching, hiking, cycling, stargazing, and village tours.
All accommodations come with air-conditioning, complimentary Wi-Fi, balconies, and private outdoor spaces–not to mention great views of the garden and forest. The top category of accommodations (the residences) offer views of the national park itself, along with a separate living area and day bed.
During your stay, you can make use of a lovely infinity pool, take yoga classes, and play games. The resort also offers an all-day Awadhi restaurant, where staff grind grains using a traditional stone and source ingredients from local farms and an on-site organic garden.
Address: Bakrakot, Mohan, Ramnagar, Jim Corbett National Park
3. Paatlidun Safari Lodge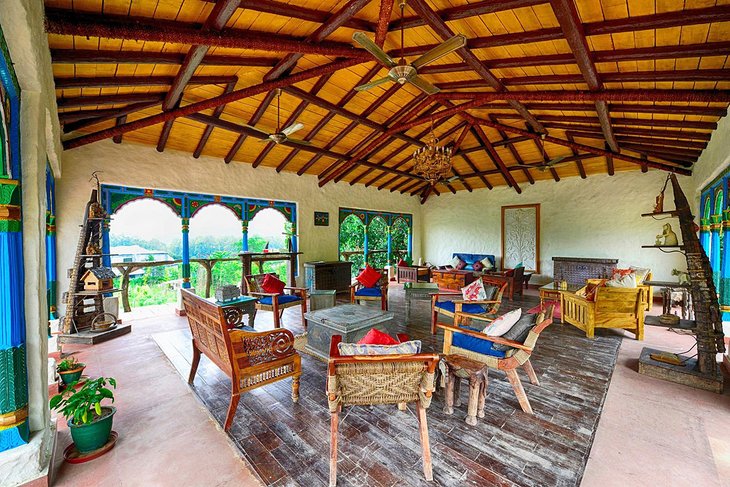 Accommodation: Paatlidun Safari Lodge
Paatlidun Safari Lodge is a five-star wildlife resort with upscale accommodations and easy access to the Jim Corbett Tiger Reserve, and its proximity to the national park means guests often see elephants and wild boars on the property itself.
Dining is a treat at this resort, which grows its own organic ingredients. Savor the flavors at campfire bush dinners, the cavernous restaurant, or at the dhaba (roadside stall), located down a winding path flanked by bluebells.
Guests can choose from 18 different cottages on the property. These spacious abodes, which range from 800 to 2,200 square feet, keep tourists immersed in nature with large French windows, stargazing windows above the beds, private verandas, and open-air showers. You can get private spa treatments in your suite (or visit the wellness center on the property). Some cottages also come with private plunge pools.
The resort has naturalists on staff who can teach you about wildlife and the environment over breakfast on the Himalayan Ridge or high tea along the banks of the Kosi River.
Other things to do include crocodile watching excursions, elephant bathing sessions, jeep safaris, and visits to traditional forest villages. But, simply detoxing from tech and enjoying the great outdoors is more than enough to feel fulfilled at this intimate resort.
Address: Corbett Tiger Reserve Village Bhakrakot, Jim Corbett National Park
4. The Solluna Resort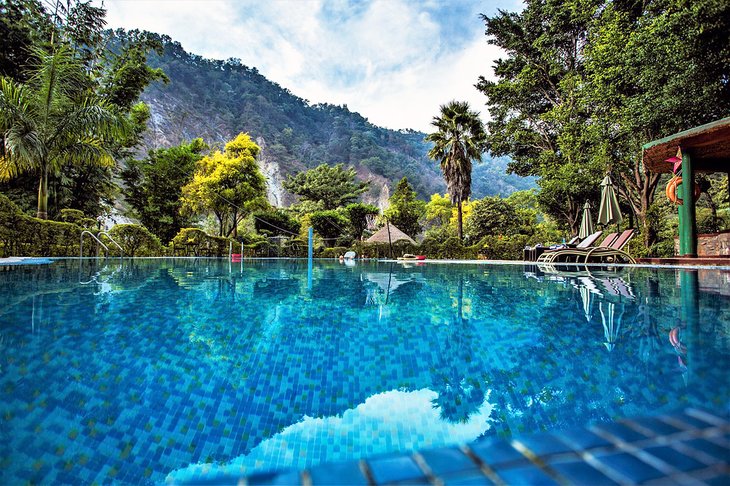 Accommodation: The Solluna Resort
Tourists looking to escape from the distractions of everyday life can find their retreat at The Solluna. This four-star resort for families and couples offers no Wi-Fi, television, or daily newspapers in hopes of helping guests find a deeper connection with the beauty of nature.
However, you will find plenty of other ways to entertain yourself at the property–it has an oasis-style pool with views of the hills, a volleyball court, bicycles, skating rink, jogging track, and cricket field, among other facilities. There are also two restaurants and a poolside café with burgers and pizza.
Accommodations can be found in quaint cottages throughout the property, ranging from premium to presidential. They all incorporate nature-inspired design elements, like glass ceilings with views of the stars, wardrobe handles and sinks carved from large stones, and images of flowers and butterflies. All rooms have large windows with views of greenery.
The resort hosts complimentary nature walks every day. It can also arrange other unique experiences, like riverside camping, sightseeing at Manila Hill Station, visits to Garjiya Devi temple, and jungle jeep safaris.
Address: National Highway 121, Marchula, Jim Corbett National Park
5. Tarangi Resort & Spa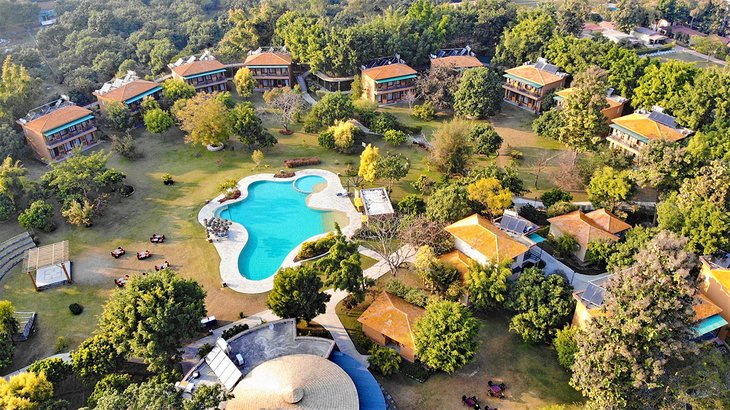 Accommodation: Tarangi Resort & Spa
Just minutes from Jim Corbett National Park's Garjiya Devi gates, Tarangi Resort & Spa is a four-star resort that caters to families with children.
On site, you'll have access to a library, plenty of board games, a trampoline, yoga classes, cricket, badminton, and a kids' zone. Wellness seekers can bliss out with a volcanic stone massage at the spa. The azure pool also makes a wonderful place to wind down after a day in the park.
Every room at this expansive property offers views of the mountains, forest, river, or pool. The accommodations include lots of modern amenities, like air conditioning, large TVs, upscale bath products, turndown service, and more.
Most of the rooms and cottages have lots of natural light and rustic wooden ceilings. The high-end river-view villa makes a great option for groups. It can accommodate up to 12 adults, or eight adults and eight children, and even comes with a 30-foot-long plunge pool.
After sightseeing in the park, come back to the resort to take advantage of three distinct restaurants. There's an open-grill joint, a multi-cuisine diner with panoramic views of the Sitabani forest, and a fine-dining restaurant on the banks of the Kosi River.
Address: Dhikuli, Ramnagar, Dhikuli, Jim Corbett National Park
6. Jim's Jungle Retreat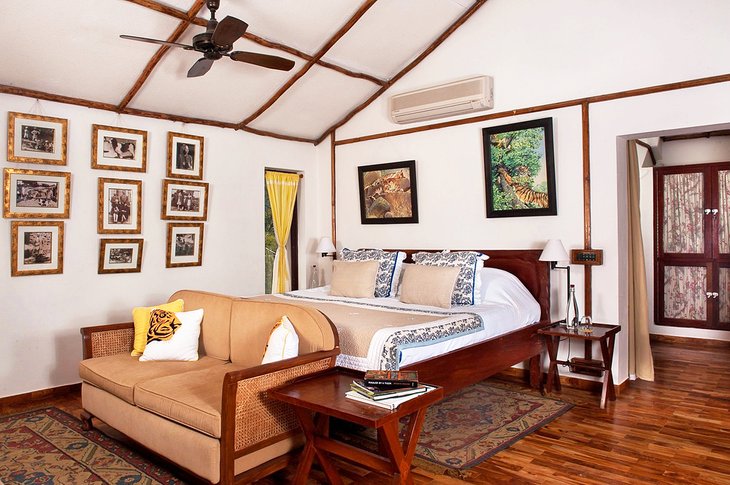 Accommodation: Jim's Jungle Retreat
A jungle-inspired chemical-free spa awaits you at Amritara Tuskar's Riverside, a four-star resort just outside of Jim Corbett National Park.
But that's just the beginning of what you'll find on this charming property. It's situated on 15 acres of replanted forest, offering an immersive natural experience for tourists as they enjoy the pristine pool and tuck into bush dinners in surprise locations. There's also a forest-view café with a la carte meals.
As the name of the resort suggests, accommodations here are designed with the concept of a "retreat" in mind. They consist of 18 jungle cottages and bungalow-style lodges, where beds are topped with fine linens, wrap-around verandas offer lots of fresh air, and local crafts adorn the rooms. Free breakfast is included for all guests.
You'll of course see wildlife on your excursions to the natural park, but it's worth noting that this resort's property is frequented by many creatures, including elephants, tigers, porcupine, jackals, civets, and a resident mongoose family. Learn more about them on night walks with the in-house naturalist.
Address: Ramnagar, Ramnagar S.O., Uttarakhand Corbett Tiger Reserve, Dhela, Jim Corbett National Park
7. The Golden Tusk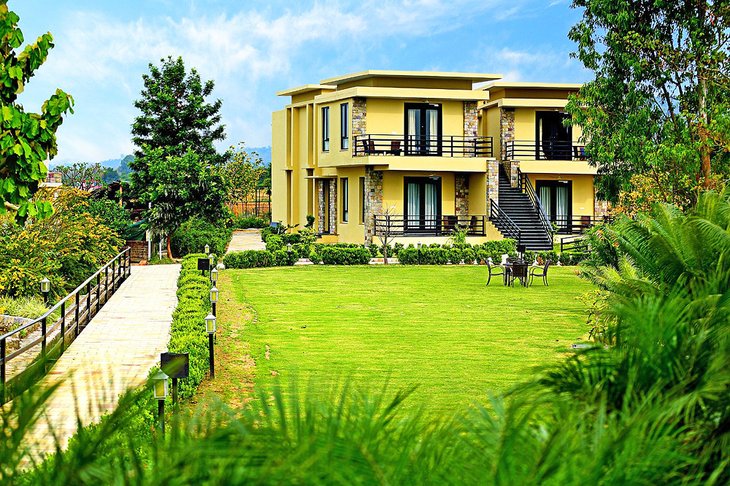 Accommodation: The Golden Tusk
The Golden Tusk is a four-star resort spread out on eight scenic acres in Ramnagar, just beside Jim Corbett National Park.
This boutique property has a range of suites, villas, and luxury tents, all of which have the creature comforts you'll crave after spending your days outdoors. The grounds feature winding paths surrounded by greenery and flowering bushes, making your strolls to the on-site spa and restaurants a calming experience.
The resort's luxury tents offer the feel of camping, minus the discomforts. Each tent offers a king-size bed, Wi-Fi, TV, en-suite bathroom, and personal living space.
A range of suites and villas are also available. These earth-toned accommodations are more modern and luxe, offering giant windows with views of the pool or garden.
The Golden Tusk prides itself on making sure its guests never run out of things to do. It has developed connections to major attractions, like the Garjiya Devi temple and The Jim Corbett Museum, and can help tourists plan all kinds of excursions.
The kids' play zone comes with a playground, trampoline, soccer field, and planned activities to keep little ones entertained for hours. Plus, there's a climbing wall, where tourists can try reaching the top and rappelling back to ground. If you're wary of heights, consider this Jim Corbett resort a safe place to face your fear head on!
Address: Dhela, Jim Corbett National Park
8. Aahana The Corbett Wilderness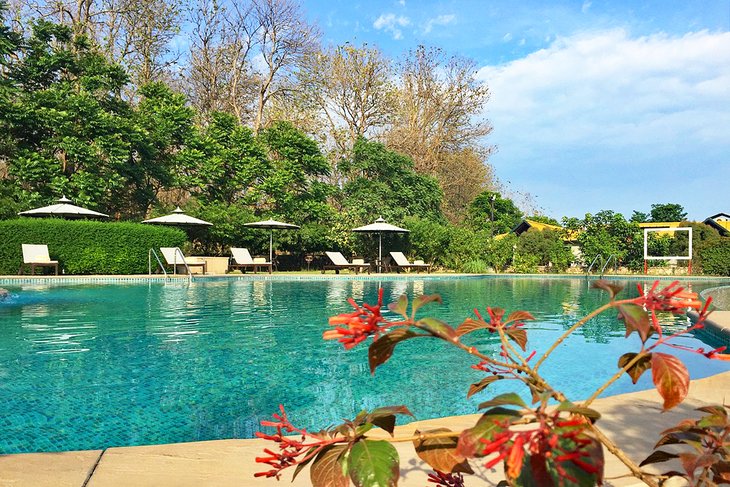 Accommodation: Aahana The Corbett Wilderness
Nestled between a rustic farming village and dense jungle, Aahana The Corbett Wilderness gives tourists easy access to all the top things to do in Jim Corbett National Park.
This four-star resort, which is focused on wellness and rejuvenation, offers accommodations in Victorian-style villas themed around the destination itself. At the property, you'll find a restaurant that sources its produce from organic gardens and milk from the on-site cow sanctuary, along with a giant pool and luxe spa.
The resort's 48 guest rooms and suites feature homey design elements, like wood-slat ceilings, stone fireplaces, photos of animals in the park, and patterned rugs. All come with personal balconies or outdoor seating areas with views of the surrounding nature.
Sustainably-minded guests at this resort can feel good knowing it has implemented a range of eco-friendly practices, including water and energy conservation, reforestation of the land, and waste management, that help protect the earth.
Address: Village Sawaldeh, Jim Corbett National Park
9. Namah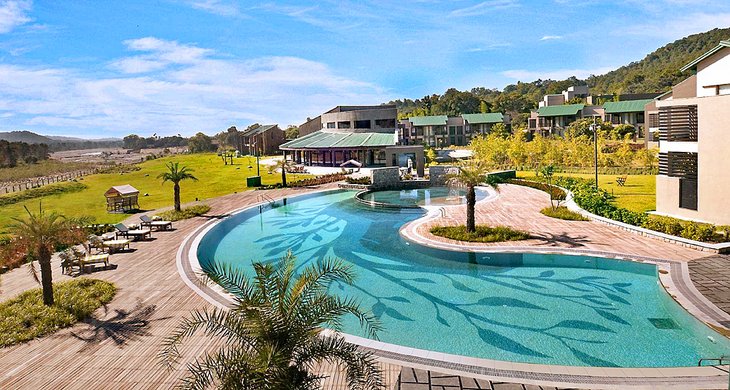 Accommodation: Namah
Namah is one of the few Jim Corbett resorts that offers all-inclusive packages, making it a smart option for families who want meals and nature activities (like birdwatching and nature walks) covered as part of their stay.
This four-star resort has around 50 rooms, many of which come with private balconies, panoramic mountain views, cozy living areas, and built-in wardrobes.
The resort's restaurant features a mix of cuisines from around the world and keeps guests entertained at live cooking stations. It also offers a spa, gym, recreation rooms, business center, and a pool shaped like a cashew nut.
Address: Dhikuli Road, Dhikuli, Jim Corbett National Park
10. The Den Corbett Resort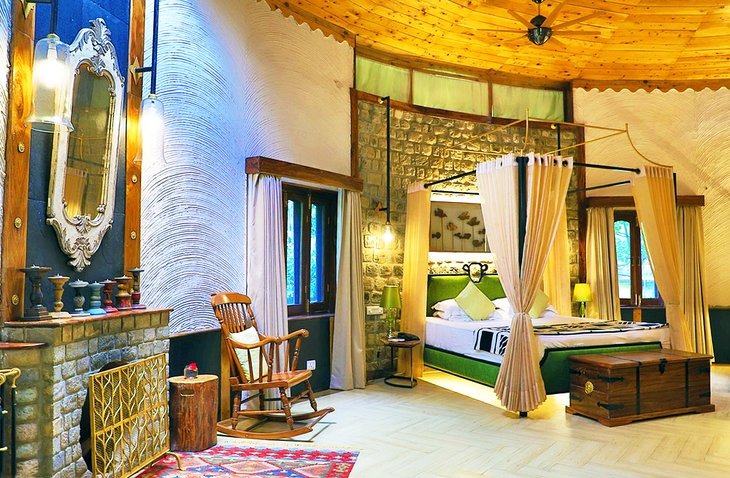 Accommodation: The Den Corbett Resort
Dining is one of the highlights at The Den Corbett Resort, a four-star resort that's been in business since 1989.
This boutique property has an all-day vegetarian dining room, a dinner restaurant that specializes in Kumaoni cuisine, a barbecue joint, a relaxing café, and a unique tea lounge with more than 50 different varieties of tea from around the world.
Besides great dining, the resort also has a range of facilities that will help you relax and make the most of your vacation in Jim Corbett. Enjoy a pool, gym, library, game room, and a spa.
Accommodations here are covered in earth tones and animal prints. You'll find a range of romantic rooms for couples and spacious multi-room suites for families.
For a truly special stay, check out the treehouse. Its location 56 feet up a tree makes it easy to get expansive views and spot birds and other animals.
If you find yourself missing your furry friends at home, take a few moments to greet Sufi and Bella, the resort's two friendly labradors, during your stay.
Address: Kumeria Reserve Forest, Jim Corbett National Park