12 Top-Rated Resorts in Illinois
Thanks to its location on the Great Lakes, as well as its many attractions in big cities such as Chicago, the state of Illinois is one of the top places to visit in the USA.
To meet the demand for family vacations and romantic couples' getaways, not to mention the business travel market, the Prairie State offers no end of great accommodation options for travelers.
Among the top hotels and resorts in Illinois, there's something to suit every budget. Those seeking a high-end stay couldn't do better than book into the Eaglewood Resort & Spa in Itasca or the Goldmoor Inn in Galena, two popular luxury destinations guaranteed to please.
Looking for an affordable family getaway? Then why not consider the fun Grand Bear Resort at Starved Rock in North Utica, a great choice for its kids' activities and splash zones. Also worth considering if traveling with kids is Galena's Chestnut Mountain Resort, popular for its outdoor sports like skiing and mountain biking.
No matter how you like to spend your vacation, you'll find the perfect place to stay with our list of the best resorts in Illinois.
1. Eaglewood Resort & Spa, Itasca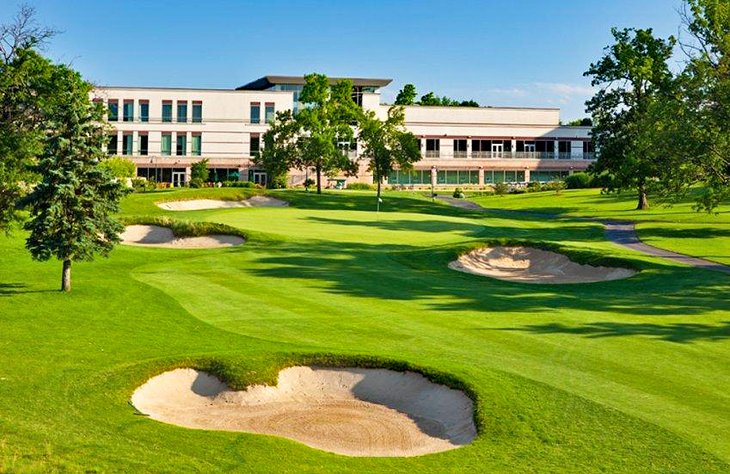 Accommodation: Eaglewood Resort & Spa
Eaglewood Resort & Spa in Itasca, our top-rated accommodation choice in Illinois, offers travelers who enjoy both indoor and outdoor activities the best of both worlds.
An easy drive from Chicago and its international airport, this excellent 4-star Prairie-styled resort is located in an attractive rural setting that's enhanced by its championship 18-hole golf course and its extensive 106 acres of grounds.
Other notable amenities include a full-service spa, a large fitness center, and an indoor swimming pool with a sun deck. Adding to the fun is the resort's very own bowling alley.
There's also plenty of meeting and convention space, plus function rooms for events such as weddings, and a business center. The resort also offers a variety of entertainment, including live music, and no less than three restaurants to choose from.
The accommodations are certainly a cut above. They consist of quality furnishings and are brightly decorated. Standard room features include a choice of king or two queen beds with pillow-top mattresses, seating areas with work desks, HDTVs, spacious bathrooms with plush bathrobes, and furnished balconies with great views.
A good upgrade option are the rooftop suites. These well-appointed units come with even larger balconies, plus a separate dining area that can seat up to six guests comfortably.
Address: 1401 Nordic Road, Itasca, Illinois
2. Goldmoor Inn, Galena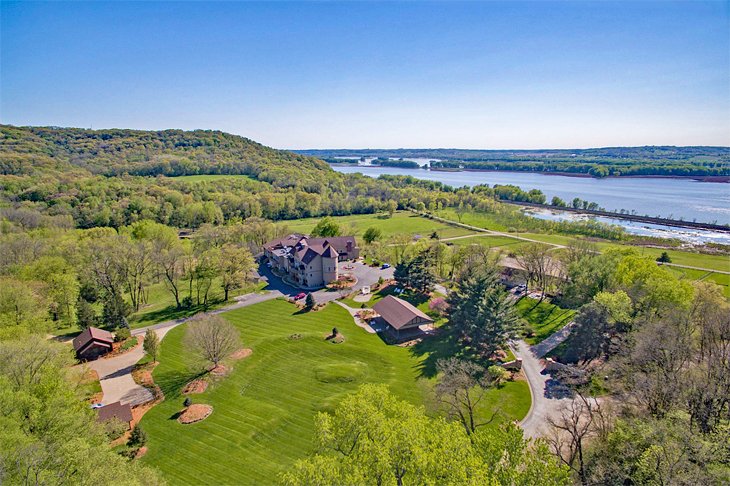 Accommodation: Goldmoor Inn
Given its splendid hilltop location on the banks of the Mississippi River, the 4-star Goldmoor Inn is undoubtedly one of the best resorts in Galena for those seeking a great Illinois getaway. It's a picture-perfect backdrop for romantic getaways for couples as well as family gatherings.
In addition to being close to many championship 18-hole golf courses, Goldmoor Inn is a great base for hikers thanks to its proximity to a number of nature reserves.
Not that you'll need to leave the resort, as there's plenty of fun to be had on-site. Notable amenities include a restaurant offering in-room and private dining experiences, a well-equipped fitness center, and a full-service spa offering couples' massages.
Trail riding is also offered, and a riding lesson area is also available for newcomers to the sport. A variety of fun water-based activities can also be enjoyed here including boating, waterskiing, fishing, and kayaking.
The inn's elegant rooms include a number of deluxe suites featuring bright décor and custom furnishings. Other highlights of these upgraded units include a choice of king or two queen beds, spacious bathrooms with separate showers and jet tubs, large flat-screen TVs, and furnished balconies.
The inn also boasts a selection of much larger units that are ideal for larger groups and families. Standard features of these large stand-alone cottages include spacious living rooms with fireplaces plus full kitchens. A number of spacious villas are also available.
Address: 9001 W Sand Hill Road, Galena, Illinois
3. Hilton Chicago Oak Brook Hills Resort & Conference Center, Oak Brook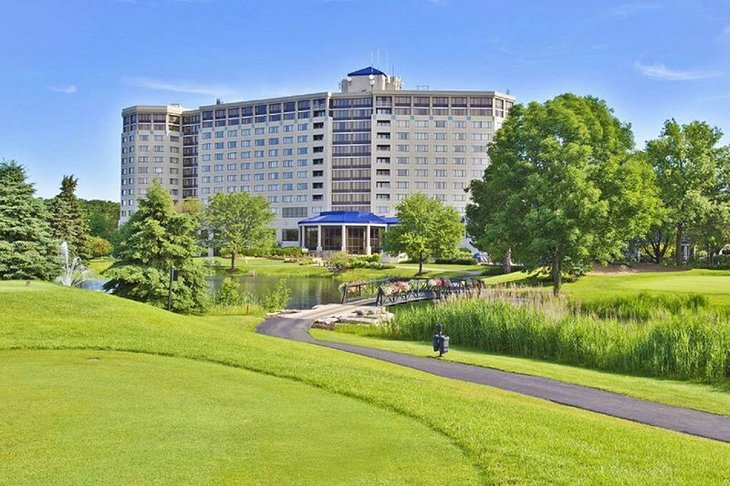 Accommodation: Hilton Chicago Oak Brook Hills Resort & Conference Center
Located in the trendy community of Oak Brook and within an easy commute of downtown Chicago and the city's O'Hare International Airport, the huge Chicago/Oak Brook Hills Resort & Conference Center is a popular choice for both leisure and business travelers alike.
Surrounded by a championship golf course and well-manicured grounds, this posh 4-star conference hotel includes some 42,000 square feet of convention and meeting space. There's also a business center; a full-service spa that also offers beauty treatments; and plenty of dining options in its popular restaurants, which also offer special kids' menus.
Other notable amenities include a concierge desk and valet services, a 24-hour store selling snack items, plus a gift shop and newsstand. There's also a large fitness center with saunas and change rooms, and the services of personal trainers. Other sports amenities include basketball and tennis courts, as well as golf simulators and a putting green to perfect your game.
The resort also boasts two swimming pools to choose from (one indoor, one outdoor), and bikes can be rented to explore the area. The resort's plentiful function space has led to its popularity as a wedding destination, too.
While offering a variety of accommodation options, including standard hotel suites, many travelers will choose the larger suites with their separate living areas with pullout couches. These spacious suites come with a choice of king or two queen beds, work desks, HDTVs, and Keurig coffee makers.
A number of accessible units for those with mobility issues, as well as some pet-friendly rooms, are also available. Be sure to notify the resort of your preferences at the time of booking.
Address: 3500 Midwest Road, Oak Brook, Illinois
4. Lincolnshire Marriott Resort, Lincolnshire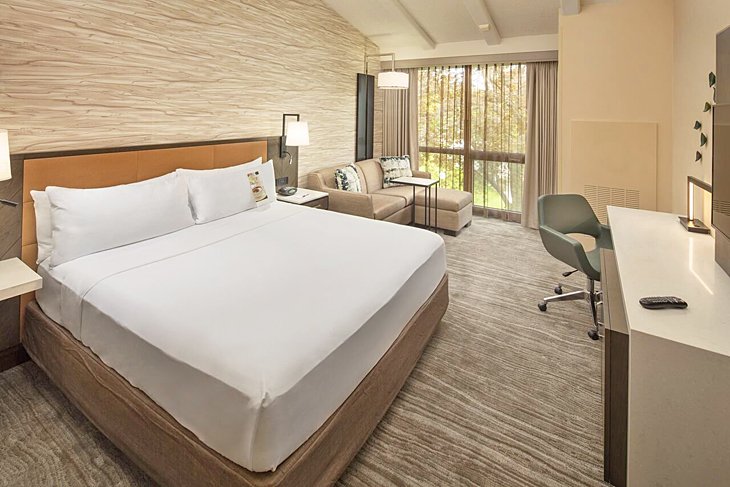 Accommodation: Lincolnshire Marriott Resort
For those seeking a reputable and high-quality Chicago resort, the renovated Lincolnshire Marriott Resort should certainly be on your list of hotels to consider. Located an easy drive from the city's downtown core, as well as its airport, this luxurious 4-star hotel is set on 175 acres and is fun to explore.
This resort also offers a diverse array of dining options in its restaurants, as well as a Starbucks café. Other amenities of note include a world-class spa, plus a huge convention area including ballrooms and meeting space.
In addition to being close to numerous activities such as hiking and biking, the resort has a volleyball court and an 18-hole golf course. There's also a health club and fitness center, indoor and outdoor swimming pools, and a hot tub. Those wanting to cycle the grounds or explore the surrounding area can also make use of the resort's bike rental program.
Also, be sure to check out the neighboring Marriott Theatre. This first-rate entertainment venue offers five professional musical shows a year, and special packages including accommodations may be available.
The rooms here are bright and nicely decorated and come with such standard features as a choice of king or two queen beds, spacious bathrooms with soaker tubs and toiletries, plus work desks and seating. If more space is needed, adjoining rooms can be added.
A great upgrade are the special "M Club" rooms. These plush units include access to a private lounge and complimentary food and beverages, including continental breakfast, snacks, hors d'oeuvres, and dessert, plus a variety of snacks to take away with you.
Address: 10 Marriott Drive, Lincolnshire, Illinois
5. The Herrington Inn & Spa, Geneva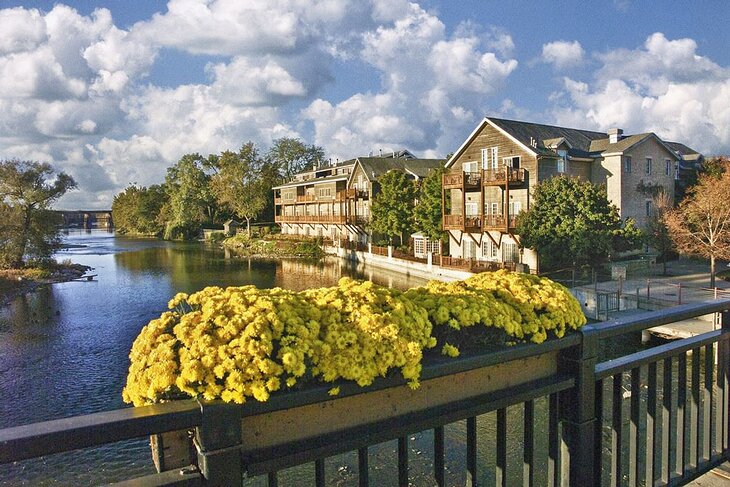 Accommodation: The Herrington Inn & Spa
Set in the suburb of Geneva, an hour's drive away from downtown Chicago, the Herrington Inn & Spa has much to commend for those seeking a romantic Illinois getaway. In addition to its picturesque riverside setting, this 4-star resort is an easy stroll away from great dining and shopping experiences in Geneva, as well as to Chicago's public transit system.
Not that you'll need to leave the property. On-site amenities include a full-service spa offering a wide array of services and the classy Atwater's Restaurant, which also offers alfresco dining on its patio overlooking the Fox River. Meeting and function space is also available for guest use.
The resort's boutique-style rooms all come with balconies or terraces, and if a view is important to you, be sure to request one overlooking the river. Other standard features include fireplaces, spacious bathrooms with stand-alone bathtubs, and HDTVs. Some of the larger units also come with wet bars and separate living rooms.
Address: 15 South River Lane, Geneva, Illinois
6. Eagle Ridge Resort & Spa, Galena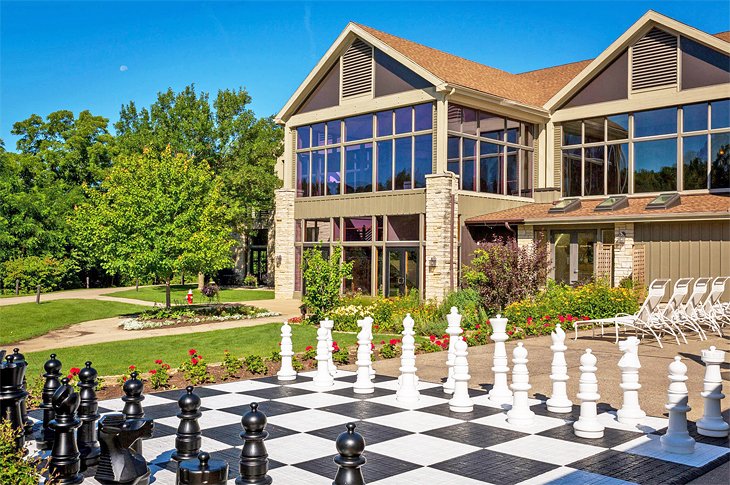 Accommodation: Eagle Ridge Resort & Spa
Set on a beautiful 6,800-acre site near Galena, the Eagle Ridge Resort & Spa is a great spot in which to stay when looking for a fun vacation destination in Illinois.
This large 3-star resort boasts some 200 guest rooms and suites, as well as expansive villas and cottages. A popular option for larger groups, these units come with multiple bedrooms, including a master bedroom with en suite bathroom. They also boast fully-equipped kitchens with modern appliances, separate living and dining rooms, and private furnished balconies.
There's certainly plenty to do on-site, too. Fun things to do include playing a round on the resort's golf courses, which offer a pro shop and lessons, or hiking or biking the property's 22 miles of trails. Water sports enthusiasts are well catered to as well and can rent a kayak or Jet Ski to explore Lake Galena. This large body of water is also known for its excellent fishing.
Other features include a full-service spa, heated indoor and outdoor swimming pools, plus a fitness center. There are also a number of restaurants on-site, which do a roaring trade during the busy Christmas season with special menus and brunch offerings.
Address: 444 Eagle Ridge Drive, Galena, Illinois
7. Illinois Beach Hotel, Zion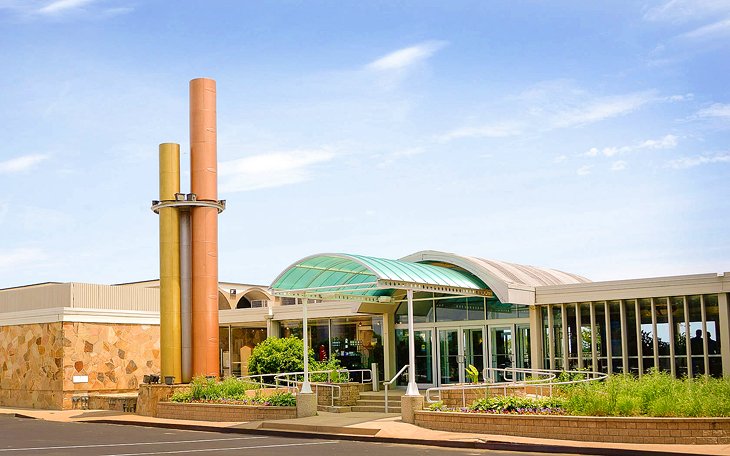 Accommodation: Illinois Beach Hotel
Located in the waterfront community of Zion, the 3-star Illinois Beach Hotel offers 92 delightful Art Deco rooms and suites within an easy stroll of the waterfront and beach area. Featuring comfortable beds and bedding, a choice of a single king or two queen beds is available.
They also come with good-sized bathrooms with complimentary bath products, and offer great views over the property and lake. Also worth mentioning is the fact they feature separate seating areas with comfy chairs, Keurig coffee makers, and private balconies.
The Illinois Beach Resort also offers plenty of fun things to do on-site. In addition to enjoying direct access to the beach, which offers excellent swimming during the warmer months, there's a large atrium-style heated swimming pool plus a hot tub to relax around.
Other notable on-site amenities include a fitness center, business facilities, a restaurant overlooking the beach, plus a gift shop. The resort's function space makes it a popular location for weddings.
Address: 1 Lake Front Drive, Zion, Illinois
8. Starved Rock Lodge & Conference Center, Oglesby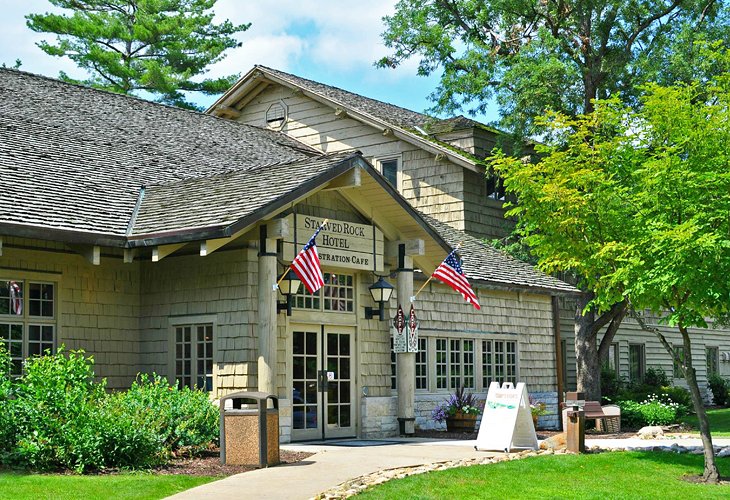 Accommodation: Starved Rock Lodge & Conference Center
Situated smack-bang in the middle of Starved Rock State Park, the historic Starved Rock Lodge & Conference Center is especially popular with outdoor enthusiasts. It was built in 1939 and continues to offer affordable getaways in one of the most attractive and scenic areas of Illinois.
This rustic 3-star resort offers a mix of standard hotel rooms, including your choice of one king or two queen beds. There are also a number of cozy log cottages set back in the woods and offering a good deal of privacy.
The largest of the resort's cabins come with two bedrooms, spacious bathrooms, and separate living areas with real fireplaces. A number of pet-friendly cabins are also available, so be sure to check availability when booking.
In addition to exploring the natural beauty of Starved Rock State Park where guided hikes are available, guests can enjoy a number of great on-site activities and amenities when they're not out and about.
Notable features include a large dining hall, an indoor swimming pool and hot tub, a fitness area, a sauna, and a meeting space with function rooms.
Address: One Lodge Ln, Oglesby, Illinois
9. Chestnut Mountain Resort, Galena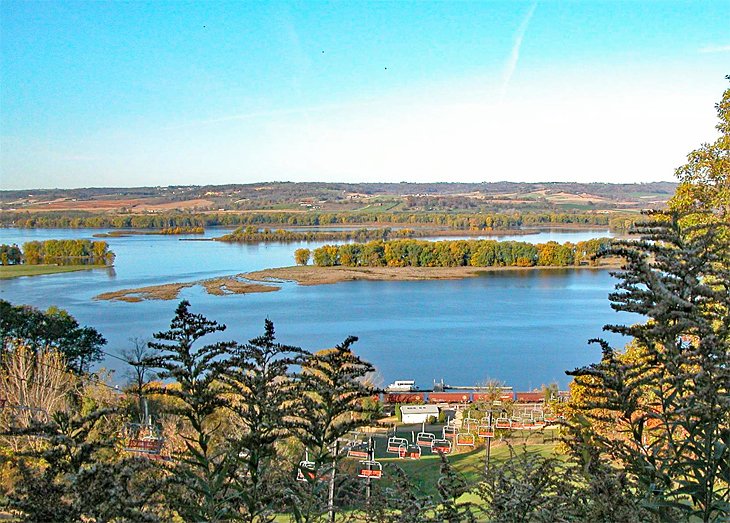 Accommodation: Chestnut Mountain Resort
For those wanting an affordable outdoor adventure near Galena, Chestnut Mountain Resort delivers no end of fun. Not only is this large 3-star resort situated close to the many attractions and activities the Galena area has to offer, it includes plenty of year-round outdoor activities of its own.
In winter, it's all about the ski slopes and downhill skiing and snowboarding, along with a ski school. In the warmer months, the big draw is the resort's large trail network, perfect for biking and hiking adventures.
Also fun is spending time on the zipline, enjoying a round of crazy golf, taking a nature tour, or participating in a Segway experience. Other on-site amenities include an indoor heated swimming pool, a sauna, a games room, and a restaurant.
Chestnut Mountain offers a choice of 100 guest rooms. Standard features of these good-sized units are comfortable beds and bedding on your choice of king or two queen beds, large bathrooms with jet bathtubs and separate showers, separate living space with ample seating, HDTVs, and furnished balconies.
Address: 8700 W Chestnut Mountain Road, Galena, Illinois
10. Grand Bear Resort at Starved Rock, North Utica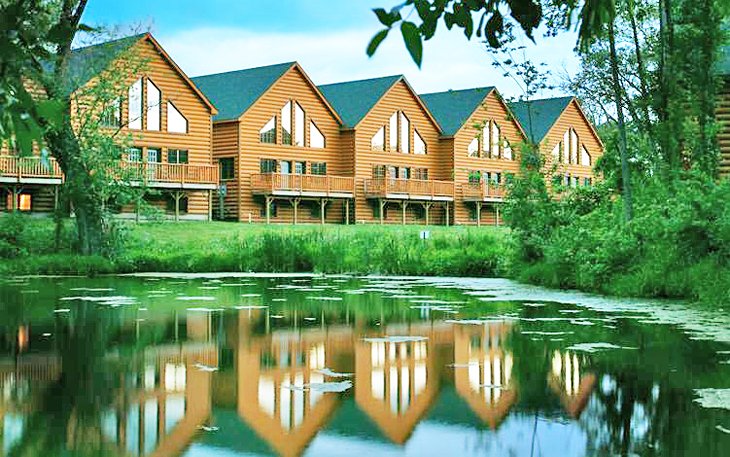 Accommodation: Grand Bear Resort at Starved Rock
Perhaps one of the best-named resort destinations in all of Illinois, Grand Bear Resort at Starved Rock has earned a great reputation for its affordable family getaways. Located amid the stunning scenery surrounding North Utica in the Starved Rock region of Illinois and an easy drive from Chicago, this popular 3-star resort offers plenty of adventure indoors and out.
A big draw for kids is the water park with its many water-themed attractions, including slides, splash zones, and a lazy river. Other amenities include on-site dining and shopping, a games room with arcade-style video games, and mini-golf, along with pottery and craft classes.
Thanks to the resort's mix of 272 suites, villas, and stand-alone cabins, there's no end of options when it comes time to bed down for the night. Featuring rustic designs and furniture that reflect the region, all accommodations come with free Wi-Fi, mini-fridges, microwaves, and pullout couches.
The larger units feature master bedrooms, plus one or two additional bedrooms, and fully-equipped kitchens with large appliances. They all feature separate living rooms with fireplaces, bathrooms with jet bathtubs, and furnished patios.
Address: 2643 IL-178, North Utica, Illinois
11. WorldMark Galena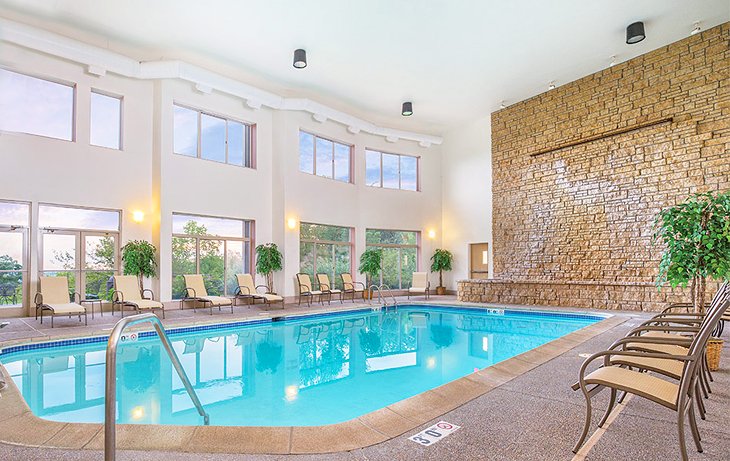 Accommodation: WorldMark Galena
Located just a short drive from the historic downtown area after which it's named, 3-star WorldMark Galena is a great choice for those seeking a quality vacation in Illinois. While there's much to do in the surrounding area, as Galena is well-known for its picturesque scenery, boutique shops, and great dining, and the resort itself offers plenty of fun things to do.
Highlights include lounging around the large indoor pool and hot tub, working out in the fitness center, relaxing in the sauna, dining in the restaurant, or indulging in a little pampering at the full-service spa. Youngsters will also enjoy spending time hanging out and playing video games in the games room or shooting hoops on the basketball courts.
The accommodations on offer at Worldmark Galena include a variety of options, from hotel-style units, perfect for couples, to much larger suites that can easily handle family groups. Features of these larger units include separate master bedrooms, modern kitchens with full appliances, spacious living areas with fireplaces (including a pull-out couch), a deck or balcony, plus a laundry area.
Address: 5129 W Longhollow Road, Galena, Illinois
12. Pere Marquette Lodge & Conference Center, Grafton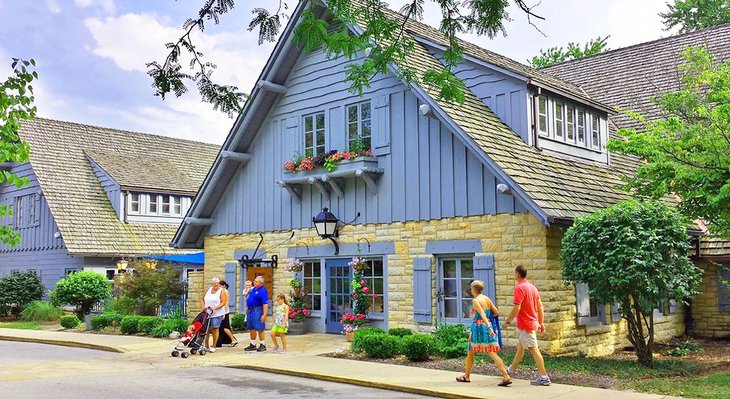 Accommodation: Pere Marquette Lodge & Conference Center
For a truly memorable historic lodge experience, be sure to consider a stay at the 3-star Pere Marquette Lodge and Conference Center in Grafton. Built during the Great Depression in the park of the same name, Pere Marquette Lodge is certainly impressive in size.
Made from local timber and limestone, its great room alone boasts a huge 700-ton stone fireplace under a 50-foot-tall vaulted ceiling. Other unique features include a wonderful life-size chess set carved from wood, a large terrace with views over the Illinois River, a restaurant, a games room, a fitness center, a hot tub, a sauna, and a heated indoor swimming pool.
Freshly renovated, the lodge's rooms and cabins each have a unique rustic charm. You can choose from one of the newer rooms or one of the originals dating back to the 1940s, the latter of which offers some of the best views over the property and the river.
The stand-alone and quiet private cabins are also a good choice, and include three bedrooms each, providing a great chance for families and groups to spread out. Pets are welcome for an additional fee.
Address: 13653 Lodge Blvd, Grafton, Illinois