8 Top-Rated Resorts in Galena, Illinois
We may earn a commission from affiliate links ()
Located in the state of Illinois, close to the border with Iowa, the quaint historic town of Galena has become an extremely popular vacation destination, and is one of the top places to visit in the Prairie State. To meet this surge in demand from travelers in search of a unique US vacation (or "staycation") experience, a number of top accommodation choices are available.
Galena accommodation options include everything from the large resort experiences available at Eagle Ridge Resort & Spa, with its golf courses and meeting spaces, to intimate affairs such as Hawk Valley Retreat. This quaint and attractive bed and breakfast (B&B) is particularly popular for those wanting a romantic getaway.
Whatever your preference, plan your stay in the "town that time forgot" with our list of the top resorts in Galena, Illinois.
1. Goldmoor Inn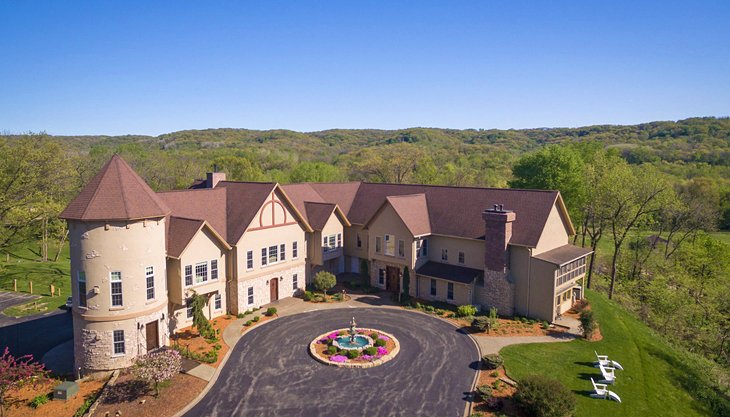 Accommodation: Goldmoor Inn
When it comes to location, it's hard to beat that of the Goldmoor Inn. Overlooking the mighty Mississippi River in some of the most attractive rural scenery in the state of Illinois, this attractive 4-star inn is close enough to numerous attractions and nature reserves to keep visitors busy for weeks.
And there's certainly much to do on-site in this country estate-like property. Highlights include a full-service spa offering treatments such as couples' massages, great dining in its world-class restaurant (in-room options available), as well as horseback riding (lessons and trail riding experiences are available). Other popular activities include great fishing and boating, as well as access to a number of nearby 18-hole championship golf courses.
A great choice of accommodations are the elegantly appointed deluxe suites. Situated in the main building, these guest rooms include chic décor and classy furnishings, large bathrooms with stand-alone jet tubs and showers, large screen HDTVs, and spacious balconies with comfortable seating. The larger villas and cottages also feature full-kitchens, living areas, fireplaces, and in-room breakfasts.
Address: 9001 W Sand Hill Road, Galena, Illinois
2. Eagle Ridge Resort & Spa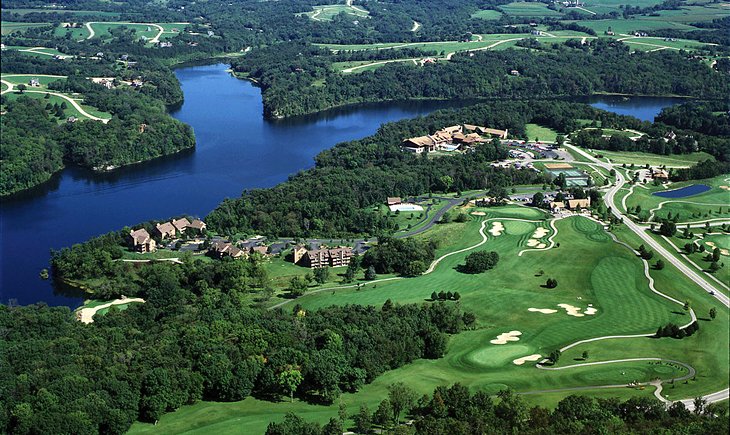 Accommodation: Eagle Ridge Resort & Spa
A great vacation destination for those who enjoy a full-blown resort experience, a stay at the 6,800-acre Eagle Ridge Resort & Spa offers guests no end of fun things to do. A highlight for many is playing a round of golf (or perhaps even two) on this 3-star resort's golf courses, or even taking a lesson from a pro to improve your game. And in colder seasons, be sure to check for the availability of special offers and packages, especially around the Christmas season.
Other notable amenities include being pampered at the full-service spa, relaxing beside the indoor and outdoor swimming pools, or working out in the fitness center. Also fun is spending time enjoying a top-notch dining experience in any one of the resort's world-class eateries.
The resort also offers a chance to explore its extensive 22-mile network of biking and hiking trails, or to get out on Lake Galena aboard a kayak or boat rental. The lake is also a popular spot for fishing enthusiasts.
Consisting of more than 200 accommodation options, Eagle Ridge certainly has something for groups of all sizes. Popular choices include a variety of spacious villas and stand-alone cottages, some with full-kitchens and multiple bedrooms.
Also available are the recently renovated lodge-style suites. These elegant units come with such features as spacious bathrooms, seating areas, and great views from their balconies or patios.
Address: 444 Eagle Ridge Drive, Galena, Illinois
3. WorldMark Galena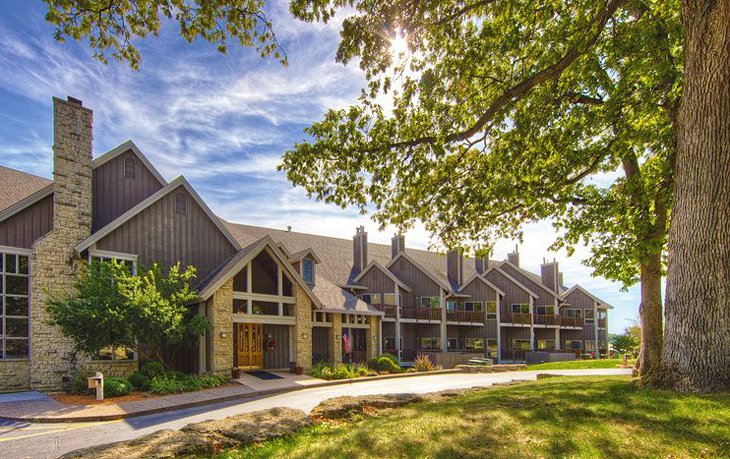 Accommodation: WorldMark Galena
The 3-star WorldMark Galena is another great choice as a home base from which to explore Galena and its beautiful surroundings. This large resort property is just a few minutes' drive away from the historic downtown and offers a variety of well-appointed, quality accommodation options.
A popular choice for couples and families alike are the roomy one-bedroom units. Sleeping up to four guests comfortably, these 850-square-foot suites include a separate bedroom, a roomy living area with a pullout sofa, a full-kitchen with modern appliances, a fireplace, and laundry facilities.
If you can pull yourself away from your comfortable lodgings, you'll also find that there's plenty to do on-site. Notable amenities include a heated indoor pool with a hot tub, sauna, fitness center, and spa. Also worth experiencing are the on-site restaurant, a games room with classic arcade-style video games, as well as sporting activities such as basketball courts.
Address: 5129 W Longhollow Road, Galena, Illinois
4. Hawk Valley Retreat & Cottages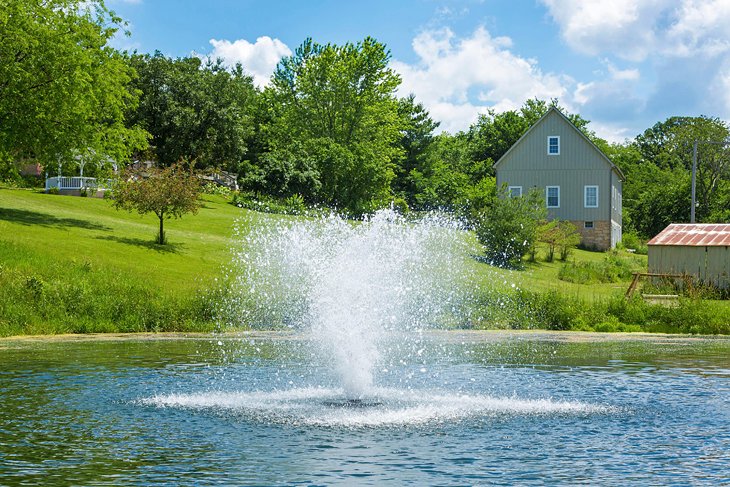 Accommodation: Hawk Valley Retreat & Cottages
The delightful 3-star Hawk Valley Retreat is a great option for those seeking a quiet countryside getaway. This quaint bed and breakfast is located just minutes from downtown Galena yet, thanks to its lovely 10-acre rural setting, offers a peaceful location in which to relax.
The picture-perfect grounds include a tranquil walking trail to explore, along with plenty of wildlife in the meadows and garden, which can also be enjoyed from the large porch, with its comfortable seating and romantic swing seat. Breakfast is included with your stay.
The resort consists of just seven elegantly appointed accommodation options. In addition to its three comfortable rooms in the main building, guests can choose one of the four quaint and individually named cottages spread about the property.
A popular choice is the one-bedroom Somerset Cottage, which comes with a sunset-facing back porch with swing chair, a spacious bathroom with a jetted tub and shower, a handy kitchenette, plus a fireplace. Also popular is the Pines Cottage, nestled, as its name suggests, in the woods.
Address: 2752 W. Cording Road, Galena, Illinois
5. Chestnut Mountain Resort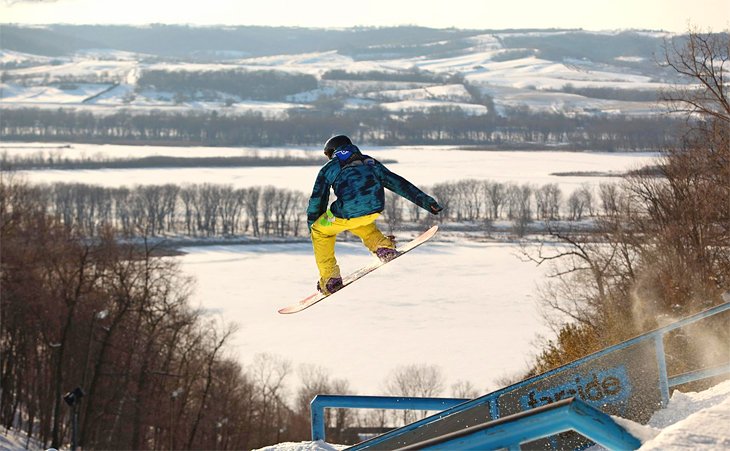 Accommodation: Chestnut Mountain Resort
Another affordable 3-star accommodation option for those seeking a great getaway in the Galena area of Illinois, the Chestnut Mountain Resort is particularly popular for its proximity to some of the area's best outdoor adventures and activities.
A great season to visit is in winter thanks to its on-site ski and snowboarding slopes. The resort in fact boasts a longer-than-average season thanks to its snowmaking machines.
Other activities and amenities available for guests to enjoy include an exciting zipline experience, a fun mini-golf course, a large network of hiking and biking trails, educational nature tours, and even Segway experiences. There's also an indoor heated swimming pool plus a sauna, games room, and on-site dining opting in its restaurants.
With 100 well-appointed and good quality guest rooms to choose from, you won't be disappointed when it comes time to bed down for the night. Popular options include a choice of king or two queen beds, spacious bathrooms with large Jacuzzi tubs, comfortable seating areas, HDTVs, and balconies with great views over the slopes.
Address: 8700 W Chestnut Mountain Road, Galena, Illinois
6. LeFevre Inn & Resort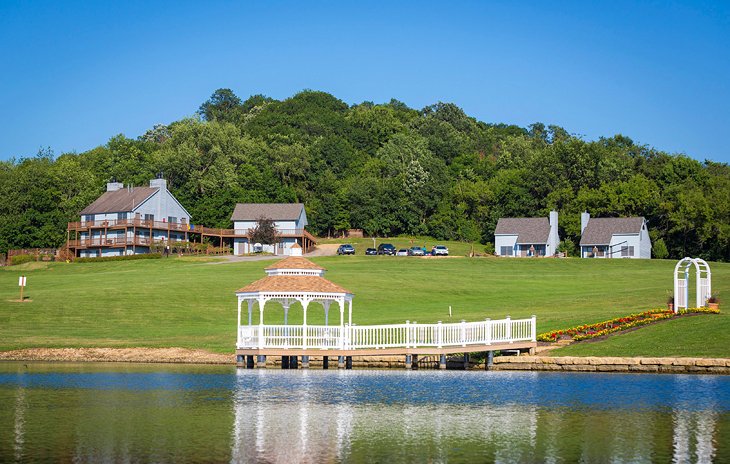 Accommodation: LeFevre Inn & Resort
Set amid 10 acres of rolling countryside, the intimate family-run LeFevre Inn & Resort is a great choice for those looking for a quality stay near Galena. On-site fun includes hanging out at the large heated outdoor swimming pool, which features plenty of deck space on which to relax and sunbathe, as well as taking a paddleboat out on the resort's private lake.
Another fun activity includes toasting marshmallows and enjoying a sing-song around the fire pit, a focal point for families and couples at sundown. There are also a variety of great hiking and biking trails that, when the snow falls, double as cross-country and snowshoeing trails. Also available are basketball and volleyball courts. Gourmands are also well-catered to, thanks to the resort's great dining options.
A popular choice of accommodations are the traditional inn rooms with cozy fireplaces, mini-fridges, coffee makers, spacious bathrooms, and furnished wraparound decks.
If possible, consider an upgrade to one of the stand-alone two-bedroom cottages. These spacious accommodations come with their own full kitchen, a bathroom with a large jet tub, a dining room, and plenty of additional living space (plus a pullout couch).
Address: 9917 W. Deininger Ln, Galena, Illinois
7. Stoney Creek Inn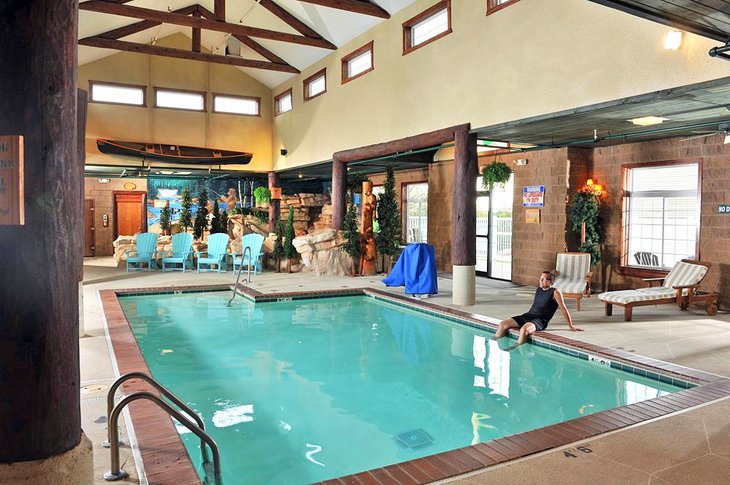 Accommodation: Stoney Creek Inn
Elegant yet affordable, the Stoney Creek Inn offers guests a first-rate vacation experience when exploring Galena.
On-site amenities include a restaurant, a gift shop, plus a business center and function rooms. For those in need of a work out, there's also a good-sized fitness center and a large heated indoor swimming pool with an adjacent hot tub. A great breakfast is included with your stay.
The inn consists of 75 comfortable accommodation options, each with a unique rustic log theme reflecting the area's rich history. If available, go for one of the inn's larger suites. These spacious accommodations come in a choice of king or two queen beds and include in-room amenities such HDTVs and small kitchenettes with wet bars, mini-fridges, and microwaves. They also feature cozy fireplaces and separate seating areas.
Address: 940 Galena Square Drive, Galena, Illinois
8. Best Western Galena Inn & Suites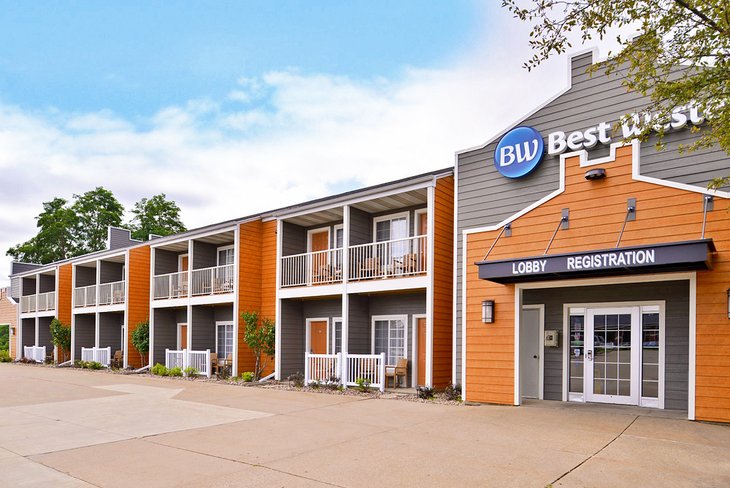 Accommodation: Best Western Galena Inn & Suites
A popular choice among those looking for quality affordable accommodations in this part of Illinois, the popular Best Western Galena Inn & Suites has been freshly upgraded throughout, including its rooms and public spaces. Situated just half a mile from downtown Galena, this big brand offering is perfect for those either passing through on business or stopping for a few days to explore the area.
In addition to its standard yet well-appointed rooms, guests can choose from a number of unique (and immensely fun!) fantasy-themed suites. These include a Roman Palace suite, one with a log-cabin finish, as well as a romantic heart-themed unit that's perfect for couples.
While amenities are few, they're well-maintained and also recently renovated. Highlights include a heated indoor/outdoor swimming pool plus hot tub, a well-equipped fitness area, and a business center. A great hot breakfast is included with your stay.
Address: 9923 US-20, Galena, Illinois