10 Top-Rated Resorts in Idaho
We may earn a commission from affiliate links ()
Affectionately known as the "Gem State" for the tremendous variety of precious stones found here, Idaho is one of the best places to visit in the northwest USA for vacationers seeking to enjoy some of the country's most stunning mountain scenery. It's also where you'll find some of the best US ski and wilderness resorts.
Popular getaways include a stay at Shore Lodge, an intimate lakeside luxury resort set amid the mountains, and the elegant European-inspired Knob Hill Inn. For a dose of extreme luxury, The Coeur d'Alene Resort is worth every penny of your room rate – especially when you factor in the chauffeur-driven BMW experience.
Whatever your budget or interests, you'll find plenty of great places to stay with our list of these top resorts in Idaho.
Note: Some businesses may be temporarily closed due to recent global health and safety issues.
1. Shore Lodge, McCall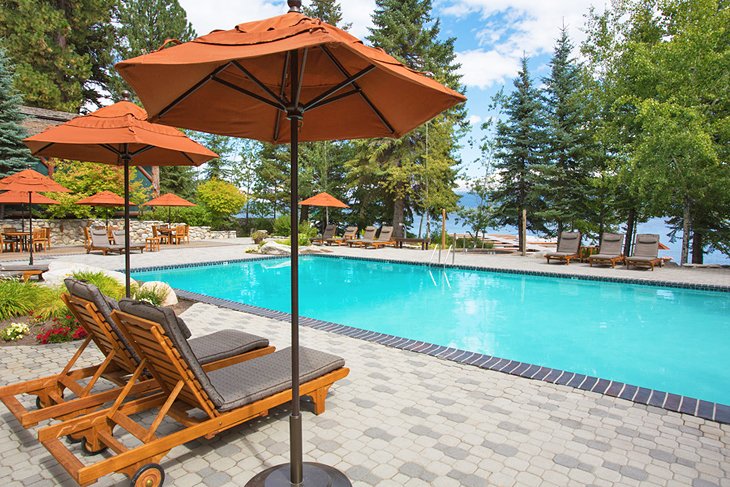 The elegant Shore Lodge in McCall has a well-deserved reputation as one of the top resorts in Idaho. Not only does this 4-star luxury resort property possess the kind of magnificent lake and mountain views you'd normally expect to see in places like Switzerland, it also boasts the same appeal as some of the top luxury European destinations.
Consisting of just 75 suites, many of which overlook glacier-fed Payette Lake, the resort spoils guests with its beautifully decorated accommodations. These include a choice of king or queen beds, separate seating areas with a pullout couch, a fridge, large screen HDTV, and a spacious outdoor patio.
The resort offers excellent amenities, too. Highlights include a heated swimming pool with a hot tub, a gym, games room, a full-service spa, and a fire pit. There's also a movie theater, along with fine and casual dining options in the resort's excellent restaurants.
For guests wanting to explore nearby McCall, a complimentary shuttle service is provided, and valet parking is available. Use of the resort's bikes is also included in your stay.
Address: 501 W Lake Street, McCall, Idaho
Accommodation: Shore Lodge
2. Knob Hill Inn Sun Valley, Ketchum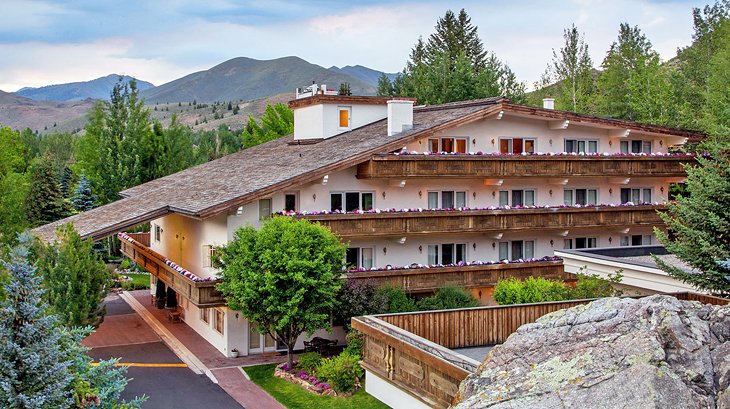 One of Idaho's top boutique-style resorts, the delightful Knob Hill Inn Sun Valley is the perfect base for a great summer or winter getaway. Features of this classy 4-star resort include enjoying an unhurried breakfast in the quaint Fireplace Room, as well as lunches and dinners in the inn's restaurant, The Grill at Knob Hill.
Also worth checking out are amenities including the inn's heated indoor swimming pool, hot tub, and sauna. A shuttle service is also available to various points in and around Sun Valley and Ketchum when the urge to venture further afield strikes, whether for off-site dining, a hiking or biking adventure, or skiing (gear storage provided). For a real treat, be sure to book an in-room massage.
The 450-square-foot king rooms are a popular choice for couples. These well-appointed rooms also feature a living area with a wet bar, marble bathrooms with large bathtubs and walk-in showers, and balconies with superb views of the mountains. An upgrade provides the chance to stay in one of the slightly larger fireplace rooms, each with a genuine woodburning fireplace. There are also a small number of spacious one-bedroom suites.
Address: 960 N Main Street, Ketchum, Idaho
Accommodation: Knob Hill Inn Sun Valley
3. Teton Springs Lodge and Spa, Victor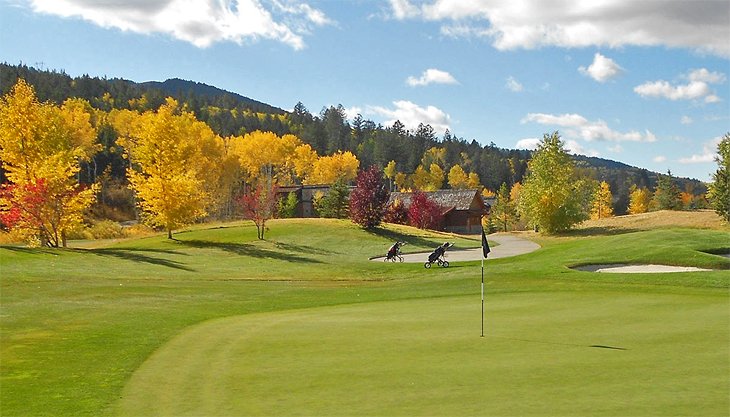 With the magnificent unspoiled beauty of the Teton Valley as a backdrop, Teton Springs Lodge & Spa is perfect for those looking for first-rate accommodations close to the famous attractions of Yellowstone National Park. In addition to exploring the surrounding countryside, guests can enjoy a variety of other activities, from golf and tennis to fishing during the warmer months.
Come winter, it's all about activities such as downhill and cross-country skiing, as well as exciting heli-skiing adventures. A variety of treatments and services are also available in the resort's Stillwater Spa, and on-site dining can be enjoyed in the café bistro and restaurant. Its ample meeting and function space, as well as its beautiful setting, also makes it a popular spot for weddings and honeymoons.
While the resort boasts a variety of different accommodation options, one of the most popular with families and larger groups are the two-bedroom luxury suites. These large and classy units with their elegant wood finishes and elegant flourishes sleep up to eight guests in comfort and come with full kitchens, separate living rooms with fireplaces and ample seating, plus balconies.
Address: 10 Warm Creek Ln, Victor, Idaho
Accommodation: Teton Springs Lodge and Spa
4. Sun Valley Lodge, Sun Valley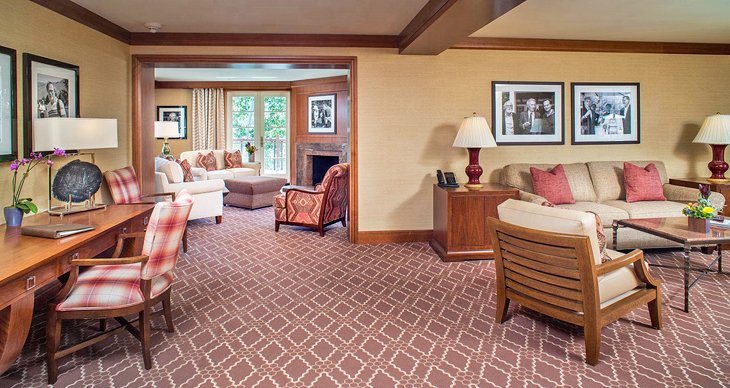 Another luxury vacation destination worth considering when in Idaho is the elegant Sun Valley Lodge. Recently refurbished throughout, the resort consists of 108 spacious guest rooms. A popular option for couples are the cozy king suites.
Notable features include custom furnishings, separate entrance areas, large bathrooms with granite floors, big bathtubs and stand-alone showers, HDTVs, as well as mini-fridges and coffee makers. A version of this room with two queen beds is also available, as are rooms with ski closets.
One of the top things to do here for those who enjoy a spot of pampering is visiting the 20,000-square-foot spa and recreation area. Here, in addition to a full menu of treatment and spa services, you'll also find the fitness center and yoga studio offering regular classes, along with the glass-enclosed heated outdoor swimming pool.
There's great dining on-site, too, including a café at the pool and both fine-dining and casual restaurants. Other fun activities include downhill skiing and snowboarding, along with Nordic and cross-country skiing and snowshoeing.
Address: 1 Sun Valley Road, Sun Valley, Idaho
Accommodation: Sun Valley Lodge
5. The Coeur d'Alene Resort, Coeur d'Alene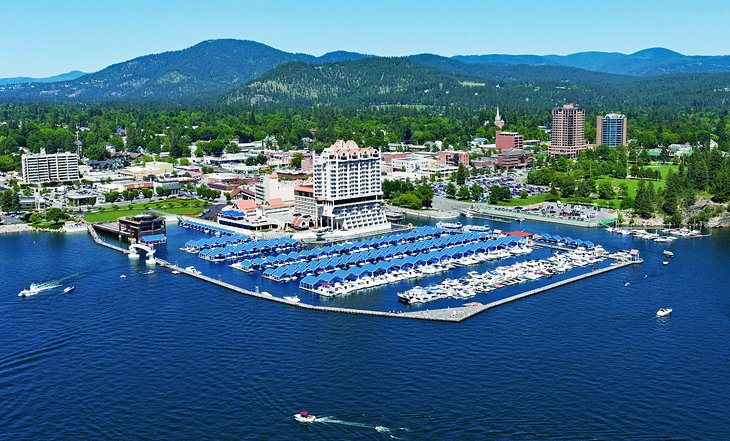 The luxurious Coeur d'Alene Resort, located in the quaint lakeside town of the same name, offers guests a world-class vacation experience in the heart of Idaho's magnificent northwestern mountain region. As popular with groups and families as it is with couples, this world-class 4-star resort is especially loved for its magnificent lakeside setting. When booking your accommodations, be sure to ask for a lake view if available.
Amenities of note include a full-service spa; restaurant dining (plus in-room options and private dining experiences); a heated infinity pool; and, for golfers, the opportunity to tee-off from the world's only floating green, a spectacular tee that's built on a platform on the lake. A nice perk is the chance to enjoy a chauffeur-driven BMW when the need arises to get out and about.
The rooms at The Coeur d'Alene are equally interesting. One of the top choices are the luxurious fireplace suites. These bright, elegantly appointed rooms come with a spacious bathroom with a large tub, granite sink, separate shower, and bathrobes, as well as their own private balcony with lake views. If you really want to splash out, go for the 2,500-square-foot penthouse suite.
Popular with visiting celebrities, this stunning suite features an in-room waterfall bathtub, separate living and dining rooms, a fireplace, hot tub, and private glass-bottom swimming pool. Also worth a mention is the sumptuous 1,500-square-foot Jaeger Suite with its amazing top floor views.
Address: 115 S 2nd Street, Coeur d'Alene, Idaho
Accommodation: The Coeur d'Alene Resort
6. Hotel 43, Boise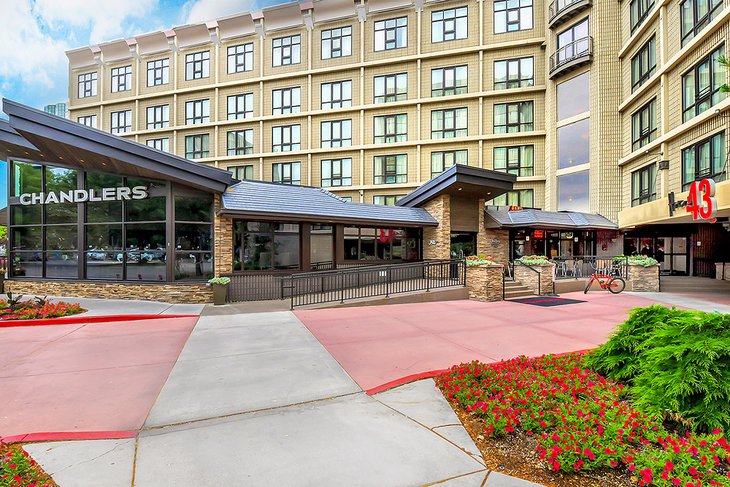 Looking for quality accommodations in Boise, Idaho's capital? Whether you're here on business – it's just half a mile stroll to the Idaho State Capitol – or pleasure, Hotel 43 serves as a great base.
The hotel's 4-star rooms and suites certainly put it at the top of our list of great Boise hotels. Bright and featuring contemporary décor and furnishings, the standard rooms feature HDTVs, coffee makers, work desks, and complimentary Wi-Fi.
Upgrading to one of the larger suites will give you extra living space, along with a handy wet bar and separate bathtubs. A number of hypoallergenic units are also available (be sure to make your preferences known when confirming your reservation).
In addition to its central location near the city's best shopping, dining, and entertainment options, the hotel boasts a number of great on-site amenities. Topping the list is a popular steakhouse restaurant, as well as a café.
In addition to its well-equipped fitness center, the hotel also features a business center that's open 24 hours a day. Valet parking and airport shuttle services are also available.
Address: 981 W Grove Street, Boise, Idaho
Accommodation: Hotel 43
7. Sun Valley Inn, Sun Valley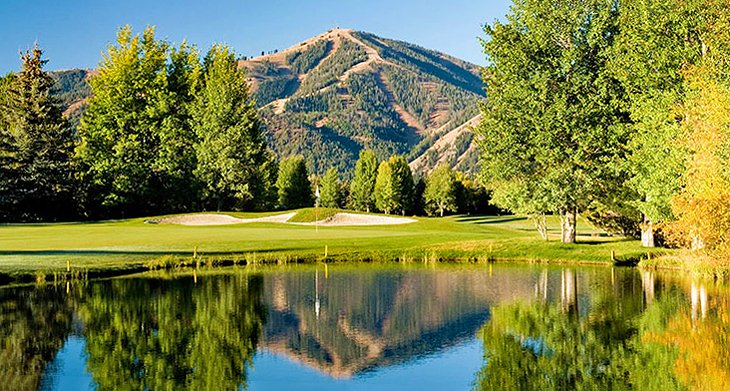 Since opening to the public back in 1937, the historic Sun Valley Inn has been offering visitors excellent accommodations from which to explore and enjoy the beautiful Sun Valley area. Looking not unlike an Alpine mountain chalet, this charming property features great amenities, including two restaurants, a gift shop, ample convention space, a heated outdoor swimming pool, and a gym.
Golfing on nearby championship courses is popular during the summer. There's also plenty of fun here during the winter, with popular activities like downhill and cross-country skiing.
The rooms are certainly cozy and comfortable. Standard features include a mini-fridge, tea and coffee supplies, plus a 55-inch HDTV. Also worth mentioning are the spacious bathrooms with their wood accents, granite countertops, and stand-alone showers. Upgraded rooms include pullout couches, as well as marble bathtubs with bathrobes.
Address: 2 Sun Valley Road, Sun Valley, Idaho
Accommodation: Sun Valley Inn
8. The Lodge at Sandpoint, Sagle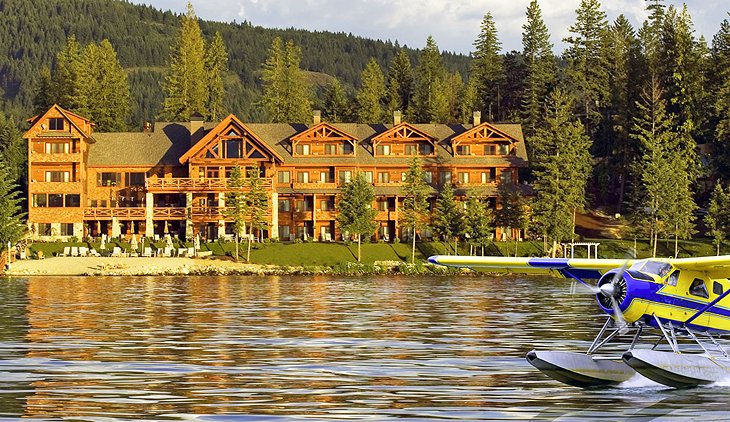 One of Idaho's top lakeside boutique hotels – and definitely one of the state's top quality 3-star resorts – The Lodge at Sandpoint offers guests an intimate vacation experience.
Consisting of just 29 rooms and suites, along with a quaint guesthouse and stand-alone cottage, the lodge has a lovely sandy beach on the shores of Lake Pend Oreille, lakeside patios on which to unwind and relax, and an expansive verandah offering great views over the mountains.
Other on-site amenities include a fitness room, two hot tubs, and a reading room. A nice added perk is the inclusion of a continental breakfast available at the on-site restaurant. There are also plenty of fun things to do nearby, including activities such as golf, boating, and in winter, plenty of ski action.
The rooms here boast such features as comfortable pillow-top beds, spacious bathrooms, mini-fridges, and coffee makers. The largest suite consists of some 1,100 square feet of living space, including a master bedroom, a kitchenette with full-size appliances, a fireplace, plus a private balcony. A number of easily accessible units are available for those with mobility issues, and pets are welcome in some units (be sure to request either need in advance).
Address: 41 Lakeshore Drive, Sagle, Idaho
Accommodation: The Lodge at Sandpoint
9. Schweitzer Mountain Resort Lodging, Sandpoint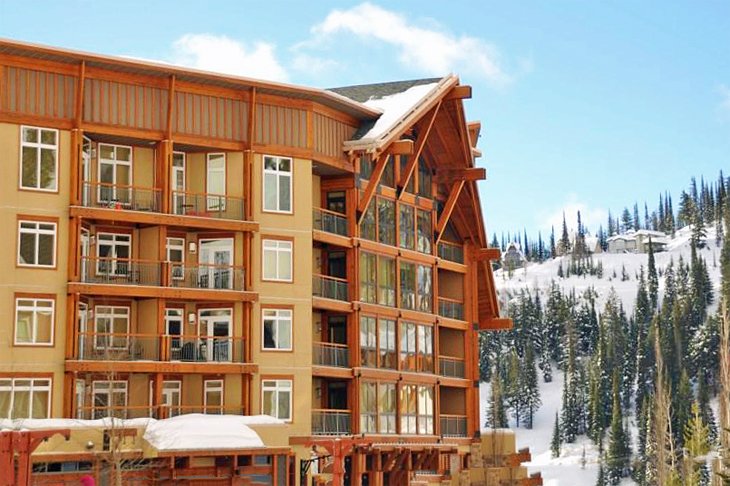 One of Idaho's top ski destinations, 3-star Schweitzer Mountain Resort is set amid an impressive 2,900 acres of ski terrain. The resort is as popular with downhill skiers and snowboarders as it is with Nordic and cross-country ski fans, and in fact boasts more than 25 miles of trails, most of which is also good for snowshoeing.
The resort village also offers plenty of indoor fun, including a full-service spa, swimming pools, a fitness center (yoga classes offered), plenty of restaurants, a movie theater, as well as shopping. There's also plenty of organized kids' activities and programs, including crafts and art.
There are also many great choices when it comes to accommodations, too. Popular options for larger groups and families include huge three-bedroom suites capable of sleeping up to 10 guests. These 2,000-square-foot units are spread across three levels and come with features such as a separate games room with arcade-style video games, a full-kitchen, and ample living space.
Address: 10000 Schweitzer Mountain Road, Sandpoint, Idaho
Accommodation: Schweitzer Mountain Resort Lodging
10. Western Pleasure Guest Ranch, Sandpoint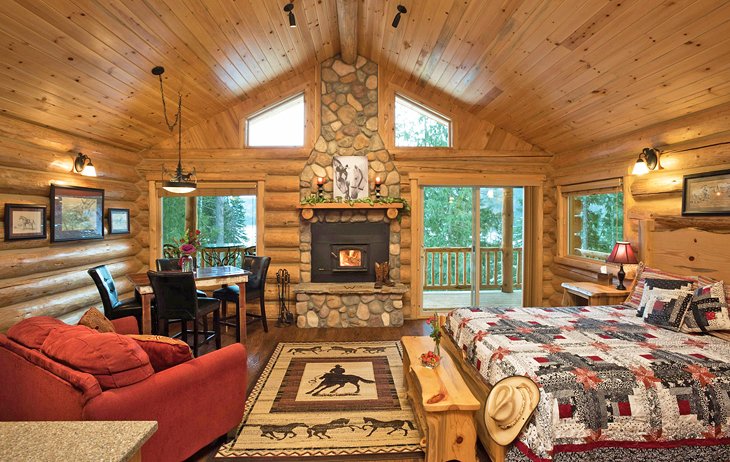 For something completely different, check out the historic Western Pleasure Guest Ranch in Sandpoint. Recalling the spirit of the Old West – the same family has run the ranch for more than 100 years – this 3-star back-to-nature experience provides an opportunity to stay in unique log cabins and lodge-style accommodations while enjoying horseback riding adventures.
Visit in winter, and you can also add sleigh rides to this impressive list of activities. Other notable amenities include the Great Room, perfect for dining and meetings; a recreation room; an outdoor hot tub; plus a basketball court. Laundry facilities are also available.
One of the most popular accommodation options is the elegant Meadowview Cabin. Sleeping six guests comfortably, this unit boasts stunning views over the ranch. Highlights include a large stone fireplace, a spacious bathroom with a separate bathtub and shower, a full-kitchen with appliances, plus a large wraparound deck. Smaller rooms are also available.
Address: 1413 Upper Gold Creek Road, Sandpoint, Idaho
Accommodation: Western Pleasure Guest Ranch