Where to Stay in Budapest: Best Areas & Hotels
We may earn a commission from affiliate links ()
Budapest, Hungary is a beautiful, often overlooked destination that offers visitors great value for their travel budget. Comprised of two main sections, Buda and Pest, the city is separated by the Danube river. Its position on the river makes it a popular embarkation and debarkation point for Danube river cruises, and many people will spend a few days here before or after their river cruise.
The city has a wide range of hotels to choose from: world-class, five-star luxury hotels, like the Four Seasons Hotel Gresham Palace, to well-located budget options, like the ibis Budapest Heroes Square. Accommodations in Budapest are reasonable, typically 20 to 40 percent less than comparable accommodations in European capitals like London or Paris.
Popular areas to stay include the Castle District, with its historic buildings and museums, or you might prefer Theresa Town, with its grand boulevards. The Downtown area, on the Pest side, includes the city's financial district, along with great shopping. You will find a good mix of hotels in all price ranges in each of these areas.
On This Page:
Where to Stay in Budapest for Luxury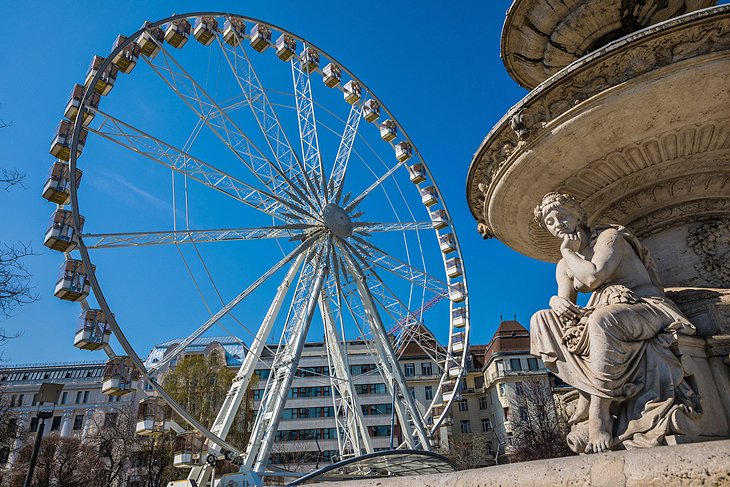 Visitors to Budapest might experience reverse sticker shock when it comes to hotel rooms. As one of the less popular European tourist destinations, the city's luxury hotels are priced much lower than their counterparts in Berlin, Madrid or North America. Luxury brands like the Four Seasons and Ritz-Carlton are priced like what you might expect to see for a Hilton or W property.
The Four Seasons Hotel Gresham Palace has the Danube right outside its front door. In fact, the city's iconic Chain Bridge leads you right to the hotel. The building is an Art Nouveau masterpiece, built in 1906 as an office and apartment building. As you would expect, the views are spectacular, the location is perfect, the accommodations are luxurious, and the service is warm and deeply personal.
Since the hotel sits directly in front of the bridge, some of the rooms and suites have dramatic bridge views. The style is modern and luxurious, with a strong Art Deco influence. It's worth it to upgrade to a room with a step-out balcony, perfect for enjoying Danube views.
The Ritz-Carlton, Budapest is another relative bargain, with rates normally around $300 per night. Centrally located right on Erzsebet Square, you can walk everywhere within the historic core of the city. The large public park in front of the hotel is also used for interesting local fairs and events, especially around holidays.
Some of the rooms and suites overlook the giant Ferris Wheel of Budapest, located right in front of the hotel. Club Level rooms offer access to the Ritz-Carlton Club, which serves a delicious selection of food and beverages throughout the day.
The Kempinski Hotel Corvinus Budapest is a great luxury option, yet it's priced more like a mid-range hotel. Perfectly and appropriately located in what's called the Gastronomic Quarter, the hotel is home to the only Nobu in Central Europe. Aside from sushi at Nobu, the hotel's ES Bisztro has an amazing selection of Austrian, Hungarian, and Austro-Hungarian dishes.
Like the Ritz-Carlton, the Kempinski is also on Erzsebet Square. This hotel is a modern building, constructed as the Kempinski within the last 20 years, so the rooms are quite large. Shoppers will love being able to walk out of the hotel and be right on Vaci Street, a pedestrian-only street with the city's best shopping and all the big luxury brands.
Where to Stay in Budapest: Mid-Range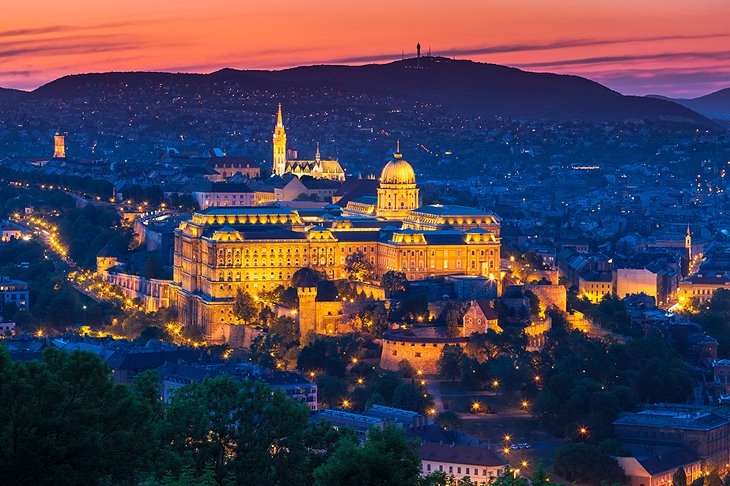 Given the relatively low pricing of all hotels in Budapest, there are some great options in the mid-range category that offer a lot for what they charge. The Corinthia Hotel Budapest provides a guest experience that would cost twice or even three times the price in most other cities. This is a true grand hotel, formerly known as the Grand Hotel Royal, built on the city's Grand Boulevard at the height of the Austro-Hungarian Empire (1896). Restored to five-star standards, it's again one of the city's largest and most popular hotels.
The beautiful (and expensive) Art Deco spa has also been restored and retains period details and materials. Executive-level rooms offer access to the Executive Lounge, which provides a full breakfast, drinks throughout the day, and light snack food service from late afternoon until 10pm.
The Prestige Hotel Budapest is an excellent mid-range option. Housed in a restored neoclassical townhouse, the rooms are stylish and comfortable, but the decor is a bit over the top, with a lot of purple velvet and shiny gold finishes. It's a great hotel for foodies, as it's home to the Michelin-starred Costes Downtown, one of the best restaurants in the city.
The Budapest Marriott Hotel has freshly updated rooms that all, even the basic ones, face the Danube. The riverside hotel is right across from Buda Castle, and these reasonably priced rooms come with luxury amenities, like 24-hour room service and several restaurants. There's a spa, large swimming pool, free Wi-Fi, and an extensive breakfast buffet is included in most room rates.
Where to Stay in Budapest on a Budget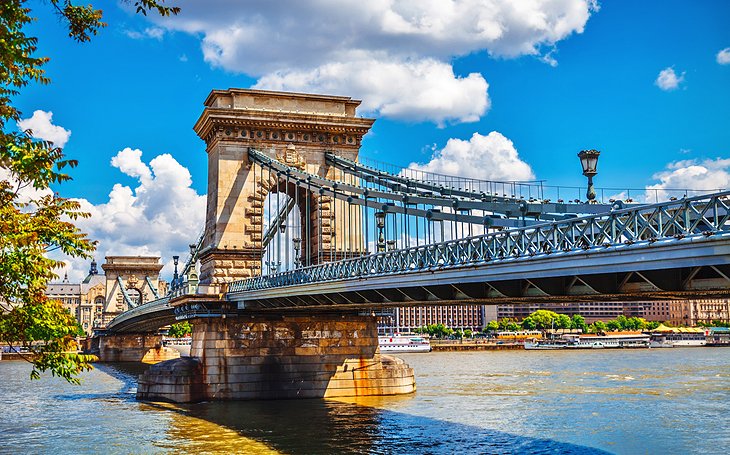 Clean, safe budget hotel rooms can be found throughout the city, and basic rooms with a private bathroom at new properties go for well under $100 per night. The ibis Budapest Heroes Square is located in the Downtown area, within easy walking distance to many of the city's monuments and across the street from a large park and the Fine Arts museum.
Ibis properties are always clean, cheap, well-managed, and have new, although basic furniture (think Ikea). The central location, close to trams and transportation, can mean some street noise; request a room on a higher floor for a quieter experience. Breakfast is included with most room rates, but quite basic, and Wi-Fi is also complementary.
A unique budget choice that doesn't sacrifice location for price is the OnRiver Hotels - Grand Jules Boat Hotel. Like the name implies, this hotel is a boat, permanently moored on the river. Rooms are compact, but beautifully designed and finished. It's right next to Margaret bridge, which leads to Margaret Island, like a mini Central Park. It's great for walking, running, and other outdoor activities. The caring staff speaks excellent English, which can be rare at smaller budget properties.
The Bo33 Hotel Family & Suites is a great budget choice for foodies as it's right near the New York Cafe, known to serve the best beef goulash (a spicy stew) in Budapest. Guests love the free, included breakfast, which includes a chocolate fountain. There's even a small gym and fitness room on the roof level, with some amazing views of the city (great for selfies). The hotel offers guests a free one-day bike rental to explore the city with some room rates.
It's about a 20-minute walk from the city center but provides a more authentic, almost suburban experience. Rooms are clean and frequently updated, and the bathrooms are especially large for the price.
Where to Stay in Budapest for Families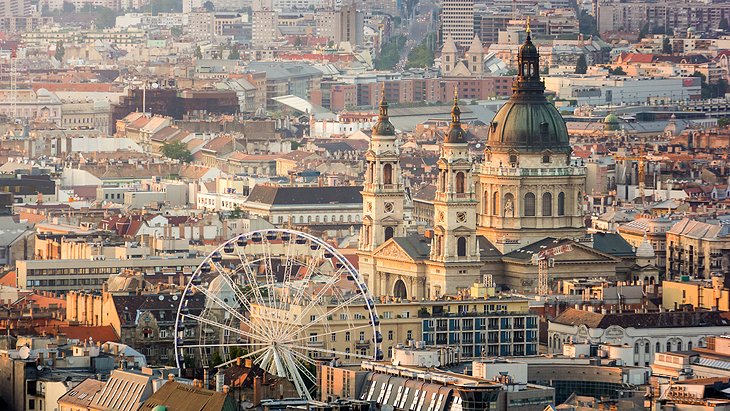 If your children love music, the Aria Hotel Budapest by Library Hotel Collection is such a fun hotel choice for families. Though it's one of the city's most expensive hotels, it's still usually under $300 per night. A true music-themed hotel, the Aria has four wings, each named for and celebrating a specific music type.
Within the wings (jazz, classical, contemporary, and opera) each triple soundproofed guest room is dedicated to a particular artist. Of course, the 49 rooms include excellent sound systems and curated digital playlists ready for your listening pleasure. A stay in the classical wing, combined with related sightseeing following the footsteps of some of the city's great composers (like Liszt or Bartok) is both enjoyable and educational.
Wi-Fi is free, as is a breakfast buffet and an afternoon snack and beverage service. There's an indoor pool with a hot tub, and a very nice spa.
Located in the historic Castle District, the Hilton Budapest combines reasonable rates with the brand's reputation for excellent service and modern, stylish accommodations. The location is ideal for sightseeing, within a few minutes' walk of the castle and the area's many museums. Guests will appreciate amenities like free Wi-Fi; a fitness center open 24 hours a day; and room service, also available 24 hours a day. Aside from room service, there are also two dining options: the Lobby Cafe and LANG Bistro and Grill, which serves a locally sourced menu.
The Hilton has beautiful loft suites that are great for families. They are on two levels and have a separate living room area with a sofa bed. There's also a full kitchen in each loft suite. The Hilton also has two-bedroom suites, which are good for large families.
Where to Stay in Budapest for Romance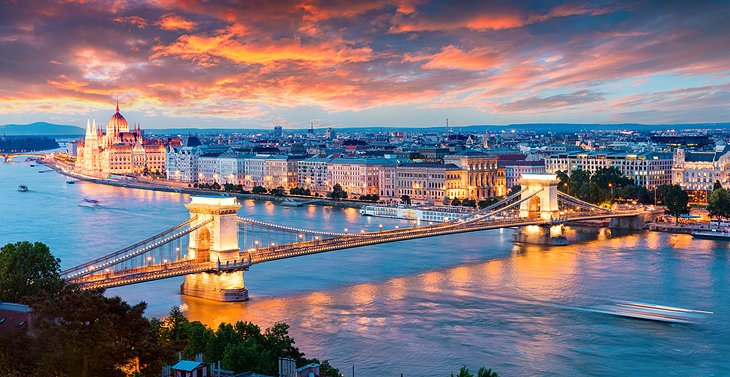 Couples will enjoy romantic views of the river and nighttime strolls along the Danube Promenade. The InterContinental Budapest is right on the Danube Promenade, next to the Chain Bridge, directly across from Buda Castle. For a real luxury experience, why not upgrade to one of their 25 suites, all with sweeping views across the Danube. They just opened a new Lebanese restaurant called ARZ, and its Middle Eastern cuisine is very popular with both hotel guests and locals. The SPA InterContinental includes a couples treatment room for a romantic massage, and the spa menu includes several couples treatment options.
In a fabulous location on Andrássy Avenue, just moments from St. Stephen's Basilica and the Hungarian State Opera House, Hotel Moments Budapest is an elegant and romantic property. This boutique hotel has just under 100 rooms, all with a contemporary design focus that makes them very photogenic. Couples may want to book the Basilica Suite with huge skylights, giving you a view of the city's iconic basilica from the living room and the bedroom. The suite has a large outdoor terrace with the St. Stephen's Basilica as your backdrop.
Couples can enjoy a meal in the hotel's cozy Bistro Fine, which serves a mix of Hungarian and international cuisine. There is also a free hot breakfast offered daily. Should you need a sweat session, a gym and sauna allow you to indulge.
Where to Stay in Budapest near the Airport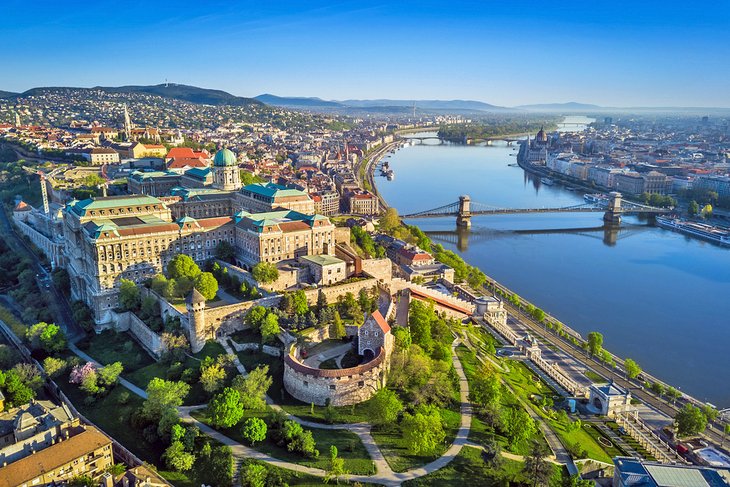 If you're arriving at Frerihegy Liszt International Airport late at night or have an early morning flight out, then staying at a hotel near the airport is always a good option. The Budapest airport is located about 10 miles southeast of the city center.
The ibis Styles Budapest Airport is the only hotel located right at the airport, making it super easy to walk from your gate to your bed. The 145 rooms and suites here have artsy, fun decor, with bright-hued accent walls and airplane and travel motifs. There are also family room options if you're traveling with kids. The rooms are soundproofed, and amenities include an international restaurant, free breakfast, and paid on-site parking.
Another hotel near the airport, the Airport Hotel Budapest is right across the highway from BUD airport and has a free airport shuttle to drop you off and pick you up. There's a fitness center; free Wi-Fi; and a 24-hour café and room service, which is great for late arrivals.