10 Top-Rated Resorts in Roatan
The largest of Honduras' Bay Islands, Roatan is a popular beach vacation destination in Honduras and home to some of the country's best resorts. Located about 65 kilometers off Honduras' northern coastline in the Caribbean Sea, Roatan boasts beautiful white-sand beaches juxtaposed against clear turquoise-blue water.
Resorts are located around the island, but the greatest concentration are found around West Bay. This area has a fantastic white powder-sand beach and clear, warm water, and the reef lies within swimming distance from shore. French Harbor is another spot with a number of luxury resorts, while the island's northeast end is where to go if you want to escape from the crowds.
Whether you are traveling with the kids or looking for a romantic getaway, you'll find resorts for all budgets and styles of traveler in Roatan. Here are our picks for the island's best resorts.
1. Grand Roatan Caribbean Resort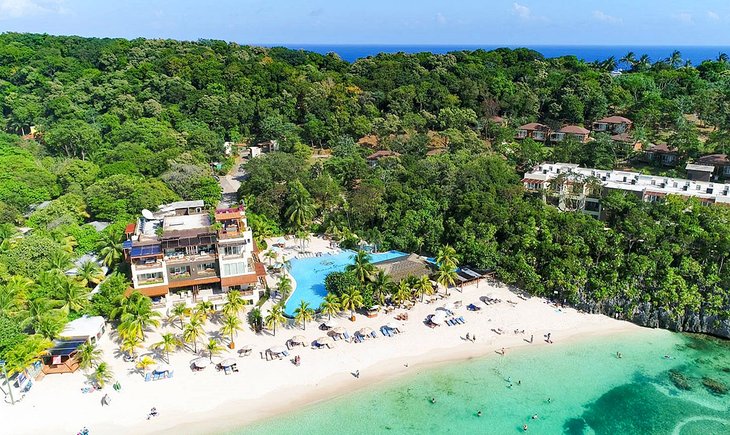 Accommodation: Grand Roatan Caribbean Resort
In the popular West Bay area, Grand Roatan Caribbean Resort is a 4-star property at the end of a palm-lined beach.
The location is excellent if snorkeling is on your agenda, as you can access the reef just offshore by swimming. There is also a full-service, five-star PADI dive school and shop on-site. Here, you can rent snorkeling equipment and book dives. If you want to get certified, book one of the intro to advanced diving courses.
Set on 14 acres of beachfront and jungle, the grounds are lovely.
Catering to couples and families alike the boutique resort has everything from rooms and suites to multi-bedroom condos. Condos have full kitchens and are a great choice for families.
The resort has a fantastic infinity swimming pool overlooking the beach. It has a zero-entry area for kids, and there are plenty of sun loungers and umbrellas around the pool. You'll find more chairs set up on the sand.
Other amenities include a restaurant, free yoga and pilates classes in the high season, and round-trip airport or jetty transfers. There are also outdoor games, including a life-size chessboard and a putting green.
Address: West Bay Road, West Bay, Roatan 90241 Honduras
2. Barefoot Cay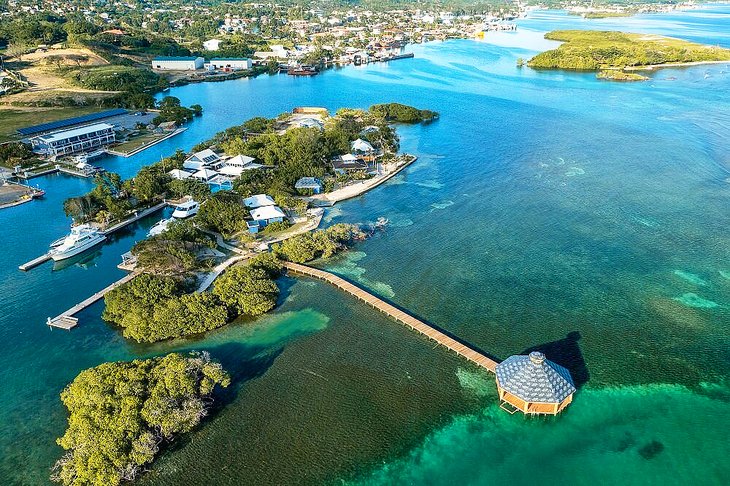 Accommodation: Barefoot Cay
For a private island vacation, head to Barefoot Cay. On a four-acre island off Roatan's south shore, this luxe boutique resort is perfect for couples searching for a relaxing holiday with world-class diving.
The on-site Barefoot Divers is a PADI 5 Star Dive Center and offers daily personalized dives, as well as certification classes.
If diving isn't your thing, there is snorkeling in the clear turquoise water out front and other water sports to try out. The resort also welcomes families and has amenities like Pack n Plays for guests to borrow.
There are just 10 rooms here. You can book one of the five oceanfront villas, which each have their own beach area, or one of the five ocean-view lofts on the top floor of the dive shop building. All have stylish decor and come with super comfy beds, high quality sheets, and luxury bath products. Some of the villas have private plunge pools.
Service here is friendly and attentive. Besides the beach, there is an outdoor pool, restaurant, and a spa on-site.
Address: Barefoot Cay Road Brick Bay, French Harbour, Roatan IB3110 Honduras
3. Xbalanque Resort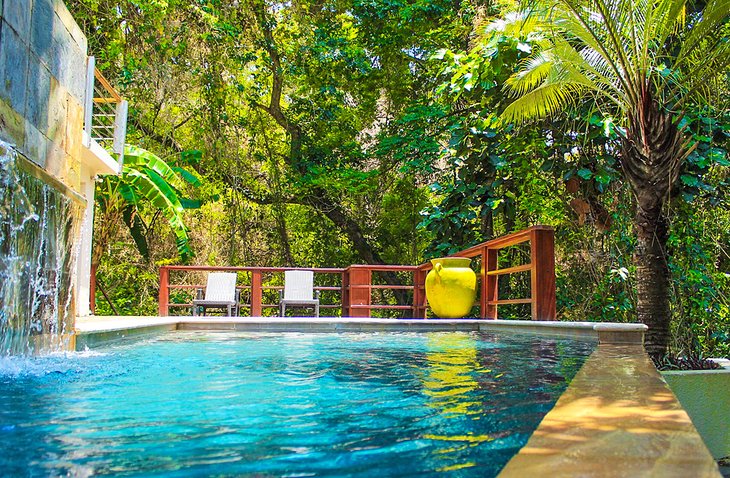 Accommodation: Xbalanque Resort
Set halfway between West Bay Beach and West End Village, Xbalanque is a luxury boutique resort. We love the location on eight acres with a private beach surrounded by lush green jungle.
The grounds are well-maintained and filled with native tropical plants and gardens. Trails wind around the property, and there are resting spots, including an Indonesian-style pagoda, that are perfect for quiet reflections.
The resort offers individually decorated suites, villas, and lofts with stylish modern decor and extras like fresh flowers. Some have full kitchens; others are right on the beach.
The Heliconia Villa is perfect for a vacation with friends or a family trip. It has multiple stories and bedrooms, a gorgeous kitchen, indoor and outdoor dining and living spaces, and a beautiful contemporary design with lots of wood elements. It also has a private swimming pool.
The on-site Lotus Restaurant is set next to the hotel's infinity swimming pool facing the sea. The menu features lots of fresh local fare, and dietary needs, from vegetarian to gluten-free can be accommodated.
Other amenities include a spa with a focus on sustainable organic treatments for the skin and body, as well as a number of massage options. Massages take place in a palapa on the beach.
If you've come to Roatan to dive or snorkel, the resort can set up both. It also offers fishing trips and island tours.
Address: Tamarind Drive, West Bay, Roatan Honduras
4. Turquoise Bay Dive & Beach Resort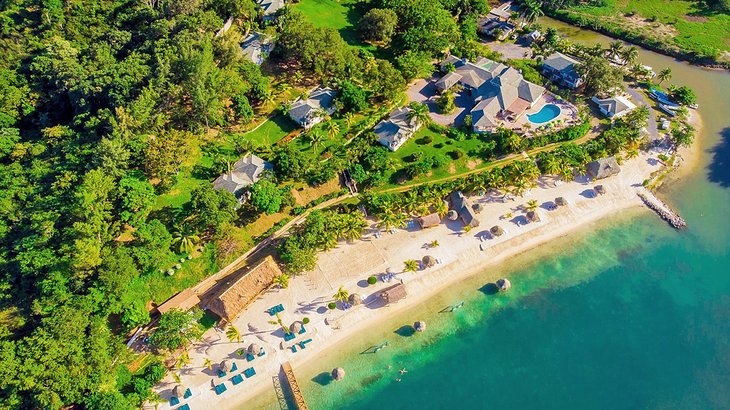 Accommodation: Turquoise Bay Dive & Beach Resort
On 500-feet of gorgeous white-sand beach, Turquoise Bay Dive & Beach Resort is a boutique property. The location on Roatan's northeast shore is removed from more touristy areas. As such, it offers a remote vacation destination away from the crowds.
Most guests come here to dive, and the sites around here are pristine and uncrowded. Set on a hill overlooking a protected bay with calm water that is perfect for swimming or kayaking, the resort offers more than just diving. Fishing trips are also offered.
The resort is an all-inclusive property, with rates including meals beverages and some activities. It is known for its friendly local staff that provide excellent service while making you feel at home.
The 4-star property has clean and comfortable rooms with stylish decor in a few different setups, including some units for families.
Besides the pool and beach area, you can rent one of the day-use overwater bungalows, which can accommodate up to four people. These have hammocks over the sea and are a cool cabana-style concept.
Address: Milton Bight, Roatan IB3100 Honduras
5. Mayan Princess Beach & Dive Resort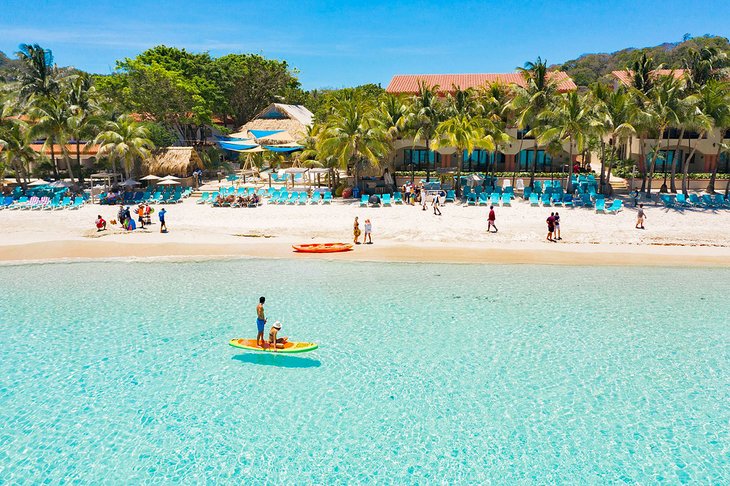 Accommodation: Mayan Princess Beach & Dive Resort
Mayan Princess Beach & Dive Resort is an all-inclusive property in West Bay. The resort has been open for almost 20 years and offers a family-friendly luxe experience.
There is a kids' club with supervised activities for children between the ages of 4 and 12 years old. These include everything from snorkeling to kayaking, cooking classes, and sandcastle building, depending on age. The resort also tailors packages designed especially for families or small groups.
And while the Mayan Princess is definitely family friendly, it also caters to couples and is a popular wedding venue. Adult activities include diving and snorkeling or just lounging pool or beachside. The spa has a full range of treatments.
Accommodation is in modern rooms and suites with private balconies. There are four restaurants on-site serving a la carte and buffet-style meals.
Address: West Bay Beach, West Bay, Roatan Honduras
6. Las Verandas Hotel & Villas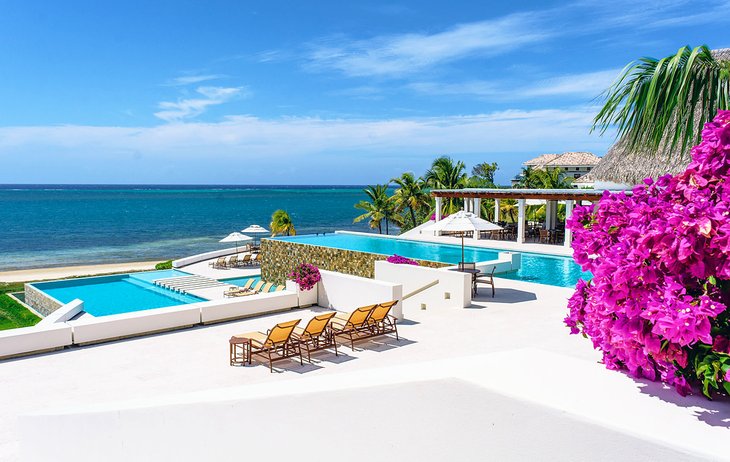 Accommodation: Las Verandas Hotel & Villas
Just 20 minutes from Roatan's international airport in French Harbor, Las Verandas Hotel & Villas is a luxe property that is perfect for families and couples. The grounds are lovely, with lots of gardens and bougainvillea and hibiscus flowers. Set on a private section of beach, there is also excellent diving and snorkeling in the vicinity.
Accommodation is in a mix of villas and suites. The villas are quite posh and done up with Honduran mahogany trim, vaulted ceilings, and travertine marble bathrooms. Some feature private swimming pools. The suites are large enough to sleep families and have stylish decor.
Adjacent to the resort is the Black Pearl Golf Course. The 18-hole Pete Dye-designed course challenges all levels of golfers.
The on-site restaurant, Pergolas, serves a Caribbean/Mediterranean fusion menu and offers all day dining.
Address: Pristine Bay Rd, French Harbour, Roatan IB3110 Honduras
7. Infinity Bay Spa and Beach Resort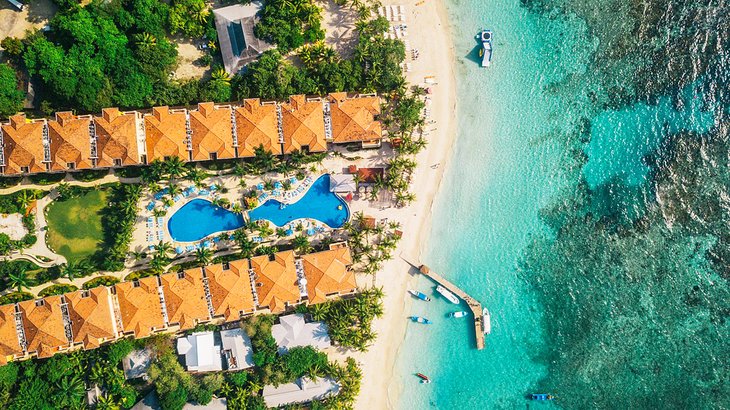 Accommodation: Infinity Bay Spa and Beach Resort
On the beach at the End of West Bay Road in West Bay, Infinity Bay Spa and Beach Resort is another upscale option. It offers all-inclusive packages, which can be a good deal.
The buffet restaurant serves different cuisine theme nights each night, so the choices are always rotating. There is also an a la carte option, but it isn't included in many of the packages.
The beach here is white sand and pretty, and there is good snorkeling just offshore. The resort has a dive shop on-site from which you can book dives, as well as rent snorkeling equipment. There is a large infinity swimming pool on-site with plenty of lounge chairs and umbrellas. It has a shallow end for kids.
Rooms come with either ocean or pool views. All are modern and comfortable. There are also suites and condos available. The condos come in one-, two-, and three-bedroom configurations. They have full kitchens, so if you don't want to take the all-inclusive package, these are a good choice.
Address: West Bay Beach, End of West Bay Road, West Bay, Roatan Honduras
8. Las Sirenas By Mayan Princess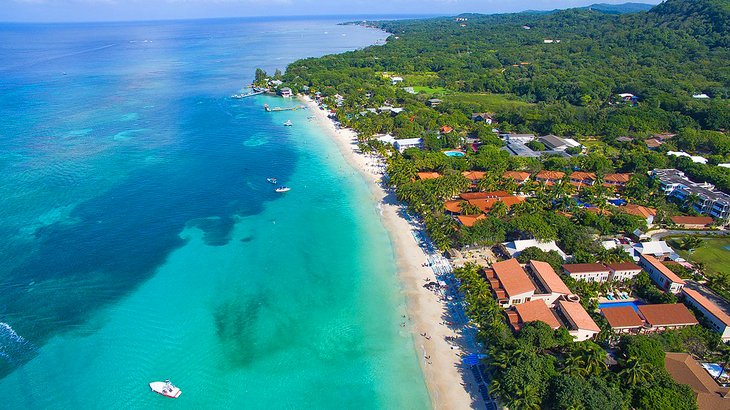 Accommodation: Las Sirenas By Mayan Princess
Las Sirenas is a family-friendly resort in West Bay that is on the same grounds as the above mentioned Mayan Princess Resort. It shares access to the beach, a dive shop, and four restaurants with its partner property.
Las Sirenas offers all-inclusive packages that can be tailored based on interest. If you want to dive, the full-board plus three dive package can be a good deal.
The property has a few different classes of rooms. There is a two-bedroom family suite that can accommodate up to four people. It has a master with a king and a second bedroom with a queen.
Other categories include a two-bedroom beachfront suite, and a less expensive queen room with pool views.
Address: Carretera Pavimentada Ppal, West Bay, Roatan 00010 Honduras
9. Palmetto Bay Roatan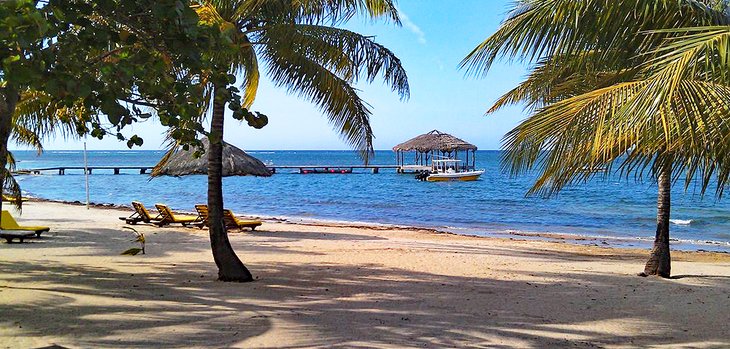 Accommodation: Palmetto Bay Roatan
On a tropical bay surrounded by lush jungle-scapes, Palmetto Bay is a vacation rental and residential community.
It is a good choice if you are traveling with the family or a small group of friends as the homes are spacious and usually come with multiple bedrooms and full kitchens. Some also have private swimming pools.
Note that the location can be very buggy between June and August, so bring good insect repellent.
The property has a pretty white-sand beach, and there is great snorkeling on the barrier reef nearby. You can also arrange diving and other water sports at the on-site shop. There is a swimming pool facing the sea and shaded palapas on the sand.
If you just want to stretch your legs, there are multiple walking trails around the grounds.
Finally, the on-site restaurant serves three meals a day in the high season.
Address: Carretera Ms Vecinal, Palmetto Bay, Crawfish Rock, Roatan IB3100 Honduras
10. Paradise Beach Hotel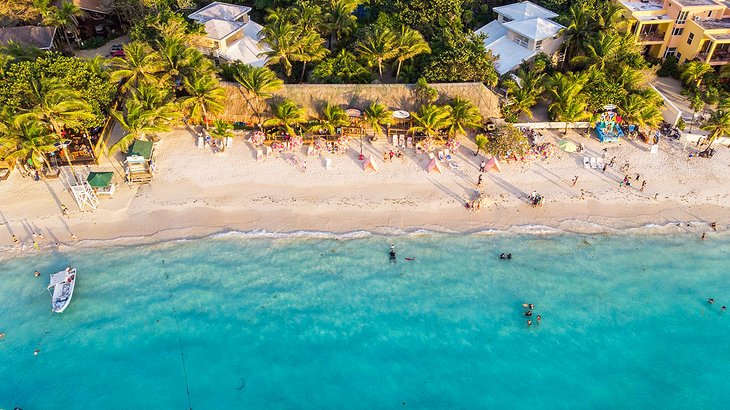 Accommodation: Paradise Beach Hotel
Right on West Bay Beach, Paradise Beach Hotel is a family-friendly upper mid-range property that offers all-inclusive meal packages.
The resort has four restaurants, including one buffet option and a grill by the pool. The other two restaurants face the sea.
The accommodation is in a mix of rooms, suites, and villas. These are bright and contemporary, but not all have ocean views. There is an on-site dive shop that offers many different dives and also certification courses.
Other amenities here include two swimming pools. One is located on the rooftop and the other has a shallow wading area for children.
The rooftop gym with floor-to-ceiling windows facing the sea is a great place to get a workout in.
There is often dancing and live music at night. Round-trip airport or ferry transfers are also complimentary.
Address: West Bay Beach, West Bay, Roatan IB3100 Honduras
Map of Resorts in Roatan