10 Top-Rated Resorts in Kailua-Kona, HI
We may earn a commission from affiliate links ()
If you're looking for white-sand beaches, gorgeous resorts, and plenty of sunshine on Hawaii's Big Island, you'll want to head to Kailua-Kona. This area has some of the most beautiful beaches on the Big Island.
The town and surrounding coastline, which is referred to indiscriminately as Kona and Kailua by locals, is the resort capital of the island and home to properties for all budgets and styles of travelers - accommodating families and couples alike.
The area to the north of Kona is known specifically as the "Resort Coast" and here, you'll find the majority of the properties, including the high-end Four Seasons Resort Hualalai. There are also resort properties like the Wyndham Kona Hawaiian Resort in Kailua-Kona itself and the Kona Coast Resort to the south of town, which is an area known for its excellent snorkeling.
Plan your stay with this list of the best resorts in Kailua-Kona.
Note: Some businesses may be temporarily closed due to recent global health and safety issues.
1. Four Seasons Resort Hualalai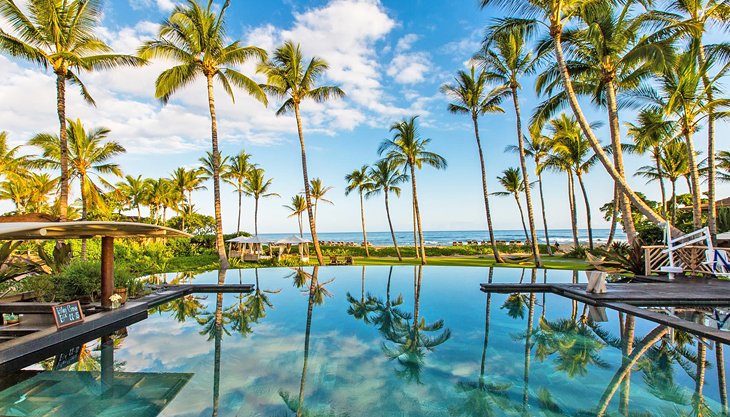 The Four Seasons Resort Hualalai sits south of Kailua-Kona in a prime oceanfront location that is also isolated, ensuring privacy. Popular with celebrities, this property is nothing short of gorgeous with stunning views of the dramatic, volcanic coastline surrounding it.
The decor is Hawaiian contemporary, and the vibe is understated elegance. The 243 rooms, suites, and villas are located in low-rise bungalows that blend into the natural environment, and most of them have ocean views from private balconies.
Beyond the rooms are seven swimming pools, both saltwater and freshwater, as well as three restaurants, boutique shops, and a relaxing open-air spa in a lush location. There is also a Jack Nicklaus signature golf course, open only to guests, and a fitness center offering daily yoga and other workout classes.
Accommodation: Four Seasons Resort Hualalai
2. Wyndham Kona Hawaiian Resort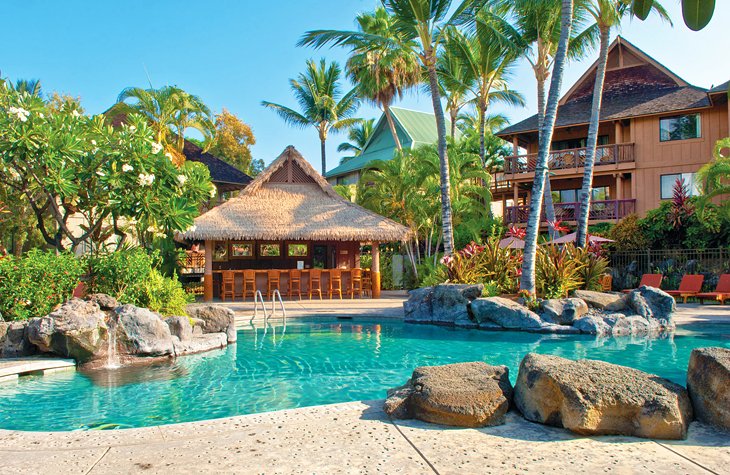 An all-condo resort, the Wyndham Kona Hawaiian Resort is a great family choice located in Kailua-Kona with views across Kahalu'u Bay. Although it's not directly on the beach, it is within walking distance of the sand.
The property has a relaxed, old-fashioned vibe that is meant to transport you back to the charm of 1930s Hawaii. The condos are spacious, two-bedroom affairs that can sleep up to six guests and are just under 1,200 square feet.
Condos are equipped with full kitchens and washer/dryers, which make them easy for families with young children. Should you wish to dine out, there are plenty of restaurants around town. On-site amenities include a concierge, two outdoor swimming pools, and two whirlpool hot tubs.
Accommodation: Wyndham Kona Hawaiian Resort
3. Ohi'a Park Estate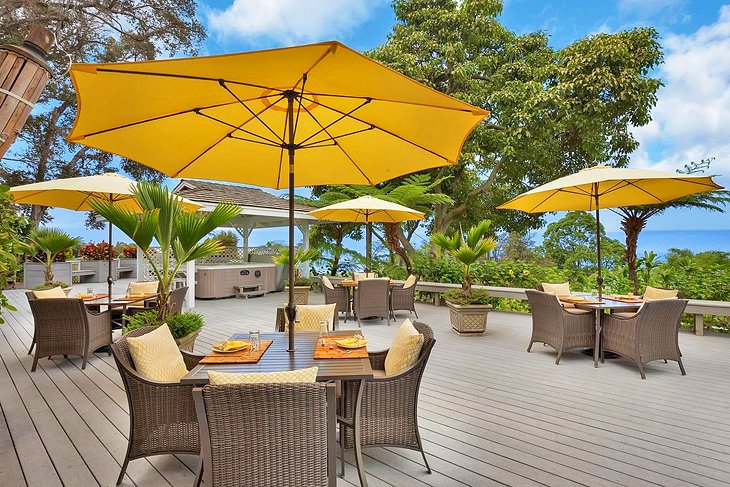 With just four suites, Ohi'a Park Estate is a great choice for couples looking for a relaxing, natural escape. The home that hosts the B&B is set on three lush tropical acres surrounded by the native Hawaiian 'Ohi'a trees for which it is named and with views across to the sea.
All the suites are done up in chic island style and come with comfy king beds in the bedrooms, a separate living room and elegant travertine bathrooms with designer toiletries. Charming touches include fresh flowers and a selection of fresh fruits and candies in the rooms.
Beyond a delicious full breakfast included in the rates, house amenities include a library with a large range of books, DVDs, and CDs for guests to borrow.
Accommodation: Ohi'a Park Estate
4. Courtyard by Marriott King Kamehameha's Kona Beach Hotel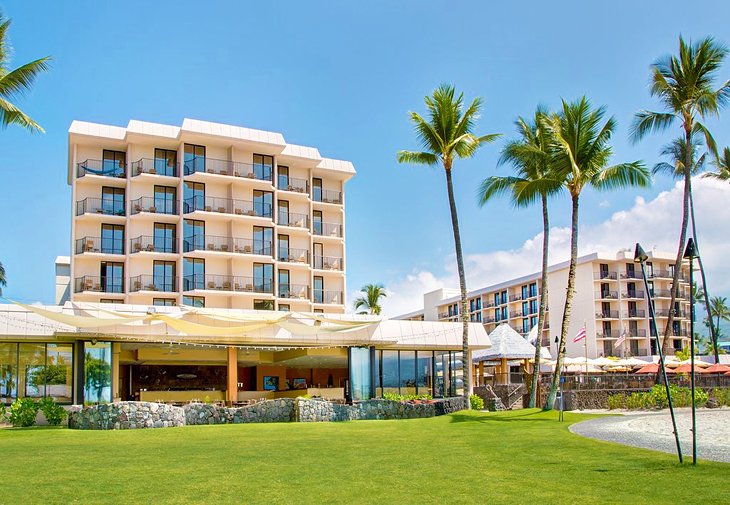 Next to the Kamakahonu National Historic Landmark and within walking distance of Hulihee Palace, this hotel resort is right on the beach in Kona. The rooms and suites are contemporary in decor and feature private balconies, but you'll want to book an upgraded room to get a full ocean view (plus a pull-out sofa, making these an option for families). The suites add a separate bedroom and living space.
Away from the rooms, you'll find a picnic area on the water, a lobby designed to resemble a living room for lounging, a fitness center, and spa. There is also a swimming pool with its own casual American grill, as well as a separate, but equally low-key, Hawaiian restaurant, and a coffee shop on-site.
Accommodation: Courtyard by Marriott King Kamehameha's Kona Beach Hotel
5. Wyndham Mauna Loa Village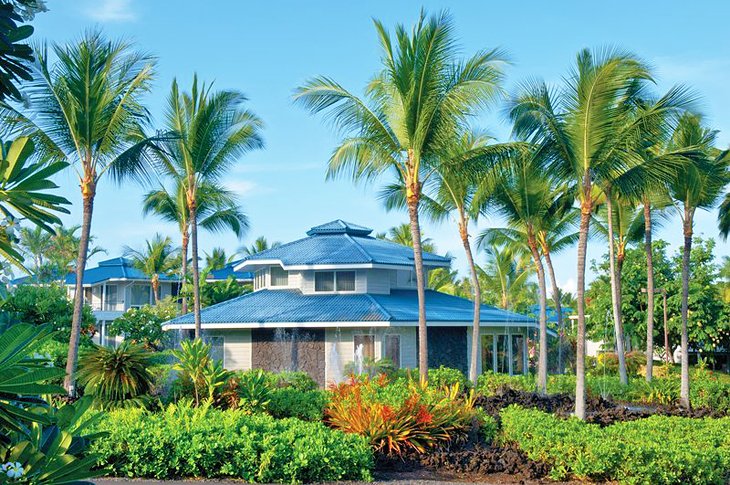 The Wyndham Mauna Loa Village is a relaxed all-condo resort that is just a few miles from Kahalu'u Beach Park. It is an excellent family choice offering one- or two-bedroom condos with comfy beds, kitchens, washer/dryer combos, sitting areas, proper dining tables, and a private balcony.
A free continental breakfast is served to guests, but there is no other on-site restaurant here. That said, the resort is not far from a number of dining options, as well as shopping and the beach. And because the condos have kitchens, many guests choose to cook for themselves. There are also six outdoor swimming pools and hot tubs, 11 tennis courts, and barbecue grills.
Accommodation: Wyndham Mauna Loa Village
6. Kona Coast Resort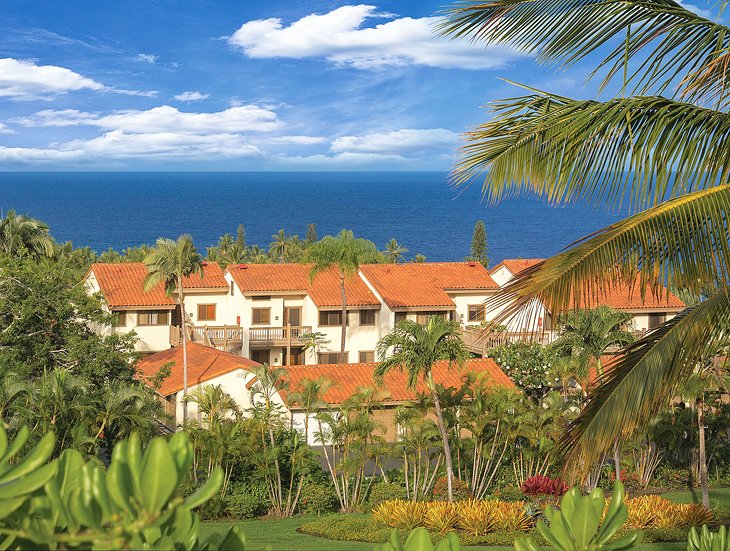 The Kona Coast Resort is set on 21 acres of tropical grounds with panoramic coastal views south of Kailua-Kona. It features spacious one- and two-bedroom resort suite accommodations that are family friendly and can sleep up to six people in spaces up to 1,900 square feet.
All suites have full kitchens, as well as washers and dryers and contemporary Hawaiian chic decor. The resort is located directly on the ocean, but there is no direct access to a beach, although there is one just a short distance away.
Accommodation: Kona Coast Resort
7. Aston Kona by the Sea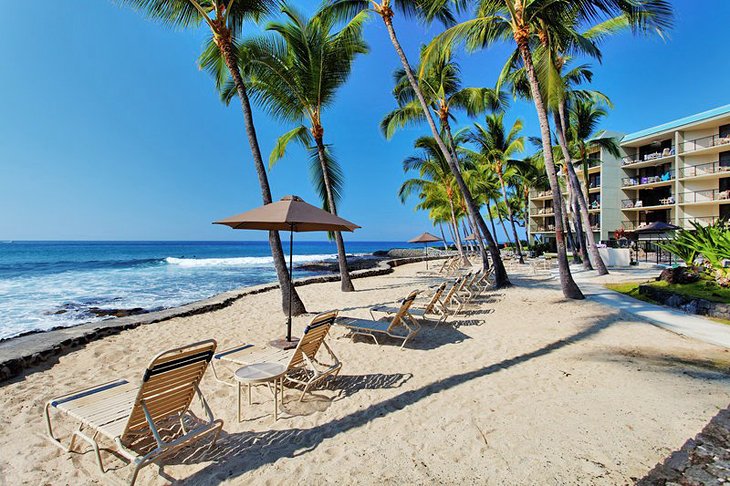 Just a few miles from downtown Kailua-Kona, the Aston Kona by the Sea has a fun, upmarket vibe and is right on the water. Another family friendly option, it offers cheerful and airy suites with big windows and island-style furnishings. All feature kitchens, washer/dryers, and balconies with either full or partial views of the sea.
Rooms also come with PlayStation 3 consoles and flatscreen TVS plus Wi-Fi. Other on-site amenities include a private beach; heated, outdoor swimming pool and hot tub; and barbecue grills.
Accommodation: Aston Kona by the Sea
8. Sheraton Kona Resort & Spa at Keauhou Bay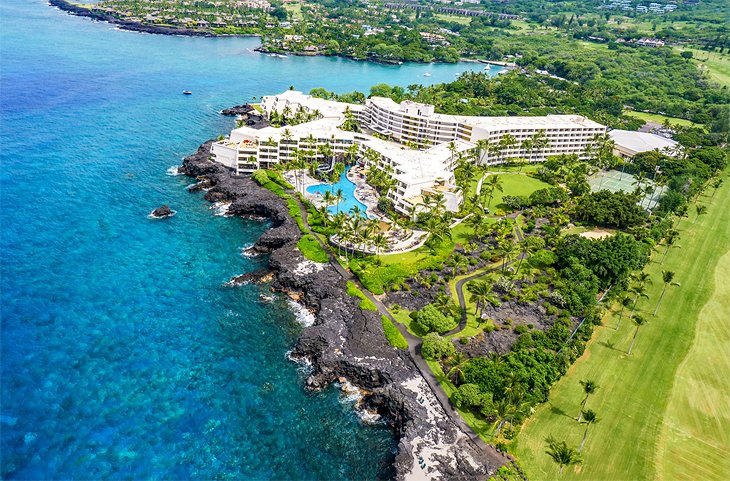 Right on the water, just south of downtown Kailua-Kona, the Sheraton Kona Resort & Spa features contemporary rooms and suites that feel airy and spacious and come with partial or full ocean views from private balconies. The beds are comfortable, the bedding is luxe, and there are living spaces and kitchenettes in the suites, which prove an economical choice if you want to cook in your room.
The resort fee here covers morning yoga, craft sessions, Wi-Fi, and parking. If you're traveling with children (or for the kid in you), don't miss the outdoor pool with waterslides. There is also a luxe spa on-site with a range of treatments and massages.
Grab breakfast or dinner at Rays on the Bay, which has a dramatic location right on the black lava rocks. It serves Asian-fusion fare at dinner and is the Sheraton's signature restaurant.
Accommodation: Sheraton Kona Resort & Spa at Keauhou Bay
9. Royal Kona Resort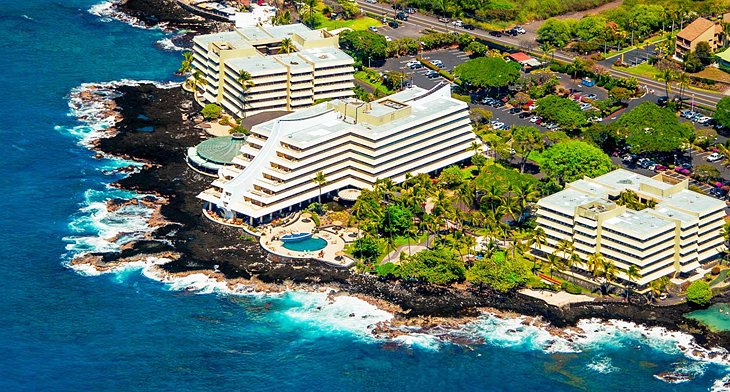 The Royal Kona Resort is right on the ocean just south of downtown Kailua-Kona and has relaxed rooms and suites set in three ocean-facing buildings. All rooms come with balconies, and most feature either ocean or mountain views. Suites have separate living spaces and some boast wrap-around porches.
Other on-site amenities at this resort include a private white-sand beach, a saltwater lagoon to swim in, and a sea-facing outdoor swimming pool. There is also a tiki-style restaurant, spa, fitness center, and four tennis courts on-site. The property is child-friendly, but also works well for couples.
Accommodation: Royal Kona Resort
10. Kona Seaside Hotel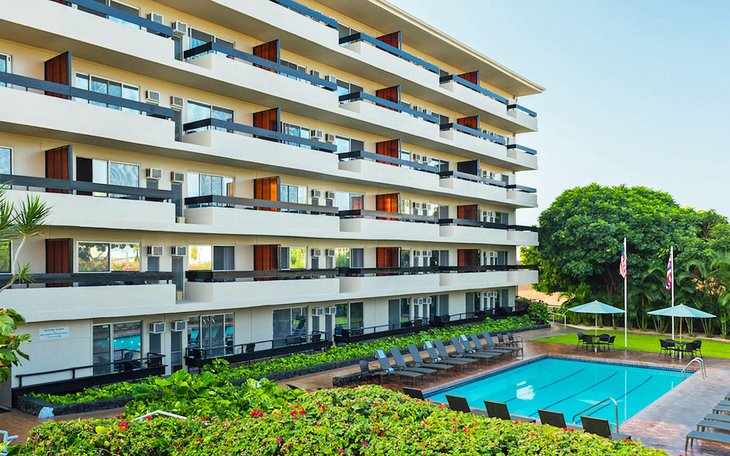 If you are concerned about budget, the Kona Seaside Hotel is a good-value property right on the water overlooking Kailua Bay. It is a family-run two-star hotel with tropical-style rooms that are colorful, clean, and comfortable. Some rooms have direct ocean views.
The grounds here are well-maintained and filled with bright-colored gardens. There is also a swimming pool with sun loungers; direct beach access; and opportunities to arrange surfing, snorkeling, or canoeing around the bay. The on-site restaurant serves American fare with a focus on Hawaii.
Accommodation: Kona Seaside Hotel