10 Top-Rated Resorts in Guatemala
Whether you are coming for the culture, adventure, lakes, tropical jungles, rainforests, or ancient Mayan historical sites (or maybe a mix of everything), Guatemala is a fascinating destination for travelers seeking the less trodden path. It's also home to some fabulous resorts that cater to visitors in search of elegant luxe and often very boutique-style stays.
With its cobbled streets and UNESCO heritage designation, Antigua is one of Guatemala's most popular tourist destinations. The city is home to some of the country's best resorts. You'll be happy to find that rates are quite reasonable compared to luxe properties in other countries.
Lake Atitlán in the highlands is one of Central America's deepest lakes and one of Guatemala's most visited tourist attractions. While Lake Petén Itzá is one of the country's largest lakes. Both have some excellent 5-star boutique resort options.
You won't find any sprawling all-inclusive properties in Guatemala, and even major hotel brands are limited outside the capital of Guatemala City.
These are places that appeal to couples on a romantic getaway and families traveling with kids alike. Check out our picks for Guatemala's best resorts.
1. Hotel Casa Santo Domingo, Antigua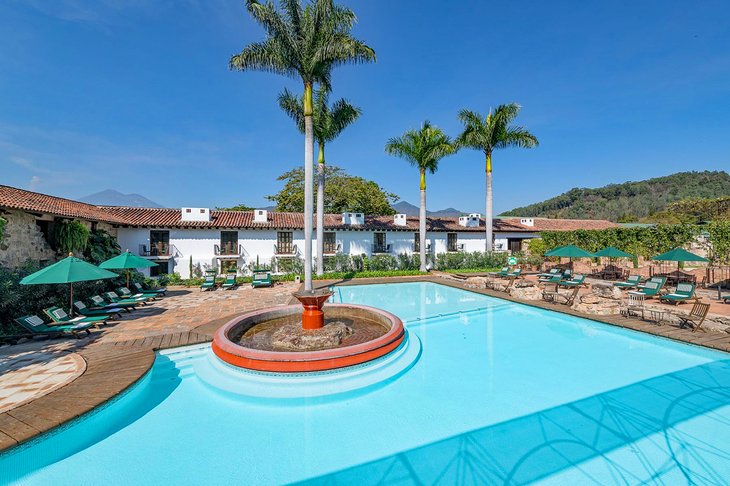 Accommodation: Hotel Casa Santo Domingo
With a distinct resort feel thanks to its amenities and size, Hotel Casa Santo Domingo is a 5-star property in historic Antigua. About a 10-minute walk from the city center, the resort's original incarnation was as an 18th-century convent, although it was pretty much destroyed in a 1773 earthquake. The property that exists today is the result of a renovation and rebuild that began in the 1980s.
The architecture is that of an old Spanish mansion with limestone hallways, floral tiles, red bricks, and terra-cotta roofing. It is accentuated by landscaped grounds filled with intricate fountains, expansive courtyards, and 40-foot-high palms where resident macaws hangout.
The amenities here are excellent. You'll find a large swimming pool; a fitness room; and for adrenaline junkies, a full zipline adventure course set up in the hills just 10 minutes away, accessed via a free shuttle bus. Here, you can fly through the tree canopies overlooking Antigua.
For something calmer, book a spa appointment. The spa offers all sorts of treatments, from hot stone massages to reflexology. It also has its own pool area with Jacuzzis, steam rooms, and saunas.
Rooms and suites come in a variety of configurations but all are luxe and done up with Guatemalan paintings and dark wood beams on high ceilings. The Spa Living suites are what to book if you want access to all the spa water amenities without booking a treatment.
Address: 3a Calle Oriente No 28 A, Antigua 03001 Guatemala
2. Bolontiku Boutique Hotel & Spa, San Andres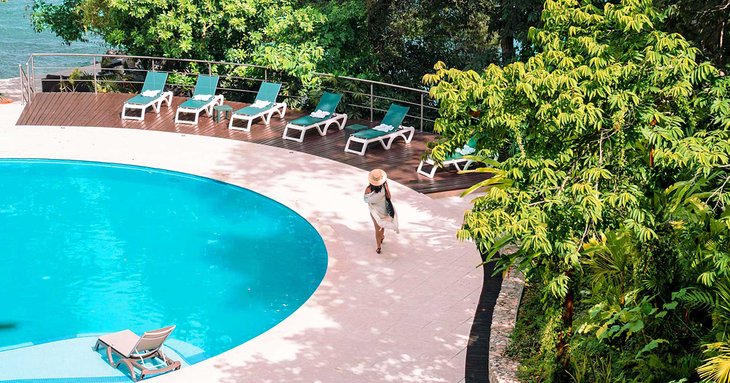 Accommodation: Bolontiku Boutique Hotel & Spa
Bolontiku Boutique Hotel & Spa is on the shores of Lake Petén Itzá in northern Guatemala, about a 20-minute boat ride from Flores where there is an international airport. The small 5-star resort's design and architectural style blends beautifully into the natural jungle environs and pays homage to Mayan culture throughout.
There are three different suite categories here, with a total of 15 rooms for an intimate vibe. All are comfortable luxe and come with artisanal amenities and aromatherapy. The Mirador Suites are the most romantic. They feature indoor Jacuzzi tubs set under skylights, so you can relax while checking out the stars.
There is plenty to keep you busy on and off the grounds. The hotel has a spa with a number of Mayan-influenced treatments, as well as a sauna and steam room. The outdoor swimming pool has sun loungers, and you can also take a dip in the lake, swimming out to a nearby sunbathing dock. Boating and other water sports are offered, and there is also hiking in the area.
The restaurant serves Mayan and international fusion fare and uses fresh, locally sourced ingredients when possible. Breakfast is included in the rate.
Address: Punta de Piedra Nitum, San Andres 17004 Guatemala
3. La Lancha, Santa Elena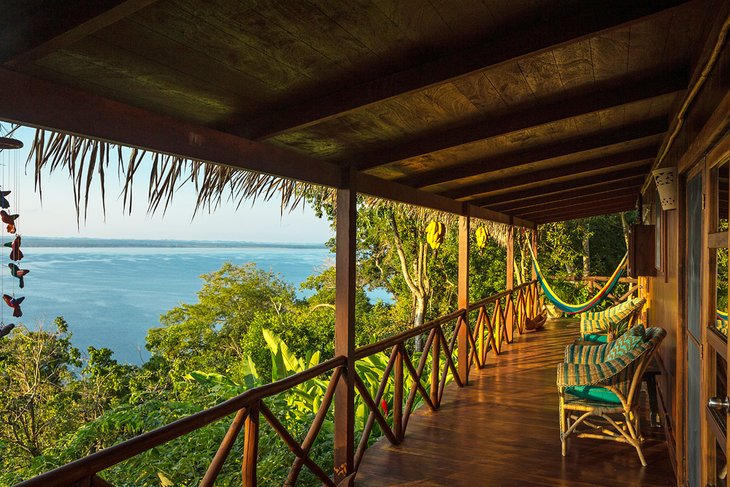 Accommodation: La Lancha
In the rainforest above the shores of Lake Petén Itzá, La Lancha in Santa Elena is close to the Mayan spiritual epicenter of Tikal, where there are some 3,000 ruins. Owned by film director Francis Ford Coppola, it is one of Guatemala's most luxurious resorts.
At this very boutique resort, there are just 10 rooms spread around the property. Each is styled with Guatemalan fabrics, carvings, masks, and furniture that was personally selected by the Coppola family. The two lakeside suites have the best views from large decks.
Despite the exclusive size, La Lancha is filled with resort-style amenities. The open-sided restaurant focuses on locally sourced food with lots of Guatemalan specialities at lunch and dinner. Breakfast is a big buffet spread.
There is also a two-tiered swimming pool on-site. You can borrow a kayak to explore the lake or just pop into the water for a swim. The resort can also arrange all sorts of tours and activities, including adventures into nearby Belize.
Address: Lake Peten Itza, Santa Elena 17002 Guatemala
4. Camino Real Antigua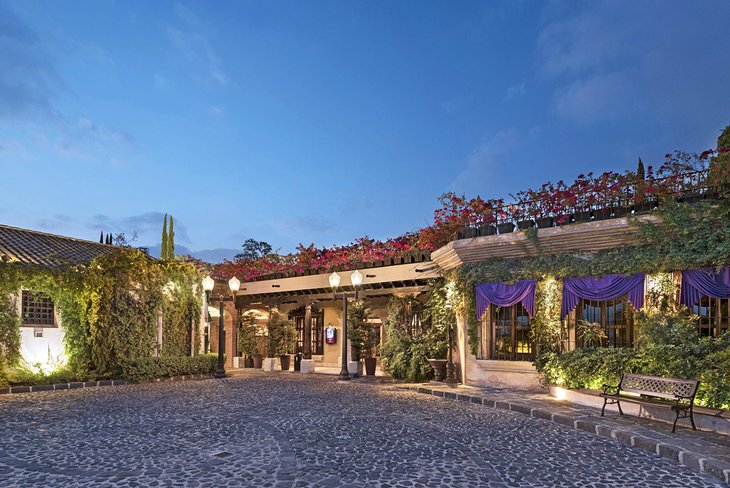 Accommodation: Camino Real Antigua
Located just five blocks from Antigua's main plaza, Camino Real Antigua is another luxury resort in the historic city. It is known for its top caliber service and well-maintained facilities. The grounds are beautiful, with cascading fountains and lush spa-like gardens.
The decor is colonial style, with hardwood floors and dark wooden furniture and accents. The beds are very comfortable, with high quality linens. Choose from rooms or suites, including options for families. All are quite spacious and overlook the garden areas.
The hotel does not have a swimming pool, but it has an oversized, free-form hot tub that feels almost like one. It is set on a sun terrace with Balinese beds and tables and chairs for guests to use. There is also a spa on-site with a number of different treatments. A restaurant and fitness room round out the amenities.
Address: 7a Calle Poniente 33B, Antigua 03001 Guatemala
5. Las Lagunas Boutique Hotel, Flores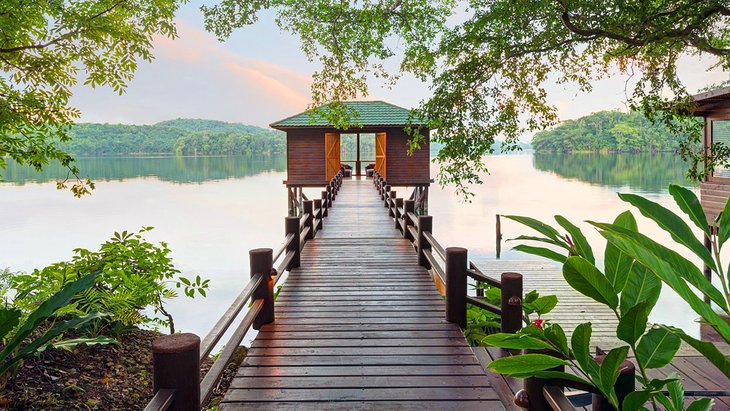 Accommodation: Las Lagunas Boutique Hotel
Just a few minutes from the ruins of Tikal, Uaxactún, and Yaxhá, Las Lagunas Boutique Hotel has a jungle location in Flores. Set on 300 lush jungle acres protected as a nature reserve, the resort is dedicated to the conservation of local flora and fauna. And you feel like you are truly staying somewhere wild and special here.
Set partially on the edge of one of Lake Petén Itzá's lagoons, it has 20 suites in three styles. The Waterfront Suites overlook the lagoon directly and have rustic wood furnishings and a terrace with a Jacuzzi. The Waterfront Master Suites are similar but larger, while the Master Suites are set in the jungle. All rooms can accommodate families. Butler service is also offered.
Amenities include an infinity pool and hot tub, a spa with a range of treatments, and a restaurant. Babysitting can also be arranged.
Address: Km. 1.5 Carretera a San Miguel, Flores 17001 Guatemala
6. Barcelo Guatemala City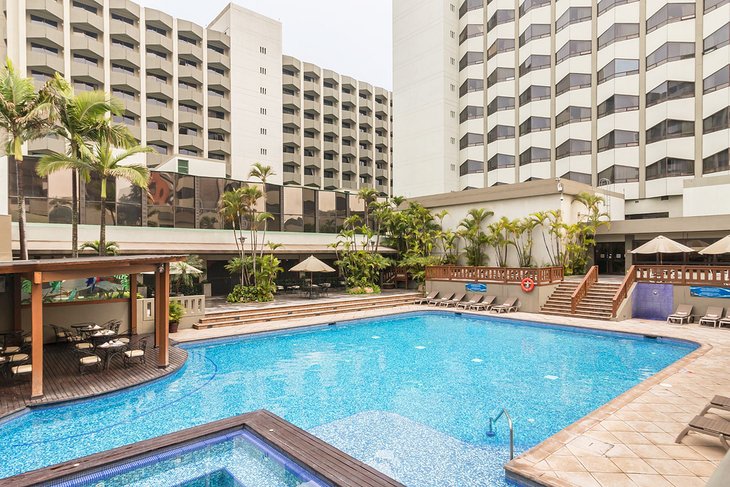 Accommodation: Barcelo Guatemala City
Guatemala City has a high crime rate, so choosing a safe hotel is paramount here. The Barcelo gets high marks for its luxury service and tight security. The location is close to the city's main dining, shopping, and entertainment area and about 4.5 kilometers from the historic center.
Interior decor at this 5-star resort is elegant, with marble floors and columns and a piano player in the lobby at night. Rooms and suites have a timeless yet modern look with upholstered chairs, wooden dressers and desks, and heavy drapes opening onto city or pool views. The beds are comfy. Some rooms have furnished balconies.
The Barcelo has a few different dining choices and also offers room service. There is a large swimming pool in a central courtyard area. If you want to get a workout in, the gym is well-equipped. There is also a spa offering massages and salon services.
Address: 7 Avenida 15-45 Zona 9, Guatemala City 01009 Guatemala
7. Laguna Lodge Eco-Resort & Nature Reserve, Santa Cruz La Laguna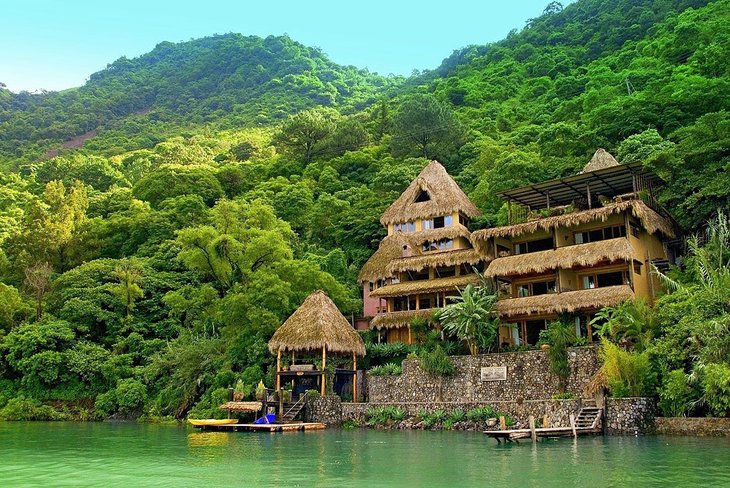 Accommodation: Laguna Lodge Eco Resort & Nature Reserve
Accessed by boat, Laguna Lodge Eco-Resort & Nature Reserve is on the shores of Lake Atitlán. The boutique resort has gorgeous views of the lake's azure waters and trio of volcanos.
We love the lakeside suites that blend perfectly into their natural environs. Constructed from volcanic stone, adobe, and palm, each is individually decorated with indigenous antiques and woven textiles. The king beds are comfy, and the furnished balconies are great for relaxing after a day of exploring.
This area is rich in Mayan culture, and the lodge's local staff are very helpful when it comes to questions about what to do in the area. The restaurant here has a romantic vibe with a large stone fireplace and antique candelabras. There is also an on-site spa with a range of treatments and a hot river rock pool.
Be sure to take in the sunset from the lakeside pavilion as well.
Address: Tzantizotz 1, Santa Cruz La Laguna 07014 Guatemala
8. Porta Hotel Antigua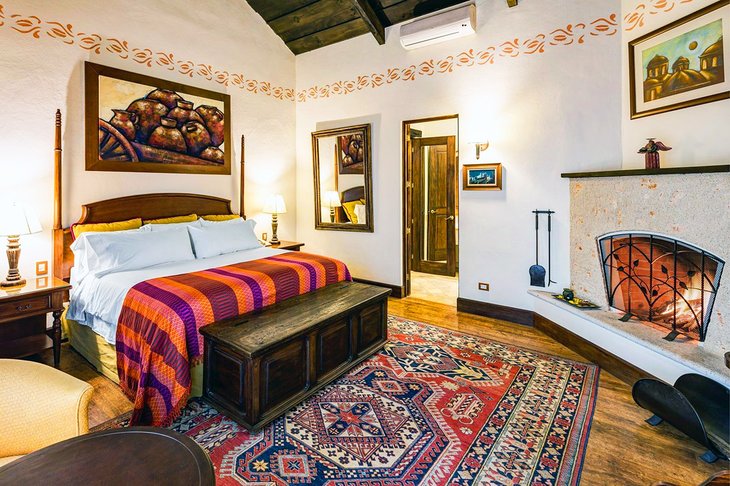 Accommodation: Porta Hotel Antigua
In Antigua's historic area about a 10-minute walk from the main square, Porta Antigua features hacienda-style stone, wood, and plaster architecture, and local crafts and textiles throughout.
Catering to couples, families, and business travelers alike, the property is set on two sides of a relatively quiet road, and both sections are elegantly designed.
There are 112 rooms and suites that are clean and comfortable. They feature polished wood floors and high ceilings with dark wood beams. Local art adorns the walls, and beds are partially draped in colorful woven blankets.
The on-site Los Moros Restaurant serves authentic Guatemalan fare. The hotel also has an excellent spa with indigenous and traditional saunas plus a state-of-the art gym. There is even an arts and culture desk, where local walking tours can be booked.
Address: 8a Calle Poniente No 1, Antigua 03001 Guatemala
9. Pensativo House Hotel, Antigua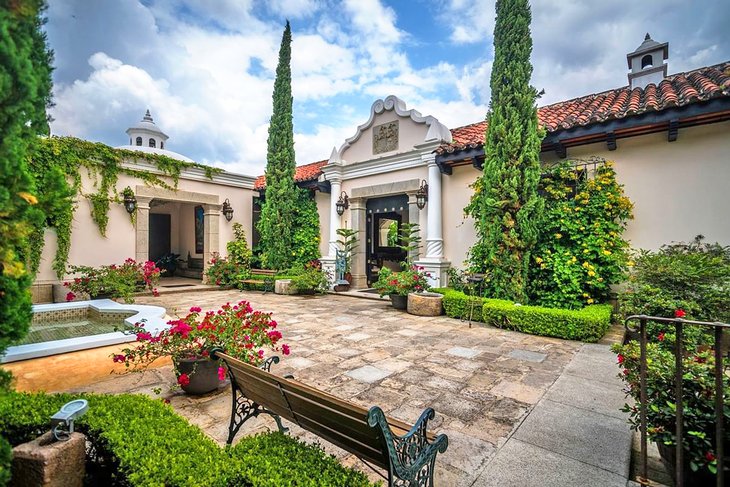 Accommodation: Pensativo House Hotel
For an adults-only hotel with resort amenities in Antigua check into the Pensativo House Hotel. The luxury 4-star property is within walking distance of the historic city's main attractions, and offers a relaxing, luxury respite from city life.
Set on a residential cobblestone avenue, it features elegant colonial-era architecture along with a beautiful garden courtyard entryway. Inside you'll find Guatemalan art and decor and a historic-meets-modern luxe vibe. There are just 26 rooms, but each is beautifully designed, with lots of polished wood and rich color accents.
The hotel has an on-site restaurant called The Kitchen, which focuses on fresh, seasonal Guatemalan and international fare ranging from flank steak to grilled salmon to vegetarian ravioli.
If you are in need of some pampering, you can book a massage treatment in your room or pay a visit to Porta Antigua's Ceiba Spa, which the hotel has a partner arrangement with for booking.
Address: 4a Avenida sur no. 24, Antigua 03001 Guatemala
10. Hyatt Centric Guatemala City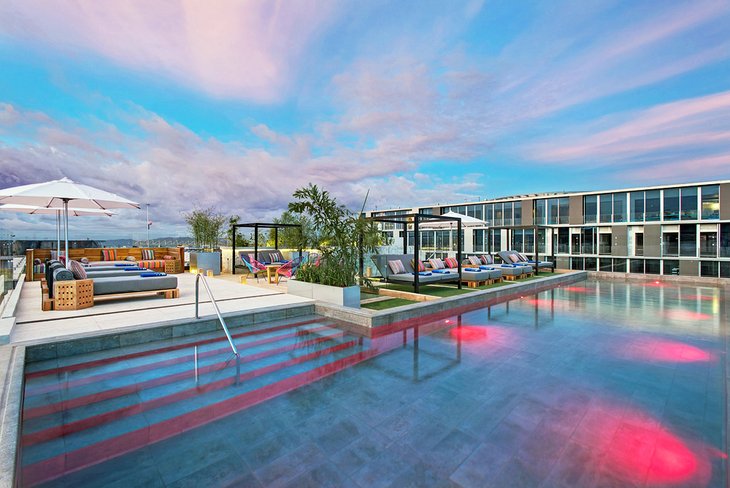 Accommodation: Hyatt Centric Guatemala City
In the Zona 10 district of Guatemala City, which is filled with shops and restaurants, the Hyatt Centric is another top choice in the capital city. It provides excellent security and has a modern vibe that incorporates Guatemalan style and textiles throughout.
If you are coming from the airport, the hotel can arrange a convenient and safe private car for just a small fee. The 138 rooms and suites are stylish, clean, and quite comfortable – up to standard for this Hyatt brand. There are family rooms available if you are traveling with kids. If your child has fur and barks, the hotel is dog friendly as well.
The rooftop pool here is the real winner, as it has fantastic city views. There is also a restaurant that serves a complimentary breakfast along with lunch and dinner. If you need to work out, head to the well-equipped gym. In-room massages can also be arranged.
Address: 12 Calle # 2-25 Zona 10, Guatemala City 01010 Guatemala
Map of Resorts in Guatemala