Where to Stay in Santorini: Best Areas & Hotels
We may earn a commission from affiliate links ()
The beauty of choosing where to stay in Santorini is that the island's size makes every point easily accessible from wherever you stay, and nearly every hotel provides shuttle service to the major towns and airport. The most popular places to stay are along the Caldera of the island's west coast, best known for its breathtaking sunsets and clusters of white houses that cling to the steep cliffs.
The port towns of Fira and Oia are ideal for those who want to have easy access to shopping and restaurants, especially families and those staying for a short time. The more expensive hotels are perched along the cliff tops overlooking the Aegean Sea, while good budget options are a short walk from the town square.
The towns of Imerovigli and Megalochori are smaller but less crowded with day tourists, perfect for seclusion seekers and celebrities who want a quiet island retreat. You will not find any huge chain hotels here, but rather many small, personal establishments that are dedicated to providing the best service they can.
On This Page:
Where to Stay in Santorini for Luxury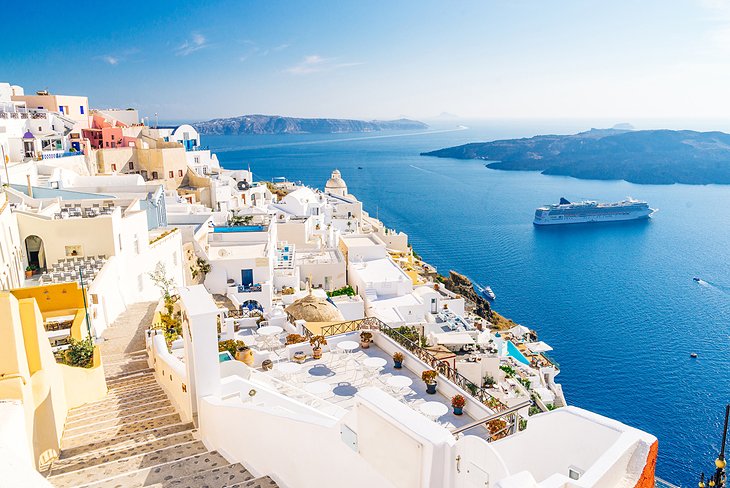 In Imerovigli the Astra Suites sit atop the cliffs at Santorini's highest point and as such have magnificent panoramic views of the caldera and the Aegean Sea. The 5-star property has just 35 suites. Each is done up in luxe Cycladic style with more fabulous views from private balconies. If you're celebrating a romantic occasion book one of the eight suites with a private hot tub and swimming pool.
There is a restaurant on-site, and breakfast is complimentary. Also check out the rooftop terrace, the swimming pool with sun loungers, and the full-service spa. If you're traveling with a dog, the hotel is pet friendly.
Andronis Luxury Suites are another top 5-star property. In Oia overlooking the volcanic crater, the hotel has minimalist design that reflects the island's traditional architecture. The white-on-white look inside and out is classic Santorini, and the multi-level balconies in the rooms blend into the cliffside. The views are phenomenal.
On-site amenities include a restaurant (breakfast is complimentary), a luxe spa with a full range of treatments, and an infinity-edge swimming pool with more fabulous views. The hotel is dog friendly.
Seclusion-seekers will love the villas at Fira's Celestia Grand, which allow guests to enjoy the privacy of an individual residence with the luxuries and convenience of a full-service hotel. Each clifftop villa is equipped with a full kitchen and amenities, including a computer and Wi-Fi, and each has its own terrace with a private pool and hot tub that overlook the Aegean Sea.
There is a restaurant on-site, which delivers a complimentary breakfast to the villa each morning, and the management also offers services such as babysitting and transportation to nearby attractions.
Each suite at the family-operated Atrina Canava 1894 in Oia has a terrace that looks down over the town's iconic cliff-side cluster of bright homes, and it is on the terrace that a cooked-to-order breakfast is delivered and set up each morning.
The large pool is set in a prime location for the best views, and there is a lovely flower-filled alcove nearby for those who want to enjoy it from the shade. Thoughtful extras include 24-hour concierge service and the use of a complimentary cell phone during your stay.
Where to Stay in Santorini: Mid-Range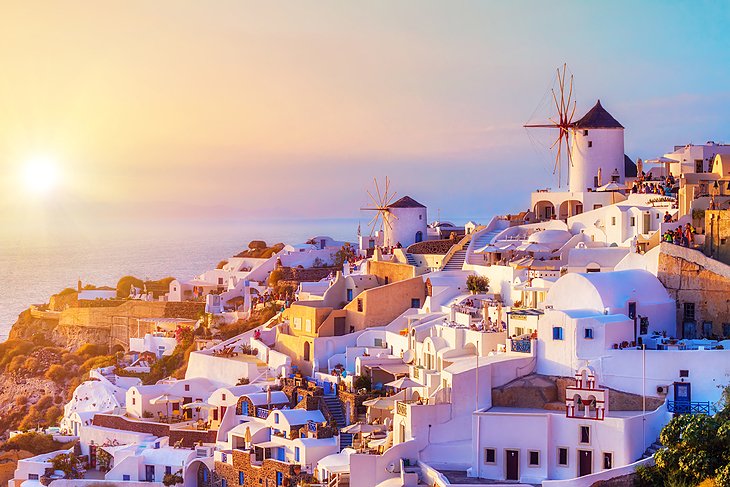 Just a few minutes' walk to prime Caldera views, Oia's Sunset is in the heart of Oia, just a block from the bus station and close to dozens of restaurants and tourist shops. All accommodations are apartment-style suites with well-equipped kitchens, living areas, and private balconies or terraces, as well as complimentary Wi-Fi and toiletries. The hotel offers a large outdoor pool and cozy deck area for cooling off in the afternoon.
The four-star Hotel Villa Renos in Fira sits at the top of the cliffside in an ideal location close to tourist attractions like the MATI Art Gallery and the Museum of Prehistoric Thera, as well as numerous restaurants.
The hotel offers suites and family rooms, each of which has its own private balcony that overlooks the ocean; rooms are soundproofed and are equipped with a safe, fridge, and complimentary toiletries. Hotel amenities include a rooftop terrace with a hot tub, airport transportation, free Wi-Fi, and an included breakfast buffet.
The Grand View Hotel in the town of Megalochori is a good place for those who want the prime views from the Caldera cliff but have difficulty with the typical steep steps and hilly paths that usually accompany cliffside hotels. Each suite is equipped with a kitchenette and Wi-Fi, and hotel amenities include complimentary breakfast, a free shuttle to several island destinations, and a large pool with ample deck seating and sunset views.
Where to Stay in Santorini on a Budget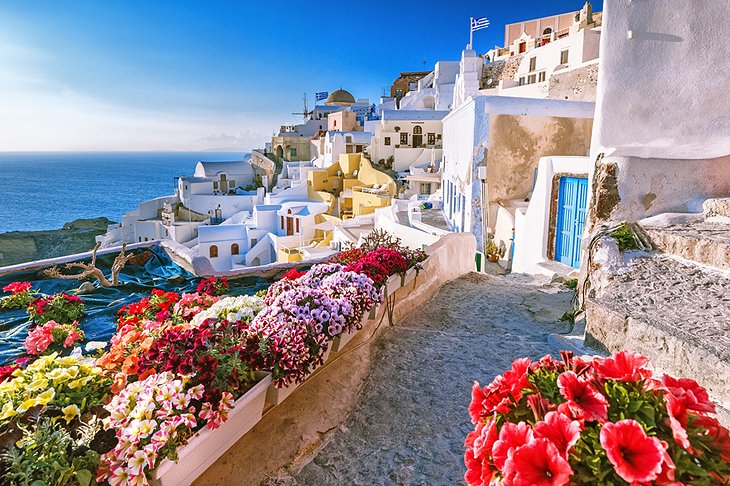 Rooms at Hotel Kavalari in Fira are built into the cliff and connected by a series of stairs and terraces, making this the perfect place to enjoy the stunning sunsets beyond the volcano. Staff members are always happy to carry your luggage and will serve the complimentary breakfast on your private terrace each morning. The hotel is also close to the town's top tourist attractions, including shops, galleries, and, of course, the many seaside restaurants.
Another good budget hotel in Fira, Costa Marina Villas is on the eastern side of town. Although it is not located right on the cliffs, it is just a few minutes by foot from the center of town and the main attractions like the MATI Art Gallery and the Archaeological Museum Fira.
Accommodations are clean and bright with private balconies that face the sunrise, and each room has a safe and refrigerator. The hotel's classic Santorini architecture is accented by copious amounts of flowering vines and plants.
The Anemomilos Hotel and Villas is a great budget option in Oia, located just outside of the town center but within a 20-minute walk of the local attractions and shops, as well as numerous restaurants. It is a good budget option for families and larger groups, with single, double, triple, and family villas available.
All accommodations are non-smoking and have a private balcony. Hotel amenities include free Wi-Fi and parking, a mini-fridge, airport shuttle, restaurant, and an outdoor pool with lovely views.
Where to Stay in Santorini for Families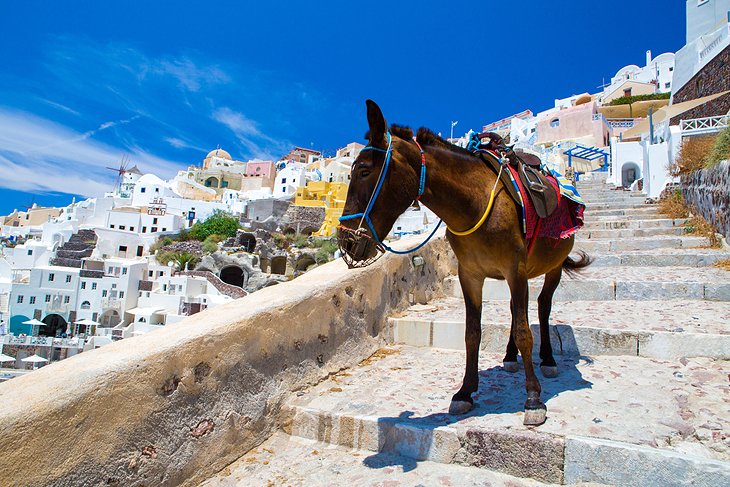 Shuttle service and breakfast is also provided for guests at the Petit Palace Suites Hotel, which sits just outside of Fira near the village of Megalochori. The hotel's restaurant features glass walls that offer stunning views across the water to Santorini Volcano, and there is a full-service day spa on-site in addition to a large pool and hot tub.
Guest rooms at this all-suite hotel are large and bright in the traditional whites and blues of Santorini and feature kitchenettes and luxurious baths. Babysitting is available at this 4-star property.
Kids will love the huge pool at Dream Island Hotel in Fira, located in a quiet part of town just a few minutes' walk from the square and ocean-view restaurants. Family-run and family-friendly, this beautiful mid-range hotel offers complimentary services to make your vacation stress-free, including island-wide shuttle service, breakfast, and Wi-Fi.
For more secluded lodgings, Laokasti Villas has a variety of independent suites with private balconies that overlook the Aegean Sea from the cliffs of Oia. Each villa has a full kitchen and is convenient to the pool, hot tub, and sauna. Breakfast is included and is served at the in-house restaurant that features traditional Greek food in the evening.
Where to Stay in Santorini for Romance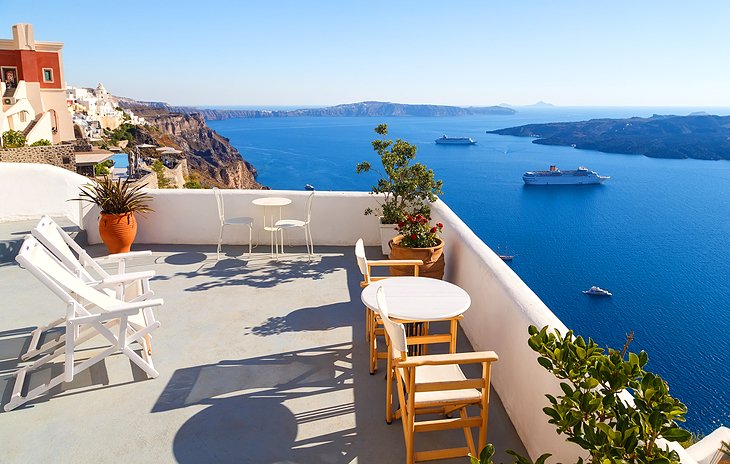 Although you will be hard-pressed to find anywhere on the island that isn't romantic, Aenaon Villas has a location and ambience that combine to make it ideal for a honeymoon or couple's getaway. Seclusion seekers will appreciate its peaceful location atop the cliffs of Imerovigli, and the limited number of guests that share an infinity pool with panoramic views.
Amenities include complimentary breakfast and shuttle services, private verandas for enjoying the world's most beautiful sunsets, and thoughtful attention to your every need by the dedicated hosts.
Filotera Suites in Oia is also ideally situated for prime views of the water, as well as the idyllic whitewashed houses that descend along the cliffs below. Guests are pampered with complimentary beverages in the fully-stocked mini-fridge, fresh fruit, and breakfast, and enjoy private balconies and a pool that is never crowded. The hotel is just a few minutes' walk to shopping, art galleries, and restaurants, and only about 15 minutes to the Byzantine Castle Ruins.
For a romantic getaway in Fira, the Enigma Suites offers mid-range pricing with four-star service in a perfect location, perched at the top of the cliffs in the heart of the town. Guest rooms include a fully-equipped kitchenette, laptop safe, and private balcony, and room service is available.
Hotel amenities include a rooftop terrace, hot tub, airport transportation, and complimentary breakfast. All major Fira tourist attractions are within just a few minutes' walk, including the MATI Art Gallery, the Museum of Prehistoric Thera, and the Santozeum Musuem.