Where to Stay in Athens: Best Areas & Hotels
Athens has no shortage of hotels that offer a central location, good service, and a range of prices and options for everyone. The most convenient neighborhoods and the best areas to stay for families or couples are those that are near to or contain the city's most interesting attractions, most notably Syntagma, which is dominated by the National Garden, and the tourist-filled Plaka, which surrounds the east side of the Acropolis.
The "old town" Monastiraki district is adjacent, filled with shops and street performers, and beyond that, the inner end of the Psiri/Gazi neighborhood is home to several good hotels and restaurants.
Where to Stay in Athens for Luxury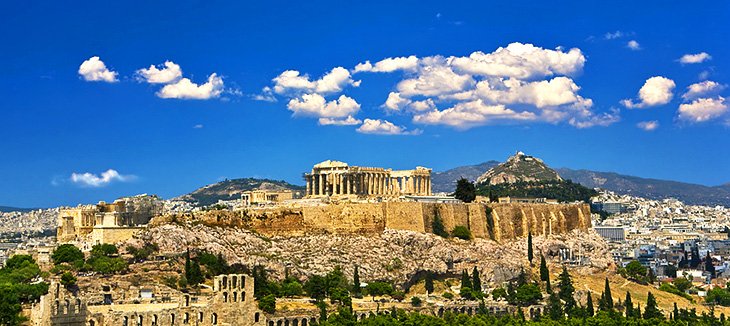 Less than two blocks from the Acropolis in the Psiri/Gazi neighborhood, O&B Athens Boutique Hotel offers exceptionally personal service and amazing views from the rooftop patio. Rooms are modern and updated and include balconies, complimentary breakfast, and a welcome tray of Greek specialties. This hotel is ideal for both couples and families, located in a safe part of town with plenty of unique shops nearby.
The Electra Palace Athens has a rooftop pool and restaurant with views of the Acropolis, and breakfast is served in a lovely garden area. This hotel is the embodiment of grandiosity and luxury, with its stately Classic Greek architecture, wood floors, custom furniture, and abundant marble. Located in Plaka, it is just three blocks from the National Garden and two from the Museum of Greek Children's Art and within walking distance to most of Athens' most popular attractions.
Situated next to the Syntagma Station metro stop and the Greek Parliament, the opulent Hotel Grande Bretagne has been pampering guests since 1874. The rooftop restaurant and many balconies have breathtaking views of the Acropolis, and the outdoor pool has views of Lycabettus Hill. The stunning high-ceilinged rooms are filled with sumptuous furnishings and décor and are stocked with fresh fruit daily. There is also a world-class spa, as well as many services, including babysitting, airport transportation, and a heated indoor pool and hot tub.
Just next door, the King George is a partner hotel that also provides a truly five-star experience with the same amenities, including its own rooftop restaurant, Tudor Hall. The guest rooms have lofty ceilings and a classic Greek elegance that is infused with a crisp modern touch.
Where to Stay in Athens: Mid-Range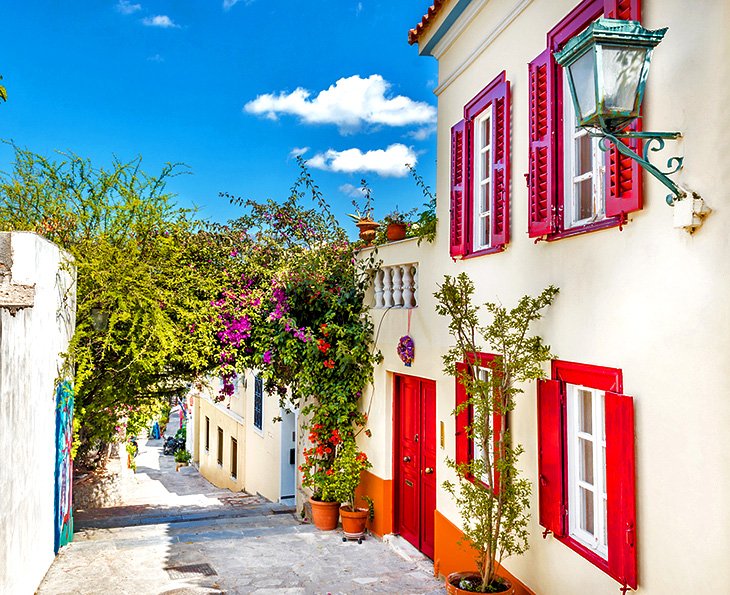 It is not difficult to find excellent hotels in Athens that are both affordable and convenient. The Plaka neighborhood is full of these, but among the best is AVA Hotel Athens, which is located just a block from the Temple of Olympian Zeus and on a quiet street between the national Garden and the Acropolis. This boutique hotel offers modern suites equipped with kitchenettes and very friendly, helpful staff.
The centrally located Plaka Hotel is convenient for a midday break from sightseeing and shopping, and is just a few blocks from the Monastiraki metro stop that goes to both Piraeus Port and the airport. Guests will enjoy complimentary breakfast and Wi-Fi and cannot miss the rooftop terrace, which has views of the Parthenon.
On a quiet street in the typically bustling Plaka neighborhood, the Central Athens Hotel provides upscale amenities and modern well-kept rooms, as well as rooftop dining. It is less than five minutes to Apollonos Street's endless shops and restaurants and near the city's main attractions.
Adjacent to the National Gardens, close to Greek Parliament, and just two blocks from Syntagma metro station, the InnAthens has an amazing staff that is always eager to help you make the most of your trip. The modern rooms are cozy and comfortable, the complimentary breakfast is cooked to order, and the stunning interior courtyard is an ideal place to relax after a day of exploring and sightseeing.
Where to Stay in Athens on a Budget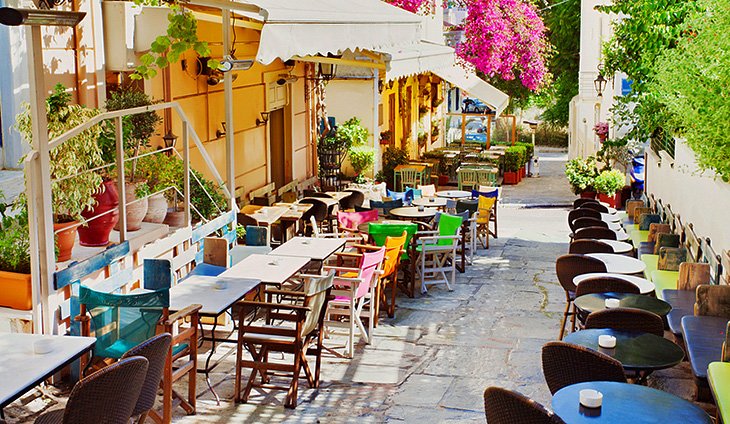 Athens' budget hotels may have exceptionally reasonable prices, but none of them leave you feeling like you sacrificed much for a good price. The Hotel Acropolis House has bright, spacious, and updated rooms, many with balcony views of the Acropolis.
Located in a safe area, just one block from the Metropolitan Cathedral of Athens and Adrianou Street, it sits on the very edge of the Plaka and Syntagma neighborhoods, as does Hotel Metropolis. Both are close to Syntagma Square and the station, as well as the pedestrian-only shopping at Ermou Street. Rooms here are on the smaller side, but they are modern and clean and include a buffet breakfast on the terrace facing the Acropolis.
In Plaka and close to the Metropolitan Cathedral, the Kimon Athens Hotel features a rooftop balcony with views of the Acropolis. This boutique hotel offers amenities like in-room fridges, memory foam pillows, balconies, and luggage storage for late departures.
The Hermes Hotel, a recently renovated sister-lodging to the Plaka Hotel, is just two minutes by foot to Syntagma Square and two blocks from the Metropolitan Museum of Athens and has plenty of restaurants and shopping nearby. Rooms are bright and modern, and the friendly and attentive staff caters to families.
Where to Stay in Athens for Couples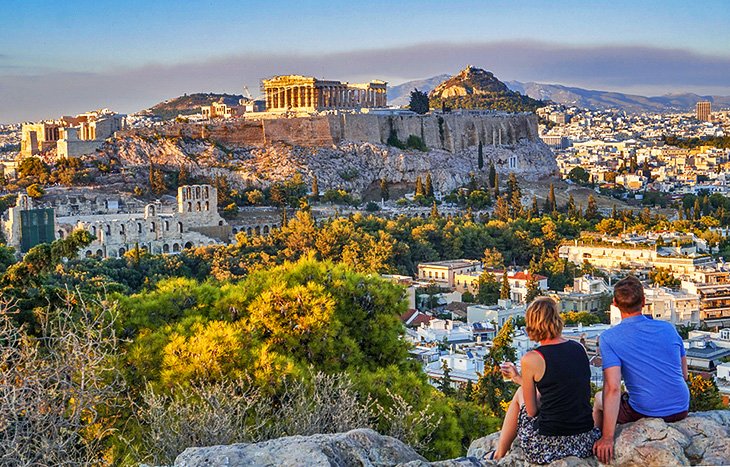 The boutique hotel AthensWas features 21 large, modern suites with Wi-Fi, mini fridge, and views of the city from the rooftop restaurant where a complimentary cooked-to-order breakfast with waiter service is provided each morning. This romantic getaway is within a few minutes' walk to the Temple of Olympian Zeus, the Acropolis Museum, and the Acropolis metro station, as well as plenty of shopping.
The MET34 Athens Hotel will exceed expectations with its boutique suites that are equipped with a full kitchen, pre-stocked with snacks, as well as multiple balconies and first-class concierge. Couples will relish the breakfast delivered to the room each morning and find its Syntagma location close to a supermarket, the metro stop, and major attractions very convenient.
A jewel hidden away in the heart of the Psiri/Gazi neighborhood, the Andronis Athens is a rustic boutique hotel with a quirky side that could not be more charming. A creative use of space and unique but tastefully simple décor make each of the four guest rooms a truly special place for couples to enjoy their Athens stay, with thoughtful touches like flowers in the windowsill and a bowl of fresh fruit on the table. Breakfast is included, served at the hotel's café-style restaurant.
Where to Stay in Athens for Families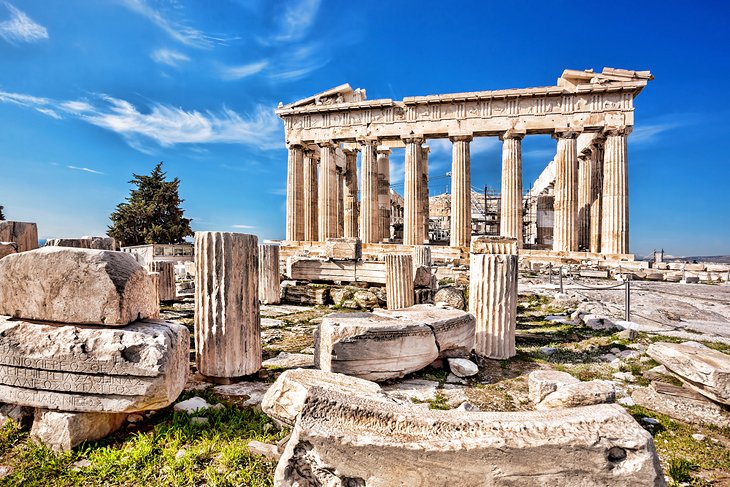 Families will love the modern and spacious suites with kitchenettes at NLH Fix - Neighborhood Lifestyle Hotels. The hotel is on a bustling street within walking distance of the Acropolis, and some rooms boast floor-to-ceiling windows with views of the ancient citadel.
Other in-room perks include very comfortable mattresses, Smart TVs to stream the kids' favorite shows, and Nespresso machines. The hotel also offers cooking classes to guests. There is no restaurant on-site, but the location makes it central to many dining spots.
AD Athens Luxury Rooms and Suites also has a great location just a few minutes' walk from the Acropolis and its museum, as well as the buzzy Plaka neighborhood that is filled with restaurants. For families there are a few different room options, including a deluxe double or twin room that can accommodate one child and larger suites with Acropolis views and terraces. Suites also feature hydrotherapy jetted bath tubs that are perfect for soaking after the kids fall asleep. Regardless of what you book, everything is clean and modern.
If you're looking for a boutique family-friendly hotel, try the Lozenge Hotel. In the vibrant Kolonaki district, which hosts a number of restaurants, cafes and independent shops, this stylish hotel is also within walking distance of a metro station. Book one of the family rooms to have a sleeper sofa for the kids. There are also suites with balconies. On-site amenities include the Lozenge Bistro, which serves locally sourced Mediterranean fare.
For a classic luxury hotel, try the Herodion Hotel, which is within stumbling distance of the Acropolis and Acropolis Museum. The rooms and suites are spacious with contemporary furnishings, and the best have Acropolis views from private balconies.
Parents will like the complimentary buffet breakfast where kids can fuel up before a day of sightseeing. There are also two restaurants on-site and hot tubs for soaking after a long day exploring Athens.
Where to Stay in Athens near the Airport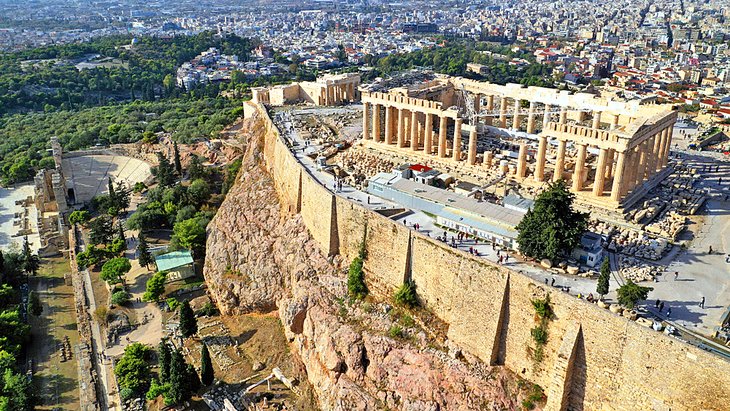 If you have an early morning flight or are arriving late at night, consider booking a hotel near Athens' international airport, which is about 35 minutes by car from the city center. One good luxury option is the Sofitel Athens Airport. The property is just across the street from the airport. It offers contemporary rooms, 24-hour food service, and a spa.
Also check out the Artemis GreenHill, which is just 2.6 miles from the terminals, and offers airport transport. The mid-range hotel is pet friendly. Other amenities include free breakfast and room service. If you are traveling with kids, book one of the family rooms.
The similar priced Comfort Stay is another option near the airport. It runs a free shuttle and has modern rooms. These have stocked fridges with ingredients for a DIY breakfast. There is a restaurant on-site and some others within walking distance.