Where to Stay in Munich: Best Areas & Hotels
One of the best things about Munich is that most of its attractions and things to do are centrally located and within reasonable walking distance from many of the hotels. The city's public transportation system is clean and efficient with choices of bus, tram, and underground railway. The old town is home to the majority of sights, including museums, shopping districts, pedestrian thoroughfares, opera houses, and historic churches.
Some of the city's finest lodgings and best places to stay for families, couples, and business travelers, are in this historic center, while a large number of hotels sit in the lively neighborhood adjacent to Central Station. Removed from the bustle of the tourist center, the area surrounding Nymphenburg Palace is a good choice for those who want a more peaceful retreat.
Where to Stay in Munich for Luxury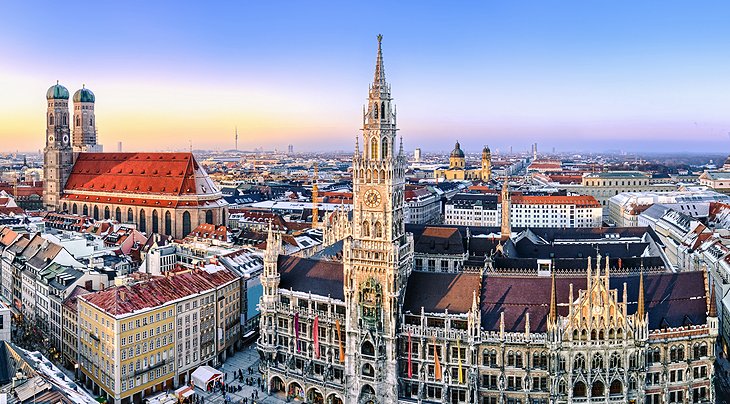 Many of Munich's top luxury hotels are located centrally in the city's historic old town, the ideal spot for sightseeing. The Mandarin Oriental, Munich is close to Marienplatz, the New Town Hall, and St. Peter's Church, as well as the high-end shopping district, Maximilianstrasse.
This five-star hotel has a beautiful rooftop pool and deck area with views across the city and offers amenities including a spa, tennis court, fitness center, and babysitting. Guests are welcomed with fresh-baked cookies, and rooms are equipped with amenities, including a mini-fridge and Nespresso machine.
The nearby Platzl Hotel serves a breakfast unlike any other, featuring fresh ingredients like custom juices, farm-to-table dairy products, and honeycomb to sweeten the experience. In contrast to the fully updated rooms, the hotel staff dresses in traditional Bavarian costume to give guests a taste of Munich's history.
The LOUIS Hotel has a Japanese restaurant and similarly inspired rooms, with handmade furniture and heated tile floors in the bathrooms. Its location is ideal, overlooking the Viktualienmarkt and just two blocks from Marienplatz with its many attractions, including the famed Glockenspiel.
The Hotel Vier Jahreszeiten Kempinski Munchen is just a few minutes walk from the beautiful grounds of the Hofgarten, as well as both the Magnificent Residenz and Cuvilliés Theater. This five-star luxury hotel has an indoor heated pool, fitness center, and sauna, as well as convenience services including airport transportation and a business center. Guests are also treated to an exceptionally generous breakfast spread that includes an assortment of freshly baked rolls and breads.
If you have an early morning flight, the Hilton Munich Airport is an excellent luxury airport hotel. The 5-star property is located between Terminal 1 and 2 at the Munich Airport, which is about 35 kilometers northeast of the city center.
The hotel has a futuristic-looking glass atrium in the center that is transparent from the outside and home to more than 20 palm trees and other plants inside. The rooms and suites have soundproof windows and blackout curtains ensuring a good night's sleep. There is also a spa with an indoor pool, sauna, and steam room. The alpine-inspired restaurant serves international fare day and night.
Where to Stay in Munich for the Best Value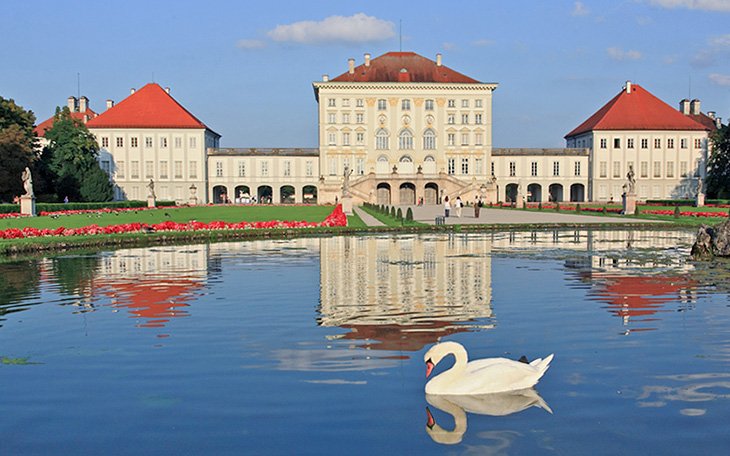 Fortunately, Munich has many hotels that offer a balance between price, location, and amenities, so that travelers can get the most for their money. As its name suggests, the Maximilian Munich Apartments & Hotel is just one block from the retail paradise Maximilianstrasse in the old town.
Slightly higher rates are more than made up for with its incredible location, less than 10 minutes by foot to Marienplatz with the Holy Ghost Church, Spielzeugmuseum, Old Town Hall, and St. Peter's Church.
Ideal for families who may want to return midday for a rest, the suites in this apartment-style hotel have full kitchens, and self-service laundry facilities are also available. After a long day of sightseeing, guests can unwind with a workout, some pampering at the spa, or simply by enjoying the peaceful rose garden in the courtyard.
The historic landmark Hotel Torbraeu is the city's oldest, in operation since 1490. Each room is uniquely decorated and offers views either over the central courtyard or across the city, as well as extra touches like complimentary mineral water, coffee machines, and spacious bathrooms. This family-friendly hotel offers babysitting services and sits close to the historic Isartor city gate and the Valentin museum.
Just one block from Central Station, the Marc Munchen stands out from the rest with spacious and well-equipped bathrooms. This hotel provides thoughtful extras, like lavender pillow spray, complimentary water and chocolates, and even a sparkling water dispenser in the lobby. It is within easy walking distance to Karls Gate, St. Michael's Church, and Asam Church.
It is also family-friendly, as is the Hotel Kriemhild, which has well-appointed suites, self-service laundry facilities, and a breakfast buffet. Seclusion-seekers will enjoy its location in a peaceful residential area within walking distance of the splendid Nymphenburg Palace. For those without a vehicle, reception sells tickets for convenient public transportation into the city center.
Where to Stay in Munich on a Budget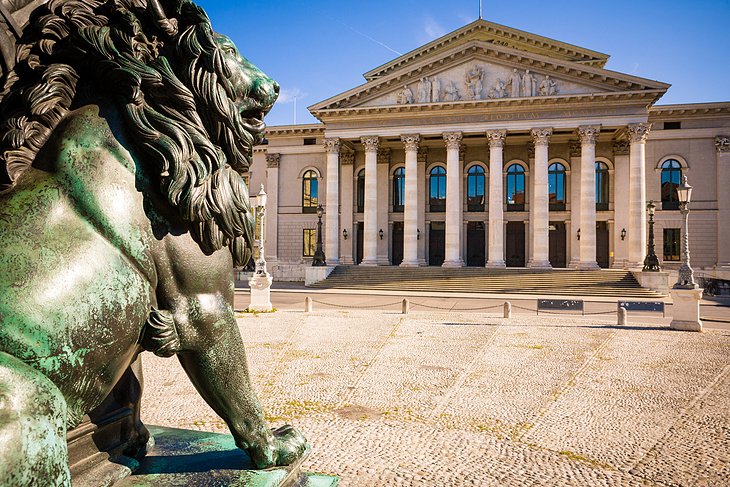 Fortunately, it is possible to find budget options in Munich without sacrificing too much comfort. The Jedermann Hotel gives guests a wide range of options depending on their budget, from a basic no-frills bedroom with shared bath to high-end suites featuring luxury amenities like a towel-warmer and USB sockets. Breakfast is included in the room rate, and the hotel is located conveniently at a tram stop and within a five-minute walk to Theresienwiese.
A bit closer to the old town in the active tourist neighborhood by Central Station, the Schiller 5 Hotel has budget prices but offers ultra-modern, clean, and spacious rooms with standard amenities, including coffeemakers, fridges, and microwaves. Guests will enjoy complimentary breakfast and a strong Wi-Fi signal as well as the on-site laundry facilities.
For those who don't mind smaller rooms and a no-frills atmosphere, the Acanthushotel and Motel One Muenchen-Sendlinger Tor are good choices that include breakfast and have an excellent location near the old city gate, Asam Church, and other Karlsplatz attractions.
Where to Stay in Munich for Romance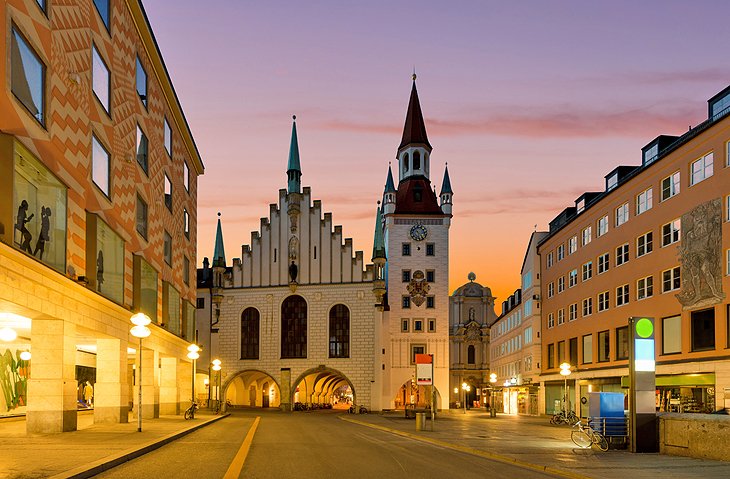 Couples who are looking for a secluded getaway will love the classic elegance of Hotel Laimer Hof, an 1886 villa that sits close to Nymphenburg castle and the Botanical Gardens & Park. Guests can explore freely, with complimentary bicycle rentals and convenient access to both tram and trains into the city center.
The Hotel Muenchen Palace is situated in an equally peaceful area next to the riverside Maximilian Park. This luxury hotel has an on-site spa, fitness center, full guest room amenities, a private garage, and a beautiful rooftop garden terrace. In addition to the hotel's restaurant there are plenty of options nearby, as well as shopping and attractions like the Friedensengel Monument and Jugendstil Museum.
The Charles Hotel, a five-star property, has an ambience of pure luxury and sophistication, with its modern yet grand architecture and bright, spacious guest rooms. In addition to full spa services, there is a large indoor pool and hot tub with a beautiful and relaxing deck area. It sits next to the Old Botanical Garden and is less than five minutes by foot to many of Munich's finest museums.
On the quieter edge of the busy Central Station neighborhood yet still convenient to public transportation, the Sofitel Munich Bayerpost is an easy walk to the botanical gardens. This large luxury spa hotel is in a historic building that has been fully updated with the latest technology. Water-lovers will especially enjoy the indoor pool's cavernous ambience with a winding entrance and cascading waterfall.
Where to Stay in Munich for Families
The design-forward Andaz Munich Schwabinger Tor is a top family-friendly option. The 5-star hotel offers family rooms and amenities, from highchairs in its restaurant to kid-friendly activities on-site.
Choose from rooms or suites. All are contemporary in decor with bold artwork and large windows. Amenities are top notch, with a fabulous spa offering a full range of treatments and a swimming pool with sun loungers and great views. The restaurant here is popular with guests and locals alike.
Families seeking out a luxury design-focused sleep in Munich will like the CORTIINA Hotel, which, while it doesn't go out of its way for kids, does have some connecting rooms and also six suites with more space for little ones. The modern property is super stylish throughout and also has an enviable location in the Altstadt right by Marienplatz. There is an excellent on-site restaurant as well.
In a landmark 19th-century Neo-Renaissance building, Hotel Uhland is a good-value family hotel. It sits on a quiet street in a residential part of Munich that is just a 10-minute walk from the main train station.
This 25-room, mid-range hotel offers connecting rooms for parents traveling with older kids and also has spacious designated family rooms. Decor is on the austere side, but the high ceilings and original wall molding are a historic design perk. Also everything is clean, and staff members here are friendly and happy to dole out local advice. A buffet breakfast is included in most room rates.
Hotel Metropol has a very central location right by the main Hauptbahnhof train station and offers families an affordable lower mid-range boutique sleep. Rooms are relatively comfortable, with modern flair and amenities from flat-screen TVs to work desks. The hotel also offers a free breakfast, although it has no on-site restaurant.
Hotel Mirabell is a more upmarket family hotel that is also in a central location right by the main train station and walking distance to numerous restaurants and shops. It features modern rooms and suites, the latter of which will appeal to families with their separate living spaces and sleeper sofas for the kids. The free breakfast buffet is another perk of staying here.