Where to Stay in Frankfurt: Best Areas & Hotels
We may earn a commission from affiliate links ()
The majority of Frankfurt's top sightseeing attractions are located in the Innenstadt (downtown) neighborhood and the Altstadt area, which sits between downtown and the River Main. Lodging within this compact area is difficult to find, so the majority of Frankfurt hotels are found nearby in the surrounding neighborhoods.
On the west side of the city, riverside Bahnhofsviertel literally translates to "train station quarter." Once a less desirable part of town, it has been cleaned up and is now a trendy neighborhood that is safe and only 10 to 15 minutes by foot to the city's top tourist attractions. On the much quieter south side of the river, Sachsenhausen is home to the museum district, as well as a variety of hotels from budget to luxury.
Adjacent to the Bahnhofsviertel neighborhood is the West End, which has several good hotels on the edge of the neighboring business district, the Gallus neighborhood. Most of the hotels in this area are clustered around the Frankfurt Messe exhibition center and the Skyline Plaza shopping center. The walk from these hotels is around 20 minutes to the city center, or you can use the underground U-Bahn to get to Frankfurt's top attractions.
On This Page:
Where to Stay in Frankfurt for Luxury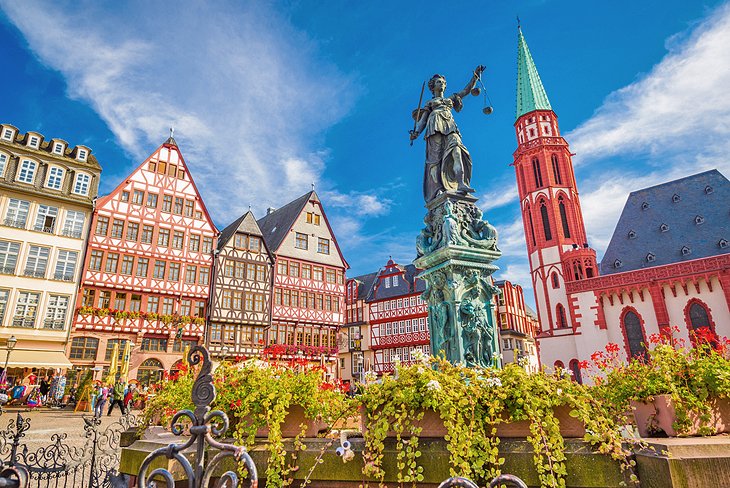 The Sofitel Frankfurt Opera is located in Innenstadt, at the edge of Bockenheimer Anlage, a beautiful public park with walking trails and a large pond. A perfect location for luxury shopping, it is just a couple of blocks from the Goethestraße, the street that is home to Frankfurt's most exclusive stores, including Versace, Chanel, and Louis Vuitton.
This five-star hotel makes pampering guests its top priority, with services including in-room breakfast, a heated pool, and a full range of spa services. Shuttle service is also offered to help guests get where they need to be, and bicycles are available to those who want to do some exploring.
Situated in the lower West End, close to the Senckenberg Natural History Museum, the Grandhotel Hessischer Hof is within walking distance of the city center and also quite close to the U-bahn station. This five-star hotel has updated yet classic décor with elegant public spaces and great attention to detail.
Rooms are spacious and include a walk-in closet, mini-fridge fully stocked with complimentary beverages, and fresh fruit daily. Luxury suites include private terraces and a full dining room, while standard rooms are furnished with desks and a seating area.
Between the train station and river, Roomers is just two blocks from the river's lovely Park Nizza and within walking distance of the Sachsenhausen museum district. This five-star hotel has affordable rates while offering generous amenities, including a fitness center, sauna, hot tub, and lap pool, as well as complimentary bottled water and tablets in each room. The hotel has a hip vibe, with its dark and edgy classic décor, and lovely public spaces, like a garden patio and the Skylounge with floor-to-ceiling views of the city.
The Hilton Frankfurt City Center is set at the edge of Bockenheimer Anlage, which is a large public park in the city center. The rooms and suites at this 5-star property are spacious and contemporary with large windows, many facing the park. The hotel is dog friendly. Amenities include a huge indoor swimming pool (also facing the park), a restaurant, and a health and fitness club.
Where to Stay in Frankfurt: Mid-Range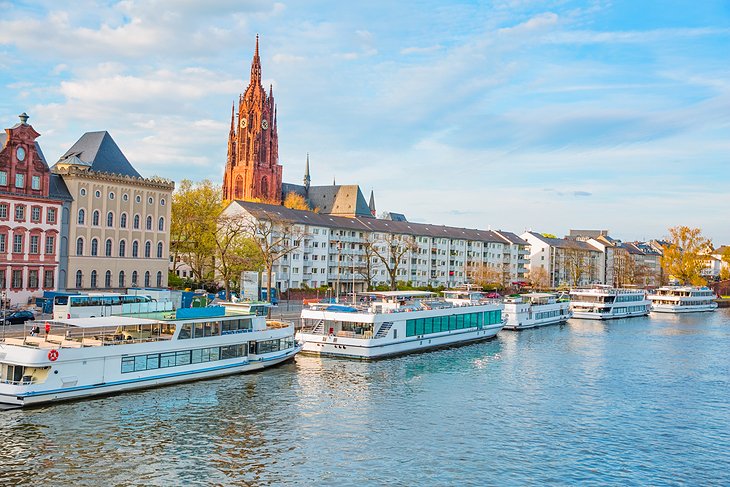 In the lower West End adjacent to the park that is home to the iconic Hammering Man and Messeturm sculptures, the NH Frankfurt Messe is an eco-friendly four-star hotel that offers dependable service. Guest rooms are bright and updated, and although snug, the space is well used to comfortably include a desk and seating area. Windows are well soundproofed, and amenities include a mini-fridge, safe, and electric kettle. Breakfast is available for an additional charge, and there are numerous restaurants within just a few minutes' walk, as well as more options at the nearby Skyline Plaza.
For an affordable luxury stay in the Gallus neighborhood, Capri by Fraser Frankfurt is a modern hotel just down the street from Frankfurt Messe, shopping at Skyline Plaza, and restaurants. This large hotel offers spacious rooms; suites; and family rooms with hardwood floors, USB charging stations, and kitchenettes. There is secure underground parking available, and guests are invited to use the fitness facilities and laundry room.
The modern Movenpick Hotel Frankfurt am Main City is committed to sustainable hospitality while providing excellent service and spacious rooms with splashes of color to add fun. Guests enjoy little extras, like lavender sachets, and have full use of the fitness center, business center, and rooftop terrace. Located in the business district's Gallus neighborhood, the hotel is next to the large shopping center Skyline Plaza and close to a U-Bahn stop for easy access to Innenstadt and Altstadt sightseeing.
Where to Stay in Frankfurt on a Budget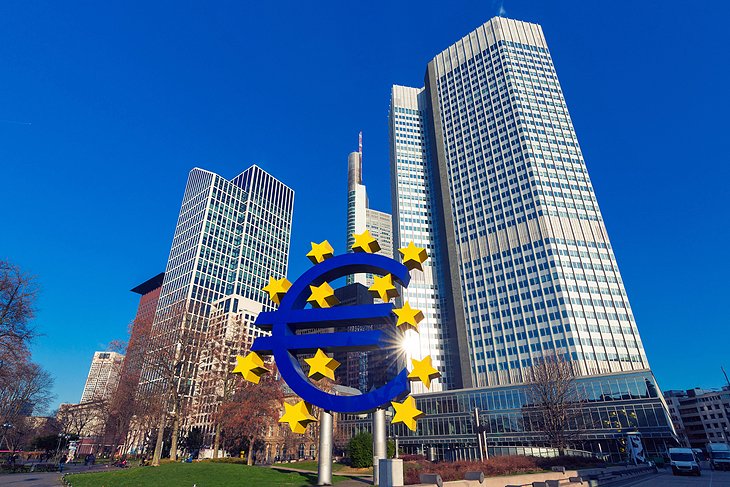 The Gallus neighborhood has a couple of excellent budget choices that are convenient to shopping and the U-Bahn station for quick access to the city center main attractions. The Premier Inn Frankfurt Messe offers direct elevator access to rooms from its secure garage beneath the hotel. In the heart of the business district by the exhibition center and Skyline Plaza, this hotel offers very good soundproofing from the busy streets; there is an on-site restaurant and breakfast option, and the walk-in rain showers are a luxury.
Motel One Frankfurt-Messe is next to the Frankfurt Messe exhibition center and just across the street from Skyline Plaza. The soundproofed guest rooms are compact but have comfortable beds, a desk, and windows that can be opened. A generous breakfast buffet with fresh baked goodies is included, and pets are welcomed. This hotel also has secure underground parking available.
Another great budget-friendly option is the Ibis Frankfurt Centrum, which consistently provides good quality service and very clean, efficient rooms with unique décor. Breakfast is available and there is a self-serve laundry for guests' use. Its location on the river near the Main Promenade is perfect for those who want to walk to the museum district and explore the Sachsenhausen neighborhood.
Where to Stay in Frankfurt for Families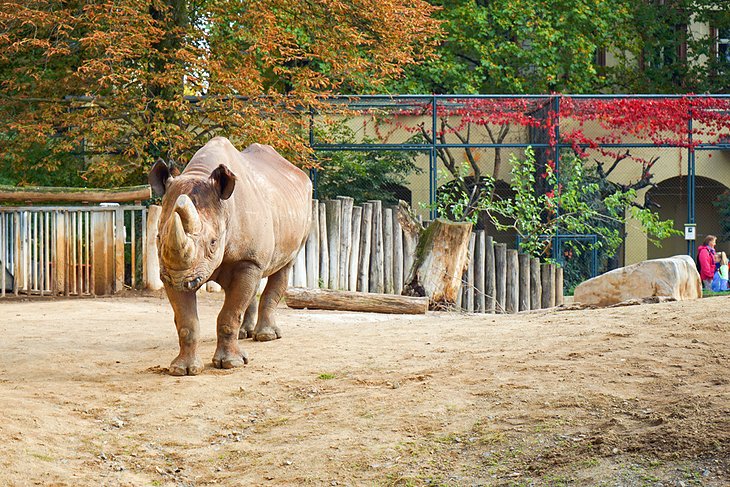 The Hotel Hamburger Hof is perfect for an affordable family getaway to Frankfurt, with family rooms; flexible check-in and check-out times; self-serve laundry; and a convenient location next to the train station, making it easy to get to and from the attractions, as well as the airport.
Rooms are stylish and updated with wooden floors and fresh bursts of color, and staff members are very knowledgeable and happy to help you figure out how to get around the city. The hotel's location right next to the train station in Bahnhofsviertel makes it an excellent choice for those without a car.
If your family is looking for a little luxury, the Adina Apartment Hotel Frankfurt Neue Oper is also in the Bahnhofsviertel neighborhood, but closer to the river and near the Märchenbrunnen "fountain of fairy tales." Family rooms include either a kitchenette or full kitchen, comfortable furniture, high ceilings, and floor-to-ceiling windows. Hotel amenities include a self-serve laundry, fitness center, an indoor heated pool, a restaurant with a breakfast option, and lovely rooftop seating for excellent views.
A great budget option for families is INNSIDE Frankfurt Ostend, located in the Ostend neighborhood just to the east of downtown and within walking distance of the Frankfurt Zoo. There are several restaurants to choose from within a block or two from the hotel, as well as an on-site restaurant that caters to those with special dietary needs.
Rooms are soundproofed so the kids can make noise at the end of a long day of sightseeing, and there are helpful amenities, including a laptop safe, tea and coffee service, and complimentary toiletries.
Where to Stay in Frankfurt for Romance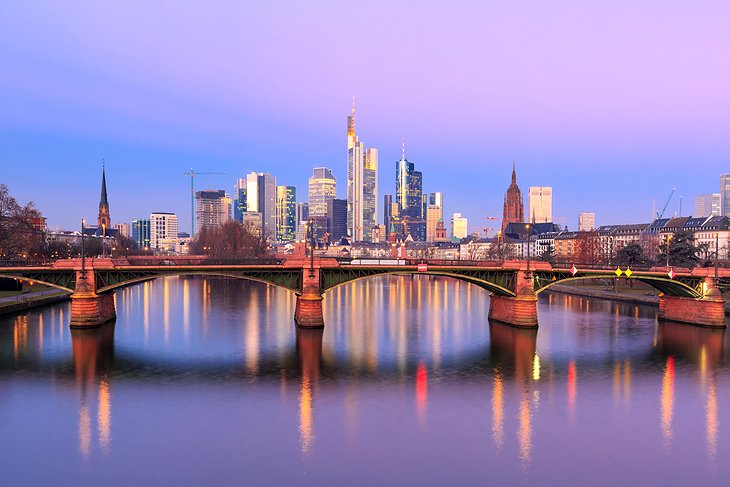 Couples who want to be immersed in both luxury and Frankfurt's rich history will want to stay at the Jumeirah Frankfurt, which is located in Innenstadt adjacent to the Zeil pedestrian zone, between the Hauptwache and Eschenheimer Tower.
The spacious guest rooms have deep wooden floors with soft area rugs, mini-fridges with complimentary beverages, coffee makers, in-room safes, and luxurious extras like fluffy bathrobes. The hotel also has a spa, fitness center, heated pool, and a Lebanese restaurant.
Seclusion seekers will enjoy an escape from the bustling city that is still convenient to main sights when staying at the five-star Villa Kennedy, on the south side of the river near Sachsenhausen's numerous museums.
The property has a large central courtyard surrounded by a grand building adorned with arched doorways and colonnades. Guests will enjoy the large pool, full-service spa, fitness center, and the hotel's Italian restaurant within this perfect romantic setting.
Home to Frankfurt's largest spa, as well as the Michelin-starred OSCAR*S restaurant, the Steigenberger Frankfurter Hof is a 5-star hotel with a romantic vibe. In the Innenstadt, the historic property dates back to 1876 and is perfect for couples looking to explore the city on foot.
There are just over 300 rooms and suites done up in either traditional or contemporary decor, with balconies and fireplaces in some. The hotel serves an excellent breakfast in the morning. Guests can also book afternoon high tea. Other on-site amenities include a fitness center, hot tub, steam room, sauna, and a salon.
More Related Articles on PlanetWare.com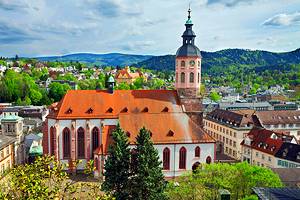 Exploring Germany: Many people simply transit through, but if you have time, have a look around and visit some of the top attractions in Frankfurt. Other popular cities for tourists to explore include Berlin, Munich, and Hamburg. If you have time to visit more than just the metropolitan centers, consider a trip through Bavaria State or the Black Forest to see another side of Germany.