10 Top-Rated Resorts in Savannah, GA
We may earn a commission from affiliate links ()
Savannah is undoubtedly one of the most picturesque and romantic cities in the US and attracts more than 13 million visitors each year. For these reasons, this lush southern city has drawn some of the leading hotel brands in the country, resulting in somewhat of a smorgasbord of choice when it comes to deciding where to stay.
Popular options located within walking distance of the Savannah's historic core, with its beautiful parks and gardens and countless heritage buildings, include the Homewood Suites by Hilton Savannah Historic District and the Hyatt Regency Savannah. Both are also just minutes away from the riverfront.
Luxury options include the brand new and luxurious JW Marriott Savannah Plant Riverside District; the elegant Kimpton Brice Hotel, with its unique central courtyard; and the boutique Andaz Savannah and Mansion on Forsyth Park hotels.
To help ensure you find out the best place to stay in this pretty city, check out our list of the top resorts in Savannah.
1. JW Marriott Savannah Plant Riverside District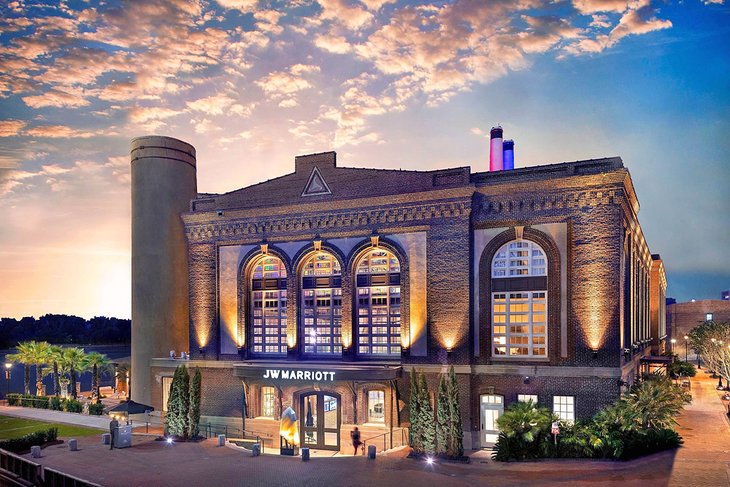 Accommodation: JW Marriott Savannah Plant Riverside District
Part of a huge revitalization of the city's iconic riverfront area, the JW Marriott Savannah Plant Riverside District opened its doors in late 2021 and is itself something of a tourist attraction.
The JW Marriott is located at the heart of the multi-million-dollar Plant Riverside District – an exciting entertainment hub set overlooking the Savannah River. Stepping into Savannah's newest luxury hotel demonstrates just how far the luxury hotel experience has evolved. The massive lobby with its towering ceiling was once part of the old power plant that occupied the district and, at first glance, looks not unlike a museum. Surrounding the check-in area are an incredible chrome dinosaur skeleton, fossils, and rare mineral samples.
The lobby area is also where you'll find a number of unique dining and beverage experiences, including African themed lounges, cafés, and fine-dining restaurants. In addition to the on-site eateries, the hotel is just steps away from numerous other dining, shopping, and entertainment opportunities, including the adjacent District Live venue, which offers a regular line-up of concerts and other events.
As you'd expect from the luxury JW Marriott brand, the feeling you're somewhere special extends to the sumptuous accommodations, too. Boasting unique features such as exposed brick, floor-to-ceiling windows, and patio doors with river or city views, accommodations range in size from king rooms to executive suites and even larger, two-level affairs. With three dedicated hotel buildings to choose from, you can even "fine-tune" your preferences with a variety of unique themed décor, too.
Valet parking and concierge services are also available, including dry cleaning and laundry, plus a handy convenience store. For those needing to keep active, there's a state-of-the-art gym, plus a large heated swimming pool. The hotel is also just steps away from excellent jogging and biking trails, and even offers bike rentals.
A spa is also located on-site and offers a number of pampering packages for singles and couples. Pets are welcome for an additional fee.
Address: 400 W River Street, Savannah, Georgia
2. Westin Savannah Harbor Golf Resort & Spa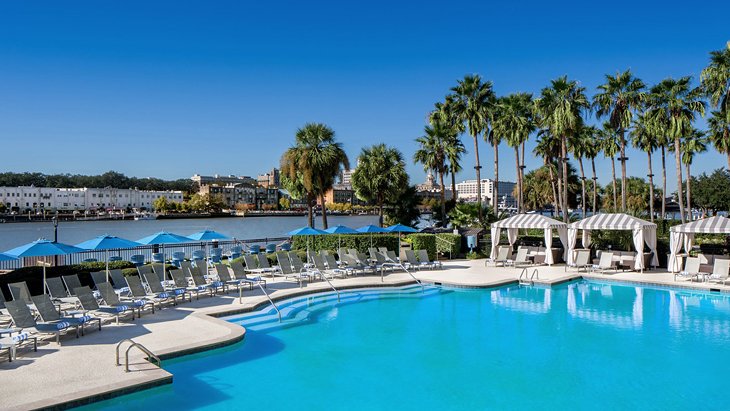 Accommodation: Westin Savannah Harbor Golf Resort & Spa
As it's located on the opposite shore of the city, part of the fun of a stay at the Westin Savannah Harbor Golf Resort & Spa is the chance to enjoy a complimentary boat ride across the wide Savannah River.
Guests of this large resort have the option of taking a ferry to the city's historic riverfront, from where you can easily spend hours exploring and shopping, or to the private beach club on beautiful Daufuskie Island overlooking the Atlantic Ocean.
Other great perks include having access to one of the state's top championship 18-hole golf courses, enjoying some pampering at the full-service spa, working out in the fitness center, or lounging by the heated swimming pool.
There's also ample meeting and event space, too. The resort's restaurant, Aqua Star Coastal, is a delightful dining choice - especially if you can secure a window seat overlooking the river. And be sure to check out their excellent Sunday jazz brunch.
If budget allows, go for one of the upgraded deluxe rooms. These bright, 300-square-foot rooms come with views over the historic city or river (ask for an upgrade with a balcony), comfortable king or two double beds, spacious bathrooms, HDTVs, and a stocked mini-fridge (just let them know your needs prior to arrival).
Better still are the premium suites with their large furnished balconies.
Address: 1 Resort Drive, Savannah, Georgia
3. The Kimpton Brice Hotel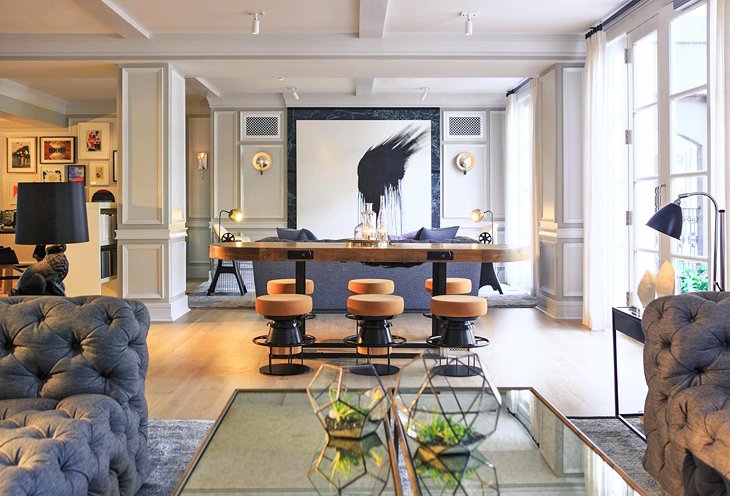 Accommodation: The Kimpton Brice Hotel
The magnificent Kimpton Brice Hotel offers guests an unsurpassed luxury stay on the edge of Savannah's historic downtown area and just minutes away from the beautiful Savannah River.
A highlight of this elegant urban resort with its delightful contemporary décor is its unique central courtyard. Here, in this tranquil haven, you can relax on a lounge chair while even forgetting you're in the heart of one of the most vibrant - and beautiful - cities in the US.
Afterwards, you can enjoy swimming in the heated outdoor pool before dining in the hotel's world-class Italian restaurant. You can also dine in the comfort of your room, as well as enjoy a spa treatment there. A fitness center and valet parking (recommended as you can walk everywhere) are also available, as are the use of complimentary bikes to get around.
It's the attention to detail in the accommodations at The Kimpton Brice Hotel that really stand out. From the little things, like the yoga mat supplied to the elegant furnishings, you won't be disappointed. If you can (and if traveling as a couple), shoot for either the deluxe king suite (325 square feet) or premier king suite (410 square feet).
Notable features include the large HD TVs, classy four-poster beds, and huge bathrooms with walk-in showers and deep soaker bathtubs (comfortable bathrobes are included). Another plus are the separate seating areas with a large sofa that doubles as a bed - a space that's large enough to entertain in - as well as private balconies.
Address: 601 E Bay Street, Savannah, Georgia
4. Andaz Savannah
Accommodation: Andaz Savannah
Located in Savannah's city market area, the boutique Andaz Savannah hotel offers a choice of 151 bright and modern guest rooms and suites. Popular options include the deluxe 464-square-foot rooms with comfortable king beds and handy kitchenettes, which come with modern appliances and granite countertops.
These bright, modern rooms also come with large stand-alone showers, floor-to-ceiling windows, and balconies with great views over the historic downtown area. A nice touch are the free newspapers delivered daily to your room, and the complimentary in-room snacks and beverages. Pets are welcome, but an additional charge applies (contact the resort ahead regarding their pet policies).
Amenities include plenty of convention and meeting space, a business center, on-site dining, a large outdoor heated swimming pool with a terrace and fire pit, and a well-equipped fitness center that's open 24 hours.
Other services of note include in-room dining plus patio service from the on-site restaurant, laundry and dry cleaning, and valet parking.
Address: 14 Barnard Street, Savannah, Georgia
5. Mansion on Forsyth Park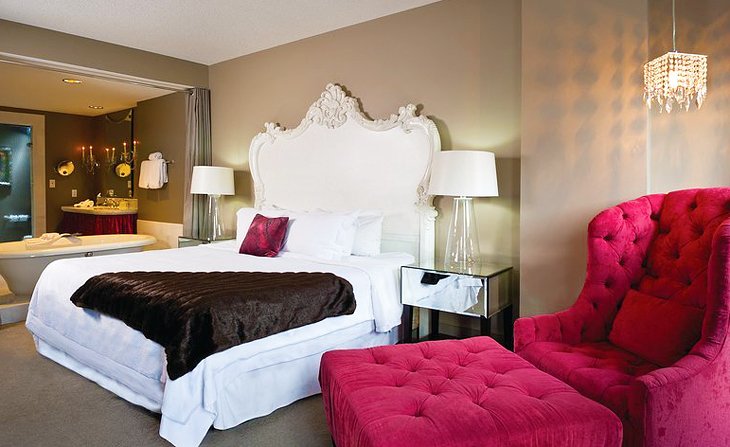 Accommodation: Mansion on Forsyth Park
The Mansion on Forsyth Park is a great accommodation choice for couples seeking a luxury stay in Savannah. Part of the high-end Kessler Collection, this elegant resort offers lovely views over the historic park after which it's named.
While this historic building's charming exterior has been carefully restored, the interior is completely contemporary and classy. Highlights include an art gallery, full-service spa, fitness center, heated outdoor swimming pool, and meeting rooms.
The hotel's kitchen team have made a name for themselves, and in addition to offering great restaurant dining also run the acclaimed 700 Kitchen Cooking School, a fun opportunity to learn some tips and tactics from the experts.
The standard guest rooms are a popular choice. Sleeping up to four guests comfortably, these bright and well-appointed rooms come with a choice of king or two queen beds with comfortable pillow-top mattresses plus a sofa bed, spacious marble bathrooms with separate shower and bathtub (along with bathrobes), and a separate seating area that includes the sofa bed, a table with four chairs, and a work desk. There's also a handy mini-fridge that can be stocked for your arrival. The option to upgrade to a deluxe room is worth considering.
Address: 700 Drayton Street, Savannah, Georgia
6. The Drayton Hotel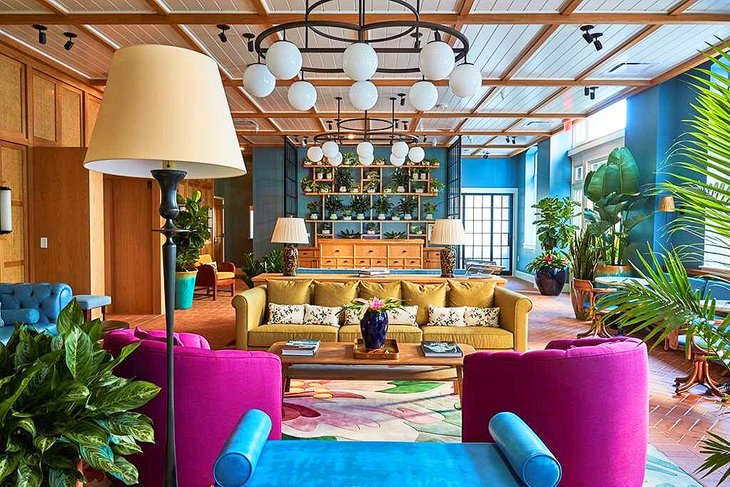 Accommodation: The Drayton Hotel
Although it only opened in 2019, The Drayton Hotel has already gained a solid reputation as one of the top boutique hotels in Savannah. And with only 50 rooms, this historic 19th-century building set just a short stroll from the Savannah River offers travelers plenty of great reasons to stay.
The chic rooms feature classy furnishings and décor, along with original wood floors and extremely comfortable beds. The larger rooms feature additional living space, so whether you're here for remote work or relaxation, there's plenty of room to spread out.
On-site amenities include a fine-dining seafood restaurant and a café, with a great breakfast offering, too. Be sure to visit the rooftop terrace for its superb views over historic Savanah.
Address: 7 Drayton Street, Savannah, Georgia
7. Homewood Suites by Hilton Savannah Historic District/Riverfront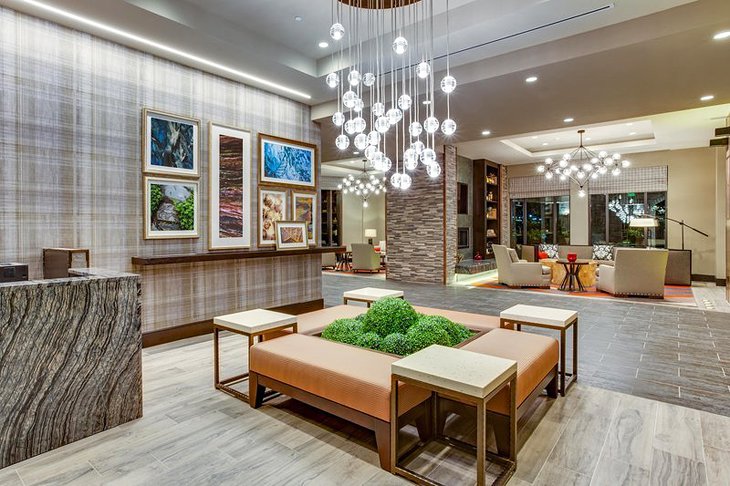 Accommodation: Homewood Suites by Hilton Savannah Historic District/Riverfront
Those in need of a little more space while exploring Savannah should consider Homewood Suites by Hilton Savannah Historic District. Located close to the wide Savannah River (a great place to enjoy watching large ships and tugboats sail by from your balcony) and in the city's historic district, the hotel offers plenty of things to do to keep its guests entertained.
A highlight is spending time at the rooftop swimming pool, where you can relax and grab a meal in the comfort of a private cabana. There's also a fire pit here, a particularly pleasant experience when live music is played. Popular perks include free breakfasts, social evenings, complimentary grocery shopping, a convenience store, and use of a 24-hour fitness area.
When it comes time to bed down for the night, you can choose from either a studio or one-bedroom unit. These classy units come with their own living and seating areas and spacious bathrooms with walk-in glass showers. A real benefit are the full kitchens. Perfect for those traveling with kids and big-eaters, they come with modern appliances, including stoves, fridges, dishwashers, and microwaves. A number of accessible units designed for those with mobility issues are also available.
Address: 611 E River Street, Savannah, Georgia
8. The DeSoto Savannah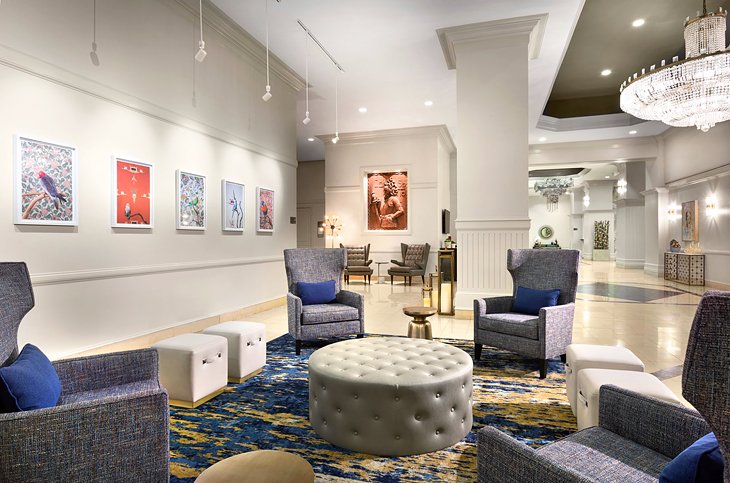 Accommodation: The DeSoto
If you're wanting to stay in the very heart of Savannah's historic district – and it's a highly recommend experience – you may want to consider The DeSoto Savannah hotel.
Situated opposite lovely Madison Square, this historic hotel was built in 1890 and certainly impresses. Highlights include a large art gallery in the lobby along with world-class dining, all accentuated by elegant original fixtures and chandeliers. Room service and in-room dining experiences are available.
When it comes to sleeping arrangements, the skyline-view rooms are a popular choice. These classy accommodations come with either a king or two double beds, good-sized balconies, work desks, and marble bathrooms with stand-alone glass showers. Amenities include HD TVs, coffee makers, complimentary bottled water and cookies, and free Wi-Fi.
Address: 15 E. Liberty, Savannah, Georgia
9. Hyatt Regency Savannah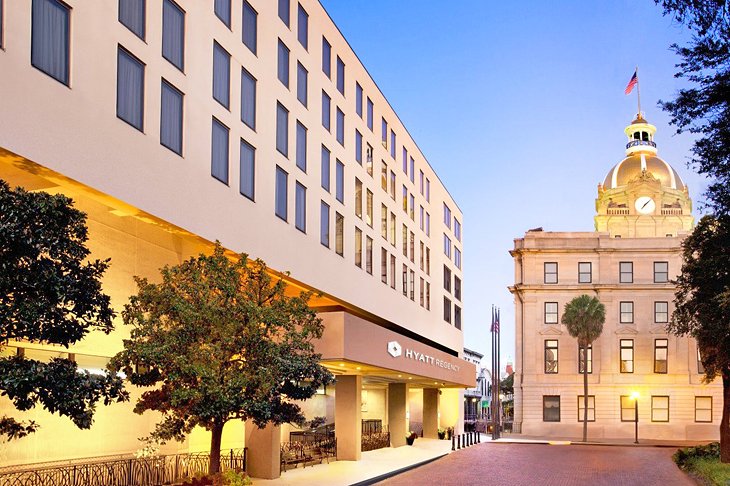 Accommodation: Hyatt Regency Savannah
Another good choice for those seeking first-rate accommodations from one of the world's leading hotel brands is the Hyatt Regency Savannah. Located just steps away from the shops, dining, and sights of River Street and the city's beautiful historic center, this large contemporary hotel features excellent dining, including in-room options and a great breakfast; plenty of convention and meeting space, plus a business center; and a large heated indoor swimming pool.
There's also a 24-hour fitness center plus a yoga room (yoga mats are also provided in your room). There's also a complimentary water taxi service should you wish to explore a little farther afield.
The rooms here have all been refurbished with bright modern décor and furnishings. In addition to lovely views over either the river or the city, guests will enjoy extremely comfortable beds and bedding in their choice of either king or two-queen-bed rooms. Rooms run from 450 to 1,800 square feet and also come with state-of-the-art air purification systems.
Address: 2 W Bay Street, Savannah, Georgia
10. Marriott Savannah Riverfront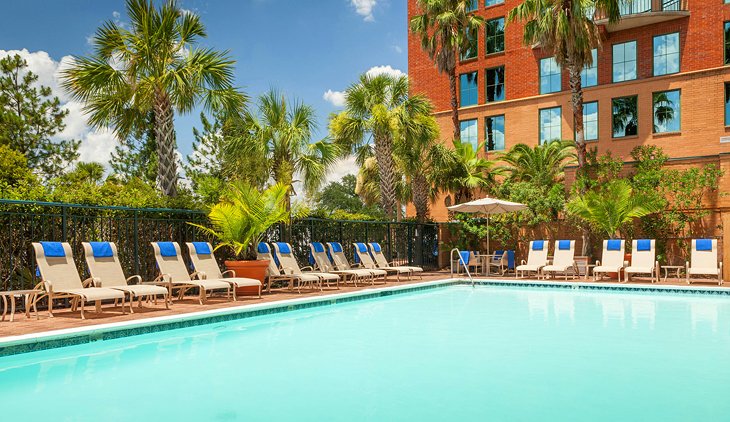 Accommodation: Marriott Savannah Riverfront
The Marriott Savannah Riverfront is another great property to consider. This elegant resort offers a good selection of room options, with popular choices including the deluxe rooms with king beds, balconies, pillow-top mattresses, coffee makers, pullout couches, and spacious bathrooms.
If you'd like to up the luxury quotient a little, opt for the special concierge level rooms. These include additional benefits such as access to a dedicated lounge area plus excellent views over the river. A number of mobility-friendly rooms are also available.
On-site amenities of note include a full-service spa, heated outdoor swimming pool, a restaurant, beauty shop, and meeting spaces. There's also a handy gift shop selling snacks and newspapers (the latter can be delivered to your room), laundry facilities and dry-cleaning services, a well-equipped fitness center, plus an outdoor heated swimming pool.
Address: 100 General McIntosh Blvd, Savannah, Georgia