13 Best Resorts on Tybee Island
We may earn a commission from affiliate links ()
East of Savannah, Georgia is a string of Atlantic barrier islands known for their powder-soft sand; historic vintage architecture; warm, gentle waves; and welcoming resorts. Since the late 19th century, these islands have been hideaways for the Savannah elite, but none more so than Tybee Island.
Tybee Island has fantastic resorts, hotels, inns, and bed and breakfasts, which put visitors right at the doorstep of the calm Atlantic waters, bustling restaurants, and eclectic shopping that the island has to offer.
The best resorts on Tybee Island offer a little bit of something for everyone. From romantic, historic bed and breakfasts to fully renovated old-fashioned motels, beachfront hotels, and budget inns, Tybee Island has so much to offer for such an intimately sized island.
From the best resorts on Tybee Island, visitors can take advantage of everything the destination has to offer. The iconic pier and pavilion are known for their fishing, historic restaurants, water activities, and spectacular ocean views.
Tybee Island may be a quintessential part of the Savannah experience, but it is a truly spectacular destination in its own right. Get to know the best resorts on Tybee Island here.
1. DeSoto Beach Hotel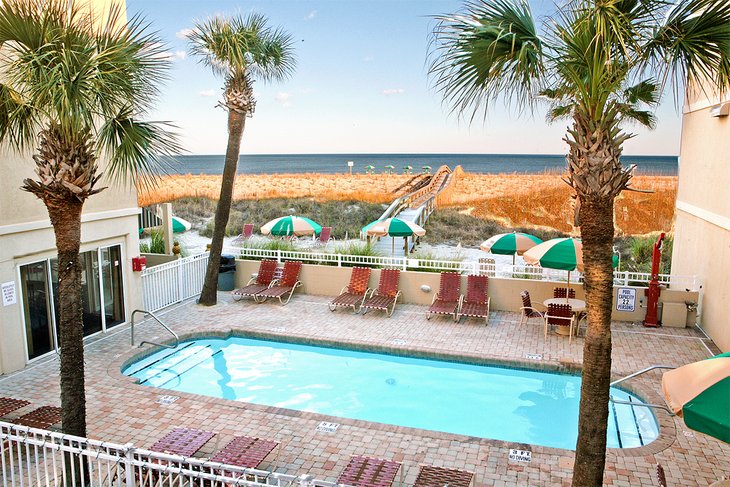 Accommodation: DeSoto Beach Hotel
Despite the fact that it's an island, Tybee Island actually has very few hotels that offer a beachfront address. The DeSoto Beach Hotel is one of the lucky few.
Built in 1939, the property has 37 rooms just steps from the powder-soft sands of Tybee Island's beach. It has been an institution for high society Savannah for decades, but in the 1950s and 1960s it made itself accessible to a less affluent crowd.
Today, it is a beloved, family-run hotel with an outdoor pool (heated in the winter), a sun deck, and a game room. The hotel offers guests umbrella, chair, and bike rentals, as well.
The DeSoto Beach Hotel has a variety of room categories, which range from the Grand Deluxe Ocean Front with a private balcony to the DeSoto Beach Gardens Suites, which have access to the private garden patio. Several rooms are ADA compliant, as well.
From the pool deck, guests can follow the long wooden boardwalk that leads directly to a pristine stretch of Atlantic oceanfront.
The DeSoto Beach Hotel is within walking distance to several of the island's more popular restaurants, putting it in the perfect location at the cross section between activities and chill.
Address: 212 Butler Ave, Tybee Island, Georgia
2. Georgianne Inn & Suites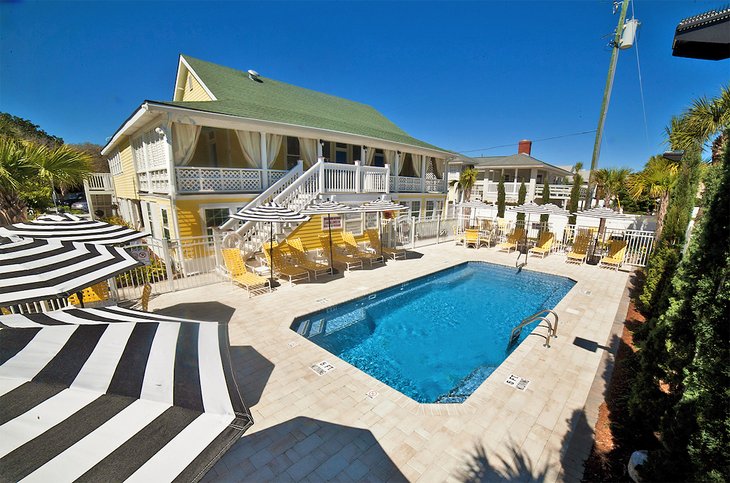 Accommodation: Georgianne Inn & Suites
Managed by the same family business that runs the DeSoto, Georgianne Inn & Suites is another historic home-turned-hotel on Tybee Island.
The inn dates back to the early 20th century but has recently been renovated to add amenities like Wi-Fi, a new saltwater swimming pool, washers and dryers, and central air conditioning. Still, the historic, classic Southern vibe remains, thanks to the lush gardens and impressive verandas. The sunny yellow accents, trimmed with black and white, add a certain throwback charm, as well.
The house has six suites and two studios, and while it's not directly on the beach, it's just three houses back from the shoreline. The neighborhood is quiet and residential, but the house is just a short walk from "downtown," including the famous pier and pavilion.
Plenty of restaurants and activities are just a few steps away. And because it wouldn't be a beach vacation without certain staples, the hotel offers beach chairs, umbrellas, and beach cruisers for rent.
Address: 1312 Butler Ave, Tybee Island, Georgia
3. 17th Street Inn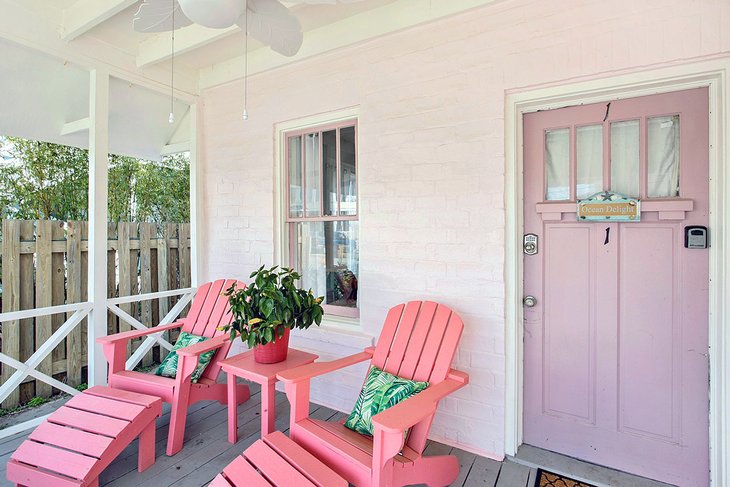 Accommodation: 17th Street Inn
Yet another example of the new "vintage modern" that is springing up around Tybee, the 17th Street Inn is a breath of fresh air. The charming historic home from the 1930s has been splashed in pops of flamingo pink and shrouded in leafy gardens. The result? A super cool hangout for a new wave of visitors to Tybee Island.
About a block from the beach, the historic home is easily spotted for its bright pink accents and tropical, wraparound porch. The home offers eight private bedrooms, each with its own bathroom. Guests also are entitled to a free parking pass, which is good for the entire island.
Rooms range from the Solo Travel Studio, which has one twin bed just off the courtyard, to the Oceanview One-Bedroom King Bed, which has its own balcony, Adirondack chairs, and Atlantic Ocean views. Guests, of course, can book the entire home if they want to travel with a larger party.
Additional amenities include outdoor showers, a shared courtyard, pet-friendly accommodations, full kitchens and kitchenettes, Wi-Fi, and air conditioning.
Address: 12 17th St, Tybee Island, Georgia
4. Surf Song Bed & Breakfast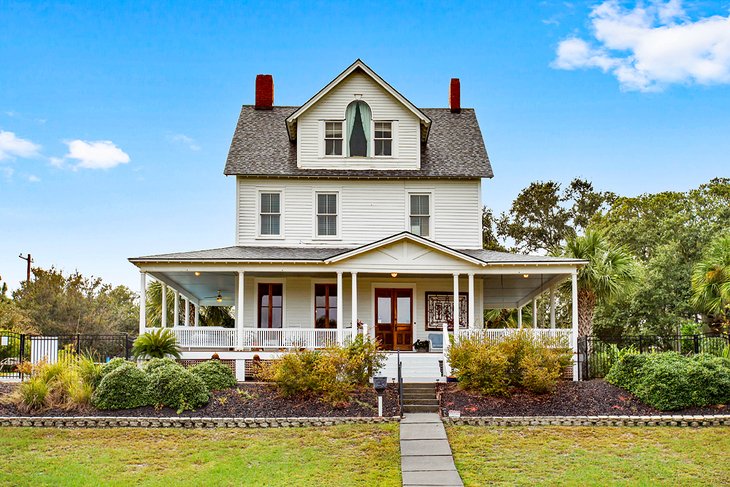 Accommodation: Surf Song Bed & Breakfast
Just one block from the beach, the charming Surf Song Bed & Breakfast has lots of character. Located inside a historic mansion dating back to 1898, it is full of Victorian style. The B&B saw a top-to-bottom renovation less than a decade ago, and the rooms and public spaces here are in good condition.
There are just five rooms; each one has a different look to it. The Sunrise Suite is our favorite. It has some of Tybee Island's best views, and on a clear day, you can see all the way to Hilton Head. Located on the third floor of the house, it is the only room on this floor, so you'll also have a lot of privacy.
The Sunrise Suite features beach-style decor with a cheerful blue color scheme, polished wood floors, and a four poster bed. It can accommodate up to four people with a king and queen bed at separate ends of the space. It also has a sitting area, kitchenette, and small dining table.
A full breakfast is served each morning. There is no on-site restaurant for lunch or dinner, but you are within walking distance of a number of different dining options, including the popular Sundae Cafe.
There is parking available, a swimming pool, gift shop, and a lovely wraparound porch to relax on.
Address: 21 Officers Row, Tybee Island, Georgia
5. Admiral's Inn on Tybee Island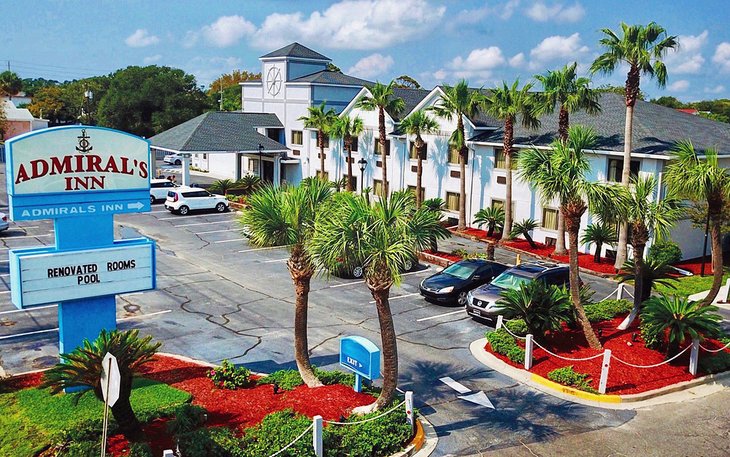 Accommodation: Admiral's Inn on Tybee Island
Perched near the southern end of Tybee Island, the Admiral's Inn on Tybee Island is just one block from the ocean and in the heart of the island's activity.
Recently renovated, Admiral's Inn offers king or queen bedrooms, complete with hardwood floors, quartz bathroom countertops, and rain shower heads. It has a distinct motel vibe, but with a few more bells and whistles and a touch of glam.
Each day, the hotel serves a complimentary breakfast in the dining room. Other amenities include an outdoor swimming pool and lounge area, laundry services, free parking, and free Wi-Fi.
And the location can't be beat. From the hotel's doorstep, visitors are a quick stroll from the Tybee Island Pier and Pavilion, as well as iconic Tybrisa Street, known for its restaurants and shopping.
Address: 1501 Butler Ave, Tybee Island, Georgia
6. Lighthouse Inn Bed & Breakfast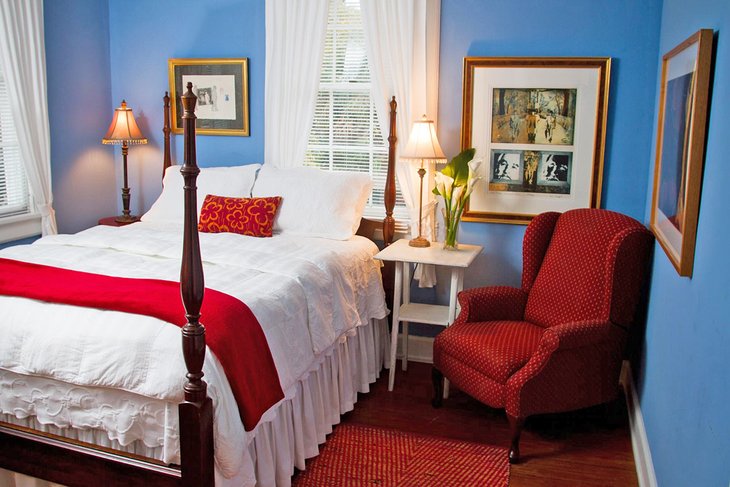 Accommodation: Lighthouse Inn Bed & Breakfast
Steeped in Southern charm and hospitality, The Lighthouse Inn Bed & Breakfast is about as quaint as it gets. White rocking chairs lazily lilt back and forth on the intimate veranda, while light floods in through the massive paned glass windows. A small, white picket fence leads to a yard around the house, as well, making this the perfect spot to steal away into a Southern dream.
The home was built in 1910 as housing for officers in the Fort Screven complex, and today is a three-bedroom bed and breakfast, helmed by Liza and Tony Banguilan. Inside, the house is decorated with a private art collection, historic furniture, and fanciful beach shells. Each morning Liza prepares home-cooked breakfasts in the romantic dining room.
Guests can choose from the Blue/Lieutenant Room, the Evening Light/Chaplain Room, or the Green/Band Leader Room, each of which has an ensuite bathroom and queen-sized bed.
Address: 16 Meddin Drive, Tybee Island, Georgia
7. Sea & Breeze Beach Hotel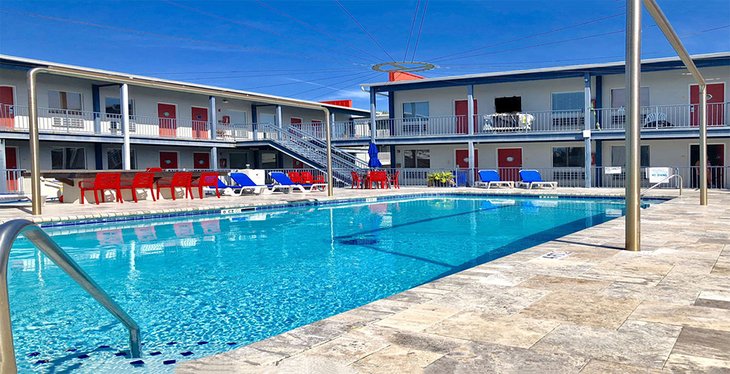 Accommodation: Sea & Breeze Beach Hotel
Centrally located just steps from the famous pier, the Sea & Breeze Hotel and Condo is a low-key, convenient, and budget-friendly hotel option that provides another cost-effective alternative for lodging on Tybee Island.
Rooms were remodeled in 2017 and are clean and bright. Rooms offer king or queen beds, and bunk beds if you're traveling with the family. The hotel has a fully equipped kitchen on the property with a refrigerator, dishwasher, microwave, and a washer and dryer. There isn't much that's fancy about the rooms, but people are staying here for the convenient location, the price, and the large pool in the center.
Another perk is the large patio, which overlooks the ocean and is a great spot to sit with a book or watch the sunset.
Address: 16 Tybrisa Street, Tybee Island, Georgia
8. Beachview Inn & Spa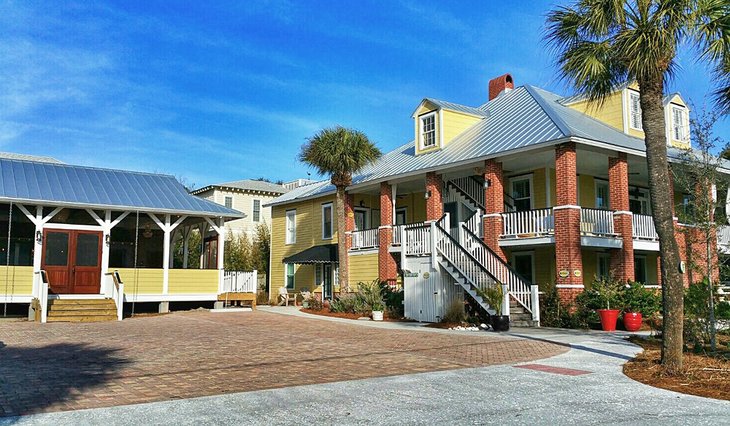 Accommodation: Beachview Inn & Spa
There is nothing like the stately grandeur of Southern architecture, and Tybee Island has some lovely examples. The Beachview Inn & Spa, for example, is housed in one of the more stunning stately homes on the island. Today, it is a 13-room inn defined by grand porches, soaking tubs, fireplaces, and an on-site spa.
The 13 rooms each have whimsical names, and each one is decorated in its own style. The Cove, for example, holds onto its original vibes, from the cleaned wooden floor boarding to the fun, beachy color scheme. In fact, the original fireplace is now used as the headboard.
The Ocean View room is part of the building's original structure, which dates back to 1910. It has a private veranda that faces the Atlantic Ocean and is marked by high ceilings and original wooden floors.
The inn features an on-site spa, as well, which has a menu of massage treatments, as well as a steam room and sauna.
Address: 1701 Butler Ave, Tybee Island, Georgia
9. Hotel Tybee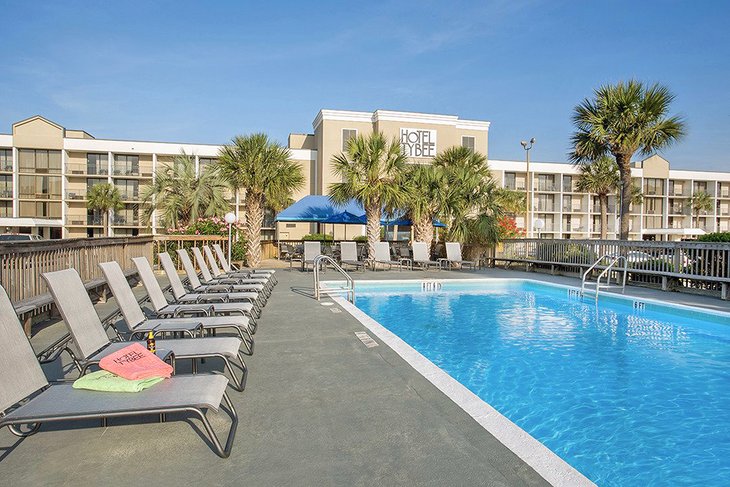 Accommodation: Hotel Tybee
Since 1889, this piece of property has been home to Hotel Tybee. The original was torn down in the 1960s to clear the way for the new, more modern building. And while the current property could use a touch of TLC these days, it still remains one of the most beloved hotels on Tybee Island, especially because it has prime beachfront access.
The very best part about the hotel is, of course, its location directly on the white-sand beaches, and Atlantic Ocean views. The hotel has 210 rooms, so if booking Hotel Tybee, be sure to book one of the ocean-facing rooms, as others can face the parking lot, which is decidedly less charming. The best rooms are on the higher floors, as they have ocean views and balconies.
Another perk to the hotel are its amenities, including two outdoor pools, a tiki-inspired lounge, bicycles, and beach chairs.
Address: 1401 Strand Ave, Tybee Island, Georgia
10. Royal Palms Motel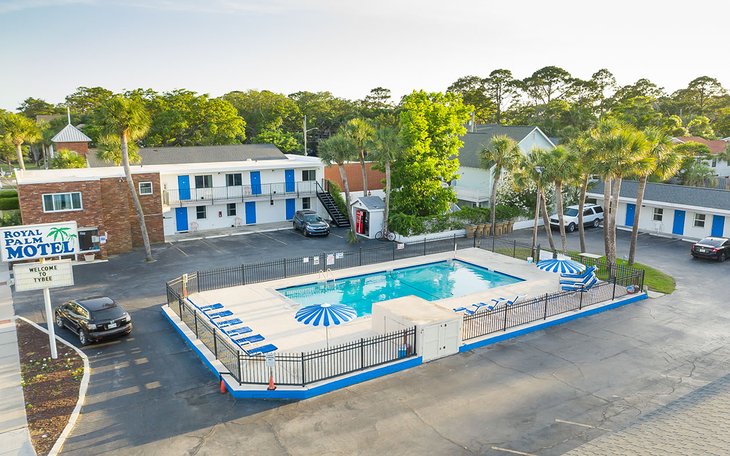 Accommodation: Royal Palms Motel
It can't be denied that Tybee Island has a thing for retro motels. But one in particular is really hamming it up and highlighting the island's time-honored past.
The Royal Palms Motel is a historic motel just 500 feet from the beach. It is decidedly retro in design, but has been glammed up to offer a Mad Men-meets-hipster vibe. Think light colors with accents of pale blues, pinks, peaches, and wood/gold.
The rooms come in four categories, from the Studio, which sleeps two, to the Suite, which sleeps six. Suites have two rooms, including two twin beds and a full-size sleeper sofa. The second bedroom has a double bed. Other amenities include free Wi-Fi, a kitchenette, and free parking.
The motel has a pool, as well, but its location near the beach and restaurants means you'll find most of the guests out and about.
Address: 909 Butler Ave, Tybee Island, Georgia
11. Atlantis Inn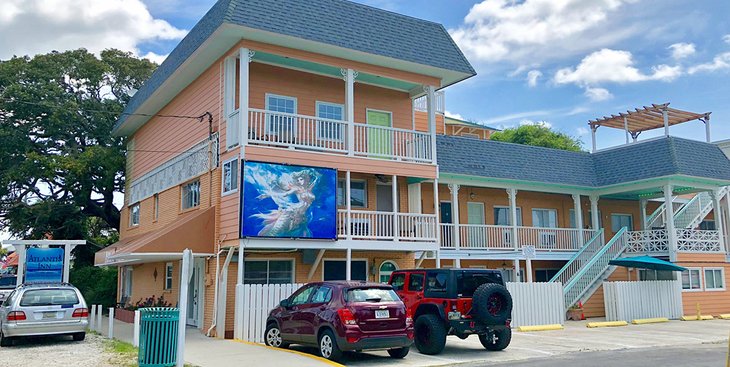 Accommodation: Atlantis Inn
Exuding vintage vibes, the Atlantis Inn Tybee Island is a throwback to the 1950s. Picture a flamingo-pink facade with powder-blue accents and vibrantly colored murals displaying scenes from the deep.
A blend between a bed and breakfast and a hotel, Atlantis Inn has rooms decorated in different styles, but each was designed to highlight the 1950s throwback, from patterned bedspreads and paintings to jungle print wallpaper.
When it comes to location, Atlantis can't be beat, as it's just 300 yards from the beach. It is also a few blocks from the famous Marine Science Center and Tybee Island Pier.
Address: 20 Silver Ave, Tybee Island, Georgia
12. Dunes Inn & Suites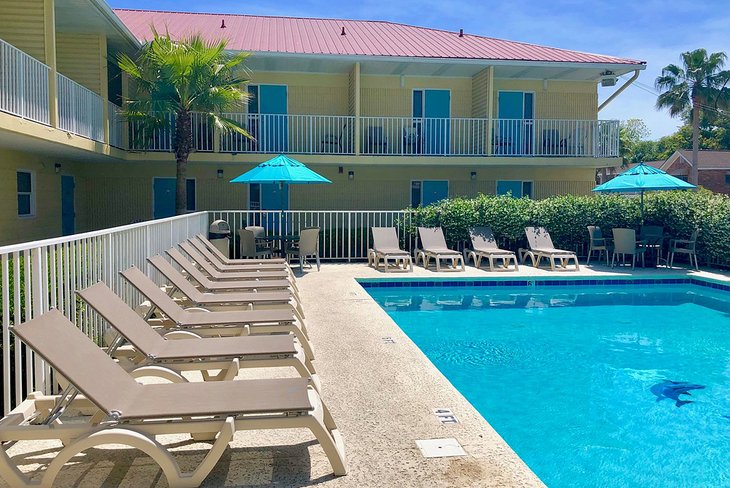 Accommodation: Dunes Inn & Suites
Tybee Island has no shortage of old-school motels, but if you're looking for a clean, convenient, and affordable option, you can't do better than The Dunes Inn & Suites. There's nothing outstanding about this motel – it has a pool in the center and exterior hallways – but it is walking distance to the beach and offers a complimentary breakfast.
The motel has 54 rooms, which are a bit dated in design, but are clean nonetheless. They are bright with free Wi-Fi, air-conditioning, microwaves, and mini-fridges. Suites have kitchenettes that include dishwashers and small ovens. Pets are allowed with a deposit.
The Dunes has a pool and is near the beach, but it is also a short walk to the area's main restaurants and shops, including the Tybee Island Pavilion.
Address: 1409 Butler Ave, Tybee Island, Georgia
13. Sandcastle Inn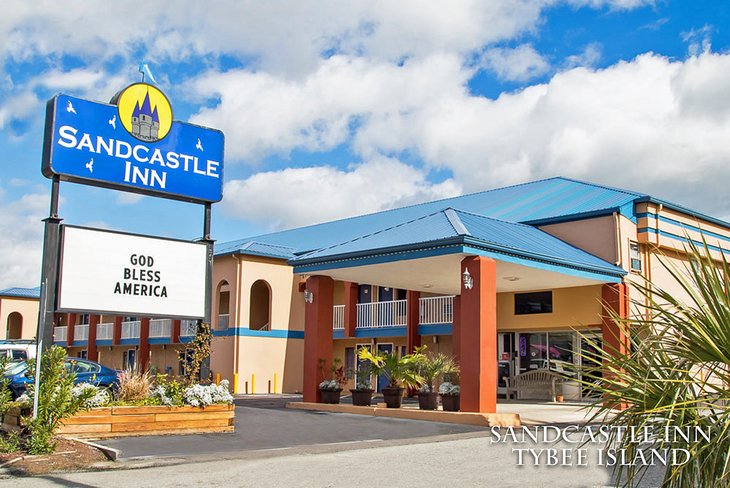 Accommodation: Sandcastle Inn
You'll quickly learn that Tybee Island has no shortage of clean, comfortable, and cost-effective hotels. Sandcastle Inn is no different. The friendly, no-frills hotel is a block from the Atlantic coast, as well as within walking distance to Tybee Island's best shopping, galleries, and restaurants.
Rooms are modern and clean with white linens and dark wooden accents, with pops of turquoise for color. Rooms are equipped with all the essentials, like hair dryers and coffee makers, as well as mini-fridges.
Other amenities include a free continental breakfast and an outdoor pool. It may not ooze personality, but if what you're looking for is a clean and budget-conscious place near the beach to rest your head, Sandcastle Inn does the trick.
Address: 1402 Butler Ave, Tybee Island, Georgia