10 Best Mountain Resorts in Georgia
It's easy to fall in love with Georgia, especially if you head to its most endearing place to visit—the mountains.
Known as "Mother Nature's Playground," this rugged area is filled with unmissable attractions, like shimmering rivers, towering peaks, and verdant valleys, all begging to be explored. Luckily, Georgia is also home to stellar mountain resorts that turn a mere visit into a true vacation.
These Georgia mountain resorts feature indoor and outdoor pools, spas, fabulous restaurants, and a list of activities as endless as their spectacular views. We're talking horseback rides, ziplining, canoeing, and fishing, not to mention mowing down on delectable farm-to-table dishes. Most are set in quaint small towns that add to their overt charm.
Whether you're searching for a romantic stay in a secluded, fireplace-lit cabin or a family-friendly cottage featuring a rocking chair-clad porch, you'll find it, and so much more, on our list of the best mountain resorts in Georgia.
1. Barnsley Resort, Adairsville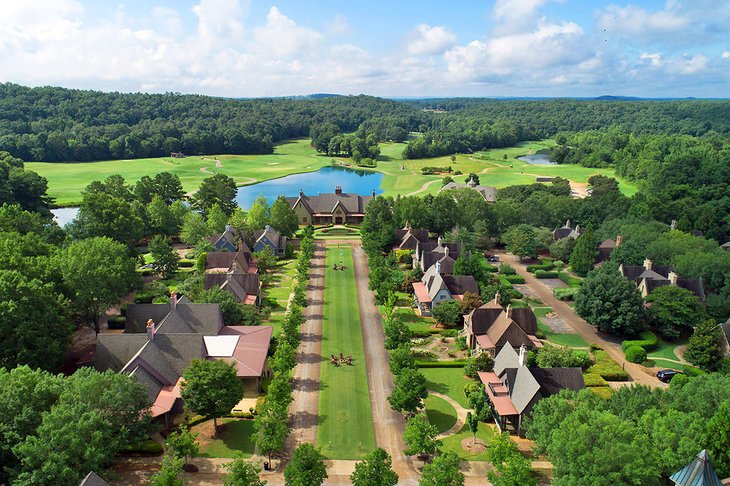 Accommodation: Barnsley Resort
It's easy to see why the Barnsley Resort is deemed one of the best resorts in Georgia. When it comes to spoiling its guests, Barnsley ticks all the necessary boxes. Plush, comfortable rooms? Check. Golf course? Check. Two top restaurants? Check. A spa with 10 treatment rooms. Check, check!
When you aren't lying prone on an uber-soft bed or reveling in the beauty of your surroundings, take a moment (or more) to enjoy the 3,000 acres of mountainous landscape at your fingertips. A fitness center, glorious gardens, a business center, three shops, and an outdoor swimming pool are also worthy of a visit.
Guests are given plenty of choices when it comes to their preferred accommodations at this fantastic Georgia mountain resort. There are 90 cottage rooms and suites to choose from and an additional 55 rooms in the inn.
The Arbor Cottage Suites are divine if you're willing to pony up the extra cash to enjoy a more exclusive stay that includes a living room, wood-burning fireplace, private front and back porch, a garden, and a sitting room, all spread within 1,056 square feet.
Don't worry if the cottage suite isn't in your budget. The inn's rooms are just as lovely, and feature king- or queen-sized beds, a coffee station, a mini fridge, and double vanity sinks.
Address: 597 Barnsley Garden Road NW, Adairsville, Georgia
2. Callaway Resort & Gardens, Pine Mountain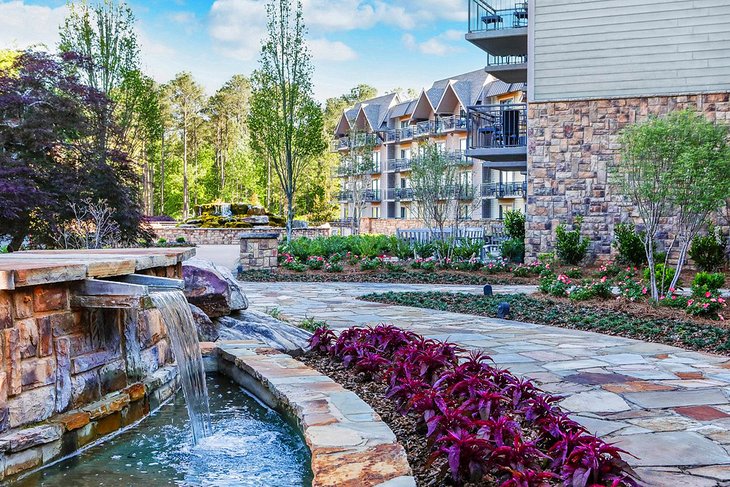 Accommodation: Callaway Resort & Gardens
Over 2,500 acres of a natural wonderland greet visitors to the Callaway Resort & Gardens in Pine Mountain. This AAA Four Diamond resort is chock-full of everything you'd expect from a first-class establishment. It boasts top-notch service, upscale amenities, a pool, hot tub, spa, and fitness center, as well as multiple dining establishments and room service.
Each of the 150 guest rooms is chic and modern yet comfortable, with stunning views of the Blue Ridge Mountains to be enjoyed from a private balcony. Upgrade to a suite to gain extra space, a living and dining area, a larger balcony, double vanity sinks, and a deep soaking tub.
Or up your vacation game even further by booking a two-bedroom cottage, which comes with a full kitchen, fireplace, and screened porch. Rent a bike to explore the trails, or simply walk them to enjoy the impressive landscape.
Your green thumb will tingle when faced with the spectacular Callaway Gardens. Admission is included in your nightly rate.
Address: 4500 Southern Pine Drive, Pine Mountain, Georgia
3. Lake Rabun Hotel & Restaurant, Lakemont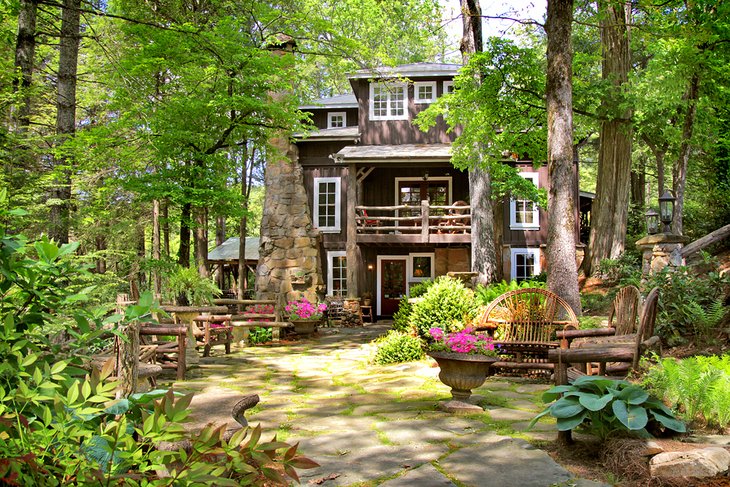 Accommodation: Lake Rabun Hotel & Restaurant
Lake Rabun Hotel & Restaurant is so quaint and charming, you'll be forgiven for thinking you've entered a fairy tale. Almost a century old, this adorable resort is surrounded by towering trees, the majestic Blue Ridge Mountains, and a sparkling lake of the same name. Told you it's pretty.
The 13 rooms are rustic and charismatic. They are highlighted with wood walls and floors, feature a private deck, and have a fireplace for added ambience. There's no mistaking your Georgia mountain locale. For the best views, choose a third-floor tree-top room. These are the newest in the resort and just as cozy as the others but with more outstanding vistas.
The Innkeeper's Cottage is a more private accommodation located next to the hotel. It dates to the early 1900s and has a large open living room, a log porch, period antiques, and eclectic local art to add more ambience.
The farm-to-table Lake Rabun Restaurant is a winner for those who enjoy their food. It's only open for dinner on Wednesdays through Sundays from April through November, and on Thursdays through Sundays between December and March. Sunday brunch is offered year-round.
With the lake set outside the door of the resort, you'll have easy access to swimming (the public beach is a few minutes away) and boat rentals from the marina (steps away).
Address: 35 Andrea Lane, Lakemont, Georgia
4. Mountain Laurel Creek Inn & Day Spa, Dahlonega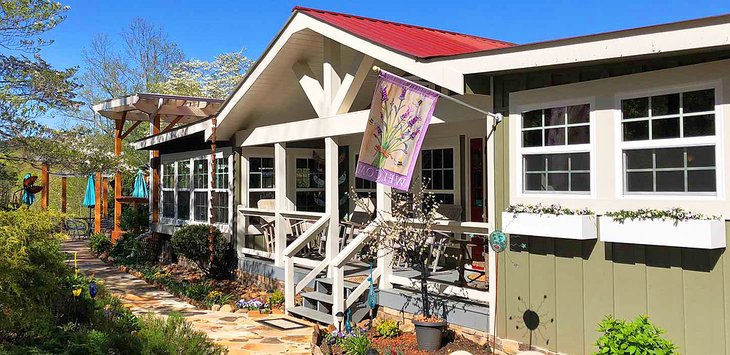 Accommodation: Mountain Laurel Creek Inn & Day Spa
If you're looking for a loved-up, romantic getaway, head to the Mountain Laurel Creek Inn & Day Spa. This Dahlonega resort is small, sweet, and uber-amorous. A kid-free environment means you'll be able to enjoy the quiet, while the lack of televisions in each room ensures your focus is only on each other.
Only seven guest rooms and one private cottage are available at this intimate resort, so you won't have to worry about elbowing others to get food at the restaurant or being awakened by noisy revelers during the night. The rooms are adorable and adequately sized, with a private bath, jetted tub, gas fireplace, mini fridge, and a queen or king-sized bed.
Despite its compact size in relation to other resorts on this list, this top Georgia mountain resort is also home to the Oasis Spa, which offers relaxing treatments, a dry sauna, showers, and an outdoor saltwater pool and hot tub.
Address: 202 Talmer Grizzle Road, Dahlonega, Georgia
5. Glen-Ella Springs Inn & Restaurant, Clarkesville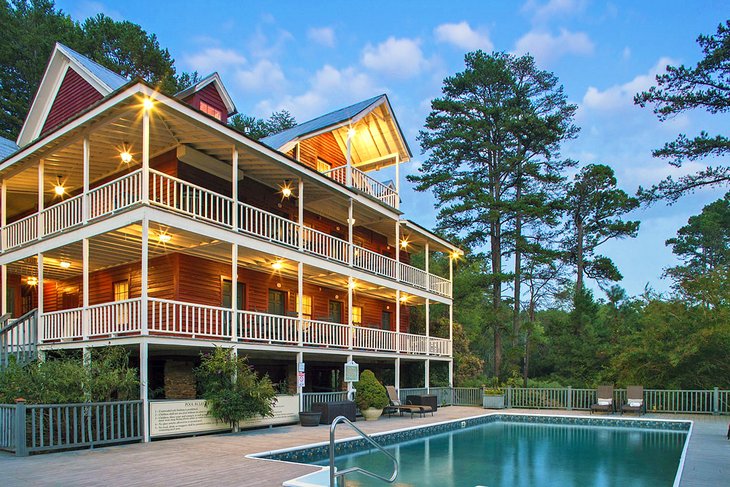 Accommodation: Glen-Ella Springs Inn & Restaurant
You're sure to find serenity during a stay at the historic Glen-Ella Springs Inn & Restaurant in Clarkesville. At this charming 16-room resort featuring an award-winning restaurant, you can expect service with a smile and views that continue for miles. Plus, breakfast is included, which is sure to make anyone happy!
Each room contains comfortable, locally made furniture in a rustic setting with wood constituting the central focus. These rooms are large, well-appointed for pleasing vistas, and boast comfortable beds and linens. Choose from a penthouse suite (the largest and most luxurious), a three-room suite, a king room, or a queen room, depending on your need to stretch out.
The resort is set on 17 acres of lush land in the foothills of the Blue Ridge Mountains, just 90 miles north of Atlanta, which is deemed one of Georgia's best cities. An easy location for a weekend trip, tourists are in for stunning views from pretty much every angle. There's a 12-acre meadow and a perennial flower garden to gape at during your wanders, plus a pool to jump in during the warmer months.
Rock your way to peace on one of the covered porches, warm yourself by the fire pit, or head out stargazing during your stay.
Address: 1789 Bear Gap Road, Clarkesville, Georgia
6. Amicalola Falls Lodge, Dawsonville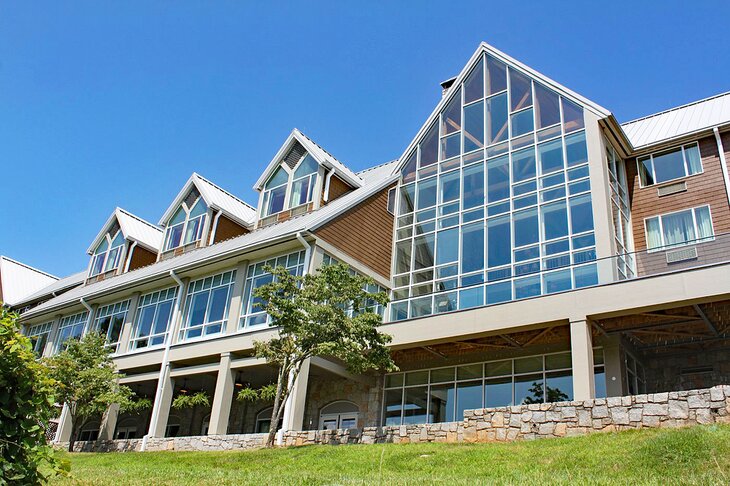 Classified as an adventure lodge, this mountain resort boasts multiple types of accommodations: guest rooms, private cabins, camping, and glamping facilities. All offer comfortable beds (except for the campsites, of course), but the cabins take things to the next level with gorgeous locations; one-, two-, or three-bedrooms; fireplaces; and outdoor decks.
Accommodation: Amicalola Falls Lodge
Amicalola Falls Lodge lies in the heart of the state park of the same name. Surrounded by captivating views and air so fresh that guests feel rejuvenated immediately, this lodge is an ideal place to visit with families in search of adventure.
The on-site Maple Restaurant is a hit whether you're planning to enjoy an early breakfast or sunset dinner while gaping at the mountain views.
The adventure comes in when guests leave their accommodations to explore the park that is literally at their fingertips. Activities include ziplining, animal meet-and-greets, a tomahawk challenge, guided hikes, archery, and a GPS scavenger hunt (for an extra fee).
Address: 418 Amicalola Falls Road, Dawsonville, Georgia
7. Brasstown Valley Resort & Spa, Young Harris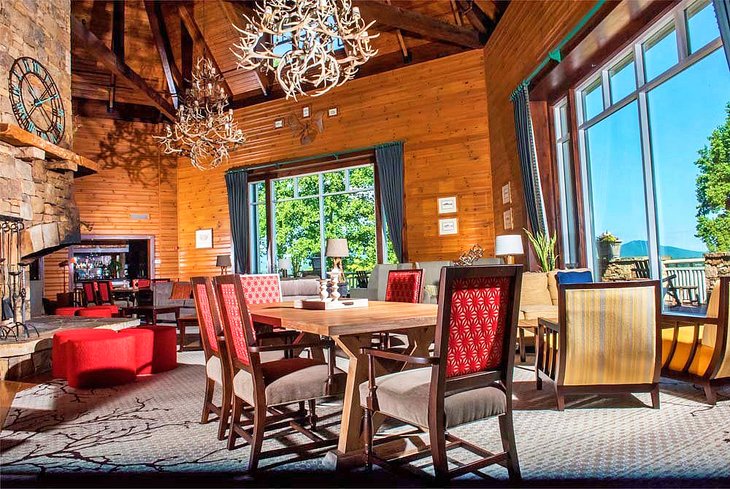 Accommodation: Brasstown Valley Resort & Spa
What's a mountain resort without its own equestrian area? Boring, that's what. Home to its own stables, the Brasstown Valley Resort & Spa offers guests one- and two-hour guided horseback trail rides for all levels. As if that wasn't enough to make you smile, this pretty resort is also home to a large 7,500-square-foot spa filled with services so wonderful, just the thought of them will cause your shoulders to relax.
Golfers will love the 18-hole championship golf course. Other popular activities include playing tennis, fishing (in the pond and stream), swimming in the indoor and outdoor pools, exercising in the fitness center, and hiking the area's eight miles of lush trails.
Kid programs can be enjoyed either with the whole family or with the resort staff, so parents can have a little alone time. Be sure to check the events planner for your dates to see if there are any fun concerts or activities planned. The resort offers special events throughout the year, especially around the holidays.
When it's time to rest, head to your private cottage for a quiet respite. The eight cozy cottages on offer contain everything you need to feel at home: separate bedrooms, a wood-burning fireplace, a gas grill, a kitchen, and a living room. Those in less need of space can opt for one of the 102 guest rooms set within the Lodge. These have a microwave, fridge, and coffee maker.
Address: 6231 US Highway 76, Young Harris, Georgia
8. Stone Mountain Manor, Stone Mountain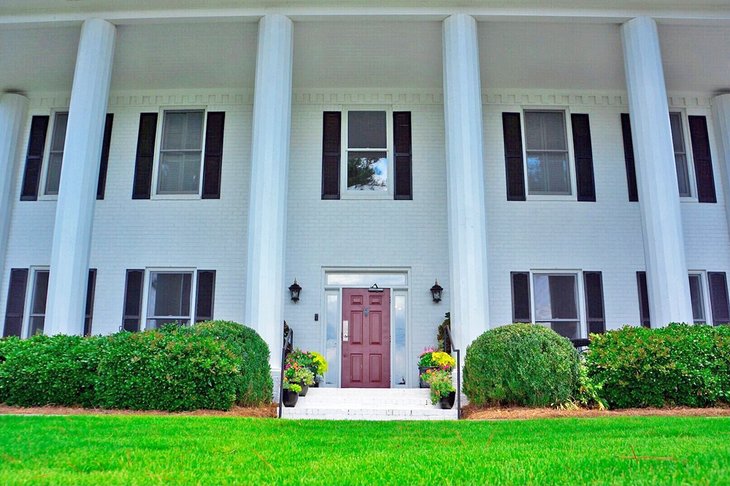 Accommodation: Stone Mountain Manor
The main attraction in Stone Mountain Park is the giant mountain of quartz monzonite that rises above the verdant forest. This 3,200-acre park, not far from Atlanta, is also home to the beautiful Stone Mountain Manor.
A quaint inn, this small boutique resort has eight large manor guest rooms on offer. Guests can book the room on its own, or the manor guest room with a spa, which includes a deep soaking tub.
This is a romantic spot to enjoy a quiet getaway in the gorgeous grounds; only those older than 10 are invited to stay. A Family Suite is on offer for parties of four. Breakfast is included in your room, as are soft linens, Wi-Fi, and a mini fridge. Add a snack tray, bouquet of flowers, or spa bag to enhance your stay.
Traveling with a large group? Guests are welcome to rent the entire manor, which can host up to 20 people (with rollaway beds) in the eight rooms.
On-site, you'll find a pool, gazebo, furnished front porch, and, of course, the impressive grounds, and access to Stone Mountain Park.
While there's no restaurant on-site, that included breakfast we mentioned is considered gourmet, which counts for something. Also, there's a large chef's kitchen that can be used if you rent the entire manor.
Address: 1037 Main Street, Stone Mountain, Georgia
9. Forrest Hills Resort, Dahlonega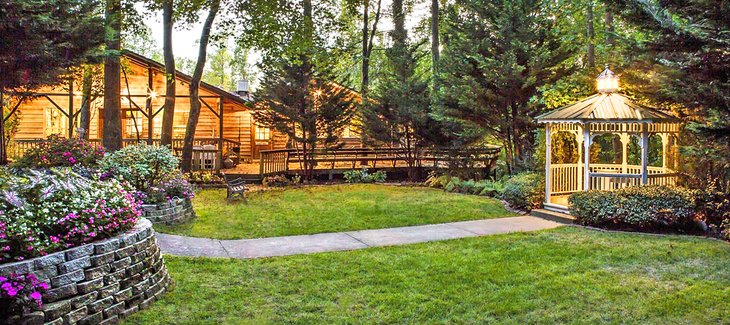 Accommodation: Forrest Hills Resort
Leave city life behind in favor of a quiet respite at the Forrest Hills Resort in Dahlonega. It's home to 140 acres of mountain landscapes set in the foothills of the Blue Ridge Mountains. You'll feel at ease the moment you step foot on these glorious grounds.
Rustic cabins and lodges house a total of 85 comfortable rooms, and there are seven meeting rooms on-site if you're hoping to find a spot to host your next company retreat. Four dining rooms are located here, which means you won't have to worry about quelling those hunger pangs.
Each cabin comes with its own hot tub and fireplace, which enhances the romantic mood and makes it almost impossible to feel stressed. Bi-level king suites include a Jacuzzi tub, private balcony, fireplace, kitchenette, and sitting area. They're located in the Mountain Laurel Inn.
The Wilderness Lodge plays host to large king rooms with balconies, a garden tub with two jets, a private bath, and a kitchenette.
Add some passion with a visit to the Secret Garden Dining Room, a candlelit, adults-only haven with tastebud-pleasing food. Book an in-room couples massage if you're hoping for even more amorous relaxation.
In terms of activities, you'll find a swimming pool, tennis courts, horse-drawn carriage rides, and horseback riding on offer.
Address: 135 Forrest Hills Road, Dahlonega, Georgia
10. Dillard House, Dillard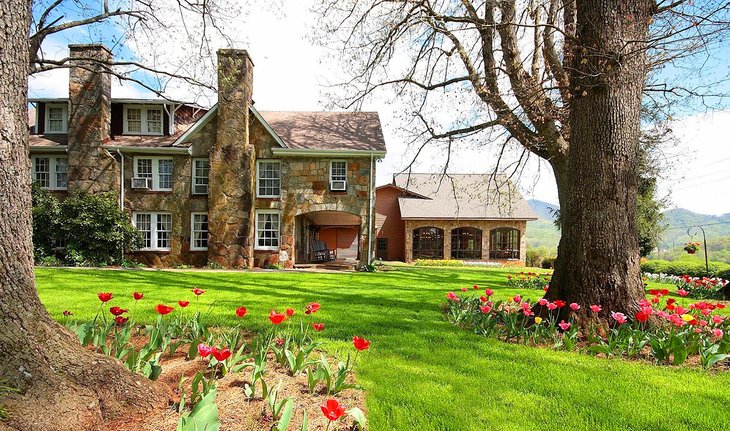 Accommodation: Dillard House
Dillard House is unique in that it offers a vast array of accommodation options. Whether you're looking for a cute yet luxe room at the Dillard House Inn or a two-bedroom cottage, you'll find it here.
The Chalet Village lies two miles from the main Dillard House, offering families and larger groups a one-stop shop for fun. It comes with a pool, hot tub, and a pond fully stocked with trout. It boasts cabins and chalets with fully equipped kitchens, stone fireplaces, private decks complete with rocking chairs, and outdoor grills.
Horse stables, a restaurant, and a wide variety of on-site activities are on offer to ensure everyone has a good time. Little ones will get a kick out of the petting zoo and carriage rides, while older visitors will enjoy horseback riding, hiking, and fishing.
Address: 768 Franklin Street, Dillard, Georgia
Map of Mountain Resorts in Georgia