12 Best Travel Bags
One of the easiest ways to make travel stress-free is having the right luggage. Whether it's weekend trips visiting relatives or extended tours in foreign countries, a travel bag has real influence on what resources can be packed.
While many top-rated travel bags offer optimal space, other great travel luggage characteristics to consider include durable design, intuitive organization, and maximum mobility. Travel backpacks like the Osprey 40 are versatile enough for all types of travel, and hard-side spinner options like the Omni PC series from Samsonite will protect your belongings for years to come. Find the best options with our list of the best travel bags for 2019.
Best Travel Backpacks
Osprey Farpoint 40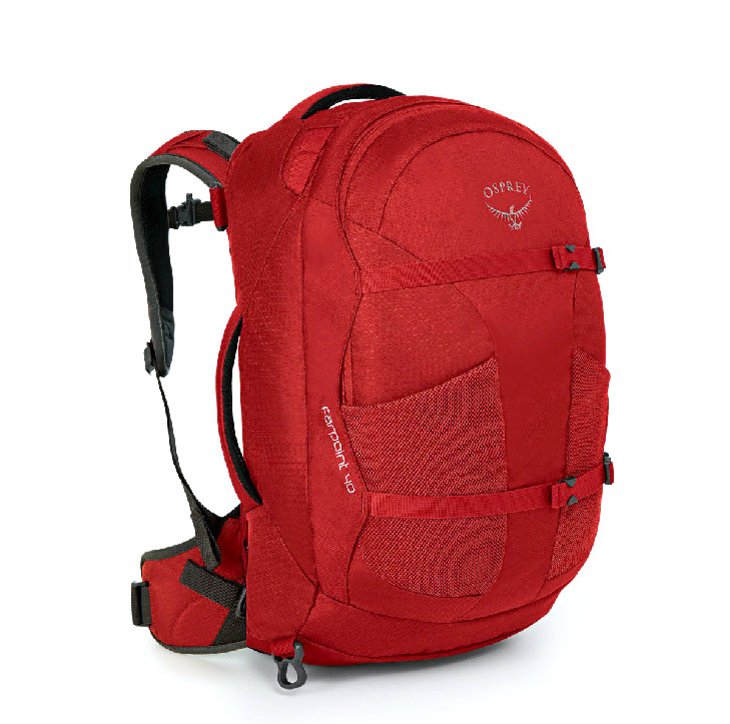 Featuring compression straps and a capacity up to 40 pounds, a large zip panel accesses the main compartment of this durable backpack for easy retrieval. Alongside the spacious main compartment of the Farpoint 40, a lockable laptop sleeve ensures safe transportation for technology and a scratch-free top pocket is perfect for frequently used valuables like sunglasses and wallets.
Ideal for weekend trips or traveling across Europe, the harness and hip belt of the Farpoint 40 provide a comfortable support system and can be stowed behind an additional zippered panel for easy storage in transit.
More Info and Prices: Osprey Farpoint 40
Cotopaxi 24L Travel Pack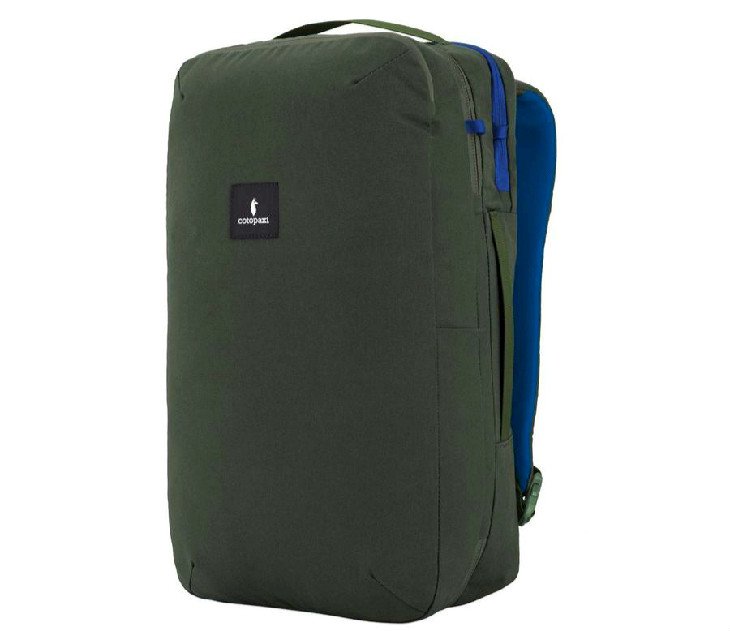 With a slim profile and plenty of storage, the Nazca Travel Pack from Cotopaxi is the perfect companion for a weekend trip. With a stylish backpack design, the Nazca has a suitcase-style opening that makes organizing and accessing luggage easy. Some of the best reviews for this lightweight travel backpack come from the way the durable canvas material stands up to the gamut of travel abuse.
The well-padded straps of the Nazca provide comfort when carrying, and the suspension system's tuck-away feature makes for an easy fit in a trunk or overhead bin.
More Info and Prices: Cotopaxi 24L Travel Pack
Kelty Redwing 50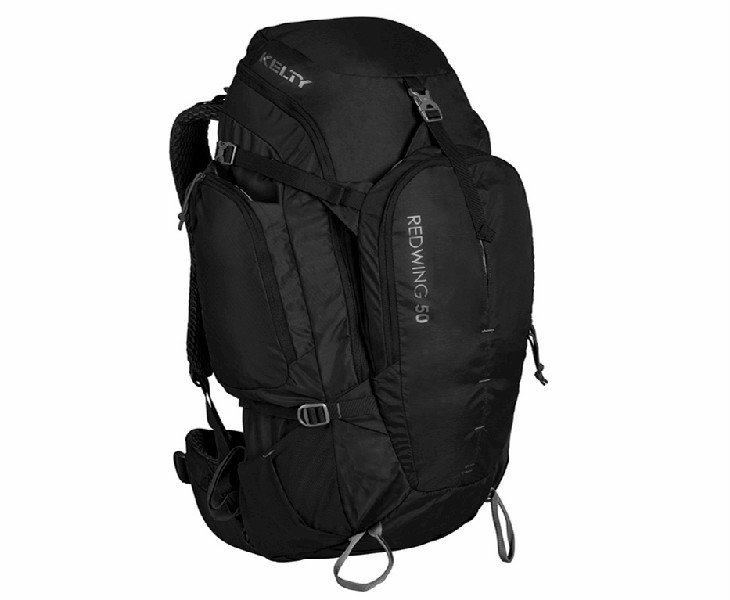 From city streets to desert canyons, the Redwing 50 from Kelty is built for the long haul. The patented PerfectFIT™ suspension system of the Redwing 50 helps distribute the load, and the Dynamic AirFlow back panel prevents excess moisture from accumulating. Easily adjustable for a perfect fit, the Redwing features a hybrid zipper system that allows for either top-load or panel access to luggage items, and an additional stash pocket is perfect for often-needed gear like wallets, keys, cellphones, and maps.
More Info and Prices: Kelty Redwing 50
Best Hard Cover Luggage
Samsonite Omni PC 24" Spinner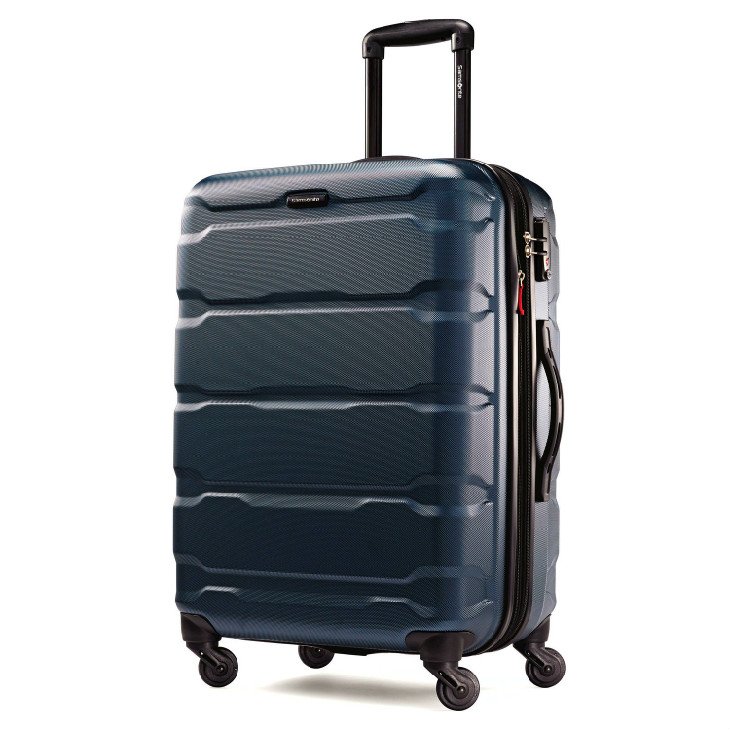 With a micro-diamond texture impermeable to scratches and dents, as well as a TSA-compatible lock, the Omni PC line from Samsonite is meant for those who like to travel with security. The Omni PCs are built for ease, too, with 360 spinner wheels and a push-button handle that makes luggage glide for no hassle transportation.
An internal full-zip divider and cross straps keep clothing and accessories in place during travel, and at just over eight pounds, the Omni PC 24-inch Spinner provides guaranteed protection while not sacrificing valuable weight.
More Info and Prices: Samsonite Omni PC 24" Spinner
Victorinox Spectra 2.0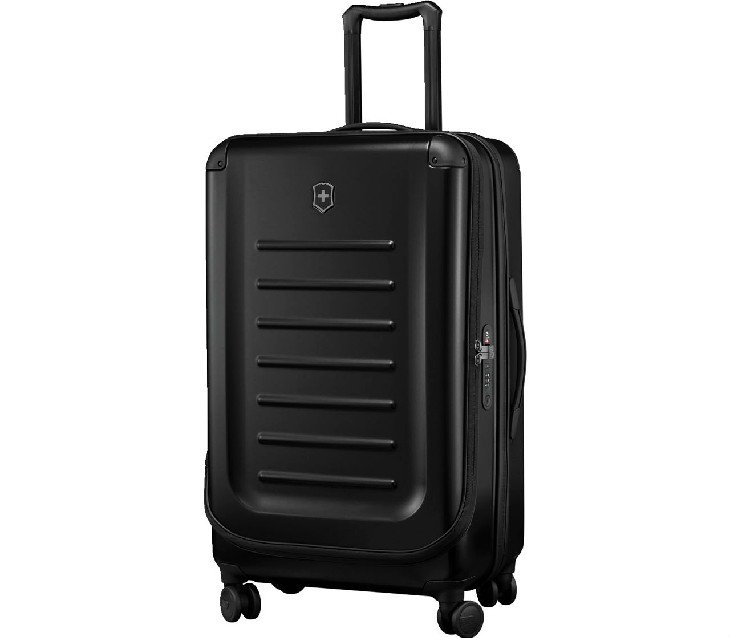 For a suitcase to count on for years to come, the Victorinox Spectra 2.0 features an ultra-strong polycarbonate shell that lives up to a full-time travel schedule. The dual caster wheels alongside the adjustable handle makes transporting this luggage easy, and the TSA-approved lock often receives high ratings for its durability and functionality.
Other strong points of the Spectra 2.0 include the internal organization of the suitcase, which features a split-case design with a full zip mesh door and Y-shaped compression straps.
More Info and Prices: Victorinox Spectra 2.0
Travelpro Maxlite 5 29-inch Expandable Hardside Spinner Luggage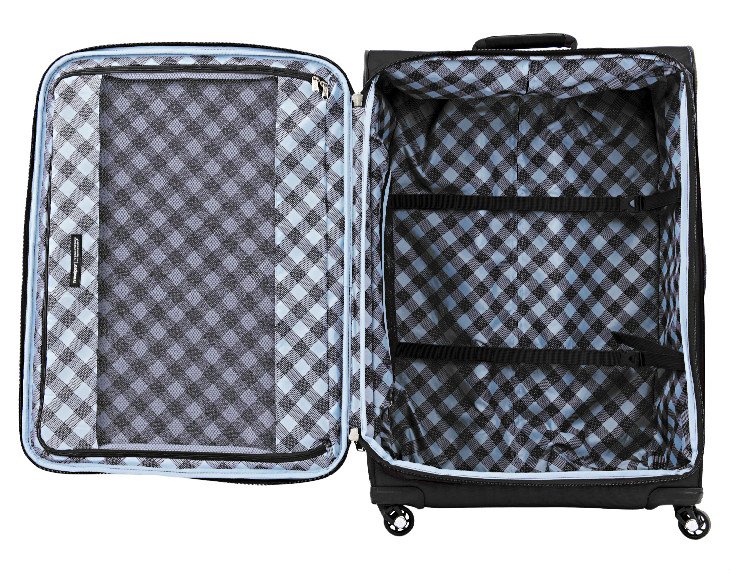 Designed for long trips or multiple people packing a single suitcase, the Maxlite 5 Hardside Luggage from Travelpro is built to last against airline abuse. The polycarbonate shell is immune from cracks or splitting, and molded corner guards help prevent damage to often abused areas.
Despite its large capacity, the 360-degree spinner wheels and height-adjustable PowerScope handle make this luggage slide across sidewalks and transit terminals, and the dual-compartment interior makes organizing a large packing list easy.
More Info and Prices: Travelpro Maxlite 5 29-inch Expandable Hardside Spinner Luggage
Best Soft-Sided Luggage
Skyway Mirage 2.0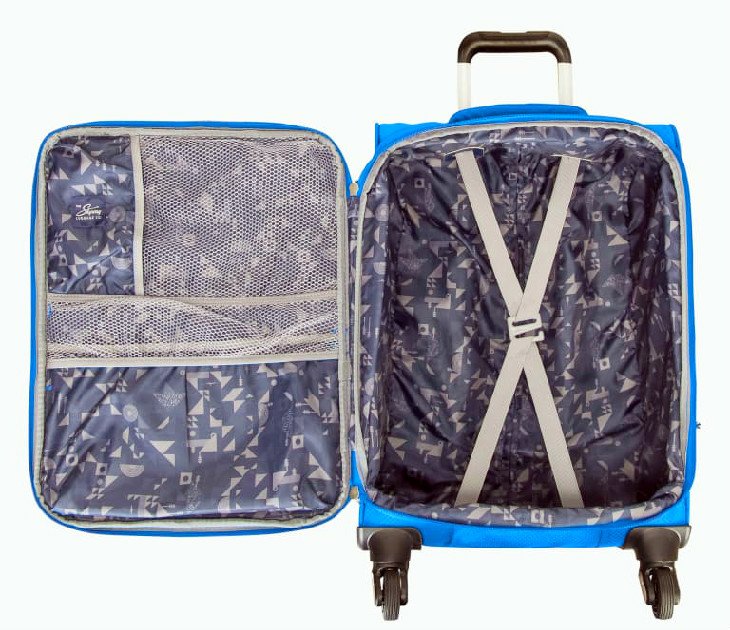 Brought to you by The Skyway Luggage Company, the stylish soft-sided Mirage 2.0 is the perfect flying companion. Available in a variety of sizes, the 28-inch model features an extra roomy main compartment with an available expansion of 2.5 inches.
The ripstop polyester of the Mirage 2.0 lasts well beyond the limited five-year warranty offered by The Skyway Luggage Company, and customers tend to appreciate the lightweight design and easy mobility thanks to the retractable trolley handle and sturdy spinner wheels.
More Info and Prices: Skyway Mirage 2.0
SwissGear Scion 29"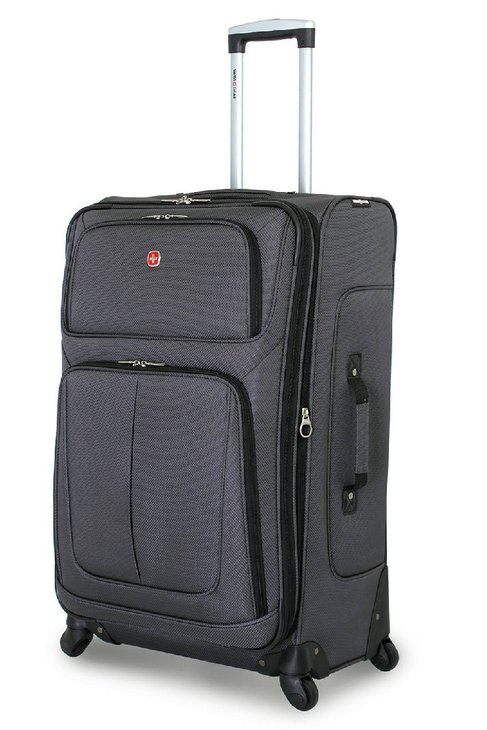 A good mix of value and long-lasting construction, the Scion 29-inch spinner suitcase from Swissgear is a popular piece of luggage seen on carousels across the country. It's not just the affordable price that makes this soft-sided luggage a common sight, it's the durable and scuff-resistant design that keeps the Scion in travel plans for years to come.
Alongside an expandable and large main compartment, the Scion also features a removable liquids pouch, a large mesh pocket, and two front panel pockets for extra organization.
More Info and Prices: SwissGear Scion 29"
Samsonite Aspire XLite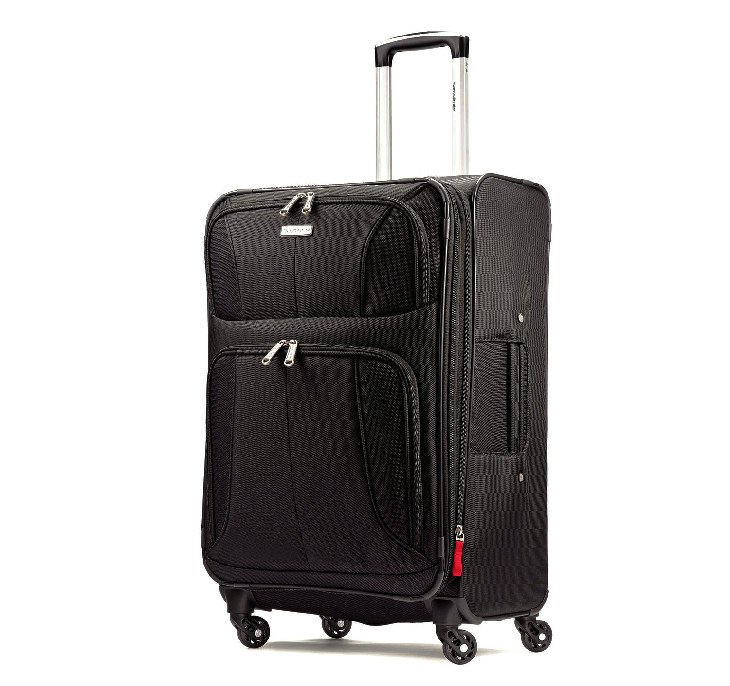 A dependable soft-sided suitcase from a reputable luggage company, the Aspire XLite 25-inch from Samsonite features a unique polyester and steel-frame construction that makes for a strong and flexible shell.
Built for extra space and organizational ease, the Aspire XLite expands for additional carrying capacity and interior pockets, and compression straps keep everything in place.
Known for its effortless mobility, the multi-directional wheels and adjustable trolley bar make the Aspire XLite extremely mobile.
More Info and Prices: Samsonite Aspire XLite
Best Carry-On Luggage
Briggs & Riley Sympatico International Carry-On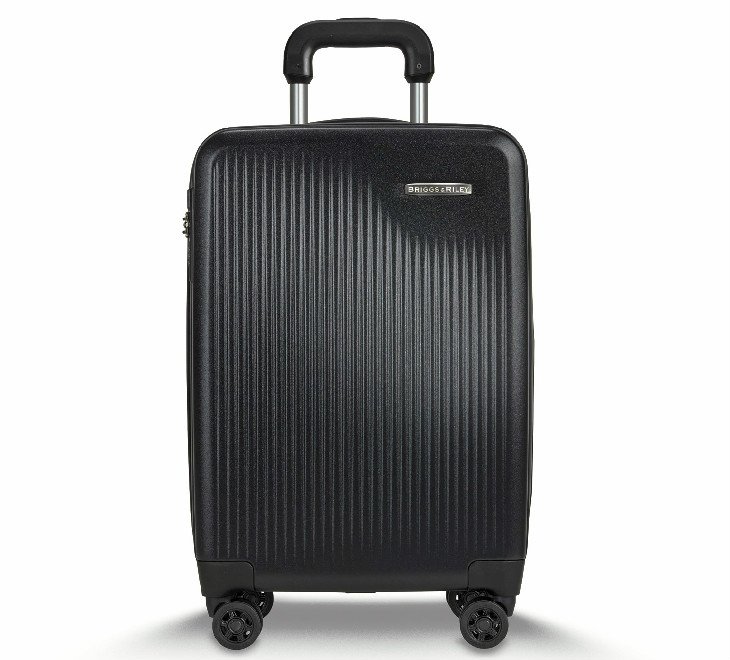 Featuring a lifetime warranty that includes airline damage, the Sympatico International Carry-On spinner luggage has been put through thousands of travel miles. This carry-on suitcase features CX™ technology to allow for a 22 percent expansion, and the aircraft-grade aluminum handle and wide, tilt-resistant wheels of the Sympatico make transporting the suitcase simple.
The TSA-approved lock keeps all contents secure, and by far the most positive feedback for the Sympatico is the years and years this suitcase lasts.
More Info and Prices: Briggs & Riley Sympatico International Carry-On
Lowepro HighLine RL x400 AW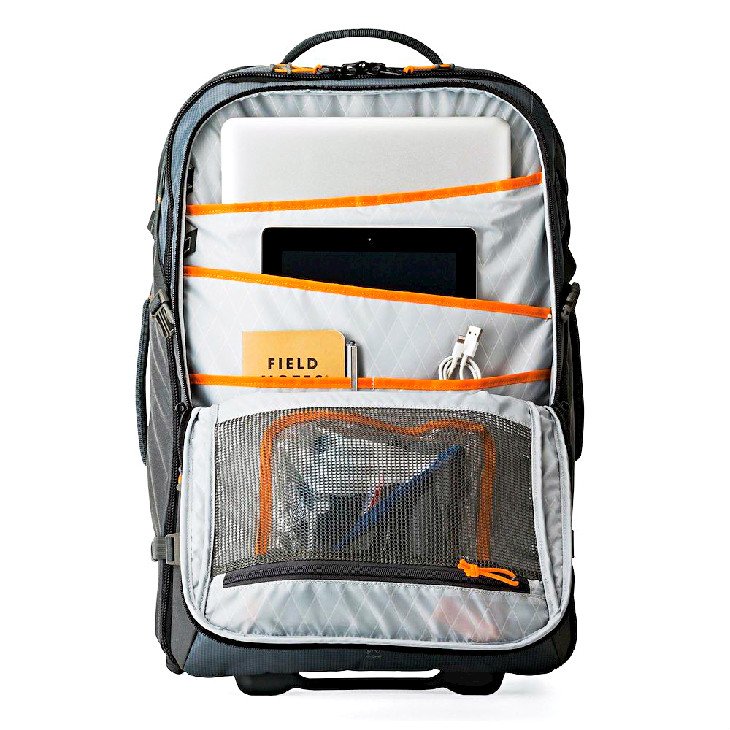 A technologically advanced piece of carry-on luggage, the HighLine RL incorporates the same padding material that has made Lowepro the leading camera-bag manufacturer they are today. Featuring a weatherproof and durable fabric, the interior of the HighLine includes a clothing packing cube, a designated pouch for liquid storage, and a CradleFit™ compartment that is perfect for laptops and tablets.
The front panel of this carry-on pack zips down for easy access to necessary travel items like phones, books, and plane tickets, and the treaded wheels go well beyond ordinary sidewalks.
More Info and Prices: Lowepro HighLine RL x400 AW
Genius Pack G3 22" Carry On Spinner Luggage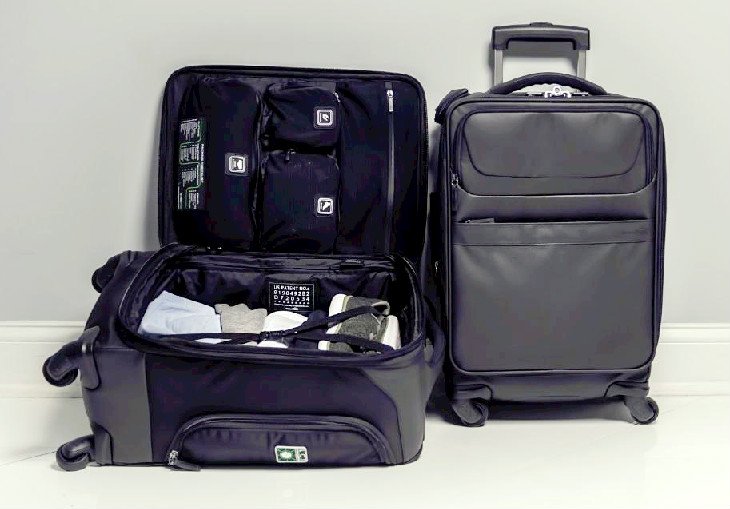 For maximum organization in a carry-on bag, the G3 22-inch from Genius Pack features some of the latest innovations in luggage technology. With more than 17 unique features including a top jacket-strap; a durable honeycomb frame design; and designated compartments for socks, chargers, and undergarments; the G3 also features a laundry compression compartment to stow dirty clothes during travel.
Approved for carry-on and constructed to provide maximum storage space, the G3 from Genius Pack means users can leave checked luggage at home.
More Info and Prices: Genius Pack G3 22" Carry On Spinner Luggage