Best Time to Visit Bora Bora
The "Pearl of the Pacific," as Bora Bora is often referred to, is one of the most romantic and breathtaking destinations in the world, with its overwater luxury bungalows, lush hillsides, and secluded beaches. This South Pacific gem, which is part of the Society Islands, is blessed with a jungle interior and encircled by a vibrant turquoise lagoon. It's a sought-after destination for honeymooners, families, and adventure seekers.
Located 273 kilometers from Tahiti in the Southern Hemisphere, this 28-kilometer-long French Polynesian island experiences two seasons: wet and dry. Wet season is from November to April. The best time to visit Bora Bora is during the dry season (which is also its peak season) between May and October, where you can enjoy the sunny weather and water sports, swim with marine life, and feed sharks and rays in the lagoon.
You can explore the natural beauty of the island's green spires of Mt. Otemanu and Mt. Pahia on trails or on jeep tours, go on a hunt for the coveted black pearl created by the black-lipped oyster, and retreat to your overwater bungalows after a delicious French-inspired meal.
Best Time of Year to Visit Bora Bora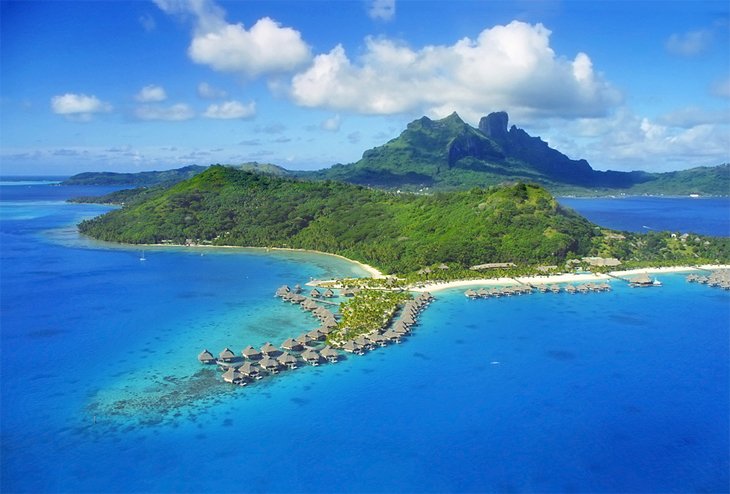 Because the island is in the Southern Hemisphere, the seasons are flipped, so if you are in the Northern Hemisphere and are looking to get away during your summer holiday anytime between June through August, it's winter in Bora Bora, and you will find pleasant weather with low humidity.
While those in the Northern Hemisphere look forward to warm summer months, the people of Bora Bora eagerly await winter months, when it's cooler and drier after experiencing months of hot and wet weather. And cooler doesn't necessarily mean cold. The temperatures are still around 75 to 80 degrees Fahrenheit (23 to 26 degrees Celsius) as opposed to the high 90s Fahrenheit.
This is also the most popular time of the year to visit Bora Bora, and scores of tourists descend upon the small island, so make sure to book your flights, hotel rooms, and tours well in advance. Prices are also higher during this time, so if you don't mind paying the hefty prices, the dry season is a good bet. You can explore the island's jungle interior, spend your days lazing on sandy beaches, and take advantage of the trade winds to enjoy wind sports like parasailing and kitesurfing in the lagoon.
July: When visiting in July, keep in mind that the island has a month-long festival of Heive I Bora Bora, where the streets and the markets of the largest city of Vaitape celebrate French Polynesian culture with floral decorations, dancing competitions, beauty pageants, musical shows, and feasts of local foods. Even the resorts and hotels join the fun with their own celebrations and presentations of traditional sports and craft demonstrations. There will also be reenactments of Polynesian ceremonies at maraes (sacred communal spaces).
Originally created in celebration of Bastille Day, a reminder of Bora Bora's French connection, this festival now has exciting events like javelin-throwing contents, fire walking, and outrigger canoe races that keep the crowds entertained throughout the month.
If you are feeling adventurous, the Raid Anei Bora Bora hiking event takes you on a steep climb up to the jungle interior, with incredible panoramic views all around.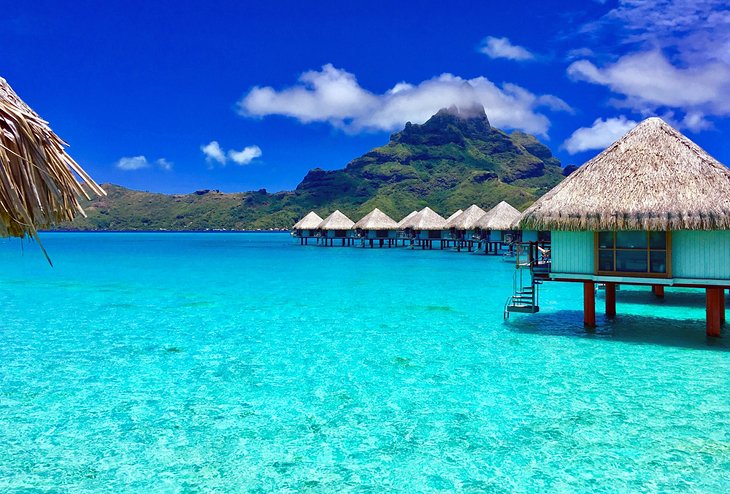 Although the wet season officially lasts from November to April, these two shoulder months make the best time of the year to visit Bora Bora. The weather is still near perfect with temperatures around the mid 70s to mid 80s Fahrenheit (20s Celsius), and there will be fewer visitors during this time. The prices are also 10 to 20 percent cheaper, and some of the resorts like the Four Seasons Bora Bora and Le Meridien Bora Bora have discounted deals. Many of the restaurants and tours also run discounts to encourage customers during these slower months.
November: If you are visiting around late October and early November, you will be here during prime festival season. The annual Hawaiki Nui Va'a, celebrated from the end of October to the beginning of November in the Leeward Islands archipelago, brings together athletes for an international championship outrigger canoe race. They travel through Huahine, Raiatea, and Taha'a, and end in Bora Bora at the gorgeous Matira Beach. Crowds gather to welcome the participants and celebrate Polynesian customs and traditions with regional food, song, and dance. Also in October, the island hosts stone-throwing competitions, celebrating the French Polynesian art of herding fish by beating stones tied to coconut fiber on the surface of the water.
Towards the end of November, the celebration of Matarii Nia takes place, celebrating the ancient religious practices of the Polynesian natives. There'll be traditional dancing, singing, and abundant food.
Dry Season in Bora Bora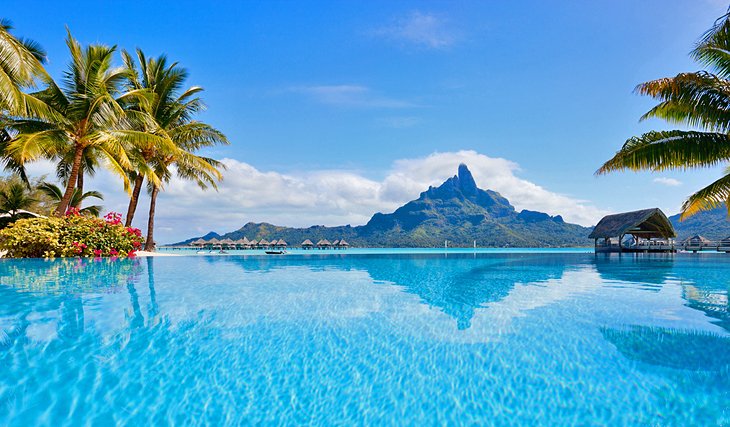 Dry season, between the months of May and October, is arguably the best season to visit Bora Bora, when the temperatures are around 75 degrees Fahrenheit (24 degrees Celsius), and the humidity is low. Clear skies and pleasant weather make hiking the island's jungle interior, and beach-hopping, more fun. Though June to August see the most number of visitors because of families from the Northern Hemisphere, they are the best months in terms of weather and festivities on the island.
Cheapest Time to Go to Bora Bora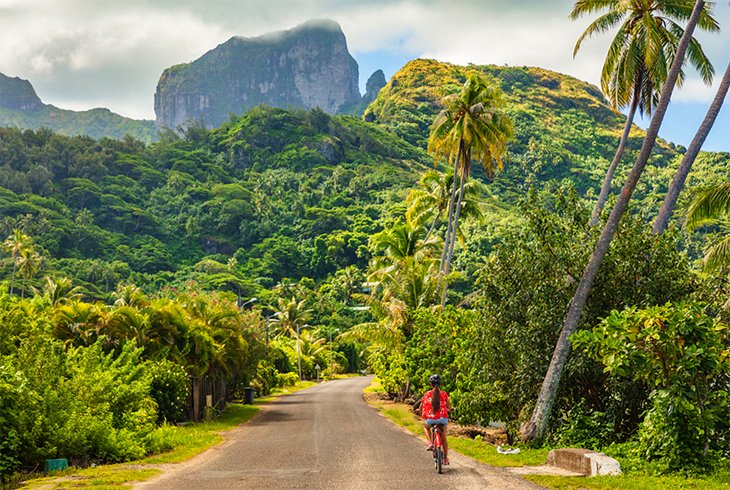 While you may have to contend with mosquitos, you will be content with having spent less for your Bora Bora vacation when you visit during the off season. Between October and May is Bora Bora's low season and also the hottest time of the year, with temperatures in the 90s Fahrenheit (30s Celsius) and high humidity. But if you don't let bugs and high temperatures get in your way, you can certainly enjoy the scenic beauty and refreshing swims in crystal-clear waters during this time.
Additionally, you can witness the Tahiti Pearl Regatta, happening in mid-May. This multi-day sailing regatta, travels through the Leeward Islands and ends with fire dancing, music, and food.
If you are a marathon runner planning a vacation around a race, the Tahiti-Moorea Marathon, happening at the end of March, is one of the most scenic races you will ever run. You will be running 26 miles (41 kilometers) around Tahiti's sister island of Moorea, along with 1,500 other participants.
Best Month to Visit Bora Bora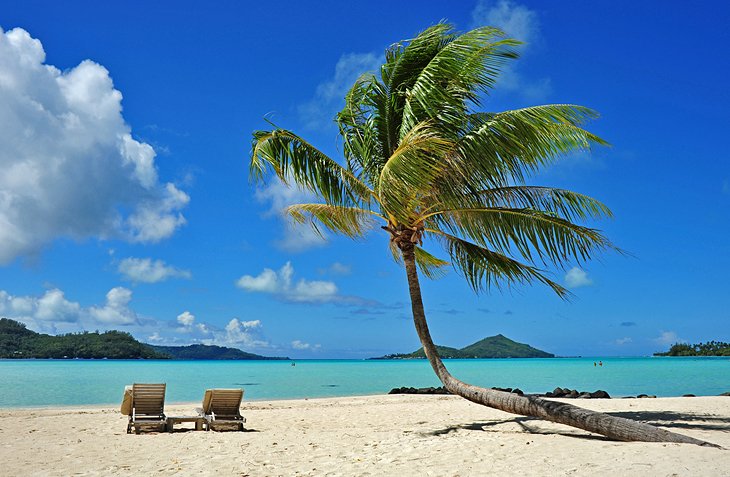 August: August is the driest and the best month to visit Bora Bora. There will be no more than two inches of rain, and temperatures are at their lowest, making it ideal weather to spend all your day outdoors enjoying the natural wonders of the island. Since August is in the middle of the peak season in Bora Bora, it will be swimming with vacationing families enjoying their summer holidays, but it also means more options for entertainment, dining and excursions.
Worst Time to Visit Bora Bora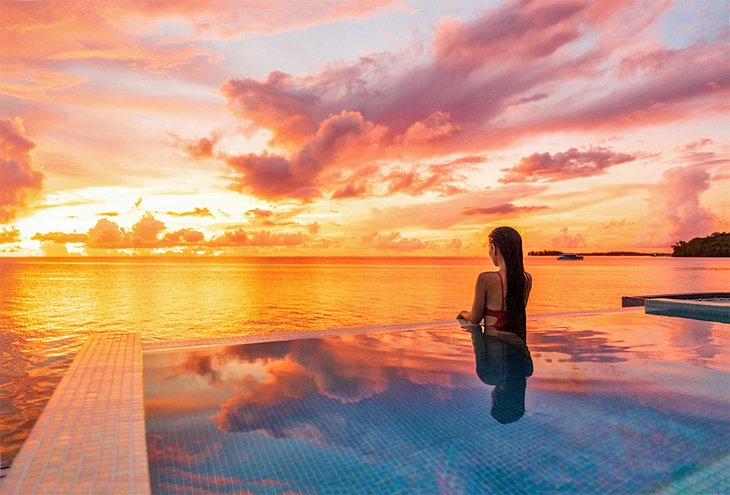 December: December is the worst time to visit Bora Bora - it's in the middle of the wet season, monsoon rains batter the island, and overcast skies greet you upon arrival at Motu Mute. The air is uncomfortably humid and makes activities like hiking unpleasant. But if you find yourself on the island, keep in mind that you will be here with people traveling during their chilly Christmas holidays.
However, there are a few perks of visiting in December. You can enjoy stunning sunsets following the rains and bear witness to the Bora Bora Liquid Festival, taking place mid-month. It brings local aquatic athletes to compete in the lagoon in activities such as outrigger racing, surf-skiing, stand up paddleboarding, and swimming. In the evenings, visitors can participate in fun activities and beach gatherings and enjoy barbecues and dancing.
Va'a Bora Bora is another outrigger canoe race, happening at the beginning of December, featuring local and international rowers partaking in this French Polynesian sport. Of course, you can have a beautiful white-sand Christmas on the island and enjoy the many parades, fairs, and gatherings at the resorts that the festive season brings.
Best Time to Go Snorkeling and Diving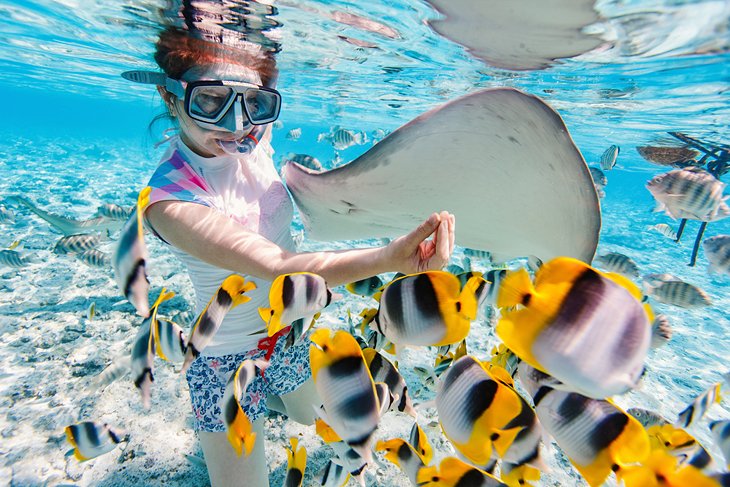 Bora Bora's lagoon is a marine lover's dream come true, with a kaleidoscope of colorful fish, rays, turtles, and reef sharks swimming in warm waters. If you've never snorkeled, the shallow waters of the lagoon make it easy for beginners to see the reefs and their inhabitants. You will likely encounter clear waters in the winter months between May to October, but be aware that the driest months of June, July, and August can experience trade winds that may ruffle the sea a bit.
One of the most popular activities on Bora Bora is an excursion involving sightings of blacktip, reef, grey, and lemon sharks, and hanging out with rays in waist-deep, clear water. A lot of local outfitters offer these tours via resorts during both seasons. There are also plenty of opportunities to learn to dive and explore dive sites outside of the lagoon.
Best Time for Whale Watching in Bora Bora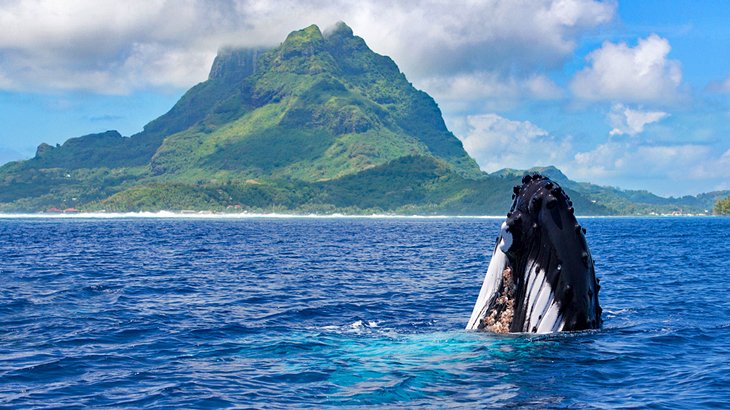 You may not have expected to see humpback whales near Bora Bora, but these mammals come from the Antarctic waters to the warm waters of French Polynesia between the months of August and October to breed and raise their calves. The waters surrounding the island are free from predators and provide protective grounds for the babies to thrive.
The best time to see whales in abundance is around September, especially during the Maraamu SurfSki race. Since whale season coincides with peak season on the island, you will have your pick of tours to go witness these animals in the wild, with Teavanui Pass being the most visited. On your excursion, you can hear the haunting songs of the male humpback whales, and boats equipped with hydrophones can help you listen to these complex songs onboard.
Best Time to Cruise to Bora Bora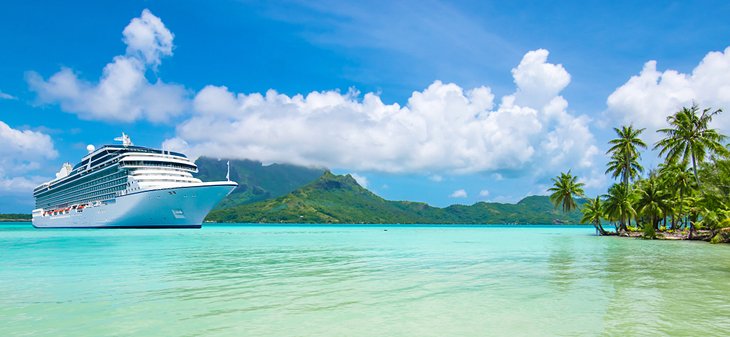 The best time to cruise to Bora Bora and the other islands of French Polynesia is during the dry season, between May and October. With land stays being expensive, cruising presents a more affordable choice to experience the South Pacific in comfort. You can opt for an island-hopping cruise or a repositioning cruise, depending on how much time you have (and if you can handle being out at sea for longer periods).
Transpacific repositioning cruises, happening when cruise lines move their ships between seasons from Alaska, Vancouver, or California to Asia and Australia and vice versa, last anywhere from a couple of weeks to a month. You can opt for shorter itineraries from Hawaii to Australia. Most regional cruises begin and end in Papeete, the capital of Tahiti, and visit Bora Bora, Raiatea, Moorea, and Tahaa. Sailing between the Society Islands is generally gentle, with some choppy waters during the long stretch between Papeete and Bora Bora.
Some popular cruise lines travel to Bora Bora including Crystal, Oceania, Regent Seven Seas, Royal Caribbean, Holland America, and Princess, and smaller cruise lines such as Blue Lagoon Cruises, Haumana Cruises, Captain Cook Cruises, and Dream Yacht Charter. Most itineraries are 7-14 days long and cruise the Society Islands. The best part is the ports here are not nearly as crowded as those you'd expect in the Caribbean. You may extend your stay on land to make the most of your time.
More Related Articles on PlanetWare.com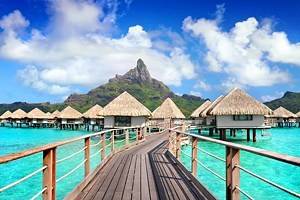 South Pacific Islands: After making the long journey to the South Pacific, make the most of your time island-hopping to nearby islands with our guide to some of the most beautiful islands in the South Pacific. While you are here, choose the perfect luxury resort in Bora Bora and beyond with this guide to some of the best resorts and overwater bungalows in Tahiti. The Cook Islands, located a short flight from Tahiti, are another string of islands known for their palm-fringed beaches, volcanic peaks, and translucent lagoons, but they are more affordable than Tahiti. Have a memorable experience visiting these islands with this guide to their top rated attractions.