Where to Stay in Bordeaux: Best Areas & Hotels
We may earn a commission from affiliate links ()
Thanks to its compact size, most of the city of Bordeaux's main tourist attractions are accessible by foot from any of the four central neighborhoods. Downtown Bordeaux is the heart of the business district and has some of the city's best luxury and romantic hotels.
You will also find several good luxury and mid-range hotels along the edges of the Golden Triangle, also known as Les Grands Hommes. It is so named for its high-end shops, gourmet food, and affluent clientele. Hotels here are convenient for those wanting to visit the artsy Chartrons neighborhood, home of the CAPC Museum of Contemporary Art.
Adjacent, on the southern side of the triangle, is Bordeaux's trendy Saint Pierre neighborhood, which is an ideal place to stay for those wanting to explore the city's rich history. It sits along the Garonne River and is home to attractions like the Cathédrale Saint-André, Musée des Beaux-Arts, and the Place de la Bourse.
The multicultural Saint Michael neighborhood is an easy walk from Saint Pierre, with attractions such as the Musée d'Aquitaine, Grosse Cloche, and the Basilique Saint-Michel. The neighborhoods of Bastide (Right Bank) across the river and Le Lac to the north are slightly removed from the city center but have good budget options.
On This Page:
Where to Stay in Bordeaux for Luxury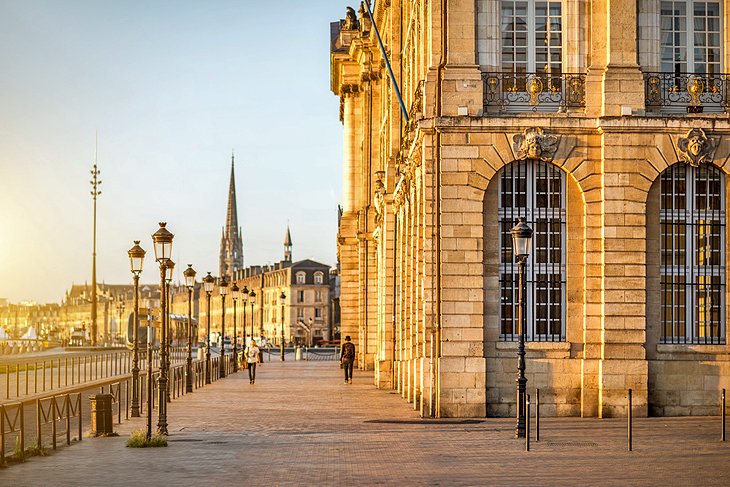 The luxury boutique Yndo Hotel is in a quiet residential neighborhood between Downtown and the Golden Triangle, less than five minutes by foot to Basilique Saint-Seurin and Palais Gallien. This is a smoke-free establishment, but the hotel dog "Fizz" welcomes other four-footed friends into his turreted stone mansion.
Rooms are unique and tastefully quirky, equipped with a mini-fridge and safe. Each morning's full breakfast is cooked to order, and there are bicycles available for guests to use; for those with vehicles, there is private paid parking on-site.
The Hotel de Seze sits at the edge of the Golden Triangle, overlooking the Monument aux Girondins on the famed Esplanade des Quinconces and just a five-minute walk to top attractions like Le Grand Théâtre and the riverside Place de la Bourse.
This grand hotel has an impressive façade with a modern interior and offers a full spa, fitness center, and hot tub, as well as an in-house restaurant and room service.
For a luxury experience in a more peaceful setting, La Grande Maison de Bernard Magrez offers lavishly decorated guest rooms curated by designer Frédérique Fournier. Located next to the Bernard Magrez Art Institute and close to the Parc Rivière, it is less than 10 minutes by car or bike to the Golden Triangle; there is free secure garage parking with electric vehicle charging stations, and bicycles are available for guest use, as is a free shuttle service to downtown Bordeaux. This 5-star hotel is non-smoking throughout and has an excellent restaurant on-site, which is happy to adapt the menu to accommodate special diets.
Located near the Garonne River and the Golden Triangle, the Radisson Blu Hotel Bordeaux has 125 rooms and suites done up in contemporary style. Many rooms offer panoramic views of nearby sites, including the Cité du Vin and the trendy Bassins à flot area. Rooms are soundproof and have comfy beds and large flat-screen TVs, and room service is offered 24/7.
Hotel amenities include a restaurant, fitness center, and a luxe spa. If you are traveling with a dog, the property is pet friendly.
Where to Stay in Bordeaux: Mid-Range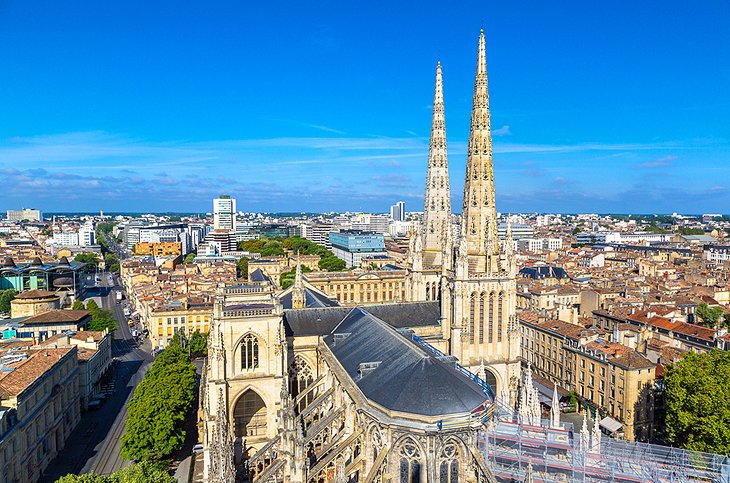 Bordeaux's mid-range hotels are all centrally located and convenient to the city's top tourist attractions. The Hotel de Tourny sits at the northern tip of the Golden Triangle, near Palais Gallien and convenient to downtown, as well as the Saint Pierre and Chartrons neighborhoods.
This 18th-century bordelaise building has been fully modernized and includes double windows to keep out street noise and an inviting, modern, chic décor. Staff members are exceptionally accommodating.
In the middle of the action of the Golden Triangle, among dozens of restaurants and shops, the Best Western Grand Hotel Francais manages to have quiet rooms overlooking the peaceful pedestrian-only Rue de Temple.
A generous continental breakfast with fresh-squeezed orange juice is complimentary, and the efficient rooms include a coffee maker, safe, and other convenience amenities. Nearby landmarks include the Porte Dijeax and Place Gambetta, and the Marche des Grands Hommes is only a few minutes' walk from the hotel.
A few blocks south in Saint Pierre, the ultra-hip Mama Shelter Bordeaux offers a truly unique experience in its quirky atmosphere. Catering to younger generations of travelers, this hotel has large common areas with fun additions like ping-pong and foosball.
Housed in the historic landmark Gas Tower building, rooms on upper floors have spectacular views of the city. The hotel is located within easy walking distance of attractions, including the Porte Dijeax, the Château du Hâ, and the Museé d' Aquitaine.
Where to Stay in Bordeaux on a Budget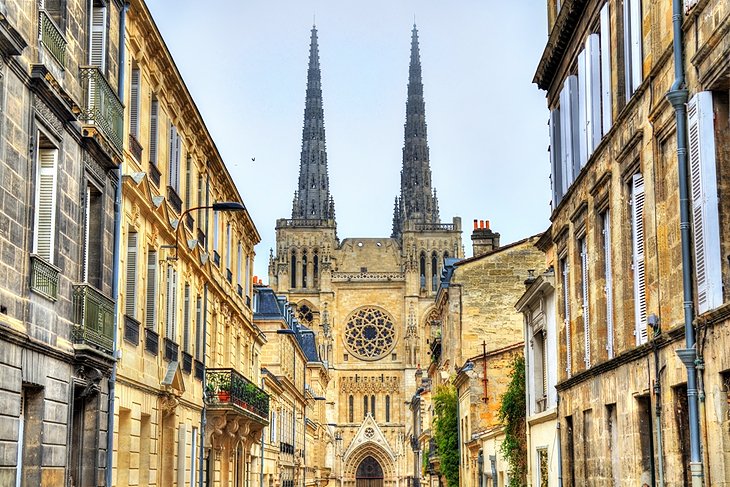 Although most budget choices are outside the central neighborhoods, Hotel le Chantry offers affordable lodgings downtown, in a safe neighborhood just a few blocks from Basilique Saint-Seurin and shopping at the Centre Commercial Meriadeck. Rooms are basic but spacious, and the free, secure, on-site parking is an added value in an expensive city. Breakfast and Wi-Fi are also complimentary.
Across the river in the Bastide neighborhood, the Ibis Budget Bordeaux Centre Bastide has small but very clean and modern rooms and extra-helpful staff. There is a small salon on-site, and a buffet breakfast is served daily. There are several places to park nearby, and it is about a 15-minute walk to the Saint Pierre and Saint Michael neighborhoods via the Pont de Pierre Bridge.
The Hotel Des Voyageurs is a budget boutique hotel also located in the Bastide neighborhood, just steps from the Pont de Pierre Bridge, providing easy access to downtown Bordeaux. This non-smoking hotel serves breakfast daily and provides free Wi-Fi for guests.
Guest rooms are small but well-appointed and comfortable. Nearby Bastide attractions include the Blue Lion sculpture and the Eglise Sainte-Marie-de-la-Bastide, a 19th-century church.
Where to Stay in Bordeaux for Families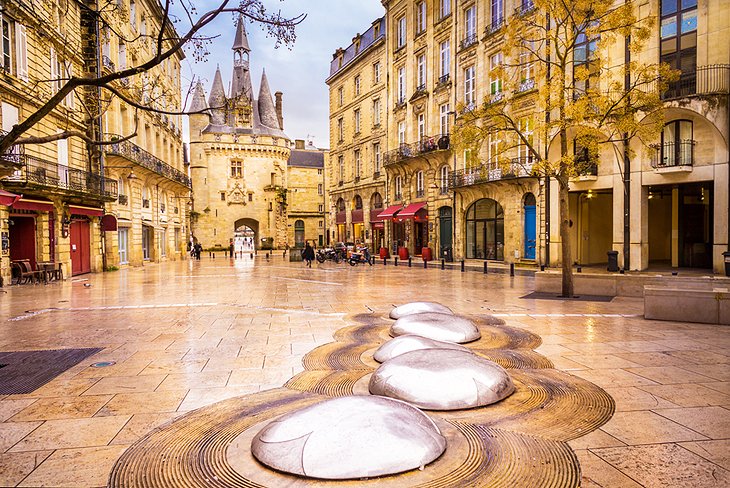 Families looking for a kid-friendly boutique luxury hotel will adore the Hotel Cardinal Bordeaux, a 5-star all-suite establishment. Suites are equipped with kitchenettes, as well as dining and living areas, and equipped with a full range of amenities.
Kids are treated like royalty, welcomed with an assortment of games, books, stuffed animals, and toys. On-site babysitting is also available for times when the parents want to explore the city on their own.
The hotel is located in the southwestern corner of the Saint Pierre district, just steps from the Musee des beaux-Arts, le Jardin de la Mairie, and the Parc De l'Esplanade Charles De Gaulle; it is about a 15-minute walk to the Golden Triangle shopping and entertainment district.
Families planning on seeing all the big tourist sights and being in the center of the action will want to stay at the Quality Hotel Bordeaux Centre in the heart of Saint Pierre. It truly is in the center of everything, under ten minutes' walk to the Golden Triangle and Rue St. Catherine shopping and dining, Le Grand Théâtre, Place de la Bourse, and Tour Pey Berland. The colorful rooms are spacious and include amenities like a Nespresso coffee maker, mini fridge, and safe. A generous buffet breakfast is included in the rate.
North of the city center in Le Lac, Le Provencal is a good budget option that offers family rooms and free parking. A breakfast buffet is available to guests at the in-house restaurant, and there are many good restaurants near the hotel-the tram stop is just a few minutes away.
Where to Stay in Bordeaux for Romance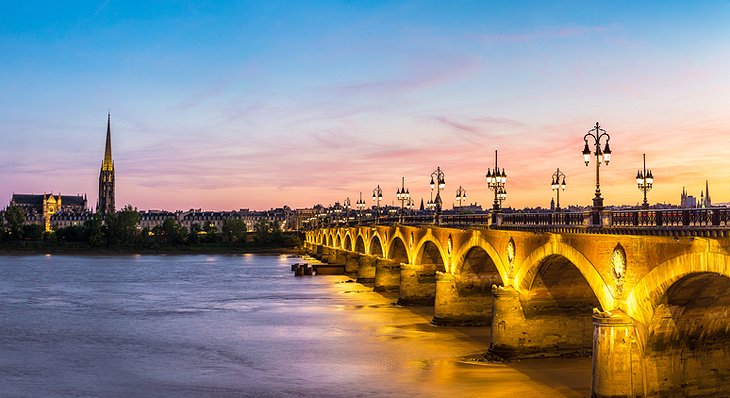 Couples looking for a truly grand experience will adore the classic five-star InterContinental Bordeaux Le Grand Hotel, which is located on the corner of the Golden Triangle just by Le Grand Théâtre and near the river.
In addition to a full-service, chic spa, the hotel has a large fitness center, outdoor whirlpool, and a gorgeous indoor pool surrounded by huge columns for a unique look.
Suites are exquisitely elegant, with tall windows, canopy beds, and huge bathrooms with his & hers sinks. Foodies will not want to miss out on the hotel's Gordon Ramsey Restaurant, or perhaps indulge in room service.
Seclusion seekers may want to try the Hotel Burdigala, located in a quiet neighborhood just south of downtown. Although removed from the bustle of the tourist area, it is only a 10-minute walk to Saint Pierre attractions like the Basilique Saint-Seurin and Place Gambetta.
Common areas have a fun and fresh ambience, and rooms are well-appointed, with ample closet space, soundproofed windows, complimentary water, and a Nespresso machine. There is a restaurant on-site and several other dining options close to the hotel.
Just a few blocks away on the edge of the Golden Triangle and only two blocks from Place Gambetta, Le Boutique Hotel is housed in a beautiful 18th-century stone building with a private garden. Within this lovely historic building, its 27 rooms are modern and chic, each with a balcony or terrace and a Jacuzzi tub and complimentary Nespresso coffee. Amenities include a restaurant, room service, concierge, and turndown service.
Hotel Le Palais Gallien is another great choice for romance. The new hotel has just 22 stylishly appointed rooms and suites. Book one with a private terrace featuring a personal Jacuzzi. It is located in the heart of downtown Bordeaux and within walking distance of numerous attractions, restaurants, and shops.
If you just want to relax on the property, then check out the seasonal swimming pool, chill on the rooftop terrace, or book a treatment at the on-site spa. There is also a formal French restaurant serving lunch and dinner.