11 Top-Rated Resorts on the French Riviera
Elegance and glamour define the French Riviera (Côte d'Azur), and nothing embodies those characteristics better than the region's sumptuous five-star resorts. Upscale resort hotels immerse travelers into a world where gourmet meals are served by the beach or the pool, and a jet-setting clientele flutters about from one fashionable engagement to another.
Set on properties with sprawling grounds, manicured gardens, and exquisite restaurants, French Riviera resorts offer the ultimate luxury. These exclusive hotels provide an escape from the stress of travel and open the door to experiences and locales that are otherwise difficult to access. Some resorts feature private beaches and access to the most beautiful beaches in the South of France. Most have pampering full-service spas.
Choosing a highly rated resort hotel will ensure a fabulous stay on the Côte d'Azur, a region that brims with natural beauty, alluring seaside destinations, and interesting things to do.
Whether you are planning a seaside holiday in Monaco, a beach vacation in Saint-Tropez, or a cultured visit to Nice or Cannes, it's worth the splurge to stay at a top resort hotel. Find the best accommodation with our list of the top resorts on the French Riviera.
1. Hyatt Regency Nice Palais de la Méditerranée, Nice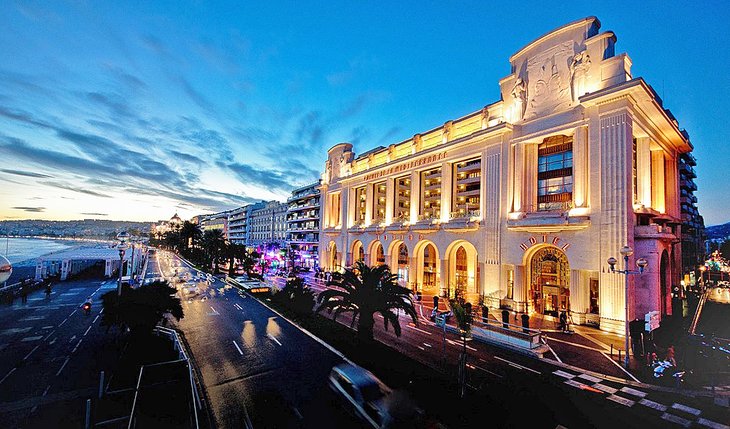 Accommodation: Hyatt Regency Nice Palais de la Méditerranée
Nice has a lively summertime beach scene along with top-notch cultural attractions that are available year-round, which makes it a favorite destination among vacationers. For those seeking luxurious accommodations at the heart of Nice, the Hyatt Regency Palais de la Méditerranée is an excellent choice.
This five-star resort nestles along the Promenade des Anglais, just steps away from the beach (Lido Plage). It's also near many fashion boutiques on the Rue Paradis and the Avenue de Verdun and a bit farther walk to the restaurants and historic monuments of the Vieille Ville (Old Town).
The hotel dazzles guests with its spectacular sea views and luxurious Art Deco-style accommodations. Guests also enjoy top-notch amenities: a fitness center, sauna, Turkish bath, outdoor swimming pool, and concierge services.
A convivial French bistro serves gourmet Mediterranean cuisine in a chic dining room or on the sunny outdoor terrace that overlooks a serene expanse of azure waters. The restaurant offers brunch, lunch, and dinner, as well as afternoon tea and tapas.
2. Le Negresco, Nice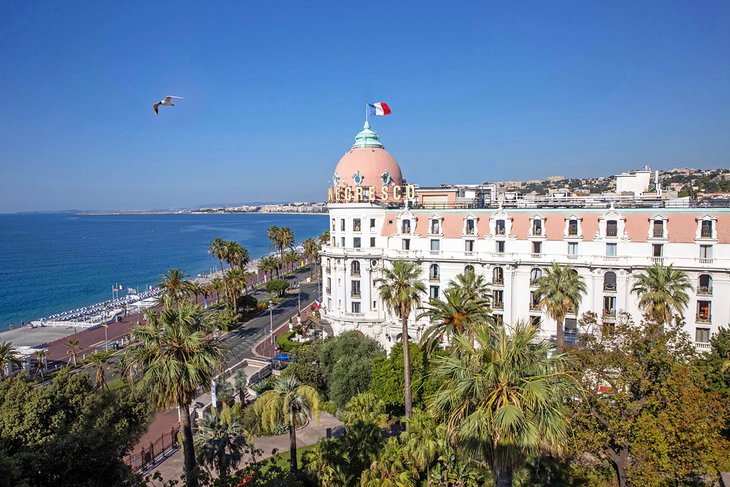 Accommodation: Le Negresco
Spending the night at Le Negresco is a special experience, which allows guests to step into the lifestyle of jet-setters and celebrities. Since 1913, this legendary hotel has welcomed high-society guests, famous artists, and royalty.
Le Negresco occupies a 100-year-old landmark, a National Historic Monument, on the Promenade des Anglais and is classified as an "Entreprise du Patrimoine Vivant" ("Living Heritage Company") in recognition of its efforts to preserve the historic building. Noteworthy French paintings and sculptures from the 17th and 18th centuries adorn the hotel's salons and reception halls.
Guest rooms feature sumptuous decor with antique furnishings and original artworks. Amenities include a concierge, room service, bathrobes and slippers, and trays supplied with coffee and tea. Some of the rooms have sea views.
As expected of a five-star resort, Le Negresco has superb dining options, including a Michelin-starred restaurant and a beach club restaurant with beachside service (lounge chairs and parasols are available for rent).
3. Hôtel Hermitage Monte-Carlo, Monaco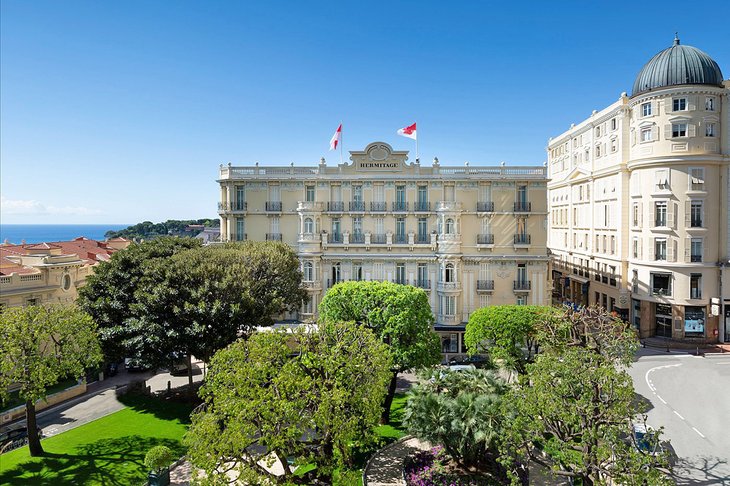 Accommodation: Hôtel Hermitage Monte-Carlo
The elegant and refined Hôtel Hermitage Monte-Carlo treats guests to the ultimate pampering experience. In a Belle Epoque building, the five-star resort hotel features exquisitely decorated accommodations and a Michelin-starred gastronomic restaurant.
Guest rooms are adorned in traditional French style with tasteful floral-print wallpaper, plush carpets, and classic furniture. Large windows ensure that the rooms are bright and cheerful. Superior Rooms and Deluxe Rooms have city or courtyard views. Exclusive Rooms boast splendid sea views, and some of these rooms also have private outdoor terraces that overlook the harbor.
Resort amenities include a concierge, door-to-door transfers between Nice and Monaco, an indoor swimming pool, fitness center, and the upscale Thermes Marins Monte-Carlo spa.
In addition to its fine-dining restaurant, the hotel has a casual restaurant that serves meals throughout the day, as well as afternoon tea.
The hotel is located in the fashionable Monte-Carlo district, one of the top places to visit in Monaco. This area brims with designer clothing shops, high-end jewelry boutiques, and fancy restaurants.
4. Hôtel la Pérouse, Nice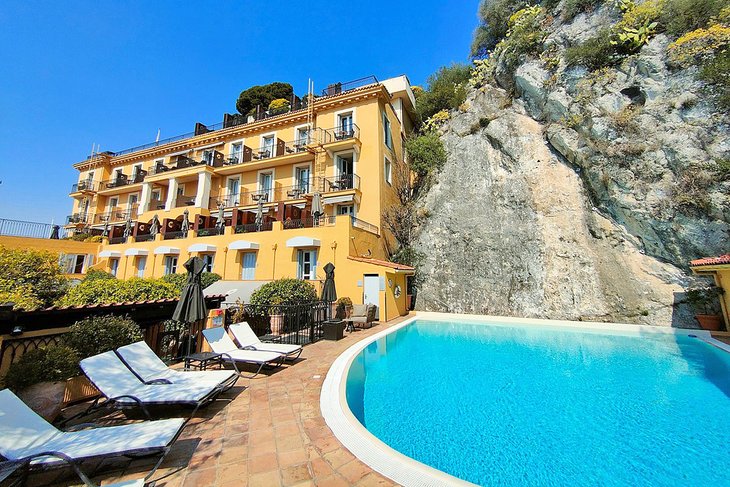 Accommodation: Hôtel la Pérouse
The Hôtel la Pérouse in Nice has a quiet and exclusive ambience, thanks to its sheltered location at the foot of Castle Hill. The hotel stands far from the tourist crowds, past the Promenade des Anglais, on the Quai des États-Unis.
Surrounded by lush Mediterranean gardens, the Hôtel la Pérouse overlooks the seafront. The hotel's rooftop sundeck and many of the guest rooms feature dazzling views of the Bay of Angels and its mesmerizing azure waters.
Accommodations range from double rooms and triple rooms to superior rooms with private balconies and deluxe rooms with expansive sea views. All of the guest rooms feature cheerful contemporary-style decor with vibrant printed fabrics, updated bathrooms, flat-screen televisions, and room service.
Amenities include an outdoor swimming pool, sauna, Jacuzzi, and fitness center.
The hotel also has a garden-patio restaurant, Le Patio, that serves modern Provençal cuisine, prepared from local seasonal ingredients. In a picturesque hillside setting, the restaurant's tables are shaded by parasols and lemon trees.
5. Hôtel Martinez, Cannes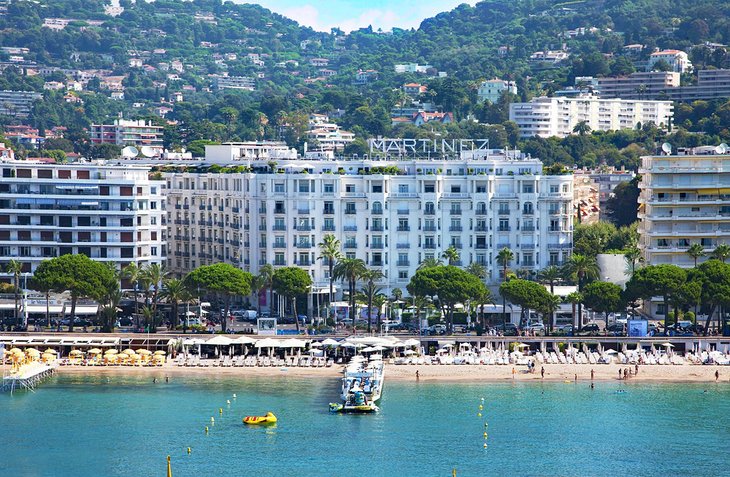 Accommodation: Hôtel Martinez
One of the most famous Côte d'Azur resort towns, Cannes is internationally renowned for its prestigious annual film festival and its exclusive beach-club scene. Other top attractions include Le Suquet (the Old Town) and the Vieux Port.
The Boulevard de la Croisette epitomizes Cannes' glamorous vacation lifestyle, with its designer fashion boutiques, trendy seaside restaurants, and posh resort hotels. Set along this legendary waterfront avenue, the Hôtel Martinez caters to a clientele that expects top-notch service and luxury. The hotel is just a short walk away from the Plage du Martinez (beach).
This five-star property occupies a 1920s landmark. In keeping with its heritage, the hotel outfits guest rooms and suites with Art Deco-inspired furnishings. Bright fabrics and expansive floor-to-ceiling windows enhance the luminous quality of the rooms. Some rooms look out onto the Golfe de la Napoule. All rooms feature Nespresso coffee machines, sleek modern bathrooms with marble accents and rain showers, bathrobes & slippers, and LED televisions.
Other amenities include room service (available 24 hours daily), a gourmet restaurant concealed within a Mediterranean garden, a Michelin two-starred restaurant with sea views, and a beach club with a chic casual restaurant (open for brunch and lunch) on the Plage du Martinez.
6. Hôtel Métropole Monte-Carlo, Monaco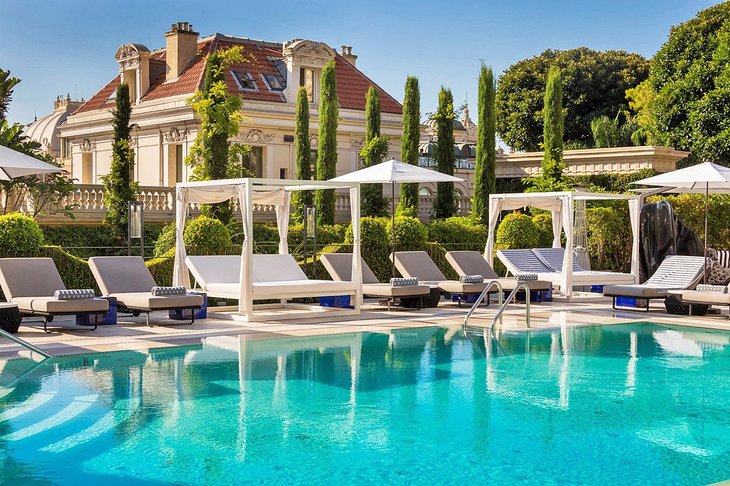 Accommodation: Hôtel Métropole Monte-Carlo
The Hôtel Métropole Monte-Carlo delivers an ambience of exclusivity in one of Monaco's most upscale neighborhoods. This Belle Epoque landmark dates to 1886, when it catered to a discerning international clientele. The hotel was completely restored in the 1980s and further renovated in 2004 with updates to the classic decor.
The sumptuous guest rooms and suites are decorated in traditional French style with subtle contemporary touches (such as safes and VOD-system televisions) and marble-accented bathrooms. Guest rooms look out onto the Casino de Monte-Carlo gardens, the Monaco Grand Prix circuit, the Monte-Carlo cityscape, or the Mediterranean Sea.
Amenities at this five-star property include a Michelin-starred Japanese restaurant, Yoshi; a poolside restaurant that is open for lunch; and the Spa Métropole by Givency, which has a fitness center, sauna, and hammam. The spa also offers well-being treatments, facials, manicures, and pedicures. A few nights every month, Yoshi hosts jazz music performances.
7. Hôtel Royal-Riviera, Saint-Jean-Cap-Ferrat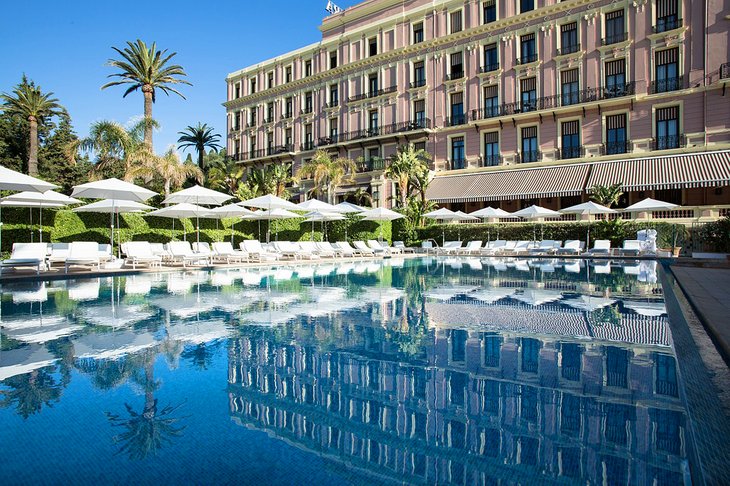 Accommodation: Hôtel Royal-Riviera
The Hôtel Royal-Riviera is different than the typical luxury resort hotel. An intimate ambience creates the impression of staying at a private villa. Although the hotel has 94 guest rooms and suites, each accommodation is soundproofed and offers a sense of tranquility.
This five-star property enjoys an idyllic seaside location, on the Saint-Jean-Cap-Ferrat peninsula, just two kilometers from the quaint town of the same name (formerly a little fishing village) and close to a coastal walking path.
Other must-see sights in the area (and top day trips from Nice) are the seaside village of Beaulieu-sur-Mer and the Villa Ephrussi de Rothschild, with its gorgeous estate of manicured gardens.
Opened in 1904, the Hôtel Royal-Riviera is a Belle Epoque landmark that once welcomed illustrious guests such as Isadora Duncan and Russian composer Sergei Prokofiev. During the 1980s, the hotel was refurbished with soothing earth-tone interior decor and outdoor terraces, influences of the South of France. Many guest rooms feature splendid sea views.
Highlights of the hotel are the magnificent grounds that feature lush exotic landscaping; the sundeck where afternoon tea is served; the gourmet restaurant, which serves international cuisine and features views of the Baie des Fourmis; an outdoor swimming pool with a snack bar and lounger-filled terrace; and a wellness center with a spa, gym, sauna, and steam room.
Summertime holidaymakers love the hotel's private sandy beach with sun beds and parasols. Tucked into a sheltered cove, the beach has gentle waters and is ideal for water sports. A lifeguard surveils the beach during daytime hours in high season.
8. Fairmont Monte Carlo, Monaco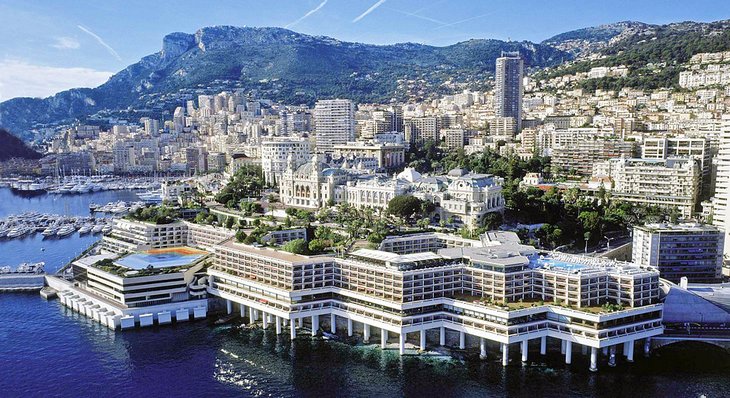 Accommodation: Fairmont Monte Carlo
Another luxury resort in Monaco's prestigious Monte-Carlo district, the Fairmont is set along the seafront and boasts stunning coastal views. Many of the guest rooms look out onto the Mediterranean's glistening deep-blue waters, and other rooms feature glimpses of the Italian Riviera in the distance.
The accommodations are decorated in a minimalistic yet classic style with updated marble-clad bathrooms. Each guest room features a private terrace, Nespresso coffee machine, and plush bedding with goose-down pillows. The rooms also have large flat-screen televisions and access to movie streaming.
Facilities at this four-star hotel include a spa; fitness center; outdoor swimming pool and poolside snack bar; barber shop; perfume boutique; a private beach; and three restaurants, including a rooftop dining venue with spectacular vistas.
9. Le Domaine du Mas de Pierre, Saint-Paul-de-Vence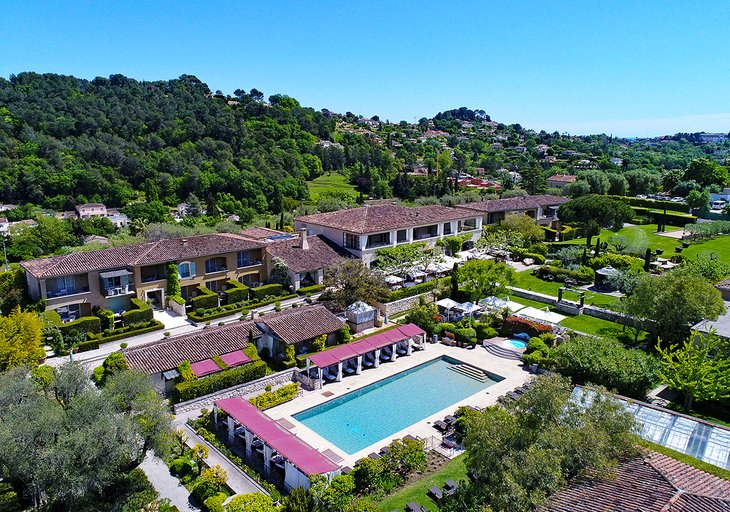 Accommodation: Le Domaine du Mas de Pierre
Le Domaine du Mas de Pierre is nestled in the rolling hills near the French Riviera coastline, about three kilometers outside the walled medieval village of Saint-Paul-de-Vence. This area overlaps with the Provence region and has an authentic country feel, with sultry weather and the distinctive sound of cicadas during summertime.
Housed in a recently renovated farmhouse and other historic stone buildings, this five-star hotel is surrounded by verdant Mediterranean gardens with flowing fountains and modern sculptures. Hundred-year-old olive trees, aromatic Provençal herbs, and a colorful array of fragrant roses flourish on the manicured grounds. Guest rooms are decorated in a refined contemporary style.
The Relais & Châteaux property has several swimming pools and Jacuzzis; a well-equipped spa with an indoor pool, saunas, and hammam; a fitness center; and yoga and Pilates classes. Dining options include a gastronomic restaurant and a poolside bistro.
10. Hotel Boscolo, Nice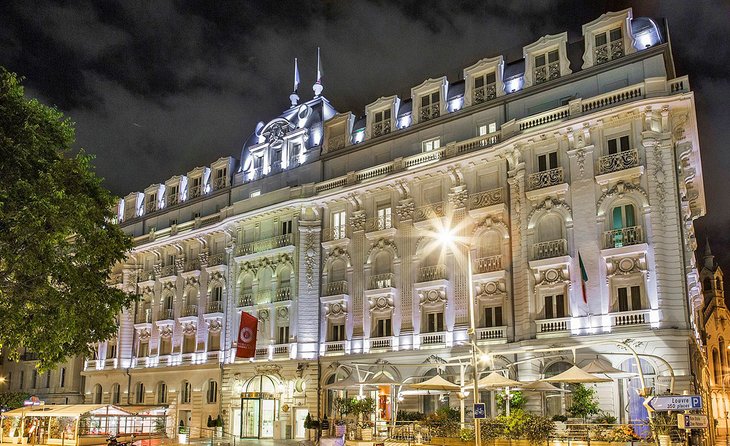 Accommodations: Hotel Boscolo
The five-star Hotel Boscolo is found at the heart of Nice on the Boulevard Victor Hugo, just a short walk from the Promenade des Anglais and the Old Town. The location is ideal for both sun-worshipping beachgoers and travelers who love sightseeing and shopping. The nearby area around the Place Masséna and the Avenue de Verdun has many fashion boutiques.
Guest rooms are adorned in subdued ivory and cream tones, while expansive windows allow in plenty of natural light. Some of the rooms have private balconies. Deluxe rooms feature Nespresso machines and LCD televisions.
Amenities include a luxurious spa with an indoor pool and hydromassage tub; a fitness center; and three gourmet restaurants. One of the restaurants serves Italian cuisine on the rooftop terrace next to the hotel's outdoor swimming pool.
11. Château de la Chèvre d'Or, Eze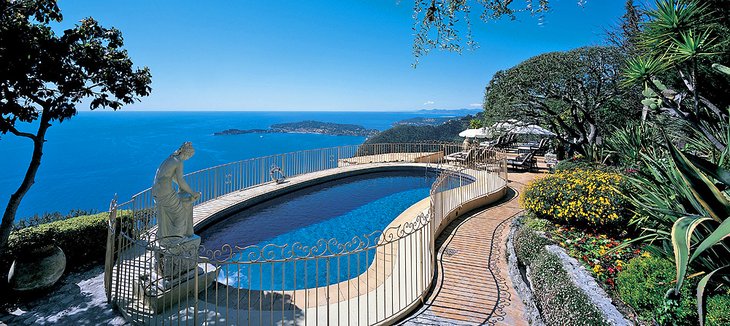 Accommodation: Château de la Chèvre d'Or
Combining old-world charm with modern elegance, the Château de la Chèvre d'Or occupies a group of historic buildings in the medieval hilltop village of Eze. The modernized buildings have been converted into sumptuous accommodations with tasteful decor.
Guests of the Château de la Chèvre d'Or appreciate the convenience and magical ambience of Eze, with its quaint cobblestone streets and dazzling panoramas. The hotel property itself affords amazing vistas of the French Riviera coastline all the way to the Saint-Jean-Cap-Ferrat peninsula.
This five-star resort property includes two casual restaurants with sweeping sea views and a gastronomic restaurant with two Michelin stars. The village of Eze also has dining options, art galleries, shops, and a famous perfume factory and boutique (Fragonard Parfumeur).
Map of Resorts on the French Riviera