Where to Stay in Tampa: Best Areas & Hotels
Although the Tampa Bay metro area sprawls for miles, most of the tourist attractions are concentrated in a few central neighborhoods. Tampa is western Florida's economic hub, and the downtown area is filled with high-rise office blocks, as well as arts and science museums, restaurants, entertainment venues, and some of the best hotels, which cater to couples and families alike.
Bordered by I-275 in the north, Meridian Ave in the east, Garrison Channel to the south, and Hillsborough River to the west, Franklin Street is downtown Tampa's pedestrian-only walking area, and it's where you'll find the Tampa Riverwalk and Glazer Children's Museum.
Tampa is also home to historic areas, like Ybor City and Hyde Park North, which are culturally significant and boast a range of hotel and dining options. The Tampa Bay area is a wonderful family destination with enough attractions to keep kids and parents excited for days at a time. The Florida Aquarium is one of the best in the country, located just east of downtown in the Channel District.
Just north of downtown, you'll find the Lowry Park Zoo and Busch Gardens, which is an African-themed amusement park offering a mix of safari adventures and thrill rides. Tampa also hosts an NFL team, so if you're in town to see the Buccaneers play, there are a number of mid-range and luxury hotels in the vicinity of Raymond James Stadium in northwest Tampa. The airport is also near here.
If you are wondering where to stay near the beach, you might want to consider looking at Beach Resorts in Clearwater, just a short drive away.
See Also: Best Things to Do in Tampa
Where to Stay in Tampa for Luxury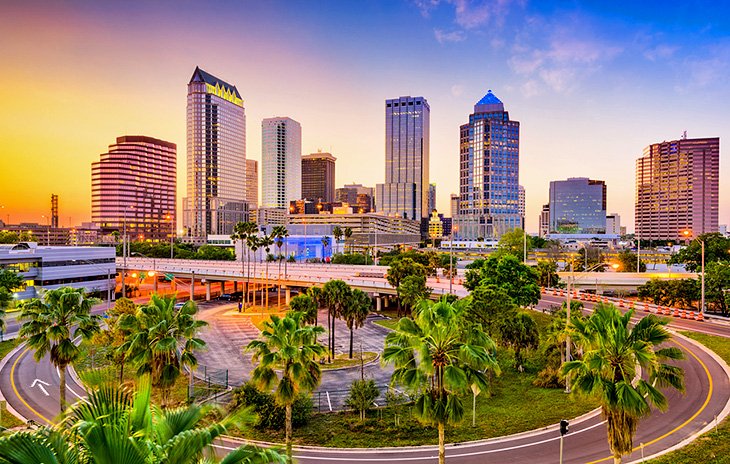 Try Le Meridien Tampa in a fantastic downtown locale for historic boutique luxury, inside a building that was once a federal courthouse and now is listed on the National Register of Historic Places.
Inside, the property features 130 rooms and suites decorated in elegant, modern style with flat-screen TVs, leather chairs, crisp white linen, and big windows. There's also an outdoor pool, fitness room, and stylish French bistro.
The contemporary Epicurean Hotel, Autograph Collection is in historic Hyde Park North and within walking distance of numerous restaurants. It features chic rooms, great staff, a lovely pool area, spa, and an excellent house restaurant. Head to the rooftop area for a view of downtown Tampa and the bay - it's particularly alluring at sunset.
Just two blocks from the Tampa Convention Center and a 10-minute stroll from downtown, The Westin Tampa Waterside is right on the water and a solid luxury choice, especially for business travelers.
Located on Harbor Island, this mid-rise hotel with a marina features lush landscaping and a mix of rooms and suites with city or bay views, comfy pillow-top mattresses, and ergonomic chairs.
The suites add space with separate living areas and pull-out sofas. There is an on-site restaurant with harbor views, a heated outdoor pool, and an exercise room.
Where to Stay in Tampa: Mid-Range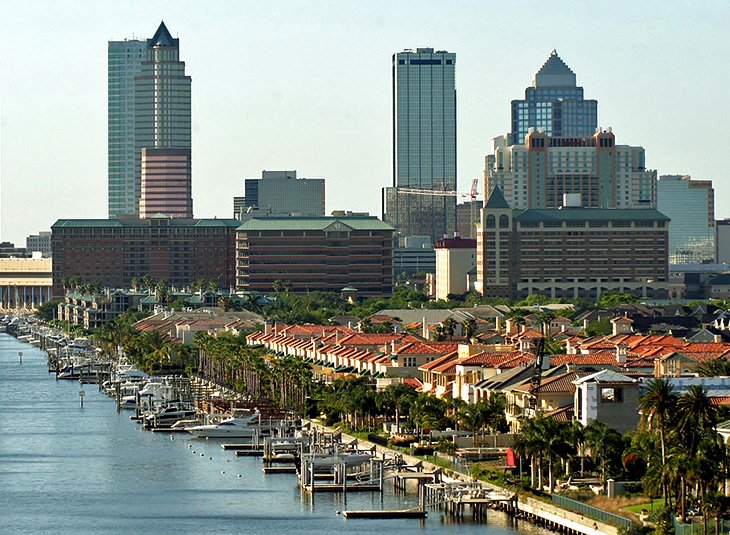 Right downtown and just a minute's walk from the Tampa Convention Center, Tampa Marriott Waterside Hotel and Marina boasts waterfront views, comfortable and spacious rooms with flat-screen TVs, and Wi-Fi access for a fee.
Suites make it a good family choice, as they have separate living areas with pull-out beds and balcony areas. There's a casual restaurant with bay views, an outdoor pool, and an exercise room with a sauna.
The Sheraton Tampa Riverwalk Hotel is another good-value hotel, and has scenic views over the city's revitalized Riverwalk that is located at one end of downtown. It offers free Wi-Fi in its contemporary rooms and suites that also feature coffeemakers and work areas with ergonomic chairs.
Book the club level rooms for access to a lounge with a free continental breakfast and appetizers in the evenings. There is also a waterfront grill and a riverfront deck with a swimming pool.
The Hilton Garden Inn is another excellent option in this price bracket. It's in a great Ybor Historic District location and features clean and comfortable rooms plus an outdoor pool and hot tub.
Finally, to stay near Busch Gardens, check out the Holiday Inn Hotel and Suites Tampa North, which caters especially to families. It features spacious and clean rooms and suites and a nice courtyard area with a pool.
Where to Stay in Tampa on a Budget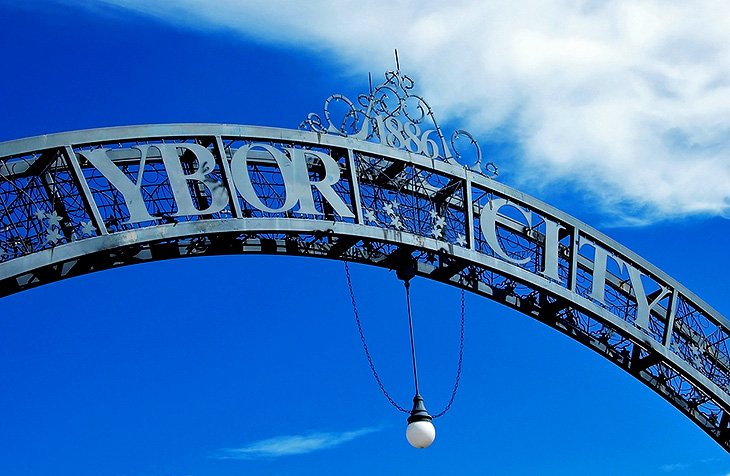 You'll need a car - or to rely on Uber or a taxi service - to really access any of the budget hotels in Tampa, but these places are not too far outside the hot neighborhoods. To be close to Ybor City, try the Quality Inn & Suites Near Fairgrounds Ybor City, which features basic but clean rooms for a good price. They also offer a free breakfast and have an outdoor pool in a landscaped garden area.
Near the Raymond James Stadium is the reasonably priced Comfort Suites Tampa Airport North. Rooms are clean, staff is friendly, and the breakfast included.
As its name implies, the Sleep Inn Near Busch Gardens - USF is a good budget hotel if you're going to the amusement park. It offers clean rooms with comfy beds and a free breakfast bar.
Where to Stay in Tampa for Couples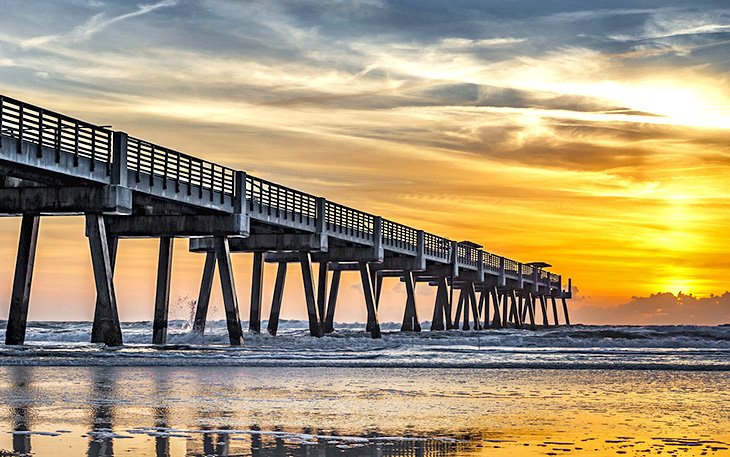 The waterfront Grand Hyatt Tampa Bay feels like a bit of an oasis in the city, with its on-site nature preserve with a walking trail, lush landscaping, and two swimming pools, making it a favorite romantic luxury pick. Rooms are sophisticated chic with all the mod cons and there is an Italian restaurant on-site.
The Floridan Palace Hotel is another romantic option, especially if your style veers towards opulent historic. Right downtown, the hotel is in a building dating back to the 1920s. Rooms are spacious and decked out in Beaux-Arts style, with antique wooden furnishings, gold overlay, and marble bathrooms. The hotel restaurant has the original 1926 ceiling in place and serves Mediterranean cuisine.
If romance also means football, then the Renaissance Tampa International Plaza Hotel, near the Raymond James Stadium, is another top hotel. Even if you're not into the NFL, the hotel offers a posh vibe, elegant rooms, an outdoor pool, and an upmarket Italian restaurant. It's also located just a few steps away from some top dining and shopping.
Where to Stay in Tampa for Families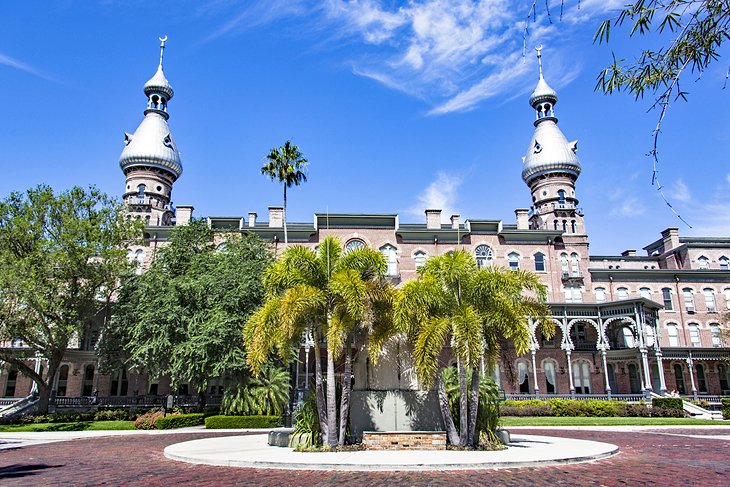 Emerald Greens Condo Resort is a great choice for families in need of space to move around. This boutique property has just 50 two-bedroom, two-bath condo suites, which also come with full kitchens, memory foam mattresses, and separate living and dining spaces.
On-site amenities are also very family focused, offering guests member-style access to the nearby Carrollwood Country Club, where you can swim in a junior Olympic-sized pool, book a tee time for 27 holes of golf, play a game of tennis on one of eight courts, or grab a bite at two different restaurants. There is also a spa and fitness center at the country club.
Comfort Suites at Fairgrounds is a good-value family hotel about a 10-minute drive from the Busch Gardens amusement park. It features all suites, and these are clean and done up in contemporary style with plenty of bold colors. They come with amenities like microwaves and mini-fridges that make parents happy. Other perks include a free hot breakfast, an outdoor pool, a gym, and complimentary on-site parking.
Even closer to Busch Gardens is the brand new West Wing Boutique Hotel, which is also an all-suite property. Families love the locale, just two miles from the theme park and even closer to the University of South Florida campus if you happen to be visiting a student there.
The suites are up-to-date and tidy and feature wood accents and soothing colors. They also come with kitchenettes, which is helpful when preparing snacks for kids. There is also a free breakfast offered and a complimentary airport shuttle. Parking is free and a restaurant is on-site.
Hampton Inn & Suites Tampa - North is another good hotel for families. Located within walking distance of Lettuce Lake Park in North Tampa, it features contemporary rooms and suites. The latter are a great choice for families, as many feature kitchens, and all come with a separate living space with a sleeper sofa for the kids.
A hot breakfast buffet is offered for free, and should you need to eat on the way out the door, you can even grab a complimentary breakfast bag to go. Parking is also free.
Where to Stay in Tampa near the Airport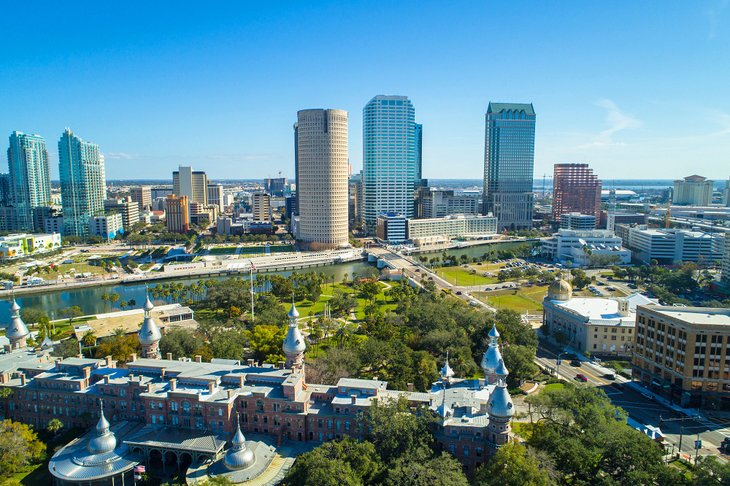 If you are leaving Tampa on a very early morning flight or arriving late at night, it makes sense to book a hotel near the airport to cut down on stress.
The Tampa Airport Marriott is located inside the airport, making it super convenient. The rooms and suites are contemporary, and many have views of the runway, but they are also fully soundproofed, so you don't have to listen to planes departing in the middle of the night. If you just have a long layover in Tampa, the Marriott also rents day use rooms where you can grab a shower and a nap before the next flight.
On-site amenities include a comprehensive fitness center, an outdoor swimming pool, and a restaurant. Book the concierge level for free breakfast, snacks, and desserts in the Club Lounge.
Another good-value option close by is the Hilton Garden Inn Tampa Airport Westshore, which also offers free airport transportation. It is a popular choice with families for its spacious rooms and suites that are also clean and comfortable. The suites have separate sitting areas, as well as microwaves. Amenities here include a swimming pool, fitness room, and an on-site restaurant.